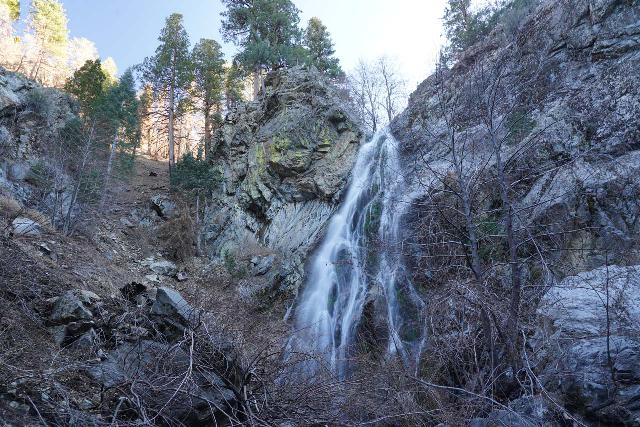 25-March 2022 and 27-March 2022:
And so I crossed the road and went ahead and popped the trunk, at which time, I heard Tahia crying because she was really worried about me.
That really made me feel bad, and it was probably the last bit of reinforcement that I really pushed our luck with this bit of an adventure when so many things were conspiring to delay and sidetrack us.
While I did end up being successful, I had to question myself at what price was it worth the effort?
Day 1 (March 25, 2022 – Los Angeles, California): "The Cliff Factor"
It was about 6:55am when I awoke, while Julie was already awake and doom scrolling as she does first thing in the morning.
That didn't leave me much time to get dressed, prepare a kefir breakfast, and then drop off Tahia for school, which started at 8am.
The plan for today was for Julie and I to pick up my cousin-in-law Cliff, who had been asking to go on a hike with us for a while.
Well, today was that day that it was going to happen.
However, in a bit of a last-minute change from the original plan (which was to visit Sturtevant Falls and Hermit Falls), we had to nix it because the Bobcast Fire and the associated mud flows from the heavy rains in December pretty much buried the trail.
So we did decide to do the next alternate, which was to Switzer Falls.
Even though we had already visited that waterfall in early 2020, I decided that this might be a good introductory hike to see if it suits Cliff, who was used to doing longer, more remote, and less crowded (almost solitary) hikes to mountaintops.
Well, waterfall hikes in Southern California tend to be anything but that, and I hoped that he might enjoy this experience even though he's not really fond of being around lots of people (and I don't blame him).
Then, when around 7:50am rolled around, I was already prepared to get going, but Julie was still in her PJs and she finally decided not to do the hike because it was a bit sporty to be back in time to pick up Tahia from school when she gets off.
So with that bit of a last-minute swerve, I got my stuff (which included the La Sportiva Nucleo 2 Hiking Boot instead of the Altra Lone Peak 5), gathered my camera and GoPro Hero 8 (which was the new twist in this visit), and then picked up Cliff at 8am.
Then, we had to go through a bit of local traffic because a lot of schools were getting started, and we ultimately made it to my Mom's place at 8:35am.
That was definitely later than we had hoped, but we were operating under the assumption that Julie was coming along, and I guess it just wasn't meant to be on today's hike.
Anyways, we then switched into Mom's SUV, and we merrily navigated through the somewhat heavy traffic going up the 605 and the 210, and then, we were pretty much home free once we got onto the Angeles Crest Highway.
From there, we followed the mountain road up until the turnoff for Switzer Falls, where I was a bit concerned about the number of people here seeing that there were vehicles parked at the top.
That said, I found it hard to believe that it would be that busy on a Friday so I went ahead and descended the narrow access road past a large group of sheriff-led youth walking down the road as well as a few more hikers.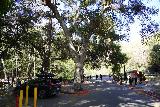 By about 9:40am, we made it down to the Switzer Picnic Area, where there was ample (shaded) parking, and so that meant that our hike wouldn't include the additional half-mile in each direction that I was worried about if the gate was closed.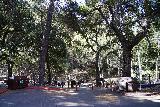 And so we geared up, I made sure my GoPro on the head strap was mounted correctly (and not pointing to the sky like in the past), and that we had enough water since the day was already starting to heat up despite the foggy morning down in the LA basin.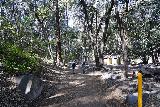 The large group of sheriff-led at-risk youth were already gathered by the nearest toilet as we were ready to head out, and they were already on the move just as we approached that restroom for our last-minute nature call.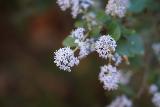 So they were well ahead of us by the time we started taking pictures by the sign (something Cliff wanted to make sure we documented) and then started the hike over the bridge spanning the Arroyo Seco.
The hike was nice and cool since it was mostly shaded as we followed the west bank of the Arroyo Seco.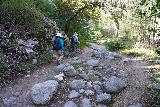 That helped us a bit since the moment we were in the sun, it was already fairly intense as the forecast called for the tempratures to be in the 80s today.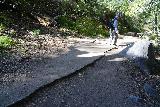 Both Mom and I kept a close eye on Cliff just to see if he was enjoying the experience since this was quite a different hike than what he was used to doing.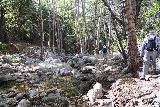 And now that he's here, we wanted to see how he'd react while we were conversing about things like YouTube (since I was getting into it and he was recommending Kraig Adams to me upon me mentioning Anton Somewhere to him).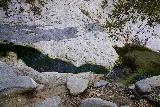 We were also planning out some hikes in the coming weeks before our Spring Break trip in mid- to late April.
So in that vain, I learned that Cliff is near retirement and that he's able to take a day off every other week (while I can flex my schedule to take just about every Friday off).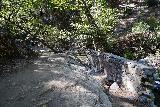 And so since he couldn't join us next week for a hike, I thought about rescheduling our re-do of the Bridge to Nowhere hike (one that he hasn't done before) for the following week (heat wave notwithstanding).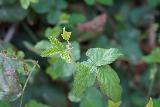 Switzer Falls was really more of a test hike for Cliff, though I was determined to see how the scramble to get up to the tallest of the Switzer Falls would be like.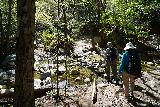 I knew from the last time that it was doable though there was an element of risk, but I was able to bring a crew of guys that included an elementary school kid as well as other young adults and adults that weren't used to these kinds of hikes.
And we managed to get through that without injury.
So I had that to go on though I did wonder if the ledge and the fallen tree that used to be somewhat of a mental crutch was getting farther and farther away and basically turning that dicey part into a tough cliff-hugging ledge.
I also wondered about the slippery sloping part past that to get past the last of the drops of the Lower Switzer Falls, and whether that was going to be tough and dangerous to navigate as time goes on.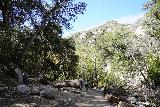 Anyways, I had that on my mind to look forward to, but in the meantime, we were just enjoying the easy part of the hike so far though we did notice that with each of the crossings of Arroyo Seco, Cliff was struggling on those.
I think the issue was that his shoes weren't waterproof and he didn't really want to get his socks wet.
Even though you could get past each of the crossings by rock hopping, I saw how he was struggling with each of the crossings (something he's probably not as used to with his peak bagging hikes), and I whipped out my Black Diamond Alpine FLZ poles.
With those, he was then able to get across each crossing more easily though that was still a bit slow going for him.
I guess my memories of this hike (even though we had just done it in early 2020 with Wendy and Van's family and their friends) must have been failing me because I didn't recall having so many creek crossings.
At first, I thought maybe the December atmospheric river that hit a lot of California might have caused some landslides or re-routing of the trail, but I think I just remembered there being fewer crossings wrong.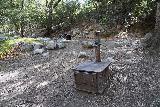 In actuality, there were actually about 4 crossings before the last signed crossing at the cutoff by some stove infrastructure (might be a former camp), and the crossings were coming back to me with each encounter.
Along the way, Cliff and I recalled some things like road railings well as evidence of a paved road once following along the Arroyo Seco, and these things helped to make things come back into my memory more vividly.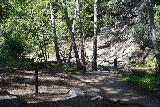 We didn't hesitate to go onto the cutoff (I didn't recall a sign used to be there before), and then climb along a wider fence-lined ledge with the familiar view down at the main Switzer Falls from across the canyon.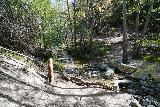 However, I did notice that there was a couple of people looking like they were risking their lives to scramble down along the top of that main Switzer Falls, which I thought was a death wish.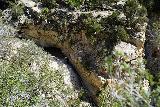 I sure hoped that they'll make it out of there just fine and not do something foolish since there was a better way to go.
But I have noticed that each time I've done this hike in recent years, there are more and more people trying to go down that way, and I guess this observation was the latest such attempt.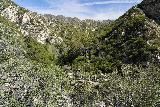 The ledge trail left the fairly comfortable confies of the shade and into the intensifying sun, which was definitely making us feel warm.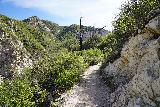 There were a handful of people on the main trail that we were on, and actually it felt quieter than the weekend crowds that I'd imagine would be here.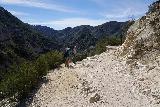 Eventually, we got to a trail junction at the apex of the hike with a nice view from within the San Gabriel Mountains, and Cliff noted on his AllTrails app that the other trail was supposed to have views.
I never tried doing that trail before, but I'd imagine there wasn't an obvious thing to see or do there other than just hiking back towards the Angeles Crest Highway near Long Canyon.
Nevertheless, I realized after the fact that perhaps that trail intrigued Cliff since he was into more solitary, peak-bagging hikes.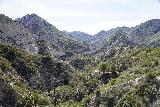 In any case, we kept left and followed the ledge-hugging trail down into Bear Canyon.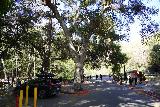 Along the way, the views were nice as expected, but we also saw down below around where the Lower Switzer Falls was that some people were climbing up above the lower waterfall (and they might be those at-risk youth led by the local sheriff).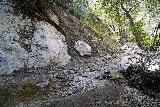 By around 10:55am, we finally made it back into the shady confines of Bear Canyon and now it was time to head back upstream towards the Lower Switzer Falls.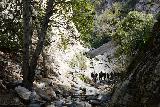 There were a handful of people going both to the falls as well as coming back, but we had to deal with a few more stream crossings, which at this point Cliff was able to use my poles to help him stay dry though we could tell it was definitely something he's not used to.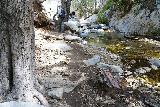 But aside from some unsightly graffiti along the canyon floor (something that I didn't recall noticing in past visits), we ultimately made it to the very busy Lower Switzer Falls just a few minutes later.
It was quite busy here because of the huge group of at-risk youth accompanied by sheriff with what appeared to be some other PR people taking pictures.
Cliff and Mom decided to stay at the Lower Switzer Falls, but I decided to continue onwards to the Middle Switzer Falls.
It didn't take long before I got past the large entourage and then scrambled up to the ledge just past a fallen tree, where I had anticipated the cliff-ledge hugging portion.
As expected, the dead tree that used to flank this ledge was drifting further away from the ledge so the mental "railing" was no longer available.
However, the narrow ledge was just that – narrow and pretty sketchy.
I seemed to struggle with clinging to this ledge (and bumping the Cotton Carrier-mounted against the rock wall where there was a little more graffiti), but I managed to get past.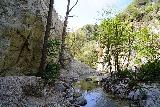 Then, I encountered the next obstacle, which was a slippery rock-sloping section sloping down towards the Lower Switzer Falls.
In this traverse, it was assisted with a rope that I used to ensure my whole body weight wasn't on some of the sketchier steps.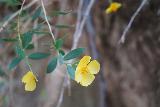 But once I got past that obstacle, I knew I was momentarily home free to get up to the main Switzer Falls (at least until I came back to these obstacles again on the way back down).
Anyways, it was quite the contrast being alone in this part of the canyon while everyone else was lingering by the Lower Switzer Falls.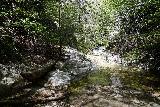 But by around 11:10am, I had to switch the batteries on my GoPro Hero 8, which was annoying, especially since I noticed some kind of salamander in the Arroyo Seco as well as those familiar long-legged water bugs.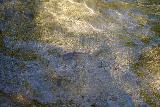 I knew from last week's usage of the GoPro Hero 8, the short battery life (as well as the amount of memory being chewed up) were definite downsides of using this product.
Unfortunately, they keep obsoleting these things, and perhaps the Hero 8 wasn't the right purchase given what I've been observing so far.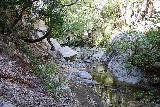 Anyways, I continued on with the scramble within the canyon, which only really had one or two hairy spots that required clinging to rock ledges around deeper pools and cascades, but it wasn't anything major.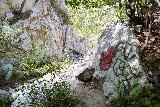 There was then one last log jam traverse, which was nothing like that Lower Oneonta Falls, but there were some poison oak growing out of it.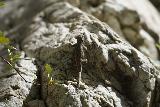 Once I got past the logjam, I was then in the three-sided confines of the main Switzer Falls at 11:25am.
This waterfall had surprisingly good flow considering how dry the last three months have been.
Upon looking up towards the top of the falls, I noticed that couple that had scrambled from the top and wisely decided to stay up there.
Once they noticed me down below, I was pretty sure they were now determined to find a way to get to where I was at, but since I didn't even go past them, I'm sure they knew that there had to have been a totally different approach to get down here.
So I took my time documenting the experience now that I was more interested in capturing videos this time around instead of stills.
I wished my SOP had inclined videos back when I came here in year's past, but you don't know what you don't know, and in many cases, the technology just wasn't there yet especially for a lot of our older hikes that took place well before smart phones became popular.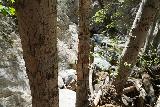 It was still disappointing to see litter here (which I suspect was a combination of people tossing stuff into the canyon as well as other people who have made it here and just treating it as a dumping ground), and there was a hideous graffiti on the rocks by before the log jam.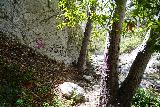 That said, I was done by about 11:40am, and then I made it back to the precarious ledges some 20 minutes later.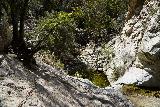 I documented that experience though it was a bit more dangerous to do there since I had to really concentrate around these obstacles so I don't slip and fall into the Lower Switzer Falls.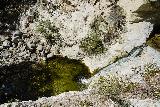 Eventually after making it back across the two sketchy obstacles, I finally rejoined Cliff and Mom at 12:05pm.
Once down there, I had some Mom's "sushi" lunch and also had Mom film me discussing the Lower Switzer Falls as well as the scramble immediately above me.
There were a couple of ladies remarking about Mom's "sushi" and one of the ladies told me that she leads hikes in the local mountains here.
Seeing that I was pretty experienced in these waterfall hikes, she looked for some advice on easier flatter hikes to waterfalls.
Well, I gave her the reality on the situation on that if the hikes were flat and "easy", then they'd be crowded like at Eaton Canyon.
However, the more worthwhile ones often require some degree of risk and/or difficulty.
So I finally thought up of another relatively flat hike at Bonita Falls, but I warned her about the crossing of Lytle Creek and the graffiti and litter problem there.
As we were talking about the local hikes and telling her about our website in case she's interested in digging further into what I know, I noticed up above us that Cliff checked out the scramble that I just did to get to the main waterfall.
I think upon that evaluation, he saw that it was a bit sketchy and finally came back down upon that realization.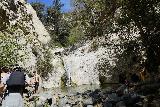 And so we headed back out to start completing the hike though I did have one more detour to make to the Upper Switzer Falls so I could get that on the GoPro.
The hike back was pretty uneventful though we did notice quite a few more people heading towards the Switzer Falls.
Considering that this was a Friday, I'd hate to imagine just how much more crowded it would be tomorrow or Sunday!
By about 12:40pm, we made it back to the trail junction at the apex of this hike, and as we continued along the fence-lined ledge, I had to switch out the batteries as well as the memory.
Man, this was getting annoying, and it's what I don't like about having to keep up with the whole YouTube filming our hikes thing.
By about 12:55pm, we made it to the stoves and the signage back at the creek crossing, but now we headed downstream in pursuit of the Upper Switzer Falls.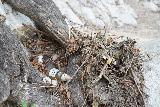 When we got there at around 1:05pm, the scramble to the right of the brink of the Upper Switzer Falls was also a bit sketchy, and so it was only me doing the scramble while Cliff and Mom stayed at the brink watching me.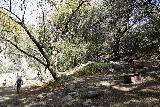 So I took the obligatory videos and looked down at the main falls where I still didn't see anyone down there, but it was also a bit annoying to see more graffiti even at this upper waterfall.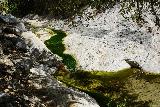 But anyways, once I had my fill, I then scrambled back above the upper falls and rejoined Cliff and Mom where we then made our way back to the main trail again.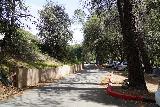 The hike back was pretty uneventful though there were definitely more people coming down to the falls at this time.
And by 2pm, we finally made it back to the Switzer Picnic Area where Mom's car was still in the shade, which was nice.
And with that, we were done with this hike, and got back in the car to make the drive back out hoping that the rush hour traffic wouldn't be too bad.
Well, going back down the Angeles Crest Highway was pretty uneventful, and then going south on the 210 wasn't bad either, but that was until we got the interchange where the 210 and 134 split.
From that point, we followed Mom's Waze app and it had us go into Pasadena and then taking local to eventually rejoin the freeway at the 60.
Although you could argue that it probably didn't really save time, it was certainly a scenic drive as we drove across the campus of Caltech as well as some fancy homes of South Pasadena and San Marino.
We could see the quick transition from the rich, old money neighborhoods to the hood as we got towards Rosemead and Alhambra.
Mom says that there's a lot of reinvestment into Alhambra these days, and we could kind of see that with lots of construction going on.
Anyways, when we finally got onto the 60, the traffic was still somewhat sluggigh, but it wasn't as bad as the 210 was.
And by about 3:20pm, we were finally back at Mom's where we had one little celebratory mango smoothie before getting back my car so Cliff and I could get home.
By 4:20pm, I made it back home, where I could finally unwind, and it was just in time for Julie, Tahia, and I to do our usual family night on a Friday night…
Day 2 (March 27, 2022 – Los Angeles, California): "Pushing Our Luck"
It was about 9am when I awoke, which was pretty late for me, but considering that we weren't supposed to pick up Tahia from her girl scouts sleepover until after 11am, there was still time to have breakfast.
I was actually up late until around 3am (I guess trying to figure out how to use Instagram Reels) so I had to make myself get up.
Anyways, Julie was running late doing stuff, and so it wouldn't be until around 10:35am when we finally left the house to pick Tahia up.
The plan was to take advantage of the fact that we were going back to La Canada-Flintridge area, which was where Tahia was sleeping over, and then we'd try to hit the Antelope Valley Poppy Reserve.
But upon seeing how busy the parking area was at the main visitor center on this day (especially given how late we were expecting to be there) while the poppy bloom was not that impressive in the web cams, we decided to pursue Cooper Canyon Falls.
Having already done Switzer Falls just two days ago, I wasn't in the mood to do that hike again.
And so I had this idea about going to Cooper Canyon Falls, which was definitely quite a bit further up the Angeles Crest Highway.
I was a bit nervous about the late start because we had never really done that hike this late in the day.
Anyways, the traffic wasn't too bad as we made our way up to the I-210 area, and eventually by around 11:25am, we made it to the girl scouts facility to pick up Tahia.
Then, she said she was hungry so we stopped by the nearest In N Out and got there at around 11:35am.
I was concerned that this was delaying our start to the hike, which put even more pressure on completing both Cooper Canyon and Buckhorn Falls before it would get dark.
Plus, that In N Out was quite busy and so we opted to street park, and then eat in the car.
So it wouldn't be until some time after 12pm that we were done with our quickie lunch and then had to pump gas at the Shell Station somewhere right off the Angeles Crest Highway at around 12:10pm.
Once that was done, we then made the long drive up into the Angeles Crest Highway as we made our way to the Buckhorn Campground.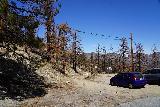 By around 1pm, we made it to a gate for what I thought was the entrance to the Buckhorn Campground (even though the GPS said that it was still another 2 miles away).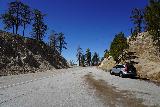 There were two other cars that were parked here, and so we parked at an extended part of this pullout so we wouldn't block that gate.
Then, we promptly went down the seemingly forest-charred road down from this gate where some signed mentioned something about Pacific Crest Trail.
It was quite chilly and windy up here as there was still some snow on the north face of what I suspected was Mt Waterman.
Tahia at first was wearing sweats to help with the wind chill, while I had on this black Columbia shirt, which I was glad to have brought to try to keep things warm even though I was starting to get sweaty.
I also had a spare jacket just in case the ladies needed it because we were more prepared for the poppy fields than we were for the Cooper Canyon hike.
So we were pushing our luck in that respect, but I thought that the hike shouldn't be that long so I figured we did have enough resources to complete at least this hike as a family.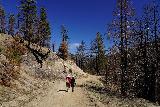 That said, we each only had one bottle of water (though mine was a 40oz), but we knew to ration our water until we long climb back knowing that this was mostly an upside down hike.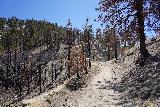 As we hiked down this road, we could see lots of evidence of the effects from the Bobcat Fire, and in fact, the burn area seemed to be quite extensive.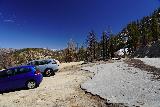 Anyways, as we continued down this road, I started to wonder if we had gone the wrong way because the campsite should have been encountered by now, but we were getting down to about 3/4-mile from the trailhead and there was still no campground let alone signage in sight.
Then, upon looking at Gaia GPS, that was when I realized that we were actually on the wrong trail!
Given that we were already starting late to do the Cooper Canyon hike, we now had to contend with the fact that we had to regain the car sine we were on the wrong trail (and it was much longer to do this trail instead of the one from the Burkhart Trailhead).
So we backtracked and regained the car at 2pm, but by this time, we had hiked about 1.5 miles unnecessarily!
I felt real stupid making this mistake, and now it felt like we might be really pushing our luck trying to get to both Cooper Canyon Falls and Buckhorn Falls before it gets dark.
Sure enough, I guess Julie's Apple Maps routing had been correct because some 2 miles later, we finally drive by the correct Buckhorn Day Use Parking area as well as passing by the closed gate that would have led us down to the Buckhorn Campground.
Once we got to the day use parking nearest to the gate for the Buckhorn Campground, that was when we saw that there were a handful of cars occupying the parking spaces to the west side across from the picnic tables.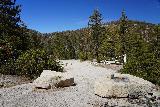 However, we took one of two spots on the opposite side closer to the entrance, and that was when we geared up and proceeded to start hiking at around 2:10pm.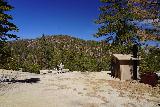 Upon leaving the car, we headed towards the restroom area, and then proceeded to walk down the road past the partially-open gate, and then follow the pavement.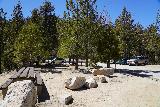 However, we eventually got to a point where the pavement became a cul-de-sac and dead-end, and from that point, we were pretty much route-finding our way down to the Buckhorn Campground.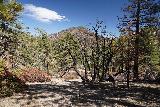 Julie and I thought aloud that this development was a recipe for getting lost, and it made me wonder whether we had missed something about this trail, especially given the amount of infrastructure up by the day use parking area.
It kept feeling like the trail kept disappearing or just degenerated into a gully scramble, and the only thing that kept me going was the fact that I had Gaia GPS helping us navigate down towards the Buckhorn Campground.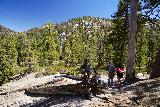 I knew that there was no way we'd be taking this way back up (especially when it starts to get dark) and we mind as well take the old way back to the Angeles Crest Highway even though it might be a bit longer.
Eventually we got down to the fairly empty Buckhorn Campground, and then we walked towards the main road through the CG and ultimately along a side road signed for the Burkhart Trail.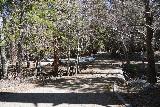 There was one Latino couple that took off before us, and apparently we arrived at the campground at the same time as they did.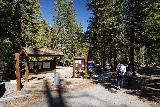 Anyways, by about 2:45pm, we finally got to the official Burkhart Trailhead, and I'm sure it would have been nice to park at this spot to really shorten the overall hike.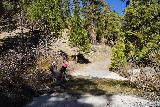 But alas, of all the times we've been to this waterfall, only once was this campground open though it was towards the May timeframe on a drought year.
After an obligatory intro video that Tahia was eager to be an assistant and record me, we then promptly went about on the hike.
As expected, the hike was mostly downhill, but at least it was on trail. That said, the effects of the Bobcat Fire were definitely on full display now as we could see charring on the tall trees here (are some of them redwoods?) that went really high up.
Normally, the fires are supposed to stay closer to the base of the trees, and these tall trees tend to be fire resilient.
But the Bobcat Fire was no ordinary fire, and we could see lots of deadfalls and fallen branches where a lot of the wood had essentially a layer of charcoal on them.
Tahia was starting to get cold, but for some reason, she had left the sweats behind and opted to hike in shorts. So I had to loan her my jacket.
At around 3:10pm, the GoPro battery went out again, and this was just at the time that Tahia had to do a Nature Call of the second kind.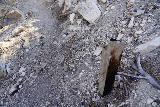 As we were trying to bury the waste, my water bottle fell out of my side pocket of the pack and nearly made contact with the stuff!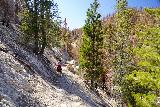 I actually wasn't sure if it did make contact but seeing that it was my only bottle of water, that would have been disastrous if my water was poisoned so we had to wipe the bottle down as best we could just in case.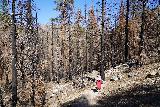 Carrying on with the hike as the afternoon was advancing, we eventually descended down to the PCT by around 3:40pm.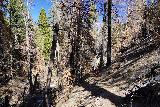 At this time, Tahia was definitely getting cold, and the strong winds certainly weren't helping.
But also as we descended during this stretch, the extent of the Bobcat Fire was quite remarkable given how even the distant hillsides were brownish and bare!
The scenery here definitely took on more of an eerie feeling as opposed to the last time we were here around the 2016 time frame.
Just as we continued on with the PCT, the Latino couple that was ahead of us was suddenly behind us as I suspected that they had gone the wrong way along the PCT.
Anyways, it was probably fortunate that they found us because we then did the steep descent to get down to the base of the Cooper Canyon Falls, which wasn't bad except for the rope-assisted slippery descent where it was better to go backwards than to go forwards.
And by 4pm, we finally got down there where the falls was pretty much completely in shadow, which further reminded me of how daylight was running out to do the Buckhorn Falls let alone finish off this hike.
I took some time to help out the Latino couple that was here after us and they reciprocated with helping us take a family shot.
But as I was making my way back down the rock, my water bottle once again fell out of the side pocket of my pack and apparently it busted the cap (once again) so now I had to contend with a water bottle that was open.
As if there weren't enough things conspiring to prevent me from doing the Buckhorn Falls scramble on this day!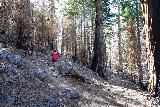 I also learned that I hadn't been recording since I had gotten to the Cooper Canyon Falls and helping that couple out so I also didn't film the initial part of the climb back up.
Anyways, by around 4:25pm, we returned to the crossing of Buckhorn Creek, and it was here that Julie and Tahia would separate from me as I would start the scramble.
However, given the bottle situation, Julie and I had to switch and I had to settle for the smaller bottle while I emptied my bottle into their bottles so they should have enough to return to the car.
Hopefully, the one smaller bottle would be good enough for both this scramble and the hike back up, but we'll see.
I also got out my trekking poles and changed batteries and memories once again (geez, this was really getting old).
And with that, we went our separate ways for now, and I immediately started the scramble.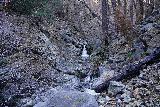 But it was barely a few minutes in that I already encountered the first obstacle where I could clearly see that boots were not going to work here as Buckhorn Creek was flowing higher than my first time here, and there were lots of deadfalls and debris flows.
Thus, I immediately took the time to remove the boots, clip them to my backpack via my carabiner, and then put on the Chacos, knowing that it might get a bit rough on my exposed feet (especially with the deadfalls and poison oak).
When I had to cross the creek, it was frigidly cold since it was draining the melting snow right off of Mt Waterman.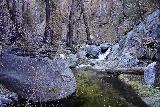 Regardless, I carried on and I immediately started to figure out that this was a very slow slog as I was getting nicked and scratched by the numerous fallen trees in this canyon as well as trying to test the stability of each step I took due to the debris flows.
In the back of my mind, I started to wonder if this scramble was worth the trouble considering that I was fighting darkness, and I wasn't sure if I was even close to Buckhorn Falls yet.
I was especially worried where there were cliff ledges to cling onto just to get by the deeper obstacles of Buckhorn Creek, especially where there were large, slippery boulders.
Then, I also found myself clinging to steep and unstable slopes just to avoid some of those deep pool and boulder obstacles below as well as the jumble of deadfalls.
At roughly 5pm, I finally started to see the flowing waters of Buckhorn Falls in the distance, but it would still take me another 20 minutes or so before finally getting to the Buckhorn Falls itself at around 5:25pm.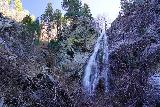 Man, this was difficult, and I could see from the fading daylight that I didn't have much time to do my business here.
So I filmed myself before the falls as well as took the obligatory videos and photos both on the phone and on the DSLR.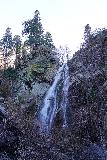 And then by 5:40pm, I started to sling on my pack to start getting out of here when I realized that I was missing one of my hiking boots!
Not only that, but I was missing the lens hood to my DSLR camera!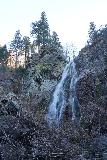 As if this hike was already full of those moments that really made it seem like I was pushing my luck.
I guess I could lose the lens hood because those things aren't expensive, but losing the hiking boot and orthotics was bad news.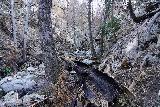 So not only did I have to race the darkness and get the heck out of this canyon, but now I had a reconn mission to try to recover that missing boot.
Well, I guess the lack of a loop on the boot meant that I had the shoelace solution wasn't cutting it either and so I had to put one of the boots into my pack.
Anyways, I made my way back and of course, it was slow going.
However, at around 5:45pm, I got to the part where I had to go in the water underneath a large fallen tree (further evidence of the unusual destructiveness of the Bobcat Fire), and that was where I found the missing boot partially submerged in Buckhorn Creek.
While I lamented the boots being ruined in the water, I was at least ecstatic that I at least got that boot back and the expensive orthotics.
Of course, finding that lens hood was like finding a needle in a haystack and I wasn't optimistic about finding that one, especially since I must have lost it around one of the ledges where the camera on the Cotton Carrier was likely bumping against the cliffs.
So it was probably in the creek and maybe floating downstream somewhere, but it was getting dark and finding a dark item like that was pretty low probability.
And so I kept backtracking my way along Buckhorn Creek though I had a few scares from active rockslides probably due to the strong winds above jarring some tree branches and rocks loose.
Indeed, scrambling within a canyon badly affected by a wildfire was probably not one of the wisest things I've ever done.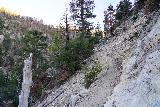 Thankfully, I finally made it back to the PCT at around 6:30pm, and I opted to put the trekking poles away in my pack to free up my hands though I stayed hiking in Chacos.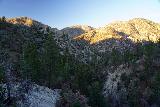 At least now I knew that I was pretty much "home free" but I was aware of coyotes and mountain lions that could conspire to make this return hike go sideways while Julie and Tahia I'm sure are worried about me at this point.
This was especially since the Buckhorn Falls interlude took twice as long as I had anticipated (and told Julie about).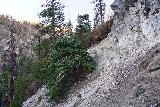 As I started to ascend the PCT and then ascend the Burkhart Trail, I ran out of water right at the switchback before the trail hugged some narrow ledges as it made the bend around the scenic part of the hike.
From there, it was a relentless uphill hike where the winds were blowing pretty hard and knocking branches down, but I still kept my momentum while turning around periodically to ensure no mountain lion or coyote pack were stalking me.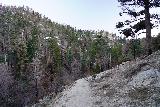 Eventually by about 7:10pm, I finally made it back to the official Burkhart Trailhead, but I still had a bit more to go in order to get back to the Buckhorn Day Use Parking lot where I anticipated Julie and Tahia waiting for me.
By now, it was definitely getting dark, and I opted to go the paved route back to the Hwy 2 as opposed to the way we went down earlier since I knew where that road was going at least.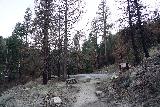 The hike back up seemed to go a bit longer than I had hoped, but I eventually got back to the gate fronting the Hwy 2 at around 7:30pm.
The memory went full at this time so I had to switch out the memory one last time even though I was just minutes from finishing.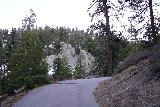 And by this time, it was definitely well past twilight and getting dark.
As I followed the Hwy 2 back towards the Buckhorn Day Use Area, I saw a car starting to leave the trailhead at 7:45pm, and I was pretty sure that was Julie.
I don't think she saw me at first but then she saw someone walking the road (which was me), and she pulled over at the nearest pullout.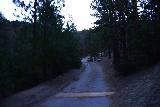 And so I crossed the road and went ahead and popped the trunk, at which time, I heard Tahia crying because she was really worried about me.
That really made me feel bad, and it was probably the last bit of reinforcement that I really pushed our luck with this bit of an adventure when so many things were conspiring to delay and sidetrack us.
While I did end up being successful, I had to question myself at what price was it worth the effort?
After all, I was cramping and dehydrated, one boot was almost lost, I lost a lens hood, I broke a bottle cap (again), and I have loads of scrapes (hopefully none of them affected by poison oak) as well as a child traumatized by my risk taking.
Well, now that we were all together once again, I assumed the drive back along the Angeles Crest in the dark, and we pretty much had to watch out for deer or other wildlife that might dart onto the road at this time.
We also had to watch out for fallen branches and rocks since it was so windy and dark at this time.
We were actually quite surprised at the number of vehicles driving up in the opposite direction in the dark, especially as fog and clouds seemed to be starting to roll in as we got past the Switzer Falls area.
But fortunately, we made it out of the Angeles Crest Highway, and then took the 210 freeway into Pasadena.
However, now that we finally had phone reception, we learned that our home alarm false alarmed and we weren't able to disable it without any phone reception so apparently the cops showed up and now we have to eat the consequences of a fine for a false alarm (without a permit).
It was yet another reminder that we had lots of weird things going on in this day, and the drama just kept coming!
Anyways, we ultimately got to Old Town Pasadena, where we found street parking nearby the King Taco there so we could have our dinner.
It was quite busy in the restaurant when we showed up at around 8:45pm, and I guess since they opened until 10pm today, this was probably the main reason why.
We ended up hitting the spot with a chicharron burrito as well as our favorite al pastor burrito, and Tahia got her carnitas quesadillas.
Then, we finally got back in the car at 9:25pm where we made the long drive back home as we finally made it there at 10pm.
With her having to go to school tomorrow and me having to go to work, it was definitely a drama-filled day, but at least we got out OK (especially with a rare storm coming in tonight and/or tomorrow).
And now we could get back to life once again…
Visitor Comments:
Got something you'd like to share or say to keep the conversation going? Feel free to leave a comment below...
No users have replied to the content on this page