Day 2 (March 27, 2022 – Los Angeles, California): "Pushing Our Luck"
It was about 9am when I awoke, which was pretty late for me, but considering that we weren't supposed to pick up Tahia from her girl scouts sleepover until after 11am, there was still time to have breakfast.
I was actually up late until around 3am (I guess trying to figure out how to use Instagram Reels) so I had to make myself get up.
Anyways, Julie was running late doing stuff, and so it wouldn't be until around 10:35am when we finally left the house to pick Tahia up.
The plan was to take advantage of the fact that we were going back to La Canada-Flintridge area, which was where Tahia was sleeping over, and then we'd try to hit the Antelope Valley Poppy Reserve.
But upon seeing how busy the parking area was at the main visitor center on this day (especially given how late we were expecting to be there) while the poppy bloom was not that impressive in the web cams, we decided to pursue Cooper Canyon Falls.
Having already done Switzer Falls just two days ago, I wasn't in the mood to do that hike again.
And so I had this idea about going to Cooper Canyon Falls, which was definitely quite a bit further up the Angeles Crest Highway.
I was a bit nervous about the late start because we had never really done that hike this late in the day.
Anyways, the traffic wasn't too bad as we made our way up to the I-210 area, and eventually by around 11:25am, we made it to the girl scouts facility to pick up Tahia.
Then, she said she was hungry so we stopped by the nearest In N Out and got there at around 11:35am.
I was concerned that this was delaying our start to the hike, which put even more pressure on completing both Cooper Canyon and Buckhorn Falls before it would get dark.
Plus, that In N Out was quite busy and so we opted to street park, and then eat in the car.
So it wouldn't be until some time after 12pm that we were done with our quickie lunch and then had to pump gas at the Shell Station somewhere right off the Angeles Crest Highway at around 12:10pm.
Once that was done, we then made the long drive up into the Angeles Crest Highway as we made our way to the Buckhorn Campground.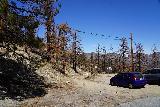 By around 1pm, we made it to a gate for what I thought was the entrance to the Buckhorn Campground (even though the GPS said that it was still another 2 miles away).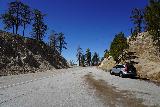 There were two other cars that were parked here, and so we parked at an extended part of this pullout so we wouldn't block that gate.
Then, we promptly went down the seemingly forest-charred road down from this gate where some signed mentioned something about Pacific Crest Trail.
It was quite chilly and windy up here as there was still some snow on the north face of what I suspected was Mt Waterman.
Tahia at first was wearing sweats to help with the wind chill, while I had on this black Columbia shirt, which I was glad to have brought to try to keep things warm even though I was starting to get sweaty.
I also had a spare jacket just in case the ladies needed it because we were more prepared for the poppy fields than we were for the Cooper Canyon hike.
So we were pushing our luck in that respect, but I thought that the hike shouldn't be that long so I figured we did have enough resources to complete at least this hike as a family.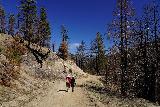 That said, we each only had one bottle of water (though mine was a 40oz), but we knew to ration our water until we long climb back knowing that this was mostly an upside down hike.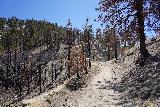 As we hiked down this road, we could see lots of evidence of the effects from the Bobcat Fire, and in fact, the burn area seemed to be quite extensive.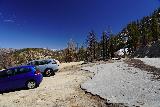 Anyways, as we continued down this road, I started to wonder if we had gone the wrong way because the campsite should have been encountered by now, but we were getting down to about 3/4-mile from the trailhead and there was still no campground let alone signage in sight.
Then, upon looking at Gaia GPS, that was when I realized that we were actually on the wrong trail!
Given that we were already starting late to do the Cooper Canyon hike, we now had to contend with the fact that we had to regain the car sine we were on the wrong trail (and it was much longer to do this trail instead of the one from the Burkhart Trailhead).
So we backtracked and regained the car at 2pm, but by this time, we had hiked about 1.5 miles unnecessarily!
I felt real stupid making this mistake, and now it felt like we might be really pushing our luck trying to get to both Cooper Canyon Falls and Buckhorn Falls before it gets dark.
Sure enough, I guess Julie's Apple Maps routing had been correct because some 2 miles later, we finally drive by the correct Buckhorn Day Use Parking area as well as passing by the closed gate that would have led us down to the Buckhorn Campground.
Once we got to the day use parking nearest to the gate for the Buckhorn Campground, that was when we saw that there were a handful of cars occupying the parking spaces to the west side across from the picnic tables.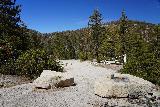 However, we took one of two spots on the opposite side closer to the entrance, and that was when we geared up and proceeded to start hiking at around 2:10pm.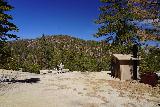 Upon leaving the car, we headed towards the restroom area, and then proceeded to walk down the road past the partially-open gate, and then follow the pavement.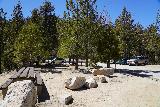 However, we eventually got to a point where the pavement became a cul-de-sac and dead-end, and from that point, we were pretty much route-finding our way down to the Buckhorn Campground.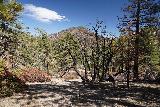 Julie and I thought aloud that this development was a recipe for getting lost, and it made me wonder whether we had missed something about this trail, especially given the amount of infrastructure up by the day use parking area.
It kept feeling like the trail kept disappearing or just degenerated into a gully scramble, and the only thing that kept me going was the fact that I had Gaia GPS helping us navigate down towards the Buckhorn Campground.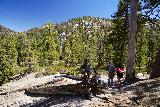 I knew that there was no way we'd be taking this way back up (especially when it starts to get dark) and we mind as well take the old way back to the Angeles Crest Highway even though it might be a bit longer.
Eventually we got down to the fairly empty Buckhorn Campground, and then we walked towards the main road through the CG and ultimately along a side road signed for the Burkhart Trail.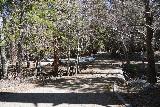 There was one Latino couple that took off before us, and apparently we arrived at the campground at the same time as they did.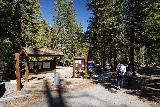 Anyways, by about 2:45pm, we finally got to the official Burkhart Trailhead, and I'm sure it would have been nice to park at this spot to really shorten the overall hike.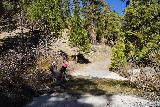 But alas, of all the times we've been to this waterfall, only once was this campground open though it was towards the May timeframe on a drought year.
After an obligatory intro video that Tahia was eager to be an assistant and record me, we then promptly went about on the hike.
As expected, the hike was mostly downhill, but at least it was on trail. That said, the effects of the Bobcat Fire were definitely on full display now as we could see charring on the tall trees here (are some of them redwoods?) that went really high up.
Normally, the fires are supposed to stay closer to the base of the trees, and these tall trees tend to be fire resilient.
But the Bobcat Fire was no ordinary fire, and we could see lots of deadfalls and fallen branches where a lot of the wood had essentially a layer of charcoal on them.
Tahia was starting to get cold, but for some reason, she had left the sweats behind and opted to hike in shorts. So I had to loan her my jacket.
At around 3:10pm, the GoPro battery went out again, and this was just at the time that Tahia had to do a Nature Call of the second kind.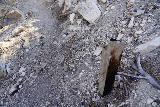 As we were trying to bury the waste, my water bottle fell out of my side pocket of the pack and nearly made contact with the stuff!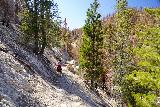 I actually wasn't sure if it did make contact but seeing that it was my only bottle of water, that would have been disastrous if my water was poisoned so we had to wipe the bottle down as best we could just in case.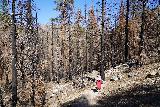 Carrying on with the hike as the afternoon was advancing, we eventually descended down to the PCT by around 3:40pm.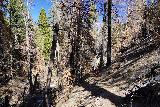 At this time, Tahia was definitely getting cold, and the strong winds certainly weren't helping.
But also as we descended during this stretch, the extent of the Bobcat Fire was quite remarkable given how even the distant hillsides were brownish and bare!
The scenery here definitely took on more of an eerie feeling as opposed to the last time we were here around the 2016 time frame.
Just as we continued on with the PCT, the Latino couple that was ahead of us was suddenly behind us as I suspected that they had gone the wrong way along the PCT.
Anyways, it was probably fortunate that they found us because we then did the steep descent to get down to the base of the Cooper Canyon Falls, which wasn't bad except for the rope-assisted slippery descent where it was better to go backwards than to go forwards.
And by 4pm, we finally got down there where the falls was pretty much completely in shadow, which further reminded me of how daylight was running out to do the Buckhorn Falls let alone finish off this hike.
I took some time to help out the Latino couple that was here after us and they reciprocated with helping us take a family shot.
But as I was making my way back down the rock, my water bottle once again fell out of the side pocket of my pack and apparently it busted the cap (once again) so now I had to contend with a water bottle that was open.
As if there weren't enough things conspiring to prevent me from doing the Buckhorn Falls scramble on this day!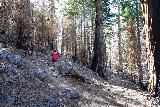 I also learned that I hadn't been recording since I had gotten to the Cooper Canyon Falls and helping that couple out so I also didn't film the initial part of the climb back up.
Anyways, by around 4:25pm, we returned to the crossing of Buckhorn Creek, and it was here that Julie and Tahia would separate from me as I would start the scramble.
However, given the bottle situation, Julie and I had to switch and I had to settle for the smaller bottle while I emptied my bottle into their bottles so they should have enough to return to the car.
Hopefully, the one smaller bottle would be good enough for both this scramble and the hike back up, but we'll see.
I also got out my trekking poles and changed batteries and memories once again (geez, this was really getting old).
And with that, we went our separate ways for now, and I immediately started the scramble.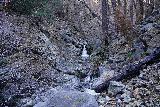 But it was barely a few minutes in that I already encountered the first obstacle where I could clearly see that boots were not going to work here as Buckhorn Creek was flowing higher than my first time here, and there were lots of deadfalls and debris flows.
Thus, I immediately took the time to remove the boots, clip them to my backpack via my carabiner, and then put on the Chacos, knowing that it might get a bit rough on my exposed feet (especially with the deadfalls and poison oak).
When I had to cross the creek, it was frigidly cold since it was draining the melting snow right off of Mt Waterman.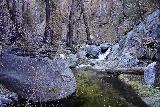 Regardless, I carried on and I immediately started to figure out that this was a very slow slog as I was getting nicked and scratched by the numerous fallen trees in this canyon as well as trying to test the stability of each step I took due to the debris flows.
In the back of my mind, I started to wonder if this scramble was worth the trouble considering that I was fighting darkness, and I wasn't sure if I was even close to Buckhorn Falls yet.
I was especially worried where there were cliff ledges to cling onto just to get by the deeper obstacles of Buckhorn Creek, especially where there were large, slippery boulders.
Then, I also found myself clinging to steep and unstable slopes just to avoid some of those deep pool and boulder obstacles below as well as the jumble of deadfalls.
At roughly 5pm, I finally started to see the flowing waters of Buckhorn Falls in the distance, but it would still take me another 20 minutes or so before finally getting to the Buckhorn Falls itself at around 5:25pm.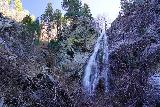 Man, this was difficult, and I could see from the fading daylight that I didn't have much time to do my business here.
So I filmed myself before the falls as well as took the obligatory videos and photos both on the phone and on the DSLR.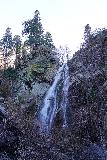 And then by 5:40pm, I started to sling on my pack to start getting out of here when I realized that I was missing one of my hiking boots!
Not only that, but I was missing the lens hood to my DSLR camera!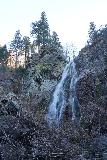 As if this hike was already full of those moments that really made it seem like I was pushing my luck.
I guess I could lose the lens hood because those things aren't expensive, but losing the hiking boot and orthotics was bad news.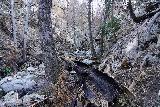 So not only did I have to race the darkness and get the heck out of this canyon, but now I had a reconn mission to try to recover that missing boot.
Well, I guess the lack of a loop on the boot meant that I had the shoelace solution wasn't cutting it either and so I had to put one of the boots into my pack.
Anyways, I made my way back and of course, it was slow going.
However, at around 5:45pm, I got to the part where I had to go in the water underneath a large fallen tree (further evidence of the unusual destructiveness of the Bobcat Fire), and that was where I found the missing boot partially submerged in Buckhorn Creek.
While I lamented the boots being ruined in the water, I was at least ecstatic that I at least got that boot back and the expensive orthotics.
Of course, finding that lens hood was like finding a needle in a haystack and I wasn't optimistic about finding that one, especially since I must have lost it around one of the ledges where the camera on the Cotton Carrier was likely bumping against the cliffs.
So it was probably in the creek and maybe floating downstream somewhere, but it was getting dark and finding a dark item like that was pretty low probability.
And so I kept backtracking my way along Buckhorn Creek though I had a few scares from active rockslides probably due to the strong winds above jarring some tree branches and rocks loose.
Indeed, scrambling within a canyon badly affected by a wildfire was probably not one of the wisest things I've ever done.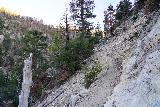 Thankfully, I finally made it back to the PCT at around 6:30pm, and I opted to put the trekking poles away in my pack to free up my hands though I stayed hiking in Chacos.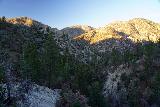 At least now I knew that I was pretty much "home free" but I was aware of coyotes and mountain lions that could conspire to make this return hike go sideways while Julie and Tahia I'm sure are worried about me at this point.
This was especially since the Buckhorn Falls interlude took twice as long as I had anticipated (and told Julie about).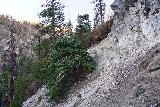 As I started to ascend the PCT and then ascend the Burkhart Trail, I ran out of water right at the switchback before the trail hugged some narrow ledges as it made the bend around the scenic part of the hike.
From there, it was a relentless uphill hike where the winds were blowing pretty hard and knocking branches down, but I still kept my momentum while turning around periodically to ensure no mountain lion or coyote pack were stalking me.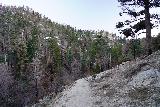 Eventually by about 7:10pm, I finally made it back to the official Burkhart Trailhead, but I still had a bit more to go in order to get back to the Buckhorn Day Use Parking lot where I anticipated Julie and Tahia waiting for me.
By now, it was definitely getting dark, and I opted to go the paved route back to the Hwy 2 as opposed to the way we went down earlier since I knew where that road was going at least.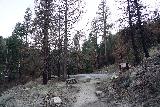 The hike back up seemed to go a bit longer than I had hoped, but I eventually got back to the gate fronting the Hwy 2 at around 7:30pm.
The memory went full at this time so I had to switch out the memory one last time even though I was just minutes from finishing.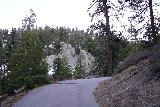 And by this time, it was definitely well past twilight and getting dark.
As I followed the Hwy 2 back towards the Buckhorn Day Use Area, I saw a car starting to leave the trailhead at 7:45pm, and I was pretty sure that was Julie.
I don't think she saw me at first but then she saw someone walking the road (which was me), and she pulled over at the nearest pullout.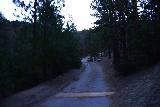 And so I crossed the road and went ahead and popped the trunk, at which time, I heard Tahia crying because she was really worried about me.
That really made me feel bad, and it was probably the last bit of reinforcement that I really pushed our luck with this bit of an adventure when so many things were conspiring to delay and sidetrack us.
While I did end up being successful, I had to question myself at what price was it worth the effort?
After all, I was cramping and dehydrated, one boot was almost lost, I lost a lens hood, I broke a bottle cap (again), and I have loads of scrapes (hopefully none of them affected by poison oak) as well as a child traumatized by my risk taking.
Well, now that we were all together once again, I assumed the drive back along the Angeles Crest in the dark, and we pretty much had to watch out for deer or other wildlife that might dart onto the road at this time.
We also had to watch out for fallen branches and rocks since it was so windy and dark at this time.
We were actually quite surprised at the number of vehicles driving up in the opposite direction in the dark, especially as fog and clouds seemed to be starting to roll in as we got past the Switzer Falls area.
But fortunately, we made it out of the Angeles Crest Highway, and then took the 210 freeway into Pasadena.
However, now that we finally had phone reception, we learned that our home alarm false alarmed and we weren't able to disable it without any phone reception so apparently the cops showed up and now we have to eat the consequences of a fine for a false alarm (without a permit).
It was yet another reminder that we had lots of weird things going on in this day, and the drama just kept coming!
Anyways, we ultimately got to Old Town Pasadena, where we found street parking nearby the King Taco there so we could have our dinner.
It was quite busy in the restaurant when we showed up at around 8:45pm, and I guess since they opened until 10pm today, this was probably the main reason why.
We ended up hitting the spot with a chicharron burrito as well as our favorite al pastor burrito, and Tahia got her carnitas quesadillas.
Then, we finally got back in the car at 9:25pm where we made the long drive back home as we finally made it there at 10pm.
With her having to go to school tomorrow and me having to go to work, it was definitely a drama-filled day, but at least we got out OK (especially with a rare storm coming in tonight and/or tomorrow).
And now we could get back to life once again…
Visitor Comments:
Got something you'd like to share or say to keep the conversation going? Feel free to leave a comment below...
No users have replied to the content on this page