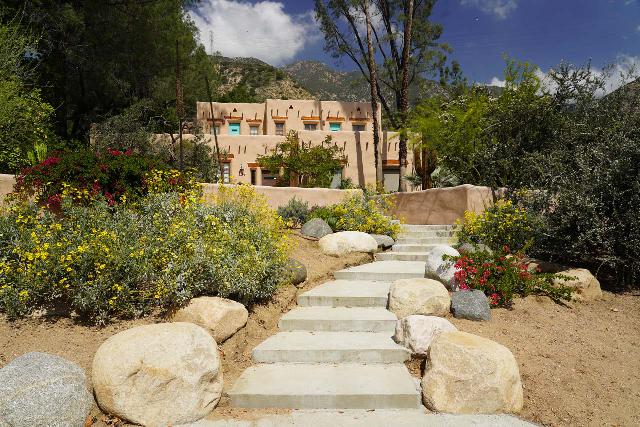 19-March 2022:
I was seemingly getting looks from people going by in the opposite direction, and I wasn't sure if it was the GoPro-labeled camera on my chest that might have drawn their eyes or my hiking clothing as I seemed to be the only person not in a track suit and typical running shoes.
Instead, I was in my standard hiking shirt, hiking pants, and hiking boots with a broad-brimmed, dog-eared hiking hat.
If the latter is the case, I guess that just goes to show you just how urbanized the Eaton Canyon Falls hike has become that now I'm the outlier when I show up in proper gear…
It wasn't until around 10:40am when I finally left the house as both Julie and Tahia were going to someone's birthday party so we were essentially splitting up on this Saturday.
This was definitely later than my usual start time on a hike, and I knew that the parking might get a little intense at the Eaton Canyon Falls again.
But I was running on low sleep since I don't think I slept until around 3:30am and I didn't get up until some time after 9am.
Nevertheless, I was on my own today, and the intent of going back to Eaton Canyon on this day was to use our new GoPro Hero 8 to re-capture footage of the hike.
A month ago, we used the Hero 2, which was quite shaky and the camera mounted on the head strap wasn't pointed properly as it kept pointing towards the sky instead of towards the trail.
Needless to say, I wasn't very happy with it as I was attempting to make a YouTube video on Eaton Canyon Falls this week, but that had to be deferred until I could finally re-record the trail using the latest equipment.
Besides, I needed to see how the workflow would differ considering that battery life and "memory life" were way more limited than with the GoPro Hero 2 that we had been using for quite a while.
I was also going to test out my orthotics, which was supposed to alleviate some of the torsional pressure (from my pronation) on my achilles tendon, which were bulging ever since the Iceland trip last Summer.
Indeed, there was a lot of technology testing to do on this visit, and I guess now would be as good a time as any to see how this goes.
Now, I was wondering whether I should have done this hike in the first place because gas prices were now above $6 per gallon, which meant that this drive to the falls and back would probably have costed around $10 I think.
So these kinds of these were starting to weigh on the mind, but I almost felt like we had been getting by with unsustainably cheap gas for such a long time that we really should be paying a lot more for gas to properly account for all the socialized impacts from its use.
Of course, the reality isn't for that purpose, and it was probably lining the pockets of oil companies (what else that's wrong with the world is new?).
And so I was off as I was half listening to Dr Karl and half listening to March Madness basketball (though it hadn't been since my college days that I had participated in an office pool).
Well, there was quite a bit of traffic on both the 605 and 210, but it was still moving along, and I'd eventually get to the anticipated exit for Eaton Canyon Nature Center.
However, my head kept saying to get off Altadena Drive (which I was winging it without technology on the way in), but when I got to the Hill and Lake exits, I knew that I had overshot the correct exit.
So I hopped back on the 210 east and then got off Altadena Drive, forgetting that the exit going west should be Sierra Madre Ave exit (which would then connect with Altadena Drive).
After that bit of a hiccup, I then got to the Eaton Canyon Nature Center, where I expected the parking situation to be rather intense, and it definitely was as I saw some people circling in the overflow parking area.
However, some inconsiderate hikers completely occupied the connector road to the overflow parking, and well, I just rolled with it and followed them to their car so I could at least get their parking spot without circling around.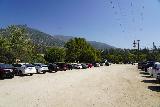 It wasn't until about 11:35am when that was done, but at least now I could finally get started on this partially cloudy day that was already starting to feel hot.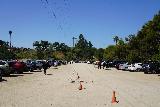 Once I got geared up and wore the chesty with the Go Pro Hero 8, I was then off on my own, where I didn't take nearly as long as the family when we did this hike at nearly the exact same time last week.
So I happily went about the hike with the La Sportiva boots being worn.
As I got through the overflow parking area and onto the familiar overflow trail, I saw that there was an even more intense black-eye Susan sunflower bloom flanking the trail than it was last month.
Spring was definitely in full effect on this day.
I'd eventually get to the end of the parking lot area where I had to do my business, and then afterwards, I thought about going back towards the Eaton Canyon Nature Center, but I thought since I was already past it, I mind as well come back to it.
Then, I pretty much continued about the hike as I was pretty much going pretty quickly and trying to let the Go Pro Hero 8 mounted on the Chesty strap do its thing.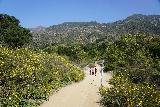 I was seemingly getting looks from people going by in the opposite direction, and I wasn't sure if it was the GoPro-labeled camera on my chest that might have drawn their eyes or my hiking clothing as I seemed to be the only person not in a track suit and typical running shoes.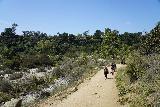 Instead, I was in my standard hiking shirt, hiking pants, and hiking boots with a broad-brimmed, dog-eared hiking hat.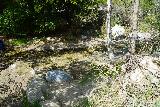 If the latter is the case, I guess that just goes to show you just how urbanized the Eaton Canyon Falls hike has become that now I'm the outlier when I show up in proper gear.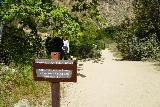 I'm sure on other more rugged hikes, if these people try to rock up in their gym clothes, they're going to have a much harder time.
Anyways, by me filming the hike, I'm already going to stand out.
It makes me wonder if other YouTubers have already gone long past the self-conscious stage (maybe they never had it and are extroverts to begin with so they don't mind the attention) and don't mind people as they go about hiking with their camera gear.
When I got down to the familiar sign and fork on the trail, I followed the "Eaton Canyon Trail" that actually went up above the canyon and towards the familiar bridge spanning the mouth of that canyon.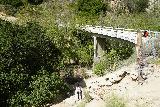 I figured I mind as well explore a bit more of that shortcut route since I've already gone up this way, and there sure seemed to be quite a bit more people going down this way compared to that of the regular way.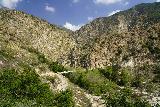 As I got past the bridge, and then past the junction with the Altadena Crest Trail (which I suspect was the access to the so-called Razorback Trail leading to the top of the Lower Eaton Canyon Falls and the upper ones as well).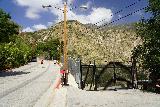 Of course, at the trailhead, I did notice that there was a sign pointing out the 2014-and-on closure of that upper area around Eaton Canyon because of fatalities.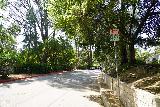 As much as I was curious about seeing how bad the Razorback Trail was, I thought better of it and just kept going up to Pinecrest Drive.
When I got up there, I saw that the gate was closed, but it was unlocked so you could open it in either direction (last month, it was totally propped open).
Then, I saw that numerous people were walking to the left and following the red-curbed Pinecrest Drive so I decided to go down that street just to see exactly where these people were parking.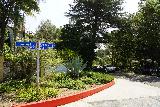 By about 12:30pm, I got to the junction of Pinecrest Drive and Crescent Drive, and it was here that I saw dozens of cars street parking in the residential neighborhood.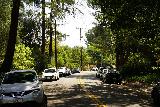 Man, I thought to myself how the residents here must hate that this is happening to them, and I'm sure as the main Eaton Canyon Falls and overflow parking get filled up on the weekends, that some people go over here for the shorter hike.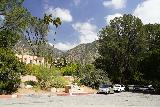 I wonder if the residents will petition and try to make it permit parking subject to towing and fines because I'm sure the city can make bank out of this.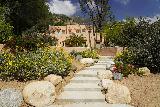 So at least I now know what these folks here were up to (where some people did park on Pinecrest Drive where parking was supposed to be prohibited on weekends, and it goes to show you that threats mean nothing without enforcement).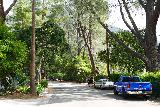 Now, it was time to resume the hike down into Eaton Canyon Falls, but before I started the return hike, I noticed this really nice-looking house right at the corner of Pinecrest and Crescent.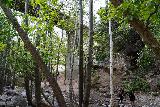 It looked very much like something you'd see out of Santa Fe, New Mexico, and it was quite captivating.
Anyways, after descending back down to the bridge and taking the trail underneath the bridge into the Eaton Canyon itself, I then went through the familiar trail skirting and crossing Eaton Creek a few times.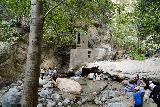 In a bit of a disappointing development, my Hero 8 was beeping, and I knew that the battery had run out, which was way sooner than I had anticipated.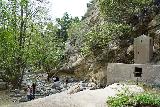 I think it only went for around 90 minutes or so before the battery quit, which was way slower than the Hero 2 scheme I had going last month when I think I had to replace the battery just once for the entire hike.
But as this rate, I might have to change the battery again before the excursion was done.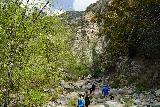 Nevertheless, as expected, since I was wearing legitimate Gore-tex hiking boots, I was able to get through each of the stream crossings without really needing to balance and rock hop like everyone else was doing.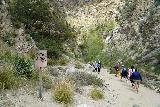 So they were struggling with each of the crossings (and slowing people down behind them), while I could easily go around them and not mind getting the boots wet from the outside.
Eventually, I'd make it to the familiar Eaton Canyon Falls by about 1:10pm, where it really resembled more of a party scene here.
After all, there were people crowding the plunge pool and taking turns taking pictures getting wet underneath the waterfall (and screaming in pain due to the cold water).
There were also dozens of onlookers in the usual viewing spots.
In fact, it was even more challenging to take videos and pictures this time around since people seemed to be dominating the point-of-view in front of me.
So I didn't linger here for long, but I did manage to take a narrated video of myself a little further back from the action.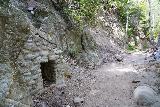 By 2:30pm, I headed out, and pretty much made a beeline back to the Eaton Canyon Nature Center.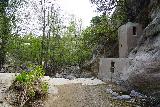 Once again, I was getting even more looks and reactions from passer-bys as I was still wondering whether it was the GoPro on the Chesty or my hiking gear getup (the latter of which I actually don't mind because what do these people know about hiking safety?).
I guess it goes to show you just how vain people can get when they don't understand that Nature isn't Disneyland.
Anyways, by about 2:05pm, I made it back to the Eaton Canyon Nature Center, which was just a building acting more like a museum though I had forgotten to bring my mask so I couldn't go inside to check it out more.
The GoPro Hero 8 second battery died by the time I got here, so I had to change into another one (good thing I had 5 of these).
However, the memory was also down to just a few minutes of footage, so now I had to worry about running out of memory as well as batteries.
After having my fill of the Eaton Canyon Nature Center, I then returned to the car by 2:30pm, where I was texting Julie about my findings with the GoPro Hero 8.
I learned from this excursion that…
I wasn't too thrilled with the Chesty because it was easy to get things in the way (like my arms, the Cotton Carrier strap to keep the camera from crashing to the ground if it fell, etc.)
The hot batteries were quite hot when I had to switch them out
The battery life was lower than expected
The quickly memory was chewed up quickly given the higher resolution filming at 60fps
The La Sportiva Nucleo GTX boots weren't as waterproof as the Vasque St Elias boots but better than the Solomon 4D GTX boots
I'm going to use the Head Strap next time I'm out with the Go Pro Hero 8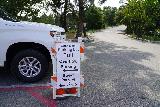 Besides, it was a hot day, and I actually had to use the AC in my car for like the first time this year.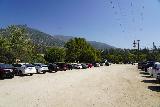 Regardless, I was pretty much listening to sports talk on the heavy traffic on the way home, and it wouldn't be until about 3:40pm when I finally got to the empty home (as the girls were already out to their party).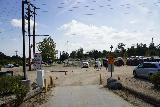 And so went this rather last-minute, spontaneous day of hiking, but I have a feeling that the next 3 weeks or so (leading up to our Spring Break trip) will be very busy as I keep trying out GoPros and redeeming some hikes already done.
After all, we're still not sold on the GoPro Hero 8 and might go with GoPro Hero 9 or 10 given the disappointing battery life, but we're also concerned about the overheating problem with the later GoPro models.
Of course, whatever we commit to, we also have to invest in all the accessories like the batteries, the chargers, and maybe even the waterproof casings.
That said, we might have to defer snorkel pics to the phone with the Dicapac cases.
And so begins another round of a weekly binge of hikes to get to our next "comfort level" in getting our ability to document our waterfalling up to standard these days…
Visitor Comments:
Got something you'd like to share or say to keep the conversation going? Feel free to leave a comment below...
No users have replied to the content on this page