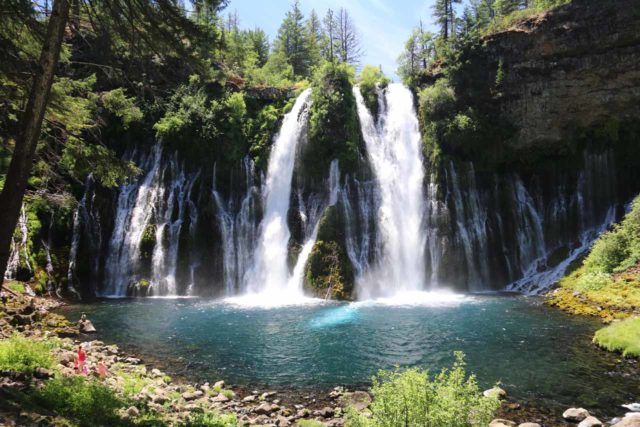 18-June 2016 to 24-June 2016:
Anyways, after climbing then going around a bend where there was that familiar view of Mono Lake, we could now see that Mono Lake was essentially one big haze with the lake hardly being able to be seen. The fire was down in the basin seemingly near Lee Vining. So now it appeared that if we were to somehow get through this road closure, we'd probably have to drive next to this fire.
For a fire that was under clear skies and being so close to the road, I knew this had to be human caused. Whether it was due to electrical failure or some thoughtless idiot tossing a cigarette out the window, we'll probably never know. But for sure, it was human induced as a thunderstorm cell was nowhere in sight.
At 10:50am, we were ultimately halted by a line of cars hoping that they might let us get through the closure point right at the junction with the Hwy 167 and the turnoff for Lundy Lake. Even with the fire closure, I thought about getting past the line of cars then turning right onto Lundy Lake to do the Lundy Canyon hike, but Mom nixed the idea citing that you just never know how the winds might change the direction of the fire and put us at risk of becoming barbecue…
Day 1 (June 18, 2016 – Red Bluff, California): "Taking Turns"
It was 4:30am when I awoke, which was my typical wake-up time for workdays. So it felt as if I was going to work even though it was Saturday morning. That said, I had been working for both Saturdays and Sundays on the past two weekends, and this trip back up to Northern California was a much-needed Nature break. The only unfortunate thing about this visit was that Julie and Tahia couldn't come again due to some health complications from overgrowth of small intestinal bacteria.
After having a hasty leftover chicken and sauerkraut breakfast, then giving both Tahia and Julie a kiss and a hug while they were asleep, Mom showed up shortly after 5am, and after quickly loading up her car, we left home at 5:15am.
Since I hadn't returned from work then a post-work party until around 10:30pm last night, I really didn't get a whole lot of sleep so Mom agreed to start the initial driving shift while I tried to get caught up on some sleep then we'd take turns somewhere further along the drive.
So in my first wave of catching up on some z's, we wound up stopping at a gas station and IHOP in the Grapevine at 7:15am. I guess Mom was looking for a coffee break, but this was apparently the closest thing to a Starbucks that she could find as apparently none of the LA-basin areas appeared to make for a convenient stop while she was establishing momentum with the lack of early Saturday morning traffic.
Anyways, we wound up getting something basic like a steak-and-eggs breakfast. I tried to refrain from the pancakes and hash browns, which I guess were illegal from a low FODMAPs diet standpoint (which I knew would be hard to maintain while traveling). Nonetheless, by 7:45am, we resumed our driving once again. Mom continued with the driving duties while I started my second round of getting caught up on some much-needed sleep.
By about 9:55am, we made another stop, but this time, we saw that this particular spot (somewhere not far south of the 152) happened to have an In and Out. And knowing that this was still pretty early for a lunch, we decided we mind as well have ourselves this early lunch so we wouldn't have to deal with crowds by delaying lunch another hour or two. So we filled up on gas then got ourselves a couple of protein-style burgers. And by 10:25am, we resumed our drive up the I-5 north towards Redding (well, actually Red Bluff, which was where we were going to spend the next three nights).
This time, I took over the driving duties while Mom was going to catch up on her sleep. I guess that was the one good thing about going with my Mom on this trip – that we were able to take turns driving, and now that I'm fully rested, the long eight-hour drive from LA to Redding didn't seem so bad, as we were approaching the half-way point of this very long (and boring) drive.
And so the drive went along pretty uneventfully though I was enjoying listening to some Bay Area and Sacramento-based sports talk along the way, which was largely centered around tomorrow's Game 7 of the NBA Finals between Golden State and Cleveland. It was entertaining hearing about the conspiracy theories, the refs, the dominance of LeBron, Steph deserving the MVP but not being the best player in the NBA (that goes to LeBron), etc. etc.
It helped to pass the time, and eventually by 2pm, we finally arrived at the Holiday Inn Express in Red Bluff, where we promptly checked in and dropped off our bags while changing into our hiking attire as there was still plenty of daylight left to fit in a hike for a little exercise on this day.
By 2:20pm, we left the Holiday Inn Express and resumed driving north on the I-5 before heading west on the 44 briefly then making our way to the 299 towards Whiskeytown. We would eventually get off of the highway at the Crystal Creek Road, which was a considerably narrower two-lane road that ultimately brought us to the trailhead for Whiskeytown Falls.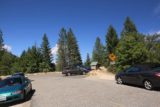 We arrived at the trailhead at about 3:20pm, and there were quite a few cars already parked here. Fortunately for us, there were still a few more spaces on the shoulder of the Crystal Creek Road, and that was where we wound up parking. We also noticed that there was no kiosk selling passes nor were there any self-help envelopes to drop in money and keep the proof of payment. So we were in a bit of a quandary as we were technically supposed to be paying $10 or something like that for seven days. We weren't sure if our Forest Service pass was going to work here (probably not) nor were we going to drive all the way back to the visitor center near Whiskeytown Lake.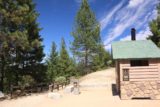 So by 3:30pm, after lacing up our hiking boots and getting enough water, we chanced it and started hiking. I did notice quite a few other cars displayed their passes, so both Mom and I were a bit nervous that we might end up paying $125 in a fine, but I guess it was one of those time versus money dilemmas, and we valued time in this case.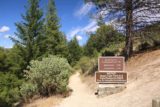 The trailhead sign indicated that this was a 1.7-mile hike (probably 3.4 miles round trip) but there was also some larger font letters saying something to the effect that the trail to the Upper Falls and Vista Point are closed. That didn't sound like good news, but I guess it wasn't going to deter us from doing this hike to at least the Lower Falls via the sanctioned trails.
The trail initially went downhill on a somewhat gentle grade. I knew from the trip research that this was supposed to be a mostly uphill hike, but the fact that it went downhill straight away kind of mentally told us that we were in for a final uphill part of the hike at the end. Still, we trudged on as we could hear the sounds of rushing water faintly as we were descending.
The sounds got louder as we were nearing the apparent creeks that skirted this trail. We then crossed over a bridge over this creek before the trail then began its ascent in earnest. The ascent was a bit on the steep side, and I could see that Mom was already starting to breathe a bit heavier and walk a bit slower due to this uphill. So indeed, this hike was probably more of a moderate hike than an easy one as I had initially thought.
The uphill climbing would persist for quite a ways though the trail was mercifully mostly in the shade at this time in the afternoon. As we were slowly making our way uphill alongside some dry gully or creek (I hypothesized that this might have been the main creek at one point before maybe the stream changed course away from this) with some signs of ferns along the way (suggesting it might get a bit wet here like Oregon-type climate).
Apparently we weren't going fast enough as both Mom and I were getting swarmed by a few dozen mosquitos, which were clearly visible against Mom's nearly white-colored hiking pants. I had already gotten a bit on my forearm, and so that was when I helped Mom get out a water to hydrate while she helped to get the Jungle Juice from my pack. One I had put on the Jungle Juice, the mozzies didn't seem to bother me anymore.
Further along the hike, we noticed that there was somewhat of an informal trail junction, where a sign pointed to our right saying "Falls". We obeyed the sign, but in the back of my mind, I thought that perhaps we should explore this other path to see if there was another waterfall along the way. As we were walking further uphill along the sanctioned path, I could see in through the thick foliage that there indeed seemed to be a handful of cascades or something, but they didn't seem to be anything significant. So I made the mental note to come back here later to see what it was all about.
Anyways, the uphill hiking continued though the trail makers here did seem to spare a thought for some of the older hikers by placing benches along the way as rest stops. One young dude and his dad were going at a slow pace, and apparently the young dude was looking for an extra bottle of water in his pack. Mom offered to give them the extra bottled water that we were carrying, which they kindly accepted.
Once we got up to the apex of this climb, there was a bench with a view of the forest and the sounds of rushing water, but there was definitely no view of Whiskeytown Falls from here. There was a family here with a few girls enjoying the view (or lack thereof) so we let them enjoy their peace while Mom and I kept going on.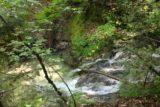 The trail then gently undulated as it meandered alongside the stream responsible for Whiskeytown Falls. Some folks that we were going the other way were encouraging us by saying that we were almost there. Sure enough after crossing a bridge then spending a few more minutes walking past some small cascades and alongside more of the rushing stream, we'd finally arrive at the Lower Whiskeytown Falls at 4:25pm.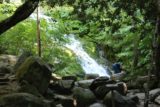 This falls was pretty impressive considering it was the first waterfall we had seen in about three or four weeks now. So it was a welcome sight. But this particular drop seemed to only be on the order of 40-50ft tall or something like that. It left more to be desired, especially since it was said to be 230ft in cumulative height. So we were keen to see more of this falls.
Fortunately, I could see that there were some stone steps and railings continuing to climb alongside the falls. And as we slowly pursued this path, we could see that there were indeed more waterfall tiers further upstream. Ultimately, we'd get to the closure spot where they said further progress was closed due to "hazardous" conditions. But I guess now that we were here, I could see that really the hazard was that the rocks were wet and slippery.
It didn't seem to be a big deal, and we had seen way worse. Still, it was indeed slippery and so caution was warranted. Eventually at 4:50pm, I finally got to the uppermost railed part of the trail, where I could get a somewhat satisfying look at the upper tiers of the Whiskeytown Falls. It was hard to get it all in one shot, but Mom and I agreed that this was one of those falls that had to be experienced in person than on photographs.
So we gladly took our photos and basked in our little victory, which was well-earned considering that we had driven over 9 hours just to even get to this point. And with that, we got our fill, and quickly headed back knowing that most of the hike back was downhill.
Mom and I were making good progress, and we'd eventually get to that spot where I was curious about where the detour led away from the "Falls" sign. So I pursued that while Mom stayed on the trail, but when I regained the other side of the spur trail near a well-overgrown rushing stream, all I could see was some Erosion Control sign and not much else other than the informal trail. So I really had no idea what this spur trail was for, and it didn't take long before I rejoined Mom back at the main trail.
After catching up to and passing the young dude and his dad, we then crossed the familiar bridge and returned to the trailhead by 5:30pm. Luckily for us, we didn't get ticketed. But it was certainly getting late in the day and we still had to do dinner before continuing the drive back south to Red Bluff.
So we headed out and made a brief stop at the visitor center at the vista point for Whiskeytown Lake at 5:50pm. The view of the man-made lake was nice although it was against the sun. The visitor center was definitely closed so there'd be no way we could procure any permits for the Whiskeytown area, but we'd be coming back here a month later while not doing another Whiskeytown area hike on this trip. So it wasn't necessary to be in a rush to procure one anyways.
At 6pm, we left the visitor center, and 15 minutes later, we showed up at this fairly busy Thai/Lao restaurant called Champa Garden. It seemed to get pretty good reviews for a restaurant in the Redding area, and so we went with that since I myself hadn't had a good Thai meal ever since Julie got sick.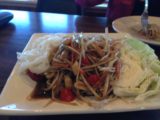 I knew I'd probably compromise the paleo diet that we had been on for the past month or so (causing me to lose 20-25 pounds in the process), but we couldn't go to a Thai place and not have pad thai or some rice to go with the curry dishes.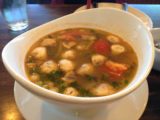 Anyways, the food turned out to be pretty decent and a good value. And even though this little strip mall that we were dining in seemed to be on the dead side, it seemed like all the activity was pretty much this restaurant. We had a papaya salad Laotian style, a pad thai, a duck curry, a tom yum goong, and mango sticky rice for dessert, and it was all for $40 including tax and tips.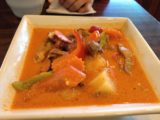 Not bad for a place way out in Redding, CA. Anyways, we left the restaurant at 7:25pm, and we then made the 30-mile drive south to Red Bluff, finally getting there at 7:55pm. Along the way, we could see in the rear-view mirror impressive views of Mt Shasta (now that the clouds have cleared) as well as some snowy peaks to the east that I thought might be Mt Lassen. Plus, there was also a nice rounded full moon rising to the southeast.
Indeed, only things like this happen when you're out of town, and it served to remind us just why excursions out in Nature definitely has restorative qualities. We sure hope that this would be a sign of good things to come for tomorrow, especially since we'd be embarking on perhaps our riskiest excursion of this trip to Mossbrae Falls…
Day 2 (June 19, 2016 – Red Bluff, California): "Big Shasta Moments"
It was about 5:55am when I awoke. I had a pretty continuous sleep given how much of a drive we had made yesterday. That said, I did have a little bit of an early morning wake-up when I heard some baby crying through the walls, but it was a minor interruption. Apparently, Mom said that she slept straight from around 9pm all the way to 5am. So indeed, we were quite rejuvenated after the sleep, and now it was time to get ready for today's big day.
What we had planned on this day was a rather forbidden hike to Mossbrae Falls. It was that forbidden nature with the unusual hike along the train tracks that kind of made us a little anxious about it going into this hike. Now way back in 2008, there were plans to build a very nice 3-mile round trip trail going from Hedge Creek Falls all the way to Mossbrae Falls with views of Mt Shasta along the Sacramento River.
Unfortunately, now was 2016 and this trail had still yet to be complete let alone started, and apparently, there was a lack of progress in terms of this thing that everyone (the city of Dunsmuir, the Mt Shasta Trail Association, Union Pacific Railroad, tourists, and some residents) were keen on seeing get accomplished. So what was the hold up?
Well, apparently, the Saint Germain Foundation owned the part of the land that the proposed trail would have to pass through. Many attempts were made to try to negotiate with the Saint Germain Foundation to buy just the parcel of land alongside the river allowing for the trail to be built, but they didn't seem to be interested in seeing this deal get done.
I guess that's what happens when you have all the leverage. You get to call the shots on whether things go forward or not. And according to the latest news on this, it seemed like their asking price was well above reasonable. Whether that news article was biased against the Saint Germain Foundation or not remained to be seen.
So who were the Saint Germain Foundation? Well apparently, they were some kind of religious organization, which it turned out after researching the Mt Shasta area wasn't all that unusual as this mountain seemed to attract this spiritual enlightenment movement or something like that. But after having seen some of the Louis Theroux documentaries, I had gotten somewhat of an idea of what these types of organizations might be about though he certainly had a way of letting the people he interviewed in his dockos find ways to debunk themselves without them knowing. So in this instance and based on my limited exposure to what I had seen and heard, I wouldn't have expected the Foundation folks to act in the best interests of everyone around them but themselves.
And so while these negotiations continued to stall (or more like hit an impassable roadblock), we weren't going to wait around for this to get resolved so we planned on taking our chances with hiking to Mossbrae Falls in a kind of Stand By Me
style as we'd be walking along railroad tracks always on the lookout for oncoming trains.
Since breakfast wouldn't start until 7am today, we decided not to wait around for it and grabbed some of the fruits on the go. We left the Holiday Inn Express at 6:35am, and just as we were leaving, we could see there was a long train running by, which hinted to us that the trains were definitely running on a Sunday. And thus, it amped up our anxieties about what we would do if we were confronted by one of these trains while walking along the train tracks.
The drive up north along the I-5 was pretty uneventful and it felt kind of long as the interstate went from a boring flat drive between farms and urban cities into a more curvy forested area flanked by the massive Shasta Lake (a man-made lake) with some interesting cliff formations like the Castle Crags among others. Mom even received a Facetime call from Julie and Tahia during the drive, and as we were getting closer to Dunsmuir, we were treated to imposing glimpses of Mt Shasta nearly totally covered in snow.
Mom pointed the camera towards the view out the front windshield so both Julie and Tahia could get to experience it. Anyways, shortly after the call ended, we then stopped at a vista point at 7:40am, which afforded us the ability to stop for Mt Shasta without trying to make an awkward photo while driving along the interstate.
When we got out of the car, it was quite nippy at less than 60F. This was a bit of a surprise for us as we were expecting a heat wave (at least down at Redding) starting today. It was certainly dangerously hot back at home as the highs were expected to be in the 100s or higher this weekend. Anyways, I had left my jacket back at the room so I had to grin and bear it.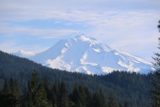 Anyways, the view of Shasta's snowy peak was primarily of its upper sections as the V-shaped contours of the canyon we were in kind of kept the mountain from showing even more of itself. Plus, there were some morning clouds providing less contrast between the mountain and the blue skies that were forecasted to be there.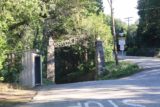 So it didn't take long before we had our fill then continued our drive north on the I-5. At around 10 minutes later, we took an exit to go into Dunsmuir, which seemed to be a quiet and sleepy town. We slowly drove until we saw Swanson Way, which was fronted by an archway saying "Shasta Retreat". We briefly drove down this road just to see what was down there and to scout out where we were supposed to make our danger-filled hike.
Well it didn't take long before we reached a bridge over the Sacramento River, and then crossed the railroad tracks. Beyond the tracks, the road went into another private area within the already private Shasta Retreat, which was really like a small community of charming homes.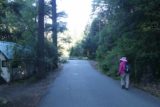 So knowing where we were supposed to do our hike (there were already people out and about doing Sunday strolls), we drove back up to Dunsmuir Ave, and then initially drove to an abandoned parking lot, where it seemed kind of sketchy to leave the car there. Mom didn't like the idea of leaving the car here so we briefly drove back towards the Shasta Retreat, where we saw a small unsigned pullout area with one other car already parked here.
So at 8am, we parked in partial shade, and promptly laced up our hiking boots and got our stuff together along with my tripod so we could quickly get this hike over with. The forbidden nature of this hike was definitely palpable, but we weren't going to be denied. So we promptly headed out and walked beneath the archway then down the ramp and onto the street going to our left and right. Going right, we headed straight for the bridge, politely greeting the Sunday strollers en route, and then promptly walked along the railroad tracks on the other side of the bridge of the Sacramento River.
As we were quickly walking alongside the railroad ties, we made sure to try to maintain our steps on the concrete ties for the best footing. The rest of the surface was composed of sharp shale like rocks, which we could take with our hiking boots, but it was a little slower than the railroad ties steps. The steps on the ties were a little awkward as a more comfortable stride would have been about every 1.5 ties per step, but they didn't have those half step ties so it was either going to be fast but short steps versus hopping every other railroad tie.
The hiking was a little tense because any kind of sound we suspected would be from a train, we freaked out and went down into the pile of rocks to ensure we were nowhere near the ties when the train would arrive. Still, the sounds were competing with distant I-5 traffic as well as the sounds of rushing water from the Sacramento River down below.
Anyways, as we were making our hasty and awkward hike, Mom was relaying to me how when they were youths in Taiwan, they'd kind of play dodge with trains, and how they used to feel the tracks for vibrations when an oncoming train was headed their way.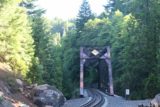 She also relayed to me how much of a Chinese heritage there was concerning railroads like this one. Most of them came here as migrants during the California Gold Rush of the mid 1800s, and she explained to me how San Francisco in Chinese was literally translated as the "Old Gold Mountain". Indeed, a lot of the railroad infrastructure was off the backs of Chinese labor, and so it felt kind of weird to be "trespassing" on Union Pacific working territory when our kin did most of the dirty work for railroad tycoons.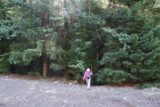 At about 8:35am, we made it amongst some remnants of railroad artifacts fronting a bridge. I knew from our trip research that we didn't have to cross this bridge, and we saw an opening in the tree-cover leading down from the railroad clearings down to the Sacramento River, where we saw the imposing percolating Mossbrae Falls.
Mom was getting reception on her iPhone
, and in the euphoria of checking out Mossbrae Falls, she Facetimed Julie to show her this waterfall. She was successful in sharing this moment with Julie, and we spent a good deal of time taking movies and photos of the falls. It was not possible to photo this waterfall in one shot with conventional cameras, but Mom did take advantage of her Pano (panorama) mode.
We had spent quite a bit of time around this waterfall as this was a place we didn't want to leave. But with all the anxieties about trains on the tracks, we finally heard a loud droning sound getting louder and louder, and sure enough, there was indeed a train running along the train tracks above us. So I quickly scrambled up towards the railroad to witness the train passing by.
The train showed up at around 9:30am, and this kind of hinted to us that we should get going now. After all, with this passing train, it was probable that the next train wouldn't be passing by as there would have to be a point where a train going the other way would have to wait for the one that just went by. So we mind as well seize this opportunity to hike back with somewhat of a piece of mind.
And so at 9:35am, we headed out just as the sun was starting to breach the cliffs above us. The hike back was pretty uneventful though we did see one Thai couple going the other way. Clearly, this may be a forbidden hike, but it didn't seem to stop people from still wanting to do this excursion.
When we finally got back to the Shasta Retreat area, we saw another car parked near the bridge, and the passengers in there seemed intent on doing the Mossbrae Falls hike as well. However, one of the locals said they weren't allowed to park within the Shasta Retreat lest they get ticketed or towed.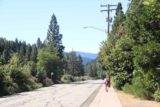 Mom and I were back at the car at 10:10am. With the shade pretty much gone on our return, the weather was starting to heat up a bit though it was still in the high 60s to low 70s at the time. Anyways, with this bit of accomplishment, the next waterfall (Hedge Creek Falls) was definitely more accessible. However, at first, we went back on the freeway until we realized that going on the freeway was a mistake.
Eventually at about 10:20am, we parked at a small clearing opposite the trailhead for Hedge Creek Falls. There was hardly any shade on the trailhead parking, so we just claimed a shot on the long shoulder, and then we promptly made our hike to the Hedge Creek Falls.
The hike was pretty straighforward as the trail switchbacked a couple of times. Once we got down to the bottom, we saw the impressive 30-40ft falls flanked by impressive basalt formations. So with the better-than-expected experience, we took our time documenting the experience while waiting out some people to leave.
It wouldn't be until several minutes later when we finally got our movies and photos without people in the frame. We had to be real patient because there were lots of people who made their way down here from one moment to the next. I guess this would be the fate of Mossbrae Falls if or when they ever get the deal done with the Saint Germain Foundation. Hedge Creek Falls was too accessible and hence it was also too popular.
Nevertheless, we ultimately got back up to the car park at 11:05am, which was probably an hour later than what I had planned for going into this part of the trip. It was strange how when we started this hike, we were only one of two vehicles at the trailhead. But now, the pullout parking here was practically full. Again, this attested to just how popular this place was.
At 11:35am, we finally got into Shasta Town, which was a town that featured imposing views of the towering Mt Shasta. We wound up parking right in front of this place called Bistro 107, but it wasn't open until noon. And so Mom and I killed time by walking around the cnter of town while also checking out the views of Mt Shasta from a public parking area across the street from Dos Geckos.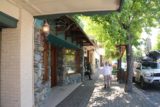 After having our fill of these views and experiencing the center of town, we then went to the Visitor Center a couple of blocks along Lake Ave. Inside the visitor center, we picked up some park literature and a map, and we also solicited some advice from the lady working the counter here about the best places to view Mt Shasta. The key takeaway from what she told us was that there was one place to see Mt Shasta at sunset along the Crystal Lake Rd.
So I took a mental note to do this experience after dinner here, which wasn't far fetched since Game 7 of the NBA Finals was starting at 5pm today.
After having our fill of the visitor center, we then walked back to the Bistro 107, where there were already a handful of people who showed up just when they opened. After getting seated, we had ourselves a juicy wagyu beef burger as well as a pulled pork sandwich along with a coconut shrimp appetizer. The service and food was extraordinarily slow (the coconut shrimp came out last) as we had started lunch at around 12:10pm, but it wouldn't be until about 1:15pm when we returned to the car to resume our day. Still, the food was good though I knew that meals like this one would kill the paleo diet I had been on for over a month before going on this trip. I wonder how much of the 25 pounds I had lost I was getting back on this weeklong trip?
Next up, we were aiming to do the McCloud Falls (all three main tiers), but I had aspirations of fitting in even more hikes in addition to the McCloud Falls that we were targeting at the outset.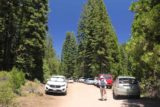 It wasn't until about 1:40pm when we finally parked the car at the Lower McCloud Falls lot, which was packed with cars. On the way in, we saw that there was a separate road going to the Middle and Upper Falls and we had entertained the thought of being lazy and parking at each one to shorten the amount of hiking, but given how crowded this Lower Falls lot was, we ultimately decided to just park the car and hike to all three waterfalls and back from here. Hopefully, we weren't creating unnecessary work in doing this.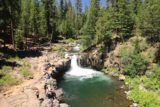 At first, it didn't seem all that obvious where we were supposed to go in order to get to the Lower Falls. There was a picnic ground and some paths branching this way and that, and the first sign we saw was something pointing downstream saying "River Trail".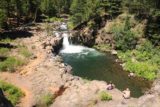 So just when we saw that sign, Mom, decided to go down that trail while at the same time, I saw that there were railings to the left. So I went over to the railing to see what was there, and that was when I saw the busy scene of people hanging out besides the Lower McCloud Falls.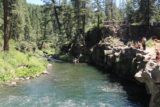 While I was taking several minutes to enjoy the view from the lookout, I saw that the falls was a bit small, and this was really more of a play waterfall. Given how hot it was supposed to be back at Redding, I guess it was logical that lots of weekenders (including families) were here just cooling off upstream from the falls, which featured some calm sections of the river for kids to play in. Meanwhile, there were some daredevils jumping off the cliff near the falls for a cold swim.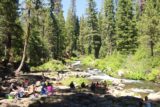 The whole time I was enjoying and documenting this waterfall, I started to wonder why Mom hadn't come here to enjoy the falls. It had now been several minutes, and I started to wonder where she had gone. At first, I thought she was waiting for me somewhere on that River Trail sign, but after a few minutes of walking down this path going away from the Lower Falls in the downstream direction, I knew this was wasting time, and I had better check the iPhone
to see if there was any reception here.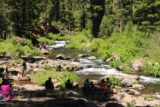 Luckily, there was, and I texted Mom at first at around 2pm. But without a response, I then called her, and she picked up the phone. When she told me that she had gone down the River Trail, I told her that it was the wrong way, and she said, "Oh my God! I told the family the wrong thing" and she then went to chase them to tell them that they were going the wrong way as she was.
So it wouldn't be until about 2:15pm when Mom finally rejoined me. She was a bit of a sweaty mess, but now that we were back together again, she enjoyed a little bit of the Lower Falls before we continued the walk in the upstream direction along the wheelchair accessible paved path. By 2:30pm, we made it past the Fowler Campground, where quite a few campsites were alongside the busy trail. But just past the camp, the path went from paved to conventional dirt trail. A sign also said that the Middle McCloud Falls was another 1.5 miles further from this point, and it really made me wonder whether we had made a mistake in hiking all the way here instead of going back to the car then driving up to the Middle Falls.
Well, we were already here so we just pushed forward and kept hiking as we were still somewhat along the river but the trail was significantly quieter than the paved path we had been on earlier. The path alternated between warm and exposed to the sun flanked by bushes and shady as we were flanked by tall conifer trees that looked like redwoods but weren't.
At 2:55pm, we finally made it to the bottom of the Middle McCloud Falls, which at first looked distant, but we were able to scramble on some large boulders before getting a much closer and cleaner look at the falls. We didn't scramble all the way to the plunge pool where a father and son was busy fishing. But when we looked around, we saw that way up the cliff around us were the overlooks.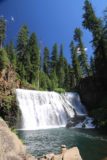 Given how high the overlooks were, it made us realize that perhaps the hiking was wise since just driving up there might have made it harder to hike down then back up before driving or continuing the hike to the Upper Falls. In any case, we knew the work ahead of us to continue the hike.
Nevertheless, we enjoyed this waterfall, which was getting nearly perflect lighting except for the shadows on the far side. The shade was growing as the afternoon kept wearing on, and it made us wonder if we had just missed the best lighting by about a half-hour or so. In any case, this wide river falls was very impressive, and it was probably deserving of a 3 or maybe a 3.5.
Shortly before making our way out, we were conversing with a guy who had just showed up. Apparently, he was a local from Whiskeytown and upon hearing that we were from Los Angeles, he made some suggestions to us about what other things there were to see and do around this area. Some of the recommendations he had included Medicine Lake as well as Burney Falls. He also told us some informative stuff concerning the area as being the southernmost of the Cascade Ranges.
I always wondered where the dividing line was between the Sierra Nevadas and the Cascades, but I guess his telltale indicator was that there were more of an abundance of conifer trees in these parts, which were apparently more typical of the Pacific Northwest.
After a few more minutes of lingering around as we found it hard to leave this spot, we managed to pull ourselves together and start the climb up to the lookouts at the top of the cliff. The climb up wasn't so bad as we went up a couple of elongated switchbacks, which the guy we had just spoken to said as much (that it wasn't as hard as it looked).
By 3:20pm, we finally made it up to the Middle McCloud Overlook, which was kind of a disappointing view as the falls was pretty much edge on. However, we were able to get commanding views of the McCloud River further downstream as well as glimpsing some of the mountain ranges further downstream.
Shortly afterwards, we continued our walk. We noticed that Mt Shasta could be seen through the trees behind us as we went further upstream from Middle McCloud Falls, but at least this trail was pretty quiet compared to the other two waterfalls on the McCloud River that we had just seen.
At about 3:30pm, Mom and I had finally made it up to the Upper McCloud Falls. This particular one possessed a smaller but gushing drop. Still, we weren't able to view it from closer in front of it, and so it was a seemingly anticlimactic end to the hike. We had our fill at 3:40pm, and then we promptly headed back the way we came all the way back at the Lower McCloud Falls.
As I continued hiking back downstream, I couldn't help but overhear screams of encouragement from young folks watching someone do a cliff dive adjacent to the falls. Anyways at 4:10pm, I heard the thud of someone splashing into the water, followed by screams of approval, and then we would eventually regain the car at 4:35pm.
The car's thermometer claimed that it was 86F, but at least the car park for the Lower Falls was almost empty now that most of the weekenders of day visitors had left. Nonetheless, with the late departure from the McCloud River area, I knew that if I was going to catch Game 7 of the NBA Finals, then it was going to be watched at some pizza parlor in Mt Shasta.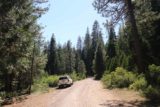 And so we promptly left and drove west on the 89 until we got onto the I-5. Once there, we'd eventually exit back at Lake Ave, and then we promptly found ourselves at this pizza parlor called "Say Cheese".
Inside the pizza parlor, there were five large-screen TVs strewn throughout the restaurant, and all of the TVs were showing Game 7. The place was busy, and I got the sense that this place wouldn't normally get that busy, except the Game 7 thing was probably a big deal to a lot of locals and visitors probably from the Bay Area or something. In fact, Mom and I had to share tables with some strangers just so we could be seated while watching the game, which turned out to be a tense one throughout. The crowd reaction from the very busy pizza parlor made for a lively atmosphere. Clearly, most of the people here were rooting for Golden State though there were a handful of folks rooting for Cleveland.
Eventually, by 7:40pm, we would learn that Cleveland had broken the 52-year professional sports drought (where none of the major sports teams from the Cleveland area could say they've won a title since Jim Brown's Cleveland Browns in 1964 in football) by beating Golden State for a third straight time (second straight time on the road). The ending was kind of a buzzkill for most of the fans watching here (one person even said I was too happy when we left probably due to me smiling as we had left thoroughly entertained).
Of course another reason why I was smiling was because I was looking forward to seeing the sun set with the sun's last rays scattered and painting the mythical Mt Shasta somewhat pink and purple in the snow at the peak. And so we promptly did that as we drove up the Crystal Lake Road for what seemed like a tense five minutes or so as we could see the light was fading fast and we might wind up missing our sunset if we weren't focused nor if a deer decided to dash out in front of us and damage Mom's car.
Eventually, we'd reach the end of the road at Crystal Lake, but it turned out that there was a better view of Mt Shasta above the tree line at a pullout a short distance downhill from the end of the road at Crystal Lake. And so by 8:05pm, we were back at the pullout with a view, and we chilled out there until the sun had set at around 8:45pm. There were a few other folks joining us as well as some mosquitos trying to take advantage of the fact that we weren't moving around.
We would eventually leave this place at 8:55pm after we saw a lone lenticular cloud emanating from the peak of Shasta somewhat changing color. Still, we battled with lots of mosquitoes who were coming out this late at night. We were also getting tired of taking the same photoraphs over and over again.
Anyways, it was now starting to get dark, and I was always cognizant of deer dashing out in front of the car like with Dad's MPV that I had totaled many years ago. You just never know what could happen next.
So we promptly went back onto the I-5 south, but now that it was pretty much dark (despite the somewhat rounded full moon we had witnessed while getting lost earlier), I was definitely very cognizant of deer, which liked to come out at this time of night. I even witnessed quite a few dead deer lying off the shoulder to the side of Hwy 50.
As we were going through the curvaceous part of the I-5, I successfully managed to swerve around some fallen furniture or box or something, which definitely raised my adrenaline levels as it was dark out and it was hard to see things with enough advanced warning under such circumstances. I had no idea what that stuff was doing on the road, but apparently a couple of other vehicles were pulled over to the shoulder, and I suspected that they must've struck the objects, which might have done some damage to their cars.
Indeed, I was on high alert already due to the deer, and that probably allowed me to react fast enough to swerve around the hazards.
Meanwhile, in order to keep the drive entertaining, I was able to get some sports talk radio reception, and so the talk was pretty much all about LeBron James' legacy and what happened to the Golden State Warriors in their collapse during this finals.
Mercifully, we made it back to the Holiday Inn Express at Red Bluff at 10:30pm, but given the late arrival, it wouldn't be until around 1:30am when I finally conked out and slept…
Day 3 (June 20, 2016 – Red Bluff, California): "Stuck on 89"
It was 6:05am when we awoke. Given last night's late sleep, we didn't feel like we had gotten adequate sleep. Still, we had planned to go to Burney Falls as well as a couple of other waterfalls, and we wanted to return to the Shasta area for one last go (perhaps even visiting a waterfall that was actually on the slopes of the volcano).
At 6:55am, we left after having the included HIE brekkie. The soaring temperatures were supposed to peak today (we knew it would be dangerously high in the triple digits back at home), and we suspected Redding would be no different. However, we banked on the fact that we'd be in higher elevations so perhaps we wouldn't be as affected by the abnormally high temps from the southwest desert heat.
Anyhow, the drive up the I-5 went pretty uneventfully, and when we got to the Redding area, we then headed east on the 299. The drive was mostly smooth and before we were going to Burney Falls, which was the main attraction for the day, we were visiting a couple of other waterfalls en route – Potem Falls and Hatchet Creek Falls.
The directions to get to Potem Falls was pretty accurate as we left Hwy 299 at Fenders Ferry Rd, which eventually became a pretty smooth gravel road. There was a moment where the road forked and we had to keep left to get onto the road 34N17, which then descended towards a narrow bridge spanning a tall gorge.
From the bridge, we noticed in the upstream direction that there was a dam. Beyond the bridge, we drove for a few minutes more before reaching an unsigned pullout. We weren't totally sure if we were in the right place or not, but when we got out of the car to inspect, we heard the tell-tale sounds of falling water and we figured that we were in the right place.
Given the obscure nature of this place, Mom and I were wondering exactly how Ann Marie Brown found out about this place. And that was when it dawned on me that her waterfalls book
was indeed a triumph in that she definitely did her homework in terms of soliciting local knowledge to write about the waterfalls in her book. In this particular case, I speculated that perhaps the dam workers must've found out about this place during the course of their work, and eventually word got out about this place.
Anyways, we showed up at 8:30am, and immediately followed a trail that descended from the pullout at the curve. The unmarked trail was pretty obvious and it didn't take long for us to start seeing Potem Falls, which was impressively tall. We started to see the falls at the first switchback, and there was a steep off-trail scramble leading to a precarious ledge with an angled top down view of the falls, but I decided not to bother with that scramble.
The trail started to go away from the falls before descending down another switchback, which then promptly descended into the lush greenery in the direction of the falls. Once we got into the shadowy depths, we could finally see the plunging Potem Falls, which was bathed in the sun while part of the plunge pool was bathed in shadow. Thus, the high contrast photography made us solely focus on the falls, which was yielding a slight rainbow.
Even though we had no aspirations of swimming in this spot, we could totally see how inviting it was, especially since we were pretty much here all alone. So we took our time documenting this falls before heading back up the short 1/4-mile trail, and by 9:15am, we were back in the car. Indeed, this waterfall was a good intro as well as a good warm-up to Burney Falls, which we knew would be a showstopper.
As we drove back towards the Hwy 299, we did see a couple of trucks going in the other direction. We figured that perhaps they were here for logging or for the hydro. In any case, the drive back out was pretty uneventful as we resumed going east on the Hwy 299.
Next up, we then took Big Bend Rd to get off the Hwy 299, and it didn't take long before we found the unsigned pullout before the bridge over Hatchet Creek as described in Ann Marie's book. Once we parked the car at 9:50am, we then tried to follow the directions saying to go upstream instead of downstream. Well, there were two apparent "trails" leaving the pullout, but the most obvious trail was on our left, and we thought there would be an upstream trail going right after going initially left.
But then it didn't take long before the trail degenerated into a difficult scramble. We were about to give up on doing this hike, but then I noticed a faint scrambling "trail" that ultimately led to a more obvious trail. When I saw there was a little stream that ran down the trail, I knew that we should've gone right from the car park to begin with.
Anyways, we were now able to follow this trail as it went over and under some fallen trees, then it became a steep scramble. We could see Hatchet Creek Falls in the distance so we knew that we had to press forward. However, during this scramble, I somehow scraped my knee and I really hurt my left shoulder on a protruding branch.
Eventually, we made it to the edge of the plunge pool of Hatchet Creek Falls, which was a gushing waterfall with a large log leaning against its cliff. The falls itself was probably on the order of 30ft or so. But we could see that with this waterfall, it was more about the swimming hole than it was about the aesthetics of the falls.
So after scrambling towards the middle of Hatchet Creek, where we followed some rocks that kept our feet from getting drenched, we were able to get a direct look at the falls (against the sun), but upon examining the surrounding area, we could see old clothes and some broken glass and beer bottle caps. Clearly, this place had been visited many times before, and unfortunately, it didn't seem to have the respect that it deserved. I don't know why people tend to trash places that are so treasured, and we figured this swimming hole would fit the bill as a nice little spot.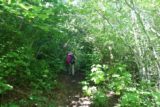 Well, we scrambled back to the car, which went a bit smoother than on the way there now that we knew which way we had to go. Still, the scramble was rough, and Mom realized that she had lost a pair of sunglasses on this rough scramble. In fact, Mom and I were thinking that we had such a nice experience at Potem Falls but such a rough one with this falls that perhaps Burney Falls would pay us back.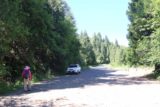 And at 10:30am, we were back in the car, where we saw mozzies hovering around us. So we hastily made our way out.
Next, we were driving towards the town of Burney. With it still being somewhat early in the day, we figured that perhaps we might take advantage of having an early lunch so we wouldn't be waiting for crowds or the like. But it turned out that the town of Burney was really more of a logging town and there was an unsightly pulp mill on the town's outskirts. So perhaps it was a stretch to think this town would have something gourmet and good.
So we settled on this place called the Blackberry Patch at 11am, which was really more of an old school diner. The food was ok as we had a philly cheesesteak sandwich as well as a salad. We even tried the blackberry pie, which was reheated. So indeed, we were fed, but we weren't savoring the experience. Maybe the sign saying something to the effect that this place was under new management should've been a warning sign.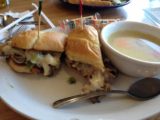 Nevertheless, we were back in the car at 11:45am, and now we were finally headed to the long-awaited Burney Falls. It wouldn't be until about 12:10pm when we finally entered the well-signed MacArthur Burney Falls State Park, where we paid the senior discount of $7 instead of the $8 normal price. Then, we promptly parked the car after finally figuring out that we had missed the day use car park for the waterfall. The road actually kept going towards a boat launch area as well as a lot of RV sites and campgrounds.
It was only about 150 feet of walking to get to the first overlook of Burney Falls, and from that overlook, we were getting a top down view of the impressive waterfall where our line of sight was flanked by trees. We could see from this vantage point that there was a nice aquamarine plunge pool, and we could also see that a good portion of the waterfall was actually coming out of the cliffs part way down making this a pretty unique waterfall.
But it was clear that we had to get down to the base to experience this waterfall a bit more. There was also a 1.2-mile long waterfalls loop, but from what we could see on the trail maps, there's a fair chunk of of trail that wouldn't yield views of the falls. So we figured that the least we could do was to get down to the base of the falls, but then go back up and that'd be enough.
So we went down a gentle paved ramp that seemed to be clearly wheelchair accessible. After one switchback, we then were able to get an elevated frontal view of the impressive Burney Falls. But with the width of this falls, it was hard to get the falls as well as the entirety of the aquamarine plunge pool in one shot. Mom was able to do it with her iPhone
in pano mode.
Part of the falls appeared to be under shadow, and we were trying to figure out when the best time of the day would be to visit this falls. But the trajectory of the sun appeared to be slightly behind the falls so we couldn't really conclude anything about the best time to visit the falls. I recalled one photographer we spoke to earlier on this trip suggested using a tripod and taking multiple shots in different stops, then combine them for the high dynamic range needed in these types of photographs. I didn't bother with it, but I did take some shots in raw so perhaps that might give me some flexibility if I ever do decide to doctor an image or not.
Continuing down the paved ramp, we then got to a switchback with some more interpretive signs. We were also able to get more angled profile views of Burney Falls as well as a closer examination of the springs coming out of the cliffs.
Then, we continued down the ramp some more as we noticed quite a few people off trail scrambling into the boulder field leading down to the shores of the large plunge pool. The water was a little on the choppy side so we didn't see anyone swimming (not that it was allowed), but quite a few people were taking photos and selfies from the shore.
Towards the far end of the paved ramp, there was an angled lookout area. The view from here wasn't that great so we went back up the ramp to get more direct looks at Burney Falls. Towards the far end downstream, we did see a few more smaller springs trickling down and feeding the creek (ala Mossbrae Falls).
Anyways, the trail kept going but it became more primitive and it went out of sight of the falls. When we saw other people continuing the waterfalls loop and went up the switchbacks, we could guess that there weren't any more views or perspectives of Burney Falls along that trail so indeed there wasn't a point to doing that trail other than to add some more exercise.
Mom and I spent quite a bit of time just enjoying this unique waterfall while taking more photos and videos in addition to observing whether the shadows situation might improve, but eventually all good things had to come to an end and we still had to continue driving the 89 up towards Mt Shasta. After all, I was determined to visit at least one waterfall on the slopes of Shasta though it was looking more and more like Whitney Falls would be out of the question.
We made it back up to the upper overlook where we could see that the view of Burney Falls hadn't improved any in terms of shadows and light. So we explored a little further towards the brink of Burney Falls though we didn't actually make it all the way there as it seemed obvious to us that accessing the brink of the falls wouldn't be possible.
However, we did see a nest on top of a leaning tree where there appeared to be some kind of eagle (someone said bald eagle) was in the nest trying to learn how to fly. It was tentatively flapping its wings, but it probably needed more time to figure it out.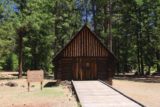 After that bit of a surprise, we finally got back to the car at 1:55pm. It was getting late in the afternoon, and I knew that it would probably take at least an hour to drive from here to the town of Mt Shasta. And so we were off going northwest on the 89.
Somewhere along the way, we saw a sign leading to Medicine Lake, which was recommended to us by someone we met at Middle McCloud Falls yesterday. We turned right there thinking that maybe this lake wasn't that far away and that we might be able to get commanding views of Mt Shasta from there. But after spending some 15-20 minutes or so with nothing to show for it on this road, we turned back to get back on the 89.
It sure seemed like we wouldn't be leaving the 89 for a while on this afternoon, and it was kind of symbolic that the Golden State Warriors were stuck on 89 yesterday for the remainder of the game with nearly 5 minutes to go until the very end.
Eventually, we'd finally get onto the Pilgrim Creek Road, which then went north for a bit before we turned left onto the national forest road NF41N15. The road then degenerated into a graded road with some potholes and ruts, and the further along this road we went, the rougher it became.
We'd pretty much follow the Windy Springs Drive (ignoring some confusing detour sign) as the road became even more rougher, undulating, and rockier. Mom was fretting about the damage this road was doing to her car, and she even chided me about me entertaining doing this trip alone (of course I wouldn't be doing this road on my own).
We pretty much had to follow brown signs pointing the way to Clear Creek Trailhead, and fortunately, there were enough of these at the key junctions to keep us on track. But with each mile we drove, we were getting increasingly nervous about whether we would have done irreparable harm to Mom's car. Certainly, this road required high clearance, and there'd be no way we could even entertain doing this road if there was snow or even if it was raining (for the road would turn to mud).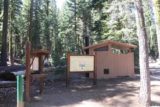 But mercifully, we'd finally arrive at the Clear Creek Trailhead at 3:35pm. Surprising the both of us, we saw a couple of other passenger cars who've managed to make it up here. Given how beat up the road to even get here was, we were incredulous on how they were able to do it.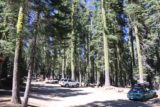 Mom struck up a conversation with someone preparing to do a backcountry hike from this trailhead by asking him how he was able to drive up here with his low clearance car. His response was that he went on this road really slow.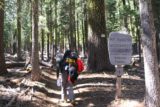 As we were getting ready, the guy Mom talked to asked to join us on our hike. We were only intending to go to the view of Mud Creek Falls, but this guy named Todd was actually intending to solo his way up to the summit of Mt Shasta. And just as we were leaving, there was a USFS ranger who showed up and asked if we knew anything about a missing hiker.
That wasn't the more reassuring thought about hiking in this area, but apparently someone who also tried to summit Mt Shasta had been missing for over a day. Well, after that conversation, we finally get started on the hike. It was getting late in the afternoon, and we still had to get to Mt Shasta for a late dinner after this hike was over.
Our pace on the hike was a little on the slow side as we were keeping Todd company while he was carrying over 50 pounds of gear. At first the trail was pretty straightforward to follow as it was pretty well-defined, but we'd eventually get to parts where there were still snow patches on the ground that were large enough to obscure the trail.
It was in these moments that we really had to pay attention to things like footprints on the snow as well as other signs like fallen logs that had straight cuts in them. It made our already slow progress even slower, and we definitely lost the trail in stretches along the way.
After what seemed like a long time hiking amongst trees and large dirt and snow patches, the scenery eventually opened up and presented us with views of the summit of the snow-covered Mt Shasta as well as some interesting canyons and glaciers. And it was in this stretch that we were finally able to see some waterfalls as well, including Mud Creek Falls as well as Croquette Falls. But disappointingly, these waterfalls were so far away that they appeared tiny and it really didn't feel like we truly experienced these waterfalls from the amount of trouble we took to even get here.
At this point, Todd continued on going solo up to the summit of Mt Shasta while Mom and I turned back to the trailhead. Once again, we had lost the trail somewhere along the way amongst the snow patches, and it wasn't until I saw that we were deviating from the established GPS tracks that we had created from earlier on.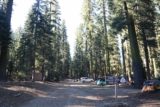 But we'd eventually get back to the Clear Creek Trailhead at 5:40pm, which was a bit more time than we had anticipated. And now we had to drive through the rough and rugged roads to get back to Pilgrim Creek Road and then eventually back onto Hwy 89. Indeed, like the Warriors, it really did feel like we were stuck on 89.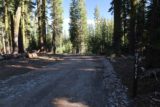 Eventually at 6:40pm, we were in front of the Maruti Restaurant in Mt Shasta. It was off the main drag, and it was vegetarian. But it turned out that we were getting partial views of Mt Shasta while dining in the house converted restaurant, and the Khichadi and eggplant curry (Baingan Bharta) were both very good. We also had garlic naan as well as a rasmalai as dessert.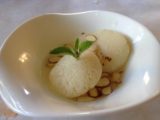 Indeed, even without meats, this meal was satisfying, and we could now understand why this place was said to be the top rated restaurant in Mt Shasta. We were wondering why an Indian Restaurant was such a staple of a small town like Mt Shasta, but that was when I realized that much of the spiritual enlightenment movement that seemed to be the main culture of this area probably ultimately had their roots in the sprituality of India. So I could see the synergy here.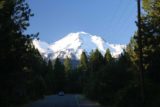 At 7:25pm, we were back in the car. Mom took over the driving duties so it was now her turn to drive south on the I-5 but this time with the advantage that there would be much more daylight compared to last night when I was driving. At some point, I conked out and it wasn't until about 9:10pm when we finally returned to the Holiday Inn Express in Red Bluff with the so-called strawberry moon in the sky that I came around.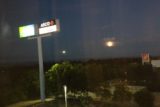 With the long day finally over, we freshened up and promptly went to bed. This was our last night in the greater Redding area, and tomorrow we were deciding on whether to go straight to South Lake Tahoe or to make a detour to Lassen Volcanic National Park before heading south towards South Lake Tahoe. This would be a decision we'd make when we wake up and figure out when we were going to check into the Holiday Inn Express in South Lake Tahoe, which was where we were staying next, but only after visiting some waterfalls along the way…
Day 4 (June 21, 2016 – South Lake Tahoe, California): "Stealing Thunder"
It was 6:10am when we awoke. Originally, I had planned on taking it easy and making it straight to South Lake Tahoe via the I-5 to the Hwy 50 through Pollock Pines to get there. However, given what we were able to accomplish earlier on in this trip, we figured why not make the detour towards Lassen Volcanic National Park and check that place out before continuing on to South Lake Tahoe?
So with that in mind, we checked out of the Holiday Inn Express in Red Bluff after having breakfast, then we left at 7:10am. We wound up taking the I-5 south towards the Hwy 36 due east. Apparently, this road was just as valid to get to Lassen Volcanic as the Hwy 44 due east of Redding. And as we were driving along the Hwy 36, we saw that the terrain here was much browner than what we had seen earlier on in this trip.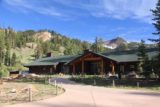 In any case, the traffic was light, and before we knew it, we were at the entrance to Lassen Volcanic National Park (the entrance kiosks were closed), then we showed up to the visitor center at 8:15am. When we saw that the visitor center here was closed until 9am, we decided to keep driving in search of the Mill Creek Falls Trailhead.
However, it only took a few minutes of driving up the mountain before we arrived at the Sulphur Works, where I knew that we must've overshot the Mill Creek Falls Trailhead since I had seen maps indicating that the Sulphur Works was further north of the trailhead.
So instead of backtracking immediately in search of the trailhead for the waterfall hike, we decided to just do a little autotouring starting with the Sulphur Works at 8:30am, which was a roadside area with a boiling mud pool as well as some colorful hills flanking the road. And when we parked the car, we saw that there was a deer slowly making its way along the road, then hopping into the foliage and prancing away from us.
Fifteen minutes later, we had our fill of the intriguing Sulphur Works then continued up the mountain towards Bumpass Hell. We knew that the trail going into the caldera that was the main attraction of the Bumpass Hell was closed, but we figured that that woud be our turnaround point and we could try to check out what at least that car park was about.
Along the steep drive up, we made stops for such vistas for Broketop Mountain (which was a Mt Shasta-like volcano that blew its top and was now missing a very large portion of the imagined conical mountain), Lassen Peak, and even another view of some natural arch amongst some interesting craggy formations.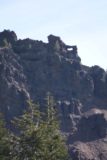 We even passed up alongside the Emerald Lake, which was frozen at the time. But when we were at the Bumpass Hell car park, we were treated to nice expansive vistas that took in Broketop Mountain as well as the deep canyons further below. There was also some kind of observation station as well. But there really didn't seem to be much else to this spot so we got back in the car at 9:05am and headed back down the hill to the southwest visitor center.
At 9:30am, we were back at the visitor center, and just to make sure we knew where the Mill Creek Falls trail was, we went into the facility to ask the workers there where the trailhead was. When she said that it was next to the amphitheater adjacent to the visitor center, that was when I realized that this place was merely at the visitor center itself and we really didn't need to go anywhere else to do this hike.
Anyways, we finally started hiking at around 9:45am, and it seemed like we were one of the first ones on the trail as there weren't people around, but we did get passed by several people as we were busy taking pictures as the wildflowers were in bloom with beautiful mountain backdrops surrounding the area.
The trail started off by going down towards a bridge over Mill Creek, then went a little up and down before really going uphill for an extended stretch shortly after an unbridged stream crossing. Fortunately, a large chunk of this hike was in the shade of forest cover (which kept this hike from being really hot and tiring), and eventually after reaching the peak, the trail then descended slightly until we finally reached the overlook of the impressive Mill Creek Falls at about 1.6 miles from the visitor center.
The falls was said to be some 75ft and we were looking down at the falls from the overlook. However, we saw that there were a few smaller cascades further upstream as well as a couple of bridges at the top of the falls with people chilling out there. So we decided to keep going on the hike so we could enjoy a little picnic lunch there and enjoying the place for a bit before coming back towards the visitor center.
After having our fill of this place at the top of the falls, we then hiked back the way we came. Aside from a slight uphill initially, the hike was mostly downhill before climbing back up towards the visitor center at the very end. And at 12:20pm, we were finally back at the car, which was a bit later than I had anticipated going into this hike. Still, when we were enjoying the experience and taking our time, who's keeping time?
Next, I had originally thought that perhaps we should drive the Hwy 36 back to the I-5 then jam our way towards Hwy 50 before going east to South Lake Tahoe. But then I realized that we could just take the Hwy 89 south towards Reno while visiting at least Frazier Falls along the way (which was one of the waterfalls we had targeted on the upcoming July trip).
This plan could also let us go to Carson City, Nevada, where we could visit Kings Canyon Falls. Indeed, it just seemed to make more sense to get these things done on this day then check into South Lake Tahoe without punting these things towards a later trip. In a way, we were kind of stealing the thunder of the upcoming trip(s), but sometimes we just had to seize the moment and live for the now instead of what might be later on since you just never know what might happen in life these days…
And so we were off going south on the Hwy 89 which had a surprising amount of traffic (especially truck traffic from logging trucks) on the two-lane highway, which meant that there were limited opportunities to pass. There was also a traffic stop due to road work that we were stuck on for a bit at around 12:55pm. But other than that, we trudged along the Hwy 89 eventually getting to a junction where the 89 continued through the town of Graeagle.
After passing through the town, we then took the Gold Lake Road that eventually went a long 4 miles on the somewhat narrow road. The road climbed alongside a valley or canyon that was kind of reminiscent of some of the roads we had been on in Norway, but in this case, the road was nowhere near as scary narrow as the ones we became accustomed to in Europe.
At 2:45pm, we finally arrived at the Frazier Falls Trailhead, which was surprisingly busy. We claimed one of the two remaining spots at the trailhead though none of them were in the shade and it was 82F up here though it was 90F in Graeagle (which was pretty warm considering we were in the mountains).
The well-signed trail was mostly paved as it vacillated between being flanked by tall trees (providing some shade) as well as open exposed areas flanked by impressive rocks. These rocks probably hinted at the kind of geology responsible for the formation of Frazier Falls.
The trail was quite popular as there were lots of people of all ages going back and forth along the trail. When we finally got to the overlook of Frazier Falls, there was a crowd of probably about a dozen people or so. But Mom and I chilled out at the overlook taking in the direct view across the canyon at the 176ft falls as well as partial views down the canyon.
Apparently, this waterfall was caused by glaciers (which seemed to be a recurring theme as Lake Tahoe we knew was caused by a huge glacier). Not only that, but apparently Gold Lake which sourced Frazier Falls was also caused by a glacier. Anyways, there really wasn't a whole lot more we could do with this falls in terms of the experience other than to look at it from this overlook so when the crowd dispersed, Mom and I pretty much had the falls overlook to ourselves for a bit before we realized that it was getting late and we continued on.
We got back to the car at about 3:45pm by which time we were the only ones left. The drive back down the hill was pretty uneventful though there was probably just one car going up. Other than that, we went back through Graeagle then continued east on Hwy 70 as it would eventually cross into Nevada and join the Hwy 395. The landscape towards the 395 was pretty much desert and barren but the pace of traffic was quick.
So we drove through past Reno before reaching Carson City, which was the state capital of Nevada. It was a little more low key than Reno, but it was nevertheless a city in the desert on the doorstep of the Sierra Nevada mountains. After filling up on some pretty cheap gas (at least compared to California), we then drove on some local streets before joining up with the Kings Canyon Road (which didn't join up with the main road).
The Kings Canyon Road was slow paced (at most 35mph), and we eventually got to the end of the paved part of the road right at the trailhead at 5:45pm. I guess the timing of our visit was good because the hiking was under the shadows caused by the cliff before us. The car park was still in the hot afternoon sun, but once we got on the trail, the shadows grew and eventually engulfed our car.
The hike was uphill along one elongated switchback before hitting a junction where a sign indicated that there was another 1 mile of hiking to reach some upper waterfall. We weren't sure if we were up for going up to that other waterfall, but we were intent on keeping right and following the path leading right up to the somewhat hidden Kings Canyon Falls.
Looking down from the trail, we could see there was some kind of wider path that led straight up along the stream from the trailhead area (actually right next to someone's home) but we knew that that particular trail was closed to the public.
We finally got to the falls, which wasn't particularly large nor tall, but it still had pretty significant amount of water, which was saying something for a state as dry as Nevada. There were a handful of people already here enjoying the place without being overburdened by the stifling heat. In fact, it was noticeably cool at the base of the falls. And I guess that was something to be considered when doing this excursion as it was certainly not the place to be under the hot desert sun earlier in the day.
So we took our time taking what photos and movies that we could. When we conversed with one of the locals who was enjoying the falls with us, we asked about the upper waterfall, but he said that we did good going to this one as the other one was not as nice as this one, apparently. So that prompted us to have our fill, then we left and regained the car at 6:20pm.
At this point, we were now ready to finally head to South Lake Tahoe and check into our accommodation at last. So we took the 395 south to the Hwy 50, which curved (at a pretty high speed) its way back up into the mountains, and then we finally arrived at the Holiday Inn Express in South Lake Tahoe at 7:10pm. Apparently, we showed up just in time to have some freshly baked cookies (which made my paleo diet go to hell).
The room we got was a bit smaller than the one in Red Bluff, but it was pretty much to the expected IHG standard that we came to expect. No surprises there. It did have a noisy small refrigerator to keep our waters and fruits cool, and the restroom was almost as big as the main room itself.
Shortly after checking in, we then finally drove out for dinner. We realized that some of the highly rated places were not within walking distance within the main drag of South Lake Tahoe even though our place was apparently "centally located", but we targeted this place called MacDuff's Pub.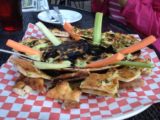 At 8:10pm, we finally found this place, which was tucked away from the main drag. The food was hearty as we had a shepherd's pie as well as a spinach and artichoke dip (with celerty sticks and carrots along with flat bread instead of chips), and we also had their famed bread pudding, which was really more like a really sweet sticky date pudding though the texture of the bread was not quite like the spongy caramel cake we'd get with sticky date or sticky toffee.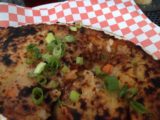 At 9:05pm, we were finally back at the Holiday Inn Express, and then we finally called it a night to yet another long and event-filled day. But with this being the first of three nights in South Lake Tahoe, I was expecting there to be significantly less driving excursions for these next couple of days. But often times, things take a bit longer than expected so we'll see how things turn out come tomorrow…
Day 5 (June 22, 2016 – South Lake Tahoe, California): "Horsetails"
It was 6:05am when I awoke. Mom had gotten up earlier as had been customary throughout this trip. Clearly, she lived by her saying that "the early bird gets the worm".
After having our included breakfast again, we left the Holiday Inn Express at 7:05am. The agenda for today was to do some of the waterfalling excursions within a somewhat short driving distance of South Lake Tahoe and first up was Horsetail Falls.
As we were going to the west end of town then starting to continue west on the Hwy 50 shortly after the agricultural inspection part, we noticed some pretty impressive cascade in the distance against the cliffs. It looked pretty significant, but we couldn't tell if this was Horsetail Falls or not. It also didn't appear to be any other waterfall I was aware of in my trip research. But there didn't seem to be a sane spot to view this waterfall in and as we started to approach the cliffs, the falls was no longer able to be seen by car.
The drive west along the Hwy 50 brought back some memories nearly 18 years ago when I first drove up this road when there was snow. Back then, I was in college and a large group of us went here for skiing. I was particularly remembering the cliffside part of the drive where the road was narrow for a two-lane highway with some dropoff exposure on the other side of the rails. If not for the small sizes of the pullouts and the sun going against us, I'm sure the views of Lake Tahoe would've been quite awesome from up here, especially driving in the other direction.
At 7:35am, we were descending towards this bend on the Hwy 50 signposted for this section called Twin Bridges. On the way down, we were able to see high up the cliffs in the distance what was clearly Horsetail Falls. However, it didn't seem like there was a sane and safe spot to pull over the road and take a picture (with zoom all the way in) to check out the falls. It was also mostly in shadow at this time of the morning.
Just moments thereafter, we then turned right onto a car park area called Pyramid Creek. I wasn't sure if Horsetail Falls was on Pyramid Creek as it appeared to be the only main creek in the area, but we looked for a shady spot at the time though we suspected that none of the parking spaces left would have any shade by the time we'd return from this hike.
A sign here said that it was a mere 1.25 miles (2.5 miles return) to get up to Horsetail Falls so we were expecting a short excursion that might take a bit less than two hours or so. So I was already thinking about how much time extra we'd probably have on this day to perhaps try to squeeze in other excursions that we had planned on for tomorrow. That would give us even more time to alleviate some of the activities for tomorrow or even the rest of this trip, I thought.
So once we got some waters and our gear together, I promptly got started on the trail that passed between some restroom facilities before immediately going a bit uphill then undulating through forest going by an attractive small cascade then approaching a signpost saying something to the effect that the Cascade Vista was a quarter-mile to our right while the Wilderness Boundary was some 3/4-mile further up ahead.
However, when we were past the sign and onto the granite portion of the hike, we appeared to have lost the trail. At first, we saw a sign posted on a tree pointing to our right as the "trail", and we wound up getting an interesting perspective on some watersliding cascade that was starting to get real bright due to the sun shining on it. Was this the Cascade Vista?
As we were taking pictures and videos from this spot, I noticed way up the cliffs behind us in the direction we knew we had to go that we could also get a very distant view of Horsetail Falls. It seemed like quite a ways to go to get up to that falls, and I wondered how it seemed to be quite a bit farther than a mile to get there.
Nonetheless, we kept on, but now we really lost the trail and we couldn't really find any more trail hints from posted signs to rock cairns. So Mom and I pretty much did a granite scramble wondering where on earth we were supposed to find the trail, and I knew that this seemingly short and easy hike now became more of a lengthy scramble for as long as we had lost the trail.
So we were doubting our steps as we went until we'd eventually follow what appeared to be some kind of drainage though even here there was a bit of overgrowth and no real sign on the trail. And our slow scrambling would remain that way until we finally started to see a sign marking the wilderness boundary. There was a station here where apparently you're supposed to fill out a self-help free wilderness permit.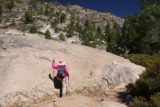 At this point, Horsetail Falls started looking tantalizing close yet so far away. But at least the trail was now more or less obvious though it was a bit on the faint side for something I'd imagine was very popular. And so we'd continue along a forested stretch where we saw a few minor cascades as well as access to Pyramid Creek.
But then, we'd eventually get to a spot where we saw a rock cairn suggesting that we should climb the steep granite (or at least it seemed that way given how overgrown the terrain was on the ground adjacent to the granite slope). And so we went up the slope where after a few paces of thinking we were following some trail, it became obvious that there was no more trail. However, we had gotten high enough to get a decent direct but distant view of Horsetail Falls at around 9am.
Thinking that perhaps this was the endpoint of our hike, we took videos and plenty of pictures from this spot, but somehow this experience was lacking. Looking in the other direction, we could see some peaks and mountains in the area still hanging onto their snow with the granite wilderness immediately before us with forest cover down below. And looking against the sun towards some imposing cliffs to the east, we noticed another tall but minor cascade coming down those cliffs.
Just as we were about to declare this hike over, we saw there were people still further up ahead in the distance. They didn't seem that far away from us, and Mom and I wondered if they just continued on the trail. When we saw them go in the opposite direction, we wondered if they had given up on finding the falls or something given the tricky nature of this hike. And we also wondered whether we'd see them closer to the apparent sections of "trail" that we noticed when looking back down the granite slopes.
But after nearly 20 minutes or so of not seeing them, we ultimately made the executive decision to just keep going once we got back down this granite slope. And sure enough after getting through an initial overgrown stretch near the rock cairn, we saw a bunch of logs laid out to avoid the standing water while using the granite slope to lean on for balance. Without these logs, there'd be no way to wade through these pools without getting uncomfortably wet (and probably attacked by mozzies I'd imagine).
Once we got past this obstacle, the trail once again became more or less obvious. There seemed to be a handful of false trails and we even saw one couple going back the other way on a seemingly different trail than we were on so the trickiness of this hike persisted. Anyways, after getting past one little tricky rock part where the trail wasn't obvious except for a cairn and trail sign telling us we were supposed to walk besides an overhanging part of that giant boulder, the trail then started climbing alongside a granite slope again.
But with Horsetail Falls now so tantalizingly close and audible, the trail pretty much went back on the granite and we would boulder scramble our way towards a ledge from a more-or-less frontal view of the base of the main part of Horsetail Falls' cascade. Mom and I concluded that this was the end point of the hike, and it pretty much took us until around 9:45am or so to even get to this point.
We had to be careful about not getting too close to the dropoffs here as this chill out spot was a bit on the precarious side, but having worked so hard to get here, Mom insisted that spent a bit of time having a picnic lunch here in the limited available shade.
As we were busy enjoying this spot, we saw a helicopter overhead circling the area. And it appeared that they were circling perhaps to keep dibs on us or something. We were in some unsanctioned part of the trail? Well, whatever the case, the chopper eventually flew off and we were once again basking in the sounds of Horsetail Falls while enjoying some clementines and jerky.
At around 10:15am or so, we had our fill of this falls and now it was time to head back. It was strange but the trail seemed to be a lot more obvious on the return than on the way up. And so we were able to follow the trail back to the Wilderness Boundary sign while seeing quite a handful of folks going in the opposite direction.
It was definitely getting hotter on this day, but clearly these folks were persevering despite the tricky nature of this hike. We also warned a group of people not to scramble up unless they were just going for a view, and that they shouldn't make the same mistake we almost made in thinking that view was the turnaround point.
Then, as we were walking back away from the Wilderness Boundary sign, we saw a sandy stretch with lots of footprints while passing by a few other wilderness signs. We even noticed more rock cairns. Now where was this when we were making our way up?
Anyways, now with much of the trail being pretty obvious and easy-to-follow more-or-less, we'd eventually make it back to the granite field area where after seeing a rock cairn, we once again lost the trail. But since we could look down to where we needed to go (in addition to nice vistas of some granite peaks in the distance called Lover's Leap I think as well as another pyramid-shaped one near it), we more or less knew that if we just scrambled in that direction, we'd regain the trail again.
We did see people going way off to our left (kind of like how we were going on the way up and that was probably due to the confusing signage). Anyways, after regaining the trail after a few minutes of friction pitching our way down, we would eventually make it back to the Pyramid Creek Trailhead at 11:15am. It was now quite warm and the car park was crowded. There were lots of people here, and given that it took us about 3.5 hours to go 2.5 miles, it made me wonder just how many of these people (many of them seniors) would make it all the way up to Horsetail Falls.
There was also a volunteer patrol parked in the shade here. I wondered if they were here ready to issue tickets or something for people not paying the $5 parking fee. We used our National Forest Service pass which was good until March of next year so we definitely felt we were getting our moneys worth with that pass on this trip.
Next, we continued driving west on the Hwy 50 until we'd eventually get to Bridal Veil Falls near this part called Pollock Pines. There was a shoulder to stop the park on the westbound facing side of the road, but we could see that there was an even larger pullout on the eastbound facing side of Hwy 50. So at first, I stopped the car and took photos across the four-lane Hwy 50, but with my better judgement saying it's not wise to cross Hwy 50 by foot, I got back in the car and then swung quickly into that large pullout area when there was a break in the traffic.
Ah, now at 11:45am, we were finally able to safely get out of the car, park in the shade, and walk to the front of this interesting roadside waterfall which was partially in the sun and quite bright as we looked against the sun. We saw one guy scramble down beneath the highway to get right up to the falls though I also saw a sign saying something to the effect that there could be a sudden increase in water levels down there and that we shouldn't be going down there.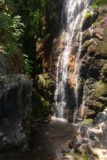 That said, after the guy went back up, we went down there to get our look up at the falls. And then, by 12:05pm, we went back to the car. Next, we drove towards Icehouse Road in pursuit of Bassi Falls, and then promptly went up this climbing and twisty paved road that seemed to us to be on the obscure side (at least compared to the traffic on the Hwy 50).
Some parts of the Icehouse Road looked like it was sunk as I suspected that it would be a matter of time before the road would collapse given the shaky foundation from the underlaying mountain (kind of like what we saw when we were driving to Grouse Falls on Mosquito Ridge Road).
We'd eventually go about 16 miles or so until we turned right onto an unpaved road right across from the Big Silver Group Campground (as directed by Ann Marie Brown
– we were really appreciating her book the more we were using it as she definitely did her homework). Next, we turned left at a fork where the right fork seemed to go to the so-called Millionaire Camp. But the left road started to get a little rough as it then went past this Towering Rocks Parking area, which only seemed to be good for a couple of cars.
But seeing that the directions claimed this was merely a one-mile round trip hike, we kept driving. However, not far after the Towering Rocks Parking, a worrying sign saying "Rough Road 2WD and Passenger Vehicles Not Recommended". And sure enough, the road really got pretty rough (Mom was not happy about taking her car on this road), and eventually, it got to a really wavy, rutted, and steep sandy part that I didn't think we could make it even with her high clearance car and 4wd capability.
At this point, it was more of a risk-reward thing on whether we should keep going or not, and we decided that it wasn't really worth the risk to try to get over this just to save on hiking. With no room to do a three point turn on his hill, I had to back up until we got to a part where there was enough width to do a three-point turn with Mom getting out of the car to help me out navigating whether I would be going too far off the road or not. And then, recalling the additional parking at the Millionaire Camp sign, we figured that we mind as well go that way thinking that the road would be more tame and there would be more of an official trail going to Bassi Falls from there.
Mom wanted me to park at the Towering Rocks car park, but it didn't look like there was that much space. And mercifully, we got back to the road going towards Millionaire Camp. Sure enough, after a brief drive on the wider road, it then turned right and went down another narrow and seemingly doubtful road, but just after another minute, we then got down to what appeared to be an established parking area. We also saw a trail sign saying that Bassi Falls was 2 miles from here.
But at least judging from the quantity of cars here, we suspected that we were now in the right place. Unfortunately, the anticipated 1 mile round trip hike now became 4 miles.
So at 1pm, we finally parked our car in the shade (though we knew it wouldn't be in shade by the time we'd return), and promptly started the moderately long hike. It was quite hot and dry out so we brought lots of water, but somehow both Mom and I were having doubts about whether this place was going to be worth the effort or not.
Still, the trail now was pretty obvious as there were these diamond-shaped trail signs (like what we saw on the Horsetail Falls trail) along the way. We were walking through partial shade though the unrelenting sun on this mid- to high 80-degree day ensured that we'd be drinking quite a bit of water. At least the trail was pretty quiet for most of the way until we saw a trail junction saying that the Towering Rocks Parking was a mere 0.3 miles to our left. Perhaps Mom was right in that we probably could have shaved off another 1.5 miles or so of hiking by parking there instead of the Millionaire Camp (we had probably already gone some 0.7 miles at this point).
Oh well, with another 1.3 miles to go, we kept on. There was a family that was coming down from the other trail. Now, we started to see more people coming back in the other direction. And the further we went, the more we realized that this place was surprisingly popular.
We'd eventually get to a part where we could see a rounded cascade with lots of people chilling out on top. I wasn't sure if this was the turnaround point or not, but it looked like some people were turning back from here. There appeared to be a nice swimming plunge pool at the base of this falls, but as we hiked for a closer look, we realized that the trail kept going. So clearly, this wasn't Bassi Falls though it was a nice chill out spot.
The hike would persist through more forested terrain where lots of trees were painted with green stripes. We weren't sure what they were for, but we wondered if they were trail markers of if they were tagged to be logged or something. There was even one diamond-shaped sign where the hiker was upside down.
Finally, after what seemed like forever, we went past another trail junction where it was a mere half-mile to the parking on our left. That must've been the trailhead where if we were confident in our four-wheel driving abilities, we'd really cut the hike short. Nevertheless, we could see the impressive Bassi Falls in the distance and it just hastened our pace even more.
The waterfall appeared to be some 130ft of cascading water over granite. It seemed strangely like Horsetail Falls but on a smaller scale. However, unlike Horsetail Falls, there was a large granite area with little wading pools and a few deep enough for swimming. And seeing how there were people of almost all ages (except seniors), this place was one of those rare play waterfalls that also had the scenery to back it up. Indeed, it seemed like this was a better experience than Horsetail Falls even though it could be argued that the waterfall aesthetics of that falls was more impressive than this one.
Regardless, after all the hard work we did on hiking the two miles along Bassi Creek to get here, Mom found a shady chill out spot and took off her shoes so she could wade in the cool water. Meanwhile, I was busy just basking in the scene while documenting the falls and the people playing around it. Boy did Julie and Tahia miss out on this one as I could envision that Tahia would be playing in the wading pools until the sun went down.
Mom and I hi-fived each other as this waterfall totally exceeded our expectations, and we were glad that we persisted on this one.
It was difficult for Mom and I to leave this spot as it was simply idyllic as it had that rare combo of beauty and fun. But all good things had to come to an end at some point and it was getting late in the day with still a two-mile return hike ahead of us, so we promptly headed back along the trail.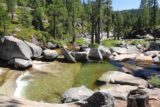 During the return hike, we made a brief stop at that intermediate waterfall that we had vowed to chill out at earlier on in the hike (we had almost mistaken it for the real Bassi Falls which would have been tragic if we had turned back at that point). Anyways, when we finally made it back there, we were now the only ones by the waterfall itself. There was a friction-pitch descent alongside the near side of the short and rounded falls, where I spotted a fairly deep yet very invitingly calm plunge pool.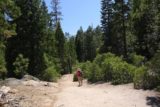 Without anyone else around, I was real tempted to cool off at this spot. But Mom kept going, and I had to catch back up to her. So I merely documented this experience then continued on. Eventually, we would make it back to the car at 3:55pm, where sure enough, our car was no longer in the shade.
With still some daylight left, Mom and I decided that we should try to do another waterfalling excursion today before it got dark. That would at least alleviate tomorrow a bit more. And so we ultimately decided that we should pursue Cascade Falls, which seemed to be yet another popular South Lake Tahoe waterfall. But with the afternoon being almost over, perhaps, we might have a chance to enjoy that falls without the crowds or the parking concerns.
And so we drove off as we headed back down Icehouse Road using a combination of low gear and brakes. Then, we eventually got back on Hwy 50 and headed east. After the scenic stretch where we drove alongside a cliff with beautiful views of Lake Tahoe, we then kept left and went up Hwy 89 towards Emerald Bay.
As we were driving the slow-driving road (with lots of 10mph hairpin turns along with road work), we would get glimpses of the impressive Cascade Falls from the road, and that whetted our appetite even more to see if we can get right up to it to enjoy it. But we kept with the program and knew that there was a trail to go to the falls from the Bay View Campground that we were definitely on the lookout for.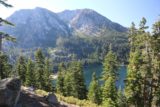 At 5:30pm, we'd finally get to a very busy lookout area called Inspiration Point. We figured that while the sun was still high enough on the horizon, we mind as well check out the views from this spot before starting on the Cascade Falls hike.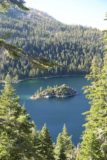 Anyways, the views from Inspiration Point was largely towards Emerald Bay, which featured an island as well as the Sapphire Blue water of this apparent inlet of Lake Tahoe. It was quite busy here, and after Mom and I had our fill of this spot, we talked about moving on to the hike.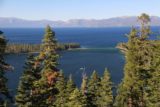 There was a Chinese family that overheard us talking about hiking, and they asked us if they could follow us since apparently, they never did nor expected to do a hike in the area before. Mom could tell that the family was from Taiwan, and so she was busy talking with her and the father about the beauty of this place as well as the waterfalls that we had seen to this point.
After regaining the car at 5:40pm, we then went right across Hwy 89 and found trailhead parking at the far end of the Bay View Campground. That campground was also quite busy, and trailhead parking was still limited though we did manage to secure a tight spot right across from the trailhead sign.
After getting geared up, that prompted the lady from the family that joined us to call us "professional hikers". I guess the gear we were carrying with the hat, hiking boots, etc. kind of blew her mind. And so the family of four along with Mom and I promptly followed the signed trail as it veered left at the initial junction and then the trail promptly started going uphill initially through forest cover and then alongside some granite cliffs.
At this time in the afternoon, the trail was pretty much completely in shade so the uphill hiking didn't bother us at all. Plus, the trail was hugging a cliff ledge which made for an interesting experience let alone trail photos. But for nearly the whole time the trail was climbing alongside the granite ledge, we were able to look left over Cascade Lake as well as Lake Tahoe.
Cascade Lake was actually its own glacial lake separated by a little isthmus between its waters and Lake Tahoe itself. It probably could be like Emerald Bay if the waters of Cascade Lake somehow went higher, but I'd imagine that this lake was the result of a deep glacier punching a large hole adjacent to Lake Tahoe but not quite touching it. So this little quirk about the lake was interesting in and of itself.
Anyways, we were able to get some sideways views of Cascade Falls between trees though I was starting to wonder if this trail would ever let us experience its base since the trail kept climbing instead of going down. Eventually at the apex of the climb, we'd get more views back towards Cascade Lake and there was a pole indicating that the creek kept going forward while the falls dropped down towards its top.
I knew it would be a bummer that we couldn't get to experience the falls from its front as top down views of waterfalls are never really satisfying. But I guess that was the nature of this hike. We wondered why they couldn't have an easier trail going to the base of the falls, but we wondered if it had something to do with the steepness of the terrain or perhaps the lone home on the shores of Cascade Lake might be private and thus they couldn't be such a trail due to private property rights or something.
After having our fill of the falls, I kept being on the lookout for trails branching off to the right as we headed back. I managed to find one trail that seemed to keep going down and I wondered if I had hit the jackpot. But eventually, the trail would get to yet another dropoff and I resigned myself to accept the fact that there would be no sanctioned way to get to the bottom of the falls.
It was getting late in the day, and I did notice one family of dudes just wrapping up climbing up some off trail part. I asked them if they made it to the bottom and they said it was possible, but it was another 45 minutes and they didn't want to hike in the dark. And so without a safe way of getting to the base, there was really no point in pursuing this any further.
At 7:20pm, we were back in the car. The mosquitos were out and about so we hastily changed into more breathable sandals while also wishing the Taiwanese family a happy trip. Again, the mother of that family seemed to have her mind blown as they thanked us for showing them this hike as she never knew Nature experiences could be so cool, in her words. Indeed, I'm pretty sure this one experience now made them keenly aware that often times the best nature experiences are gained by hiking and not from the seat of a car.
At 7:45pm, we were back in the main drag of South Lake Tahoe, and we ultimately decided to eat at this place called My Thai. It really seemed like eating options (at least the gourmet variety) were scarce and they'd break the bank. So the Thai food would suffice even though we had just had Thai food on the first night of this trip back in Redding.
After an initial wait at this very busy restaurant, we would finally gorge on Pad Thai, Tom Yum Goong, Basil Duck, and Mango Sticky Rice. Again, this wasn't good for a paleo diet, but with Mom and I not having had a real lunch today, we were really hungry.
At 8:40pm, we were done with dinner though with the tab at over $50, it was quite expensive for Thai food. I guess that just further reinforced to us that practically anything in South Lake Tahoe was expensive.
At 9:05pm, we were back at the Holiday Inn Express to finally call it a day. Tomorrow, we were anticipating a bit less of activities, and we probably needed it as we were starting to get waterfall fatigued.
Day 6 (June 23, 2016 – South Lake Tahoe, California): "Heavenly Emeralds"
It was 5:45am when we woke up. While I was just starting to wake, Mom had already been up and she actually went outside. I wasn't sure if she was going for a walk or if she was trying to get something from the car that she had forgotten. In any case, when I was in the bathroom trying to #2, Mom came back and was telling me that there was a bear downstairs digging through a trash can!
My first thought was that these rare events always seemed to happen whenever I was busy and couldn't get out to see the moment right then and there. This happened a few years back when Julie and I were in Italy when I had bad diarrhea and I missed a red sunset in Montepulciano.
So while I was busy doing my deeds, Mom was out there filming the bear as it appeared to be going after a sandwich it had dug out from the trash. I guess bears were pretty smart in that they knew how to get at the contents of the trash by knocking it over. Plus, when they have to choose between a high carb human food diet versus flipping rocks for insects and nuts, it's a no brainer which one they'd go for.
When I looked at the video that Mom showed me (after I was done in the restroom), it appeared that the bear had a couple of tags and a collar. Clearly, this bear was being tracked thoough I couldn't figure out why the Holiday Inn Express was allowed to use those flimsy trash cans instead of the bear proof ones like you see in Yosemite or Mammoth. It seemed kind of irresponsible to me. I wondered if the bears here also had a tendency to break into cars to get at the high energy human food like they do in Yosemite and Mammoth.
Well, after that bit of excitement was over, Mom and I went to the breakfast room for our included breakfast. She was so excited about her little experience that she was telling strangers that she saw a bear and showed them the footage on her iPhone
. Inside the brekkie room, there was a truck driver that first spotted the bear and told Mom about it (because she was going down the steps and nearly came face-to-face with that bear unknowingly at the bottom of the steps), and that kind of became the popular topic of conversation.
By 7am, we were done with brekkie and headed out again. This time, we were headed back to the Emerald Bay area of southwest Lake Tahoe along Hwy 89, and we knew that the target waterfalls of the Lower and Upper Eagle Falls would be very busy so we made sure we'd get there before the rush when parking would be difficult to find.
After a fairly lengthy traffic break due to road work, we'd finally arrive at the Eagle Falls Trailhead at 7:25am. Once again, there was a vehicle fee (self help) for this area, but we busted out of National Forest Service Adventure Pass, which was once again proving its worth. It was already starting to get warm as we left the car and we knew the shade we were under at the time would be short lived.
Anyways, while Mom was getting ready for the hike, I walked back towards Hwy 89 just to see what the Lower Cascade Falls might be like from its top. Sure enough, I could see there were a couple of tiers spilling in the direction of the Emerald Bay part of Lake Tahoe, but since I was looking against the sun, the scene was quite bright and hard to photograph.
So I went back up into the parking lot to rejoin Mom, and we promptly went onto the trail. The signed maps here said that we had options in terms of which trail to take to get to the Upper Eagle Falls. We ultimately decided to start with the beeline trail that followed along the creek, and even though it was climbing, it didn't take long before we already started to be able to view the Upper Eagle Falls in part shadow. The impressive craggy mountains surrounding us kind of made this place reminiscent of the Eastern Sierra backpacks I had been on with Cindy and Ed in years past.
Anyways, we enjoyed Upper Eagle Falls from the footbridge at its brink as well as from outcrops with a more full and contextual angled look a little further downstream. With the trail being so short, we decided that we mind as well complete the waterfalls loop hike.
So we did that while taking a quick detour up to a vista. On this granite outcrop, we had above-the-trees views towards Emerald Bay even though it was against the sun. We were also wondering if we might be able to glimpse Eagle Lake, but it turned out that the lake was probably still further up the mountain out of sight.
We weren't aiming for this lake so we continued to descend the waterfall loop and by 8:30am, we were back at the parking lot. Next, we drove on the Hwy 89 in search of a parking lot for Vikingsholm, but when we realized that we were driving away from the Emerald Bay Overlook, that was when it dawned on us that perhaps that overlook was also the access for Vikingsholm.
So at 8:40am, we were now at the Emerald Bay Overlook. In hindsight, we probably could have saved $10 (there was a state park fee here) and kept our parking spot at the Eagle Falls Trailhead where our Adventure Pass would be valid, and then just walk the 500ft up to this overlook. Oh well, you live and you learn.
Anyways, the overlook here was indeed very impressive. Now, we were able to get commanding views from the windy granite outcrop looking down at Fannette Island as well as the entirety of Emerald Bay. Looking in the other direction, we could get a sideways view of the entirety of Lower Eagle Falls. And we could even see down below that there was a viewing area right at the base of the lower tier of Lower Eagle Falls.
So after having our fill of this viewpoint, we promptly followed an unpaved gravel road that was closed to public traffic where a sign indicated that it was a mile to get down to Vikingsholm. I wondered if they did shuttles for people wanting to visit that historic home or something. But anyways, we descended this road, which had one long switchback and one short one. Throughout the walk, we were getting more views of Emerald Bay and Fannette Island between the foliage.
A fairly sizable chunk of the walk was exposed to the hot sun and we both knew that the hike back up to the trailhead would not be fun.
Eventually, we'd get down to where the road was paved at the bottom of the descent. It definitely looked like public vehicles could have driven down here from a different road that joined up with the gravel one we had just walked, but we didn't see any private vehicles here other than for people running the kayak rentals as well as Vikingsholm. Anyways, we then walked towards the impressive historical lakeside home where we also checked out the little beaches and shores of Emerald Bay.
They didn't have tours of the house until around 10:30am but I didn't think we'd have time to do it on this day. So after having our fill of getting the flavor of the exterior of Vikingsholm as well as the beatiful shores of the lake, we then continued to walk towards the trailhead for Upper Eagle Falls.
By then, after passing by another wooden house, the trail then went uphill for the next 0.3 miles as it was flanked by tall trees while leading us up to a bridge over the creek near a fork in the trail. The trail would continue on as the Rubicon Trail, but we only need another 0.2 miles of uphill hiking alongside the creek to finally get to the base of the lowermost tier of the Lower Eagle Falls.
From here, the falls itself didn't look particularly large nor impressive, and at least we got to feel the power of the rushing creek as well as getting cooled off by the waterfall's light spray which offset the heat of the day. Mom and I chilled out here pretty much all alone until we got our fill, and as we made our way back down to the trailhead, I guess the timing was right as there were now over a half-dozen or more people coming up the opposite direction.
Next, we saw lots of kayakers about to make their paddle out to Fannette Island, which looked like fun. But anyways, Mom and I now had to make our hot uphill climb back up to the Emerald Bay Overlook. And as we were doing this, we saw scores of people going down in the other direction. Indeed, we had beaten the rush, given all the families that were making their way down, we figured that the beaches down there must be very nice for families.
In fact, as we looked back down from the ascending gravel road, we could see some designated swim areas in the sapphire blue waters of the lake. At 10:40am, we were finally back at the overlook. It had taken us about two hours on this excursion, which definitely left a bit more than a stroll, and I guess the 2.6-mile return hike was the ultimate distance we did.
Now with the sun higher overhead, the lighting on Emerald Bay was better. The lighting was also still pretty good looking in the other direction towards the Lower Eagle Falls. Mom finally got to see the falls in this manner, and she was gladly taking pictures before having her fill and we went back into the parking lot which was now totally full. There was even lots of shoulder parking alongside Hwy 89 as well!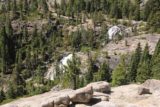 I guess they weren't kidding when it was said that we had to be here before 9am or else we would risk not finding parking.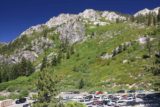 Anyways, we drove off and headed back towards South Lake Tahoe. But instead of making it all the way back, we turned right on Fallen Leaf Road, where signs indicated that Fallen Leaf Lake was a few miles further ahead. The drive at first was pretty straightforward, but then we got to a part where the road narrowed a bit more as it became single-lane road.
But having driven European roads, this "single-lane" road was really not that bad. I guess it was bad given the urban tanks that we and everyone else were driving, but if this was Europe, it would be fairly easy to pass side-by-side each other without stopping. Anyways, we took our time while noticing nice views over Fallen Leaf Lake while taking advantage of the many pullouts and driveways to let people pass.
And as the narrow raod was ascending, we saw a handful of cars parked at 11:15am and we decided to stake a claim to a spot, where it turned out that we were right in front of an impressive waterfall called Glen Alpine Falls. This falls was quite scenic as it rivuleted its way down reddish rocks with some homes overlooking the scene. Lots of people were already here enjoying this waterfall, and Mom and I did the same.
We weren't sure if we were supposed to walk further up the road from here, but after experiencing the front and the top of this falls, we walked for a few minutes along the single-lane road before we realized that perhaps we should just drive all the way to the road's end. So at 11:50am, we returned to the car.
Next, we continued driving up the narrow road (squeezing by some clowns who didn't park properly and nearly blocked the single-lane road near Glen Alpine Falls). Eventually, the road would end at Lily Lake, where there were a few more parking spots, and we happened to get a somewhat shady spot high up a narrow part of the lot where we were able to see Lily Lake towered over by mountains still hanging on to what snow remained clinging to the steep crags.
We got up here at 11:55am and we initially took some time to enjoy Lily Lake before going on the hike. The trail itself was actually a bit on the ankle busting rocky side with a few muddy and flooded sections, but other than that, this trail was straightforward and flat for the most part. There were lots of people on the trail attesting to the popularity here.
After several minutes, the trail or road then started to climb. Not high up on this climb, we started to see the Upper Glen Alpine Falls gushing as it then cascaded down its stream below us and onto Lily Lake way downstream. There was also a seemingly out-of-place house perched nearly before the waterfall. There were boarded up windows, and it made us wonder whether this home was still in use, especially since we saw some power meters and power lines routed towards it.
Just beyond the house, we overheard some people saying that there was a trail that went right to the base of the waterfall between the trees. So Mom and I took this trail through some overgrowth until we'd eventually get right to the base of the falls. It was quite bright but quite cool here, and so Mom and I finished our little box of cherries that we had bought from the grocery outlet last night. The dark cherries were so sweet and they were made sweeter by the fact that we were in beautiful surroundings while having the falls to ourselves.
After having our fill of this little secluded spot, we returned to the trail where another family or group decided to check out the viewing deck of the house towards the falls. We hesitated in doing this since it felt like trespassing, but we followed them where we got some interesting angled views of the Upper Glen Alpine Falls. I did notice a sign on there that said something to the effect of "Private Property Please Go Away" so clearly we weren't supposed to be here.
And with that, we left and headed back down the trail towards Lily Lake again. Apparently, the trail would keep going uphill towards some historical site or spring, but this hike was enough for Mom and I. This would be the conclusion of the waterfall hiking in the Lake Tahoe area, and now Mom and I looked forward to driving back to South Lake Tahoe to check out the Heavenly Ski Resort for their gondola ride so we could get a top down view of Lake Tahoe (especially since lakes are best seen from the top down as opposed to waterfalls which are best seen from the bottom up).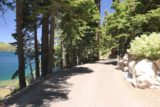 So we made the drive out at 1:05pm with plenty of people making their way in the opposite direction. The popularity of this place was kind of mind boggling to me, especially with the single-lane road access, but then again, I guess with such beauty amongst Nature, it was easy to see why.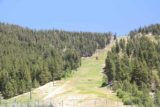 At 2pm, we finally made it to the Heavenly Ski Resort, but I sensed something was a bit off when the parking lot was quite spacious yet empty except for workers here. When we saw that the ticket kiosk for the gondola was closed (even though we did see some gondolas running), we then ultimately learned that the gondolas weren't running for the public due to high winds.
So I guess we wouldn't be having our birdseye view of Lake Tahoe's sapphire blue waters, but I guess that meant that we could enjoy a late lunch and then call it a day as far as sightseeing was concerned. So at 2:10pm, we got back in the car, and then at 2:25pm, we couldn't figure out where we should be having lunch so we returned to MacDuff's Pub. This time instead of the hearty pies, we got steak and some kind of seasonal fruit salad.
It was dead when we first showed up to the pub (we thought at first they might be closed this late in the afternoon), but just as we were seated, a lot more people started showing up. I guess with Lake Tahoe's disappointing food selection and high prices, we got our fill of this spot and then passed on the bread pudding.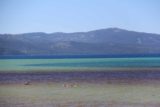 After finishing our lunch, we then walked towards the beach (called Bear Beach). Unfortunately, the water here was brown and smelly, and I guess we could now see why Emerald Bay was much more popular as the water was clear way out there. I guess being in the city, it wasn't surprising that the water was probably on the polluted side here.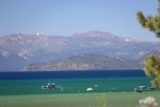 At 3:40pm, we were back in the car, and at 3:50pm, we were back at the Holiday Inn Express. For the rest of the afternoon, we took it easy. Mom went for a walk to explore what other city stuff was going on (possibly going all the way to the casinos at the state line) while I was trying to get caught up on my blogging while partially watching the NBA draft.
Aside from a brief walk for a dinner after 8pm at this place called California Burger Co. ($15 burgers?!?!), we pretty much walked back to the room and got a somewhat early evening sleep. Tomorrow, we had a bit planned as I had entertained thoughts of not only visiting Sardine Falls and Leavitt Falls, but also doing the Lundy Canyon hike before making the long drive home. So the early sleep and wake-up was in order…
Day 7 (June 24, 2016 – Los Angeles, California): "Fires and Heat Breaks"
I had set my alarm for 4:15am so both Mom and I awoke to it. However, seeing that it was still dark outside, it kind of made me wish that I had set my alarm for 4:30am instead. Anyways, I noticed that this particular HIE didn't put the receipt under the door. So I guess I'd have to go to the front desk to check out. In the mean time, Mom and I got packed and made sure we left nothing behind.
By about 4:55am, I had checked out and then we left the lot as it was still a bit dark outside though I could clearly see daybreak starting to happen towards the east. With the relative lack of traffic, it was a good thing that we were leaving this early, especially given how much traffic this area could get as the day would wear on.
Mom and I were also glad that we had made our visit on weekdays instead of the weekend where the parking situtation, the traffic, and crowds would be much worse. Plus, we would probably have to pay a lot more for the weekend rates. All in all, we made the right call by doing this trip at this time, even if Julie and Tahia couldn't come.
Anyways, we promptly drove east on the Hwy 50 before making a right and taking the twisty 207 Hwy headed straight east towards the city of Minden. Yesterday, I had entertained the thought of saving possibly 50 cents per gallon filling up gas in Nevada instead of the expensive South Lake Tahoe, but since I wasn't familiar with what was in that part of Nevada, I thought it better not to take chances so I had filled up yesterday.
But as we were descending into the deserts alongside the Hwy 395, we saw that Minden was indeed a fairly sizable sprawling town with the expected cheaper gas, but I guess that would be something I'd remember for later if we pass by this area again.
We were making good pace on Hwy 395 once we went south of Minden just as the sun was bathing the mountains of the Eastern Sierra Nevada mountain range with a soft glow. It was still quite cool out though I was already looking forward to our first hike of the day at Sardine Falls as I was already a little fatigued behind the wheel due to the early morning wakeup.
Eventually at 7am, we would finally arrive at Sardine Meadow, but it actually took us some time to find the somewhat unsigned trailhead for Sardine Falls. We were actually able to see the falls from a distance from the road, and we also spotted quite a few deer both in the meadow as well as further up the road at about 9,000ft. It was quite chilly as a result of the high elevation.
Anyways, we finally found the "No Motorized Vehicles" sign as well as a reddish sign about being careful with fires. Little would we realize just how prophetic that sign would turn out to be.
So we got our gear together and even donned our jackets as it was still quite cold up here as it was still in the 50s plus there was a little bit of a wind chill. There was a faint jeep trail that we followed through the meadow which still had some muddy patches. Plus, there were some attractive mountains with snow still clinging onto them with a waning nearly full moon above these mountains.
Barely a few minutes into the hike, we saw where the jeep tracks crossed Sardine Creek, which was running high enough to realize that we'd get our feet wet. I actually tried to test the Gore-tex of my boots but some of the water came in through the top so that was when I went back and decided to change into my hiking sandals.
Meanwhile, Mom crossed the creek barefoot, and as I was crossing in my Chacos, I realized just how numbingly cold the water was as any more seconds of being in this creek would probably be too painful to walk. Once we got on the other side, I decided to keep hiking in sandals while Mom changed back into her wool socks and hiking shoes.
Next, we continued following the jeep trail which kept going relatively flatly before reaching a hill. At that point, the jeep track became a foot trail and we followed this trail into some overgrowth. We opted to keep left at an apparent junction near some split cascades before regaining the main foot trail again. Then, we'd continue going up hill as the neighboring mountains became more visible as well as portions of Sardine Falls could be seen through the trees up ahead.
At around 7:50am, after somehow kicking a rock or log, my apparently cut open the top of my foot. So I decided to change back into my wool socks and wet hiking boots. Actually with the moisture wicking, the wetness wasn't too bad, and so I was able to comfortably hike again.
By 8:10am, Mom and I finally get to the base of the main drop of Sardine Falls after making one more shorter crossing of Sardine Creek. The falls was impressively tall (said to be around 130ft or so) where it fill in a main fanning tier before being funneled into a chute where the water apparently split a large rock. The view wasn't the most satisfactory from here, but we did enjoy the coolness of being close to the falls while the morning sun was getting more instense.
Perhaps what was more impressive about this place was the fragrant mint smell. I'm sure they were wild mints, but the smell of the place was intoxicating. It really made me crave for Vietnamese food or something. Anyways, the sense of smell being complemented by the beautiful sight of Sardine Falls made this a pretty unique experience.
As we were about to make our way back to the car, we noticed that it was possible to get a more direct view of Sardine Falls without needing to cross another park of the creek again. So we had our fill of documenting the falls from this spot before we finally headed back.
After crossing the creek one last time with a change in shoes, I hiked through the meadows in hiking sandals again while Mom changed back into hiking shoes again. We noticed quite a few more cars passing back and forth along the Sonora Pass Road (Hwy 108) so apparently this raod wasn't as remote or little used as we had initially thought.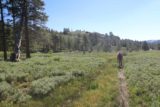 At 9:10am we were back at the car. With Leavitt Falls just a couple miles or so back to the east, we knew that that waterfall would be easy to visit as it was merely a vista. So we could let the boots dry up a bit while enjoying the familiar spot that we hadn't been to in nearly 14 years.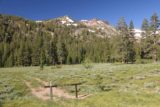 At 9:20am, we parked at the familiar Leavitt Falls Vista, where we could see that the lookout deck over Leavitt Meadow as well as the falls itself was still there. We also noticed a handful more of picnic tables as well as a pit toilet outhouse. But as opposed to the late afternoon views we had gotten way back on the July 4th weekend in 2002 on our last visit here, we were now enjoying the beautiful morning light shining right on the meadow as well as most of Leavitt Falls. Only a few of its upper tiers were a bit in shadow.
As we were examining the place, we could see footprints going down beneath the vista. I knew not where those footprints were going, but the steep terrain kind of made Mom and I think those folks that made those prints were pretty crazy to even think about going down there. Anyways, we were surprised to get phone reception up here so we Factimed Julie with the view of Leavitt Falls and Leavitt Meadow.
After having our fill of this falls, we started to get back in the car when I noticed a somewhat obvious trail leading past a couple of picnic tables on the far side of the parking circle. So I pursued this trail just to see where it went and it ultimately started to degenerate near a pretty scary rocky outcrop looking down at the main drop of Leavitt Falls. It was a different perspective, but it didn't seem safe to go any closer to the falls at this point.
With Lundy Canyon still on our plate for today, we decided that perhaps we should just get back in the car and then drive to the familiar Tioga Gas Mart for an early lunch. Then, after the lunch, we could try for the Lundy Canyon hike at the right time of the day before finally making our way home.
So at 10am, we were back in the car and promptly drove back down Hwy 108 past the military installation and then ultimately back onto the Hwy 395. Next, we drove south on Hwy 395 when Mom and I started to notice a puffy white cloud in the distance that seemed out of place, especially since the skies were pretty cloudless.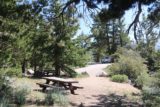 We knew immediately there was fire, but we weren't sure if this fire would cause us problems in terms of the Lundy Canyon Hike. Then, after passing through Bridgeport (which seemed mostly dead at the time except for a large tour group of elders), we saw a worrying sign saying something to the effect that the road was closed ahead in another 10 miles.
At that point, we proceeded cautiously as we weren't sure if we had to do a real long detour around this road closure. There was a Hwy 167 that went all the way back across to Nevada, but we weren't sure how long of a detour that would be. Plus, we weren't sure if this fire would kill our ability to do Lundy Canyon, but Mom was already keen on not doing this hike with the uncertainty of the fire situation.
Anyways, after climbing then going around a bend where there was that familiar view of Mono Lake, we could now see that Mono Lake was essentially one big haze with the lake hardly being able to be seen. The fire was down in the basin seemingly near Lee Vining. So now it appeared that if we were to somehow get through this road closure, we'd probably have to drive next to this fire.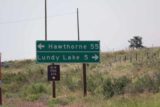 For a fire that was under clear skies and being so close to the road, I knew this had to be human caused. Whether it was due to electrical failure or some thoughtless idiot tossing a cigarette out the window, we'll probably never know. But for sure, it was human induced as a thunderstorm cell was nowhere in sight.
At 10:50am, we were ultimately halted by a line of cars hoping that they might let us get through the closure point right at the junction with the Hwy 167 and the turnoff for Lundy Lake. Even with the fire closure, I thought about getting past the line of cars then turning right onto Lundy Lake to do the Lundy Canyon hike, but Mom nixed the idea citing that you just never know how the winds might change the direction of the fire and put us at risk of becoming barbecue.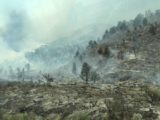 This was freaking out Mom as she was busy filming the whole thing on her iPhone
as I was driving past. Indeed, she was exclaiming, "Oh my Goodness!" as we were literally feet from the active burn area. Once we finally made it past the burn area, it was a few miles more as we passed by the town of Lee Vining, and then we passed through to the Hwy 120 and Hwy 395 junction where we pulled off at the familiar Tioga Gas Mart at 11:15am.
With gas costing over $4 per gallon, we just stopped here for the Whoa Nellie Deli, where we each got two mango fish tacos. Again, it was tasty gourmet stuff for a gas station though the fish was battered and fried. Still, the mangos and salsa, and other toppings they put on it was spot on. Over the years, we learned to ask for having both tacos be mango fish taco instead of a split between that and some other ranch-style fish taco that wasn't as good.
With the bad air quality, we ate inside instead of outside and breathing the smoke. And once we finished out food, we then went back outside to check out the fire from a safer distance. We could see that the fire was growing and moving up the mountain while there were air choppers and planes scooping up water from the salty Mono Lake then dumping the load onto the fire.
It was pretty crazy stuff, and even Mom was Facetiming Auntie Amy back near San Francisco showing her the fire scene. She pretty much summed up the experience telling us that we were on quite the adventure after citing the bear sighting and now this fire. Plus, there was the railroad track hiking as well as the near striking of debris on the I-5 in the dark. I guess when we go on these kinds of trips, there never seems to be a dull moment.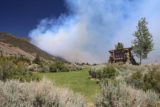 We eventually left the Whoa Nellie Deli and the Tioga Gas Mart at 11:50am. With Lundy Canyon pretty much out of the question (we definitely wouldn't want to be going left and being stuck in that road closure), we were counting our blessings and proceeding further south on the Hwy 395.
So far, the temperatures were still in the 80s, but as we got past the Mammoth turnoff and further down the mountain towards Bishop, the temperatures then started climbing into the mid 90s. For the entire trip, we had pretty much avoided high heat, but now that we were pretty much in Owens Valley, now the heat couldn't be avoided. Adding to the theme of heat and fire, Mom noticed lots of red fire engines going the other way probably to help with the Marine Fire by Mono Lake.
At 1pm, we made a stop at the Schat's Bakkery in downtown Bishop. As expected, this place was busy. However, Mom was intent on buying up at least three loafs of their famous cheesebread, and I couldn't even resist having myself some of the stuff even though I was supposed to be on a carb free paleo diet. But the jalapeno chili cheese bread was still good after all these years, and I guess the little transgression couldn't hurt in this instance especially since I had already made my paleo diet go to hell throughout this trip.
The drive south of Bishop went pretty smoothly as Mom was now doing the driving while I was getting caught up on sleep. Even with the air conditioning on, it was still getting pretty hot in the car. The reason why was because the temps were now over 100F!
As we were getting to the junction of the Hwy 14 and Hwy 395 fork, we decided that perhaps we should stay on the Hwy 395 south towards Hesperia and Victorville. We figured that we'd be better off not facing the LA traffic let alone the mountain climbing we'd have to be doing on the Hwy 14 as well.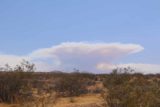 But as we approached the fork, we could see that there was a giant mushroom cloud that was apparently the result of yet another wildfire. As we were driving south on Hwy 395 into the bad air and haze, Mom started to notice the A/T temp light indicator going on. This was familiar as the light went on back in February when we were going up the mountain towards Mt Baldy for San Antonio Falls.
Back then, we blamed the issue on not changing the transmission oil over all these years of neglect, but with Mom saying she went through an all-around inspection and changing of oils and tires, what was the excuse this time around?
Anyways, the drivers manual instructed us to pull off to the side of the road when safe, then turn off the engine and idle until the indicator lights would turn off. With the outside temps being 104F, this was not comfortable. But at least, the car provided some shade and the desert breeze was enough to keep the heat from being unbearably stifling.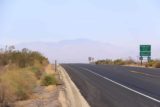 We wound up pulling over at a large shoulder at around 3:30pm, and it wouldn't be until 4pm when we resumed the driving. This time, I took over the driving duties as we were making good progress as we were passing by turnoffs for Trona, China Lake, and other things in this part of the unforgiving desert that we hardly ever go to.
But without air conditioning, the windows rolled down, and overall keeping a close eye on the A/T temp indicator light if it would go on again, we pretty much had to brave the bad air quality as we were driving into the thick haze. The haze was thick enough to obscure visibility so the day time headlights was a good idea, especially if trying to pass the slower trucks on the two-lane highway that seemed to follow these large power pylons. I had suspected that this road existed because of these big power lines.
Anyways, at around 4:45pm as the road was making a climb, the A/T temp light went on again. That was a real bummer because I was getting pretty good momentum. And so we pulled over at a pretty large pullout again near the apex of a hill. All the while we were waiting here, we could see more large trucks passing by and I knew we'd be caught behind them when we'd finally resume again. But how long would it take, especially if we didn't think this car could make any more climbs?
Well, at least this time, the thick smoky haze seemed to block out the sun so the air temperatures were now on the order of 93F instead of 107F, which it peaked at during the drive. And so I blogged while Mom was looking at her iPhone
while we were busy waiting for another half-hour or so for the A/T temp light to go off again.
And then at 5:15pm, we resumed our drive again, which luckily for us was now primarily undulating and not going seriously uphill anymore. We'd pass by a couple of long lights at the 58 junction as well as even more traffic lights and traffic in the town of Adelanto. Then, as we got into Hesperia, there were more traffic lights and long lines of trucks and cars trying to cut each other off at the merging lanes.
This made me realize that perhaps going on the 395 in the afternoon was not a wise idea, but it might be a good idea first thing in the morning when there's less traffic and the temperatures would be far cooler. So I made a mental note about this possible route on the way back up to North Lake Tahoe on the July trip barring the fire situation.
When we finally got onto the I-15, the traffic speeds were now over 70mph or so. And against my instincts, apparently we were already at the Tejon Summit so the I-15 was pretty much all downhill from here on to the Riverside area. That was good since we didn't think this car could do another climb and we'd have to wait another 30 minutes or so.
Anyways, the drive was pretty much continuous as we were also seeing that the air quality in the LA basin was not good either as we also learned that there was not only the dangerous Kern County fire near Lake Isabella, but there was also a San Gabriel fire, which made me wonder what would happen to those familiar trails we had done earlier this year and if they'd close the Angeles Crest Hwy again or even Azusa Canyon.
Finally at 7pm, we made it to Mom's place. It was now in the high 70s and low 80s so we didn't have to deal with extreme heat anymore. We had coordinated with Julie to bring Tahia to Mom's place so we could have a little family get together that we hadn't done in a while. With tomorrow being Saturday, we were all keen on the idea and so Julie and Tahia would meet us at Mom's while I was busy getting my stuff together and doing more of the blogging and photo organizing while there.
And so ended this drama-filled day that started with the fragrant mint smells of Sardine Falls and ended with the dangerous smoke-filled air of Southern California thanks to the wildfires. We thought we wouldn't make it home on this day, but thankfully, we got lucky and now it was time to get back to life back to reality once again…
Visitor Comments:
Got something you'd like to share or say to keep the conversation going? Feel free to leave a comment below...
No users have replied to the content on this page