Day 1 (June 18, 2016 – Red Bluff, California): "Taking Turns"
It was 4:30am when I awoke, which was my typical wake-up time for workdays. So it felt as if I was going to work even though it was Saturday morning. That said, I had been working for both Saturdays and Sundays on the past two weekends, and this trip back up to Northern California was a much-needed Nature break. The only unfortunate thing about this visit was that Julie and Tahia couldn't come again due to some health complications from overgrowth of small intestinal bacteria.
After having a hasty leftover chicken and sauerkraut breakfast, then giving both Tahia and Julie a kiss and a hug while they were asleep, Mom showed up shortly after 5am, and after quickly loading up her car, we left home at 5:15am.
Since I hadn't returned from work then a post-work party until around 10:30pm last night, I really didn't get a whole lot of sleep so Mom agreed to start the initial driving shift while I tried to get caught up on some sleep then we'd take turns somewhere further along the drive.
So in my first wave of catching up on some z's, we wound up stopping at a gas station and IHOP in the Grapevine at 7:15am. I guess Mom was looking for a coffee break, but this was apparently the closest thing to a Starbucks that she could find as apparently none of the LA-basin areas appeared to make for a convenient stop while she was establishing momentum with the lack of early Saturday morning traffic.
Anyways, we wound up getting something basic like a steak-and-eggs breakfast. I tried to refrain from the pancakes and hash browns, which I guess were illegal from a low FODMAPs diet standpoint (which I knew would be hard to maintain while traveling). Nonetheless, by 7:45am, we resumed our driving once again. Mom continued with the driving duties while I started my second round of getting caught up on some much-needed sleep.
By about 9:55am, we made another stop, but this time, we saw that this particular spot (somewhere not far south of the 152) happened to have an In and Out. And knowing that this was still pretty early for a lunch, we decided we mind as well have ourselves this early lunch so we wouldn't have to deal with crowds by delaying lunch another hour or two. So we filled up on gas then got ourselves a couple of protein-style burgers. And by 10:25am, we resumed our drive up the I-5 north towards Redding (well, actually Red Bluff, which was where we were going to spend the next three nights).
This time, I took over the driving duties while Mom was going to catch up on her sleep. I guess that was the one good thing about going with my Mom on this trip – that we were able to take turns driving, and now that I'm fully rested, the long eight-hour drive from LA to Redding didn't seem so bad, as we were approaching the half-way point of this very long (and boring) drive.
And so the drive went along pretty uneventfully though I was enjoying listening to some Bay Area and Sacramento-based sports talk along the way, which was largely centered around tomorrow's Game 7 of the NBA Finals between Golden State and Cleveland. It was entertaining hearing about the conspiracy theories, the refs, the dominance of LeBron, Steph deserving the MVP but not being the best player in the NBA (that goes to LeBron), etc. etc.
It helped to pass the time, and eventually by 2pm, we finally arrived at the Holiday Inn Express in Red Bluff, where we promptly checked in and dropped off our bags while changing into our hiking attire as there was still plenty of daylight left to fit in a hike for a little exercise on this day.
By 2:20pm, we left the Holiday Inn Express and resumed driving north on the I-5 before heading west on the 44 briefly then making our way to the 299 towards Whiskeytown. We would eventually get off of the highway at the Crystal Creek Road, which was a considerably narrower two-lane road that ultimately brought us to the trailhead for Whiskeytown Falls.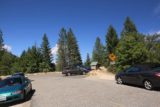 We arrived at the trailhead at about 3:20pm, and there were quite a few cars already parked here. Fortunately for us, there were still a few more spaces on the shoulder of the Crystal Creek Road, and that was where we wound up parking. We also noticed that there was no kiosk selling passes nor were there any self-help envelopes to drop in money and keep the proof of payment. So we were in a bit of a quandary as we were technically supposed to be paying $10 or something like that for seven days. We weren't sure if our Forest Service pass was going to work here (probably not) nor were we going to drive all the way back to the visitor center near Whiskeytown Lake.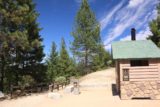 So by 3:30pm, after lacing up our hiking boots and getting enough water, we chanced it and started hiking. I did notice quite a few other cars displayed their passes, so both Mom and I were a bit nervous that we might end up paying $125 in a fine, but I guess it was one of those time versus money dilemmas, and we valued time in this case.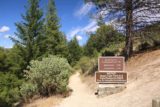 The trailhead sign indicated that this was a 1.7-mile hike (probably 3.4 miles round trip) but there was also some larger font letters saying something to the effect that the trail to the Upper Falls and Vista Point are closed. That didn't sound like good news, but I guess it wasn't going to deter us from doing this hike to at least the Lower Falls via the sanctioned trails.
The trail initially went downhill on a somewhat gentle grade. I knew from the trip research that this was supposed to be a mostly uphill hike, but the fact that it went downhill straight away kind of mentally told us that we were in for a final uphill part of the hike at the end. Still, we trudged on as we could hear the sounds of rushing water faintly as we were descending.
The sounds got louder as we were nearing the apparent creeks that skirted this trail. We then crossed over a bridge over this creek before the trail then began its ascent in earnest. The ascent was a bit on the steep side, and I could see that Mom was already starting to breathe a bit heavier and walk a bit slower due to this uphill. So indeed, this hike was probably more of a moderate hike than an easy one as I had initially thought.
The uphill climbing would persist for quite a ways though the trail was mercifully mostly in the shade at this time in the afternoon. As we were slowly making our way uphill alongside some dry gully or creek (I hypothesized that this might have been the main creek at one point before maybe the stream changed course away from this) with some signs of ferns along the way (suggesting it might get a bit wet here like Oregon-type climate).
Apparently we weren't going fast enough as both Mom and I were getting swarmed by a few dozen mosquitos, which were clearly visible against Mom's nearly white-colored hiking pants. I had already gotten a bit on my forearm, and so that was when I helped Mom get out a water to hydrate while she helped to get the Jungle Juice from my pack. One I had put on the Jungle Juice, the mozzies didn't seem to bother me anymore.
Further along the hike, we noticed that there was somewhat of an informal trail junction, where a sign pointed to our right saying "Falls". We obeyed the sign, but in the back of my mind, I thought that perhaps we should explore this other path to see if there was another waterfall along the way. As we were walking further uphill along the sanctioned path, I could see in through the thick foliage that there indeed seemed to be a handful of cascades or something, but they didn't seem to be anything significant. So I made the mental note to come back here later to see what it was all about.
Anyways, the uphill hiking continued though the trail makers here did seem to spare a thought for some of the older hikers by placing benches along the way as rest stops. One young dude and his dad were going at a slow pace, and apparently the young dude was looking for an extra bottle of water in his pack. Mom offered to give them the extra bottled water that we were carrying, which they kindly accepted.
Once we got up to the apex of this climb, there was a bench with a view of the forest and the sounds of rushing water, but there was definitely no view of Whiskeytown Falls from here. There was a family here with a few girls enjoying the view (or lack thereof) so we let them enjoy their peace while Mom and I kept going on.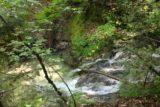 The trail then gently undulated as it meandered alongside the stream responsible for Whiskeytown Falls. Some folks that we were going the other way were encouraging us by saying that we were almost there. Sure enough after crossing a bridge then spending a few more minutes walking past some small cascades and alongside more of the rushing stream, we'd finally arrive at the Lower Whiskeytown Falls at 4:25pm.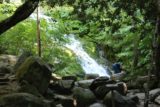 This falls was pretty impressive considering it was the first waterfall we had seen in about three or four weeks now. So it was a welcome sight. But this particular drop seemed to only be on the order of 40-50ft tall or something like that. It left more to be desired, especially since it was said to be 230ft in cumulative height. So we were keen to see more of this falls.
Fortunately, I could see that there were some stone steps and railings continuing to climb alongside the falls. And as we slowly pursued this path, we could see that there were indeed more waterfall tiers further upstream. Ultimately, we'd get to the closure spot where they said further progress was closed due to "hazardous" conditions. But I guess now that we were here, I could see that really the hazard was that the rocks were wet and slippery.
It didn't seem to be a big deal, and we had seen way worse. Still, it was indeed slippery and so caution was warranted. Eventually at 4:50pm, I finally got to the uppermost railed part of the trail, where I could get a somewhat satisfying look at the upper tiers of the Whiskeytown Falls. It was hard to get it all in one shot, but Mom and I agreed that this was one of those falls that had to be experienced in person than on photographs.
So we gladly took our photos and basked in our little victory, which was well-earned considering that we had driven over 9 hours just to even get to this point. And with that, we got our fill, and quickly headed back knowing that most of the hike back was downhill.
Mom and I were making good progress, and we'd eventually get to that spot where I was curious about where the detour led away from the "Falls" sign. So I pursued that while Mom stayed on the trail, but when I regained the other side of the spur trail near a well-overgrown rushing stream, all I could see was some Erosion Control sign and not much else other than the informal trail. So I really had no idea what this spur trail was for, and it didn't take long before I rejoined Mom back at the main trail.
After catching up to and passing the young dude and his dad, we then crossed the familiar bridge and returned to the trailhead by 5:30pm. Luckily for us, we didn't get ticketed. But it was certainly getting late in the day and we still had to do dinner before continuing the drive back south to Red Bluff.
So we headed out and made a brief stop at the visitor center at the vista point for Whiskeytown Lake at 5:50pm. The view of the man-made lake was nice although it was against the sun. The visitor center was definitely closed so there'd be no way we could procure any permits for the Whiskeytown area, but we'd be coming back here a month later while not doing another Whiskeytown area hike on this trip. So it wasn't necessary to be in a rush to procure one anyways.
At 6pm, we left the visitor center, and 15 minutes later, we showed up at this fairly busy Thai/Lao restaurant called Champa Garden. It seemed to get pretty good reviews for a restaurant in the Redding area, and so we went with that since I myself hadn't had a good Thai meal ever since Julie got sick.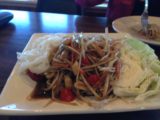 I knew I'd probably compromise the paleo diet that we had been on for the past month or so (causing me to lose 20-25 pounds in the process), but we couldn't go to a Thai place and not have pad thai or some rice to go with the curry dishes.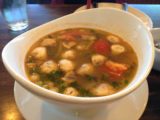 Anyways, the food turned out to be pretty decent and a good value. And even though this little strip mall that we were dining in seemed to be on the dead side, it seemed like all the activity was pretty much this restaurant. We had a papaya salad Laotian style, a pad thai, a duck curry, a tom yum goong, and mango sticky rice for dessert, and it was all for $40 including tax and tips.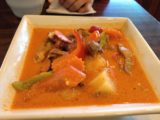 Not bad for a place way out in Redding, CA. Anyways, we left the restaurant at 7:25pm, and we then made the 30-mile drive south to Red Bluff, finally getting there at 7:55pm. Along the way, we could see in the rear-view mirror impressive views of Mt Shasta (now that the clouds have cleared) as well as some snowy peaks to the east that I thought might be Mt Lassen. Plus, there was also a nice rounded full moon rising to the southeast.
Indeed, only things like this happen when you're out of town, and it served to remind us just why excursions out in Nature definitely has restorative qualities. We sure hope that this would be a sign of good things to come for tomorrow, especially since we'd be embarking on perhaps our riskiest excursion of this trip to Mossbrae Falls…
Visitor Comments:
Got something you'd like to share or say to keep the conversation going? Feel free to leave a comment below...
No users have replied to the content on this page