Day 2 (June 19, 2016 – Red Bluff, California): "Big Shasta Moments"
It was about 5:55am when I awoke. I had a pretty continuous sleep given how much of a drive we had made yesterday. That said, I did have a little bit of an early morning wake-up when I heard some baby crying through the walls, but it was a minor interruption. Apparently, Mom said that she slept straight from around 9pm all the way to 5am. So indeed, we were quite rejuvenated after the sleep, and now it was time to get ready for today's big day.
What we had planned on this day was a rather forbidden hike to Mossbrae Falls. It was that forbidden nature with the unusual hike along the train tracks that kind of made us a little anxious about it going into this hike. Now way back in 2008, there were plans to build a very nice 3-mile round trip trail going from Hedge Creek Falls all the way to Mossbrae Falls with views of Mt Shasta along the Sacramento River.
Unfortunately, now was 2016 and this trail had still yet to be complete let alone started, and apparently, there was a lack of progress in terms of this thing that everyone (the city of Dunsmuir, the Mt Shasta Trail Association, Union Pacific Railroad, tourists, and some residents) were keen on seeing get accomplished. So what was the hold up?
Well, apparently, the Saint Germain Foundation owned the part of the land that the proposed trail would have to pass through. Many attempts were made to try to negotiate with the Saint Germain Foundation to buy just the parcel of land alongside the river allowing for the trail to be built, but they didn't seem to be interested in seeing this deal get done.
I guess that's what happens when you have all the leverage. You get to call the shots on whether things go forward or not. And according to the latest news on this, it seemed like their asking price was well above reasonable. Whether that news article was biased against the Saint Germain Foundation or not remained to be seen.
So who were the Saint Germain Foundation? Well apparently, they were some kind of religious organization, which it turned out after researching the Mt Shasta area wasn't all that unusual as this mountain seemed to attract this spiritual enlightenment movement or something like that. But after having seen some of the Louis Theroux documentaries, I had gotten somewhat of an idea of what these types of organizations might be about though he certainly had a way of letting the people he interviewed in his dockos find ways to debunk themselves without them knowing. So in this instance and based on my limited exposure to what I had seen and heard, I wouldn't have expected the Foundation folks to act in the best interests of everyone around them but themselves.
And so while these negotiations continued to stall (or more like hit an impassable roadblock), we weren't going to wait around for this to get resolved so we planned on taking our chances with hiking to Mossbrae Falls in a kind of Stand By Me
style as we'd be walking along railroad tracks always on the lookout for oncoming trains.
Since breakfast wouldn't start until 7am today, we decided not to wait around for it and grabbed some of the fruits on the go. We left the Holiday Inn Express at 6:35am, and just as we were leaving, we could see there was a long train running by, which hinted to us that the trains were definitely running on a Sunday. And thus, it amped up our anxieties about what we would do if we were confronted by one of these trains while walking along the train tracks.
The drive up north along the I-5 was pretty uneventful and it felt kind of long as the interstate went from a boring flat drive between farms and urban cities into a more curvy forested area flanked by the massive Shasta Lake (a man-made lake) with some interesting cliff formations like the Castle Crags among others. Mom even received a Facetime call from Julie and Tahia during the drive, and as we were getting closer to Dunsmuir, we were treated to imposing glimpses of Mt Shasta nearly totally covered in snow.
Mom pointed the camera towards the view out the front windshield so both Julie and Tahia could get to experience it. Anyways, shortly after the call ended, we then stopped at a vista point at 7:40am, which afforded us the ability to stop for Mt Shasta without trying to make an awkward photo while driving along the interstate.
When we got out of the car, it was quite nippy at less than 60F. This was a bit of a surprise for us as we were expecting a heat wave (at least down at Redding) starting today. It was certainly dangerously hot back at home as the highs were expected to be in the 100s or higher this weekend. Anyways, I had left my jacket back at the room so I had to grin and bear it.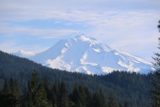 Anyways, the view of Shasta's snowy peak was primarily of its upper sections as the V-shaped contours of the canyon we were in kind of kept the mountain from showing even more of itself. Plus, there were some morning clouds providing less contrast between the mountain and the blue skies that were forecasted to be there.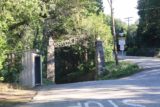 So it didn't take long before we had our fill then continued our drive north on the I-5. At around 10 minutes later, we took an exit to go into Dunsmuir, which seemed to be a quiet and sleepy town. We slowly drove until we saw Swanson Way, which was fronted by an archway saying "Shasta Retreat". We briefly drove down this road just to see what was down there and to scout out where we were supposed to make our danger-filled hike.
Well it didn't take long before we reached a bridge over the Sacramento River, and then crossed the railroad tracks. Beyond the tracks, the road went into another private area within the already private Shasta Retreat, which was really like a small community of charming homes.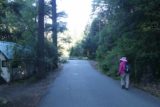 So knowing where we were supposed to do our hike (there were already people out and about doing Sunday strolls), we drove back up to Dunsmuir Ave, and then initially drove to an abandoned parking lot, where it seemed kind of sketchy to leave the car there. Mom didn't like the idea of leaving the car here so we briefly drove back towards the Shasta Retreat, where we saw a small unsigned pullout area with one other car already parked here.
So at 8am, we parked in partial shade, and promptly laced up our hiking boots and got our stuff together along with my tripod so we could quickly get this hike over with. The forbidden nature of this hike was definitely palpable, but we weren't going to be denied. So we promptly headed out and walked beneath the archway then down the ramp and onto the street going to our left and right. Going right, we headed straight for the bridge, politely greeting the Sunday strollers en route, and then promptly walked along the railroad tracks on the other side of the bridge of the Sacramento River.
As we were quickly walking alongside the railroad ties, we made sure to try to maintain our steps on the concrete ties for the best footing. The rest of the surface was composed of sharp shale like rocks, which we could take with our hiking boots, but it was a little slower than the railroad ties steps. The steps on the ties were a little awkward as a more comfortable stride would have been about every 1.5 ties per step, but they didn't have those half step ties so it was either going to be fast but short steps versus hopping every other railroad tie.
The hiking was a little tense because any kind of sound we suspected would be from a train, we freaked out and went down into the pile of rocks to ensure we were nowhere near the ties when the train would arrive. Still, the sounds were competing with distant I-5 traffic as well as the sounds of rushing water from the Sacramento River down below.
Anyways, as we were making our hasty and awkward hike, Mom was relaying to me how when they were youths in Taiwan, they'd kind of play dodge with trains, and how they used to feel the tracks for vibrations when an oncoming train was headed their way.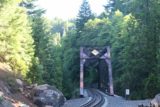 She also relayed to me how much of a Chinese heritage there was concerning railroads like this one. Most of them came here as migrants during the California Gold Rush of the mid 1800s, and she explained to me how San Francisco in Chinese was literally translated as the "Old Gold Mountain". Indeed, a lot of the railroad infrastructure was off the backs of Chinese labor, and so it felt kind of weird to be "trespassing" on Union Pacific working territory when our kin did most of the dirty work for railroad tycoons.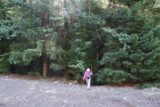 At about 8:35am, we made it amongst some remnants of railroad artifacts fronting a bridge. I knew from our trip research that we didn't have to cross this bridge, and we saw an opening in the tree-cover leading down from the railroad clearings down to the Sacramento River, where we saw the imposing percolating Mossbrae Falls.
Mom was getting reception on her iPhone
, and in the euphoria of checking out Mossbrae Falls, she Facetimed Julie to show her this waterfall. She was successful in sharing this moment with Julie, and we spent a good deal of time taking movies and photos of the falls. It was not possible to photo this waterfall in one shot with conventional cameras, but Mom did take advantage of her Pano (panorama) mode.
We had spent quite a bit of time around this waterfall as this was a place we didn't want to leave. But with all the anxieties about trains on the tracks, we finally heard a loud droning sound getting louder and louder, and sure enough, there was indeed a train running along the train tracks above us. So I quickly scrambled up towards the railroad to witness the train passing by.
The train showed up at around 9:30am, and this kind of hinted to us that we should get going now. After all, with this passing train, it was probable that the next train wouldn't be passing by as there would have to be a point where a train going the other way would have to wait for the one that just went by. So we mind as well seize this opportunity to hike back with somewhat of a piece of mind.
And so at 9:35am, we headed out just as the sun was starting to breach the cliffs above us. The hike back was pretty uneventful though we did see one Thai couple going the other way. Clearly, this may be a forbidden hike, but it didn't seem to stop people from still wanting to do this excursion.
When we finally got back to the Shasta Retreat area, we saw another car parked near the bridge, and the passengers in there seemed intent on doing the Mossbrae Falls hike as well. However, one of the locals said they weren't allowed to park within the Shasta Retreat lest they get ticketed or towed.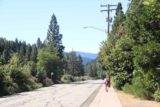 Mom and I were back at the car at 10:10am. With the shade pretty much gone on our return, the weather was starting to heat up a bit though it was still in the high 60s to low 70s at the time. Anyways, with this bit of accomplishment, the next waterfall (Hedge Creek Falls) was definitely more accessible. However, at first, we went back on the freeway until we realized that going on the freeway was a mistake.
Eventually at about 10:20am, we parked at a small clearing opposite the trailhead for Hedge Creek Falls. There was hardly any shade on the trailhead parking, so we just claimed a shot on the long shoulder, and then we promptly made our hike to the Hedge Creek Falls.
The hike was pretty straighforward as the trail switchbacked a couple of times. Once we got down to the bottom, we saw the impressive 30-40ft falls flanked by impressive basalt formations. So with the better-than-expected experience, we took our time documenting the experience while waiting out some people to leave.
It wouldn't be until several minutes later when we finally got our movies and photos without people in the frame. We had to be real patient because there were lots of people who made their way down here from one moment to the next. I guess this would be the fate of Mossbrae Falls if or when they ever get the deal done with the Saint Germain Foundation. Hedge Creek Falls was too accessible and hence it was also too popular.
Nevertheless, we ultimately got back up to the car park at 11:05am, which was probably an hour later than what I had planned for going into this part of the trip. It was strange how when we started this hike, we were only one of two vehicles at the trailhead. But now, the pullout parking here was practically full. Again, this attested to just how popular this place was.
At 11:35am, we finally got into Shasta Town, which was a town that featured imposing views of the towering Mt Shasta. We wound up parking right in front of this place called Bistro 107, but it wasn't open until noon. And so Mom and I killed time by walking around the cnter of town while also checking out the views of Mt Shasta from a public parking area across the street from Dos Geckos.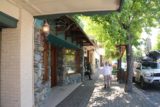 After having our fill of these views and experiencing the center of town, we then went to the Visitor Center a couple of blocks along Lake Ave. Inside the visitor center, we picked up some park literature and a map, and we also solicited some advice from the lady working the counter here about the best places to view Mt Shasta. The key takeaway from what she told us was that there was one place to see Mt Shasta at sunset along the Crystal Lake Rd.
So I took a mental note to do this experience after dinner here, which wasn't far fetched since Game 7 of the NBA Finals was starting at 5pm today.
After having our fill of the visitor center, we then walked back to the Bistro 107, where there were already a handful of people who showed up just when they opened. After getting seated, we had ourselves a juicy wagyu beef burger as well as a pulled pork sandwich along with a coconut shrimp appetizer. The service and food was extraordinarily slow (the coconut shrimp came out last) as we had started lunch at around 12:10pm, but it wouldn't be until about 1:15pm when we returned to the car to resume our day. Still, the food was good though I knew that meals like this one would kill the paleo diet I had been on for over a month before going on this trip. I wonder how much of the 25 pounds I had lost I was getting back on this weeklong trip?
Next up, we were aiming to do the McCloud Falls (all three main tiers), but I had aspirations of fitting in even more hikes in addition to the McCloud Falls that we were targeting at the outset.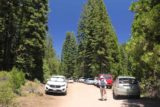 It wasn't until about 1:40pm when we finally parked the car at the Lower McCloud Falls lot, which was packed with cars. On the way in, we saw that there was a separate road going to the Middle and Upper Falls and we had entertained the thought of being lazy and parking at each one to shorten the amount of hiking, but given how crowded this Lower Falls lot was, we ultimately decided to just park the car and hike to all three waterfalls and back from here. Hopefully, we weren't creating unnecessary work in doing this.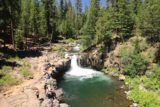 At first, it didn't seem all that obvious where we were supposed to go in order to get to the Lower Falls. There was a picnic ground and some paths branching this way and that, and the first sign we saw was something pointing downstream saying "River Trail".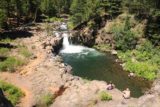 So just when we saw that sign, Mom, decided to go down that trail while at the same time, I saw that there were railings to the left. So I went over to the railing to see what was there, and that was when I saw the busy scene of people hanging out besides the Lower McCloud Falls.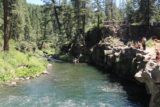 While I was taking several minutes to enjoy the view from the lookout, I saw that the falls was a bit small, and this was really more of a play waterfall. Given how hot it was supposed to be back at Redding, I guess it was logical that lots of weekenders (including families) were here just cooling off upstream from the falls, which featured some calm sections of the river for kids to play in. Meanwhile, there were some daredevils jumping off the cliff near the falls for a cold swim.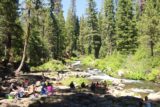 The whole time I was enjoying and documenting this waterfall, I started to wonder why Mom hadn't come here to enjoy the falls. It had now been several minutes, and I started to wonder where she had gone. At first, I thought she was waiting for me somewhere on that River Trail sign, but after a few minutes of walking down this path going away from the Lower Falls in the downstream direction, I knew this was wasting time, and I had better check the iPhone
to see if there was any reception here.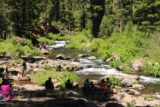 Luckily, there was, and I texted Mom at first at around 2pm. But without a response, I then called her, and she picked up the phone. When she told me that she had gone down the River Trail, I told her that it was the wrong way, and she said, "Oh my God! I told the family the wrong thing" and she then went to chase them to tell them that they were going the wrong way as she was.
So it wouldn't be until about 2:15pm when Mom finally rejoined me. She was a bit of a sweaty mess, but now that we were back together again, she enjoyed a little bit of the Lower Falls before we continued the walk in the upstream direction along the wheelchair accessible paved path. By 2:30pm, we made it past the Fowler Campground, where quite a few campsites were alongside the busy trail. But just past the camp, the path went from paved to conventional dirt trail. A sign also said that the Middle McCloud Falls was another 1.5 miles further from this point, and it really made me wonder whether we had made a mistake in hiking all the way here instead of going back to the car then driving up to the Middle Falls.
Well, we were already here so we just pushed forward and kept hiking as we were still somewhat along the river but the trail was significantly quieter than the paved path we had been on earlier. The path alternated between warm and exposed to the sun flanked by bushes and shady as we were flanked by tall conifer trees that looked like redwoods but weren't.
At 2:55pm, we finally made it to the bottom of the Middle McCloud Falls, which at first looked distant, but we were able to scramble on some large boulders before getting a much closer and cleaner look at the falls. We didn't scramble all the way to the plunge pool where a father and son was busy fishing. But when we looked around, we saw that way up the cliff around us were the overlooks.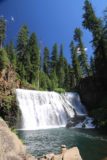 Given how high the overlooks were, it made us realize that perhaps the hiking was wise since just driving up there might have made it harder to hike down then back up before driving or continuing the hike to the Upper Falls. In any case, we knew the work ahead of us to continue the hike.
Nevertheless, we enjoyed this waterfall, which was getting nearly perflect lighting except for the shadows on the far side. The shade was growing as the afternoon kept wearing on, and it made us wonder if we had just missed the best lighting by about a half-hour or so. In any case, this wide river falls was very impressive, and it was probably deserving of a 3 or maybe a 3.5.
Shortly before making our way out, we were conversing with a guy who had just showed up. Apparently, he was a local from Whiskeytown and upon hearing that we were from Los Angeles, he made some suggestions to us about what other things there were to see and do around this area. Some of the recommendations he had included Medicine Lake as well as Burney Falls. He also told us some informative stuff concerning the area as being the southernmost of the Cascade Ranges.
I always wondered where the dividing line was between the Sierra Nevadas and the Cascades, but I guess his telltale indicator was that there were more of an abundance of conifer trees in these parts, which were apparently more typical of the Pacific Northwest.
After a few more minutes of lingering around as we found it hard to leave this spot, we managed to pull ourselves together and start the climb up to the lookouts at the top of the cliff. The climb up wasn't so bad as we went up a couple of elongated switchbacks, which the guy we had just spoken to said as much (that it wasn't as hard as it looked).
By 3:20pm, we finally made it up to the Middle McCloud Overlook, which was kind of a disappointing view as the falls was pretty much edge on. However, we were able to get commanding views of the McCloud River further downstream as well as glimpsing some of the mountain ranges further downstream.
Shortly afterwards, we continued our walk. We noticed that Mt Shasta could be seen through the trees behind us as we went further upstream from Middle McCloud Falls, but at least this trail was pretty quiet compared to the other two waterfalls on the McCloud River that we had just seen.
At about 3:30pm, Mom and I had finally made it up to the Upper McCloud Falls. This particular one possessed a smaller but gushing drop. Still, we weren't able to view it from closer in front of it, and so it was a seemingly anticlimactic end to the hike. We had our fill at 3:40pm, and then we promptly headed back the way we came all the way back at the Lower McCloud Falls.
As I continued hiking back downstream, I couldn't help but overhear screams of encouragement from young folks watching someone do a cliff dive adjacent to the falls. Anyways at 4:10pm, I heard the thud of someone splashing into the water, followed by screams of approval, and then we would eventually regain the car at 4:35pm.
The car's thermometer claimed that it was 86F, but at least the car park for the Lower Falls was almost empty now that most of the weekenders of day visitors had left. Nonetheless, with the late departure from the McCloud River area, I knew that if I was going to catch Game 7 of the NBA Finals, then it was going to be watched at some pizza parlor in Mt Shasta.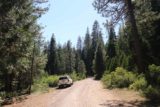 And so we promptly left and drove west on the 89 until we got onto the I-5. Once there, we'd eventually exit back at Lake Ave, and then we promptly found ourselves at this pizza parlor called "Say Cheese".
Inside the pizza parlor, there were five large-screen TVs strewn throughout the restaurant, and all of the TVs were showing Game 7. The place was busy, and I got the sense that this place wouldn't normally get that busy, except the Game 7 thing was probably a big deal to a lot of locals and visitors probably from the Bay Area or something. In fact, Mom and I had to share tables with some strangers just so we could be seated while watching the game, which turned out to be a tense one throughout. The crowd reaction from the very busy pizza parlor made for a lively atmosphere. Clearly, most of the people here were rooting for Golden State though there were a handful of folks rooting for Cleveland.
Eventually, by 7:40pm, we would learn that Cleveland had broken the 52-year professional sports drought (where none of the major sports teams from the Cleveland area could say they've won a title since Jim Brown's Cleveland Browns in 1964 in football) by beating Golden State for a third straight time (second straight time on the road). The ending was kind of a buzzkill for most of the fans watching here (one person even said I was too happy when we left probably due to me smiling as we had left thoroughly entertained).
Of course another reason why I was smiling was because I was looking forward to seeing the sun set with the sun's last rays scattered and painting the mythical Mt Shasta somewhat pink and purple in the snow at the peak. And so we promptly did that as we drove up the Crystal Lake Road for what seemed like a tense five minutes or so as we could see the light was fading fast and we might wind up missing our sunset if we weren't focused nor if a deer decided to dash out in front of us and damage Mom's car.
Eventually, we'd reach the end of the road at Crystal Lake, but it turned out that there was a better view of Mt Shasta above the tree line at a pullout a short distance downhill from the end of the road at Crystal Lake. And so by 8:05pm, we were back at the pullout with a view, and we chilled out there until the sun had set at around 8:45pm. There were a few other folks joining us as well as some mosquitos trying to take advantage of the fact that we weren't moving around.
We would eventually leave this place at 8:55pm after we saw a lone lenticular cloud emanating from the peak of Shasta somewhat changing color. Still, we battled with lots of mosquitoes who were coming out this late at night. We were also getting tired of taking the same photoraphs over and over again.
Anyways, it was now starting to get dark, and I was always cognizant of deer dashing out in front of the car like with Dad's MPV that I had totaled many years ago. You just never know what could happen next.
So we promptly went back onto the I-5 south, but now that it was pretty much dark (despite the somewhat rounded full moon we had witnessed while getting lost earlier), I was definitely very cognizant of deer, which liked to come out at this time of night. I even witnessed quite a few dead deer lying off the shoulder to the side of Hwy 50.
As we were going through the curvaceous part of the I-5, I successfully managed to swerve around some fallen furniture or box or something, which definitely raised my adrenaline levels as it was dark out and it was hard to see things with enough advanced warning under such circumstances. I had no idea what that stuff was doing on the road, but apparently a couple of other vehicles were pulled over to the shoulder, and I suspected that they must've struck the objects, which might have done some damage to their cars.
Indeed, I was on high alert already due to the deer, and that probably allowed me to react fast enough to swerve around the hazards.
Meanwhile, in order to keep the drive entertaining, I was able to get some sports talk radio reception, and so the talk was pretty much all about LeBron James' legacy and what happened to the Golden State Warriors in their collapse during this finals.
Mercifully, we made it back to the Holiday Inn Express at Red Bluff at 10:30pm, but given the late arrival, it wouldn't be until around 1:30am when I finally conked out and slept…
Visitor Comments:
Got something you'd like to share or say to keep the conversation going? Feel free to leave a comment below...
No users have replied to the content on this page