Day 3 (June 20, 2016 – Red Bluff, California): "Stuck on 89"
It was 6:05am when we awoke. Given last night's late sleep, we didn't feel like we had gotten adequate sleep. Still, we had planned to go to Burney Falls as well as a couple of other waterfalls, and we wanted to return to the Shasta area for one last go (perhaps even visiting a waterfall that was actually on the slopes of the volcano).
At 6:55am, we left after having the included HIE brekkie. The soaring temperatures were supposed to peak today (we knew it would be dangerously high in the triple digits back at home), and we suspected Redding would be no different. However, we banked on the fact that we'd be in higher elevations so perhaps we wouldn't be as affected by the abnormally high temps from the southwest desert heat.
Anyhow, the drive up the I-5 went pretty uneventfully, and when we got to the Redding area, we then headed east on the 299. The drive was mostly smooth and before we were going to Burney Falls, which was the main attraction for the day, we were visiting a couple of other waterfalls en route – Potem Falls and Hatchet Creek Falls.
The directions to get to Potem Falls was pretty accurate as we left Hwy 299 at Fenders Ferry Rd, which eventually became a pretty smooth gravel road. There was a moment where the road forked and we had to keep left to get onto the road 34N17, which then descended towards a narrow bridge spanning a tall gorge.
From the bridge, we noticed in the upstream direction that there was a dam. Beyond the bridge, we drove for a few minutes more before reaching an unsigned pullout. We weren't totally sure if we were in the right place or not, but when we got out of the car to inspect, we heard the tell-tale sounds of falling water and we figured that we were in the right place.
Given the obscure nature of this place, Mom and I were wondering exactly how Ann Marie Brown found out about this place. And that was when it dawned on me that her waterfalls book
was indeed a triumph in that she definitely did her homework in terms of soliciting local knowledge to write about the waterfalls in her book. In this particular case, I speculated that perhaps the dam workers must've found out about this place during the course of their work, and eventually word got out about this place.
Anyways, we showed up at 8:30am, and immediately followed a trail that descended from the pullout at the curve. The unmarked trail was pretty obvious and it didn't take long for us to start seeing Potem Falls, which was impressively tall. We started to see the falls at the first switchback, and there was a steep off-trail scramble leading to a precarious ledge with an angled top down view of the falls, but I decided not to bother with that scramble.
The trail started to go away from the falls before descending down another switchback, which then promptly descended into the lush greenery in the direction of the falls. Once we got into the shadowy depths, we could finally see the plunging Potem Falls, which was bathed in the sun while part of the plunge pool was bathed in shadow. Thus, the high contrast photography made us solely focus on the falls, which was yielding a slight rainbow.
Even though we had no aspirations of swimming in this spot, we could totally see how inviting it was, especially since we were pretty much here all alone. So we took our time documenting this falls before heading back up the short 1/4-mile trail, and by 9:15am, we were back in the car. Indeed, this waterfall was a good intro as well as a good warm-up to Burney Falls, which we knew would be a showstopper.
As we drove back towards the Hwy 299, we did see a couple of trucks going in the other direction. We figured that perhaps they were here for logging or for the hydro. In any case, the drive back out was pretty uneventful as we resumed going east on the Hwy 299.
Next up, we then took Big Bend Rd to get off the Hwy 299, and it didn't take long before we found the unsigned pullout before the bridge over Hatchet Creek as described in Ann Marie's book. Once we parked the car at 9:50am, we then tried to follow the directions saying to go upstream instead of downstream. Well, there were two apparent "trails" leaving the pullout, but the most obvious trail was on our left, and we thought there would be an upstream trail going right after going initially left.
But then it didn't take long before the trail degenerated into a difficult scramble. We were about to give up on doing this hike, but then I noticed a faint scrambling "trail" that ultimately led to a more obvious trail. When I saw there was a little stream that ran down the trail, I knew that we should've gone right from the car park to begin with.
Anyways, we were now able to follow this trail as it went over and under some fallen trees, then it became a steep scramble. We could see Hatchet Creek Falls in the distance so we knew that we had to press forward. However, during this scramble, I somehow scraped my knee and I really hurt my left shoulder on a protruding branch.
Eventually, we made it to the edge of the plunge pool of Hatchet Creek Falls, which was a gushing waterfall with a large log leaning against its cliff. The falls itself was probably on the order of 30ft or so. But we could see that with this waterfall, it was more about the swimming hole than it was about the aesthetics of the falls.
So after scrambling towards the middle of Hatchet Creek, where we followed some rocks that kept our feet from getting drenched, we were able to get a direct look at the falls (against the sun), but upon examining the surrounding area, we could see old clothes and some broken glass and beer bottle caps. Clearly, this place had been visited many times before, and unfortunately, it didn't seem to have the respect that it deserved. I don't know why people tend to trash places that are so treasured, and we figured this swimming hole would fit the bill as a nice little spot.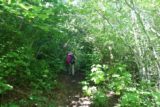 Well, we scrambled back to the car, which went a bit smoother than on the way there now that we knew which way we had to go. Still, the scramble was rough, and Mom realized that she had lost a pair of sunglasses on this rough scramble. In fact, Mom and I were thinking that we had such a nice experience at Potem Falls but such a rough one with this falls that perhaps Burney Falls would pay us back.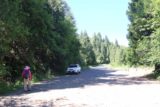 And at 10:30am, we were back in the car, where we saw mozzies hovering around us. So we hastily made our way out.
Next, we were driving towards the town of Burney. With it still being somewhat early in the day, we figured that perhaps we might take advantage of having an early lunch so we wouldn't be waiting for crowds or the like. But it turned out that the town of Burney was really more of a logging town and there was an unsightly pulp mill on the town's outskirts. So perhaps it was a stretch to think this town would have something gourmet and good.
So we settled on this place called the Blackberry Patch at 11am, which was really more of an old school diner. The food was ok as we had a philly cheesesteak sandwich as well as a salad. We even tried the blackberry pie, which was reheated. So indeed, we were fed, but we weren't savoring the experience. Maybe the sign saying something to the effect that this place was under new management should've been a warning sign.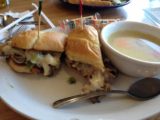 Nevertheless, we were back in the car at 11:45am, and now we were finally headed to the long-awaited Burney Falls. It wouldn't be until about 12:10pm when we finally entered the well-signed MacArthur Burney Falls State Park, where we paid the senior discount of $7 instead of the $8 normal price. Then, we promptly parked the car after finally figuring out that we had missed the day use car park for the waterfall. The road actually kept going towards a boat launch area as well as a lot of RV sites and campgrounds.
It was only about 150 feet of walking to get to the first overlook of Burney Falls, and from that overlook, we were getting a top down view of the impressive waterfall where our line of sight was flanked by trees. We could see from this vantage point that there was a nice aquamarine plunge pool, and we could also see that a good portion of the waterfall was actually coming out of the cliffs part way down making this a pretty unique waterfall.
But it was clear that we had to get down to the base to experience this waterfall a bit more. There was also a 1.2-mile long waterfalls loop, but from what we could see on the trail maps, there's a fair chunk of of trail that wouldn't yield views of the falls. So we figured that the least we could do was to get down to the base of the falls, but then go back up and that'd be enough.
So we went down a gentle paved ramp that seemed to be clearly wheelchair accessible. After one switchback, we then were able to get an elevated frontal view of the impressive Burney Falls. But with the width of this falls, it was hard to get the falls as well as the entirety of the aquamarine plunge pool in one shot. Mom was able to do it with her iPhone
in pano mode.
Part of the falls appeared to be under shadow, and we were trying to figure out when the best time of the day would be to visit this falls. But the trajectory of the sun appeared to be slightly behind the falls so we couldn't really conclude anything about the best time to visit the falls. I recalled one photographer we spoke to earlier on this trip suggested using a tripod and taking multiple shots in different stops, then combine them for the high dynamic range needed in these types of photographs. I didn't bother with it, but I did take some shots in raw so perhaps that might give me some flexibility if I ever do decide to doctor an image or not.
Continuing down the paved ramp, we then got to a switchback with some more interpretive signs. We were also able to get more angled profile views of Burney Falls as well as a closer examination of the springs coming out of the cliffs.
Then, we continued down the ramp some more as we noticed quite a few people off trail scrambling into the boulder field leading down to the shores of the large plunge pool. The water was a little on the choppy side so we didn't see anyone swimming (not that it was allowed), but quite a few people were taking photos and selfies from the shore.
Towards the far end of the paved ramp, there was an angled lookout area. The view from here wasn't that great so we went back up the ramp to get more direct looks at Burney Falls. Towards the far end downstream, we did see a few more smaller springs trickling down and feeding the creek (ala Mossbrae Falls).
Anyways, the trail kept going but it became more primitive and it went out of sight of the falls. When we saw other people continuing the waterfalls loop and went up the switchbacks, we could guess that there weren't any more views or perspectives of Burney Falls along that trail so indeed there wasn't a point to doing that trail other than to add some more exercise.
Mom and I spent quite a bit of time just enjoying this unique waterfall while taking more photos and videos in addition to observing whether the shadows situation might improve, but eventually all good things had to come to an end and we still had to continue driving the 89 up towards Mt Shasta. After all, I was determined to visit at least one waterfall on the slopes of Shasta though it was looking more and more like Whitney Falls would be out of the question.
We made it back up to the upper overlook where we could see that the view of Burney Falls hadn't improved any in terms of shadows and light. So we explored a little further towards the brink of Burney Falls though we didn't actually make it all the way there as it seemed obvious to us that accessing the brink of the falls wouldn't be possible.
However, we did see a nest on top of a leaning tree where there appeared to be some kind of eagle (someone said bald eagle) was in the nest trying to learn how to fly. It was tentatively flapping its wings, but it probably needed more time to figure it out.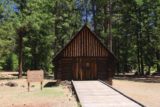 After that bit of a surprise, we finally got back to the car at 1:55pm. It was getting late in the afternoon, and I knew that it would probably take at least an hour to drive from here to the town of Mt Shasta. And so we were off going northwest on the 89.
Somewhere along the way, we saw a sign leading to Medicine Lake, which was recommended to us by someone we met at Middle McCloud Falls yesterday. We turned right there thinking that maybe this lake wasn't that far away and that we might be able to get commanding views of Mt Shasta from there. But after spending some 15-20 minutes or so with nothing to show for it on this road, we turned back to get back on the 89.
It sure seemed like we wouldn't be leaving the 89 for a while on this afternoon, and it was kind of symbolic that the Golden State Warriors were stuck on 89 yesterday for the remainder of the game with nearly 5 minutes to go until the very end.
Eventually, we'd finally get onto the Pilgrim Creek Road, which then went north for a bit before we turned left onto the national forest road NF41N15. The road then degenerated into a graded road with some potholes and ruts, and the further along this road we went, the rougher it became.
We'd pretty much follow the Windy Springs Drive (ignoring some confusing detour sign) as the road became even more rougher, undulating, and rockier. Mom was fretting about the damage this road was doing to her car, and she even chided me about me entertaining doing this trip alone (of course I wouldn't be doing this road on my own).
We pretty much had to follow brown signs pointing the way to Clear Creek Trailhead, and fortunately, there were enough of these at the key junctions to keep us on track. But with each mile we drove, we were getting increasingly nervous about whether we would have done irreparable harm to Mom's car. Certainly, this road required high clearance, and there'd be no way we could even entertain doing this road if there was snow or even if it was raining (for the road would turn to mud).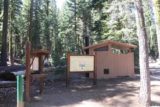 But mercifully, we'd finally arrive at the Clear Creek Trailhead at 3:35pm. Surprising the both of us, we saw a couple of other passenger cars who've managed to make it up here. Given how beat up the road to even get here was, we were incredulous on how they were able to do it.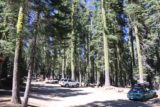 Mom struck up a conversation with someone preparing to do a backcountry hike from this trailhead by asking him how he was able to drive up here with his low clearance car. His response was that he went on this road really slow.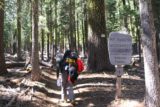 As we were getting ready, the guy Mom talked to asked to join us on our hike. We were only intending to go to the view of Mud Creek Falls, but this guy named Todd was actually intending to solo his way up to the summit of Mt Shasta. And just as we were leaving, there was a USFS ranger who showed up and asked if we knew anything about a missing hiker.
That wasn't the more reassuring thought about hiking in this area, but apparently someone who also tried to summit Mt Shasta had been missing for over a day. Well, after that conversation, we finally get started on the hike. It was getting late in the afternoon, and we still had to get to Mt Shasta for a late dinner after this hike was over.
Our pace on the hike was a little on the slow side as we were keeping Todd company while he was carrying over 50 pounds of gear. At first the trail was pretty straightforward to follow as it was pretty well-defined, but we'd eventually get to parts where there were still snow patches on the ground that were large enough to obscure the trail.
It was in these moments that we really had to pay attention to things like footprints on the snow as well as other signs like fallen logs that had straight cuts in them. It made our already slow progress even slower, and we definitely lost the trail in stretches along the way.
After what seemed like a long time hiking amongst trees and large dirt and snow patches, the scenery eventually opened up and presented us with views of the summit of the snow-covered Mt Shasta as well as some interesting canyons and glaciers. And it was in this stretch that we were finally able to see some waterfalls as well, including Mud Creek Falls as well as Croquette Falls. But disappointingly, these waterfalls were so far away that they appeared tiny and it really didn't feel like we truly experienced these waterfalls from the amount of trouble we took to even get here.
At this point, Todd continued on going solo up to the summit of Mt Shasta while Mom and I turned back to the trailhead. Once again, we had lost the trail somewhere along the way amongst the snow patches, and it wasn't until I saw that we were deviating from the established GPS tracks that we had created from earlier on.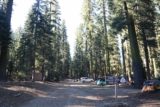 But we'd eventually get back to the Clear Creek Trailhead at 5:40pm, which was a bit more time than we had anticipated. And now we had to drive through the rough and rugged roads to get back to Pilgrim Creek Road and then eventually back onto Hwy 89. Indeed, like the Warriors, it really did feel like we were stuck on 89.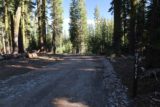 Eventually at 6:40pm, we were in front of the Maruti Restaurant in Mt Shasta. It was off the main drag, and it was vegetarian. But it turned out that we were getting partial views of Mt Shasta while dining in the house converted restaurant, and the Khichadi and eggplant curry (Baingan Bharta) were both very good. We also had garlic naan as well as a rasmalai as dessert.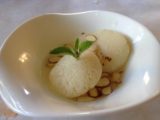 Indeed, even without meats, this meal was satisfying, and we could now understand why this place was said to be the top rated restaurant in Mt Shasta. We were wondering why an Indian Restaurant was such a staple of a small town like Mt Shasta, but that was when I realized that much of the spiritual enlightenment movement that seemed to be the main culture of this area probably ultimately had their roots in the sprituality of India. So I could see the synergy here.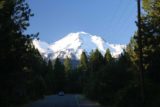 At 7:25pm, we were back in the car. Mom took over the driving duties so it was now her turn to drive south on the I-5 but this time with the advantage that there would be much more daylight compared to last night when I was driving. At some point, I conked out and it wasn't until about 9:10pm when we finally returned to the Holiday Inn Express in Red Bluff with the so-called strawberry moon in the sky that I came around.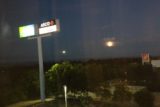 With the long day finally over, we freshened up and promptly went to bed. This was our last night in the greater Redding area, and tomorrow we were deciding on whether to go straight to South Lake Tahoe or to make a detour to Lassen Volcanic National Park before heading south towards South Lake Tahoe. This would be a decision we'd make when we wake up and figure out when we were going to check into the Holiday Inn Express in South Lake Tahoe, which was where we were staying next, but only after visiting some waterfalls along the way…
Visitor Comments:
Got something you'd like to share or say to keep the conversation going? Feel free to leave a comment below...
No users have replied to the content on this page