Day 5 (June 22, 2016 – South Lake Tahoe, California): "Horsetails"
It was 6:05am when I awoke. Mom had gotten up earlier as had been customary throughout this trip. Clearly, she lived by her saying that "the early bird gets the worm".
After having our included breakfast again, we left the Holiday Inn Express at 7:05am. The agenda for today was to do some of the waterfalling excursions within a somewhat short driving distance of South Lake Tahoe and first up was Horsetail Falls.
As we were going to the west end of town then starting to continue west on the Hwy 50 shortly after the agricultural inspection part, we noticed some pretty impressive cascade in the distance against the cliffs. It looked pretty significant, but we couldn't tell if this was Horsetail Falls or not. It also didn't appear to be any other waterfall I was aware of in my trip research. But there didn't seem to be a sane spot to view this waterfall in and as we started to approach the cliffs, the falls was no longer able to be seen by car.
The drive west along the Hwy 50 brought back some memories nearly 18 years ago when I first drove up this road when there was snow. Back then, I was in college and a large group of us went here for skiing. I was particularly remembering the cliffside part of the drive where the road was narrow for a two-lane highway with some dropoff exposure on the other side of the rails. If not for the small sizes of the pullouts and the sun going against us, I'm sure the views of Lake Tahoe would've been quite awesome from up here, especially driving in the other direction.
At 7:35am, we were descending towards this bend on the Hwy 50 signposted for this section called Twin Bridges. On the way down, we were able to see high up the cliffs in the distance what was clearly Horsetail Falls. However, it didn't seem like there was a sane and safe spot to pull over the road and take a picture (with zoom all the way in) to check out the falls. It was also mostly in shadow at this time of the morning.
Just moments thereafter, we then turned right onto a car park area called Pyramid Creek. I wasn't sure if Horsetail Falls was on Pyramid Creek as it appeared to be the only main creek in the area, but we looked for a shady spot at the time though we suspected that none of the parking spaces left would have any shade by the time we'd return from this hike.
A sign here said that it was a mere 1.25 miles (2.5 miles return) to get up to Horsetail Falls so we were expecting a short excursion that might take a bit less than two hours or so. So I was already thinking about how much time extra we'd probably have on this day to perhaps try to squeeze in other excursions that we had planned on for tomorrow. That would give us even more time to alleviate some of the activities for tomorrow or even the rest of this trip, I thought.
So once we got some waters and our gear together, I promptly got started on the trail that passed between some restroom facilities before immediately going a bit uphill then undulating through forest going by an attractive small cascade then approaching a signpost saying something to the effect that the Cascade Vista was a quarter-mile to our right while the Wilderness Boundary was some 3/4-mile further up ahead.
However, when we were past the sign and onto the granite portion of the hike, we appeared to have lost the trail. At first, we saw a sign posted on a tree pointing to our right as the "trail", and we wound up getting an interesting perspective on some watersliding cascade that was starting to get real bright due to the sun shining on it. Was this the Cascade Vista?
As we were taking pictures and videos from this spot, I noticed way up the cliffs behind us in the direction we knew we had to go that we could also get a very distant view of Horsetail Falls. It seemed like quite a ways to go to get up to that falls, and I wondered how it seemed to be quite a bit farther than a mile to get there.
Nonetheless, we kept on, but now we really lost the trail and we couldn't really find any more trail hints from posted signs to rock cairns. So Mom and I pretty much did a granite scramble wondering where on earth we were supposed to find the trail, and I knew that this seemingly short and easy hike now became more of a lengthy scramble for as long as we had lost the trail.
So we were doubting our steps as we went until we'd eventually follow what appeared to be some kind of drainage though even here there was a bit of overgrowth and no real sign on the trail. And our slow scrambling would remain that way until we finally started to see a sign marking the wilderness boundary. There was a station here where apparently you're supposed to fill out a self-help free wilderness permit.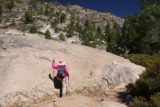 At this point, Horsetail Falls started looking tantalizing close yet so far away. But at least the trail was now more or less obvious though it was a bit on the faint side for something I'd imagine was very popular. And so we'd continue along a forested stretch where we saw a few minor cascades as well as access to Pyramid Creek.
But then, we'd eventually get to a spot where we saw a rock cairn suggesting that we should climb the steep granite (or at least it seemed that way given how overgrown the terrain was on the ground adjacent to the granite slope). And so we went up the slope where after a few paces of thinking we were following some trail, it became obvious that there was no more trail. However, we had gotten high enough to get a decent direct but distant view of Horsetail Falls at around 9am.
Thinking that perhaps this was the endpoint of our hike, we took videos and plenty of pictures from this spot, but somehow this experience was lacking. Looking in the other direction, we could see some peaks and mountains in the area still hanging onto their snow with the granite wilderness immediately before us with forest cover down below. And looking against the sun towards some imposing cliffs to the east, we noticed another tall but minor cascade coming down those cliffs.
Just as we were about to declare this hike over, we saw there were people still further up ahead in the distance. They didn't seem that far away from us, and Mom and I wondered if they just continued on the trail. When we saw them go in the opposite direction, we wondered if they had given up on finding the falls or something given the tricky nature of this hike. And we also wondered whether we'd see them closer to the apparent sections of "trail" that we noticed when looking back down the granite slopes.
But after nearly 20 minutes or so of not seeing them, we ultimately made the executive decision to just keep going once we got back down this granite slope. And sure enough after getting through an initial overgrown stretch near the rock cairn, we saw a bunch of logs laid out to avoid the standing water while using the granite slope to lean on for balance. Without these logs, there'd be no way to wade through these pools without getting uncomfortably wet (and probably attacked by mozzies I'd imagine).
Once we got past this obstacle, the trail once again became more or less obvious. There seemed to be a handful of false trails and we even saw one couple going back the other way on a seemingly different trail than we were on so the trickiness of this hike persisted. Anyways, after getting past one little tricky rock part where the trail wasn't obvious except for a cairn and trail sign telling us we were supposed to walk besides an overhanging part of that giant boulder, the trail then started climbing alongside a granite slope again.
But with Horsetail Falls now so tantalizingly close and audible, the trail pretty much went back on the granite and we would boulder scramble our way towards a ledge from a more-or-less frontal view of the base of the main part of Horsetail Falls' cascade. Mom and I concluded that this was the end point of the hike, and it pretty much took us until around 9:45am or so to even get to this point.
We had to be careful about not getting too close to the dropoffs here as this chill out spot was a bit on the precarious side, but having worked so hard to get here, Mom insisted that spent a bit of time having a picnic lunch here in the limited available shade.
As we were busy enjoying this spot, we saw a helicopter overhead circling the area. And it appeared that they were circling perhaps to keep dibs on us or something. We were in some unsanctioned part of the trail? Well, whatever the case, the chopper eventually flew off and we were once again basking in the sounds of Horsetail Falls while enjoying some clementines and jerky.
At around 10:15am or so, we had our fill of this falls and now it was time to head back. It was strange but the trail seemed to be a lot more obvious on the return than on the way up. And so we were able to follow the trail back to the Wilderness Boundary sign while seeing quite a handful of folks going in the opposite direction.
It was definitely getting hotter on this day, but clearly these folks were persevering despite the tricky nature of this hike. We also warned a group of people not to scramble up unless they were just going for a view, and that they shouldn't make the same mistake we almost made in thinking that view was the turnaround point.
Then, as we were walking back away from the Wilderness Boundary sign, we saw a sandy stretch with lots of footprints while passing by a few other wilderness signs. We even noticed more rock cairns. Now where was this when we were making our way up?
Anyways, now with much of the trail being pretty obvious and easy-to-follow more-or-less, we'd eventually make it back to the granite field area where after seeing a rock cairn, we once again lost the trail. But since we could look down to where we needed to go (in addition to nice vistas of some granite peaks in the distance called Lover's Leap I think as well as another pyramid-shaped one near it), we more or less knew that if we just scrambled in that direction, we'd regain the trail again.
We did see people going way off to our left (kind of like how we were going on the way up and that was probably due to the confusing signage). Anyways, after regaining the trail after a few minutes of friction pitching our way down, we would eventually make it back to the Pyramid Creek Trailhead at 11:15am. It was now quite warm and the car park was crowded. There were lots of people here, and given that it took us about 3.5 hours to go 2.5 miles, it made me wonder just how many of these people (many of them seniors) would make it all the way up to Horsetail Falls.
There was also a volunteer patrol parked in the shade here. I wondered if they were here ready to issue tickets or something for people not paying the $5 parking fee. We used our National Forest Service pass which was good until March of next year so we definitely felt we were getting our moneys worth with that pass on this trip.
Next, we continued driving west on the Hwy 50 until we'd eventually get to Bridal Veil Falls near this part called Pollock Pines. There was a shoulder to stop the park on the westbound facing side of the road, but we could see that there was an even larger pullout on the eastbound facing side of Hwy 50. So at first, I stopped the car and took photos across the four-lane Hwy 50, but with my better judgement saying it's not wise to cross Hwy 50 by foot, I got back in the car and then swung quickly into that large pullout area when there was a break in the traffic.
Ah, now at 11:45am, we were finally able to safely get out of the car, park in the shade, and walk to the front of this interesting roadside waterfall which was partially in the sun and quite bright as we looked against the sun. We saw one guy scramble down beneath the highway to get right up to the falls though I also saw a sign saying something to the effect that there could be a sudden increase in water levels down there and that we shouldn't be going down there.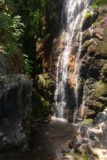 That said, after the guy went back up, we went down there to get our look up at the falls. And then, by 12:05pm, we went back to the car. Next, we drove towards Icehouse Road in pursuit of Bassi Falls, and then promptly went up this climbing and twisty paved road that seemed to us to be on the obscure side (at least compared to the traffic on the Hwy 50).
Some parts of the Icehouse Road looked like it was sunk as I suspected that it would be a matter of time before the road would collapse given the shaky foundation from the underlaying mountain (kind of like what we saw when we were driving to Grouse Falls on Mosquito Ridge Road).
We'd eventually go about 16 miles or so until we turned right onto an unpaved road right across from the Big Silver Group Campground (as directed by Ann Marie Brown
– we were really appreciating her book the more we were using it as she definitely did her homework). Next, we turned left at a fork where the right fork seemed to go to the so-called Millionaire Camp. But the left road started to get a little rough as it then went past this Towering Rocks Parking area, which only seemed to be good for a couple of cars.
But seeing that the directions claimed this was merely a one-mile round trip hike, we kept driving. However, not far after the Towering Rocks Parking, a worrying sign saying "Rough Road 2WD and Passenger Vehicles Not Recommended". And sure enough, the road really got pretty rough (Mom was not happy about taking her car on this road), and eventually, it got to a really wavy, rutted, and steep sandy part that I didn't think we could make it even with her high clearance car and 4wd capability.
At this point, it was more of a risk-reward thing on whether we should keep going or not, and we decided that it wasn't really worth the risk to try to get over this just to save on hiking. With no room to do a three point turn on his hill, I had to back up until we got to a part where there was enough width to do a three-point turn with Mom getting out of the car to help me out navigating whether I would be going too far off the road or not. And then, recalling the additional parking at the Millionaire Camp sign, we figured that we mind as well go that way thinking that the road would be more tame and there would be more of an official trail going to Bassi Falls from there.
Mom wanted me to park at the Towering Rocks car park, but it didn't look like there was that much space. And mercifully, we got back to the road going towards Millionaire Camp. Sure enough, after a brief drive on the wider road, it then turned right and went down another narrow and seemingly doubtful road, but just after another minute, we then got down to what appeared to be an established parking area. We also saw a trail sign saying that Bassi Falls was 2 miles from here.
But at least judging from the quantity of cars here, we suspected that we were now in the right place. Unfortunately, the anticipated 1 mile round trip hike now became 4 miles.
So at 1pm, we finally parked our car in the shade (though we knew it wouldn't be in shade by the time we'd return), and promptly started the moderately long hike. It was quite hot and dry out so we brought lots of water, but somehow both Mom and I were having doubts about whether this place was going to be worth the effort or not.
Still, the trail now was pretty obvious as there were these diamond-shaped trail signs (like what we saw on the Horsetail Falls trail) along the way. We were walking through partial shade though the unrelenting sun on this mid- to high 80-degree day ensured that we'd be drinking quite a bit of water. At least the trail was pretty quiet for most of the way until we saw a trail junction saying that the Towering Rocks Parking was a mere 0.3 miles to our left. Perhaps Mom was right in that we probably could have shaved off another 1.5 miles or so of hiking by parking there instead of the Millionaire Camp (we had probably already gone some 0.7 miles at this point).
Oh well, with another 1.3 miles to go, we kept on. There was a family that was coming down from the other trail. Now, we started to see more people coming back in the other direction. And the further we went, the more we realized that this place was surprisingly popular.
We'd eventually get to a part where we could see a rounded cascade with lots of people chilling out on top. I wasn't sure if this was the turnaround point or not, but it looked like some people were turning back from here. There appeared to be a nice swimming plunge pool at the base of this falls, but as we hiked for a closer look, we realized that the trail kept going. So clearly, this wasn't Bassi Falls though it was a nice chill out spot.
The hike would persist through more forested terrain where lots of trees were painted with green stripes. We weren't sure what they were for, but we wondered if they were trail markers of if they were tagged to be logged or something. There was even one diamond-shaped sign where the hiker was upside down.
Finally, after what seemed like forever, we went past another trail junction where it was a mere half-mile to the parking on our left. That must've been the trailhead where if we were confident in our four-wheel driving abilities, we'd really cut the hike short. Nevertheless, we could see the impressive Bassi Falls in the distance and it just hastened our pace even more.
The waterfall appeared to be some 130ft of cascading water over granite. It seemed strangely like Horsetail Falls but on a smaller scale. However, unlike Horsetail Falls, there was a large granite area with little wading pools and a few deep enough for swimming. And seeing how there were people of almost all ages (except seniors), this place was one of those rare play waterfalls that also had the scenery to back it up. Indeed, it seemed like this was a better experience than Horsetail Falls even though it could be argued that the waterfall aesthetics of that falls was more impressive than this one.
Regardless, after all the hard work we did on hiking the two miles along Bassi Creek to get here, Mom found a shady chill out spot and took off her shoes so she could wade in the cool water. Meanwhile, I was busy just basking in the scene while documenting the falls and the people playing around it. Boy did Julie and Tahia miss out on this one as I could envision that Tahia would be playing in the wading pools until the sun went down.
Mom and I hi-fived each other as this waterfall totally exceeded our expectations, and we were glad that we persisted on this one.
It was difficult for Mom and I to leave this spot as it was simply idyllic as it had that rare combo of beauty and fun. But all good things had to come to an end at some point and it was getting late in the day with still a two-mile return hike ahead of us, so we promptly headed back along the trail.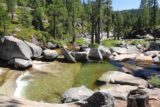 During the return hike, we made a brief stop at that intermediate waterfall that we had vowed to chill out at earlier on in the hike (we had almost mistaken it for the real Bassi Falls which would have been tragic if we had turned back at that point). Anyways, when we finally made it back there, we were now the only ones by the waterfall itself. There was a friction-pitch descent alongside the near side of the short and rounded falls, where I spotted a fairly deep yet very invitingly calm plunge pool.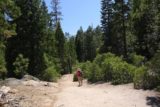 Without anyone else around, I was real tempted to cool off at this spot. But Mom kept going, and I had to catch back up to her. So I merely documented this experience then continued on. Eventually, we would make it back to the car at 3:55pm, where sure enough, our car was no longer in the shade.
With still some daylight left, Mom and I decided that we should try to do another waterfalling excursion today before it got dark. That would at least alleviate tomorrow a bit more. And so we ultimately decided that we should pursue Cascade Falls, which seemed to be yet another popular South Lake Tahoe waterfall. But with the afternoon being almost over, perhaps, we might have a chance to enjoy that falls without the crowds or the parking concerns.
And so we drove off as we headed back down Icehouse Road using a combination of low gear and brakes. Then, we eventually got back on Hwy 50 and headed east. After the scenic stretch where we drove alongside a cliff with beautiful views of Lake Tahoe, we then kept left and went up Hwy 89 towards Emerald Bay.
As we were driving the slow-driving road (with lots of 10mph hairpin turns along with road work), we would get glimpses of the impressive Cascade Falls from the road, and that whetted our appetite even more to see if we can get right up to it to enjoy it. But we kept with the program and knew that there was a trail to go to the falls from the Bay View Campground that we were definitely on the lookout for.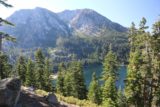 At 5:30pm, we'd finally get to a very busy lookout area called Inspiration Point. We figured that while the sun was still high enough on the horizon, we mind as well check out the views from this spot before starting on the Cascade Falls hike.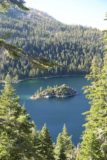 Anyways, the views from Inspiration Point was largely towards Emerald Bay, which featured an island as well as the Sapphire Blue water of this apparent inlet of Lake Tahoe. It was quite busy here, and after Mom and I had our fill of this spot, we talked about moving on to the hike.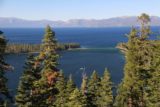 There was a Chinese family that overheard us talking about hiking, and they asked us if they could follow us since apparently, they never did nor expected to do a hike in the area before. Mom could tell that the family was from Taiwan, and so she was busy talking with her and the father about the beauty of this place as well as the waterfalls that we had seen to this point.
After regaining the car at 5:40pm, we then went right across Hwy 89 and found trailhead parking at the far end of the Bay View Campground. That campground was also quite busy, and trailhead parking was still limited though we did manage to secure a tight spot right across from the trailhead sign.
After getting geared up, that prompted the lady from the family that joined us to call us "professional hikers". I guess the gear we were carrying with the hat, hiking boots, etc. kind of blew her mind. And so the family of four along with Mom and I promptly followed the signed trail as it veered left at the initial junction and then the trail promptly started going uphill initially through forest cover and then alongside some granite cliffs.
At this time in the afternoon, the trail was pretty much completely in shade so the uphill hiking didn't bother us at all. Plus, the trail was hugging a cliff ledge which made for an interesting experience let alone trail photos. But for nearly the whole time the trail was climbing alongside the granite ledge, we were able to look left over Cascade Lake as well as Lake Tahoe.
Cascade Lake was actually its own glacial lake separated by a little isthmus between its waters and Lake Tahoe itself. It probably could be like Emerald Bay if the waters of Cascade Lake somehow went higher, but I'd imagine that this lake was the result of a deep glacier punching a large hole adjacent to Lake Tahoe but not quite touching it. So this little quirk about the lake was interesting in and of itself.
Anyways, we were able to get some sideways views of Cascade Falls between trees though I was starting to wonder if this trail would ever let us experience its base since the trail kept climbing instead of going down. Eventually at the apex of the climb, we'd get more views back towards Cascade Lake and there was a pole indicating that the creek kept going forward while the falls dropped down towards its top.
I knew it would be a bummer that we couldn't get to experience the falls from its front as top down views of waterfalls are never really satisfying. But I guess that was the nature of this hike. We wondered why they couldn't have an easier trail going to the base of the falls, but we wondered if it had something to do with the steepness of the terrain or perhaps the lone home on the shores of Cascade Lake might be private and thus they couldn't be such a trail due to private property rights or something.
After having our fill of the falls, I kept being on the lookout for trails branching off to the right as we headed back. I managed to find one trail that seemed to keep going down and I wondered if I had hit the jackpot. But eventually, the trail would get to yet another dropoff and I resigned myself to accept the fact that there would be no sanctioned way to get to the bottom of the falls.
It was getting late in the day, and I did notice one family of dudes just wrapping up climbing up some off trail part. I asked them if they made it to the bottom and they said it was possible, but it was another 45 minutes and they didn't want to hike in the dark. And so without a safe way of getting to the base, there was really no point in pursuing this any further.
At 7:20pm, we were back in the car. The mosquitos were out and about so we hastily changed into more breathable sandals while also wishing the Taiwanese family a happy trip. Again, the mother of that family seemed to have her mind blown as they thanked us for showing them this hike as she never knew Nature experiences could be so cool, in her words. Indeed, I'm pretty sure this one experience now made them keenly aware that often times the best nature experiences are gained by hiking and not from the seat of a car.
At 7:45pm, we were back in the main drag of South Lake Tahoe, and we ultimately decided to eat at this place called My Thai. It really seemed like eating options (at least the gourmet variety) were scarce and they'd break the bank. So the Thai food would suffice even though we had just had Thai food on the first night of this trip back in Redding.
After an initial wait at this very busy restaurant, we would finally gorge on Pad Thai, Tom Yum Goong, Basil Duck, and Mango Sticky Rice. Again, this wasn't good for a paleo diet, but with Mom and I not having had a real lunch today, we were really hungry.
At 8:40pm, we were done with dinner though with the tab at over $50, it was quite expensive for Thai food. I guess that just further reinforced to us that practically anything in South Lake Tahoe was expensive.
At 9:05pm, we were back at the Holiday Inn Express to finally call it a day. Tomorrow, we were anticipating a bit less of activities, and we probably needed it as we were starting to get waterfall fatigued.
Visitor Comments:
Got something you'd like to share or say to keep the conversation going? Feel free to leave a comment below...
No users have replied to the content on this page