Day 6 (June 23, 2016 – South Lake Tahoe, California): "Heavenly Emeralds"
It was 5:45am when we woke up. While I was just starting to wake, Mom had already been up and she actually went outside. I wasn't sure if she was going for a walk or if she was trying to get something from the car that she had forgotten. In any case, when I was in the bathroom trying to #2, Mom came back and was telling me that there was a bear downstairs digging through a trash can!
My first thought was that these rare events always seemed to happen whenever I was busy and couldn't get out to see the moment right then and there. This happened a few years back when Julie and I were in Italy when I had bad diarrhea and I missed a red sunset in Montepulciano.
So while I was busy doing my deeds, Mom was out there filming the bear as it appeared to be going after a sandwich it had dug out from the trash. I guess bears were pretty smart in that they knew how to get at the contents of the trash by knocking it over. Plus, when they have to choose between a high carb human food diet versus flipping rocks for insects and nuts, it's a no brainer which one they'd go for.
When I looked at the video that Mom showed me (after I was done in the restroom), it appeared that the bear had a couple of tags and a collar. Clearly, this bear was being tracked thoough I couldn't figure out why the Holiday Inn Express was allowed to use those flimsy trash cans instead of the bear proof ones like you see in Yosemite or Mammoth. It seemed kind of irresponsible to me. I wondered if the bears here also had a tendency to break into cars to get at the high energy human food like they do in Yosemite and Mammoth.
Well, after that bit of excitement was over, Mom and I went to the breakfast room for our included breakfast. She was so excited about her little experience that she was telling strangers that she saw a bear and showed them the footage on her iPhone
. Inside the brekkie room, there was a truck driver that first spotted the bear and told Mom about it (because she was going down the steps and nearly came face-to-face with that bear unknowingly at the bottom of the steps), and that kind of became the popular topic of conversation.
By 7am, we were done with brekkie and headed out again. This time, we were headed back to the Emerald Bay area of southwest Lake Tahoe along Hwy 89, and we knew that the target waterfalls of the Lower and Upper Eagle Falls would be very busy so we made sure we'd get there before the rush when parking would be difficult to find.
After a fairly lengthy traffic break due to road work, we'd finally arrive at the Eagle Falls Trailhead at 7:25am. Once again, there was a vehicle fee (self help) for this area, but we busted out of National Forest Service Adventure Pass, which was once again proving its worth. It was already starting to get warm as we left the car and we knew the shade we were under at the time would be short lived.
Anyways, while Mom was getting ready for the hike, I walked back towards Hwy 89 just to see what the Lower Cascade Falls might be like from its top. Sure enough, I could see there were a couple of tiers spilling in the direction of the Emerald Bay part of Lake Tahoe, but since I was looking against the sun, the scene was quite bright and hard to photograph.
So I went back up into the parking lot to rejoin Mom, and we promptly went onto the trail. The signed maps here said that we had options in terms of which trail to take to get to the Upper Eagle Falls. We ultimately decided to start with the beeline trail that followed along the creek, and even though it was climbing, it didn't take long before we already started to be able to view the Upper Eagle Falls in part shadow. The impressive craggy mountains surrounding us kind of made this place reminiscent of the Eastern Sierra backpacks I had been on with Cindy and Ed in years past.
Anyways, we enjoyed Upper Eagle Falls from the footbridge at its brink as well as from outcrops with a more full and contextual angled look a little further downstream. With the trail being so short, we decided that we mind as well complete the waterfalls loop hike.
So we did that while taking a quick detour up to a vista. On this granite outcrop, we had above-the-trees views towards Emerald Bay even though it was against the sun. We were also wondering if we might be able to glimpse Eagle Lake, but it turned out that the lake was probably still further up the mountain out of sight.
We weren't aiming for this lake so we continued to descend the waterfall loop and by 8:30am, we were back at the parking lot. Next, we drove on the Hwy 89 in search of a parking lot for Vikingsholm, but when we realized that we were driving away from the Emerald Bay Overlook, that was when it dawned on us that perhaps that overlook was also the access for Vikingsholm.
So at 8:40am, we were now at the Emerald Bay Overlook. In hindsight, we probably could have saved $10 (there was a state park fee here) and kept our parking spot at the Eagle Falls Trailhead where our Adventure Pass would be valid, and then just walk the 500ft up to this overlook. Oh well, you live and you learn.
Anyways, the overlook here was indeed very impressive. Now, we were able to get commanding views from the windy granite outcrop looking down at Fannette Island as well as the entirety of Emerald Bay. Looking in the other direction, we could get a sideways view of the entirety of Lower Eagle Falls. And we could even see down below that there was a viewing area right at the base of the lower tier of Lower Eagle Falls.
So after having our fill of this viewpoint, we promptly followed an unpaved gravel road that was closed to public traffic where a sign indicated that it was a mile to get down to Vikingsholm. I wondered if they did shuttles for people wanting to visit that historic home or something. But anyways, we descended this road, which had one long switchback and one short one. Throughout the walk, we were getting more views of Emerald Bay and Fannette Island between the foliage.
A fairly sizable chunk of the walk was exposed to the hot sun and we both knew that the hike back up to the trailhead would not be fun.
Eventually, we'd get down to where the road was paved at the bottom of the descent. It definitely looked like public vehicles could have driven down here from a different road that joined up with the gravel one we had just walked, but we didn't see any private vehicles here other than for people running the kayak rentals as well as Vikingsholm. Anyways, we then walked towards the impressive historical lakeside home where we also checked out the little beaches and shores of Emerald Bay.
They didn't have tours of the house until around 10:30am but I didn't think we'd have time to do it on this day. So after having our fill of getting the flavor of the exterior of Vikingsholm as well as the beatiful shores of the lake, we then continued to walk towards the trailhead for Upper Eagle Falls.
By then, after passing by another wooden house, the trail then went uphill for the next 0.3 miles as it was flanked by tall trees while leading us up to a bridge over the creek near a fork in the trail. The trail would continue on as the Rubicon Trail, but we only need another 0.2 miles of uphill hiking alongside the creek to finally get to the base of the lowermost tier of the Lower Eagle Falls.
From here, the falls itself didn't look particularly large nor impressive, and at least we got to feel the power of the rushing creek as well as getting cooled off by the waterfall's light spray which offset the heat of the day. Mom and I chilled out here pretty much all alone until we got our fill, and as we made our way back down to the trailhead, I guess the timing was right as there were now over a half-dozen or more people coming up the opposite direction.
Next, we saw lots of kayakers about to make their paddle out to Fannette Island, which looked like fun. But anyways, Mom and I now had to make our hot uphill climb back up to the Emerald Bay Overlook. And as we were doing this, we saw scores of people going down in the other direction. Indeed, we had beaten the rush, given all the families that were making their way down, we figured that the beaches down there must be very nice for families.
In fact, as we looked back down from the ascending gravel road, we could see some designated swim areas in the sapphire blue waters of the lake. At 10:40am, we were finally back at the overlook. It had taken us about two hours on this excursion, which definitely left a bit more than a stroll, and I guess the 2.6-mile return hike was the ultimate distance we did.
Now with the sun higher overhead, the lighting on Emerald Bay was better. The lighting was also still pretty good looking in the other direction towards the Lower Eagle Falls. Mom finally got to see the falls in this manner, and she was gladly taking pictures before having her fill and we went back into the parking lot which was now totally full. There was even lots of shoulder parking alongside Hwy 89 as well!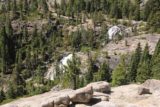 I guess they weren't kidding when it was said that we had to be here before 9am or else we would risk not finding parking.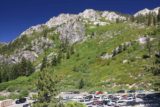 Anyways, we drove off and headed back towards South Lake Tahoe. But instead of making it all the way back, we turned right on Fallen Leaf Road, where signs indicated that Fallen Leaf Lake was a few miles further ahead. The drive at first was pretty straightforward, but then we got to a part where the road narrowed a bit more as it became single-lane road.
But having driven European roads, this "single-lane" road was really not that bad. I guess it was bad given the urban tanks that we and everyone else were driving, but if this was Europe, it would be fairly easy to pass side-by-side each other without stopping. Anyways, we took our time while noticing nice views over Fallen Leaf Lake while taking advantage of the many pullouts and driveways to let people pass.
And as the narrow raod was ascending, we saw a handful of cars parked at 11:15am and we decided to stake a claim to a spot, where it turned out that we were right in front of an impressive waterfall called Glen Alpine Falls. This falls was quite scenic as it rivuleted its way down reddish rocks with some homes overlooking the scene. Lots of people were already here enjoying this waterfall, and Mom and I did the same.
We weren't sure if we were supposed to walk further up the road from here, but after experiencing the front and the top of this falls, we walked for a few minutes along the single-lane road before we realized that perhaps we should just drive all the way to the road's end. So at 11:50am, we returned to the car.
Next, we continued driving up the narrow road (squeezing by some clowns who didn't park properly and nearly blocked the single-lane road near Glen Alpine Falls). Eventually, the road would end at Lily Lake, where there were a few more parking spots, and we happened to get a somewhat shady spot high up a narrow part of the lot where we were able to see Lily Lake towered over by mountains still hanging on to what snow remained clinging to the steep crags.
We got up here at 11:55am and we initially took some time to enjoy Lily Lake before going on the hike. The trail itself was actually a bit on the ankle busting rocky side with a few muddy and flooded sections, but other than that, this trail was straightforward and flat for the most part. There were lots of people on the trail attesting to the popularity here.
After several minutes, the trail or road then started to climb. Not high up on this climb, we started to see the Upper Glen Alpine Falls gushing as it then cascaded down its stream below us and onto Lily Lake way downstream. There was also a seemingly out-of-place house perched nearly before the waterfall. There were boarded up windows, and it made us wonder whether this home was still in use, especially since we saw some power meters and power lines routed towards it.
Just beyond the house, we overheard some people saying that there was a trail that went right to the base of the waterfall between the trees. So Mom and I took this trail through some overgrowth until we'd eventually get right to the base of the falls. It was quite bright but quite cool here, and so Mom and I finished our little box of cherries that we had bought from the grocery outlet last night. The dark cherries were so sweet and they were made sweeter by the fact that we were in beautiful surroundings while having the falls to ourselves.
After having our fill of this little secluded spot, we returned to the trail where another family or group decided to check out the viewing deck of the house towards the falls. We hesitated in doing this since it felt like trespassing, but we followed them where we got some interesting angled views of the Upper Glen Alpine Falls. I did notice a sign on there that said something to the effect of "Private Property Please Go Away" so clearly we weren't supposed to be here.
And with that, we left and headed back down the trail towards Lily Lake again. Apparently, the trail would keep going uphill towards some historical site or spring, but this hike was enough for Mom and I. This would be the conclusion of the waterfall hiking in the Lake Tahoe area, and now Mom and I looked forward to driving back to South Lake Tahoe to check out the Heavenly Ski Resort for their gondola ride so we could get a top down view of Lake Tahoe (especially since lakes are best seen from the top down as opposed to waterfalls which are best seen from the bottom up).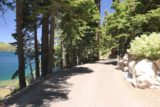 So we made the drive out at 1:05pm with plenty of people making their way in the opposite direction. The popularity of this place was kind of mind boggling to me, especially with the single-lane road access, but then again, I guess with such beauty amongst Nature, it was easy to see why.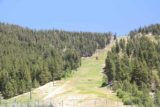 At 2pm, we finally made it to the Heavenly Ski Resort, but I sensed something was a bit off when the parking lot was quite spacious yet empty except for workers here. When we saw that the ticket kiosk for the gondola was closed (even though we did see some gondolas running), we then ultimately learned that the gondolas weren't running for the public due to high winds.
So I guess we wouldn't be having our birdseye view of Lake Tahoe's sapphire blue waters, but I guess that meant that we could enjoy a late lunch and then call it a day as far as sightseeing was concerned. So at 2:10pm, we got back in the car, and then at 2:25pm, we couldn't figure out where we should be having lunch so we returned to MacDuff's Pub. This time instead of the hearty pies, we got steak and some kind of seasonal fruit salad.
It was dead when we first showed up to the pub (we thought at first they might be closed this late in the afternoon), but just as we were seated, a lot more people started showing up. I guess with Lake Tahoe's disappointing food selection and high prices, we got our fill of this spot and then passed on the bread pudding.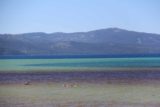 After finishing our lunch, we then walked towards the beach (called Bear Beach). Unfortunately, the water here was brown and smelly, and I guess we could now see why Emerald Bay was much more popular as the water was clear way out there. I guess being in the city, it wasn't surprising that the water was probably on the polluted side here.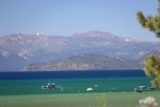 At 3:40pm, we were back in the car, and at 3:50pm, we were back at the Holiday Inn Express. For the rest of the afternoon, we took it easy. Mom went for a walk to explore what other city stuff was going on (possibly going all the way to the casinos at the state line) while I was trying to get caught up on my blogging while partially watching the NBA draft.
Aside from a brief walk for a dinner after 8pm at this place called California Burger Co. ($15 burgers?!?!), we pretty much walked back to the room and got a somewhat early evening sleep. Tomorrow, we had a bit planned as I had entertained thoughts of not only visiting Sardine Falls and Leavitt Falls, but also doing the Lundy Canyon hike before making the long drive home. So the early sleep and wake-up was in order…
Visitor Comments:
Got something you'd like to share or say to keep the conversation going? Feel free to leave a comment below...
No users have replied to the content on this page