Day 7 (June 24, 2016 – Los Angeles, California): "Fires and Heat Breaks"
I had set my alarm for 4:15am so both Mom and I awoke to it. However, seeing that it was still dark outside, it kind of made me wish that I had set my alarm for 4:30am instead. Anyways, I noticed that this particular HIE didn't put the receipt under the door. So I guess I'd have to go to the front desk to check out. In the mean time, Mom and I got packed and made sure we left nothing behind.
By about 4:55am, I had checked out and then we left the lot as it was still a bit dark outside though I could clearly see daybreak starting to happen towards the east. With the relative lack of traffic, it was a good thing that we were leaving this early, especially given how much traffic this area could get as the day would wear on.
Mom and I were also glad that we had made our visit on weekdays instead of the weekend where the parking situtation, the traffic, and crowds would be much worse. Plus, we would probably have to pay a lot more for the weekend rates. All in all, we made the right call by doing this trip at this time, even if Julie and Tahia couldn't come.
Anyways, we promptly drove east on the Hwy 50 before making a right and taking the twisty 207 Hwy headed straight east towards the city of Minden. Yesterday, I had entertained the thought of saving possibly 50 cents per gallon filling up gas in Nevada instead of the expensive South Lake Tahoe, but since I wasn't familiar with what was in that part of Nevada, I thought it better not to take chances so I had filled up yesterday.
But as we were descending into the deserts alongside the Hwy 395, we saw that Minden was indeed a fairly sizable sprawling town with the expected cheaper gas, but I guess that would be something I'd remember for later if we pass by this area again.
We were making good pace on Hwy 395 once we went south of Minden just as the sun was bathing the mountains of the Eastern Sierra Nevada mountain range with a soft glow. It was still quite cool out though I was already looking forward to our first hike of the day at Sardine Falls as I was already a little fatigued behind the wheel due to the early morning wakeup.
Eventually at 7am, we would finally arrive at Sardine Meadow, but it actually took us some time to find the somewhat unsigned trailhead for Sardine Falls. We were actually able to see the falls from a distance from the road, and we also spotted quite a few deer both in the meadow as well as further up the road at about 9,000ft. It was quite chilly as a result of the high elevation.
Anyways, we finally found the "No Motorized Vehicles" sign as well as a reddish sign about being careful with fires. Little would we realize just how prophetic that sign would turn out to be.
So we got our gear together and even donned our jackets as it was still quite cold up here as it was still in the 50s plus there was a little bit of a wind chill. There was a faint jeep trail that we followed through the meadow which still had some muddy patches. Plus, there were some attractive mountains with snow still clinging onto them with a waning nearly full moon above these mountains.
Barely a few minutes into the hike, we saw where the jeep tracks crossed Sardine Creek, which was running high enough to realize that we'd get our feet wet. I actually tried to test the Gore-tex of my boots but some of the water came in through the top so that was when I went back and decided to change into my hiking sandals.
Meanwhile, Mom crossed the creek barefoot, and as I was crossing in my Chacos, I realized just how numbingly cold the water was as any more seconds of being in this creek would probably be too painful to walk. Once we got on the other side, I decided to keep hiking in sandals while Mom changed back into her wool socks and hiking shoes.
Next, we continued following the jeep trail which kept going relatively flatly before reaching a hill. At that point, the jeep track became a foot trail and we followed this trail into some overgrowth. We opted to keep left at an apparent junction near some split cascades before regaining the main foot trail again. Then, we'd continue going up hill as the neighboring mountains became more visible as well as portions of Sardine Falls could be seen through the trees up ahead.
At around 7:50am, after somehow kicking a rock or log, my apparently cut open the top of my foot. So I decided to change back into my wool socks and wet hiking boots. Actually with the moisture wicking, the wetness wasn't too bad, and so I was able to comfortably hike again.
By 8:10am, Mom and I finally get to the base of the main drop of Sardine Falls after making one more shorter crossing of Sardine Creek. The falls was impressively tall (said to be around 130ft or so) where it fill in a main fanning tier before being funneled into a chute where the water apparently split a large rock. The view wasn't the most satisfactory from here, but we did enjoy the coolness of being close to the falls while the morning sun was getting more instense.
Perhaps what was more impressive about this place was the fragrant mint smell. I'm sure they were wild mints, but the smell of the place was intoxicating. It really made me crave for Vietnamese food or something. Anyways, the sense of smell being complemented by the beautiful sight of Sardine Falls made this a pretty unique experience.
As we were about to make our way back to the car, we noticed that it was possible to get a more direct view of Sardine Falls without needing to cross another park of the creek again. So we had our fill of documenting the falls from this spot before we finally headed back.
After crossing the creek one last time with a change in shoes, I hiked through the meadows in hiking sandals again while Mom changed back into hiking shoes again. We noticed quite a few more cars passing back and forth along the Sonora Pass Road (Hwy 108) so apparently this raod wasn't as remote or little used as we had initially thought.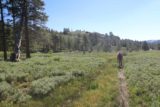 At 9:10am we were back at the car. With Leavitt Falls just a couple miles or so back to the east, we knew that that waterfall would be easy to visit as it was merely a vista. So we could let the boots dry up a bit while enjoying the familiar spot that we hadn't been to in nearly 14 years.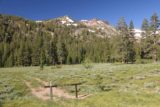 At 9:20am, we parked at the familiar Leavitt Falls Vista, where we could see that the lookout deck over Leavitt Meadow as well as the falls itself was still there. We also noticed a handful more of picnic tables as well as a pit toilet outhouse. But as opposed to the late afternoon views we had gotten way back on the July 4th weekend in 2002 on our last visit here, we were now enjoying the beautiful morning light shining right on the meadow as well as most of Leavitt Falls. Only a few of its upper tiers were a bit in shadow.
As we were examining the place, we could see footprints going down beneath the vista. I knew not where those footprints were going, but the steep terrain kind of made Mom and I think those folks that made those prints were pretty crazy to even think about going down there. Anyways, we were surprised to get phone reception up here so we Factimed Julie with the view of Leavitt Falls and Leavitt Meadow.
After having our fill of this falls, we started to get back in the car when I noticed a somewhat obvious trail leading past a couple of picnic tables on the far side of the parking circle. So I pursued this trail just to see where it went and it ultimately started to degenerate near a pretty scary rocky outcrop looking down at the main drop of Leavitt Falls. It was a different perspective, but it didn't seem safe to go any closer to the falls at this point.
With Lundy Canyon still on our plate for today, we decided that perhaps we should just get back in the car and then drive to the familiar Tioga Gas Mart for an early lunch. Then, after the lunch, we could try for the Lundy Canyon hike at the right time of the day before finally making our way home.
So at 10am, we were back in the car and promptly drove back down Hwy 108 past the military installation and then ultimately back onto the Hwy 395. Next, we drove south on Hwy 395 when Mom and I started to notice a puffy white cloud in the distance that seemed out of place, especially since the skies were pretty cloudless.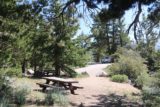 We knew immediately there was fire, but we weren't sure if this fire would cause us problems in terms of the Lundy Canyon Hike. Then, after passing through Bridgeport (which seemed mostly dead at the time except for a large tour group of elders), we saw a worrying sign saying something to the effect that the road was closed ahead in another 10 miles.
At that point, we proceeded cautiously as we weren't sure if we had to do a real long detour around this road closure. There was a Hwy 167 that went all the way back across to Nevada, but we weren't sure how long of a detour that would be. Plus, we weren't sure if this fire would kill our ability to do Lundy Canyon, but Mom was already keen on not doing this hike with the uncertainty of the fire situation.
Anyways, after climbing then going around a bend where there was that familiar view of Mono Lake, we could now see that Mono Lake was essentially one big haze with the lake hardly being able to be seen. The fire was down in the basin seemingly near Lee Vining. So now it appeared that if we were to somehow get through this road closure, we'd probably have to drive next to this fire.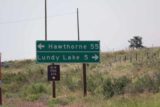 For a fire that was under clear skies and being so close to the road, I knew this had to be human caused. Whether it was due to electrical failure or some thoughtless idiot tossing a cigarette out the window, we'll probably never know. But for sure, it was human induced as a thunderstorm cell was nowhere in sight.
At 10:50am, we were ultimately halted by a line of cars hoping that they might let us get through the closure point right at the junction with the Hwy 167 and the turnoff for Lundy Lake. Even with the fire closure, I thought about getting past the line of cars then turning right onto Lundy Lake to do the Lundy Canyon hike, but Mom nixed the idea citing that you just never know how the winds might change the direction of the fire and put us at risk of becoming barbecue.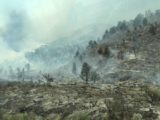 This was freaking out Mom as she was busy filming the whole thing on her iPhone
as I was driving past. Indeed, she was exclaiming, "Oh my Goodness!" as we were literally feet from the active burn area. Once we finally made it past the burn area, it was a few miles more as we passed by the town of Lee Vining, and then we passed through to the Hwy 120 and Hwy 395 junction where we pulled off at the familiar Tioga Gas Mart at 11:15am.
With gas costing over $4 per gallon, we just stopped here for the Whoa Nellie Deli, where we each got two mango fish tacos. Again, it was tasty gourmet stuff for a gas station though the fish was battered and fried. Still, the mangos and salsa, and other toppings they put on it was spot on. Over the years, we learned to ask for having both tacos be mango fish taco instead of a split between that and some other ranch-style fish taco that wasn't as good.
With the bad air quality, we ate inside instead of outside and breathing the smoke. And once we finished out food, we then went back outside to check out the fire from a safer distance. We could see that the fire was growing and moving up the mountain while there were air choppers and planes scooping up water from the salty Mono Lake then dumping the load onto the fire.
It was pretty crazy stuff, and even Mom was Facetiming Auntie Amy back near San Francisco showing her the fire scene. She pretty much summed up the experience telling us that we were on quite the adventure after citing the bear sighting and now this fire. Plus, there was the railroad track hiking as well as the near striking of debris on the I-5 in the dark. I guess when we go on these kinds of trips, there never seems to be a dull moment.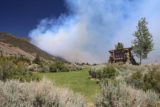 We eventually left the Whoa Nellie Deli and the Tioga Gas Mart at 11:50am. With Lundy Canyon pretty much out of the question (we definitely wouldn't want to be going left and being stuck in that road closure), we were counting our blessings and proceeding further south on the Hwy 395.
So far, the temperatures were still in the 80s, but as we got past the Mammoth turnoff and further down the mountain towards Bishop, the temperatures then started climbing into the mid 90s. For the entire trip, we had pretty much avoided high heat, but now that we were pretty much in Owens Valley, now the heat couldn't be avoided. Adding to the theme of heat and fire, Mom noticed lots of red fire engines going the other way probably to help with the Marine Fire by Mono Lake.
At 1pm, we made a stop at the Schat's Bakkery in downtown Bishop. As expected, this place was busy. However, Mom was intent on buying up at least three loafs of their famous cheesebread, and I couldn't even resist having myself some of the stuff even though I was supposed to be on a carb free paleo diet. But the jalapeno chili cheese bread was still good after all these years, and I guess the little transgression couldn't hurt in this instance especially since I had already made my paleo diet go to hell throughout this trip.
The drive south of Bishop went pretty smoothly as Mom was now doing the driving while I was getting caught up on sleep. Even with the air conditioning on, it was still getting pretty hot in the car. The reason why was because the temps were now over 100F!
As we were getting to the junction of the Hwy 14 and Hwy 395 fork, we decided that perhaps we should stay on the Hwy 395 south towards Hesperia and Victorville. We figured that we'd be better off not facing the LA traffic let alone the mountain climbing we'd have to be doing on the Hwy 14 as well.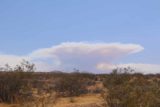 But as we approached the fork, we could see that there was a giant mushroom cloud that was apparently the result of yet another wildfire. As we were driving south on Hwy 395 into the bad air and haze, Mom started to notice the A/T temp light indicator going on. This was familiar as the light went on back in February when we were going up the mountain towards Mt Baldy for San Antonio Falls.
Back then, we blamed the issue on not changing the transmission oil over all these years of neglect, but with Mom saying she went through an all-around inspection and changing of oils and tires, what was the excuse this time around?
Anyways, the drivers manual instructed us to pull off to the side of the road when safe, then turn off the engine and idle until the indicator lights would turn off. With the outside temps being 104F, this was not comfortable. But at least, the car provided some shade and the desert breeze was enough to keep the heat from being unbearably stifling.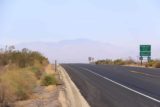 We wound up pulling over at a large shoulder at around 3:30pm, and it wouldn't be until 4pm when we resumed the driving. This time, I took over the driving duties as we were making good progress as we were passing by turnoffs for Trona, China Lake, and other things in this part of the unforgiving desert that we hardly ever go to.
But without air conditioning, the windows rolled down, and overall keeping a close eye on the A/T temp indicator light if it would go on again, we pretty much had to brave the bad air quality as we were driving into the thick haze. The haze was thick enough to obscure visibility so the day time headlights was a good idea, especially if trying to pass the slower trucks on the two-lane highway that seemed to follow these large power pylons. I had suspected that this road existed because of these big power lines.
Anyways, at around 4:45pm as the road was making a climb, the A/T temp light went on again. That was a real bummer because I was getting pretty good momentum. And so we pulled over at a pretty large pullout again near the apex of a hill. All the while we were waiting here, we could see more large trucks passing by and I knew we'd be caught behind them when we'd finally resume again. But how long would it take, especially if we didn't think this car could make any more climbs?
Well, at least this time, the thick smoky haze seemed to block out the sun so the air temperatures were now on the order of 93F instead of 107F, which it peaked at during the drive. And so I blogged while Mom was looking at her iPhone
while we were busy waiting for another half-hour or so for the A/T temp light to go off again.
And then at 5:15pm, we resumed our drive again, which luckily for us was now primarily undulating and not going seriously uphill anymore. We'd pass by a couple of long lights at the 58 junction as well as even more traffic lights and traffic in the town of Adelanto. Then, as we got into Hesperia, there were more traffic lights and long lines of trucks and cars trying to cut each other off at the merging lanes.
This made me realize that perhaps going on the 395 in the afternoon was not a wise idea, but it might be a good idea first thing in the morning when there's less traffic and the temperatures would be far cooler. So I made a mental note about this possible route on the way back up to North Lake Tahoe on the July trip barring the fire situation.
When we finally got onto the I-15, the traffic speeds were now over 70mph or so. And against my instincts, apparently we were already at the Tejon Summit so the I-15 was pretty much all downhill from here on to the Riverside area. That was good since we didn't think this car could do another climb and we'd have to wait another 30 minutes or so.
Anyways, the drive was pretty much continuous as we were also seeing that the air quality in the LA basin was not good either as we also learned that there was not only the dangerous Kern County fire near Lake Isabella, but there was also a San Gabriel fire, which made me wonder what would happen to those familiar trails we had done earlier this year and if they'd close the Angeles Crest Hwy again or even Azusa Canyon.
Finally at 7pm, we made it to Mom's place. It was now in the high 70s and low 80s so we didn't have to deal with extreme heat anymore. We had coordinated with Julie to bring Tahia to Mom's place so we could have a little family get together that we hadn't done in a while. With tomorrow being Saturday, we were all keen on the idea and so Julie and Tahia would meet us at Mom's while I was busy getting my stuff together and doing more of the blogging and photo organizing while there.
And so ended this drama-filled day that started with the fragrant mint smells of Sardine Falls and ended with the dangerous smoke-filled air of Southern California thanks to the wildfires. We thought we wouldn't make it home on this day, but thankfully, we got lucky and now it was time to get back to life back to reality once again…
Visitor Comments:
Got something you'd like to share or say to keep the conversation going? Feel free to leave a comment below...
No users have replied to the content on this page