Day 1 (February 24, 2022 – Yosemite Valley, California): "Make It, Fake It"
It was 5:45am when I awoke, which was actually over an hour later than my typical 4:30am alarm, which I'd awake to in order to go to work.
But in this case, maybe I just didn't feel like getting up so early when I knew Julie might take her sweet time to get out of the house and we'd be driving up to Yosemite to try to catch the Horsetail Falls "Natural Firefall" phenomenon.
By now, I knew that it was definitely something that just about everyone seems to be doing these days and it was a far cry from our first time here in 2006 when it was only a handful of people doing it.
That said, I also knew that we'd not want to procrastinate to do this special event again, and that it would take at least around 6 hours to drive into Yosemite Valley, where we'd then have to check-in, then try to find parking (at least get the parking permit if the room's not ready).
Nevertheless, it was a chaotic morning (as it always is) because Julie and Tahia were always arguing with each other concerning what she has to do to get ready for school.
It seems like if Tahia had her way, she'd just stay in her cozy bed and ditch class.
Anyways, it wouldn't be until about 7:05am when I started loading up the car after my hasty kefir breakfast, and it wouldn't be until about 7:30am when we finally started driving off for Yosemite, which was just when Tahia and Julie's Mom walked to school early.
The drive out of LA was what I dreaded, especially since I knew that we were leaving pretty much at the peak of the rush hour again, and so it seemed like forever just to even get out of the LA basin and even into the Burbank area where it then finally started clearing up.
It was already a chilly morning as the temperatures hovered in the 50s and 40s, especially as we were in the mountains and about the descend to the Grapevine.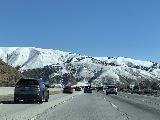 In fact, we noticed there were still some blankets of snow from a storm that did blow into here on Tuesday, which I knew wouldn't do us favors in terms of experiencing the firefall in Yosemite on this road trip.
But other than that, the drive was pretty uneventful though we did make a restroom stop in Delano at 10:50am, which also became a spontaneous takeaway Mexican food lunch, which was actually pretty decent.
Indeed, you generally can't go wrong with Mexican food when you're in a primarily Hispanic community, and in this case, you've got farmers and farm workers that really make up California's breadbasket in the Central Valley.
Anyways, the drive continued pretty uneventfully until we started to heading north on the 41 beyond Fresno, where we started to see repeated roadside flashing signs saying chains were required.
I was kind of hoping that we wouldn't need them for this trip since the storm that blew by here two days ago should be long gone, but then I knew that the cold temperatures might force the snow and ice to stick around longer.
Besides, I was more worried about the Horsetail Falls not flowing due to it being frozen more than anything.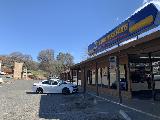 So we wound up making a spontaneous stop at a Napa Auto Parts in Coarsegold, but after the helpful guy there said he didn't have chains for our rental car, he did say that in Oakhurst up the road they did have one in stock.
Unfortunately, we braced ourselves for the fact that these chains probably won't be refundable though he did say they should be exchangeable for another set of tires (like the one we got at home though we didn't know the tire size off the top of our heads).
We thought there ought to be a bunch of Napa Auto Parts all around Southern California and they ought to let us do an exchange, right?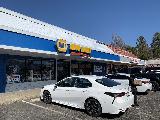 So by 12:55pm, we then got to the Napa in Oakhurst, and then by 1:05pm, we got the $141 tire chains in hand (ouch!).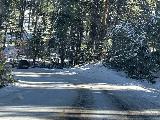 Next, we then made the drive into the South Entrance of Yosemite, and then up the familiar Hwy 41, which definitely had some stretches of driving over snow and ice though the lady at the entrance kiosk said that they just lifted the mandatory chains requirement about an hour ago.
Eventually by about 2:35pm, we finally made it to the Yosemite Lodge after passing by the expected crowded parking areas, which surprised me since Swinging Bridge and Cook Meadow were open for parking (I thought all of Southside Drive was closed).
And during the drive-by along Southside Drive, I could see nothing but streaks on Horsetail Falls, which pretty much realized my fears of the falls being dry or at least frozen.
Eventually after getting our parking permit, we then parked at 2:50pm, then we spent some time scoping out eating spots around the Yosemite Falls Lodge, where we learned that the Basecamp Eatery and bar food at the Mountain Lodge Room were all that were available.
I guess the sit down restaurant was said to be closed for a couple of years meaning that we got lucky having a family dinner there back in 2017.
So it wasn't until about 3:25pm when we finally started walking to the Firefall Viewing areas for Horsetail Falls, and it was pretty much a roadside walk along Northside Drive where one lane was closed and the other lane was for road traffic.
Unfortunately, Julie talked ourselves out of wearing our hiking boots and opted to wear these really crappy snow boots.
Without spares other than our trail runners back at the car, this was definitely going to suck, and indeed, this was the one time that I was pretty angry at the shoes we wore.
Julie's reasoning was that there was supposed to be snow on the floor, but it turned out that there was hardly any on the road.
She was also worried about our feet freezing, but it was definitely a case of we were the only people wearing the snow boots and we were apparently the only ones suffering for it.
Anyways, this special event was now about a 1.5-mile hike in each direction to at least the main firefall viewing areas but not all the way to the El Cap Picnic Area.
Actually, this felt less of a hike and more like a pilgrimage as you had all these people going along the road towards the viewing areas, and I kind of chuckled with Julie about how this is the "Firefall Pilgrimage".
Some of the drivers going by were wondering why so many people were walking the roads, and we had to educate them about the Horsetail Falls Firefall phenomenon.
We overheard other people doing the same as we made our approach.
Eventually at about 4:05pm, we made it to where people were scoping out and set up for firefall shots.
There was one group furthest to the east part of this cluster where one of the guys told us that there was more water today than there was yesterday, and they got amazing photos.
I said, "really?" since in the back of my mind, I clearly saw that Horsetail Falls was frozen and we're probably faking it in the photos today.
Indeed, it seemed like with every attempt that we make to visit the "Natural Firefall", the waterflow seems to be getting worse year after year with the exception of the high snowpack years (which we never really got the chance to do in 2017 nor 2019 nor even 2020 when the pandemic shut things down).
That said, our cameras have been getting better with subsequent visits so there never really seemed to be that nice convergence of getting the legit firefall phenomenon with a nice camera to capture it.
Oh well, "c'est la vie, mon ami" as a Tunisian coworker once said to me.
And so we waited out the firefall event like everyone else, and we managed to scope out a tree stump where we could get a framed look at the natural firefall even though trees kind of blocked the profile of El Capitan.
But we already had gotten that view with El Cap's upper profile before so I was content with the between-the-trees shot this time around.
It was definitely started to get cold as we weren't moving anymore, but at least now I was all set up with two tripods (one with the Sony Mirrorless Alpha A7 3 on our old Giottos tripod and another Canon EOS 70D with 70-300mm telephoto L-series lens on our Manfrotto BeFree 3-way tripod).
My hands were starting to get painfully cold though I knew that I couldn't really control the camera with gloves on so I had to just suck it up.
I also had the iPhone set up on the Switchpod and taking time lapse photos so indeed, I was making sure that I covered all my bases with this visit.
Eventually, the sun had set and the lighting really hit the Horsetail Falls quite well, and in fact, it was probably the best lighting effect that I had seen so far in our 4 attempts so far.
However, the falls definitely wasn't flowing but then who can tell? I'm sure people were telling themselves that they saw the falls going, but really it was just the lighting on a frozen ice waterfall.
So I guess we're pretty much faking it as anticipated.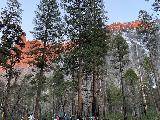 Once the show was over at 5:55pm, we then had to put everything away and make the walk back to Yosemite Lodge with all our gear stowed away.
There were hordes of people now walking east on the Northside Drive, but at least all of us had to earn the visit, which probably enhanced the experience against the myriad of cars driving off when this was more of a roadside deal.
It wouldn't be until about 6:45pm when after changing out of our annoying snow boots and getting our room keys, we finally made it to the Basecamp Eatery, which had a really huge line.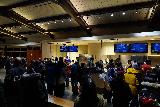 Then, it wouldn't be until about 7:10am when I finally scored a table for us to sit at while Julie was still in line waiting for the food, and then it wouldn't be until about 15 minutes later when she finally brought the food trays.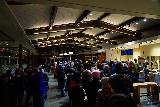 So we had ourselves perhaps the healthiest things they had on the menu (basically lamb meat balls and salmon as opposed to the pizza and fried chicken junk), and it pretty much got us through the night as we left at settled into our room at 8:10pm after a really chilly walk back.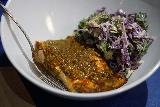 And so ended this day, where we pretty much got what we came for though I'm sure it leaves more to be desired for a better experience next time.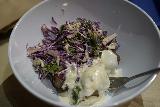 Plus, we made some sacrifices like not stopping at Tunnel View for a nice afternoon view with all the snow crusting around the Yosemite Valley's walls as well as the Bridalveil Fall having good flow.
Well, at least we'll plan on visiting the base of Yosemite Falls tomorrow morning. I guess we mind as well savor the experience while we're here though it will make things tight for making the Sonoma Coast sunset tomorrow…
Visitor Comments:
Got something you'd like to share or say to keep the conversation going? Feel free to leave a comment below...
No users have replied to the content on this page