Day 2 (February 25, 2022 – Sonoma, California): "Trying To Fit Everything In"
It was 5:30am when I awoke though I actually could have gotten up earlier than 4:30am today when I thought I had heard some people getting out of their accommodation somewhere next door or downstairs.
I guess some folks needed an early start to get to wherever they were going because it was still quite dark outside while all this was going on.
Nevertheless, I thought I could get by with sleeping in for another hour before the iPhone alarm would go off, and then I could get back to getting caught up on the blogging and photo naming chores, etc.
So it wouldn't be until after Julie got up and started assembling her belongings that I then braved the frigidly cold morning air and started loading up the rental car at 7:05am.
When Julie was finally ready, we decided to head straight for the Base Camp Eatery to get some morning breakfast out of the way that would hopefully hold us over until at least dinner or possibly tomorrow if we run out of time.
That said, when we showed up to the Base Camp Eatery, we were the first people there, but it was still a few minutes too early before their 7:30am start time.
However, when a female employee opened the door, she mentioned that the doors would open on schedule, but the grill still had to be tended to with some maintenance issues and wouldn't be available until at least 8am.
Rather than waiting over 20 minutes to get the grill food breakfast, we decided to do the Yosemite Falls Loop Walk, which I had advocated for earlier on instead of waiting for the Base Camp Eatery.
So we left a bit later than I would have liked, but Julie talked me into doing this familiar short walk to the base of Lower Yosemite Falls.
And so by around 7:35am, we headed out but not before changing into our Trail Running shoes (both of which were Altra Lone Peak 5s) despite the frigid temperatures on this cold morning.
Shortly after crossing the Northside Drive, we were on the path that was once a parking lot but now a pleasant loop around some restrooms and a clearing with already a teasing glimpse of the Upper Yosemite Falls.
Then, when we got to the direct walkway, we could see the familiar tree-framed view of both the Upper Yosemite Falls and Lower Yosemite Falls in almost a direct two-stepped line.
It was nice and quiet at this time of the morning even though it was frigidly cold (so much so that Julie had me wear a beanie, which was something I hardly ever wear though the GoPro on it was awkward and I wondered if it was positioned properly).
There were already some tensions between us in the morning because Julie kept wanting to take selfies and make it perfect even though the lighting wasn't great and we had to use a Switchpod or something like that to even make an attempt (albeit not great).
Knowing that we had a long drive ahead of us, I guess I was worried about the move to prioritize creature comforts (i.e. going to the breakfast place first instead of this walk) over the real priorities (i.e. hitting the things you want to visit like this waterfall and Phillips Gulch later on).
I knew that with the Sonoma Coast ahead of us, we had a long drive to get there in the first place and another long drive back towards Sonoma where we were spending the night.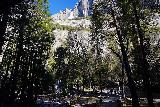 I didn't even expect to do the Lower Yosemite Falls, but I was glad she talked me into doing this given how quiet and peaceful it was here as well as the unusual sight of seeing Yosemite Falls flanked by snow and ice.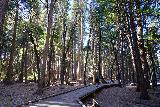 Regardless, after spending some time with the selfies (that unsurprisingly didn't turn out), we'd eventually get to the lookout area by the footbridge for Lower Yosemite Falls.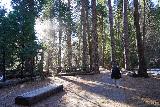 There were only a handful of people here though we were the only people wearing masks out here (mostly to keep ourselves warm though) so there wasn't as much peace and quiet as I would have liked, but considering this was the park's most famous waterfall, I guess it's about as good as this gets.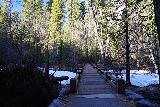 It's probably one of the main benefits of staying at the Yosemite Falls Lodge, where we get to experience Yosemite National Park before the crowds show up.
Another nice thing about our visit on this morning was that there was a morning rainbow rising against the mist of the Lower Yosemite Falls.
By the way, I always remembered how there was skepticism about the 320ft height figure of this waterfall, but now that we experienced this place again, it definitely felt like a very tall waterfall tier and it goes to show you how nothing beats in-the-field observations versus looking at photos to judge something like height.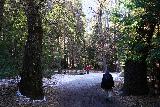 Anyways, after having our fill of the Lower Yosemite Falls footbridge area, we decided to complete the loop walk, which was something that we had never really done before in all the times that we visited this waterfall over the years.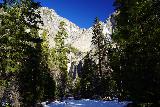 So after getting across the bridge, we then followed a pleasant forested walk on the well-developed trail, which went by a huge boulder (that undoubtedly must have fallen from the vertical cliffs flanking Yosemite Falls) before reaching a trail junction by some wooden structures.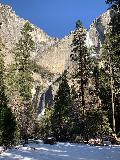 Apparently there was some kind of local infrastructure here like what appeared to be a school or some local residences, as we noticed a backstop and some soccer goal posts.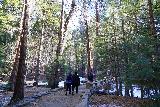 We then continued back in the direction of the Northside Drive on this side of Yosemite Creek, which continued to be a serene forested setting though when I looked back at the falls, only a hint of the top of Upper Yosemite Falls could be seen.
So it was wise to do this loop in a clockwise manner since it was nowhere near as atmospheric as the approach to the base of the falls coming up from the Yosemite Lodge.
As we continued along the loop, I was suddenly inspired to perhaps make a video of all the different ways you can experience this waterfall since the completion of this loop was something we never had really done before.
And so I had it in my mind to at least do this since I was trying to gain a better presence on YouTube though making these kinds of videos was quite time consuming.
Pretty soon, we got to another trail junction, where there appeared to be a bridge over Yosemite Creek that I didn't recall was in a spot that would have taken us back to the atmospheric approach.
So we explored it, and it soon got us to a clearing (covered in ice and hard snow) with a view of both tiers of the Yosemite Falls though the Upper Falls was kind of partially obstructed by trees unless you positioned yourself towards the right side of the clearing.
It was definitely a viewpoint that we had never experienced before, and it was an unexpected benefit of actually doing this loop walk.
After having our fill of this spot (as we were soon joined by a large group of birders and other early morning visitors), we then continued on the loop as we made our way towards another clearing near the Yosemite Falls Shuttle Stop along the Northside Drive.
Julie continued ahead with the walk back towards the Yosemite Lodge while I was checking out the nice open views back towards Yosemite Falls as well as against-the-sun views towards the contours of Half Dome and Sentinel Rock.
There were also interpretive signs about James Hutchings and the early days of tourism in Yosemite, which was interesting (especially since Julie wondered who this guy was though she didn't take this short detour to find out though I tried to explain it to her).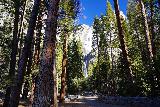 Anyways, after having my fill of this spot, I then rejoined Julie nearly back at the new restrooms before the familiar atmospheric approach to the base of Yosemite Falls, and then we finally got back to the Yosemite Lodge area and the Basecamp Eatery at 8:45am.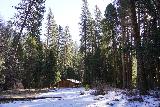 Now, we could finally have our breakfast burritos since we knew that we might not have a legitimate lunch for most of today given the long drives and how tight it might be considering we knew that sunset was going to be around 5:45pm-ish or so (considering that we experienced Horsetail Falls yesterday).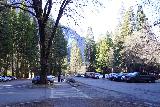 Julie and I were kind of amused at the 80s music that were still playing at the eatery (as it was yesterday) for a bit of a nostalgia trip, and it kind of stirred in us the nostalgia of going back to Yosemite time and again (at least it did for me since Julie says she didn't remember our past visits very well).
Finally by 9:20am, we were finally back in the car, where we then headed out of Yosemite National Park and towards the Sonoma Coast.
The GPS wanted us to go up the Big Oak Flat Road and towards the northwest entrance near Crane Flat (a route that we were familiar with since it headed towards the Hetch Hetchy Entrance via Evergreen Road), but given the likelihood of encountering black ice, I didn't want to chance it.
So we took the longer approach out the Arch Rock Entrance to Yosemite en route to Merced before finally getting onto the Hwy 99 Freeway.
Along the way, we actually passed by the Cascade Falls, which Julie wanted to stop for, but I knew that we were running out of time to do our hikes and she was actually trying to say that we should stop here and forget about the Sonoma Coast Waterfalls.
But I knew that I needed to better experience Phillips Gulch and made an executive decision not to stop for Cascade Falls even though it was the bigger waterfall (though we had been there numerous times and have numerous photos though perhaps not videos).
I dunno, maybe we should have stopped for it, but I was worried about the long drive and all those other bad decisions earlier this morning were piling up.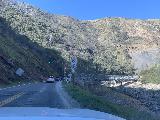 Anyways, it took quite a bit of time (though it was actually the same amount of time as it would be going from Fresno to Yosemite Valley via the South Entrance) as we had to go past the Ferguson Slide and also had to wait for slower drivers to pull out (if they did).
Driving on the Hwy 99 was pretty tense as there was a lot of road work going on though there seemed to be quite the volume of traffic all around on the highways (as well as idiots cutting people off and taking risks as well as those not keeping right except to pass).
We were making good progress on this approach though I resisted the GPS's telling us to head west towards the East Bay and instead opted to go north towards the Fairway and Lodi vicinity via Stockton before heading west along the Hwy 12 towards Napa and Sonoma.
Well, after actually doing that, I noticed that this approach was actually not a good idea.
Not only did it cost us an additional 20 minutes or so according to the GPS's, but the traffic on the Hwy 12 involved a lot of truck traffic and very limited opportunities to pass.
I knew that while enduring this stretch, I made a bad decision, but I guess now we know that if you're headed to Napa and Sonoma Wine Countries, you're going to want to stick with going towards Richmond Bridge instead of this more northern approach across the Sacramento River Delta.
Indeed, the long drive definitely felt long as there were lots of cars on the Hwy 12 and then even more cars on the Hwy 37 towards San Rafael.
Instead of cutting across the busy Napa and Sonoma Area, we actually joined the I-80 west, which would eventually get to the 101 Freeway around Petaluma, but then Julie's phone routing had us go on this obscure Hwy 21 towards Petaluma instead.
I didn't understand why we had to do that, but we got in another disagreement over this, and I was lamenting how we could have gotten to the Hwy 1 earlier.
Anyways, when we eventually got towards Petaluma, there was a lot of intense traffic in their downtown area, but then Julie blindly followed the iPhone Google Routing again, which had us go north on the traffic in the 101 Freeway instead of sticking with going west towards the Hwy 1.
I was really getting annoyed at this point (perhaps due to the very long drive), and so I was in a rather sour mood by this point as all the earlier decisions coupled with these missteps while road raging plus skipping lunch didn't help matters.
Eventually, we'd get to the Hwy 1 via the rather roundabout way of going north on the 101 towards some obscure Railroad Rd exit near Santa Rosa, and then cutting across some rural farm roads to the west before finally getting to the very highway I was targeting in the first place.
Well, at least we got towards Bodega Bay at around 2:20pm, which was supposed to be well known for oysters, but there was no way we could stop and eat there and still make it to Phillips Gulch Falls before sunset.
However, we at least filled up gas at a whopping $5.19 per gallon, which ultimately resulted in a $63 fill-up which was actually one of the most expensive fill-ups I've had in the US.
That said, we'd been routinely paying way more than that when we self-drive abroad, which kind of tells you how artificially cheap paying to fill up gas in the US had been all this time (but perhaps with the war in Ukraine coupled with COVID-related inflation, the reality is finally coming?).
Anyways, we were finally doing the drive along the Sonoma Coast, which was pretty much slowed down by a line of cars as the people in front of us refused to use pullouts (quite the California trait of inconsiderate drivers).
So we tried to make the best of it by having Julie taking some road shots while I was concentrating on the road.
And it wouldn't be until about 3:30pm when we finally arrived at the parking lot for Stump Beach as we decided not to take the shortcut way that we had taken earlier (especially after noticing how there was fencing erected by the pullout where the shortcut trail began towards Phillips Gulch).
With only about a couple of hours left to go before it'd get dark, we had to get our trail runners on, and then get going on the hike down towards Stump Beach and eventually to the Bluff Trail.
We didn't linger at Stump Beach, which actually wasn't as wide and popular a beach as I was anticipating, and in fact, it had driftwood, which was a characteristic of more northern coastlines along the Oregon Coast and the far north of California as well as Washington than what we're familiar with in Central and Southern California.
Nevertheless, we continued to follow the narrow Bluff Trail as the signs helped to point the way, and then after climbing a gully with some narrow and steep spots, we then got into a forested area where pretty soon there were trails going this way and that, and eventually we were led back to the Hwy 1.
Well, this all happened at a spot where there were numerous deadfalls and fallen trees obscuring the Bluff Trail, and I guess the path of least resistence was to walk along Hwy 1.
However, there were trails that dropped back down towards the Bluff Trail, and we ultimately took one of them past some of the fallen trees onto an area by a power pole along with some yellow tape placed on the Bluff Trail itself.
From there, we then finally followed the familiar coastal bluffs looking back towards Stump Beach as well as further along the turbulent Sonoma Coastline.
And along the way, we noticed that there was a trio of deer that were rather jittery and made their way away from us and towards the road, which got me thinking about the possibility of hitting deer on the road especially when driving in the dark.
We then continued with the coastal Bluff Trail, where we then saw the familiar shortcut route as well as the familiar paths that ultimately took us down to the Phillips Gulch Falls at 4:15pm.
And as anticipated, this place had far better light at this time in the afternoon than our first visit in November when it was hard to see the waterfall in the morning light.
At this time, the waves crashing against the protected gulch didn't seem as violent as on our first visit, but they were still somewhat violent regardless from time to time, and we didn't bother entertaining the notion of climbing down to the base of this waterfall.
We did notice that there was a second segment to this waterfall as well as some green moss at the base which enhanced the viewing experience.
Anyways, we spent some time documenting this waterfall and taking selfies as well as videos, and I was glad that we finally got to experience the Sonoma Coast in this way.
Still, it was now about 4:30pm when we started to continue the hike as I wanted to get over to the Chinese Gulch to see if there was another waterfall over there.
And so we crossed over the top of Phillips Gulch Falls and continued along the Bluff Trail with its scenic views of the Sonoma Coast before we finally got to the Chinese Gulch at around 4:45pm.
Unfortunately with this waterfall, we were well atop a bluff and there wasn't a clean look at the front of its two-segment drops, which was similar to the Phillips Gulch in that respect.
But getting down to the coastline for a frontal view of this waterfall didn't seem to be worth the effort especially given the amount of vertical exposure and then needing to scramble along the rocks with high tide seemingly starting to come in.
And so we were content to just document the falls from the bluffs, which wasn't very satisfying, and then we started to head back the way we came.
On the way back, we spotted another pair of deer, which made me wonder if they primarily use Phillips Gulch to hydrate or if these were just the same deer we had just seen earlier.
Again, given how close they were to the Hwy 1, I was a bit concerned about the likelihood of striking deer, and I wondered if these other drivers were even aware of their presence.
Regardless, we then got back to the Phillips Gulch to experience the falls one more time, and then we headed back up the Bluff Trail towards at least the shortcut trail.
As we did so, we definitely noticed that the waves did seem to be a bit more violent and sending pretty high sea spray into the air as they crashed onto the stacks and rocks below.
Then, we headed back along the shortcut trail back to the Hwy 1 where we got a closer look at the fencing that we noticed definitely wasn't there before.
Then, we followed the Hwy 1 back towards the spot where we knew the Bluff Trail detoured towards the road though this time, we were taking that part of the trail back towards Stump Beach so we wouldn't have to keep walking along the Hwy 1 longer than we needed to.
Ultimately after getting past the forested section, the trail then descended that steep section into the gully draining into Stump Beach, but by now, we started to notice the croaking of frogs hidden within the gully.
I knew that they're likely to be heard but not seen, and that was kind of an interesting experience.
By about 5:35pm, we finally made it to back to the parking lot for the Stump Beach, where we were the last car left after there were initially about 4 or 5 here when we first showed up.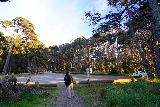 What was cool was that we were pretty much alone throughout the Bluff Trail, which was actually less used than I had anticipated (though there was one couple that did get to Phillips Gulch via the more northerly approach along the Bluff Trail somewhere beyond Chinese Gulch).
Regardless, we finally started driving off at 5:40pm, and then took the Hwy 1 back in the direction of Bodega Bay, where we did manage to catch a red sunset along the way.
Then, we had to drive in the dark, but at least we got through the curviest of the Sonoma Coast before we'd eventually have to deviate towards the 101 instead of taking it all the way to Petaluma (again another disagreement about following the iPhone versus sticking with the field observations ensued).
But thankfully by about 7:35pm, we finally made it to the Best Western Inn in Sonoma after a rather exhausting long day of driving and disagreements between Julie and I over what probably amounted to minor things in hindsight (though they definitely built up and really manifested themselves on this day).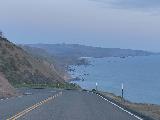 After finally dropping off our belongings, we then walked in the frigid night (now in the low 40s or so) as the friendly receptionist recommended this Portugese restaurant in town called La Salette.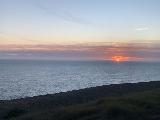 And so we did that and ultimately got to the restaurant, which accommodated us though we had to sit under some heat lamps in the frigid outside air next to a rather loud bar next door.
Still, we at least got to have dinner and not have to settle for rotisserie chicken from Whole Foods across the street from the Best Western Inn, and we ultimately did a splurge of what turned out to be pretty good Portugese fusion with Sonoma flair.
We had like 4 appetizers (of roasted octopus, braised pork belly, cod cakes, and crusted scallops), a main of some fishermans stew, and a flight of white wines local to Sonoma.
We also each had a dessert of chocolate mouse as well as some kind of caramel flan.
And so we were glad we finally got a taste of the Sonoma area in a rather last minute way, and we really owed the receptionist for this nice recommendation, especially at the last minute.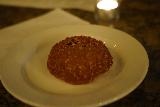 Finally at 9:50pm, we were back at the Best Western where we could finally crash for the night.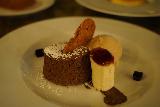 However, Julie had set up the fireplace but the airflow wasn't that great and the room pretty much had bad air quality so we had to open the back door to let some of the smoke out (and make us freeze in the room!).
That said, we had yet another long driving day tomorrow to go home, and this was definitely turning out to be quite the road trip getaway for a belated Valentines Day.
Still, we looked forward to Girl and the Fig tomorrow, though I still had to take care of business chasing waterfalls in the Novato area…
Visitor Comments:
Got something you'd like to share or say to keep the conversation going? Feel free to leave a comment below...
No users have replied to the content on this page