Day 3 (February 26, 2022 – Los Angeles, California): "Domo Arigato Town of Novato"
I awoke at 5am to the alarm knowing that I didn't have very much time to get some hikes in around the Novato area while Julie was sleeping in and perhaps checking out downtown Sonoma on her own.
Given the long day that we had yesterday, I also had to take care of some business regarding all the photo processing and blogging to ensure that everything was captured while the memories were still fresh.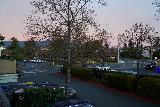 So it wouldn't be until about 6:45am when I finally headed out the door in the frigid morning as the car said it was around 36F which actually was on par with Yosemite's temperatures when we were leaving the valley after having breakfast there.
I guess it was just our luck that the one week that we happened to be doing this trip happened to be the week that had the snow and the frigid cold temperatures when the rest of the January and February were pretty much dry and unseasonably warm.
Plus, the forecast for the rest of the next week and going forward was going back to the "Winter Warm" that seemed to be the norm in a Global Warming world, especially as far as California was concerned.
Anyways, the traffic was delightfully light, which can be expected for a Saturday morning, and so I made good time driving out of the Sonoma area and down south towards Novato in Marin County.
Having been to Dawn Falls a couple of times, I kind of knew what to expect as far as chasing some waterfalls within neighborhoods containing pretty high-priced homes.
But I also didn't expect much in the way of waterfalls flowing since these don't really last long unless you were here right after or during a storm.
So really, this was more of a reconn mission just to see what the experience was like, and then maybe come back when there might be a better likelihood of seeing waterfalls flowing when we're back in the Bay Area or in Wine Country again.
Julie was already lamenting that she couldn't do a spa thing on this visit since it was either all booked out or they just don't take guests on weekends anymore (I wasn't sure what the story was about that).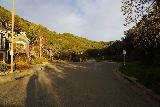 Regardless, it wasn't until about 7:20am when I made it to the end of Fairway Drive, which was a residential street flanking what seemed to be a large golf course.
There happened to be a couple of turkeys (though I regretted not stopping to take pictures of them) as I ultimately pulled out in a parking bay near the end of the cul-de-sac, where there was a home that I could hear some camera gimbaling.
So I got geared up and proceeded to put on my trail runners so I could get out and about with pack on, still wearing the thermals (that I hadn't worn since Milford Track in 2004), and just getting about with business.
After getting past the gate and towards the end of the pavement, I did notice that there was some water in the creek as I was going into the Buck Gulch, but the water looked stagnant.
Beyond the first crossing, the well-established trail continued to follow the creek which seemed to be running pretty well, and I even heard some small cascade gurgling.
However, from the Dawn Falls experience, I also knew that wasn't a guarantee of there being a waterfall further upstream so I kept going.
Sure enough, the trail then went alongside and across the dry creek a few times, but I still held out hope that the falls would be flowing because the creek surface looked loose and so I'd imagine if there's water, it'd likely be below the surface here.
It made for pretty quick hiking as the trail continued its gentle climb while surrounded by some interesting looking trees (not coastal redwoods though like at Dawn Falls).
And eventually at about 7:45am, I made it to the foot of Buck Gulch Falls, which was definitely flowing though it had clearly seen better days.
Nevertheless, just the fact that this waterfall was flowing was already pretty good with my lowered expectations in my mind, and so I gladly took some footage and photos while I had this place alone momentarily.
That said, there were some Private Property signs all around this waterfall as it appeared to belong to the H Ranch or something.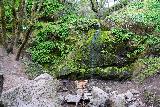 So I didn't entertain any notion of going any further than this waterfall in an attempt to check out potentially other waterfalls further upstream.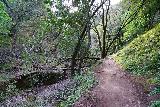 And while I was busy trying to docment this waterfall, there was a fellow who came up here with his dog who actually didn't mind the cold temperatures as it was chasing sticks within the waterfall itself while playing fetch.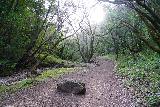 This dog didn't seem to mind the branches that it was chewing on and swallowing apparently because I didn't see him spitting out any of the wood he was taking in.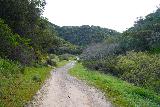 The fellow was apparently local because he mentioned that this place was really pumping in December (which coincided with the rain storms we had most of that month), and he also asked where I came up from.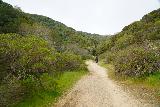 I wasn't sure if he was mentioning the trail I took to get here or not but I just mentioned that I came up from the end of the road (thinking that was what he meant though in hindsight I wondered if he meant if I came from somewhere else).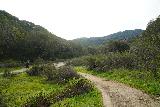 He also remarked that I was out and about pretty early today, and I told him that my wife was sleeping in and I wanted to get some peace and quiet before people would be waking up (he gave me a nod of understanding like he could relate).
Well, after the fellow took off with his dog, I had a few more minutes around the waterfall before I had my fill and headed back at around 8:05am.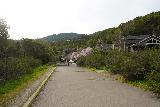 Encouraged by this experience, I wondered if the other Novato Waterfalls that I had targeted today would be flowing, but I also knew that I was running out of time as I expected to be back at the Best Western some time around 10am.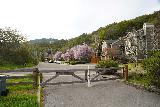 We had a lunch reservation at the Girl and the Fig at 11am, and I had assumed that check out time was around 11am.
So I quickly made my way back to the car, where there was one guy who was headed up to the falls with his dog during that time, and he was the only other person that I saw this morning.
At 8:20am, I was back in the car, and then I saw that the next waterfall I pursued was a little over a mile away.
So I followed the directions into the Marin College campus, where the gates were open, and I found myself in a big parking lot for the Earl Gray Baseball Fields at 8:35am.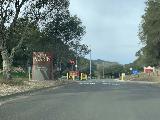 At first, I thought I had to pay to park here, but apparently the machines were taped up with signs saying that Spring 2022 was free.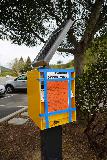 So once again after gearing up, I promptly went out and about though at first I followed some service road as it wasn't obvious where I should be going.
Then, I saw on my GPS as well as the paper printout map of Ignacio Valley and Indian Valley (which I had prepared before this visit) that I had to go across the baseball fields.
So I did an about face and went in that direction, where it seemed like quite a few people were out and about walking their dogs as well as just going for a walk in general.
I thought to myself that the residents of Novato must be pretty fortunate to have such convenient access to open spaces like this, and it would be even better if there was a waterfall to visit.
As I made my way around the pair of baseball fields (no infield grass, which brought back my Little League memories of getting strawberries or scabs from sliding on hard dirt), I then entered the Indian Valley Open Space Preserve part.
The obvious trail left the baseball fields behind and descended towards some ponds where there were signs saying that they supported endemic frogs and that dogs are not allowed to play in the water and disturb their habitat.
I then followed a very wide dirt path for a few minutes past some signage before reaching another signed junction that led to the left and headed alongside a dry creek as part of the Ken Harth Waterfall Trail.
After a few minutes more of following this much narrower trail, by 9am, I finally arrived at what I believed to be the location of the Ken Harth Waterfall, but it was not doing well at all.
In fact, it was barely a trickle and it was pretty much just some wet rocks.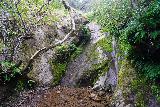 So I took the obligatory shots and videos of this falls, thinking to myself that I'd have to come here pretty much right after a hard rain or a series of them before even bothering with this place.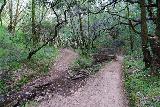 Anyways, I didn't spend much time here and I quickly made my way back to the parking lot, which I did at 9:25am after making a pit stop at the baseball field's facilities.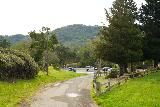 Then, I saw that I was already pretty close to the Pacheco Creek Falls, which was the last of the waterfalls I wanted to visit in the Novato area so I figured that I mind as well check that out while I'm already here even though I'm cutting it close.
After all, I told Julie that I expected to be back in Sonoma by 10am, but if I went straight back to Sonoma now, I would already be back a little after 10am.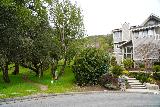 So I made the executive decision to just go for it, and so I headed back towards the 101 Freeway, and then took the next exit that got me into another neighborhood, where I took the streets to its end where there was a cul-de-sac with the start of the trail.
There were lots of signs saying something to the effect of only parking in the parking bays, but I wasn't sure if this meant any of the dirt pullouts near the trailhead as I had already seen numerous cars doing that.
I wasn't sure if they were residents or guests, but I didn't have time to backtrack too far back and waste precious minutes as I knew I was cutting it close.
So at 9:35am, I got started quickly on the Pacheco Creek hike, and it didn't take long before I encountered a fork in the trail.
Not sure which way I should be going, I went straight first, and after a few minutes of going past some stagnant water in the creek, the trail became narrower and kind of clinging to steep slopes.
Fortunately, I got to what appeared to be the falls though it was quite diminutive (not even 5-10ft I thought) though it was trickling), and I got there as the continuation of the trails really got out-of-hand with their steepness.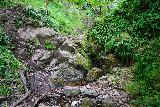 Clearly, people have gone further, but I could see that it probably didn't do favors for the stability of the terrain here should those use-trails persist.
After documenting this trickling and tiny falls, I then headed back to the fork, where I then followed its use-trail along a different gully or drainage.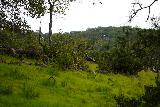 And as I was doing so, I noticed there was a turkey that probably sensed my presence and kind of tried to make its way further up the hill to stay further away from me.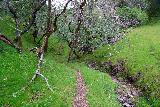 I did manage to take a distant picture of it, but once that was over, I then tried to quickly make my way up this stream not quite sure if I'd be wasting time or not since I didn't know how far I had to go.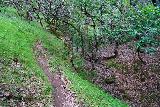 Fortunately, I didn't have to go very far though I had have to duck under one fallen tree and then the trail clung to a hillside as it deviated and got even sketchier as it went towards the top of a rock wall that I presumed must be the Pacheco Creek Falls.
This one was pretty much dry (maybe barely trickling), and so I just documented it.
I did notice that there were more rock walls further upstream and so I briefly pursued that creek to see what might have been had this area been a bit wetter than now.
Indeed, I could see that if there were lots of water here, one of the side walls could be a fairly substantial cascade.
However, staying within the stream, there was another tiny waterfall that in my mind probably didn't amount to much.
So I hastily documented this upstream experience, and then I quickly made my way back down to the trailhead as time was running out.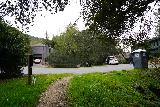 Indeed, it was 10am, when I recovered the car, but without cell reception here, I couldn't let Julie know that I was on the way back.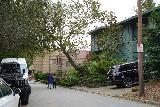 However, as there were lots of cars on the highways (the 37 and the 121), I did manage to check my text while stopped at some traffic lights.
That was when I saw that Julie was waiting in the courtyard of the Best Western because checkout time was 10am!
I didn't recall seeing anything mentioning when checkout time was and I had assumed 11am, but I guess Julie had to have been waiting in the courtyard for a solid half-hour by the time I'd be back.
And so eventually by about 10:35am, I did get back to the Best Western where we loaded up the car, and then promptly walked to the Girl and the Fig.
Indeed, Sonoma was definitely awake by this time as there were definitely lots of cars and quite a few people having breakfast or lunch.
However, we targeted Girl and the Fig for 11am as we thought it was the earliest time reasonably to have a legitimate lunch since we were after their most known dishes of duck confit and their sole meuniere.
It was about 10:50am, when we got to the Girl and the Fig, and then we proceeded to be seated and have our lunch a few minutes early (this place was actually open since 10am on the weekends).
Anyways, Julie and I indulged in our duck confit as well as sole meuniere (flounder), which really hit the spot.
We also paired up these foods with one white and one red wine (even though we're totally not wine connoisseurs), and we also got some brussel sprouts since we really didn't have much in the way of greens on our Sonoma meals.
As the place was getting really busy, the service was starting to slow down so we didn't stick around for the dessert and induce more delay (besides, we were getting full).
And so we paid the bill and headed out, and got back to the car at about 12pm.
Now, it was time for yet another long drive as the theme of this trip seemed to be dominated by drives taking longer than 6 hours (though it's probably more like a minimum of 8 hours on the road).
After all, we drove from home to Yosemite Valley to catch the firefall, then we drove from there to the Sonoma Coast and ultimately back to Sonoma (arriving in the dark), and now we had the long drive home.
That said, after getting through the pretty intense traffic to get out of the Sonoma area and in the direction of Napa, we then had to drive fairly extensive on a combination of the 12, 680, 580, and then finally the 5 somewhere near Tracy.
I wasn't going to make the same mistake again thinking that the 12 all the way to the 5 was the way to go.
Regardless, it was a good thing we decided to go home on Saturday because we knew that there'd be more cars on Sunday, especially with people not adhering to road rules about keeping right except to pass.
There were already inconsiderate or ignorant drivers not doing it today so I could only imagine the fast lane getting clogged by even more people not understanding nor respecting the road rules on Sunday!
So the drive went by pretty smoothly for the most part, and I was a bit bothered with my eyesight seemingly becoming blurrier (it was fine earlier this morning), and I wasn't sure if it was slow to respond to sun and then clouds.
For the rest of the drive, it seemed like it was getting harder to focus on distant signs when I was easily able to see them before this trip started.
In recognition of my body breaking down because of lack of sleep and aging, Julie and I also got into a tense discussion about trying to get her to help me out since I can't do it all as far as earning income is concerned.
Aside from her initial resistance, I think I eventually got her to at least capture her experiences and thoughts and to stop coming up with excuses or ways to create obstacles to impede progress.
I know she always tends to fall back on that and then nothing gets done (her lectin free blog never took off after 2 years for this reason), but it's getting to the point where I'm breaking down as a result of her inaction.
So I was insistent on trying to get her to at least do the bare minimum things of writing down her ideas, her research, her experiences, etc. instead of verbalizing everything so I'd have to do it. That way, I can be in position to develop them.
But for her to completely rely on me to do everything (including learning for us both), that was clearly unsustainable. Something's gotta give.
Perhaps that was why I probably wasn't the easiest partner to go on this belated Valentines road trip with her because all this spending money and hearing her opinions verbally seemed like a waste if she wasn't willing to be an active participant.
Just doing the same things over and over again isn't progress, and if you're not happy with where you're at, then you have to do something different.
Yet I got the feeling that she was content with where she's at at my expense, and that was where I had to draw the line as my blurry eyesight and fatigue was definitely a sign that it can't go on like this.
Anyways, as we got towards the merger of the 99 and 5, Julie was keeping tabs on how the kids were doing as my Mom was there along with Julie's mom.
Not surpringly, they were having pizza, and Julie had this idea that if they're going to be eating junk and they will have left by the time we get home, we mind as well take the detour deeper into LA for either Cuban or Ethiopian.
And at that moment as we were doing the climb up from the Grapevine, we then took the busy I-405 south and then to the even busier I-10 west in pursuit of Versailles for our Cuban fix.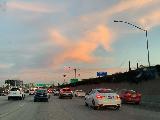 This was something we don't do often because of the anxst and traffic in LA, but since we're on the road anyways and we either don't have dinner or do it now, we opted to do it now.
By 6:05pm, we finally got to the Versailles where we lucked out finding parking as one person had just pulled out when we pulled in.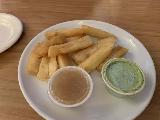 Parking was tight though, but that bit of worry was behind us, and then we promptly went inside the restaurant to eat the familiar Roast Pork (lechon) drenched in their famous garlic sauce as well as their famous roasted garlic chicken.
We also got a yucca frita though it turned out to not be as good as what they had at Isla, which was a different Cuban spot in La Palma.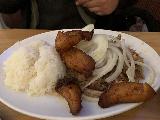 And they also gave out bread even though it was not good from trying to stay away from gluten.
Still, I don't recall them giving out bread when you order takeaway so I guess that's one little perk of doing this was a benefit of eating in.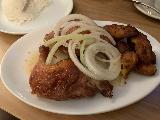 We also got a sauce to go (as Julie was inspired to try to cook with it next time), and we also got a garlic chicken and pork combo to go.
By the time we were done at 7pm, we now had to face some pretty intense traffic on the I-10 before finally getting to the I-5 where it started to clear up a bit.
Eventually by 8pm, we finally got home, where we could finally unwind from this busy day as well as the anxst of road raging it.
That said, I was still worried about all the work before me to get this trip's content processed and into the website, and there were also more work to do both at my day job and other tasks for my other blogs.
I guess that's the new normal these days as I try to break free from the rat race, but if it was so easy, everybody'd be doing it.
I keep telling myself it's worth it, but I know it's still an uphill battle to get Julie on board to help, and for my own sanity as it seems like my body is definitely breaking down and showing its age…
Visitor Comments:
Got something you'd like to share or say to keep the conversation going? Feel free to leave a comment below...
No users have replied to the content on this page