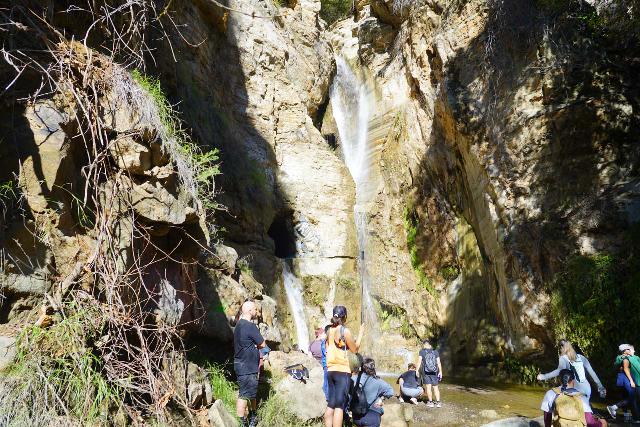 8-January 2023:
Indeed, I figured that we were probably in the final 1/2-mile or 1/4-mile of the hike, and it was now pretty much ledge clinging, rope pulling, and boulder scrambling at this point.
And thus this stretch took probably just as long as most of the initial part of the off-road trail scramble leading up to this point.
Sure enough, we had numerous headscratching moments, but we also got hints from the numerous people doing this trail so we could see what was before us and what decisions we had to make.
I reminded Mom of how Tahia cried at certain parts of this hike when we last did this 3 years ago, and I guess now Mom understood at this point why Julie suggested that she bring gloves…
At 5:30am, I awoke to my alarm, which meant that I was probably going off of around 5 hours of sleep.
For some reason, I found it difficult to sleep before midnight on the weekends, and I have no idea why (maybe I was just too busy with stuff to do concerning the website?)
Anyways, I took this time to get ready for the day by gearing up and having a kefir breakfast.
I decided to wear one of my stretchier hiking pants (the orange Outdoor Research Ferrosi one that Julie and Tahia didn't like since it wasn't in the wash like the rest of my clothing) and a Kuhl long-sleeved shirt.
I also put on a low sock to ensure that my trail runners wouldn't be chafing my feet since I resigned myself to getting wet on this hike, which was targeted for the Black Star Canyon Falls.
The things was that this was my third waterfalling excursion in less than 7 days this year, and it was probably the hardest of the three (the prior two being Upper Hot Spring Canyon Falls and Millard Falls.
Nevertheless, I took my time having my kefir breakfast (especially since Mom said that she'd arrive at my place at 7:20am instead of 7am.
So that allowed me to listen to another episode of the "Who's Going To Save Us?" podcast while also filling up on water and making sure that I got my cameras to film the whole excursion this time.
Back when Julie, Tahia, and I last did Black Star Canyon Falls, it was January 2020, literally a couple of months before things really went sideways with the COVID-19 pandemic.
When we did the hike at that time, I didn't get into trying to capture footage of the whole hike, and I was also experimenting with a different camera lens to go with the Sony Mirrorless camera.
Regardless, that was a hike that Julie and Tahia vowed to never do again after having gone through that experience, and I wondered if Mom was up for the task today (which she did look at some YouTube clips to see what she signed up for).
I also wondered whether she would be one of the oldest hikers on this trail today as she was already 70 years old, which made me a little nervous knowing that there might be some high steps and slippery slopes regarding large boulders.
Anyways, by about 7:20am, Mom showed up at my home as expected, and with Julie awake, she made sure that she packed me some oranges to ensure I'd have energy on this hike.
And with that, I wasted no time getting in Mom's car and taking over the driving as we headed out towards Orange and the Black Star Canyon Falls Trailhead.
During the drive, Mom told me that Joshua and Sophia (my nephew and niece, respectively) were given the OK to join us on our Summer trip to Japan as well as Taiwan (but not South Korea).
So that was unexpected, and that might make things a bit interesting as far as getting the logistics to work on the Japan part of the trip (knowing that the cars and roads are smaller, and that we'd have at least 3 weeks of road tripping in the north).
We'll have to see how that goes, but all I know was that we've already booked the overseas air for that trip, and we're pretty much locked in.
But the whole time, my head was processing what this would mean if we wound up having 7 people in our group instead of just 3 or 4 people.
We may very well have to hire two vehicles and have to double up on accommodations (essentially blowing up the trip costs).
However, it was a great opportunity for the kids to spend real time in a new place with less screen time (and perhaps a really unforgettable experience as a family).
Well, it didn't take long before we arrived at the gate blocking Black Star Canyon Road at 7:55am, and as expected, there were already lots of people pulling up and getting started on their hike, mountain bike, or trail run.
Indeed, even though I knew this was going to be a difficult hike, this was also one of the more popular ones simply because of how easy it was to access this trailhead, especially given its close proximity to the suburb of Orange.
So Mom and I didn't take much time gearing up and within about 10 minutes or so, we promptly started the hike.
As I had recalled, the initial part of the hike followed a pretty straightshot road through an open field with mountains flanking us in both directions.
Power lines were also topping these mountains and there were also some graffiti on the rocks and hills (attesting to this place's popularity, which also brings about the urban blight).
Indeed, there were quite a fewe groups of hikers in front of us, and there were also lots of mountain bikers bypassing us as we went.
This kind of reminded Mom and I of how my late brother would go on mountain biking excursions, and I guess this observation got Mom to better understand where my brother might have possibly gone for these excursions (with this being one of them).
She also mentioned how there were some high end bikes now just collecting dust, and she knew that my brother always went for the best of everything (as he was a very competitive guy) so he definitely had high end (i.e. expensive) biking gear.
I wonder if the hope that this gear could be passed down to his son Joshua, but I wonder if how old he'll have to be to even get into this stuff considering how into all things scren time seem to be consuming his attention these days.
Well, life still carries on, and we continued on this flat and easy part of the hike, which continued to follow the Black Star Canyon Road.
In one stretch, we went past a sign saying that Black Star Canyon Falls was 3 miles away, but I wondered how accurate that was because I thought this hike was at least 7 miles round trip (and not 6 miles round trip).
Then, we bypassed some muddy patches on the unpaved parts of the road, where there seemed to be at least one side that was drier and less messy to get past these spots.
Further along the road, we then noticed a large group of Chinese walkers looking up towards some hillside with power lines atop them.
We didn't know what they were into, but Mom spoke to them in Mandarin about what they were noticing, and I caught the word for bird.
And as we peered more closely, we did notice some kind of eagle or condor (or something with bigger wings) essentially perched atop a couple of stumps right beneath one of the power pylons atop the immediate hillside.
I didn't have my telephoto with me to really zoom in on them, but we took our shots (knowing we could probably crop and "zoom" that way) before continuing on with the hike.
Well into this flat part of the hike, we then passed by at least three bridges over Santiago Creek, which definitely seemed like it was flowing pretty well.
Finally at around 9:10am, we made it to a signed deviation off the Black Star Canyon Road, which was just past some residence (where we overheard one biker mention to her friend about a bridge being washed out though I wondered if it was always that way).
At this point, we then left the road and headed downhill briefly to the creek, where we could still follow the narrow trail clinging to one side of the creek or the other.
As we were proceeded along this trail, I noticed that there were quite a few younger, more nimble hikers bypassing us and indirectly helping us find where the more straightforward stream crossings were.
I know I had to be more careful with Mom on this excursion because we were not only dealing with slippery stream crossings (and she tried to keep her feet dry throughout), but I also knew the scrambling would get dicier further on.
Nevertheless, the stream crossings part of the hike weren't anything bad, and for the most part, we were able to follow the trail while more people were still passing us.
However, at around 10:25am, we finally got to a part of the hike where the scrambling definitely got more ambiguous and dicier quite quickly.
In one part, we thought we had to go up some kind of boulder wedge that turned out to be a bit too difficult to scale (especially since Mom can't squat or bend her legs too far and push off).
So we had to look for alternative ways to get through such obstacles, and I'd have to help her grab her trekking poles if they got in the way and she needed all her limbs to crawl over some of the steeper and larger steps to make.
Indeed, I figured that we were probably in the final 1/2-mile or 1/4-mile of the hike, and it was now pretty much ledge clinging, rope pulling, and boulder scrambling at this point.
And thus this stretch took probably just as long as most of the initial part of the off-road trail scramble leading up to this point.
Sure enough, we had numerous headscratching moments, but we also got hints from the numerous people doing this trail so we could see what was before us and what decisions we had to make.
I reminded Mom of how Tahia cried at certain parts of this hike when we last did this 3 years ago, and I guess now Mom understood at this point why Julie suggested that she bring gloves.
Well, after a bit of a struggle and lots of figuring out this puzzle, we finally made it to the very busy Black Star Canyon Falls at 11:05am.
Unlike the last time we were here, there were fewer people going into the cold waters of the plunge pool here, but there was one guy sitting in front of the tunnel.
I fancied going up there to see what it was like inside, but I thought better of it and stuck to just sharing the accomplishment of Mom making it up to the falls.
Of course, we still had to scramble downhill on the way back, and that was non-trivial, especially as dropoffs over the boulders are harder to see going down than coming up.
Regardless, we savored this moment, had a homemade kimbap lunch, and also noticed that there was a ranger looking out by himself keeping a watchful eye on whether people are doing stupid and/or illegal things here.
Meanwhile, I was documenting the experience, and even just filming footage of myself talking about the falls despite there being lots of total strangers in the area.
I don't think people generally really care, but unless you're a total exhibitionist or having total confidence to never be self-conscious, it was a bit of a scary and awkward time to be doing YouTube footage here with all these people.
Anyways, at about 11:40am, Mom and I finally had our fill of the Black Star Canyon Falls as it seemed even more people were showing up.
I knew that it would be a bit of a zoo on the weekends, and sure enough this was not surprising.
And so we proceeded with the downhill scramble knowing that we probably wouldn't be going the exact route that we took on the way in given how many ways this can go on a rather choose your own adventure kind of deal here.
We started off by leaning to the right side of the creek, where this time we took a rope-aided steep descent that we noticed most people took when we were heading up (but we opted to go in front of a lower waterfall instead).
After that, it was pretty much clinging to ledges and keeping to the right of the boulders and the stream before we saw dropoffs and it seemingly dead-ended.
Then, we went to the left side of the creek clinging to ledges that seemed awfully narrow and dicey.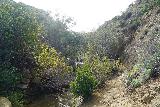 But then we crossed back over and went down another steep rope-aided descent that we had taken earlier on the way to the falls.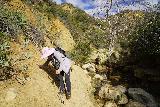 From there, it got progressively smoother sailing though we still had pretty big boulders to sit and scoot on as well as more slippery slopes where in one case, Mom almost slipped and fell.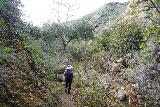 In other instances, I had to help Mom free her hands by holding her trekking poles as she sat and scooted her way down some more of the steep, big-stepped obstacles.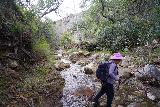 Eventually, we got below the worst of the bouldering and slippery slopes, and the creekside scrambling got progressively easier as we pretty much followed trails again.
There were still many people heading in the opposite direction, and it made Mom and I wonder whether they'd make it back out of Black Star Canyon in time before it got dark.
After all, it seemed like it was getting pretty late in the afternoon though granted it took us probably twice as long as most people considering we were perhaps one of the older participants in this adventure from what we could tell.
There were also people coming and going while playing loud music, and I never really understood the appeal of doing that, but then again, perhaps Black Star Canyon was so graffiti'ed up and popular that enjoying Nature wasn't really the deal here.
Ultimately by about 1:05pm, we finally made it back to the Black Star Canyon Road, where we saw numerous mountain bikes locked to the metal Black Star Canyon Falls sign (using it as sort of a bike rack now).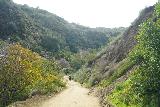 I guess that's how you can cut off the first 2.5-3 miles of the hike without spending as much exertion and physical effort for this hike, but then you have to deal with these types of logistics about parking that bike and hoping it doesn't get stolen.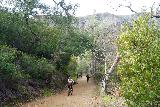 Anyways, Mom and I knew that we were home free for the remainder of the hike as it was pretty much just following Black Star Canyon Road while avoiding mountain bikers going past.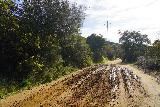 There were also more a few authorized vehicles that have driven past (which further proves that this road truly was multi-use as we've seen wheeled vehicles, bikes, trail runners, hikers, and dog walkers).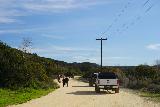 Regardless, we finally made it back to the trailhead by 2pm, where both Mom and I couldn't wait to change out of our wet shoes as there were moments where it was better to get wet rather than risk injury trying to stay dry during the hard parts.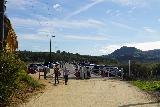 In any case, we did some last-minute documentation at the trailhead (where amazingly people were still pulling up and starting the Black Star Canyon hike with only about 3 more hours of daylight light), and then we headed out.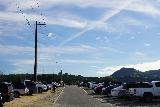 We ultimately took Chapman down to the Fresh Fish Market at 2:30pm, where Mom and I decided to have a late lunch given that I had to go to work tomorrow, and it didn't make sense to go back to her place, and then drop me off only to come back again.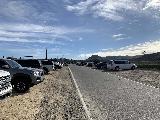 Our lunch consisted of a lemon-peppered Chilean sea bass as well as coconut shrimp, but this meal wasn't cheap as it was around $80 just for those things (I guess you get what you pay for).
But upon communicating with Julie, we also bought her and Dad some takeaway lunch from this place, which I'm sure made the lunch even more expensive (getting Hawaiian Ohpa, Curry-spiced Lamb, and some fish tacos).
By about 3:15pm, we were done with lunch, and then Mom dropped me off at 3:50pm to finally end off this eventful day.
With the forecast calling for rain tomorrow, I doubted that my trail runners were going to be dry before the next storm so we'll have to see whether it's going to start growing fungus and mold in these next few days.
But in any case, it was finally time to unwind as this was the conclusion of 3 waterfall hikes in a week though I never really intended to do this many in such a short period of time.
And whatever the case, this was Mom's first waterfall hike of the New Year, and I was so proud of her for finishing this hike even though she was 70!
Who knows how many more experiences like this we're gonna have, but we gotta keep living life like tomorrow might not come… within our means of course!
Visitor Comments:
Got something you'd like to share or say to keep the conversation going? Feel free to leave a comment below...
No users have replied to the content on this page