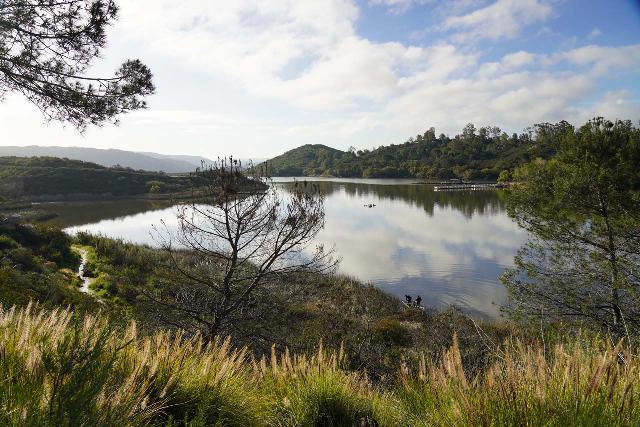 24-March 2023 to 26-March 2023:
It did hit the spot though I'm sure my stomach won't appreciate the intense spiciness too much, and it kind of reminded me of the time when Julie and I were having dinner on a boat in Leshan where every dish was red with spiciness!
After being done with the meal, Mom, Dad, and I parted ways after giving each other big hugs (I'm always feeling the need to cherish these moments these days), and then we drove off at 2:55pm.
Finally at 3:30pm, I made it back home to finally call it an end to this rather unexpectedly eventful waterfall binge weekend…
Day 1 (March 24, 2023 – Los Angeles, California): "Bell Curves"
It was about 5am when I awoke, which was about a half-hour later than I was used to getting up for work.
However, I had a lot on my mind, particularly with trying to get a video of a hike to Escondido Falls that I did last week to reduce the backlog of stuff to do this weekend.
That said, I also knew that there would be a lot of rush hour traffic going on, and I had to weigh the prospect of wasting time getting stuck in traffic still with a lot of stuff to do, or try to wait out the bell curve and get some stuff done in the meantime.
Well, I opted to do the latter, and so it wouldn't be until about 9:25am when I finally got in the car, which I knew was a later start than I wanted.
However, I did finally manage to publish a YouTube video about last week's hike before I left (though I did talk to some law enforcement folks in that video where I wanted to protect their identity but Google's face blur algorithm wasn't great).
Regardless, once I was in the car all ready to go (and I was going solo knowing that Julie was still under the weather and had to pick Tahia up from school later, and then Mom was at the Welk Resort in Escondido).
As I was afraid, there was some degree of heavy traffic on the freeways, but it did feel like I waited out the peak of the bell curve and was ultimately on the scenic PCH within about an hour or so.
It felt strange that for such an easily-found trail, how is it that we didn't know about this one until February 2023?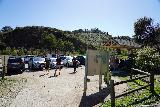 Eventually by about 11am, I made it to the familiar Backbone Trailhead, where there were quite a few available parking spots (so I didn't have to worry about parking on the road shoulders like last Saturday when I was here after Escondido Falls).
There was a large hiking group of youngsters appearing to get lectured by an apparent hiking troop leader.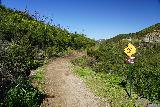 So I managed to gear up and made a restroom stop before setting out on the trail under some seemingly cloudless skies at the time.
I decided this time to do hiking boots as I didn't expect to be crossing any deep creeks (since I had no intention of seeking out lower waterfalls in Newton Canyon after seeing the conditions last week).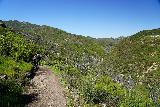 Besides, I didn't think the hike to the Upper Zuma Falls (the target for today's hike and one I never witnessed before) would have significant enough creek crossings to cause water intrusion.
That said, I did notice that my latest Vasque St Elias GTX boots didn't seem to be nearly as waterproof as my old ones, which was a bummer (I guess they just don't make shoes like they used to these days).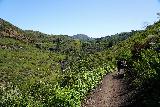 Regardless, I set out on the familiar switchback in no time, but just as I was rounding the bend on the lone switchback on the initial descent, I met a couple of guys who complimented me on my "setup".
Apparently, they noticed that I have a GoPro on my head as well as my usual day hiking gear (which I guess seems a bit more beefed up compared to the typical day hikers on this trail).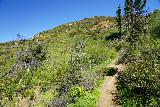 I think one of the guys recognized me from my website (which had to be a first for me), and we talked a bit about the lower Newton Canyon Falls.
I know I wasn't going to pursue them, but these guys seemed determined to take this alternate route, which one of the guys said was available after the 2018 Woolsey Fire cleared a lot of the obstructing bush.
Perhaps they knew of my site while looking for nuggets of information perhaps hinting at possible other paths of reaching these other off-trail waterfalls, especially with how much water is in the creek this year.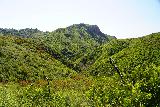 While I don't condone what they're doing, maybe they were onto something, but I had to stick with the plan today and keep it safe.
I wish these guys luck and they did likewise to me as we went our separate ways.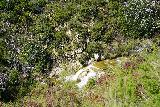 During this time, I also met another couple (named Matt and Aurora) who were on this trail for the first time, and I shared with them the Newton Canyon Falls down below, which they could hear but didn't know you can pursue it.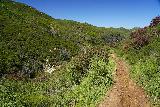 I told them of a safer way to do it even though it was technically "off trail", and as I proceeded past the familiar detour, I turned back and saw that they did take my advice to get down there.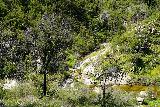 Continuing further along the familiar path, I saw the double-barreled intermediate waterfall again, and then by around 11:35am, I made it to the familiar footbridge over the Zuma Creek still flowing strong.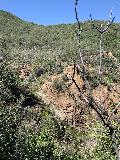 Beyond the bridge, I then found myself in unfamiliar parts of the Backbone Trail (despite how popular it is here) as I went through a seemingly burnt grove of trees undoubtedly charred by the Woolsey Fire.
The interesting thing about these trees was that even though their barks were blackened, it appeared that there was new growth on their treetops and thinner branches towards the top.
That suggested that these trees were still alive as their vascular tissues remained intact and allowed new leaves to sprout up and photosynthesize (and thus scrub the air of CO2 and producing O2).
Anyways, as I continued along the trail, I saw that there were some surprise cascades and waterfalls that I never expected to see.
There were also attractive knobby sandstone peaks in the distance which further added to the scenic allure of the Backbone Trail, and it was probably why this trail was as popular as it was (despite it being quite unfamiliar to me).
At around 15-20 minutes past the bridge over Zuma Creek, the open trail reached some kind of unsigned spur trail off to my right that seemed to get closer to one of the larger intermediate waterfalls that I saw.
I wasn't sure if that was the Upper Zuma Canyon Falls that I had targeted, but one glance at both AllTrails and Gaia GPS showed that I wasn't quite there yet.
Nevertheless, I took the narrow detour, which quickly brought me to a second attractive intermediate waterfall, which I took some time to check out from across the short gully that might be part of the larger Zuma Canyon system.
I knew that there was still that other intermediate waterfall that I saw earlier, and by about 12:05pm, I reached the end of the spur trail revealing both of the intermediate waterfalls in one go.
It seemed like any further scrambling to get closer to any of the waterfalls was going to be off-trail, steep, and rough.
So I didn't bother going any further, but still I enjoyed the scenery of these waterfalls, which seemed every bit as legitimate as the Newton Canyon Falls that I saw last week.
If there was any doubt about where the Upper Zuma Falls was, I noticed off in the distance further to the north was part of the falls revealing only its sloping upper tiers.
Seeing its volume compared to the intermediate waterfalls before me further proved that the Upper Zuma Canyon Falls was the main star of the Backbone Trail, and I had to get there!
Man, I thought to myself, where have I been all this time to only start seeing these falls just now instead of in years past?
Well, I knew that the atmospheric river storms had something to do with the extraordinary displays of waterfall sightings on this go, and who knows when it will be performing like this again, or how much longer before the spigot turns off, so to speak?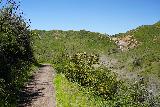 Anyways, I started to hear lots of voices in the distance, and I suspected it was the large group of youngsters that were getting lectured at the trailhead earlier on.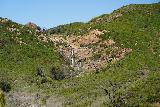 I figured that was my cue to return to the main trail, and when I got back to the main trail, I encountered the troop leader who asked about the detour I had just taken.
He seemed pretty stoked by the surprise waterfalls seen on this trail, but I knew that he was also pursuing the Upper Zuma Falls.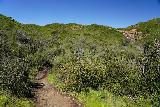 So I went ahead of them since I went faster, and the trail continued to be open and unshaded while revealing more of the Upper Zuma Falls up ahead looking tall and every bit belonging on our Top 10 So Cal Waterfalls List (if not for the fickle flow).
I wanted to stop frequently to take pictures, but I also wanted to at least get to the falls before the large group shows up.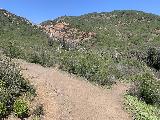 Eventually, I reached another more obvious trail junction where I knew the unsigned path on the right went right to the bottom of Upper Zuma Falls.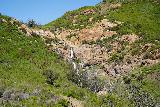 Indeed, I followed this pretty well-worn narrow track (proving that it gets a lot of traffic), and eventually went across a manageable stream crossing (though I felt the Vasque boots certainly weren't waterproof anymore).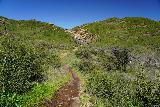 Ultimately by about 12:30pm, I made it up to the base of the Upper Zuma Falls where there was some bit of scrambling to get to a satisfactory look at the main drops of the falls.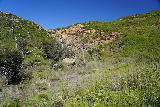 There were a handful of people already here and ready to head out so I waited patiently for them to carefully scramble back down, and then I took their spot to take both videos and photos of the falls before me.
The conditions were quite perfect at the time as the skies were cloudless and sky blue though I'm sure pictures didn't do this place justice because there were sloping upper tiers that couldn't be seen as well as cascades below me.
Eventually, the large troop of teens showed up to the base of the falls, and they pretty much scrambled past me and spread out along the lower cascades while others scrambled up to the top of the middle tier.
After seeing other people doing the same, I finally decided to make the slippery and wet scramble up to there just to see what they were checking out.
Well, it wasn't exactly a safe scramble as the rocks were very slippery even when dry (especially the darker rocks).
Going up to the middle tier, there were more of those dark rocks, and I knew that going up was much easier than going back down, which I knew I'd likely have to sit and scoot a bit to safely make it back without injury.
Nevertheless, when I did get up to the middle tier and the base of the upper tier, it was indeed a nice sublime little spot where it was just me and one of the guys who pathfinded a way up there.
There was one other dude in the group who also made it up here, but that was around the time I had my fill of this falls and started to carefully head back down just as the rest of their troop was heading up.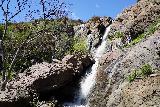 Eventually at about 12:55pm, I started to head back from the Upper Zuma Falls but not before chatting with some of the adults who were apparently guardians or overseeing this troop.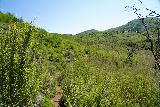 They said that they have been doing hikes in these mountains every Friday, and they noticed that most of the waterfalls they spotted on Google Maps were actually flowing these days.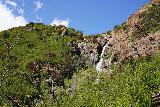 The troop leader said in the past that most of those waterfalls were typically dry in years past, but that further illustrated how much rainfall had fallen this year.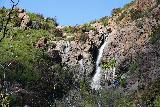 This made me realize that perhaps I should continue chasing waterfalls that I would otherwise not bother trying to pursue given these conditions.
Again, who knows when such waterfalls would be flowing again? Or are we entering a more prolonged wet epoch (kind of like Australia's Triple Dip La Nina that went on over the last 3 years, especially in their east coast).
Regardless, I headed back on the narrow trail going around a different creek crossing and getting additional views over my shoulder of the falls while other people were converging on this waterfall.
Man, news travels fast, I thought to myself, as I'm sure this is becoming the next social media darling, perhaps.
By about 1:10pm, I made it back to the Backbone Trail, and by this time, I started to notice some patchy high clouds starting to mute the otherwise sunny skies.
By the time I made it back to the Zuma Creek Bridge at around 1:40pm, it was definitely partly cloudy.
Of course, I was also dreading the Friday Rush Hour drive home from way out here in Malibu, but I guess such was the price to pay for coming out here in the first place.
At least I got to experience a nice waterfall out here, and for that, I guess it was worth the trouble.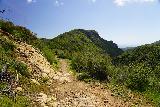 However, in years past, this probably wouldn't have been worth the effort.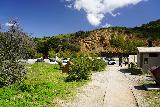 Regardless, by about 2:05pm, I made it back to the car, where there were still a handful of parking spots open showing just how less hectic a Friday visit to the local mountains are compared to weekends.
In fact, I couldn't help but notice that most of the visitors I encountered were either younger students or a combination of retirees and students as well as perhaps vloggers or bloggers (mostly Caucasian).
It was quite different compared to the weekend crowd, which saw a much greater diversity of groups and individuals (many of which of Hispanic heritage).
Perhaps that's kind of telling about the circumstances and life situations that would allow for specific demographics to make visits on certain days versus others.
Anyways, I started driving out at 2:10pm, and making it out of Kanan Dume Road and then along PCH wasn't too bad.
However, when I got to the 10 Freeway and the 405 Freeway interchange, that's when things got bad real fast.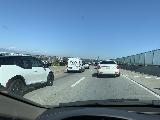 I don't know why Apple Maps routed me this way, but perhaps I was better off just sitting through traffin on the direct I-5 route instead of crawling on a more roundabout route involving the 405, 105, 110, and 91!
It also didn't help that there was a major car fire going on somewhere near the Fox Hills Mall.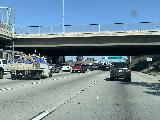 Indeed, when all was said and done, it was about 4:40pm when I finally made it home (2.5 hours)!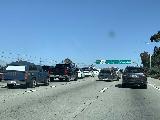 Compared to my 90-minute drive earlier this morning, this afternoon commute was rotten, and it made me feel bad for those people who have to make this kind of commute every day!
Thank goodness, I have the fortune of taking the trail to and from work (despite its shortcomings as being a bit of a homeless shelter and prone to train malfunctions these days).
With that, Julie met me at the car, and we immediately had our Friday night family night, and it wouldn't be until around 8pm when we finally made it home again.
I was pretty exhausted at the time, and I have yet another backlog of stuff to do.
However, Mom suggested that since I had originally intended to visit Los Penasquitos Falls today instead of Upper Zuma Falls (which I ended up doing), why not stay with her and dad and their friends down at the Welk Resort?
After all, the waterfalls that normally wouldn't be flowing like Los Penasquitos Falls and Jack Creek Falls as well as San Juan Falls would likely be putting on a show (given all the water that I've been seeing).
And here was an opportunity to visit those waterfalls while spending more precious time with my parents.
The question was whether Julie and Tahia could come along, and whether I have the time to do it (because I have to tutor Tahia on some maths for her upcoming entrance exams).
In any case, I ultimately decided to go alone to Welk but only after I was done tutoring Tahia.
So no rest for the weary, I guess…
Day 2 (March 25, 2023 – Escondido, California): "More Bell Curves"
It was about 7:30am when I awoke, knowing that there was still quite a backlog of stuff that I had to do.
So I took the time to get caught up on at least finishing off the write-up for yesterday's hike to Upper Zuma Canyon Falls, which was still quite fresh in my mind.
That took the better part of the morning before I then had to commit to spending time with Tahia on her maths (which she always dreads).
So it wouldn't be until around 1pm when I finally got into the car with my gear, and then I proceeded to make the drive out towards the Welk Resort.
I was a bit surprised at how long it would take to drive down there, but then I saw on Apple maps how much red there was on the route to get to the I-15 and then going south on that interstate.
Well, it turned out that there was indeed another bell curve situation going on there, but this time it was a busy weekend crowd that I was contending with.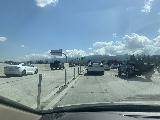 Indeed, this drive was brutally long, and there was especially a lot of slow down on the I-15 particularly around Cajalco, where it seemed like the toll lanes were ending and merging with the rest of the traffic.
Ugh.
Then, when I got towards Lake Elsinore, the traffic started to lighten up again until it slowed down once again around Temecula.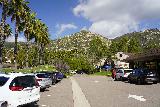 So it wouldn't be until around 3:20pm when I finally met up with Mom at the lobby of the Welk Resort.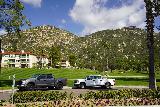 She helped secure a parking pass for me, and then I took her around the resort a bit so she could figure out if there was supposed to be a tee time tomorrow as well as getting some hiking shoes.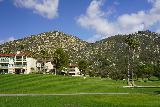 I thought we were going to do Jack Creek Falls, but seeing that I didn't really want to spend too much time on a detour to Los Penasquitos Falls tomorrow, I suggested to Mom whether we should pursue that waterfall instead of Jack Creek nearby today!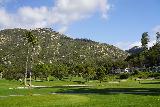 She being the trooper hardly hesitated when she said, "Let's go", and so we did.
By 3:35pm, we left the Welk Resort and then took a local road south towards the I-15 southbound entrance at Deer Creek Road.
Unfortunately, there was quite the slowdown on the I-15 south, and maybe we should have kept going on the local road towards where the Hwy 78 began near Escondido.
Well, whatever the case, we committed to this drive, and so this delayed us another 20 minutes or so before we were finally driving somewhat smoothly on the I-15 south past the 78 and towards the 56.
Eventually, we got to the Ted Williams Freeway (Hwy 56) and headed west before getting off the Camino del Sur exit (instead of some of the other obscure exits the Apple Maps wanted me to go).
After getting to the Park Village Road, we then turned right and followed this residential street to its end, where we were one of two cars parked at the dead-end at 4:30pm.
Apparently, this was the spot where we were to do the shortest distance to Los Penasquitos Falls.
That said, there was a sign on the gate that said "Trail Closed Keep Out".
I guess we went anyways because I knew that there were many ways to access this trail, and surely they didn't close all of the trails and entranceways to Penasquitos Creek, did they?
Regardless, we went down the initial trail, which then joined up with a wider trail that was apparently called the Powerline Trail given the many powerlines and power pylons that the trail went alongside.
As we got deeper down this gently descending trail surrounded by many suburban housing developments, I had a realization that perhaps I had forgotten to lock the door to my car.
Well, we weren't going to go back to lock it at this point, and so we continued on with the hike, which eventually got past a muddy patch and then joined up with a wider trail that ran parallel with Los Penasquitos Creek.
We couldn't see the creek, but we could certainly hear it at this point.
Anyways, it seemed like we were now in a wider and more open valley, and I was a little concerned about the late afternoon sun beating down on me and giving me sunspots perhaps.
Nevertheless, we were continuing west along the very flat and rather easy hike (except for the odd muddy spots to avoid) before we reached a signed junction for the Waterfall.
There were also some kind of bluish-wrapper things that I guess were to facilitate some plant growth alongside the trail nearby.
But regardless, we followed the sign, which took us alongside the rather fast-flowing Los Penasquitos Creek at around 5:10pm.
However, we started to lose the trail in an effort to better experience the tiny waterfalls nearby.
I also noticed some rock steps on the other side of the creek, and I'd imagine that this was where one of the bridges was washed out (thereby preventing us from turning this into a loop hike without a risky crossing in the brownish-semi-deep water).
We weren't sure if this was all there was to experience about Los Penasquitos Falls, but I was underwhelmed so far regarding this waterfall.
While the boulders around us were impressive, the waterfalls themselves were underwhelming though it did look like there was still more to this waterfall further downstream.
I also noticed that there was an overlook with a bench higher up on the hills further downstream as well, and I figured we mind as well at least experience that lookout before heading back.
Anyways, we regained the trail and then went down one of another series of use-trails leading down to a plunge pool at the bottom of the main cascades of Los Penasquitos Falls.
At these waterfalls, we could better see that we did indeed have a more legitimate waterfall though they were all a series of 5-10 footers in succession.
The late afternoon sun also helped to paint the surrounding rocks a reddish-orange color, which made this place more scenic than I would have otherwise given credit for.
I had considered giving this waterfall a 0.5 even with flow, but it seemed like it was the reddish-orange boulders that augmented the scene and thus would bump up the waterfall's score to a weak 1 (at least in my mind).
After having our fill of getting this close to the falls and taking in our views, we then climbed up to the overlook getting there at around 5:40pm.
While up here, we then spent more time soaking in the context of the falls, the boulders, and the surrounding homes on either side of the valley.
There were also a handful of Spanish-speaking people enjoying these falls along with us, and we were just soaking it all in before Mom signalled for us to get going so we could get back to dinner at a reasonable time.
And thus, we started to head back, where we eventually got back to the car at 6:15pm, where there were now at least a half-dozen cars or so parked here.
Unfortunately, Mom opened the door without even me needing to unlock the car, which meant I did indeed forget to lock the door.
Fortunately, it seemed like nothing was stolen, and I guess I had gotten away with it this time around (though I know I easily wouldn't be as lucky at any other place or time of day).
I was surprised that there were still more people pulling up to this dead-end, and it made me wonder if this waterfall sees more of its visitors at the end of the day (or maybe because today's a Saturday?).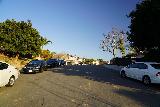 And with that, we drove back to the Welk Resort pretty satisfied with fitting in Los Penasquitos Falls today, and now tomorrow we only have to go to Jack Creek Falls and maybe San Juan Falls on the way home.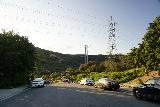 We eventually got back to Welk Resort at 6:50pm, where Mom and I were the last to eat as everyone else had already eaten.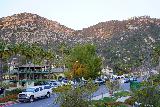 There was dad, Uncle Eddie and Auntie Jean, and other friends Alice, Nancy, John, and Phillip.
It was a festive evening as clearly Mom and Dad had good friends in their retirement, and I even joined them in an interesting game of cards that was kind of a mix of Poker and Mahjong.
Eventually at around 10pm, I took a vacant room as one couple left early since there was no tee time tomorrow.
Well, I had forgotten to bring my laptop so I couldn't do any work on this evening, but maybe that's a good thing so I can finally get some rest this weekend.
Of course, Mom and I planned to get an early 6:30am start tomorrow to do a pre-brekkie visit to Jack Creek Falls, and then we could pursue San Juan Falls on the way home.
Indeed, things were turning out to fall into place on this rather impromptu visit with the parents, and it was all made possible by the unusual high water totals from all those atmospheric rivers we've been having.
So what other surprises are in store tomorrow?…
br clear="all">
Day 3 (March 26, 2023 – Los Angeles, California): "Re-thinking Waterfall Longevity"
It was about 6am when I awoke, and I pretty much used up all the half-hour before I got a text from Mom saying that she was ready for our 6:30am start.
So I packed up my stuff and loaded up the car at 6:30am as scheduled, while Mom joined me a few minutes later.
I actually had to let the car start and run for a bit because there was frost on the windshield and the stuff wouldn't wipe off until there was enough defrosting going on to finally get visibility.
Thus, it wasn't until about 6:40am when we finally started to drive off.
This time, we followed Mom's Waze app, which had us take a local route all the way to Escondido, and then follow more local streets to get to the turnoff for Dixon Lake.
I wasn't sure why Mom's GPS had us do that considering how light traffic was this morning, and I'm guessing it could have taken a few minutes less with fewer stops at traffic lights had we gone the I-15 to the Hwy 78.
Regardless, we got to the Daley Ranch parking area at 6:55am, which was already surprisingly busy as lots of people were in hiking, mountain biking, or fishing gear.
So I guess we weren't the only early birds out this morning, and it was just in time for the sun to start rising out of the east in the distance.
Anyways, it took us some time to gear up, and I decided to wear Trail Runners this time around (so did Mom) as we were anticipating getting wet to get to the base of the Jack Creek Falls.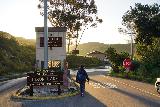 Once I got the GoPro recording and the iPhone apps were going, we then proceeded to walk down the road leading to the Dixon Lake Recreational Area.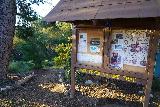 We first asked the guy at the kiosk about the waterfall (not quite sure if there was a better walking path to get there), but the guy was a bit perturbed that he thought Mom wasn't listening to him.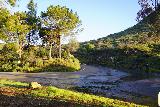 Regardless, we took the high road, and I kept the conversation to the waterfall itself, where he thought it wasn't much of a falls though he did confirm that it was flowing quite well today.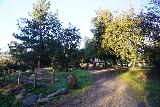 That was what we wanted to hear, and we went ahead and walked down the bend in the road towards a sign for the Jack Creek Nature Trail.
It seemed like a familiar sign, and we then proceeded past the sign and towards a wider trail before going left towards where the trail disappeared (just like how I remembered it from before).
Of course to the uninitiated, it wasn't obvious where to go next as we found ourselves in Stephanie's Grove, which was a place dedicated to a girl who apparently died very young (about 13 years old).
This was something that resonated with us considering how it still hadn't been a year since my brother died suddenly, but I guess the silver lining here is that we weren't the only ones experiencing painful tragedies.
Anyways, from past experience, I knew that we had to get past the picnic area towards the trails skirting Jack Creek, and that was where we saw a footbridge over a rushing creek (music to my ears this time).
And instead of going over the bridge, we then kept right and followed the not-so-obvious path until then we picked up the familiar trail above the small canyon carved by Jack Creek.
Well, it didn't take but a few minutes before we saw the Jack Creek Falls flowing quite well at 7:25am.
It was still before the morning sun penetrated the canyon here so that was good news because if the sun got up any higher, then we'd be looking against the sun!
So we went ahead and documented the falls gushing like we'd never seen it before though our hands were freezing from the frigid morning.
We spent quite a bit of time taking pictures and videos before continuing our apparent counterclockwise loop hike as we then made it down to a seemingly new-looking steel footbridge over Jack Creek further downstream.
Then, we briefly explored the familiar informal trail on the other side of the bridge wondering if it's still possible to get up to the base of Jack Creek Falls.
However, it didn't take long before we saw that any further progress meant going into the fast-flowing creek, and with the cold temperatures this morning, we just weren't up to take any further risks to get right up to the falls like before.
So after turning back, we then continued on the loop trail, which took us past some wetland area near the north shore of Dixon Lake before going up to a parking area for Jack Creek Cove.
While we were up there at around 7:50am or so, we got some pretty decent views over Dixon Lake (and people fishing on the lake at this early time of day) before getting our fill and heading back to the loop walk.
Mom also did the whole rubbing it in with her friends by showing them what they were missing out on through her phone.
Anyways, it didn't take long before we made it back to the footbridge upstream of Jack Creek Falls, and then we went back to the Daley Ranch parking area.
There were a trio of young Latina ladies who saw us earlier and now saw us again, and wondered why we were back from our hike so soon.
Well, we told them that it was just a short hike to Jack Creek Falls before breakfast, and we even showed them what they could be seeing if they did the short walk.
Of course, it probably wouldn't be today because they were dressed up in their Sunday best as apparently they were recruiting for Jehovah's Witnesses.
But it was a friendly chat about the Nature in the area (they were apparently from San Diego), and with that we got back to the car at 8:30am to conclude our short jaunt.
Then, we drove back via the freeways before getting back to the Welk Resort at 8:50am.
Once there, we spent some time having some basic breakfast of yogurt, fruit, eggs, and some pita.
We also spent quite a bit of time shooting the breeze while also emptying out the fridges and loading up the cars.
So it wouldn't be until about 10:45am when we finally left the Welk Resort and started to head home.
However, we were going to make one detour to the Ortega Highway to check out San Juan Falls considering how much water was in all the creeks all over the Southland these days.
Although traffic on the I-15 north was somewhat moderate and busy, it still moved quickly, and before we knew it, we were on the Ortega Highway past Lake Elsinore (making one quick gas stop at 11:30am).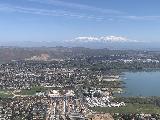 We made a quick stop at the Lookout Road House at 11:50am for a distant view of the poppy bloom in the distance (not quite the superbloom from 4 years ago – yet!).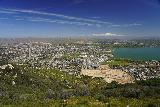 And then we continued down the Ortega Highway (Hwy 74) towards the busy trailhead across from the Ortega Oaks Candy Store, which we got to at about 12pm.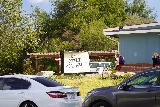 One thing we noticed was that the Ortega Oaks Candy Store was actually open!
The last time we were here, the place was closing, but now we saw a sign that said "Hey Google! We're Open!" as apparently Google still thinks the place is closed.
So I took a mental note to check out the place after finishing our hike to San Juan Falls, which shouldn't take long.
We also have Dad joining us on this short hike since he wanted to come along this time.
And it didn't take long before we followed the familiar trail and then got to the overlook where we could clearly see that San Juan Falls was gushing.
I also took some time to scramble down to the Climber's Ledge for a more direct view of the falls (Mom and Dad stayed on the trail), and I documented that at 12:25pm before heading back up the trail.
While back up at the overlook, I encountered one couple where the guy I met said that the falls was flowing like it did a few decades ago, which he claimed was a more regular occurence.
I guess the implication here was that Global Warming was drying out all the drainages over the long term, because he said the falls would flow like this for like 5 years straight before the drought started happening over the course of the next 20 years!
So who knows if this year's flow is going to be a flash in the pan or if we're going into a more prolonged wet cycle (like the Triple Dip La Nina in Australia over the last 3 years)?
Anyways, after having our fill of San Juan Falls, we then returned to the trailhead, where we next checked out the Ortega Oaks Candy Store, which was apparently under new ownership.
There were some gluten free brownies as well as cookies, and we went ahead and purchased some of the stuff to bring home (and the lady even let me sample some fudge, which she said I had to try it).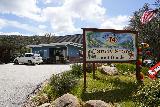 By about 12:55pm, we were back in the car, and then we proceeded to drive further southwest on the Ortega Highway towards San Juan Capistrano.
At first, we hoped to get to this place called Pub 74 (not sure if they re-opened after the pandemic), but when we got there at around 1:25pm, the place was definitely closed (and it looked to be closed for a while).
I was in communication with Julie and she was suggesting some places in the main part of San Juan Capistrano, but when we got there and saw the parking situation, we ultimately bounced and headed north towards Irvine.
Eventually, we got to some Chinese plaza off Jeffrey Road in Irvine, where we ended up at a hole-in-the-wall Sichuan place called Chongqing at 2:05pm.
And then, we had ourselves some numbing spicy Sichuan dishes (primarily peppercorn and chilis) that consisted of Mabo Tofu, some spicy fish dish, spicy fish-flavored eggplant, and some celery with lamb dish.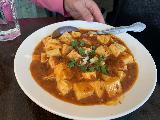 It did hit the spot though I'm sure my stomach won't appreciate the intense spiciness too much, and it kind of reminded me of the time when Julie and I were having dinner on a boat in Leshan where every dish was red with spiciness!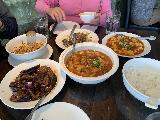 After being done with the meal, Mom, Dad, and I parted ways after giving each other big hugs (I'm always feeling the need to cherish these moments these days), and then we drove off at 2:55pm.
Finally at 3:30pm, I made it back home to finally call it an end to this rather unexpectedly eventful waterfall binge weekend.
So now I have an even deeper backlog of work to do, and I still have to prepare for an upcoming Spring Break trip overseas while there's still a lot to do at work.
I guess it's good to be busy these days though it does feel a little overwhelming (in a good way I suppose since I now have new content again)…
Visitor Comments:
Got something you'd like to share or say to keep the conversation going? Feel free to leave a comment below...
No users have replied to the content on this page