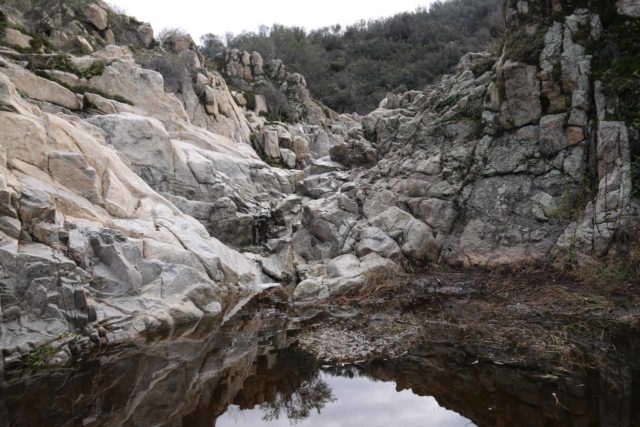 9-January 2016 to 10-January 2016:
When I got back to the main part of the trail, I was on my way back to the car park when I saw Julie and Tahia in the distance headed towards me. Since they were already pretty close to the falls, I encouraged them to come down and join me while getting the view of the falls from the sanctioned lookout (albeit a sorry view at that). When Tahia finally made it down with minimal help (given the somewhat rocky nature of even the sanctioned trail), Tahia saw the tiny falls and said, "Is that it?"
I guess her sentiments pretty much echoed Julie's sentiments about this dinky waterfall (which I was inclined to give it a 0.5 or a 1 since it was kind of flowing). Tahia even said this waterfall was "two thumbs down," which was kind of her way of saying she disapproved of things (something I'm sure she picked up in pre-school). Heck, it wasn't even a sideways thumb, which she tended to give us from time to time as well.
Julie and I wondered if we should start registering Tahia's thumb ratings or something as part of our waterfall writeups. That way we'd get a toddler or child's perspective, which I'm sure was not very common out in the literature…
[Show Trip Report As Single Page]