Day 1 (January 9, 2016 – Carlsbad, California): "Legoland Perks"
It was about 5:30am when Julie and I first awoke. I actually had my 4:30am alarm on but given that it was Saturday morning and I had already been getting up at 4:30am each workday morning (as it was our first workweek back from the holidays), I still had to hit the snooze button several times before finally getting up. It actually didn't take much to wake Tahia up from her sleep at around 5:45am as she was genuinely excited about going to Legoland. She knew that this was the day we were going on this short trip for her birthday.
It wasn't until about 6:45am when we finally left the house. It was somewhat dark when we awoke, but it seemed like the day was getting brighter by the minute by the time we pulled out of the driveway and onto the freeway. The car was all loaded up with our luggages and some snacks.
Julie and I shared a small luggage while Tahia had a luggage of her own as we gave her the responsibility to figure out what she needed. Our clothing included some hiking pants and socks as we anticipated doing some waterfalling tomorrow thinking that the saturation rains from earlier in the week might have revived some of the drought-stricken waterfalls in San Diego County. But it was still pretty light packing since we were only spending this night away from home.
We had a lot of stuff to take care of before even getting into Legoland, which we planned to do at their opening time. But since we were staying at the Legoland Hotel, we were also looking forward to taking advantage of their half-hour early admission. Anyways, even before that was to happen, we had to pick up Tahia's birthday cake from this place in Carlsbad.
We allocated some two hours to get there since experience told us that it typically took at least that long to get from Los Angeles to around the San Diego area (though Carlsbad and Oceanside were quite a bit further north of there), but Julie thought her cake place didn't open until 8:30am. So while we were zooming along the I-5, it seemed apparent that we'd wind up in the Carlsbad area before 8am. In fact, we got to a Starbucks in Carlsbad at 7:40am. What would we do with the extra time?
Well, when we finally found the cake place after quite a bit of local driving, it was around 8am. We weren't sure if the place was open, but Julie said she thought she saw someone inside the bakery (in an office space area) already. So we figured we might call them or knock on the door to see if we could grab the cake and pay for it without waiting another 30 minutes.
Lo and behold, we were able to do that, and then we headed right for the Legoland Hotel so we could get our early entrance wristband as well as leaving the custom cake in the refrigerator at the hotel kitchen. Eventually at 8:35am, we made it to the reception area of the Legoland Hotel, then we managed to get our bags checked in some storage area (since check-in wasn't until 4pm), and then we got the wristband while we had nearly another hour to kill before the park would let us in.
Fortunately, the hotel reception area had a bunch of lego play pens, including one that looked like part castle and part pirate ship. Tahia was having fun running around there while also trying to interact with the other kids. I sure hope she doesn't lose that tendency to want to socialize.
When it got to around 9:20am, we decided to wait at the general area thinking they'd let the hotel guests come in, but when 9:30am passed, we started to wonder why they didn't let us in yet. Then, with a little asking around, we were finally pointed to a side entrance near the Sea Life Aquarium. It was kind of an obscure entrance, and it wasn't terribly obvious that we were supposed to go there from the hotel.
Nevertheless, it was 9:40am when we got in, and we could see right away that they fenced off some of the main parts of the park. So it seemed immediately clear that even with the early entrance, it only applied to certain parts of the park (mainly the southwest part of the park).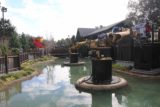 Anyways, under the beautiful morning weather that was mostly sunny, we wound up going on the Coastersaurus, then on a Mia's Riding School merry-go-round, and then on the Kid Power Tower before they finally opened up the rest of the park. Then, we spent time doing the driving school, the swinging and turning pirate ship, the Joust Tournament (a really disorienting ride if you do the Level 3 one), and then finally the Green Dragon, the Techno car ride (the one ride Tahia couldn't go on as she was about an inch too short), the Dune Raiders slide, the bouncing chair, and even the target-practice Egyptian ride. And we managed to do all this before it was 12pm!
I guess the early admission (especially on a Saturday) definitely had its perks.
My brother and family were finally pulling up to the Legoland Hotel at 11:45am (just as we were about to but didn't order some barbeque lunch inside the park) so we decided to take a break from all the rides, get our hands stamped, then go to the hotel to meet up with them. Tahia looked forward to seeing cousin Joshua and cousin Sophia.
Once we met up with them, we took our time and had a lunch at the Skyline Cafe inside the Legoland Hotel. The food was decent, and it turned out that Jina brought a tasty chocolate birthday cake for Joshua's birthday since his was just a few days before Tahia's. By the end of lunch, we were quite stuffed with all the food and the sweets. We needed to work off some of these calories back at the park.
So we promptly returned to the park (now the sunny weather gave way to some cloudy weather with even a few sprinkles) and this time we did things like the merry-go-round again as well as the driving school again. Unfortunately, we couldn't get Tahia and Joshua to pass as 6-year-olds so they couldn't do the larger and more fun driving track than the 3-5 year-old one. Oh well, we tried. I guess the employees knew to ask the kids their age since more often than not, they wouldn't lie about their age.
After doing a repeat of the Kid Power Towers as well as some Sky Patrol ride, we then checked out some interesting fun house in Fun Town before spending time waiting to drive a boat through a course. That ride had the longest wait of all the rides we did, and it was probably because that boat gave us the freedom to drive around the course without rails restricting our motion (other than the side rails to keep us on course). However, it was possible to T-bone and get stuck given this degree of freedom.
By the time we were done with the boat ride, that was when our families parted ways as Julie wanted us to go through Mini-Land to get to the boat cruise ride while my brother's family wanted to play some carnival games as well as going on some roller coasters.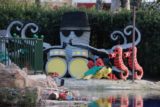 The stroll through Mini-Land was interesting because there was some kind of Star Wars gallery that was very detailed. There were lots of scenes recreated from the famous movies from Episodes 1-6. And the impressive thing was that they were all done with Lego bricks.
After doing the boat cruise, where we kind of went on a mini-world tour of famous sites around the world built up of Lego bricks, we then got to the Sea Life Aquarium at 4pm. At first, Tahia wasn't keen on doing this aquarium since we were essentially skipping out on her nap, but once we were in there, she changed her tune when she got to go on some slides, then explore some of the small mazes and checking out some of the big aquarium displays, especialy the one featuring sharks and sting rays. She even got to touch some of the marine life in the touch display.
So by the end of it, we were back in the hotel some time after 5pm. Our birthday dinner reservations at this place called the West Farm wasn't until 6:45pm so we had some time to kill. When we finally checked into our hotel room, we could immediately see that our Medieval-themed room was very thoughtfully designed. Tahia was beside herself as she was in the "Ye Olde Adults Keep Out" area, enjoying herself at the bunk bed while also playing with loose Lego pieces.
Meanwhile, I was dead tired and managed to get a half-hour nap while the Steelers and Bengals Wild Card game was on.
Eventually at 6:45pm, we got to the West Farm, where we saw my parents, who weren't spending the night here, but they did play a round of golf somewhere in Camp Pendleton. So they, too, had a long day. And eventually, my brother's family showed up (apparently it was raining when they showed up), and from there we had ourselves a pleasant dinner. My brother even brought some virtual-reality helmet for us to check out while we were waiting for our food.
Well, the dinner was pretty good (albeit a bit pricey), and we even celebrated a little cake ceremony. The staff (and some of the other guests) really loved Tahia's outfit (which I think was supposed to be Cinderella as opposed to Elsa).
My brother and I also managed to catch the very end of the Bengals and Steelers game where we watched the Bengals lose it on a pair of penalties. That was real entertaining though I'm sure it must be gut-wrenching for Bengal hopefuls.
Anyways, the night was over as we were back in the hotel at 9:15pm. But before we finished showering, brushing, and sleeping, we managed to solve the little riddle of the combo locks (by counting things in the hotel reception and dining areas), and not surprisingly, there were little Lego sets to take home.