Day 2 (January 10, 2016 – Los Angeles, California): "Insufficient Storm Power"
It was about 7:30am when we awoke. And this was even with me sleeping in to try to make up for the previous six days of 4:30am wake-ups. We quickly got ready and headed to the included breakfast buffet at 8am. It was already a busy scene down there as I'm sure quite a few families wanted to take advantage of the early entry into the park at 9:30am.
The brekkie buffet was actually a pretty decent helping of both healthy and unhealthy fare. It almost seemed like the kids station had more of the healthy stuff like fresh fruits (though the waffles covered in powdered sugar was probably not so healthy). The adults had an omelette station, some French Toast, bagels, smoked salmon, standard buffet things like mushrooms, hash browns, etc. Plus, there was even a smoothie bar consisting of mango smoothies and mixed berry smoothies.
While we were doing that delicate balancing act of trying to control portions while all this included (in our room rate) food was available, there was someone dressed up in a jester outfit accompanied by a lady in a princess outfit handing out shaped balloons. It seemed like the sword-shaped balloons were really popular, and that was what Tahia wanted as soon as they finally made it to our little corner.
Eventually at around 9am or so, we were done with brekkie and we were about ready to check out. But before doing that, we stopped by my brothers' family's room just to say hi to them since we missed them from brekkie. Tahia did some selfless acts of giving away some of the balloons that she acquired, which was really sweet of her. They were planning on doing the early entry into Legoland, but given that they were going to brekkie late, they were probably gonna have their play time at the park during the general admission.
And as we were rolling our luggages towards the reception to check out, we had ourselves one last go at the disco elevators as well as the whoopie pad at the corner of the room by the elevators. One British guest was like, "I'm gonna miss this lift."
Anyways, at 10am, we left the Legoland Hotel and promptly drive east on the Hwy 76 towards Escondido. Seeing that the nearest waterfall to Legoland was Jack Creek Falls, that was what we were targeting. And so the drive was pretty uneventful as we'd eventually get to the Dixon Lake car park at 10:35am. We had to pay $5 to get in there, where the car park was certainly emptier and less busier than the really packed car park fronting both the gate to Dixon Lake as well as the Daley Ranch. I guess those folks did the smart thing and avoided paying the $5 fee.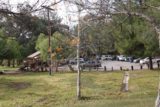 Well, after parking the car, Tahia immediately saw there was a playground. And while we were busy getting ready for a hike, Tahia was busy having fun and even making friends or at least chatting it up with passer-bys engaging in some conversations with her.
Next, we followed a sign saying something about a 2.4-mile Grand Loop Trail. From looking at that sign, it seemed like we were in for a short hike, but the trail seemed kind of ill-defined compared to the more obvious roads and paths leading further down the slopes to our left towards another picnic and lawn area.
Eventually, we'd get to a part where the trail descended to our left beyond the lawn area and hugged a little bit of a small cliff overlooking what appeared to be where Jack Creek was supposed to flow. It was just past some kind of big stack of boulders with a numeric signpost next to it.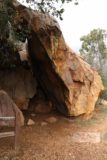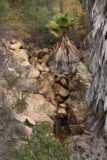 Unfortunately, Jack Creek didn't look like it was flowing and so I guess our hopes that the saturation rains from this week might have revived this creek didn't do so on our visit. That was a shame. But I guess it was gonna take more than a half-week's worth of heavy rains to undo four years of drought.
So Julie and Tahia decided to go back to the car park area so Tahia could play a little more on the tiny playground there. Meanwhile, I'd continue along the trail (with a partial view of Dixon Lake, which I'm guessing was man-made) until it descended towards a bridge over what was supposed to be Jack Creek. On the downstream side, there were lots of reeds, and perhaps that was the wetlands where Jack Creek was supposed to feed the lake.
On the far side of the footbridge, there was a trail hugging the far bank of Jack Creek where a few numeric signposts assured me that I was on a sanctioned trail. Eventually as I got between the numeric posts 8 and 9, I could see that there were some faint trails scrambling through the dead-falls and boulders as well as a few stagnant pools towards the base of Jack Creek Falls (or the jumble of boulders that was supposed to be where the falls were). Actually, there was a trickle of water mostly hidden from the creek itself as it appeared most of the water was beneath much of the boulders.
So I guess this waterfall wasn't completely dry, but it wasn't photographable (save for the boulders). So with that, I made the climb back out of the creek, then back up to the trail. When I saw that it appeared that there was some kind of open area at the top of the slope, I decided to cut right up to the top and ditch the trail. And once I got up to the top, I saw that I was in a field (probably a soccer field or something) with picnic tables and the familiar car park on the far side.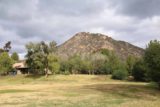 So in the end, I guess this "hike" technically wasn't really much of a hike at all. And by 11:20am, I was back at the car. I definitely felt like it was hardly worth the $5 we had spent to be here.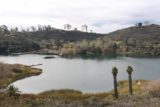 Nevertheless, once again, as I was loading up the car, it seemed like Tahia was engaging in more banter with some adult passer-bys. I told Julie that I really hope she wouldn't lose this tendency to socialize as it's a good trait to have. But at the same time, we also had to be wary of child predators since it seemed to be quite the problem these days.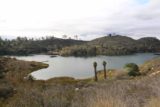 So after our brief visit to the Dixon Lake Recreation Area, we then briefly drove over to a different view of Dixon Lake (on some pretty beat up roads) before we then left and headed up the I-15 towards Lake Elsinore. I figured since it was also on the way home, we mind as well give the Ortega Highway a shot and check out San Juan Falls, which was one waterfall that neither Julie nor I had visited before even though we had been on this highway numerous times before to see Ortega Falls and even Tenaja Falls further south of Lake Elsinore.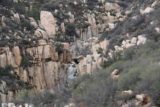 It wasn't until about 12:40pm when we made a brief stop for the familiar pullout for Ortega Falls. As we got out of the car (still full of cars), we could clearly see that Ortega Falls itself wasn't flowing from where we were standing. So that was a foreshadowing of the conditions of San Juan Falls that we had targeted on seeing this day.
At 12:45pm, we finally made it to the San Juan Trailhead, which was right across the Hwy 74 from the Ortega Oaks Candy Store. Actually, the San Juan Trailhead car park was quite busy itself meaning there must've been a lot of people on the trail.
Hwy 74 itself was quite noisy though as it was full of traffic (especially motorcycle traffic), but we intended this to be a short visit to the San Juan Falls (mostly to bag another waterfall we hadn't done before). So far, when it came to local waterfalls that we hadn't done before, it seemed like we were on a drought-induced losing streak as each of the last few waterfalls (Seven Falls and Jack Creek Falls) were either dry or trickling. And we kind of knew going in that San Juan Falls would probably be a fail as well.
This was also a major reason why we hadn't actively sought out any waterfalls in San Diego County, Ventura County, nor Santa Barbara county recently.
Well, nonetheless, we were here, and we promptly got on the trail. I was actually going it alone on this hike while Julie and Tahia were going to check out the Ortega Oaks Candy Store while I was away. The hike itself was pretty straightforward as I went past the trailhead sign and then followed the obvious trail in a slightly uphill direction kind in view of the noisy Hwy 74 down below.
Then the rocky trail rounded a bend where I then saw the little ravine that must've contained the San Juan Falls. There were actually people down there already, but it looked like those folks were looking for the waterfall itself. So I figured that the trail probably made it to the top of the falls, and it would probably require a bit of risk to reach a decent frontal view of the falls itself.
When I got to the spur trail junction, there was a fence up here looking down at the really tiny waterfall (or what I was able to see of it through the cliff-hugging brush in the way). I saw the picture in Ann Marie Brown's book
so I roughly had an idea of where I needed to be to take a photo. And it turned out that there was a trail of use behind the fence that led to a ledge where there also appeared to be some climbing bolts.
Well, I wasn't going to get anywhere closer to the edge of this sheer cliff looking down at San Juan Falls (which by the way was definitely flowing though its stream was quite narrow and borderline trickling) so I got my shots, then headed back to the sanctioned part again.
Then, I followed some folks down the trail leading to the creek bed, where I then headed to the waterfall's brink in search of a way to scramble even lower for a frontal view of the tiny falls. In the back of my mind, I was thinking that it probably wasn't worth the effort, but I figured I mind as well get the full experience here since I wasn't counting on coming back here.
It was a bit dicey to get down to the base of the most visible tier of San Juan Falls mostly because the rocks were slippery. But I managed to get down and in front of that visible tier, but then I saw that there appeared to be another tier immediately below. That lower tier was a bit harder to see let alone get in front of, and it seemed like the stream itself was less visible over that little drop as opposed to the upper drop that I was already at the base of.
So I got my movies and shots while also noticing the sheer verticle cliff right above me. I guess I could see why there were climbing bolts at the top of this cliff because it was probably a worthwhile climbing challenge or even a rappeling or abseiling challenge given the sheer verticality of this cliff.
When I got back to the main part of the trail, I was on my way back to the car park when I saw Julie and Tahia in the distance headed towards me. Since they were already pretty close to the falls, I encouraged them to come down and join me while getting the view of the falls from the sanctioned lookout (albeit a sorry view at that). When Tahia finally made it down with minimal help (given the somewhat rocky nature of even the sanctioned trail), Tahia saw the tiny falls and said, "Is that it?"
I guess her sentiments pretty much echoed Julie's sentiments about this dinky waterfall (which I was inclined to give it a 0.5 or a 1 since it was kind of flowing). Tahia even said this waterfall was "two thumbs down," which was kind of her way of saying she disapproved of things (something I'm sure she picked up in pre-school). Heck, it wasn't even a sideways thumb, which she tended to give us from time to time as well.
Julie and I wondered if we should start registering Tahia's thumb ratings or something as part of our waterfall writeups. That way we'd get a toddler or child's perspective, which I'm sure was not very common out in the literature…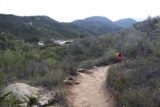 At 1:50pm, we were finally back at the trailhead. At that point, we still hadn't had lunch yet so we decided that since we were going to pass through Irvine on the way back home, we mind as well check out Houston's, which was our favorite chain restaurant (and chain restaurants were something we normally don't do). Maybe they might do something special for Tahia's birthday.
Well, we finally got to the restaurant at 2:50pm and even at this hour, there was still a little bit of a wait. That was kind of surprising, but at least in the end, we'd have our little birthday lunch or lunner. But they didn't do anything for her birthday so it was just a normal (albeit celebratory) lunch. We then stopped by this massive Whole Foods at 4:15pm on Jamboree thinking we might get some grocery shopping before finally getting home. But Julie saw that the selection was pretty much limited as most of the shelves were pretty much sold out of the stuff she cared about.
Another reinforcement of a lesson learned – never go grocery shopping late on Sunday!
We'd eventually get home at almost 6pm. By that time, we were finally able to get unpacked and then get ready for the workweek. But I guess in terms of maximizing our weekend, we definitely filled it up as much as we could. It was almost a throwback to the days when Julie and I would routinely take long weekend trips to places like Yosemite and Southern Utah.
Yet even as we're getting older and less energetic to do these kind of seize-the-moment weekend trips, there's a part of me that still thinks we ought to get back to it seeing that there are no guarantees in life, and that Tahia's growing up fast.
So we'll see what life throws at us and what opportunities arise for our next waterfalling excursions…