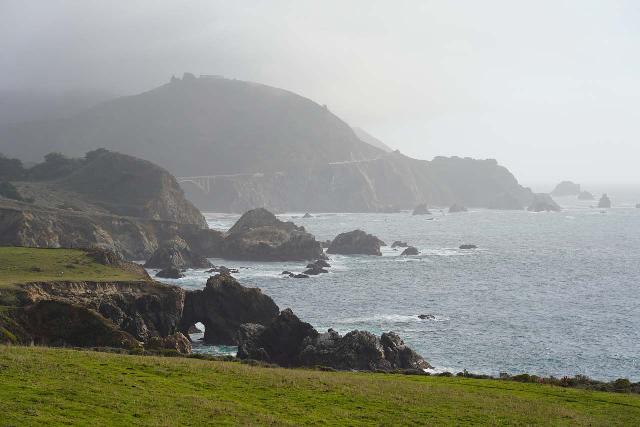 5-February 2021 to 8-February 2021:
Even though Ann Marie Brown's descriptions made it sound like a pretty straightforward 10-minute walk, I knew that perhaps over the years, the redwood trees had fallen and pretty much obscured any trails that were once here.
A lot of the trees here had black scarring on them, which suggested to me that a fire or two definitely swept across here and probably undermined the soil (thereby facilitating the natural felling of these trees).
Indeed, the scrambling wasn't easy, and it was also becoming more dangerous as I started to notice small dropoffs on the unstable embankments of the stream.
There were so many fallen twigs and trees that it was easy to make a misstep and fall into the dropoffs potentially causing injury.
So I made sure that each of my steps were sure and steady even though my face, legs, and arms were being whipped and scratched by the twigs of the fallen trees as I was scrambling…
Day 1 (February 5, 2021 – Los Angeles, California): "A Different Divide And Conquer"
I awoke at 5:30am, which was actually quite early for me in the past year of COVID-19 stay-at-home workdays.
But in this instance, I was anxiously getting ready for a long solo excursion to the Santa Paula Canyon Falls, which was described in the Ann Marie Brown book, but we had put off doing it since it required at least a six-mile round-trip hike.
That said, I had this Friday off while Tahia still had school. So I seized this opportunity to go it alone scouting out this waterfall excursion without the burden of trying to keep them engaged on such a long and potentially difficult hike.
Indeed, today felt like one of those typical divide-and-conquer days when we were abroad and there would be days with a lot of waterfalls or a lot of driving or a long hike or a combination of all of these things.
Since Julie had been less receptive to long hikes over the years and apparently Tahia was taking after her in that respect, I was pretty much on my own with this one.
The plan was to get out early and visit the Santa Paula Canyon Falls (which have been locally known as the "Punch Bowls", and then I'd use whatever daylight I have left to revisit the Grotto Falls at the Circle X Ranch.
After all, I somehow missed seeing the actual Grotto itself above the waterfall concealed by a huge boulder while surrounded by wading pools.
Anyways, after having a kefir and fruit breakfast, I also took some time to help with the dishes as well as preparing for the day out.
Eventually by 6:50am, I was finally leaving the house, which was actually 10 minutes before our normal wake-up times (or the time I had been naturally waking up under the work-at-home COVID-19 routine).
As feared, the drive during this time was full of the infamous LA Rush Hour even though a lot of people are still working at home (me included).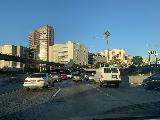 That said, the freeways are still prone to traffic jams, which just shows you how badly and behind LA's public infrastructure and road systems are. Now imagine how much worse it would be when everyone's not working from home due to COVID anymore.
So after a little sluggishness on the I-5 and then some lookie-loo traffic on the 101 (I noticed the southbound freeway was not moving as CHP were on foot patrol clearing debris), the GPS told me to continue on the I-5 north all the way towards Santa Clarita and Magic Mountain.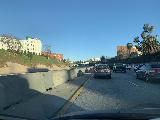 Driving this far north of LA totally reminded me of all the times we'd drive towards the Bay Area or the Sierras or even further north towards Oregon and beyond.
However, I was relieved once I saw the exit for the Hwy 126, which headed west towards Fillmore just after getting past the familiar rollercoaster paradise of Magic Mountain.
I never really entertained going this way for the Santa Paula Canyon Falls (as I had envisioned taking the 101 and then heading north on some other highway to get into the Sespe Wilderness), but maybe on future excursions in that area, I should consider doing this more.
That's because the 126 west was pretty smooth going on the morning of this drive. In fact, it was so smooth that I really had to watch out for some hiding CHP waiting to nab someone going past the easily-exceeded speed limits.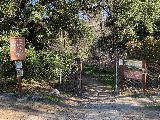 Eventually at about 8:50am, I had finally arrived at the trailhead for the Santa Paula Canyon Trail, which was about 100 yards just north of the entrance to the Thomas Aquinas College.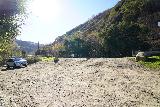 I think in the past, you used to have to walk through the campus to get to the Punch Bowls, but perhaps they got tired of people going through their property to do the hikes instead of attending to the school's activities.
As I drove up there, I could clearly see for myself that both Fillmore and Santa Paula didn't exactly look wealthy (and they were heavily Latino). That told me that there was quite a bit of farming activities going on here, and perhaps the workers weren't really paid a healthy wage for their hard labor in the fields.
On the flip side, I know that we've been conditioned to take for granted cheap fruits and veggies, but I knew that something was being externalized because you can't have something be artificially cheap in a sustainable manner. And well, the pushback comes in the form of poverty and disillusionment for those being taken advantage of while we end up seeing gangs, crime, tagging, and other symptoms of urban blight.
I guess the more I think about how things are the way they are, the more I'm coming to realize just why these rural communities tend to vote Republican even if it's against their own best interests. Their living situations are definitely ripe for being taken advantage of by those with enough wealth to spread their propaganda and reinforce whatever myths the vulnerable are able to digest without critically thinking about their information sources.
Then, once your own primary income is tied to whatever status quo had existed, it becomes too late and then you vote to maintain the "certainty" of that status quo or else have to deal with the uncertainty of losing out on income.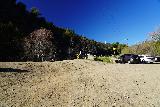 Anyways, at the Santa Paula Canyon Trailhead, there was a bit of a doozy of a rut and hill going into the slanted trailhead parking area. I know my 2wd vehicle scraped the underside at the entrance of this trailhead, which wasn't good.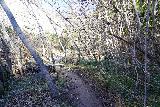 After a few minutes of fumbling with the tripod and trekking poles, I assumed that perhaps there wouldn't be that much water on this excursion so I decided to ditch my old Super Maklu trekking pole by leaving it in the car. I did the same with the Chacos thinking that I probably wouldn't need them on this hike (if the Circle X Ranch experience of last week was any indication).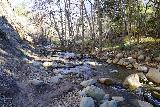 I also learned that my iPhone only had 49% charge because apparently it wasn't charging the whole time I was driving up here and listening to the J-Files Podcast about the Red Hot Chili Peppers. And without a backup battery pack, I guess I wasn't going to be able to document my adventures with Gaia GPS on this day because I knew the phone was going to die, but I wasn't sure when…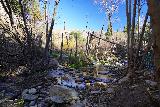 But then after about 10-15 minutes and going through the crossing of the Santa Paula Creek, which was running surprisingly well, I decided to go back to the trailhead and get at least the trekking poles to make those crossings easier.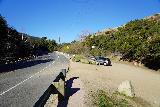 So by 9:05am, I got the poles and then finally was pretty much on my way to the Santa Paula Canyon Falls.
The hike started off with the first two stream crossings of Santa Paula Creek adjacent to some fencing and "No Trespassing" signs that I bet belonged to the Thomas Aquinas College property.
Aside from three people who might be people working the trails or something (who were commenting about fallen sycamore trees or something about the integrity of the trees in the area that were probably affected by fire), I was pretty much alone for much of this stretch of the hike.
Just beyond that were some oil derricks pumping oil out of the ground in this area, and I can definitely smell some of that oil in the air.
When the trail rejoined a paved portion, it entered some avocado ranch before leaving it and following along some oil pipelines before reaching another fenced facility with another three more oil derricks.
Beyond these unsightly derricks (or "grasshoppers" as Ann Marie Brown called them), the trail was then labeled by the National Forest Service as it pretty much labeled where to go at all the apparent junctions or false trails. Maybe the recent trail re-routing resulted in some work to get rid of most of the trash and graffiti that I had read had plagued this place over the years.
There was a third (or fourth?) creek crossing immediately after the last of the oil derricks and then there was a fourth creek crossing well into the hike after traversing through a fairly long and open stretch of Santa Paula Canyon.
I definitely saw the effects of past fires throughout this hike, but I was also glad that my morning start still yielded a lot of shade so it wasn't as hot as it could be since I was well aware of how hot it can get here.
In the long stretch between the third and fourth creek crossings, the trail went through a wide open portion of Santa Paula Canyon so there was definitely a little less shade there, and I'd bet that this would be a draining stretch under warmer temperatures than the mid-70s of today.
At least the nice thing about this hike was that I was pretty much all alone throughout this hike so I managed to listen to plenty of moments where things were rustling unseen in the shrubs around me. I wasn't sure if they were rodents, snakes, birds, or perhaps even coyotes or something.
Still, the hike had been mostly flat throughout this stretch and it seemed like I was making good time because I could see that the Big Cone Camp was getting closer and closer the further I went. Maybe it gave me some hope that the phone might survive to get to at least the camp, but the charge was draining fast as it was now getting into the 20-30% range.
And in fact, I did manage to see one tiny, thin and blue-striped snake scurry across the trail before it disappeared into the shrubs.
Beyond the fourth of the stream crossings, the trail then continued to follow along the Santa Paula Creek's healthy flow before the trail then climbed to the right.
I was aware that it was possible to continue along some kind of unmarked false trail within the stream towards the Santa Paula Canyon Falls, but the book said to stay on the trail, which ascended up towards the Big Cone Camp.
Even though the trail still had a bit of shade, I was sweating quite a bit on this moderate ascent as it continued to veer away from Santa Paula Creek.
Finally at around 10:35am, I made it to the Big Cone Camp, where there were some fire pits, including one with a top down view in the distance towards the Santa Paula Canyon Falls.
So naturally, I continued to follow the trail down to a side drainage that appeared to fall towards the Santa Paula Canyon Falls, but now the trail seemed to disappear right above some smaller waterfall. I got there at about 10:45am.
Not sure if I should continue further upstream on this side drainage (and thus going further away from the falls), I ultimately decided to take my chances scrambling downstream in search of the Santa Paula Canyon Falls, which I knew was near.
However, I had to scoot my way past a rather dicey ledge-hanging obstacle before finally getting to the bouldery area by the Santa Paula Canyon Falls at 10:55am.
There were two guys already here with one guy swimming in the crystal clear plunge pool or "punch bowl". The falls itself had a healthy flow and it dropped some 35ft or so.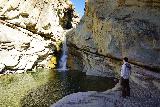 Unfortunately, after taking one video and a couple of photos with the iPhone, it finally ran out of juice and the screen went black.
So from here on out, I wouldn't have the map detail of Gaia GPS to guide me anymore.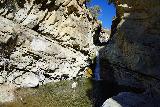 In any case, the falls was mostly in shadow but it was contasting with the bright western wall, which made it a bit harder to take pictures. So I lingered around here to take more shots while having a brief break with a tangerine and some water.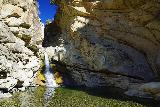 I also chatted with the guys here about whether there were more punch bowls and waterfalls further upstream beyond this waterfall. It turned out that these guys were apparently familiar with this place as they told me how I would reach them (something about keeping left at the first junction then keeping right at the second).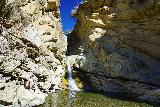 They also told me that this place was as beautiful as it had been in quite a while because there used to be a lot of graffiti all over the rocks neighboring this waterfall. But now they've been sandblasted so we were all basking in the scene while waiting for the lighting to improve somewhat.
We also chatted a little about some of the other hikes in the area, where they told me that the authorities bulldozed the trail leading to Tar Creek as that trail had been closed due to endangered California Condors choking on human trash left behind from people pursuing the waterfalls there.
It was too bad the authorities had to do that, but the story of tagging and trash was all too familiar as information about these places became easier to come by.
By about 11:30am, I had my fill of the Santa Paula Canyon Falls (which I've now come to associate it with being the "Lower Punch Bowl" seeing that the locals made me aware that there was a bigger one further upstream), and proceeded to go up the steep path that one of the locals talked about.
When I went up that trail, I saw that there was some rope put in place I guess to help with the descent, but now I started to wonder if I had missed the actual trail, which was the path that I'm now taking.
When I got past the rope and reached an intersection, I saw that there was indeed a trail leading to the right (back towards the side drainage that I had scrambled in), but I went left to continue above the Santa Paula Canyon Falls in pursuit of more waterfalls and punch bowl swimming holes.
Once I reached the top of the Santa Paula Canyon Falls, I checked out some precarious ledges looking right down at more pools ("punch bowls") as well as more cascades. I wondered how people managed to get down in there, but I wasn't going to tempt fate as I was content to document my experience from up here.
Then, I continued further upstream as Santa Paula Creek started to calm down and the trail started to meander a little further away from the creek itself while also starting to climb again.
This part of the hike definitely left the shade and it was getting me to sweat quite a bit more, but eventually after getting past a few more fire pits (I guess these were additional campsites), I then reached what appeared to be a confluence of two creeks.
First, I kept left to continue on what was clearly Santa Paula Creek, but after trying not to get my feet wet around some pools and precariously-situated rocks, I finally reached a hidden waterfall as seen from an interesting alcove-like overhang. It was now about 12:05pm.
It didn't look like I could keep going at this point so I was content to document this experience, but I did wonder if I was supposed to wade up this waterfall somehow (though I wasn't prepared with Keens or Chacos at this time), and the rocks up there looked slick.
I wasn't sure how deep the water was, but I didn't feel like I could safely leave the day pack behind and attempt to wade with an expensive camera. The last time I tried this, I ruined the camera at Grizzly Bear Falls in the Black Hills.
So I thought better of it and turned back to pursue the other drainage. When I got there, I saw that there was no trail but the sloping embankments weren't too steep that I could reasonably follow the lighter-flowing stream up to what appeared to be a thin waterfall up ahead.
Eventually at 12:25pm, I finally arrived at the base of the thin unnamed waterfall, but not before I had to carefully walk beneath the ominous buzzing sounds of a hive of bees in the area. I definitely didn't want to disturb what was going on up there, but I also needed to scramble past more thin branches and watch my footing since the terrain was slick and covered in leaves.
This waterfall was way taller than the main Santa Paula Canyon Falls, but it was thinner and flowing more like Escondido Falls. So I took my time documenting this experience, but the whole time, I was wondering where this slanted waterfall with rope swing was that apparently had eluded me.
I'd imagine that this particular waterfall doesn't quite get the notoriety of the ones I saw on Santa Paula Creek because this was on a separate drainage, which was thinner flowing. But I could imagine just how much more of a main attraction it would be had it benefitted from the more reliable flow of Santa Paula Creek.
As I had my fill of the unnamed waterfall, I then scrambled back and decided against going back upstream towards that hidden waterfall by the grotto-like overhang again. It was getting late in the afternoon and I wanted to have one last go at the main Santa Paula Canyon Falls now that I'm sure it would be fully lit by the afternoon sun.
Eventually at around 12:50pm or so, when I got towards the punch bowls and waterfalls just upstream from the main Santa Paula Canyon Falls, I saw the same two guys that I had chatted with earlier, but they were on the other side of the creek.
So I crossed the creek (with the aid of my trekking poles which have proven to be quite handy on this hike), and then I met up with them again.
I asked about the larger punch bowl that I wasn't able to find, and the older guy told me that I actually had to wade in the water past that waterfall, which was kind of what I had suspected but I just wasn't ready for it on this day.
Then, I asked about the water slide, and he walked me over to a small series of slanted cascades with some smaller intermediate plunge pools.
It took a little bit of imagining, but after having seen the Papaseea Sliding Rocks in Samoa, I can see how this is a more modest series of water slides in that vain.
Somehow I had envisioned the larger slide that I saw on a local website about the punch bowls here, but this smaller water slide I guess was the more accessible one. He did try to get me to go for the larger punch bowl that I didn't bother doing, but I'll have to punt that for another day when I am ready with a GoPro and some water shoes while I can leave the expensive camera and other sensitive stuff with Julie while I'd pursue it.
I don't know when that will be, but at least I know where it is now, and I'm confident that there doesn't have to be that much rain to even get up there seeing how deep the water can get just off a single rain storm.
After some more chatting with these guys, they were going to pursue further upstream before it would get dark, but I was headed back. So by about 1:15pm, we were done chatting, and after spending some more time looking down at the "second" punch bowls just above the main Santa Paula Canyon Falls, I finally got back to the main Santa Paula Canyon Falls at 1:45pm.
Now, as I had suspected, there was nice afternoon lighting, but even more impressive, I was all alone for a good deal of time as I was busy basking in the moment taking shots with the tripod while also finishing up the snacks that I had brought with me – some farmers market clementines and a couple of organic jerkies.
When I was about to leave at 2:15pm, there were three guys that showed up. They apparently went up the much harder path along the Santa Paula Creek to get here, but they all asked me if there was another trail and I confirmed that there was.
They didn't seem to have a good time with the difficulty of the hike, and I assured two of the guys who were Latino that I'm heading back up to the Big Cone Camp so they can follow me back.
Meanwhile, there was a Caucasian guy who wanted me to take a picture of him swimming underneath the lower punch bowl. I happily obliged and it was nice to see how happy he was cooling off after the long slog that he had to go through by taking the creek route to get here.
Finally when I was ready to go, I went back up the rope-assisted steep path to rejoin the trail, and then I took the trail back down to the side stream that I had scrambled upon earlier this morning.
Clearly, this was the trail I had missed because there were now signs keeping me on the trail.
Even when I got down to the side creek, there were signs telling me to cross it, and when I went back downstream to the descending point of the trail, I guess in hindsight, I should have stuck with the trail instead of scrambling downstream.
Now I know better.
When I got back up to the Big Cone Camp at 2:30pm, I spent some time looking for a more top down view of the Santa Paula Canyon Falls. The two Hispanic guys actually briefly followed me to the camp and then waited to see where I was going, but I think by now, they figured out where the rest of the trail was going and that I was just on a side excursion.
After getting my shots, I then went back down the main trail as the afternoon shadows were growing longer.
It didn't take long before I caught up to and passed the guys that I helped out and waved at them as I continued the long day hiking back towards the Santa Paula Canyon Trailhead.
I did see a handful for more people going up Santa Paula Canyon this late in the afternoon, and I wondered if they were going to be caught in the dark unless they weren't going very far (or at least just to the Lower Punch Bowls before turning back).
I also noticed some things on the way back that I didn't notice before like some steel cables on the ground, but it turned out that when I got back to the main trail and some signage, I apparently took some detour inadvertently.
Anyways, by about 3:25pm, I made it back to the stream crossing closest to the last of the oil derricks, and by 3:55pm, I finally made it back to the car at the Santa Paula Canyon Trailhead.
There were definitely more cars parked here than earlier in the day, and as I was taking off my boots and changing into my Chacos while unslinging the pack, I did hear some sounds of broken glass shattering.
A few minutes later, there were four gangster-looking guys coming up from the road bridge and walking kind of towards me before going to their car. I nodded to them (not sure if I was going to get mugged or not), and then I heard some miscellaneous Spanish (like "palabra" or "word!") but other than that, no harm no foul.
When they left, I did hear their car scrape the underside of the bump at the trailhead's road entrance, which I had to look forward to with my low-clearance 2wd, but I did study how I could angle the car to minimize another episode of undercarriage scraping.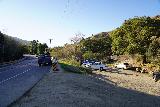 Finally at about 4pm, I headed out, and now that my iPhone was able to charge again, I returned Julie's text and call as she was making bookings for our last-minute Carmel and Big Sur trip that was happening tomorrow. But we had to pick up the rental car today so we'd be ready to go tomorrow. Fortunately, Mom could help her by taking her there so Julie could pick it up while I was away.
She told me that there was only a small-sized SUV so we'd have to get back to the limited trunk space again, but since Tahia wasn't joining us on this trip, I guess that was ok since we shouldn't be bringing as much stuff.
By 4:20pm, I was caught in a bit of a traffic jam within Santa Paula as apparently afternoon rush hour was in full effect and the traffic lights here didn't seem to help much with the traffic flow.
Eventually by about 4:25pm, I finally made it back to the 126, but now I was headed east. Along the way, I overheard on the radio that there was some traffic on the I-5 in Commerce (it was "very busy") so I decided that perhaps I should extend the drive a little more and take the 210 east to the 605 south.
And after quite a bit of time, it seemed like the right thing to do as the drive was very smooth. Unfortunately, when I got to the about the last 8 miles on the 210 East before going to the 605 South, the traffic was very heavy there.
So I guess extending the drive just to avoid traffic didn't seem justified. And when I got to the 605 South, it was smoother, but it also had some sluggish spots.
Thus, in the end, it was about 6:20pm when I finally made it home just when my Mom and the kids were about to leave for her place. In hindsight, I should have just ate the delays from the traffic jam and shorter distance on the I-5 and perhaps I might have gotten home a little earlier (the worst-case would be about the same time but at least I wouldn't be wasting gas or chasing my tail on false detours).
But at least with my sore body, I was in pretty high spirits that I had finally seen for myself what the hype was all about concerning these Santa Paula Canyon Punch Bowls, and now I'm wondering if I should consider this even better than some of the other waterfalls I had put on our Top 10 So Cal Waterfalls list.
That's something I'll have to address in due time, but for now, it was time to finally have a real meal as well as needing to pack and get ready for the long drive and weekend trip tomorrow…
Day 2 (February 6, 2021 – Carmel Highlands, California): "Assessing The Situations"
It was 5:45am when we awoke after hitting the snooze button a couple of times.
With this being the second consecutive day of early wake-ups after going for so many other days sleeping in until 7am due to COVID-19, I guess the body really wanted to stay in bed a little while longer.
However, I knew that daylight was precious with the shorter days of Winter (though the days are now getting longer until the Summer Solstice) so I made myself get up, get dressed, and then made a kefir breakfast as usual with fruits and nuts.
Eventually, after Julie got up and got her stuff ready to go, I took some time to load up the car. So it wasn't until about 7:45am when we finally left the house and proceeded to make the long drive up to Carmel and Big Sur.
We opted to make this last-minute decision to go up here because we needed a place to go for Valentines Day, but next weekend's spots were all booked solid, including Carmel and Big Sur.
We had entertained going south towards San Diego County, but it was too dry to hunt for waterfalls this year seeing how dry it and how less water we saw in the Santa Monica Mountains there were last week. However, I saw that the Bay Area and the Central Coast had gotten significantly more rain so that gave me hope that the waterfalls should perform better up there.
Anyways, Julie always wanted to try staying at the Hyatt Carmel Highlands Inn, which we would pass by all the times we were visiting Big Sur over the years so now was our chance to finally get a chance to stay here using our Hyatt Points.
In any case, the drive through the I-5 all the way up to the 46 to Paso Robles, and then to the 101 North went by pretty much without any complications except for the odd CHP waiting to nab speeders.
In fact, we were making such good time that we actually made it up to Carmel and circled a couple of times before we finally found a parking spot, which were hard to come by. In other words, we finally stopped the car at around 1:05pm.
I reminded Julie about a Portlandia episode about the parking situation causing a date to go awry (more like it ended as they looked for parking all night long until it became daybreak), and so I instantly thought of that episode when we were making our rounds.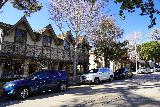 Anyways, Julie wanted to have lunch at this place called Flaherty's, but after seeing how closely seated people were and how many people were waiting to eat lunch, it just didn't feel safe given all the COVID spreading around despite Gavin Newsom being under pressure to open things up in California again.
He's obviously in a no-win situation, and there are just too many people who value making money over public safety, and it's definitely the rich who are the biggest proponents to recalling him.
I say this all goes back to how we make money (which generally involves being an a**hole to someone else or to the environment or both). So we're pretty much a nation of a**holes because our economy drives us to be that way since we already know what the consequences of not having money does to people.
And until the rules of the economic game keep going the way they're going without being realigned with what people truly value (clean environment, respect for one another, and equal opportunities), then the way we make money will continue to make us a**holes and only the people with economic say are pretty much a**holes with the ones having the most political influence tending to be the biggest a**holes of them all.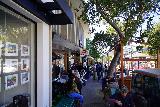 Anyways, Julie had already called in her order for Flaherty's to go so we wouldn't be subjected to the people being close together, and eventually we'd awkwardly eat in the car a hearty dish of Cioppino, some clam chowder, a seafood paella, and a half-dozen of oysters.
We were all pretty full by the time we were done eating, but we decided to do a little walking around Carmel since it seemed like a decent place to walk around.
So we did a few random blocks while squeezing past some people crowding at the restaurants or waiting in line at sweets shops.
Unfortunately, some people didn't bother wearing masks while conversing in high foot-traffic areas, and there were even people in front of a library openly trying to pass out flyers and get signatures to recall Gavin Newsom. Since Carmel was a rich area, I didn't find this surprising since wealthier people tend to prefer the status quo (why mess with your means of income?) and vote Republican or have "free market" sentiment in that direction, and clearly their position is economy above public health.
Anyways, we did wait in line at the Carmel Bakery since Julie had an ice cream craving (but didn't end up getting one herself because they didn't have sorbets; but the Cookies n' Cream were pretty good as they were churned from Marianne's in Santa Cruz).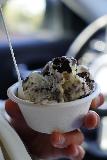 I noticed that Marianne's reminded me of McConnell's in Santa Barbara. I guess it's a Coastal California thing for premium ice cream.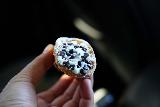 I didn't feel safe eating the ice cream unmasked in such a crowded area so we took it back to the car to finish off the desserts at 2:50pm before finally heading out ten minutes later. COVID-19 traveling definitely induces a bit more anxiety because all it takes is one a**hole disregarding the public safety aspect and become a disease vector for spreading the virus, especially without wearing masks and respecting social distancing.
Then, we drove south along the Hwy 1 as we saw hordes of people crowding the road shoulders and parking spaces in pursuit of any beaches that people could find on this beautiful sunny day.
But eventually at 3:15pm, we finally made it to the Hyatt Highlands Inn, where we promptly checked in and then went to our room to sanitize it and unload our stuff there at 3:25pm.
So we took some time to get settled though Julie really took the time to nap (even though she was supposed to do some research on some dinner spots in town). She did notice there was a place called Le Souffle in Carmel, and we wondered if it was related to the Le Souffle place in Paris that pretty much ruined souffle experiences everyone else because they were on another class.
However, there were no availabilities for tables this weekend, and it wasn't the kind of place that you would order takeout for. Thus, Julie was bummed about that and now it was becoming an experience to do in the future (whenever that will be).
Eventually, we finally decided that we would pursue McWay Falls before sunset, and we hoped that it wouldn't be too busy down there given the big Rat Creek washout from the rain over a week ago.
So at 4:15pm, we headed out, and after driving south on the Hwy 1 for the next 33 miles or so, we'd eventually park along the road shoulder of Hwy 1 just outside the Julie Pfeiffer Burns State Park entrance at 5:15pm.
This was just in time for the sunset so we promptly walked along the road up to a couple of lookout spots peering right down at McWay Cove and the people crowding down there (not wanting to stand down there waiting for sunset due to COVID-19).
There was one Indian couple that was already up here where we joined them and then pursued some alternate spots to try to capture the McWay Falls and the sunset at the same time.
Unlike the last time we were here in November 2018, at least fog didn't ruin the sunset though there were clouds in the distance that muted the sun from sinking all the way down to the ocean horizon.
After the sun had sunk into the clouds, we then walked down to the main lookout area for McWay Falls.
Along the way, I noticed that a fork in the road near the main parking area was closed while I also noticed that the Pelton Wheel exhibit was also closed (likely due to COVID-19 again).
However, we continued along the familiar tunnel and then cliffside walk to the overlook where it also looked like the path leading to the Waterfall House ruins was also fenced off again.
I wondered if that thing will ever re-open again since it had been over 2 years since our last visit when we noticed its closure back then.
I could say the same thing about the other trails in the area, including Canyon Falls, which I'd imagine might have also been impacted by more fires even though it appeared to be almost done rebuilding the bridge over McWay Creek the last time we were here nearly 2 years ago.
Not wanting to linger around with people around (many of them with tripods) and a couple of people didn't have masks on, we didn't stay for long and then went back up to the car by about 6pm.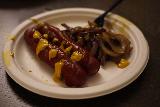 By this time, the clouds in the horizon were purple, and we were pretty much twilight driving northbound on the Hwy 1. Eventually, we made it back to the Highlands Inn where there was one more parking space than last time so we used that opportunity to back in so it would be easier to get out of our tight parking spaces come tomorrow morning.
But as far as the way this short trip was starting off, we pretty much got at least one waterfall in, but it seemed like tomorrow would be the big day when it comes to trying to see new waterfalls that we hadn't seen before – Garland Ranch Falls and perhaps a redo of the elusive Andrew Molera Falls (which thwarted me back in Spring Break 2019)…
Day 3 (February 7, 2021 – Carmel Highlands, California): "The Stupid Bowl"
It was about 6:35am when I woke up without an alarm. Just outside, there was already daylight though it was still early in the day so the rolling fog outside had a slight tint of purple or pink against the dark blue skies.
It took some time for Julie to wake up and get ready while I was busy seeing what I had written yesterday just to see if I had written gibberish from being tired after a long day of driving.
Anyways, after a brekkie of eggs, avocado on untoasted bread, raspberries, and blackberries, we were finally in the car by about 8:15am.
By this time, the rolling fog really came in rapidly and it was quite an interesting thing to see how quickly the clouds were moving so close to the ground.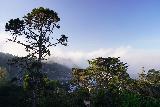 After Julie was finally ready to get into the car by 8:25am, then we headed back towards Carmel Valley in pursuit of the Garland Ranch Falls, which was in the Garland Ranch Regional Park.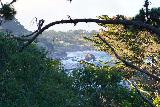 We never had a chance to stop for this waterfall in all the times that we've been to Big Sur, but it had been a while since we expected that there would be water flowing there. So it wasn't like we weren't aware of it, but the timing never worked out for us to go check it out when we had all these other competing priorities.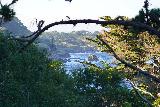 However, with the heavy rains that came a little over a week ago, we thought that perhaps that might be the injection of water needed to time our visit to see this waterfall. I had read that some parts of the Bay Area and the Central Coast had gotten nearly 6 inches of rain from the previous storm though it was disappointing that any forecasted follow-up rains that were supposed to happen this past Wednesday never came to fruition.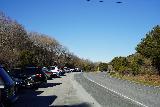 So we drove back towards the Carmel Valley Road, and then we turned right and took that road into the Carmel Valley, which seemed to pass by several farms and orchards.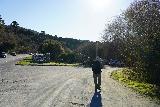 Undoubtedly, these things were fed by the Carmel River, and I wondered if this valley was like the fruit basket of Carmel considering that the rest of the area was pretty much cliffs and was practically inhospitable for sustained civilization.
There was even a Farmer's Market since today was a Sunday though we didn't stop for that. Instead, we stayed committed to driving towards the Garland Ranch in pursuit of its waterfall that we had never visited before.
Finally by about 8:45am, we arrived at some parking spaces along the Carmel Valley Road for the Garland Ranch Regional Park. It turned out that there appeared to be a more official entrance just paces from where we had parked, but at least we had the benefit of some temporary tree cover (though we knew it wouldn't last as the sun would continue to rise).
But after we had gotten ready and started on the hike, when we descended the main road entrance, we saw that there was a long parking area. However, there was a seasonal bridge as well as an entrance that was not open.
Upon seeing that we were walking along the parking lot, there was one older couple that told us that if we wanted to pursue the waterfall, we had to backtrack towards a permanent bridge to cross the river. From there, we could then take the trail following the other side of the river towards the visitor center to eventually pursue the waterfall.
So after thanking that couple, we promptly headed back in the other direction along a trail that was just underneath the roadside parking embankment.
Then, we got to a wider bridge that seemed to accommodate service vehicles where there were surprisingly some paper maps available, which we needed as I could tell this park had a lot of criss-crossing trails.
Anyways, we after crossing the bridge over the Carmel River, we kept left at the next trail junction.
From there, we followed a well-used trail where people were coming back at the same time as we were going there. Indeed, this place felt popular and I wondered if our efforts at timing our visit would pay off for the Garland Ranch Waterfall.
We had to ignore the spurs to the right leading to the Lupine Loop and the Sycamore Trail among other places, and soon thereafter, we arrived at the visitor center. There were quite a few exhibits about the local vegetation here as well as some picnic tables and interpretive signs.
We then proceeded to continue along the trail paralleling the Carmel River as it passed by more trail junctions and we passed by more hikers that were headed back already.
Thankfully, most of the people were wearing masks so people were definitely heeding the signs and doing the right thing in the interest of public safety.
Eventually, we crossed a even more trail junctions until we reached a fork where we weren't sure whether to take the trail descending on the left or keeping right onto an ascending trail.
Right then and there, a couple was coming out of the lower trail, and upon us asking them which way was the waterfall, they said that the ascending trail was the continuation of the waterfall trail.
However, the trail that they came from went down to the Carmel River where they said there were some nice rapids there.
After thanking them, I took a mental note to go down to that spot to check it out after the Garland Ranch Falls experience. However, that couple did warn us that the waterfall we were pursuing didn't have water right now.
Alas, that was bad news since I had hoped that a week after the big rain storms last week there would be some sustained waterflow in the minor drainages. I didn't want to believe that barely a week later, the waterfall was already dry.
In any case, it only took a few more minutes of uphill climbing and going past the Mesa Trail junction that we then went along a ravine that had no water in it.
Soon afterwards, the trail ascended towards a bridge over that dry stream and then the trail ultimately ascended to the base of the dry Garland Ranch Falls.
Sure enough, when we got there at about 9:40am, it was quiet. There was not even the sounds of trickling water, and I already resigned myself to the fact that we'll have to come back and time our visit another (much wetter) year when we can time our visit for this falls to be flowing again.
Nevertheless, even though there was no water going over this falls, it did look interesting, and it would have been quite the beautiful spot had we had a little better luck with the waterflow. So we at least had that to look forward to some time in the future.
Anyways, I did a little more exploring by going up the steps facing the waterfall, and then I saw that the trail continued to climb out of this ravine and probably eventually to the source of the waterfall. But without any water, I really didn't have any interest in prolonging this excursion in that direction.
So after having my fill of this falls and the brief exploration higher up the trail, I then rejoined Julie down below. Eventually, we went back to the familiar junction where we then kept right to see what these rapids (that the couple we met talked about earlier) were all about.
Eventually at 9:50am, we got to the attractive rapids on the Carmel River though we were kind of looking against the morning sun.
Since the Garland Ranch Falls was disappointing on this visit, this nice rapids by the flowing river kind of made for a better show and experience, and so we lingered here for a bit.
Eventually, we had our fill of the rapids by about 10:05am, and then we followed the same trail that we had taken on the way here all the way back towards the trailhead.
By this time in the morning, there were a lot of people seemingly headed in the other direction, which I'm sure would have made for a more tense experience considering the COVID-19 risk. So we were glad that we had gotten a reasonably early start today.
Ultimately by about 10:35am, we made it back to the parked car after going straight up to the Carmel Valley Road instead of taking the trail below the road embankment, which had a lot more people going back and forth there.
So the original plan was to drive towards the Andrew Molera Falls and make an attempt to find that place where I had failed two years ago when we tried to go there on Tahia's Spring Break to the Bay Area.
However, it dawned on me that perhaps we should go back to Carmel By The Sea instead since it would be easier to find parking at this time in the morning.
Moreover, we shouldn't have any trouble finding a place for takeout lunch or even a dine-in experience outdoors before the town would get busier since most establishments would just be getting started.
We were probably scarred by yesterday's very busy and crowded experience full of social distancing anxieties, but when we finally pulled into a parking spot on Ocean Ave at 11am, we saw that there weren't nearly as many pedestrians on this day.
hether this was due to our early arrival or because it was now a Sunday as opposed to a Saturday, it was welcome news for us.
Anyways, Julie wanted to check out this French place called La Bicyclette where she had an escargot craving. So we headed in that general direction on Dolores St. and then we saw that there was a line waiting for this place to open up.
So by about 11:10am, I waited in line while Julie went ahead to see if there was escargot on the menu.
I had this flashback of a Portlandia episode where people were waiting forever for this place called the Fisherman's Porch on the Brunch Village episode, but this wait for the restaurant wasn't nearly as exaggerated as that. Still, I wondered if that willingness to waste time to wait for a place just to have some particular kind of food was justified.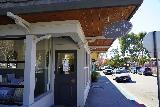 Well, after a few minutes of waiting, it turned out that Julie found out that this place didn't have escargot on their lunch menu.
So she decided that we should backtrack and either go to the Aw Schucks place for fresh oysters or look for another French place in town in pursuit of that elusive escargot.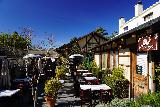 Well, Julie eventually found on Yelp this place called L'Escargot and that it was in town. So we went ahead and pursued this place thinking that perhaps we might have a lunch there.
However, as we pursued this restaurant, we had to walk further north of the main drag along Ocean Ave towards 4th Street, which was now well into a residential area.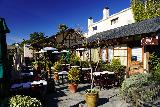 I started to wonder if Yelp was wrong or something though we did see Le Souffle restaurant on the street corner of 5th and Dolores.
Of course, at Le Souffle, we saw that there were only three tables outside. So no wonder why we didn't stand a chance of dining at this place on this trip.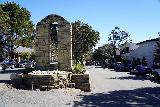 Anyways, we continued up to then along 4th Street until we got to Mission. However, after looking around this street corner, we couldn't find L'Escargot. We only saw residences and sharehouses right at the intersection.
But after I decided to walk downhill back towards the main drag, that was when I found L'Escargot. The tables there didn't look like they were set up, but we did see that the door towards the facility was open.
It was about 11:30am when we got to L'Escargot, but it turned out that this place wasn't open anyways after talking with the proprietor there who happened to be there at the time.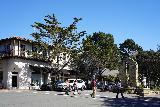 That said, we asked if we can make a dinner reservation tonight, and upon a affirmation, we committed to 5pm.
So that really stoked Julie as she was looking forward to having legitimate French food while in Carmel.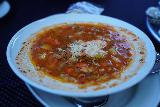 Even though we wouldn't be having a redux of that Le Souffle experience in Paris that we thought had ruined it for every other souffle experience thereafter, we at least had that to look forward to some time in the future perhaps.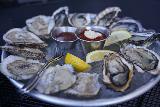 Anyways, we then headed back towards Ocean Ave and then we headed back towards the Aw Schucks restaurant for the oysters.
We ultimately got there at around 11:45am, and at first we thought we were going to eat takeout there. But then when we saw that there weren't that many people dining outside.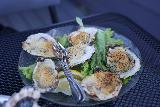 So I changed my mind and we ultimately told them that we should eat there instead.
As we were seated, it was getting a little bit chilly in the shade here, but at least we were pretty isolated from other people and the passer-bys. That's because the tables were well away from the sidewalks so there was definitely less of a COVID-19 risk here.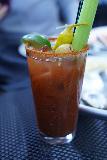 We ultimately decided upon ordering a dozen of raw oysters as well as a half-dozen of broiled oysters in cheese, a Manhattan-style clam chowder, and a Bloody Mary's since that was apparently the drink that this place was known for.
The lunch was light though it costed us $80 in cash since their credit card system wasn't working. Still, we had our greens of lettuce as well as the celery stick that came with the Bloody Mary's (which I thought tasted like an alcoholic V8).
Of course, we enjoyed our oysters, and they actually gave us a baker's dozen of oysters where we had 6 of one type and 7 of another type. Whether that was intentional or not, it was nice of them to let us have that extra one.
Anyways, by about 12:20pm, we were done eating at Aw Schucks, and then we went right into the Doud Arcade to see if we can pick up some souvenirs or gifts to give to our next door neighbor (for watching our packages left on our door) and for our parents for watching Tahia while we were away.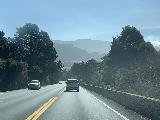 After having our fill of the attractive Doud Arcade and the souvenir shopping, we then headed back to the car as we got there at 12:35pm.
At this point, we drove out towards the Andrew Molera State Park in pursuit of the elusive Andrew Molera Falls.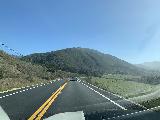 Our time in Carmel didn't feel terribly crowded like yesterday, and even the Hwy 1 wasn't nearly as busy as it was yesterday either.
We could tell by how much fewer cars were parked for the beaches here as well as how much less traffic there was as we cruised along the twisty Hwy 1 drive.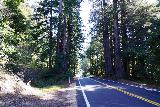 Ultimately by about 1:15pm, we finally got to the familiar obscure gate fronting the apparent starting location to look for the Andrew Molera Falls.
This time we parked in some informal pullout space just north of the "road" fronting the locked gate, but Julie stayed in the car once again.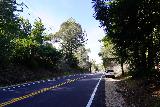 In the mean time, I geared up knowing that I was probably going to get a bit dirty scrambling to this elusive spot.
At least I knew from last time that following the road all the way up wasn't the way to the Andrew Molera Falls, but this time I'd have to look real carefully for any hints of scrambling paths leading into the overgrowth and towards the waterfall itself.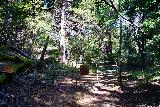 Just as I was leaving the Hwy 1 and going up the access road, I did notice that there was a car that was about to park in one of the pullouts around us.
I wasn't sure if this was a lemmings effect of someone trying to see what I was about to hunt for, but I pushed forward past the gate and kept my eyes trained to my right in search of any hint of scrambling paths now.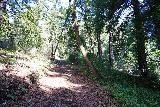 After a few paces past the gate, I did notice that there was an informal path leaving to my right, and so I immediately pursued it as it seemed like there was enough foot traffic to keep this informal trail going.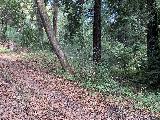 However, it didn't take long before I reached a fallen tree obstacle, which wasn't terribly obvious to get up and over. Clearly this fallen tree would have already thwarted other would-be explorers that probably wouldn't be aware of how else to keep going without persistence.
But after that, I then continued to follow the informal foot path until it eventually started to disappear into an overgrown area. It looked like it might have been possible to ascend up to some apparent space because the current trajectory I was on didn't look like it was the right way anymore.
So upon doing that, I then picked up another hint of faint "trails" that I proceeded to follow before it ultimately disappeared into an overgrown scramble, which was the very thing was afraid of regarding this excursion.
But I could still hear the stream tumbling and making noise, and I figured that it couldn't be that much further to get to the waterfall. So I was still determined to find this place even if it involved a lot of uncomfortable scrambling from this point out.
Even though Ann Marie Brown's descriptions made it sound like a pretty straightforward 10-minute walk, I knew that perhaps over the years, the redwood trees had fallen and pretty much obscured any trails that were once here.
A lot of the trees here had black scarring on them, which suggested to me that a fire or two definitely swept across here and probably undermined the soil (thereby facilitating the natural felling of these trees).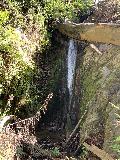 Indeed, the scrambling wasn't easy, and it was also becoming more dangerous as I started to notice small dropoffs on the unstable embankments of the stream.
There were so many fallen twigs and trees that it was easy to make a misstep and fall into the dropoffs potentially causing injury.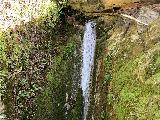 So I made sure that each of my steps were sure and steady even though my face, legs, and arms were being whipped and scratched by the twigs of the fallen trees as I was scrambling.
Eventually, I started to notice a turn in the stream while the sounds of falling water seemed to be getting louder, which motivated me to keep pushing forward.
And ultimately by about 1:50pm, I finally started to see parts of the Andrew Molera Falls though there were lots of fallen trees all around it essentially concealing its location.
So after a few more minutes of very precarious scrambling on some fallen trees and being very careful about where I'm placing my weight upon, I ultimately got right into the base of the Andrew Molera Falls directly underneath a fallen tree that conspired to conceal the upper part of its drop.
Because of that fallen tree, it was hard to get a good photo of this falls, but I also noticed that there were two more trees leaning precariously over the falls almost threatening to fall as well.
I figured that it was probably just a matter of time before those trees would fall and obscure the scramble to the Andrew Molera Falls even more as Nature was on the verge of reclaiming this spot.
Anyways, I took whatever time I could to enjoy the fruits of my hard labor scrambling to this spot. And once I had my fill of this spot at 2:05pm, I then had to face the route-finding scramble back to a semblance of a "trail" on the way back.
However, as I was making this route finding scramble through the dense overgrowth, I ultimately picked up what appeared to be a different "trail" that went further away from the stream and eventually to the familiar unused road.
And sure enough, after a few more minutes of pursuing this path, I got back to the road at around 2:20pm. This was a different access point than the one that I took earlier, and it was right where the unpaved road bent away from the stream.
By this time, I decided to go back up the road just to see if there were any more clues of possible easier accesses to the Andrew Molera Falls than the ones I had taken.
However, once I got back up to the familiar clearing and picnic tables at 2:25pm, I ultimately concluded that no other accesses existed.
At least I saw a pair of condors circling overhead in the distance from here, and I also heard some child yelling or yelping or something as apparently I wasn't alone.
After a little more exploration to see if there were any other trails leaving this clearing, I ultimately decided to head back and rejoin Julie at the car.
But just as I was doing that, I saw there was a family of four females. Among them was one kid who went up to me and said "Hi!". There was also another younger adolescent who wanted to show me some cool looking red mushrooms that she spotted.
It turned out that this family must have been familiar with this area because they were looking for edible chaparral mushrooms, and they showed me that they pretty much picked a whole bag of them.
They also didn't have masks as they probably didn't expect to see anyone here. I didn't have the presence of mind to pull out mine and wear it, but I kept my distance.
So after saying my goodbyes to this family, I then went back down the road, where I eventually rejoined Julie at the parked car at about 2:35pm.
About 10 minutes later (after showing Julie what I had seen), we then drove off and headed back towards the Highlands Inn though I did want to make a quick stop to see a sea arch somewhere near Palo Colorado.
This arch was something we noticed the first few times we went to Big Sur, but we'd always passed by it ever since over the years without photographing it again.
So I wanted to stop for it just this one time to see if we can capture it differently than how we did it before with our better equipment.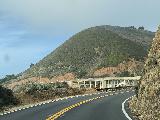 However, along the way back at around 2:55pm, we suddenly had to stop around a blind corner where there was apparently some kind of accident that seemed to have just taken place somewhere just south of the Bixby Bridge.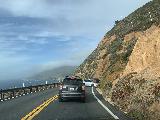 I was worried that someone speeding might on the Hwy 1 not stop in time out of the blind corner that we were stopped at even with my emergency blinkers on (the car in front of me didn't have theirs on).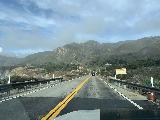 Fortunately, I was relieved that there was a pick-up truck that saw my emergency blinkers and stopped in time behind me so we at least could turn our blinkers back off.
After a series of cars passed by the accident scene going in the other direction, I then followed the car in front of me to get past this accident scene, which looked pretty bad.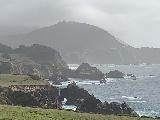 There were some young people that already called the authorities (or so it appeared) so we didn't need to linger and make calls to the authorities. Thus, after this brief interlude, we then eventually made it to the familiar sea arch pullout by Palo Colorado at 3pm.
There was enough space at this pullout so we could park backwards there though we did notice at least two cops speeding in the other direction undoubtedly trying to get to the accident site before it's all chaos over there.
After taking our shots of the sea arch (wishing I had brought my telephoto lens to bring the arch even closer), we eventually got back to the Highlands Inn at 3:20pm.
It turned out that we were the only people parking there so we had the entire parking lot to try to turn around and back in.
Once that was done, we then took some time to shower and get cleaned up for dinner tonight. Julie also took some of this down time to look at the dinner menu at L'Escargot in anticipation of what she wanted before seeing tonight's actual menu.
Eventually by about 4:40pm, we got back to the car (the parking area beneath our room was now full), and then we drove back towards Carmel By The Sea in pursuit of L'Escargot for our 5pm dinner reservation.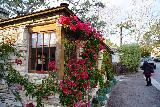 Since this place was a couple of blocks or so uphill from the main drag at Ocean Ave, we didn't have difficulty finding parking near the restaurant just minutes before 5pm.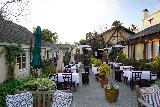 We noticed one home that had these charming flowers growing on a ivy on its walls, which kind of brought us back to Europe (though we noticed quite a few cute alleyways that had a bit of an English theme to it during these last two days in town).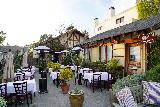 But when we got to the L'Escargot, sure enough, we were the first dinner customers at the restaurant so we had our choice of seating.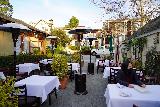 We picked one of the larger tables closer to the restaurant, and we were enjoying the fact that we were the only people here for relaxed socially-distanced dining.
The waiter said that they just recently re-opened this joint not that long ago because of the lifting of restrictions by the California Governor.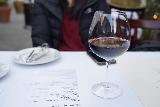 So I'm sure it must have been hard for the restaurants here. But the waiter also speculated that the light activity for dinner here was due to the Super Bowl (or "Stupid Bowl" as he called it).
Clearly those that were working or out and about at this time didn't care for the game (and I guess we can count ourselves as one of those people even though I'm pretty familiar with the NFL and American sports in general).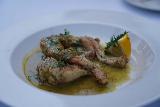 The waiter (I think his name is Sean) said that he was more into music, and we indulged him in talking to us about how he's playing the "hand pipe", which was a UFO-looking drum.
He also said that he played the flute and other musical instruments, and we listened to him intently because we knew that our daughter liked to play music as well.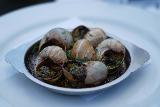 He recommended to us to give our daughter some private lessons on her clarinet playing because he found that playing wind instruments and being in a band were fun, and at some point, she'll probably get bored of playing the piano.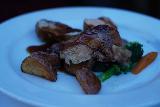 I could see where he was coming from about the "fun" aspect of playing wind instruments and being in a band, and hopefully, Tahia would get to experience that. Unfortunately with COVID, it was kind of hard to build that kind of cameraderie with other people, especially with online video games like Roblox competing for her attention.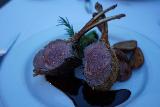 We also talked with him about how we found this place after checking out Le Souffle, which he said was a new place that just opened last September.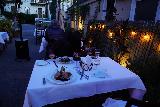 I wondered if this place was affiliated with the same-named place in Paris, but he had no experience with that place and was looking for feedback from people who would frequent L'Escargot, which was really more of a local's favorite.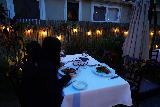 As a matter of fact, he said that L'Escargot was the oldest restaurant in Carmel By The Sea since 1958, and considering how well-hidden this place was compared to the rest of the businesses in town, it was nice that we stumbled upon this spot.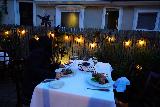 Anyways, we wound up ordering appetizers of frog legs in some kind of delicious sauce as well as classically-prepared half-dozen escargot with some cut up French bread to soak up the butter that the escargot was prepared in.
It was also handy to pick up the sauce that the frog legs were in as well.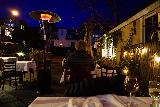 After the appetizers, we then had our mains of confit of duckling prepared two ways while I had a rack of lamb (though Julie was about to get me to order the Petrale Sole D'or, which was a fish dish.
We went with the rack of lamb based on the waiter's recommendation since the duck and the lamb were his go-to dishes over the years that he has worked there.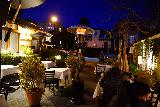 We also splurged on a couple of glasses of wine though we weren't wine connoseurs ourselves, but since we wanted to help out this place considering how long they had to remain closed as a result of the statewide order, we just ordered the glasses.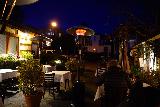 There were two other couples that showed up just as we were having our mains, but with some many other tables around, we were very socially distanced, and it was actually quite the relaxed ambience.
Again, with the Super Bowl going on, perhaps it was a good thing that we got to experience this dinner with such a chillaxed vibe instead of social distancing anxiety that we had to endure everywhere else since the pandemic started back in last March.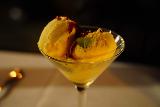 After having our mains, we then each had a dessert where Julie got a vanilla ice cream (actually two scoops) with raspberry coulis (a kind of sauce) while I got a warm brownie cake with a single scoop of vanilla ice cream.
Indeed, all the way through dessert, this dinner was as nice as a dinner could be in recent memory, and we were glad to have found this spot, especially with the Super Bowl drawing people out of the businesses in town.
Ultimately by about 6:45pm, we paid the bill and got back to the car.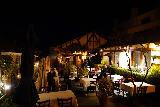 Then, after filling up at a local gas station, we then got back to the Highlands Inn at 7:10pm, where there were enough parking spaces to allow us to back into our spot so we could get going tomorrow.
For such a last-minute trip, Julie and I basked in the warm glow of the fireplace for one more night while we also reflected on what a nice day today had become.
Even though Garland Ranch Falls was dry, at least we know now when to time our visit to try to see it the next time we're here.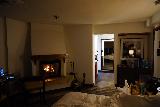 Besides, we now have an excuse to try to get to a table at Le Souffle just to see if this place is anywhere near the real deal in Paris.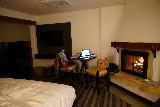 Tomorrow, we have the long drive ahead of us, and we were going to take the 101 all the way down through Santa Barbara and ultimately through to PCH so we can make one last go at the Circle X Ranch to see the main Grotto (which I missed out on last week).
After that, we then planned to indulge in Cuban food at Versailles (maybe buying extra leftovers so Tahia could have some when we pick her up), and then, we'd finally make it home from there.
But before all of that, I stumbled upon a mission on Google Maps that we didn't realize that we could check out at Carmel By The Sea.
So we mind as well make an early morning stop there for photos before making the long drive back (the museum itself is closed on Mondays and Tuesdays).
From looking at Google Maps, the San Carlos Borromeo de Carmelo or something like that (also called the Carmel Mission Basilica Museum) could be seen from the outside anyways.
And so I knew that tomorrow was going to be a long day, but this trip is all about tying up loose ends from unfinished business in the past, and I figured with Tahia having tomorrow off, it was the perfect time to do it…
Day 4 (February 8, 2021 – Los Angeles, California): "Ticking The Boxes"
It was about 6:15am when I awoke, which was just in time to start seeing the outdoors start to brighten up against the pre-dawn skies.
At the same time, I can already start to hear cars and trucks zooming by since the Highlands Inn was perched above the Highway 1 so clearly there were some people already out and about to get ready to work.
It took some time for Julie to get ready for the day, and she also wanted to prepare a last-minute breakfast of pressure-cooked eggs with some avocado and what was left of the fruits (mainly raspberries and blackberries).
So it wouldn't be until about 8am when we finally left the Hyatt Highlands Inn accommodation for good and we started to head home.
But just as we drive towards Rio Rd, we then turned left to check out the Carmel Mission, which was something that we missed completely the last couple of days.
Still, at 8:10am, we managed to find street parking and then walk to the empty parking lot to take pictures of the nice courtyard fronting the facade of the mission itself.
Maybe one of these days, we might bring our daughter here to show her another mission and learn a little more about the history of California.
At 8:15am, we then continued our drive back towards Salinas and eventually back to the 101 Freeway.
This time, we took the 101 Freeway directly to Santa Barbara instead of going back to the I-5 heading east of Paso Robles.
The drive was fairly stress-free as we cruised the 101 South trying to keep right except to pass (though I do find it bothersome the amount of California drivers that prefer to clog the passing lane).
Of course, with long drives like this, I also had to pay close attention to CHP looking to nab speeders.
Ultimately at around 12:10pm, we managed to park near the city hall of Santa Barbara for an anticipated lunch break at the Lilac Patisserie.
This gluten-free bakery was always something Julie looked forward to, but we worried about how this place would be affected due to COVID-19 since we knew this establishment had a deep and narrow interior and the sidewalks were not really conducive to eating out.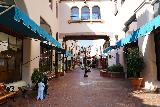 But as we had driven to the parking structure (which was free today) and noticing that they closed the main drag through downtown Santa Barbara, I guess that explained how outdoor dining could be accommodated.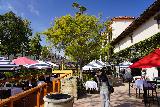 So that was nice to see, but as we walked this main drag in pursuit of the Lilac Patisserie, we were actually concerned about how dead the town was.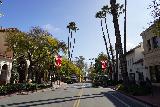 Whether this was due to the fact that this was a Monday (even if many schools had today off) as opposed to the weekend (I'd expect this place would be packed on Saturday or even Sunday), or if this was a deeper issue with COVID-19 hitting SB hard was hard to say.
Ultimately, we would find the Lilac Patisserie at 12:35pm, and we saw that there were plenty of outdoor seating right on the street.
We also splurged on buying a Belgian Waffle, French Toast (or pan perdu [aka "Lost Bread"] as they'd say in France), and Quiche Lorraine.
We also got some blueberry tarts and cakes to go (including the flourless chocolate cake and some kind of blueberry cake that they were known for).
On top of all of that, Julie got a coffee.
The whole thing costed about $100 and we probably paid at least $40 of that amount of the desserts.
But in Julie's mind, it was worth the splurge because gluten-free spots are hard to come by for her, especially if they serve up pastries.
So she always looks forward to coming here whenever the opportunity presents itself.
After our rather indulgent lunch, we left and decided not to indulge more with more ice cream at McConnell's (another Santa Barbara institution).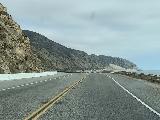 We eventually got back to the car at 1:20pm and left five minutes later after doing one last bit of business with using the bucket toilet and junking the bag.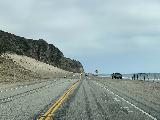 The drive resumed south along the 101 from Santa Barabara, where there was noticeably a lot more cars on the road though the pace of the traffic still flowed fairly smoothly.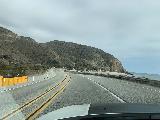 Eventually, when the drive went towards Ventura and Oxnard, we then got off the 101 Freeway and took some local roads that went south before it eventually became the Pacific Coast Highway (PCH).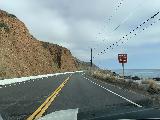 While the coastal drive had nothing on the dramatic scenery of Big Sur, it was still pleasing to see the ocean and some minor cliffs sandwiching the well-trafficked highway with some beaches in between.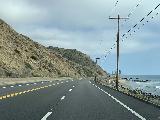 Heck, I even noticed one stretch where there was a sand dune (more like a one-sided hill) that some people took the time to climb up or even do sandboards.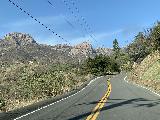 In all the times that we've driven this stretch, I never recalled such a thing (maybe I wasn't paying much attention to it), but it reminded me of the time we visited the Sleeping Bear Dunes in Michigan (though that place had a far more extensive series of dunes).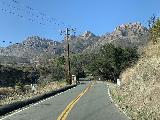 Eventually, we got to the familiar Yerba Buena Rd turnoff, which was just north (or west) of Neptune's Net, then we followed the twisty and narrow road up into the Santa Monica Mountains.
Ultimately, we came back to the Circle X Ranch, where we then learned from last time and took the rental SUV all the way down to the bottom where the Circle X Ranch Campground and Grotto Trailhead was.
We got there at about 2:40pm, which left me some of the remaining daylight to fit this hike in just so I can check out the Grotto, which we had apparently missed the last time we were here last week.
After quickly gearing up and leaving Julie to nap in the car, I promptly headed down the familiar trail past the burn zones and ultimately to the trail junction with the Canyon View Trail.
This time, however, I went ahead and explored this Canyon View Trail just to see what it was about.
After about 15 minutes, I could see that this ledge-hugging trail offered views of the drainage that ultimately descended towards the narrowing of the canyon at the Grotto.
With the late afternoon lighting, half the canyon was in shadow, but it was still a pretty sight, and I could see the appeal of doing this trail even though it wouldn't be the shortest hiking distance to the Grotto.
Nevertheless, according to my map, I could see that there was a separate trailhead entrance for the Canyon View Trail so I guess it could be another alternate to the Circle X Ranch trailheads.
Anyways, as I returned to the main Grotto Trail, I continued my familiar descent, which had far fewer people than our Saturday hike last weekend.
This time, I only saw one lady and her dog as well as a mother and daughter further down the hill. They were both on their way back up to the trailhead.
I eventually made it to the scrambling portion of the Grotto at about 3:20pm, where there was one family left. In a bit of deja vu, one person in the party didn't feel like making the scramble, but I could tell from the voices that there were other people in their party that did go down.
Ultimately, I found the part that I had missed before, and sure enough after I made my way down the pretty slippery and steep entrance (definitely not something that's easy to do if it's wet here), I joined the trio of people that were inside the Grotto.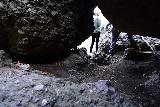 The father of the group said that he did the same thing I was doing, where we came back here just to see the actual Grotto after having missed it on the prior visit a week ago.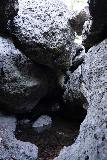 I guess we weren't alone in this thinking though it was still nice to experience this spot with far fewer people especially considering the COVID-19 risk and the confined spaces of that Grotto.
Anyways, that family made their way back up while I had this place alone for a few minutes.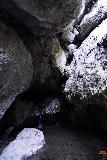 The water level now was noticeably lower than last week, and I guess this waterfall probably wouldn't have much more time before it would go completely dry (give it perhaps a few weeks).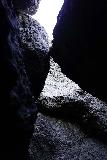 However, it was already disappointingly low waterflow to make it hard to photograph let alone video, and I'm sure at some point in the future, I'd like to come back when this waterfall would flow properly but not too high to the point that it was be dangerous here.
Still, after doing the obligatory photos and videos, I couldn't help but notice that the head of the large boulder responsible for this "Grotto" was wedged by cliffs above, including one point that was very thin.
I kept thinking to myself that if that thin wedge point gave out, this large boulder would crush anyone inside.
But then again, I wondered how long this boulder had been here because apparently this place was known even in Ann Marie Brown's book, which I'd imagine her visit had to have taken place possibly around 20-30 years ago.
Finally at 3:40pm, I had my fill of the Grotto and I carefully made my way back up.
During the solitary hike back up to the Circle X Ranch, I spotted Julie making her way down at around 4pm.
She said that she was trying to get some exercise after her nap so we walked back up together as she really didn't have much interest in going back to the Grotto anyways.
During our hike back up at around 4:05pm, Julie noticed that there was a waterfall with a streak on its wall that I thought was Botsford Falls at first.
But after walking further up the trail, it turned out that it was a different waterfall further downstream of what I thought was Botsford Falls. We got up to this waterfall at around 4:15pm.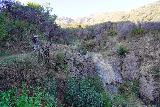 I can't tell which one is which anymore, but I still contend that Botsford Falls is the one directly underneath the Canyon View Trail junction.
It just goes to show you how every visit (no matter how much you think you already know) always yields surprises or oversights missed the first time around.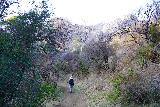 Again, I'd like to come back here when these waterfalls would be flowing, but that will have to wait for a wet year, and 2021's Winter definitely wasn't one of them.
Finally at about 4:25pm, we made it back up to the car and the trailhead, where the family that I encountered earlier was still there.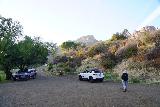 So with this bit of loose ends out of the way, we proceeded to drive back on the Yerba Buena Road towards PCH.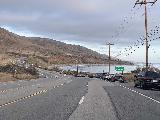 Then we followed PCH all the way to the start of the 10 Freeway, where we got to enjoy the impending sunset whenever we were stopped at the traffic lights.
With quite a bit of heavy traffic on the eastbound 10 Freeway, we then made it to Versailles Restaurant at about 5:40pm where we got our to-go orders here.
We noticed that they made their back parking lot accommodating for outdoor dining, which was interesting. But their food was pretty good for takeout food anyways.
So once that was done, then we faced the traffic again as we headed to Julie's Mom's place in Alhambra so we could pick up Tahia and then take her home.
In the end, we got to Julie's Mom's place at 6:30pm, and then it wasn't until 7:20pm when we finally got home.
After yet another long day on the road, it did feel hectic to have to unload the car, unpack our stuff, get cleaned up, and finally have our belated dinner.
But I wouldn't trade this inconvenience against not having this kind of trip (no matter how last-minute), because we always find ourselves rejuvenated and ready to do it again in the near future…
Visitor Comments:
Got something you'd like to share or say to keep the conversation going? Feel free to leave a comment below...
No users have replied to the content on this page