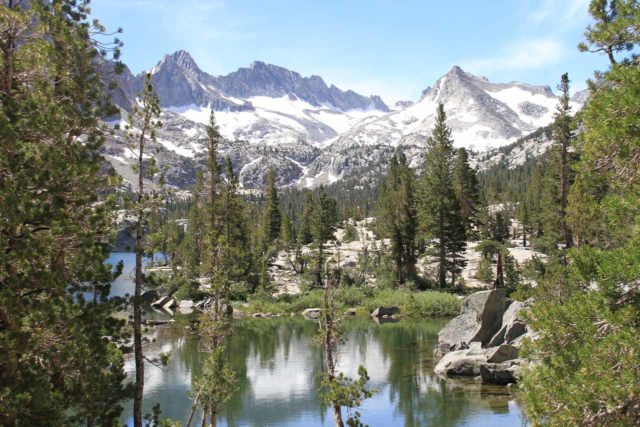 11-August 2011 to 14-August 2011:
I think what sealed the deal about us stopping here was that we felt pretty frequent wind gusts that might've been coming from the mountain passes further up from us. That meant the mozzies wouldn't be as bothersome as long as the air was moving.
And so it was. We unslung our heavy packs and called it a day. We were still probably at least 2 miles from Topsy Turvy Lake (our originally intended camp spot), but at this point, we were all exhausted and were ready to stop.
Day 1: GASSINESS
The day began as usual with Tahia's wake-up at around 6am accompanied with plenty of milk, morning exercise, and some toys on her play mat. This was a routine we had been repeating for the past three months at least.
Fortunately, the time we were to put her down for her morning nap also coincided with the time I was to go to Cindy and Ed's house to make sure we were properly packed and ready to go for our weekend backpack to the Sierras, which was becoming an annual ritual.
However, it had been two years ago when Ed and I last did one of these High Sierra backpack trips. That one was to Big Pine Creek and the five or so glacial lakes set amidst the signature sharp peaks that so defines the Eastern Sierras.
Last year, a backpack trip fell through due to injury from the trip leader, and it became a series of day hikes in the Mammoth area. When I got to Ed's and the subject of last year's failed backpack came up, his wife Cindy reminded us that we totally wimped out on that one. But then again, we did log well over 16 miles that weekend and possibly something closer to over 20 miles.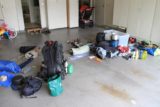 Anyways, I got to Ed's shortly before 8am. Their kids were already with the babysitters so it was just us in the garage getting our stuff organized. Cindy and Ed got backpacking preparations with the food down to a science. So I made sure I got us our compact camp stove with the Pocket Rocket as well as the MSR Mini-Works EX Water Filter that served us well on the Big Pine Creek trip.
Julie left me at Cindy and Ed's place to get our stuff ready, but we knew that most of the morning would be spent preparing, and we weren't in a huge hurry to get to Bishop as nothing was really planned for the day.
The next order of business was to get a rental car. We ended up with some kind of Chevy Malibu, but as long as we didn't get something so terribly gas guzzling, we were fine.
For the remainder of the morning, we evaluated our gear, left the redundant stuff behind, and I even managed to test my 9-year-old Sierra Design Meteor Light CD tent successfully by pitching it, breaking it back down, and then packing it again. It was a good thing that Sierra Designs was generous enough to re-string my tent poles (considering it had failed two years ago just prior to the Big Pine Creek trip thereby causing me to share a tent with Ed). Everything else was still in working order except for signs of cracking in the seam-seals.
Shortly thereafter, I took the rental car back to our place while Cindy and Ed still got their stuff together in their garage. That afforded me another hour or so of the morning to spend with Tahia as it was just in time for her next wakeful period.
After 12pm, I went to pick up Cindy and Ed with their gear, and then we had one last lunch together along with Julie and Tahia. By about 1:15pm, Julie and Tahia headed home while Cindy, Ed, and I were finally on our way on our 4- or 5-hour drive up to Bishop.
The drive was mostly uneventful except for Ed and Cindy's daughter incessantly calling them on their cell. Their daughter Hanna was an intelligent but strong minded toddler, and I saw for myself how overwhelming it can be.
It wasn't until about 6:35pm that we finally arrived in Bishop, checked in, got settled, and met the other members of our backpacking party – Karen, Dymph, and Matt. It was an interesting mix of people as the other members had another decade or so on us in age, but they were just as free-spirited and experienced in the backcountry as any one of us (if not more so by leaps and bounds).
We ended up eating at Jack's for dinner while getting to know each other. There was definitely no generation gap once we got to conversing with one another.
After the dinner, we then went to the local grocer to pick up some sandwiches for tomorrow's lunch. My fears of getting gas and diarrhea like the last trip to Big Pine Creek came true as my stomach was gurgling and uncomfortably gassy. When we got to our motel, I made at least two trips to the toilet to try to get it out, but somehow I felt that I left in a lot more than what came out. At least I wasn't alone with my bowel troubles as Cindy said she felt somewhat the same.
It was a worrisome start considering there won't be facilities once in the backcountry. But we had no choice but just wait for tomorrow and see what happens…
Day 2: BARELY MOVING
Ed's pre-trip advisor on this backpack was Larry, who led the Big Pine Creek backpack and was very experienced in the Sierras. He warned us that parking was difficult to find on this particular trail from Lake Sabrina, and so Ed got everyone to agree to an early morning wake-up and drive up to the trailhead by 6am. We eventually left our motel at 6:15am, and when we drove the 19 miles to Lake Sabrina (arriving at 6:40am), we were eventually greeted by signs indicating that overnight parking beyond the Sabrina camp was prohibited.
It was contrary to what Larry told us, and we weren't about to push our luck. Still, we needed to find the trailhead, and so we drove the road eventually to its end where there was a Bait and Tackle shop right at the dam responsible for Lake Sabrina.
When Cindy and Ed went to ask the yet-to-be-open shop proprietors about the parking situation, they seemed more than displeased with the backpacking crowd saying that if we parked in any of the two lots here, we'd get ticketed. I guess once we saw how limited the parking was, it was fairly obvious that overnight parking here would mean fewer parking spaces for their clients, who come to Lake Sabrina to go fishing.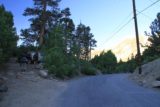 I guess hijacking parking spaces for an entire weekend was simply unacceptable to them, and I guess we just didn't fit their typical (or should I say desired) demographic. So after making a quick toilet stop, we slowly made our way back to the somewhat hidden trailhead that we were supposed to start at. There, we braved the swarming mosquitoes while dropping off most of the party and all of our packs.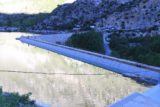 Next, Matt and I then drove back to the roadside parking area where we would leave our rental cars for the weekend, and then walked the 1/4-mile or so back towards the trailhead.
It wasn't until about 7:15am when we slung on our 40- to 50-lb packs and were on our way up to our planned campsite area somewhere on the shores of the so-called Topsy Turvy Lake. It was supposed to be around 5.4 miles from the trailhead, but that was how I measured it on the Topo! software. I'm sure it might be a little longer than that when you factor in all the elevation changes as I believe we were to be climbing an additional 1500ft or so starting at around 9500ft or so at Lake Sabrina.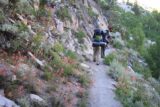 The early start definitely gave us some momentum though I lagged behind the group constantly taking photographs and even noticing the pretty wildflower display alongside the trail. I was amazed at how the wildflowers were still blooming as if it was still July! Plus there were still marshy parts of the trail as well as a few non-trivial stream crossings, which made us think that climate-wise, we were a month behind schedule as August felt more like July. And of course, that also meant the mosquitoes were just as bad as it would be in July.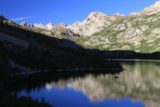 As I was taking my time taking photos of Lake Sabrina while noticing the boaters out in the middle of the lake fishing, the rest of the party kept each other company talking amongst themselves and generally taking our minds off the physical exertion we were doing carrying weight while hiking uphill at high altitude.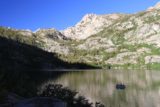 In addition to my informal photo breaks, Karen got the group to take frequent rest breaks given that this was her first backpack trip since she broke her hip about a year ago. Considering the backpacking gear was supposed to rest on the hips and take the burden off the back and shoulders, it spoke to both Karen's desire to get into the Sierras as well as her toughness that she was back at it again with us. So despite the momentum-breaking rest stops, I'm sure most of the party was glad to join her. Only Matt tended to trailblaze way ahead of us and taking his extended rests waiting for us to catch up.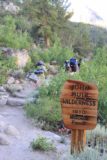 Our first snack break was around 9:45am. We were still around the Lake Sabrina area, which suggested to me that we probably didn't go much further than 2 miles or so, which was definitely much slower than I anticipated (which was typically a 2 mph rate or at least 1mph at the slowest). Each time we stopped, it gave the mozzies a chance to get their pot shots in on us and draw blood.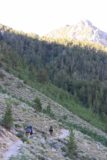 When some of the pack mule parties would pass us or we saw backpackers making their way back to the trailhead, we asked about the mozzie situation as well as where they stayed. It turned out that the general advice was to avoid Topsy Turvy due to swampiness (hence mozzies), and so that already created doubts about whether we'd really want to spend the weekend there. Others said making it all the way towards the top near Hungry Packer was the way to go since it sounded like the higher we'd have to go, the less problematic the mosquitoes would be.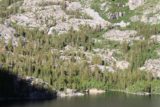 But given that we were barely moving (we didn't even make it to Blue Lake three hours into the hike), I wasn't sure making it all the way up there would be feasible.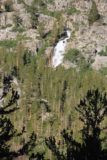 In another hour, we continued trudging beyond the headwaters of Lake Sabrina noticing a few interesting cascades or waterfalls. We couldn't get close to them, but being the waterfaller that I am, I did document them.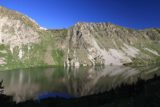 The day was warming up as we started to climb out of the morning shadows and into the gaining heat of the sun. It didn't seem like we had moved very far because Lake Sabrina was still there in view and it felt like we had already been on the trail for a while.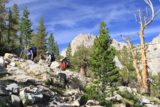 Meanwhile, the trail continued to climb, and this was taxing as the effects of altitude seemed to be increasing with each step we took. Even though I was lagging in the group to take photos and try to bask in the scenery, I was already looking forward to setting up camp.
The flip side to all this climbing was that some of the granite peaks in the background became more prominent and photogenic. It helped me take some of my mind off the physical toll the hike was already taking at this point.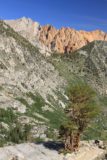 There was also a reddish mountain when I looked backwards across the drainage. Ed noticed this too, and I speculated that the mountain was probably oxidized due to iron content. It probably wasn't unlike what happened on Mars' surface.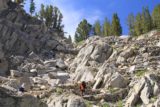 Eventually, we took an early lunch break at 10:40am when we were confronted with a sharp series of switchbacks. By now, the shadows had given way to mid-morning sun. And we were already starting to feel the effects of altitude (our hearts were beating fast) and the weight of our packs (our hips started to feel soreness). So we had a bit of an extended break before continuing on and making the climb up these switchbacks.
Eventually at 11:10am, we finally made it to Blue Lake, which was the first natural lake we saw on the trail. We had heard that a lot of people stop here before turning back so the crowds would thin out beyond this point, but to be honest, I didn't think there were that many people on the trail to begin with. Perhaps it was all relative considering most of our group were used to more solitude being the backcounry veterans that they were.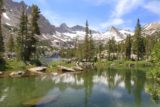 Blue Lake wasn't reflective, but it was beautiful with color backed by jagged peaks which still had patches of snow on them! Again, I was dumbfounded that there could still be this much snow on the mountains in mid-August!
Both Matt and I were well ahead of the pack when we arrived at Blue Lake so while he rested, I took the time to take a few photos after crossing a log jam where Blue Lake drained.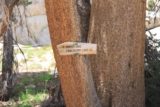 Apparently, both Matt and I were so far ahead of the pack that it wasn't until about 11:45am when we were finally moving again. After briefly losing the trail near the shores of the attractive lake, we eventually got back on the right track and then encountered a signposted junction at 12:10pm where going straight headed to Donkey Lake while going right meant Dingleberry Lake.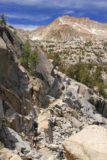 There was another pack person resting at this junction when we asked about recommended places to set up camp. This particular person mentioned that Dingleberry Lake wasn't too bad though mosquitoes were generally unavoidable. He did echo the sentiment that Topsy Turvy was swampy.
In any case, as we trudged on and did some more climbing beyond this junction, we would get onto some granite ridge area which afforded dramatic views of the jagged Eastern Sierra peaks surrounding us while also showing some of the smaller lakes surrounding us – none of which was Dingleberry yet.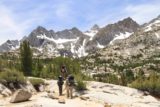 Once again, I took the opportunity to lag behind and take more photos even though my body was already starting to complain about the pack weight and the altitude. It was already past lunch, and I was definitely having my doubts about making it all the way to Hungry Packer Lake if that was the hope.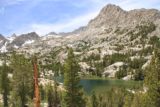 Eventually, after more altitude gain through the climbing, we finally caught sight of Dingleberry Lake. As expected, there were mosquitoes. And we were debating whether we should stop trudging on and just set up camp somewhere around here or keep pushing ourselves further.
The initial spots didn't seem too appealing as the mozzies simply swarmed us whenever we stopped. We couldn't imagine camping here under such conditions. So we continued on.
Eventually, we made it to another granite bench just before the trail descended towards a long creek crossing where the wide creek drained into Dingleberry Lake.
Some of the folks in the party noticed that there was space in the granite bench to our left and there were some patches of flat ground – though not very much. It was a good thing that all of us had dome tents, but we'd have to be a little selective about where we would put our stakes in the ground.
The spot was also quite exposed to the sun as there was only a small bit of shade where we would decide to put our "kitchen" stuff.
I think what sealed the deal about us stopping here was that we felt pretty frequent wind gusts that might've been coming from the mountain passes further up from us. That meant the mozzies wouldn't be as bothersome as long as the air was moving.
And so it was. We unslung our heavy packs and called it a day. We were still probably at least 2 miles from Topsy Turvy Lake, but at this point, we were all exhausted and were ready to stop.
So at 1:45pm, we started pitching our tents.
The altitude was taking its toll even as we were setting up camp because each time we would bend down and then stand up again, it was almost as if the blood didn't get to our heads fast enough to overcome the thin air. So that meant headaches and fast breathing.
It was times like these when Ed would openly question, "Why are we doing this again?"
Of course it was a rhetorical question since he had been on many more high country backpacking trips than I have. But I definitely wondered about that question myself as my body kept telling me it didn't want to be here.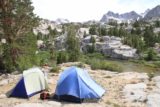 Once our tents were up, we used rocks pinning down guy lines and stakes. It seemed like they were strong enough to resist being blown away by the gusts that would come from time to time. Of course when the gusts stopped, the army of mosquitoes were out in full force. Ugh!
Eventually at around 2:30pm, I just had to retreat to my very hot tent and just stop moving. So after blowing up my Thermarest and getting my sleeping bag all set up, I laid above the bag and just let the serenity take over.
Cindy and Ed were conversing amongst themselves while Matt, Dymph, and Karen were playing cards.
It wasn't until about 4:40pm when the activity would pick up again. There was no more hiking, and besides, even making the quick trip down to the creek below made my head hurt. But we were down there braving the nasty mosquitoes while pumping water. Meanwhile, Matt was proudly showing off and using his Sterapen, which was supposed to use battery power to zap the microbes in the water thereby sterilizing it – 1 liter at a time.
Once we did all that, we headed back up to our camp area where we enjoyed an early dinner while battling the usual sunset mosquitoes.
Matt, Dymph, and Karen were having a pasta and chicken dinner. Meanwhile, Cindy, Ed, and I were boiling water and heating up packaged Indian food. The hot foods really hit the spot, and like I said earlier, Cindy and Ed really did have backcountry dining down to a science.
Once the dinner was done, we washed my cookware as best we could given the swarming mosquitoes, and then we tended to our hygiene.
I was still a bit gassy and definitely did my share of farting. Fortunately, it still hadn't degenerated into diarrhea yet, but it was always on the back of my mind. I definitely didn't want to use up Ed's biodegradable toilet paper like last time.
And that was when Matt offered up the first explanation that I had heard that might explain why we get so gassy on these trips.
He said that when we go on an airplane and we look at what happens to an unopened bag of chips or a soda can, we see that the packaging tended to bulge. So the air inherent in the package expanded in the high altitude due to the thin air (less force pushing into the bag). Perhaps the same thing was happening in our bowels.
I guess that was Matt displaying his chemical engineering background before being an elected city official. At least I could assure myself that my symptoms had nothing to do with giardia or excess fiber in the foods we ate.
By 7:30pm, we were all settled in our tents. My stomach was still gassy and I still had to make a couple of trips to the "toilet" before I finally dozed off. I didn't see any late afternoon alpenglow, but I was so tired and the mozzies were so unrelenting that I didn't really care to go for any more pictures.
While all this was going on, Matt, Dymph, and Karen went for a walk around Dingleberry Lake just to check out the area.
Day 3: MOONLIGHT IN THE DAYLIGHT
During the night, my gassiness caused me to go pee at least twice in the evening. And each time I relieved myself (while still dealing with mosquitoes under the light of the full moon), I had trouble going back to sleep in my sleeping bag.
Needless to say, I didn't have a very restful night. I guess I never really have a decent night's rest at high altitude. For the last time I felt this restless was the Big Pine Creek backpack trip two years ago, and before that, I had headaches in Cusco, Peru.
Mercifully, I was awake for the day at 5:40am. That was when I sprayed on the DEET, got out of my tent, armed myself with my DSLR, and waited for the alpenglow to show up.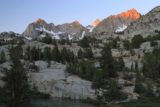 It was pretty cold this morning, but it wasn't so unbearable that I couldn't feel my fingers and toes. I took plenty of photos, but somehow my attempts at alpenglow never turn out anywhere near what you might see in a Galen Rowell photograph. In my experience, it hardly ever lives up to expectations.
While I was busy taking photos, I was joined by Matt, who also happened to be an early riser. He was busy warming up the water while he himself was having a morning pick-me-up. I guess he was saving Karen and Dymph some time to have their hot brekkie and drinks.
Eventually, Cindy and Ed came around and got up too. By then, it was about 6:30am. Cindy was gloating about sleeping comfortably for 12 hours. Meanwhile, Ed and I were lamenting that neither of us had a good night's sleep. I guess gone were the days when I could also sleep nearly as well as Cindy could in the backcountry. I guess the altitude and gassiness might have something to do with it.
It wasn't until about 8:25am when we all got our day packs and fanny packs together and headed out on our day excursion. The goal for today was to get to Moonlight Falls. Ed and Cindy knew (rather correctly) that there would be hell to pay if we didn't do the waterfall. So that was the first order of business.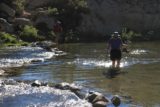 It took about 15 minutes to get across the long stream crossing near our camp. Matt got his shoes a little wet but stayed relatively dry on the crossing. I took advantage of the gore-tex on my boots along with good balance on the hiking sticks to stay completely dry and not have to change out of my shoes.
Meanwhile, everyone else chose to wade in the numbingly cold water.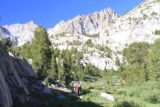 Once that was done, we continued about on the trail as the sun continued to rise higher and make it warmer. The trail continued to climb, and we knew from this development that it would've been a stretch to even consider Topsy Turvy let alone Hungry Packer with full packs on yesterday.
Even though it felt much lighter and easier to move about without the packs today, the altitude was still a challenge and most of us were breathing heavily to make up for the oxygen deficit. At this point, we were well over 10,500ft, I reckoned.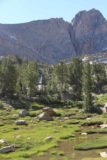 During the hike, we passed by a marshy meadow. Some of the group spotted a waterfall in the distance, but it was kind of hidden between trees plus it was against the sun at this time of day. I made a mental note to scramble closer to the falls when we return to camp later today.
Once past the falls, the trail climbed some more until we reached a signposted junction where the right fork branched to Midnight Lake. We were headed to Hungry Packer, and I guess Midnight Lake wasn't going to happen knowing how hard it was to even get to this point.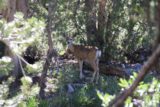 As we continued further on the trail towards Hungry Packer, we spotted a deer near the trail. Fortunately for us, we didn't scare off the deer so it afforded us the ability to take photos of it even though it was aware of our presence as evidenced by it looking back at us every so often. The telephoto lens definitely came in handy here.
When the deer eventually scampered off into the thick bush, we ended up at an area overlooking a lake. At the time, we thought it was Sailor Lake (it turned out to be Topsy Turvy, which we found out later in the day). In any case, we spent about 45 minutes taking photos, chatting amongst ourselves, and just basking in the scenery.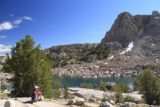 I was actually hoping we'd continue on sooner, but Matt scrambled all the way down to the shore of the clear lake and Ed was also in the midst of taking numerous photos. So Dymph, Karen, Cindy, and I were chatting about various topics from John Muir to La Leche League to uncertain futures, etc.
It was an opportunity to get to know Karen and Dymph a little better, I reckoned.
I was especially interested in Dymph's background since I usually meet Dutch people internationally. We conversed about (what else) travel. She seemed to have been all over Europe as well as the backcountry here in the Sierras. Since I haven't done much of the classical European routes with Julie, I was keen to learn about her impressions.
She had a unique name though she was quick to point out that there was someone else in her home country of the Netherlands who also happened to have the same name. She seemed to be quite free spirited and nimble (especially on the trail with a pack) for someone in her 50s.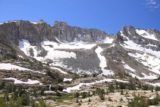 Eventually at 10:15, we finally left the lake and continued on the trail. Ed and Cindy knew how much I anticipated seeing Moonlight Falls.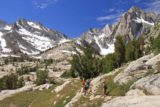 As we continued onwards, the scenery opened up into a wide open valley flanked by tall granite peaks and some jagged ones further up the horizon. In plain sight in the distance was Moonlight Falls.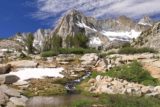 It wasn't long before we branched off the Hungry Packer Lake Trail and followed the spur trail past a couple of stream crossings towards the desired falls.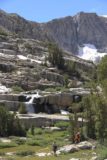 Along the way, we saw a couple of smaller cascades, but they were attractive because they were backed by the jagged peaks that we thought surrounds the bowl containing Hungry Packer Lake (at least according to our Topo map).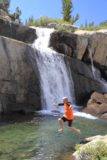 Matt and Dymph were the first to make it right up to the falls at around 10:30am. I quickly followed thereafter and managed to catch a photo of Matt jumping right into the clear water at the base of the waterfall.
Unfortuntately for Matt, he cut up his finger pretty bad on one of the sharp rocks bordering the plunge pool. Still, it wasn't debilitating and it just required a bit of clean-up.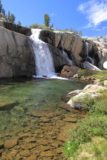 Once Karen, Cindy, and Ed arrived, we were pretty much in the mindset to bask and enjoy the moment. Ed and I were taking lots of photos and movies.
Even though this waterfall was rather small and unremarkable by itself (maybe 20-30ft was my guess), what made it stand out was that we were able to photograph it with the Hungry Packer peaks in the background. It's not often that you get to photograph waterfalls juxtaposed with such scenery in the background.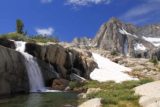 Another thing we noticed about this place was what a great camping spot it would've been here. Actually, someone had already beat up to the punch on that thought because there was a group of campers slightly uphill from us who took advantage of the location.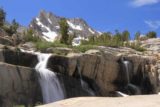 It was ideal because you get the views of the peaks over where Hungry Packer Lake was supposed to be. There were other peaks where we believed Moonlight Lake and perhaps Sailor Lake were supposed to be further upstream as well. You also get easy access to clear water, plus you get to swim at this waterfall if you can brave the frigid water. Ed, Cindy, and I took note of this spot for the next tme we come here (not sure when that would be though). Maybe we could have a pack mule train take our stuff up here, and then we can day hike up to our stuff.
After we were done enjoying the falls, we had lunch at a shady spot within earshot of the falls. The mosquitoes weren't annoying, and we chatted some more over jerky, sandwiches, and some energy bars.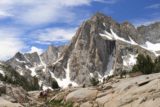 At 11:45am, we were done with lunch. That was when we got up, worked off our stiffness, and then continued on with the hike to Hungry Packer Lake.
Once we were back on the main trail, the jagged peaks were looking closer and closer. But it wasn't long before we found a marshy shoreline of another seemingly major lake. But after examining our Topo maps, we realized that it was Sailor Lake. So that meant the lake we saw earlier this morning must've been Topsy Turvy Lake!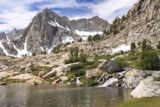 There were some gently sloping cascades spilling into Sailor Lake though Moonlight Lake remained out of sight.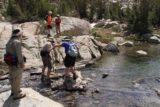 In any case, the trail climbed alongside the cascades before eventually reaching the rocky shores of Hungry Packer Lake. After negotiating a fairly tricky log jam at the mouth of the lake, we got to a broader shore of the lake except it was a mozzie haven.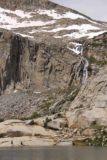 After getting what photos we could, most of us beat a hasty retreat towards some other spot (where we saw other people chill out on what appeared to be a peninsula or something protruding out at the elbow of the lake) to enjoy.
In the mean time, I was confident in my DEET and stayed behind to take a few more photos of both the lake as well as a surprise twisting waterfall on the far side of the bowl.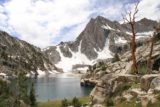 The scene here reminded me of something out of Patagonia where the tarns or lakes at the end of the Laguna de Los Tres trail ended in bowls similar to this. The difference was that the weather wasn't quite as violent here in the Sierras as it was that cloudy and windy day in Argentina. Plus, the peaks here didn't quite have the same drama as that of Cerro Fitz Roy and others.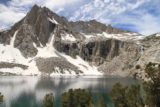 So Matt led the group back over the log jam and up towards a granite protrusion with the sun bathers, fishers, and people just chillin' and chattin'. Eventually at 12:45pm, we made it to where we would hike no further, and it was a good thing because I was definitely out of breath by this point – thanks to the combination of the altitude and the fatigue.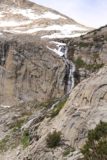 So we once again took a break here and chilled out. Ed and I were once again taking photos while Karen and Cindy were probably chatting about work-related stuff. Matt was resting before he was joined by Ed in a conversation. Meanwhile, Dymph disappeared until she re-emerged several minutes later telling us that she had skinny-dipped in the frigid waters of Hungry Packer Lake!
It was too bad that the clouds had obscured the sun by this time of day so it really muted the colors of the lake. But when we had our fill of the lake and started to leave, that was when the sun re-emerged and we saw just how blue-green the clear lake really was!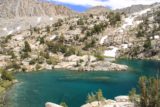 Ed talked about how there was another lake called Echo Lake somewhere higher up than this place, but I couldn't fathom how we'd ever get there considering how gassed we were.
By around 1:20pm, we were back on the trail headed back to our camp. But then we decided that we mind as well detour to Moonlight Lake considering we were already here. It was mind over matter in this case as I really had to push myself to join Matt and Dymph who had already made it to an overview of the rocky lake. Karen and Cindy stayed behind and chatted some more.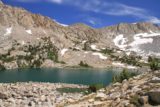 I guess I could see why this lake wasn't as frequented or as populated as the others since the peaks behind it weren't quite as picturesque. But I'm sure if someone wanted solitude, this lake would be it.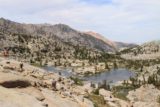 Eventually at about 2:10pm, we left Moonlight Lake, rejoined Karen and Cindy, and then continued along the trail back to our camp at Dingleberry Lake. Even though Midnight Lake was the last lake in the area that we didn't visit, there was no way we were going to push it on this day to do the fairly long out-and-back spur trail to get there.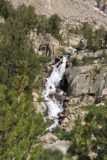 As we made our way back towards the familiar swampy meadow with the sound of a waterfall (the one we saw earlier this morning) somewhere nearby, I quietly deviated from the group to see if I could get a better view of that waterfall. At first glance, there didn't seem to be a trail for a closer look, but I did notice a flat area between the granite benches, which I explored. It ultimately led me to a spot where I finally was able to ascend the nearest bench with a direct view of the loud waterfall.
That was when I was able to get that closer view I hypothesized about earlier this morning yet it was still between trees. Nonetheless, it was far more satisfactory than from the main trail between Dingleberry Lake and Hungry Packer Lake. So I got my shots, but I did forget to take a movie of it. Oh well.
Plus, it didn't look like there was any further access considering there was a wide stream flowing before the falls and also in front of the base of the granite bench I was on.
Yet one thing that did get my attention was there seemed to be an established trail around the granite bench where I got my view of the falls. I followed this trail back to the main trail and managed to avoid the mosquito-infested swampy meadow that separated this trail from the main trail.
When I returned to the main trail, I saw why it was so easy to miss this trail altogether.
Basically, it started where there was a wedge between two low-lying rocks. And it would be real hard to tell that this was a branch in the trail if you didn't know to look for it. Plus, there wasn't any signs indicating this trail.
I could only deduce from its trajectory that it was indeed the hidden trail that would've ended up at Topsy Turvy and Pee Wee Lakes. It was the trail we originally tried to take to set up camp at the start of the trip! At that time I shuddered to think how cranky all of us would've been had we still made it this far with our packs on in the late afternoon yet not be able to find this campsite at Topsy Turvy Lake!
I guess sometimes things happen for the better that wasn't planned at the outset. So Dingleberry Lake suited us just fine, thank you!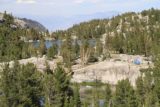 At around 3:30pm, I rejoined the rest of the group which was resting at a series of switchbacks with a view of our exposed campsite down below. We could see that Matt had already made it back and was tending to some chores around camp.
After making the descent back towards the last water crossing before camp, we took the time to remove our shoes and wade our way back to camp. I was looking forward to this moment considering I never had a chance to numb my swollen feet and sore legs. However, some of the mozzies around here were taking pot shots at us as we were doing this.
In the mean time, Cindy, Ed, and I were looking around at other people in the area. There were at least two little girls and their dads either fishing or on the trail. Ed and Cindy fantasized about whether it would be feasible to take their oldest daughter Hanna on one of these trips. When we talked with the dads as they passed by us, they told us that one was 7 and the other was 8. I guess time will tell whether our children will follow suit…
At 3:45pm, we were finally back at camp. My GPS trip computer said we had just logged 5.25 miles, but it definitely felt a lot longer than that! I think we also gained another 600-1000ft or so in elevation as well, but I couldn't confirm since I had reset the trip computer without noting the elevation.
Even though the mozzies were still around camp, we still got the intermittent gusts, which helped improve the situation. So Ed, Cindy, and I enjoyed another round of Indian packaged foods as well as brown rice at around 5pm. And it really hit the spot!
After some more mingling with Karen, Dymph, and Matt, while also tending to our personal hygiene as well as figuring out what to leave out and what to pre-pack, we retreated to our respective tents at around 6:50pm. By then, the mosquitoes were really out and looking for blood.
The remainder of the night was spent again under another full moon. I think I slept a little better than last night, but it was still not a restful sleep.
And with a second consecutive night without a shower or a comfortable bed, I definitely was missing home. Plus, missing baby Tahia and Julie didn't help matters…
Day 4: STRANGER ANXIETY
At 5:20am, I managed to wake up again. And while it was still dark except for the light of the full moon, I decided to start deflating the therm-a-rest while also getting my gear together so I'd be packed and ready to go sooner rather than later.
Unfortunately as I was doing this, I noticed that the full moon was starting to disappear behind one of the tall cliffs overlooking our camp. It was a bummer considering that I really wanted to take a photo of the moon lighting up the night sky with all the shapely peaks surrounding us. But alas, it wasn't meant to be. The moon was gone by 5:33am.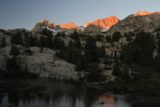 So when that happened, I applied the DEET, and braved the mosquitoes as I collapsed my tent and packed my internal frame pack. I managed to take a couple more early morning shots hoping for that alpenglow shot that I might want to frame or blow up, but that too wasn't meant to be.
One by one, everyone else got up. Matt once again was up early. Then Cindy and Ed, and eventually Karen and Dymph. By 7:15am, we were all packed up and ready to go. And by about 7:30am, we were back on the trail after taking a few more group photos to commemorate that we were here and shared this experience together.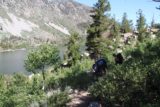 The hike out was long but mostly downhill. With each downhill stretch, we marveled at how much climbing we had done to even get as far as we did with our packs on that first day. Nonetheless, whenever there was one of those handful of climbs (no matter how short they were), we still dreaded them as they would take our breaths away.
At least as we were hiking out, we went with the satisfaction of knowing that we weren't one of the groups of people with packs heading up the way we had just come. I somehow got the sense that backpacking was one of those love-hate relationships where you love the scenery, the cameraderie, and the quiet, but you hated the toll on the body, the lack of a shower and bed, and the mosquitoes.
Eventually at 10:55am, we made it back to the car. The group left their packs with Matt and their rental SUV, which was already waiting at the trailhead. Matt went way ahead of the group and managed to even retrieve the car and wait for us while we were still on the trail. Then the group finished the walk on the pavement eventually rejoining the car that we had left off the side of the road. I had joined Matt in the vehicle since my body was beat up from all that weight and altitude.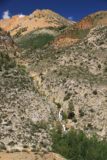 And once we reconvened at our awaiting vehicles, we said our good-byes. Next, Cindy, Ed, and I returned to Bishop for a brunch at Jack's passing by a fairly major-looking cascade somewhere near Aspendell. I guess in my haste to get home, I only got a suboptimal view of the falls and probably could've done way better had I not been so hasty.
Jack's was our first substantial meal since Thursday night. But perhaps more importantly, I finally got to go number two in a toilet rather than squatting with the mozzies.
We left Bishop at 12:20pm, but as we were driving south towards Lone Pine, Cindy and Ed realized that they had made a pre-trip promise to Hanna that she would receive a gift from this trip. And so far, Cindy and Ed had nothing to show for it.
So the plan was to make a brief stop at Manzanar and see if their visitor center had any keepsakes that would satisfy Hanna's standards.
About 1:20pm, we got to Manzanar, which was a sweltering hot 101F, but the AC in the visitor center sure felt good. Besides, Cindy and Ed got Hanna her gift and made sure their son Kai got something as well though he didn't seem to have any real preferences about material gifts according to Cindy and Ed.
I'm sure the historical significance of this place could be better appreciated if it wasn't during the road trip back where we were missing our kids and couldn't wait to get home in time for dinner. So we didn't really do this place any justice on this brief visit.
And with the mission accomplished, we would continue our drive back home. We had hoped to get there between 4:30pm and 5pm, but traffic on the I-5 conspired to delay us. So it wasn't until about 5:20pm that we finally made it home.
I was the first to be dropped off, and when I saw that Tahia was still awake upon my arrival, Julie brought her out to see Ed and Cindy. But even though Tahia had been to their place before, it seemed like her stranger anxiety kicked in again and she started crying.
I couldn't tell if she simply didn't recognize Cindy and Ed, or if maybe our not showering for three days rendered us unrecognizable. Either way, we said our good-byes and vowed to do another backpacking trip next Summer. But in the mean time, it was home sweet home…
Visitor Comments:
Got something you'd like to share or say to keep the conversation going? Feel free to leave a comment below...
No users have replied to the content on this page