Day 1: GASSINESS
The day began as usual with Tahia's wake-up at around 6am accompanied with plenty of milk, morning exercise, and some toys on her play mat. This was a routine we had been repeating for the past three months at least.
Fortunately, the time we were to put her down for her morning nap also coincided with the time I was to go to Cindy and Ed's house to make sure we were properly packed and ready to go for our weekend backpack to the Sierras, which was becoming an annual ritual.
However, it had been two years ago when Ed and I last did one of these High Sierra backpack trips. That one was to Big Pine Creek and the five or so glacial lakes set amidst the signature sharp peaks that so defines the Eastern Sierras.
Last year, a backpack trip fell through due to injury from the trip leader, and it became a series of day hikes in the Mammoth area. When I got to Ed's and the subject of last year's failed backpack came up, his wife Cindy reminded us that we totally wimped out on that one. But then again, we did log well over 16 miles that weekend and possibly something closer to over 20 miles.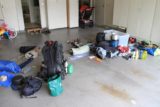 Anyways, I got to Ed's shortly before 8am. Their kids were already with the babysitters so it was just us in the garage getting our stuff organized. Cindy and Ed got backpacking preparations with the food down to a science. So I made sure I got us our compact camp stove with the Pocket Rocket as well as the MSR Mini-Works EX Water Filter that served us well on the Big Pine Creek trip.
Julie left me at Cindy and Ed's place to get our stuff ready, but we knew that most of the morning would be spent preparing, and we weren't in a huge hurry to get to Bishop as nothing was really planned for the day.
The next order of business was to get a rental car. We ended up with some kind of Chevy Malibu, but as long as we didn't get something so terribly gas guzzling, we were fine.
For the remainder of the morning, we evaluated our gear, left the redundant stuff behind, and I even managed to test my 9-year-old Sierra Design Meteor Light CD tent successfully by pitching it, breaking it back down, and then packing it again. It was a good thing that Sierra Designs was generous enough to re-string my tent poles (considering it had failed two years ago just prior to the Big Pine Creek trip thereby causing me to share a tent with Ed). Everything else was still in working order except for signs of cracking in the seam-seals.
Shortly thereafter, I took the rental car back to our place while Cindy and Ed still got their stuff together in their garage. That afforded me another hour or so of the morning to spend with Tahia as it was just in time for her next wakeful period.
After 12pm, I went to pick up Cindy and Ed with their gear, and then we had one last lunch together along with Julie and Tahia. By about 1:15pm, Julie and Tahia headed home while Cindy, Ed, and I were finally on our way on our 4- or 5-hour drive up to Bishop.
The drive was mostly uneventful except for Ed and Cindy's daughter incessantly calling them on their cell. Their daughter Hanna was an intelligent but strong minded toddler, and I saw for myself how overwhelming it can be.
It wasn't until about 6:35pm that we finally arrived in Bishop, checked in, got settled, and met the other members of our backpacking party – Karen, Dymph, and Matt. It was an interesting mix of people as the other members had another decade or so on us in age, but they were just as free-spirited and experienced in the backcountry as any one of us (if not more so by leaps and bounds).
We ended up eating at Jack's for dinner while getting to know each other. There was definitely no generation gap once we got to conversing with one another.
After the dinner, we then went to the local grocer to pick up some sandwiches for tomorrow's lunch. My fears of getting gas and diarrhea like the last trip to Big Pine Creek came true as my stomach was gurgling and uncomfortably gassy. When we got to our motel, I made at least two trips to the toilet to try to get it out, but somehow I felt that I left in a lot more than what came out. At least I wasn't alone with my bowel troubles as Cindy said she felt somewhat the same.
It was a worrisome start considering there won't be facilities once in the backcountry. But we had no choice but just wait for tomorrow and see what happens…