Day 2: BARELY MOVING
Ed's pre-trip advisor on this backpack was Larry, who led the Big Pine Creek backpack and was very experienced in the Sierras. He warned us that parking was difficult to find on this particular trail from Lake Sabrina, and so Ed got everyone to agree to an early morning wake-up and drive up to the trailhead by 6am. We eventually left our motel at 6:15am, and when we drove the 19 miles to Lake Sabrina (arriving at 6:40am), we were eventually greeted by signs indicating that overnight parking beyond the Sabrina camp was prohibited.
It was contrary to what Larry told us, and we weren't about to push our luck. Still, we needed to find the trailhead, and so we drove the road eventually to its end where there was a Bait and Tackle shop right at the dam responsible for Lake Sabrina.
When Cindy and Ed went to ask the yet-to-be-open shop proprietors about the parking situation, they seemed more than displeased with the backpacking crowd saying that if we parked in any of the two lots here, we'd get ticketed. I guess once we saw how limited the parking was, it was fairly obvious that overnight parking here would mean fewer parking spaces for their clients, who come to Lake Sabrina to go fishing.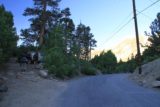 I guess hijacking parking spaces for an entire weekend was simply unacceptable to them, and I guess we just didn't fit their typical (or should I say desired) demographic. So after making a quick toilet stop, we slowly made our way back to the somewhat hidden trailhead that we were supposed to start at. There, we braved the swarming mosquitoes while dropping off most of the party and all of our packs.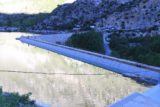 Next, Matt and I then drove back to the roadside parking area where we would leave our rental cars for the weekend, and then walked the 1/4-mile or so back towards the trailhead.
It wasn't until about 7:15am when we slung on our 40- to 50-lb packs and were on our way up to our planned campsite area somewhere on the shores of the so-called Topsy Turvy Lake. It was supposed to be around 5.4 miles from the trailhead, but that was how I measured it on the Topo! software. I'm sure it might be a little longer than that when you factor in all the elevation changes as I believe we were to be climbing an additional 1500ft or so starting at around 9500ft or so at Lake Sabrina.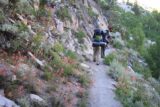 The early start definitely gave us some momentum though I lagged behind the group constantly taking photographs and even noticing the pretty wildflower display alongside the trail. I was amazed at how the wildflowers were still blooming as if it was still July! Plus there were still marshy parts of the trail as well as a few non-trivial stream crossings, which made us think that climate-wise, we were a month behind schedule as August felt more like July. And of course, that also meant the mosquitoes were just as bad as it would be in July.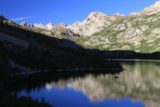 As I was taking my time taking photos of Lake Sabrina while noticing the boaters out in the middle of the lake fishing, the rest of the party kept each other company talking amongst themselves and generally taking our minds off the physical exertion we were doing carrying weight while hiking uphill at high altitude.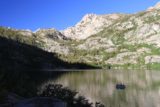 In addition to my informal photo breaks, Karen got the group to take frequent rest breaks given that this was her first backpack trip since she broke her hip about a year ago. Considering the backpacking gear was supposed to rest on the hips and take the burden off the back and shoulders, it spoke to both Karen's desire to get into the Sierras as well as her toughness that she was back at it again with us. So despite the momentum-breaking rest stops, I'm sure most of the party was glad to join her. Only Matt tended to trailblaze way ahead of us and taking his extended rests waiting for us to catch up.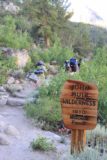 Our first snack break was around 9:45am. We were still around the Lake Sabrina area, which suggested to me that we probably didn't go much further than 2 miles or so, which was definitely much slower than I anticipated (which was typically a 2 mph rate or at least 1mph at the slowest). Each time we stopped, it gave the mozzies a chance to get their pot shots in on us and draw blood.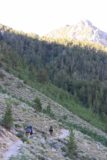 When some of the pack mule parties would pass us or we saw backpackers making their way back to the trailhead, we asked about the mozzie situation as well as where they stayed. It turned out that the general advice was to avoid Topsy Turvy due to swampiness (hence mozzies), and so that already created doubts about whether we'd really want to spend the weekend there. Others said making it all the way towards the top near Hungry Packer was the way to go since it sounded like the higher we'd have to go, the less problematic the mosquitoes would be.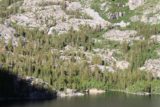 But given that we were barely moving (we didn't even make it to Blue Lake three hours into the hike), I wasn't sure making it all the way up there would be feasible.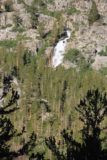 In another hour, we continued trudging beyond the headwaters of Lake Sabrina noticing a few interesting cascades or waterfalls. We couldn't get close to them, but being the waterfaller that I am, I did document them.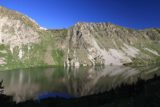 The day was warming up as we started to climb out of the morning shadows and into the gaining heat of the sun. It didn't seem like we had moved very far because Lake Sabrina was still there in view and it felt like we had already been on the trail for a while.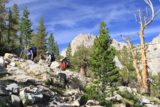 Meanwhile, the trail continued to climb, and this was taxing as the effects of altitude seemed to be increasing with each step we took. Even though I was lagging in the group to take photos and try to bask in the scenery, I was already looking forward to setting up camp.
The flip side to all this climbing was that some of the granite peaks in the background became more prominent and photogenic. It helped me take some of my mind off the physical toll the hike was already taking at this point.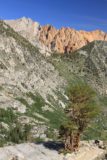 There was also a reddish mountain when I looked backwards across the drainage. Ed noticed this too, and I speculated that the mountain was probably oxidized due to iron content. It probably wasn't unlike what happened on Mars' surface.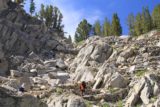 Eventually, we took an early lunch break at 10:40am when we were confronted with a sharp series of switchbacks. By now, the shadows had given way to mid-morning sun. And we were already starting to feel the effects of altitude (our hearts were beating fast) and the weight of our packs (our hips started to feel soreness). So we had a bit of an extended break before continuing on and making the climb up these switchbacks.
Eventually at 11:10am, we finally made it to Blue Lake, which was the first natural lake we saw on the trail. We had heard that a lot of people stop here before turning back so the crowds would thin out beyond this point, but to be honest, I didn't think there were that many people on the trail to begin with. Perhaps it was all relative considering most of our group were used to more solitude being the backcounry veterans that they were.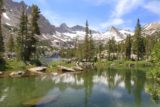 Blue Lake wasn't reflective, but it was beautiful with color backed by jagged peaks which still had patches of snow on them! Again, I was dumbfounded that there could still be this much snow on the mountains in mid-August!
Both Matt and I were well ahead of the pack when we arrived at Blue Lake so while he rested, I took the time to take a few photos after crossing a log jam where Blue Lake drained.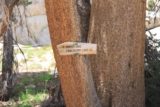 Apparently, both Matt and I were so far ahead of the pack that it wasn't until about 11:45am when we were finally moving again. After briefly losing the trail near the shores of the attractive lake, we eventually got back on the right track and then encountered a signposted junction at 12:10pm where going straight headed to Donkey Lake while going right meant Dingleberry Lake.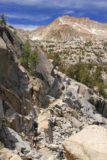 There was another pack person resting at this junction when we asked about recommended places to set up camp. This particular person mentioned that Dingleberry Lake wasn't too bad though mosquitoes were generally unavoidable. He did echo the sentiment that Topsy Turvy was swampy.
In any case, as we trudged on and did some more climbing beyond this junction, we would get onto some granite ridge area which afforded dramatic views of the jagged Eastern Sierra peaks surrounding us while also showing some of the smaller lakes surrounding us – none of which was Dingleberry yet.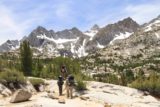 Once again, I took the opportunity to lag behind and take more photos even though my body was already starting to complain about the pack weight and the altitude. It was already past lunch, and I was definitely having my doubts about making it all the way to Hungry Packer Lake if that was the hope.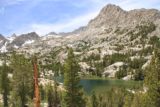 Eventually, after more altitude gain through the climbing, we finally caught sight of Dingleberry Lake. As expected, there were mosquitoes. And we were debating whether we should stop trudging on and just set up camp somewhere around here or keep pushing ourselves further.
The initial spots didn't seem too appealing as the mozzies simply swarmed us whenever we stopped. We couldn't imagine camping here under such conditions. So we continued on.
Eventually, we made it to another granite bench just before the trail descended towards a long creek crossing where the wide creek drained into Dingleberry Lake.
Some of the folks in the party noticed that there was space in the granite bench to our left and there were some patches of flat ground – though not very much. It was a good thing that all of us had dome tents, but we'd have to be a little selective about where we would put our stakes in the ground.
The spot was also quite exposed to the sun as there was only a small bit of shade where we would decide to put our "kitchen" stuff.
I think what sealed the deal about us stopping here was that we felt pretty frequent wind gusts that might've been coming from the mountain passes further up from us. That meant the mozzies wouldn't be as bothersome as long as the air was moving.
And so it was. We unslung our heavy packs and called it a day. We were still probably at least 2 miles from Topsy Turvy Lake, but at this point, we were all exhausted and were ready to stop.
So at 1:45pm, we started pitching our tents.
The altitude was taking its toll even as we were setting up camp because each time we would bend down and then stand up again, it was almost as if the blood didn't get to our heads fast enough to overcome the thin air. So that meant headaches and fast breathing.
It was times like these when Ed would openly question, "Why are we doing this again?"
Of course it was a rhetorical question since he had been on many more high country backpacking trips than I have. But I definitely wondered about that question myself as my body kept telling me it didn't want to be here.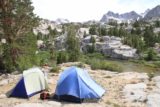 Once our tents were up, we used rocks pinning down guy lines and stakes. It seemed like they were strong enough to resist being blown away by the gusts that would come from time to time. Of course when the gusts stopped, the army of mosquitoes were out in full force. Ugh!
Eventually at around 2:30pm, I just had to retreat to my very hot tent and just stop moving. So after blowing up my Thermarest and getting my sleeping bag all set up, I laid above the bag and just let the serenity take over.
Cindy and Ed were conversing amongst themselves while Matt, Dymph, and Karen were playing cards.
It wasn't until about 4:40pm when the activity would pick up again. There was no more hiking, and besides, even making the quick trip down to the creek below made my head hurt. But we were down there braving the nasty mosquitoes while pumping water. Meanwhile, Matt was proudly showing off and using his Sterapen, which was supposed to use battery power to zap the microbes in the water thereby sterilizing it – 1 liter at a time.
Once we did all that, we headed back up to our camp area where we enjoyed an early dinner while battling the usual sunset mosquitoes.
Matt, Dymph, and Karen were having a pasta and chicken dinner. Meanwhile, Cindy, Ed, and I were boiling water and heating up packaged Indian food. The hot foods really hit the spot, and like I said earlier, Cindy and Ed really did have backcountry dining down to a science.
Once the dinner was done, we washed my cookware as best we could given the swarming mosquitoes, and then we tended to our hygiene.
I was still a bit gassy and definitely did my share of farting. Fortunately, it still hadn't degenerated into diarrhea yet, but it was always on the back of my mind. I definitely didn't want to use up Ed's biodegradable toilet paper like last time.
And that was when Matt offered up the first explanation that I had heard that might explain why we get so gassy on these trips.
He said that when we go on an airplane and we look at what happens to an unopened bag of chips or a soda can, we see that the packaging tended to bulge. So the air inherent in the package expanded in the high altitude due to the thin air (less force pushing into the bag). Perhaps the same thing was happening in our bowels.
I guess that was Matt displaying his chemical engineering background before being an elected city official. At least I could assure myself that my symptoms had nothing to do with giardia or excess fiber in the foods we ate.
By 7:30pm, we were all settled in our tents. My stomach was still gassy and I still had to make a couple of trips to the "toilet" before I finally dozed off. I didn't see any late afternoon alpenglow, but I was so tired and the mozzies were so unrelenting that I didn't really care to go for any more pictures.
While all this was going on, Matt, Dymph, and Karen went for a walk around Dingleberry Lake just to check out the area.