Day 3: MOONLIGHT IN THE DAYLIGHT
During the night, my gassiness caused me to go pee at least twice in the evening. And each time I relieved myself (while still dealing with mosquitoes under the light of the full moon), I had trouble going back to sleep in my sleeping bag.
Needless to say, I didn't have a very restful night. I guess I never really have a decent night's rest at high altitude. For the last time I felt this restless was the Big Pine Creek backpack trip two years ago, and before that, I had headaches in Cusco, Peru.
Mercifully, I was awake for the day at 5:40am. That was when I sprayed on the DEET, got out of my tent, armed myself with my DSLR, and waited for the alpenglow to show up.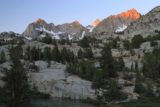 It was pretty cold this morning, but it wasn't so unbearable that I couldn't feel my fingers and toes. I took plenty of photos, but somehow my attempts at alpenglow never turn out anywhere near what you might see in a Galen Rowell photograph. In my experience, it hardly ever lives up to expectations.
While I was busy taking photos, I was joined by Matt, who also happened to be an early riser. He was busy warming up the water while he himself was having a morning pick-me-up. I guess he was saving Karen and Dymph some time to have their hot brekkie and drinks.
Eventually, Cindy and Ed came around and got up too. By then, it was about 6:30am. Cindy was gloating about sleeping comfortably for 12 hours. Meanwhile, Ed and I were lamenting that neither of us had a good night's sleep. I guess gone were the days when I could also sleep nearly as well as Cindy could in the backcountry. I guess the altitude and gassiness might have something to do with it.
It wasn't until about 8:25am when we all got our day packs and fanny packs together and headed out on our day excursion. The goal for today was to get to Moonlight Falls. Ed and Cindy knew (rather correctly) that there would be hell to pay if we didn't do the waterfall. So that was the first order of business.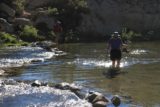 It took about 15 minutes to get across the long stream crossing near our camp. Matt got his shoes a little wet but stayed relatively dry on the crossing. I took advantage of the gore-tex on my boots along with good balance on the hiking sticks to stay completely dry and not have to change out of my shoes.
Meanwhile, everyone else chose to wade in the numbingly cold water.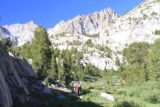 Once that was done, we continued about on the trail as the sun continued to rise higher and make it warmer. The trail continued to climb, and we knew from this development that it would've been a stretch to even consider Topsy Turvy let alone Hungry Packer with full packs on yesterday.
Even though it felt much lighter and easier to move about without the packs today, the altitude was still a challenge and most of us were breathing heavily to make up for the oxygen deficit. At this point, we were well over 10,500ft, I reckoned.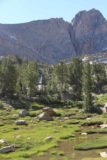 During the hike, we passed by a marshy meadow. Some of the group spotted a waterfall in the distance, but it was kind of hidden between trees plus it was against the sun at this time of day. I made a mental note to scramble closer to the falls when we return to camp later today.
Once past the falls, the trail climbed some more until we reached a signposted junction where the right fork branched to Midnight Lake. We were headed to Hungry Packer, and I guess Midnight Lake wasn't going to happen knowing how hard it was to even get to this point.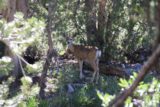 As we continued further on the trail towards Hungry Packer, we spotted a deer near the trail. Fortunately for us, we didn't scare off the deer so it afforded us the ability to take photos of it even though it was aware of our presence as evidenced by it looking back at us every so often. The telephoto lens definitely came in handy here.
When the deer eventually scampered off into the thick bush, we ended up at an area overlooking a lake. At the time, we thought it was Sailor Lake (it turned out to be Topsy Turvy, which we found out later in the day). In any case, we spent about 45 minutes taking photos, chatting amongst ourselves, and just basking in the scenery.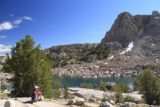 I was actually hoping we'd continue on sooner, but Matt scrambled all the way down to the shore of the clear lake and Ed was also in the midst of taking numerous photos. So Dymph, Karen, Cindy, and I were chatting about various topics from John Muir to La Leche League to uncertain futures, etc.
It was an opportunity to get to know Karen and Dymph a little better, I reckoned.
I was especially interested in Dymph's background since I usually meet Dutch people internationally. We conversed about (what else) travel. She seemed to have been all over Europe as well as the backcountry here in the Sierras. Since I haven't done much of the classical European routes with Julie, I was keen to learn about her impressions.
She had a unique name though she was quick to point out that there was someone else in her home country of the Netherlands who also happened to have the same name. She seemed to be quite free spirited and nimble (especially on the trail with a pack) for someone in her 50s.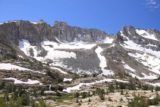 Eventually at 10:15, we finally left the lake and continued on the trail. Ed and Cindy knew how much I anticipated seeing Moonlight Falls.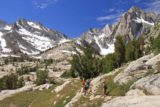 As we continued onwards, the scenery opened up into a wide open valley flanked by tall granite peaks and some jagged ones further up the horizon. In plain sight in the distance was Moonlight Falls.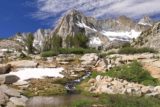 It wasn't long before we branched off the Hungry Packer Lake Trail and followed the spur trail past a couple of stream crossings towards the desired falls.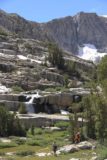 Along the way, we saw a couple of smaller cascades, but they were attractive because they were backed by the jagged peaks that we thought surrounds the bowl containing Hungry Packer Lake (at least according to our Topo map).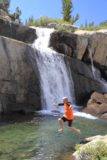 Matt and Dymph were the first to make it right up to the falls at around 10:30am. I quickly followed thereafter and managed to catch a photo of Matt jumping right into the clear water at the base of the waterfall.
Unfortuntately for Matt, he cut up his finger pretty bad on one of the sharp rocks bordering the plunge pool. Still, it wasn't debilitating and it just required a bit of clean-up.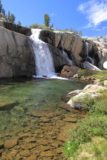 Once Karen, Cindy, and Ed arrived, we were pretty much in the mindset to bask and enjoy the moment. Ed and I were taking lots of photos and movies.
Even though this waterfall was rather small and unremarkable by itself (maybe 20-30ft was my guess), what made it stand out was that we were able to photograph it with the Hungry Packer peaks in the background. It's not often that you get to photograph waterfalls juxtaposed with such scenery in the background.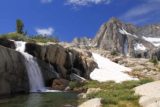 Another thing we noticed about this place was what a great camping spot it would've been here. Actually, someone had already beat up to the punch on that thought because there was a group of campers slightly uphill from us who took advantage of the location.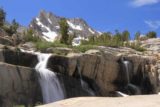 It was ideal because you get the views of the peaks over where Hungry Packer Lake was supposed to be. There were other peaks where we believed Moonlight Lake and perhaps Sailor Lake were supposed to be further upstream as well. You also get easy access to clear water, plus you get to swim at this waterfall if you can brave the frigid water. Ed, Cindy, and I took note of this spot for the next tme we come here (not sure when that would be though). Maybe we could have a pack mule train take our stuff up here, and then we can day hike up to our stuff.
After we were done enjoying the falls, we had lunch at a shady spot within earshot of the falls. The mosquitoes weren't annoying, and we chatted some more over jerky, sandwiches, and some energy bars.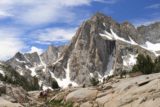 At 11:45am, we were done with lunch. That was when we got up, worked off our stiffness, and then continued on with the hike to Hungry Packer Lake.
Once we were back on the main trail, the jagged peaks were looking closer and closer. But it wasn't long before we found a marshy shoreline of another seemingly major lake. But after examining our Topo maps, we realized that it was Sailor Lake. So that meant the lake we saw earlier this morning must've been Topsy Turvy Lake!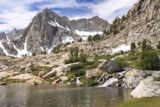 There were some gently sloping cascades spilling into Sailor Lake though Moonlight Lake remained out of sight.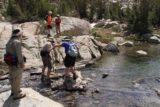 In any case, the trail climbed alongside the cascades before eventually reaching the rocky shores of Hungry Packer Lake. After negotiating a fairly tricky log jam at the mouth of the lake, we got to a broader shore of the lake except it was a mozzie haven.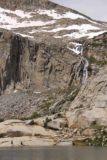 After getting what photos we could, most of us beat a hasty retreat towards some other spot (where we saw other people chill out on what appeared to be a peninsula or something protruding out at the elbow of the lake) to enjoy.
In the mean time, I was confident in my DEET and stayed behind to take a few more photos of both the lake as well as a surprise twisting waterfall on the far side of the bowl.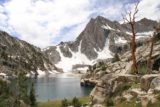 The scene here reminded me of something out of Patagonia where the tarns or lakes at the end of the Laguna de Los Tres trail ended in bowls similar to this. The difference was that the weather wasn't quite as violent here in the Sierras as it was that cloudy and windy day in Argentina. Plus, the peaks here didn't quite have the same drama as that of Cerro Fitz Roy and others.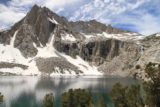 So Matt led the group back over the log jam and up towards a granite protrusion with the sun bathers, fishers, and people just chillin' and chattin'. Eventually at 12:45pm, we made it to where we would hike no further, and it was a good thing because I was definitely out of breath by this point – thanks to the combination of the altitude and the fatigue.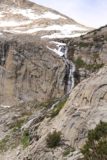 So we once again took a break here and chilled out. Ed and I were once again taking photos while Karen and Cindy were probably chatting about work-related stuff. Matt was resting before he was joined by Ed in a conversation. Meanwhile, Dymph disappeared until she re-emerged several minutes later telling us that she had skinny-dipped in the frigid waters of Hungry Packer Lake!
It was too bad that the clouds had obscured the sun by this time of day so it really muted the colors of the lake. But when we had our fill of the lake and started to leave, that was when the sun re-emerged and we saw just how blue-green the clear lake really was!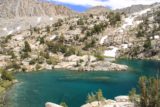 Ed talked about how there was another lake called Echo Lake somewhere higher up than this place, but I couldn't fathom how we'd ever get there considering how gassed we were.
By around 1:20pm, we were back on the trail headed back to our camp. But then we decided that we mind as well detour to Moonlight Lake considering we were already here. It was mind over matter in this case as I really had to push myself to join Matt and Dymph who had already made it to an overview of the rocky lake. Karen and Cindy stayed behind and chatted some more.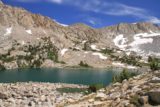 I guess I could see why this lake wasn't as frequented or as populated as the others since the peaks behind it weren't quite as picturesque. But I'm sure if someone wanted solitude, this lake would be it.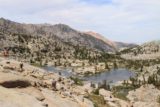 Eventually at about 2:10pm, we left Moonlight Lake, rejoined Karen and Cindy, and then continued along the trail back to our camp at Dingleberry Lake. Even though Midnight Lake was the last lake in the area that we didn't visit, there was no way we were going to push it on this day to do the fairly long out-and-back spur trail to get there.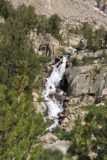 As we made our way back towards the familiar swampy meadow with the sound of a waterfall (the one we saw earlier this morning) somewhere nearby, I quietly deviated from the group to see if I could get a better view of that waterfall. At first glance, there didn't seem to be a trail for a closer look, but I did notice a flat area between the granite benches, which I explored. It ultimately led me to a spot where I finally was able to ascend the nearest bench with a direct view of the loud waterfall.
That was when I was able to get that closer view I hypothesized about earlier this morning yet it was still between trees. Nonetheless, it was far more satisfactory than from the main trail between Dingleberry Lake and Hungry Packer Lake. So I got my shots, but I did forget to take a movie of it. Oh well.
Plus, it didn't look like there was any further access considering there was a wide stream flowing before the falls and also in front of the base of the granite bench I was on.
Yet one thing that did get my attention was there seemed to be an established trail around the granite bench where I got my view of the falls. I followed this trail back to the main trail and managed to avoid the mosquito-infested swampy meadow that separated this trail from the main trail.
When I returned to the main trail, I saw why it was so easy to miss this trail altogether.
Basically, it started where there was a wedge between two low-lying rocks. And it would be real hard to tell that this was a branch in the trail if you didn't know to look for it. Plus, there wasn't any signs indicating this trail.
I could only deduce from its trajectory that it was indeed the hidden trail that would've ended up at Topsy Turvy and Pee Wee Lakes. It was the trail we originally tried to take to set up camp at the start of the trip! At that time I shuddered to think how cranky all of us would've been had we still made it this far with our packs on in the late afternoon yet not be able to find this campsite at Topsy Turvy Lake!
I guess sometimes things happen for the better that wasn't planned at the outset. So Dingleberry Lake suited us just fine, thank you!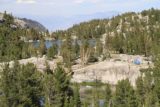 At around 3:30pm, I rejoined the rest of the group which was resting at a series of switchbacks with a view of our exposed campsite down below. We could see that Matt had already made it back and was tending to some chores around camp.
After making the descent back towards the last water crossing before camp, we took the time to remove our shoes and wade our way back to camp. I was looking forward to this moment considering I never had a chance to numb my swollen feet and sore legs. However, some of the mozzies around here were taking pot shots at us as we were doing this.
In the mean time, Cindy, Ed, and I were looking around at other people in the area. There were at least two little girls and their dads either fishing or on the trail. Ed and Cindy fantasized about whether it would be feasible to take their oldest daughter Hanna on one of these trips. When we talked with the dads as they passed by us, they told us that one was 7 and the other was 8. I guess time will tell whether our children will follow suit…
At 3:45pm, we were finally back at camp. My GPS trip computer said we had just logged 5.25 miles, but it definitely felt a lot longer than that! I think we also gained another 600-1000ft or so in elevation as well, but I couldn't confirm since I had reset the trip computer without noting the elevation.
Even though the mozzies were still around camp, we still got the intermittent gusts, which helped improve the situation. So Ed, Cindy, and I enjoyed another round of Indian packaged foods as well as brown rice at around 5pm. And it really hit the spot!
After some more mingling with Karen, Dymph, and Matt, while also tending to our personal hygiene as well as figuring out what to leave out and what to pre-pack, we retreated to our respective tents at around 6:50pm. By then, the mosquitoes were really out and looking for blood.
The remainder of the night was spent again under another full moon. I think I slept a little better than last night, but it was still not a restful sleep.
And with a second consecutive night without a shower or a comfortable bed, I definitely was missing home. Plus, missing baby Tahia and Julie didn't help matters…