Day 4: STRANGER ANXIETY
At 5:20am, I managed to wake up again. And while it was still dark except for the light of the full moon, I decided to start deflating the therm-a-rest while also getting my gear together so I'd be packed and ready to go sooner rather than later.
Unfortunately as I was doing this, I noticed that the full moon was starting to disappear behind one of the tall cliffs overlooking our camp. It was a bummer considering that I really wanted to take a photo of the moon lighting up the night sky with all the shapely peaks surrounding us. But alas, it wasn't meant to be. The moon was gone by 5:33am.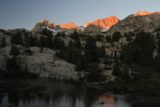 So when that happened, I applied the DEET, and braved the mosquitoes as I collapsed my tent and packed my internal frame pack. I managed to take a couple more early morning shots hoping for that alpenglow shot that I might want to frame or blow up, but that too wasn't meant to be.
One by one, everyone else got up. Matt once again was up early. Then Cindy and Ed, and eventually Karen and Dymph. By 7:15am, we were all packed up and ready to go. And by about 7:30am, we were back on the trail after taking a few more group photos to commemorate that we were here and shared this experience together.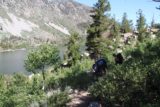 The hike out was long but mostly downhill. With each downhill stretch, we marveled at how much climbing we had done to even get as far as we did with our packs on that first day. Nonetheless, whenever there was one of those handful of climbs (no matter how short they were), we still dreaded them as they would take our breaths away.
At least as we were hiking out, we went with the satisfaction of knowing that we weren't one of the groups of people with packs heading up the way we had just come. I somehow got the sense that backpacking was one of those love-hate relationships where you love the scenery, the cameraderie, and the quiet, but you hated the toll on the body, the lack of a shower and bed, and the mosquitoes.
Eventually at 10:55am, we made it back to the car. The group left their packs with Matt and their rental SUV, which was already waiting at the trailhead. Matt went way ahead of the group and managed to even retrieve the car and wait for us while we were still on the trail. Then the group finished the walk on the pavement eventually rejoining the car that we had left off the side of the road. I had joined Matt in the vehicle since my body was beat up from all that weight and altitude.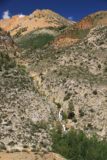 And once we reconvened at our awaiting vehicles, we said our good-byes. Next, Cindy, Ed, and I returned to Bishop for a brunch at Jack's passing by a fairly major-looking cascade somewhere near Aspendell. I guess in my haste to get home, I only got a suboptimal view of the falls and probably could've done way better had I not been so hasty.
Jack's was our first substantial meal since Thursday night. But perhaps more importantly, I finally got to go number two in a toilet rather than squatting with the mozzies.
We left Bishop at 12:20pm, but as we were driving south towards Lone Pine, Cindy and Ed realized that they had made a pre-trip promise to Hanna that she would receive a gift from this trip. And so far, Cindy and Ed had nothing to show for it.
So the plan was to make a brief stop at Manzanar and see if their visitor center had any keepsakes that would satisfy Hanna's standards.
About 1:20pm, we got to Manzanar, which was a sweltering hot 101F, but the AC in the visitor center sure felt good. Besides, Cindy and Ed got Hanna her gift and made sure their son Kai got something as well though he didn't seem to have any real preferences about material gifts according to Cindy and Ed.
I'm sure the historical significance of this place could be better appreciated if it wasn't during the road trip back where we were missing our kids and couldn't wait to get home in time for dinner. So we didn't really do this place any justice on this brief visit.
And with the mission accomplished, we would continue our drive back home. We had hoped to get there between 4:30pm and 5pm, but traffic on the I-5 conspired to delay us. So it wasn't until about 5:20pm that we finally made it home.
I was the first to be dropped off, and when I saw that Tahia was still awake upon my arrival, Julie brought her out to see Ed and Cindy. But even though Tahia had been to their place before, it seemed like her stranger anxiety kicked in again and she started crying.
I couldn't tell if she simply didn't recognize Cindy and Ed, or if maybe our not showering for three days rendered us unrecognizable. Either way, we said our good-byes and vowed to do another backpacking trip next Summer. But in the mean time, it was home sweet home…