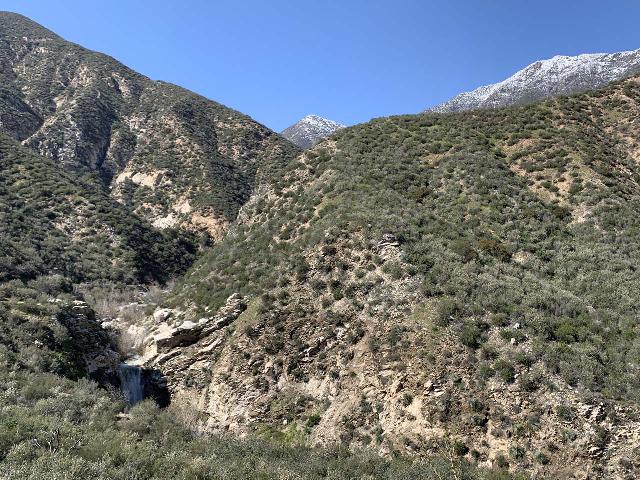 3-March 2023:
Some people apparently put some flimsy logs to try to make this traverse without getting wet, but I knew that with Mom and I, we weren't agile spring chickens anymore, and that it was better for us to find somewhere wider and shallower to get across.
So after some evaluating of our options, we ultimately decided to go a little downstream before seeing an opportunity (though it wasn't exactly within our comfort zone), but since we each had trekking poles, we leveraged them for balance in the current.
Ultimately, we got across this obstacle, but it did make us wonder what the next stream crossings (that we took for granted in the past) would be like…
I woke up at around 7am, which was when I overheard some banter between Julie and Tahia since it was still a school day.
However, I had the day off, and Mom and I had already agreed yesterday to do a hike today, which I decided should be a quick visit to the Trail Canyon Falls, which was something I was quite familiar with.
Now, it was going to be a later start today because Mom had to drop off my niece to school (one of the tasks that had to be taken over since my brother's untimely passing), but I figured we could still get away with it since this wasn't a long hike, I thought.
So it wasn't until around 8:35am when I left home, and I guess with the way the traffic lights were going, I ultimately wound up taking what turned out to be slower local path that had more traffic lights and more traffic than my usual way.
Thus, it wouldn't be until about 9:10am when I finally made it to my parents' home, but at least I got to enjoy some of the views of the majestic snow-capped mountains over the San Gabriel and San Bernardino ranges.
In fact, I even noticed that the snow seemed to have gone further to the west (beyond Mt Wilson even), which was highly unusual to me since I never recalled seeing snow making it far west ever (or at least since I started paying attention).
Anyways, when I got to my parents' place, they gave me some leftover dim sum, which I guess I broke my fast for (seeing that my intermittent fasting regimen wasn't going to work on a day like today).
While making small talk with my parents, I guess Dad decided that he didn't want to go hiking with Mom and I today (he maybe still scarred by the Bridge to Nowhere experience last year and maybe saving himself for golfing).
Thus, it was just going to be Mom and I again, and it wouldn't be until about 9:35am when we finally left their home and started driving into the still lingering morning traffic.
As we went north on the 605, we could see attractive mountains though Mom was telling me that we should have seen the mountain ranges yesterday.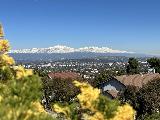 Well, that didn't happen for us, but Mom made sure to airdrop her photos to me.
Still, I thought the snow-capped mountainous horizon as we got into Irwindale were plenty gorgeous though the skies were a bit hazier today.
In any case, we proceeded further along the I-210 West, which was still sluggish due to the many big rigs and other passenger cars apparently still crowding the roads even this late into the morning.
So progress was a little slower than I would have liked, but we eventually made it to the I-210 west continuation, where it branched off from the 134 near Pasadena.
From there, the traffic going further along the I-210 west past La Canada was a bit smoother going, and the whole time, Mom and I were discussing things like the upcoming trips we had lined up (and my concerns about bringing Josh and Soph).
But I guess Mom was willing to do whatever it took to ensure at least Josh got to spend more time with me to get a bit more of a male perspective on life without his Dad while Mom would keep Soph in check.
Regardless, we continued further along the I-210 west until we eventually got to the Sunland Blvd exit, and as we headed east on Sunland Blvd, we saw more attractive snow-topped mountains.
All this was new to me as I wasn't used to seeing snow this far west of the San Gabriels, and now I started to wonder if these conditions were going to impact our Trail Canyon Falls experience.
In fact, Mom mentioned to me that Big Bear and other mountain communities were pretty isolated as they're in a bit of a state of emergency given that there was still about 10 feet of snow.
In the back of my mind, I couldn't believe what I was seeing because it didn't rain all that much in the LA basin this week, but apparently this storm really dumped a lot of snow in these mountains.
I did remember getting hailed on when we were done helping Tahia sell Girl Scout Cookies, but maybe we should have suspected something when apparently Soph showed Mom some pictures of videos of their home near Fullerton getting snow!
Indeed, these were strange times, but maybe it shouldn't be so surprising considering that our economic activities have now pushed Climate Change to the point of giving us nothing but extremes.
Whether it's extreme heat, extreme precipitation, etc., the new normal seemed to be having nothing normal at all!
And I'm sure it's also having an effect on the hikes we've been used to doing as there can easily be more extreme conditions to contend with, which can very well be life threatening if we don't see these things coming!
As we got to the familiar 7-eleven turnoff and then onto the start of the Big Tujunga Canyon Road, we got to some concerning signs saying that the road is closed to Palmdale.
Well, we weren't going all the way over there anyways, but there was one barricade where the entire eastbound lane in the two-lane road was coned off.
That caused one guy driving in front of us to turn into a residential neighborhood to our right on the Mt Gleason Road, but we just went around the cones and kept going since I knew that people have been going to the falls earlier this week.
Nevertheless, I did see that there were some minor landslide piles spilling onto the road shoulders (and even onto the road itself in some cases) as well as more road work signs.
So we weren't totally sure if we could make it to the Trail Canyon Falls Trailhead, but we were already here, and I knew that the trailhead wasn't that far up this road.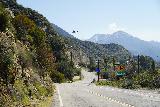 Finally at 10:45am, we got to the Trail Canyon Falls Trailhead gate, where there were a handful of cars pretty much crowding the limited parking spaces in front of the gate blocking the unpaved road we used to go on to get to the official trailhead.
We ultimately parked Mom's car in one of the road shoulders right in front of the gated turnoff, and then we proceeded to get geared up and ready to go.
As we were doing this, we heard a chopper apparently hauling some stuff back and forth, and I'd imagine it was to aid in the road work going on with the Big Tujunga Canyon Road at Vogel Flat.
This was the very issue that prevented us from pursuing the Josephine Creek Falls earlier in the year.
Anyways, it took some time to get started because I was wrestling with my AllTrails app where it tried to force me to sign in before I could start navigating.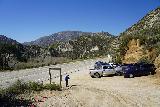 I really only wanted to do this so I could track my activity (and not so much for the navigation), but apparently, it wouldn't let me because I couldn't sign in since there was no reception out here and thus I couldn't logon.
Thus, I guess I had to do without AllTrails on this hike, but at least I still had GaiaGPS working and record that log.
So by about 10:55am, we finally set off on the hike where a couple in front of us went pretty quickly and were pretty much out-of-sight by the time we got past the road fork and down to the old trailhead parking.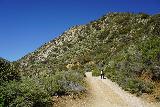 It looked like there was an abandoned car with a trash bag next to one of its broken windows, but aside from that, I was under the impression that one of the locals here must have started claiming the unused parking space here.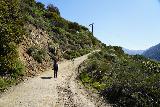 I guess given how much this waterfall had blown up in recent years, maybe it was the right call to keep the gate closed except for local traffic, and make everyone walk the extra distance on the unpaved road.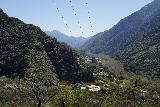 I'd imagine that this road would have been quite the bottleneck had they kept it open like before given all this increased traffic.
Anyways, Mom and I proceeded to walk the familiar road, which rounded a bend and then took us right to the familiar creek ford that the locals here could drive through.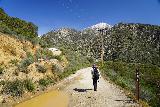 However, the water was running very quick and pretty high, and we realized that it was highly unlikely for us to get past this obstacle without ruining our boots.
So we took time to sit down and change into our hiking sandals (kind of anticipating that this would happen after seeing all the snow on the mountains around us).
Then, after the change of shoes, we then decided to walk straight across while also carrying our boots thinking that maybe the next crossings wouldn't be as wet as this one.
But one thing was for sure, we thought that perhaps we would need the traction on these boots for the steep descent to the base of Trail Canyon Falls that we knew we had to do towards the end.
So it wasn't the most comfortable hiking having to hand carry our boots while doing the walk in wet sandals, but we still got through the familiar road between a couple of homes that were still here.
We saw the familiar dead tagger sign (now it's a dead litterer) and then past the foundations of homes that were once there before some fires hit this area.
Pretty soon enough, we went past a pretty trivial stream crossing though it looked like the trail got a little obliterated by some floods that must have come through here.
And then the trail climbed up towards a bend (with a spur to an overlook) before heading down towards the next creek crossing past some boulder that I recalled some people would go climbing on.
All throughout this dry stretch, Mom and I noticed some unusual ephemeral waterfalls that we had never seen flow in the past.
There were also some cascades on the main creek itself that we never really paid attention to until now, thanks to the high flow of the creek!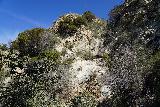 So that kind of made us pause from time to time and make us take a little longer here than what we were used to doing in the past.
But when we got to the stream crossing past the boulder, we saw that it was running quite deep, especially since we couldn't see the bottom where the creek was narrower.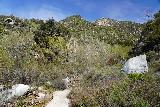 Some people apparently put some flimsy logs to try to make this traverse without getting wet, but I knew that with Mom and I, we weren't agile spring chickens anymore, and that it was better for us to find somewhere wider and shallower to get across.
So after some evaluating of our options, we ultimately decided to go a little downstream before seeing an opportunity (though it wasn't exactly within our comfort zone), but since we each had trekking poles, we leveraged them for balance in the current.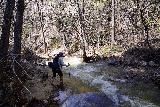 Ultimately, we got across this obstacle, but it did make us wonder what the next stream crossings (that we took for granted in the past) would be like.
Well, after getting past the deadfalls past this dicey crossing, the trail then went through a handful of more stream crossings, and with each one, we saw that they weren't easy.
In one of the crossings, there was a log going across the creek, but it was flimsy and there was rope that someone had to hold onto for balance.
Upon seeing that, I thought it was better to just go through again with our trekking poles and sandals, and just try to do the surer way without a potential fall with bad consequences.
Indeed, there were another pair of crossings where the water got up to my knees (maybe even my lower thigh) where I definitely felt the strong current, and I really had to watch and test the depth of the stream with each careful step.
It was almost like the Bridge to Nowhere hike that we did in February 2022 with Dad and Mom (the one that scarred Dad mentally to this day)!
Anyways, after getting through that, there were still a couple more crossings to do where the terrain finally started to open up.
Again, there was one log balance on some wedged boulders in the creek that I didn't like too much, but we managed to carefully get across that one before getting past the very last one that went just below the knee with lots of cascades over rocks.
Finally at 12:35pm, we made it past that last stream crossing, and then Mom and I paused to change out of our sandals and back into hiking boots (knowing that it was going to be dry the rest of the way).
Without towels though, we both had to rely on our wool socks to absorb whatever moisture was on our feet and then wear them into our hiking boots, but at least we didn't have to carry them any longer.
Meanwhile, I used my trash bag to hold our soaked hiking sandals, and then we proceeded to go up the familiar uphill.
There was one futile interlude to an ephemeral waterfall that I tried to witness, but it was no bueno because the slopes became even steeper and the soil was looser (undoubtedly de-stabilized by the atmospheric river storms that had blown through here).
There was even one landslide interlude that Mom and I had to get across that must have been new and buried the old trail, but it was flat enough for us to get through as enough people got through here to flatten the loosen earth.
Moreover, we also noticed the intermediate ephemeral waterfalls along the way flowing more like legitimate cascades this time around, which was further evidence that we were facing quite unusual conditions today.
Even across the canyon as we got higher up, there was a real tall cascade that I never recalled seeing before.
Yet despite all this unusual waterfall sightings, the views of the neighboring mountains were quite gorgeous because we simply weren't used to seeing snow on these mountains this far west (I just couldn't get that thought out of my head).
Anyways, after getting to the top of the climb and rounded a couple of bends, we finally started to witness (and hear) the Trail Canyon Falls gushing (though it was back in shadow at this time).
So it didn't make for the greatest photographs, but it was just unusual to be photographing this waterfall with snow on some of the neighboring mountains in the same frame!
It didn't take long before we got to the now well-trodden steep path going down towards the base of the Trail Canyon Falls, and we were glad to still be using our trekking poles as well as our hiking boots to make this slippery loose-dirt descent.
Along the way, we made brief pauses to see how high the falls was flowing from this close, and we also noticed that it appeared we wouldn't need to remove our boots to get in front of the waterfall down below.
Sure enough, we got to the familiar steep rope-aided descent, which didn't seem any more dicier than before though there were some loose dirt covering some of the exposed underlying rock from the past (due to some of it washing downslope with these storms).
But we managed to get down to the bottom no problem just as there was one young lady in a backpack who patiently waited for us to finish our descent.
And when we finally got to the base of Trail Canyon Falls at 1:30pm, we were sharing the experience with that girl while trying to deal with the blasting mist down there.
We toook some time to take our usual videos and photos (while trying not to mind the mist getting on our lenses), and the girl even helped to take a nice shot of Mom and me in front of the falls (and Mom reciprocating the favor).
After about 15 minutes down here, we left the falls (as it was also quite chilling down there with the mist and the shade), and then we proceeded to climb back up the cliff again.
As we got back up to the main trail, there were already some folks heading down the falls so it wasn't like this place was that empty even though today was technically a weekday.
We then went over to a flat spot on the trail where Mom and I briefly separated as we realized that it was getting late in the afternoon, and Mom expressed a desire to get back home so she could pick up Sophia from some extracurricular class in Walnut.
Upon realizing that we needed to be back by 4pm, that meant that I also had to make haste with my intention to get to the top of Trail Canyon Falls via the old trail, and I agreed to meet Mom down by the series of crossings below.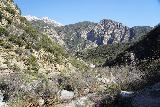 So with that, we briefly went our separate ways and I kept going further upstream knowing that there would be another stream crossing to get across in high flow.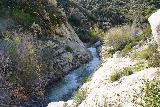 When I saw that the immediate spots looked a bit too dicey for me, I went further upstream and found one knee-deep spot with current that I could carefully get across.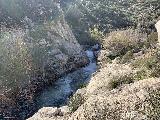 Then, I went back downstream on the other side seeing the familiar intermediate cascades before finally making it to the brink of the falls at 2pm.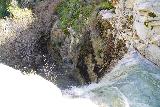 During that downstream trail section, I also heard a chopper overhead, and I wondered if that was a search-and-rescue one (observing if I was the one needing help at some point) or a road work one quarrying and going about its business.
So I documented the experience there at the brink while also seeing a handful of more people down below at the Trail Canyon Falls just showing up.
Once that was done, I then returned back up the trail looking for maybe an earlier crossing, but I wound up settling for a rocky traverse that was a little shorter though no less sketchier than the one I took just a few feet further upstream.
Then, I was back on the trail again and I made haste to follow it all the way down to the crossing series where Mom was waiting for me.
That said, I did pause a couple of times to look back at the gushing Trail Canyon Falls now with people for a sense of scale.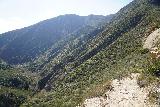 Indeed, there seemed to be a handful of more people heading to the falls at this time, and it further reinforced the notion that even on a weekday like this, people would be showing up and further proving that this place had already blown up.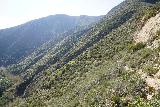 I wondered if this was the AllTrails effect again because there were some people that looked prepared though there were others that looked like they didn't plan on getting wet.
A couple of groups saw my Chacos and commented that it was a great idea though I saw one lady wearing the Altra Lone Peak Trail Runners and thought to myself that that was the ideal shoe for this kind of situation.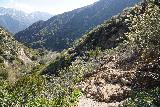 Anyways, I eventually got back down the decline by about 2:35pm, where Mom patiently waited for me.
And then we proceeded to go back through the stream crossings one-by-one trying to leverage the lessons learned on the way in.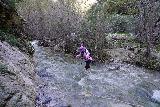 Aside from one deep crossing where we took a slightly different approach (and it was up to my thighs with current) along with growing shadows making the bottom of the streams harder to see, we managed to get through them ok.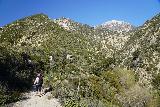 At the very last legitimate wild crossing, there was a pair of unprepared hikers trying to figure out how to get across until they saw us carefully making our way back across with our sandals and trekking poles.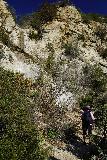 The mother asked us if they could make it, and I was honest in my assessment saying that the trekking poles helped us (they didn't have any though the daughter apparently scrounged around for a random stick).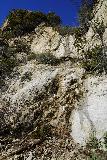 I also mentioned that there were people who got through these crossings without trekking poles, but they tended to be younger people.
Anyways, with that, we wished them luck and we continued to head back towards the trailhead as we encountered a handful of more people coming to the falls, which Mom thought was kind of late in the day.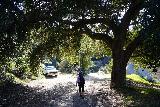 By the time we got back to the old trailhead, we saw a trio of hikers in front of us that we hadn't seen before, but maybe they turned back or they finished the hike long before we got there.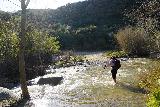 But they were chatting to a pair of women who just showed up by the trailhead, and it seemed like a long conversation where they were warning them about the conditions.
These ladies looked like they had little clue about what they were in for, and they each had dogs that they thought they could carry across each of the stream crossings.
I don't think they're going to appreciate the current in those crossings, especially without trekking poles or any use of arms as leverage against the current.
Plus, they were wearing the kind of hiking boots that couldn't get wet so I'm sure they're in for a shock (and Mom again noted that it was getting late in the day and they were just getting started!).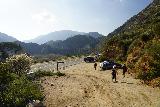 Regardless, we got back to the car at 3:30pm, and we promptly headed back to the 210 but we noticed that there were way more cars on the road now, and that it was probably going to take us a while to get home.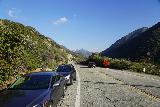 Julie texted me expressing interest in going all the way to Long Beach for family night, but it didn't seem like we were going to get back in time as the 210 traffic was bad.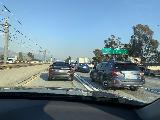 And it took over 90 minutes to finally get back to Mom's place (we got there at 5:10pm) so she had to get Dad to help pick up Soph from her extracurricular class.
Meanwhile, Mom said she could get ready on her own before their planned dinner with friends tonight.
Then, it took me another half-hour or so before finally returning to Julie and Tahia by about 5:45pm.
And thus this unexpected drama-filled adventure was over, but we were looking forward to the next excursion on what I'm sure will be a very busy Sunday at Escondido Falls.
For sure, we're gonna need an early start, and I'm debating whether to still stick with hiking boots or just go with Trail Runners for that one.
But at least we got through this excursion, and once again, it reminded us that conditions are definitely changing along with the destabilizing climate, but we can't do anything about those except to adjust our risk assessment and respond accordingly…
Visitor Comments:
Got something you'd like to share or say to keep the conversation going? Feel free to leave a comment below...
No users have replied to the content on this page