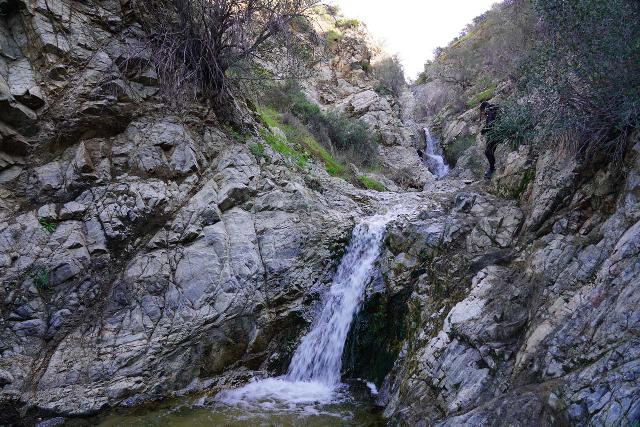 12-February 2023 to 13-February 2023:
The scrambling already made us uncomfortable, and Julie didn't want to do it, but Tahia already raced ahead and followed the scrambling path up the lower waterfalls that the couple in front of us did.
There was also a handful of people making their way back down, which further reinforced to us the route we should be taking to get over this waterfall obstacle.
So I went up the cascade (not liking the ledge clinging obstacles), and Tahia and I had to get up a second ledge clinging obstacle that also gave me butterflies…
Day 1 (February 12, 2023 – Los Angeles, California): "Magic Mountains"
It was 6:30am when we awoke to our alarms.
On this day, we wanted to try to fit in a new waterfall hike that we hadn't done before, and since it was close to Magic Mountain, we thought we could also take advantage of our season pass to fit that in there as well.
Granted, tomorrow was also one of two Presidents Day holidays at Tahia's school so we were also intending to go to Magic Mountain for the whole day though we did have concerns about the crowds on that day.
Besides, today was Super Bowl Sunday, and surely the crowds shouldn't be too bad today, right?
Anyways, by trying to fit in a handful of rides with our Flash Pass that was included with our season pass this time, we should at least be able to ride some of the new ones they have that we didn't get a chance to do last month.
And so that was the plan (though I also wanted to fit in a hike to Placerita Creek Falls, which both Julie and Tahia were strongly opposed to).
Regardless, we took some time to prepare for the day though Tahia was kind of being a laggard as usual.
We tried to tell her that Magic Mountain wasn't happening if she was not doing her part to help us get ready for the day (especially since it would delay us even longer and thus we might run out of time for the theme park).
Still with all that chaos that was going on this Sunday morning, we finally got into the car and headed out by about 7:55am.
Fortunately, the drive was pretty light.
Before we knew it, by 8:40am we were already at the Whitney Canyon Park Trailhead, which was right off the first exit where the I-5 and Hwy 14 junctioned.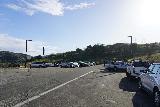 It felt strange that for such an easily-found trail, how is it that we didn't know about this one until February 2023?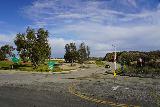 I guess this is one instance where we have to thank AllTrails (or the contributors to it) for learning about this place (that was practically next to Placerita Canyon, no less)!
Anyways, there were already lots of cars occupying the parking spaces seen immediately as we approached, and we initially thought we had to park in one of the spillover shoulders before the on-ramp for the Hwy 14 North.
However, we later found that there were more paved spots that opened up, which Julie took the opportunity to get, but then when we started to walk towards the actual Whitney Canyon Trail, we saw that there were more unpaved spaces in a rather large lot.
So we really didn't have much to stress about as far as parking was concerned.
That said, I'm sure this place would fill up pretty quickly by the time we get back, but then again, we're talking about Super Bowl Sunday.
Surely, a lot of people would be hanging out and having watch parties at someone's home or bar, right?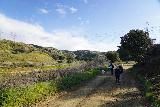 As got started at about 8:55am, we went past the gate at the end of the unpaved part of the parking lot, I couldn't help but notice signage suggesting that the Whitney Canyon Trail was part of the Santa Monica Mountains Conservancy.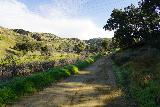 I always thought of these mountains as being the small range separating the Valley from the exclusive coastal real-estate of say Malibu and Pacific Palisades.
But to have this place (which was further inland to the far western extreme of the San Gabriel Mountains) be considered part of the Santa Monica Mountains was unusual to me.
Nevertheless, this trail was actually quite wide and pleasant.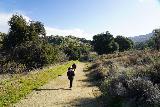 There were lots of shade given the somewhat low angle of the sun, and it was clear that we were hiking pretty much within the Whitney Canyon beneath the odd power pylon and some fire-scarred trees.
Looking across the stream that carved this canyon, there was what appeared to be some kind of residence or something though there were construction vehicles around, too, making it feel like that property was more than just a residence.
At around the 1/2-mile point of the hike (about 9:05am), there was a small spur leading up to some kind of pond with reflections in the water.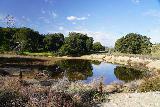 Clearly, this wasn't a natural pond, but it was notable since it was on my Gaia GPS map.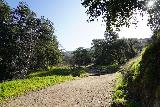 Speaking of which, I was using both Gaia GPS and AllTrails on this excursion, especially since I knew that the waterfalls we were pursuing was actually further up the official trail's end.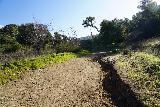 By the way, Julie was a concerned about the prospect of scrambling to get to the waterfalls, which was why she would ask random people returning from the trail whether they saw the waterfall and how it was.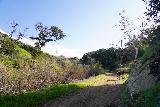 But the first two or three parties she asked all said they didn't get up to the waterfalls, which she then relayed to me the seeds of doubt that perhaps there are no waterfalls here.
Well, I was navigating using AllTrails so I knew that people had gone there earlier this year (let alone this week), and so I wasn't going to be deterred though I, too, was concerned about how dicey the scrambling would be.
That said, as I looked at the map, I couldn't help but wonder how close those waterfalls were to the Placerita Canyon Natural Area and whether there was a much shorter hike and alternate approach.
Nevertheless, we were sticking with this pleasant trail that continued to go through shaded tree-flanked flats while passing by the odd fork leading to our right towards some road access (which I'd imagine mountain bikers might be pursuing).
After around 1 mile into the hike, we noticed a pair of white walls that looked like retaining walls that appeared to act as a former foundation or something.
We weren't sure what it was for, but definitely stood out to us amidst all the trees that were around us.
Heck, there were even piles of deadfall organized around either side of the flat fronting the pair of white-walled foundations so clearly someone was maintaining this spot.
Continuing with the hike, the trail started to narrow as the canyon was also starting to narrow.
It was at that point that the trail undulated a bit more as well as started flanking and crossing the stream in Whitney Canyon.
This was an opportunity for Julie to really put her hew Hoka shoes to the test, and she even told me that she accidentally stepped into water and that no water got into them.
Well, that bit of info told me that she shoes are primarily hiking shoes, but they're not the type that lets water in and out, so I mentally decided that I was still keeping in Altra Lone Peak Trail Runners for those longer high water hikes.
For the next half-mile or so, we'd continue hiking alongside and across the stream, but eventually we realized shortly thereafter that the easy part was over once we got over this stretch.
Next, we started to encounter smaller 5ft waterfalls or so, but the issue was that there were pools in front of them along with steep and slippery scrambles to get around them.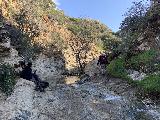 Starting with the first one, there was one couple that did a steep and slippery scramble to get over that first waterfall while a few people were looking on (clearly not wanting any part of it).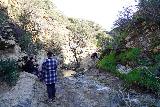 When it came our turn to get across, Tahia raced ahead and managed to do it carefully but a little faster for Julie's liking as she kept calling out to her while Tahia kept proceeding forward.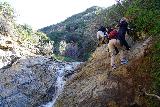 However, when it came Julie's turn to scoot across the slippery part, she was really scared because the footing down below was already wet and slippery and uncertain.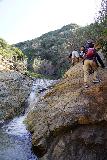 It took Julie a while to get across this obstacle, especially without me being in front of her to help her place her foot and stop her from slipping and falling, but she ultimately got through that section.
When it came my turn, it was definitely dicey, but I managed ok through I wasn't keen about grabbing onto a sprouting that looked like it was about to be pulled out from the cliff it was clinging to.
Anyways, after this obstacle, we crossed the creek, then followed more of the trail before encountering a second waterfall obstacle where we had to cling to the rocks on the left side.
While this obstacle wasn't as bad as the first, it was still slick in places and we definitely had to choose our steps wisely.
Then, beyond this second waterfall obstacle, we rounded another bend and then followed a bit more trail-stream hiking before finally approaching what appeared to be a series of cascades.
Was this the Whitney Canyon Falls?
Well, as we looked ahead, there was a couple that was already going up this waterfall, and it seemed like we were going to follow them up.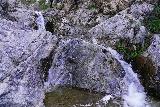 The scrambling already made us uncomfortable, and Julie didn't want to do it, but Tahia already raced ahead and followed the scrambling path up the lower waterfalls that the couple in front of us did.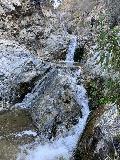 There was also a handful of people making their way back down, which further reinforced to us the route we should be taking to get over this waterfall obstacle.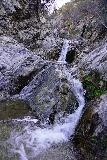 So I went up the cascade (not liking the ledge clinging obstacles), and Tahia and I had to get up a second ledge clinging obstacle that also gave me butterflies.
Tahia had already scaled it, and then it came my turn, where my Cotton Carrier-mounted camera bumped the cliff from time to time.
That was how tight the ledge clinging was, but at least it wasn't quite as scary as the very first scrambling obstacle that started this whole 1/2-mile stretch.
And with that by 9:55am, Tahia and I made it up to the top of the lower cascades as we realized that there were actually even more attractive waterfalls further upstream, including a hidden one way up top.
However, we also witnessed one guy do what looked like a nearly vertical scramble to get up the initial vertical waterfall, and then when I saw him later scramble up a cliffside, that was when I told Tahia, this dude has mountain goat capabilities.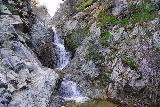 Apparently his partner was down in front of the plunge pool before the waterfall obstacle that we photographed the most, and she was holding onto a dog while precariously standing on an uncomfortable-looking ledge.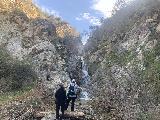 When I saw her really slowly and carefully scoot her way back to terra firma, I knew there was no way I was going to pursue going up to those hidden waterfalls further up.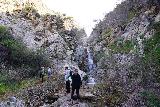 Now while we were up here, I was starting to feel some moisture inside my left foot, and that was when I realized that perhaps this latest Vasque St Elias boots weren't as waterproof as my older pairs were (so that sucks).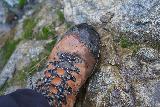 It got me wondering that maybe I should hang onto my older boots in case there are going to be water crossings, but it also meant that I'll have to treat the newer Vasque St Elias shoes more often to help with the waterproofing.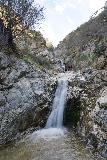 Thus, Tahia and I spent some time just taking pictures and videos, and doing our usual schtick of documenting our experiences while also doing some narration for the YouTube channel.
That latter part was perhaps the one part I enjoyed the least but that feels more like performative travel, and I certainly didn't want to come off as a douche to both my audience as well as the people showing up.
Eventually, with more people showing up above the lower waterfalls, Julie also followed someone up and made her way to join us.
And so we spent the next several minutes savoring this experience as a family until we had our fill of this place just as even more people were showing up.
Of course, we had to go back down the waterfall obstacles again, and thus we weren't out of the woods yet.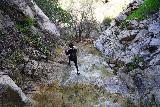 It took some time to get back down the lower cascade obstacles beneath our turnaround point, and by 10:25am, we got through that bit of an obstacle.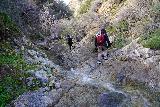 Then, we got back on the narrow trail downstream as we got around the second obstacle before getting back to the real dicey one.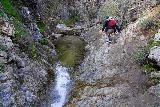 This time, Julie took a less obvious route on the right, and it turned out to not be as bad as the way we had taken earlier.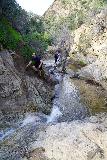 Still, Tahia committed to taking the dicey route after another family went up that way, and it still looked sketchy even from across the stream where I was standing.
But once we got past this obstacle, we were pretty much home free to make it back along the maintained part of the Whitney Canyon Trail.
Eventually by 11:20am, we made it back to the Whitney Canyon Trailhead, and sure enough, the unpaved overflow parking area was all full.
We also noticed a California Highway Patrol car hiding out at the on-ramp trying to nab speeders gunning in on the northbound Hwy 14.
Since we were already making pretty good time with the Whitney Canyon Falls hike, I was now determined to want to pursue the Placerita Creek Falls.
Of course, I got even more resistance from both Julie and Tahia about doing it (Tahia being the most upset because she wanted more Magic Mountain time), but we eventually worked out a compromise.
I would do the hike by myself while Julie and Tahia would go to In N Out (either in Valencia or Newhall) while filling up gas so we could be efficient about it.
And with that plan, we drove over to the neighboring Walker Ranch Trailhead (just east of the Placerita Canyon Natural Area – one of these days I'll do the longer hike from there), eventually getting there at 11:35am.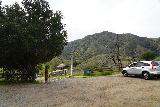 Since I was already geared up, it didn't take long for me to get my camera equipment, start recording, and head out just as Julie and Tahia were making their way to do their errand.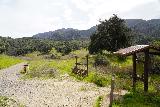 There were already quite a few cars parked right at the gate fronting the Walker Ranch Trailhead, but as I looked down the road, there were even more cars out there (so clearly it was busier today than when we did this hike 3 years ago).
Anyways, I proceeded to go down the familiar road curling down to the stream crossing near some portapotties with some nice views against the midday sun of the mountains around Placerita Canyon.
I did notice that there was one guy who went up a different trail instead of the wider road, and I wondered if that was the trail I should have been taking.
Regardless, I then got across the stream where there were some fragile-looking wooden planks to get over the water, and then I found myself back at the familiar picnic area right at the trail junction with the Waterfall Trail.
It was interesting to see that one sign said the hike was 3/4-mile in each direction, while the elevation profile signboard said that the trail was only 0.56-mile long.
Well, I continued on with the trail that somehow felt a bit greener and more developed than when we did it the first time around.
And then when the canyon narrowed in, I started to see that the stream was definitely flowing, but I also noticed that there was also a sulfur odor.
Was there a hot spring or something around here that I didn't know about?
Anyways, I got up the first waterfall obstacle, which was still slippery and moderately sketchy-looking, but then I got up to the second waterfall obstacle where I saw that someone made a trail going around its left side.
At least I didn't have to scramble up the slippery slope alongside this waterfall obstacle like last time though the big step to climb up a root to get onto that new trail wasn't an issue.
Next, I was anticipating encountering an eroded trail that disappeared on us and caused us to stream scramble the first time we were here, but this time I saw that there was a trail built on top of a landslide.
And thus, continuing with this trail was way easier than it was the first time around, and I even noticed that they had put some steps on the descent.
Sure enough, after getting to the confluence of a pair of streams, I then kept to the right past some boulders, and I quickly arrived at the familiar base of the Placerita Creek Falls at 12:15pm.
Right at that moment, there was a couple that was taking selfies in front of the falls while there was another family carefully scrambling down a cliff face adjacent to the falls.
When I asked that family in Spanish whether there were more waterfalls up there, the father said that there were two more.
So that piqued my interest, but I also had to weigh the risk versus reward of going up there knowing that if I screw up or something happens, that could totally throw our plans for today for a loop.
And thus in the end, I ultimately decided not to do what that family did (as tempting as it was though my bum Achilles was still bothering me), and I just contented myself to documenting the falls just like last time.
That didn't take too long, and I helped one couple take a photo for them, and then I headed back out.
I had promised Julie earlier that I'd be back at the trailhead by 1pm, and it seemed like I might get back faster than that!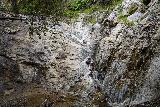 When I got back to the first waterfall obstacle and that strong sulfur smell, I was chatting with a lady who was heading up to the falls (and was apparently a local).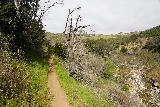 She explained to me that the sulfur smell was due to drilling activity for oil in the area, which released some of the underlying sulfur in the earth.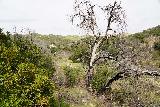 She also explained to me that the Walker family that settled in this area had found gold in Placerita Canyon, which was apparently the first place in California that white settlers had found gold.
Well, that was news to me since I expected that to be somewhere closer to Sacramento, but that now gave me reason to come back here to do the longer hike one of these days (even if there wouldn't be flow in the creek).
Anyways, after wishing them a pleasant hike, I then made my way back to the trail junction (seeing that familiar Hispanic family that had gone up past the main waterfall earlier).
After crossing the creek over the planks, I then got back to the portapotties and then proceeded to go up the narrower trail that I hadn't taken earlier.
It went up a gully that was apparently flanked by more fire-scarred trees, but before I knew it, I was already back at the Walker Ranch Trailhead by 12:50pm.
Julie and Tahia weren't back yet, but eventually they did show up at 1:05pm, where I then scarfed down my In N Out burger before heading out towards Magic Mountain finally.
Today's trip to Magic Mountain was supposed to be a quick visit to use our Flash Pass (that we weren't able to do on our first visit due to how cumbersome their redeeming system was).
But we were making such good time that I guess doing the park today and then possibly tomorrow for Tahia's first of two presidents days off would be icing on the cake for that second day.
So it was with all that anticipation that we got to the Magic Mountain Parking lot at 1:35pm, and then we proceeded to walk over to the park entrance and then the Flash Pass office anticipating difficulties.
Sure enough Julie's pass wasn't working and the office had to manually intervene so we could finally ride West Coast Racers.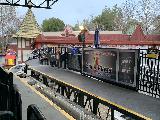 We did do X2 twice (because it had no line though the load times were long), Wonder Woman, Lex Luther, and Full Throttle by the time we had run out of time.
But we didn't get to do our favorites like Twisted Colossus and Tatsu. The Batman line was too long, Superman didn't ride backwards (only one side was working), and Riddler, Viper, and Goliath were all closed.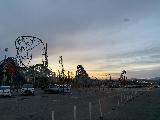 By the end of the day, Julie was starting to feel under the weather, and it seemed like Tahia was also starting to regress with her cold (they were doing so fine during the hikes earlier today!).
So that's all throwing doubt into whether we could do Magic Mountain tomorrow, but in any case, we got back to the car at 5:30pm, and then we made it to this place called Borneo Kalimantan Cuisine in Alhambra at 6:40pm.
The traffic was fairly smooth for Sunday night, and instead of waiting in line for Raffi's in Glendale, we just went with the hole-in-the-wall, especially since everyone wanted soup and hot water.
Only after having the dinner (Julie wasn't all that impressed, but I thought the food was pretty good), and getting back in the car at 7:40pm, then we finally got home at 8:30pm to call it an unexpectedly thrilling day!
Day 2 (February 13, 2023 – Los Angeles, California): "Salvaging A Sick Day"
I awoke naturally at 5am thinking that I would have plenty of time to try to get caught up with yesterday's happenings in terms of blogging about it.
So with that thought hanging over my mind, I just got up and cleaned up without wanting to go back to sleep.
Thus, I managed to get most of the blogging done, but there was still a lot I needed to get done regarding writing about the new waterfall (Whitney Canyon Falls) and updating the repeat (Placerita Creek Falls).
When Julie got up at around 7am and Tahia got up a half-hour later, neither of them sounded great as they were still sick.
Julie had already made up her mind that she wasn't going to go to Magic Mountain today, but she was also not feeling well enough to accompany Tahia in selling Girl Scout cookies in front of a supermarket (so Tahia could fulfill her obligations).
So that meant that if it was just going to be Tahia and I going to Magic Mountain, then we'd have to leave the park early to get back in time for her to do the Girl Scout function given the traffic in LA.
However, Tahia was now coughing from the lung (even though it sounded like she was getting better yesterday), and that prompted Julie to basically pull the plug on going to Magic Mountain today.
I thought to myself, "Well, that's just great. I took this day off just so I could accompany Tahia for a magical day at Magic Mountain, but now it was called off."
That decision was made at around 8am, and at 8:30am, I now had to do some errands to help deliver some cookies for people who bought them as well as some pomelos that we wanted to give to friends from our tree.
By the time I returned home, I managed to get a few more thoughts and sentences into my blogging to at least finish on that part of the chore before I turned my thoughts towards trying to salvage something out of this day off.
As much as I wanted to finish off all the stuff I wanted to get done regarding yesterday's happenings, I knew that it would be harder to go on a hike on this day (whereas I can always catch up on blogging later on).
By 9:30am, I eventually came to the conclusion that I can manage a short hike to Tenaja Falls and maybe sneak in a visit to Ortega Falls before getting home at a reasonable time.
So with that in mind, I quickly made the decision, got my stuff together, and then headed out by 9:45am.
The drive out towards the I-15 was pretty smooth even though there were still quite a lot of cars on the freeways.
But it wasn't crazy like it would be on a typical day where there weren't people taking off today due to Presidents Day.
So it didn't take too long to get to the I-15, and then I headed south along the I-15 towards Lake Elsinore, where I started to notice patches of orange on the neighboring hills.
I thought to myself as I passed by that the poppy bloom is starting though it wasn't the superbloom (like the one in 2019).
I remembered reading earlier on that the city of Lake Elsinore closed off the Poppy Trails because apparently the previous superbloom caused a strain on the city that they didn't want to have to go through again.
Meanwhile, Julie was seeing on the socials that a lot of bloggers were hyping the event with photos from the past but passing them off like it was already happening this year (yet another indication of how misleading the socials can be).
Regardless, I kept driving south, and then I eventually got off at the familiar Clinton Keith Road, were I then followed it towards the Santa Ana Mountains before having to turn right onto Tenaja Road.
Then, I followed the Tenaja Road towards the Cleveland National Forest Road, where the route then narrowed into a more-or-less single-lane road.
There was only one car that was heading out as I was heading in, but after that, I didn't see another car coming my way (though there was one car parked before the Fisherman's Camp Trailhead).
And it was a good thing that was the case because I started to get to a point where there were ruts and potholes in the paved road.
With my low clearance 2wd vehicle, I had to be real careful about where I was maneuvering the car, and this drive took a while longer than I had recalled.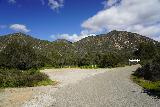 But eventually by about 11:15am, I finally arrived at the Tenaja Falls Trailhead parking, and to my surprise, I was the only person here.
On the weekends, this place would be packed, and even the lot could be totally full like it was the last time we were here.
Anyways, I geared up, and then proceeded to go on the familiar hike, where the trail was noticeably flanked by more greenery than I'm used to seeing here.
It didn't take long before I got to the trail junction with the Fisherman's Camp, but this time there was even more newer and pronounced-looking signs so there's no way to get lost or take the wrong trail like we did the first time we were here.
Then, as I approached the stream crossing, I saw that the ford was essentially allowed to be overgrown while there were boulders arranged in such a way so as to keep hikers going upstream towards a more obvious stream crossing.
In fact, there seemed to be some concrete poured on the boulders to keep them in place, and to make the crossing almost like hopping from a bridge segment to another.
Crossing the stream was never this easy (to not get wet), and I guess this was yet another instance of trail improvements that have been made with the increasing popularity of the waterfall trails.
So I got across in a breeze, and then I proceeded to go uphill on the familiar trail leading to the top of the Tenaja Falls.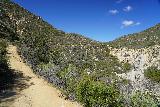 Along the way, I got to the familiar view across the canyon of the Tenaja Falls though it wasn't looking like it had as high a flow as I was expecting (considering the atmospheric river storms that came less than a month ago).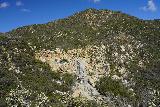 Thus, that told me that the precipitation accumulation amounts from the Winter was rapidly diminishing, and it also told me that Winter was definitely over.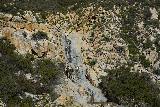 Heck, we may not see any more significant rain for the rest of the season, and maybe we might not see more rain again until November or later.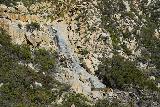 That seemed to be the pattern these past few years where we'd get a burst of heavy rains, and then there'd be nothing left as if the spigot was turned off.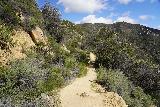 And if we didn't get the heavy rains in bursts, then we might not see rain at all, and apparently, this is not a sustainable pattern because the major river systems and snowpack continue to decline in drought.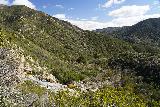 Heck, even the Colorado River is in danger of drying up in much the same way as the Murray-Darling River in Australia once was drying up before the Triple Dip La Nina momentarily halted that status.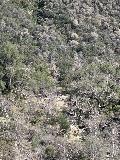 After documenting the views, I then saw a young trio of hikers make their way past me to get to the top of the falls.
So apparently, I wasn't alone here.
Eventually by about 12:10pm, I made it up to the top of Tenaja Falls, where I saw the young trio of hikers scramble their way down from the top of the falls to the lower tiers.
I certainly wasn't up for that, but I was up for taking the trails of use towards a steep ledge where I got a nice look back at the upper two drops of the falls (much like the photo that Ann Marie Brown took in her book).
I definitely didn't want to scramble all the way down to the plunge pools and the base of those waterfalls, but I was a little incredulous that two of the three people in that trio continued scrambling all the way down to the bottom of Tenaja Falls!
In all the times I had been here, I had never seen someone do that (because it's way too dangerous), but then again, I did see that there was some tagging in the boulders at the base of the canyon.
So it wasn't impossible, and in fact, it might not be that unusual (though I always figured people who went to the base of the falls scrambled in the creek from further downstream then made their way up).
Regardless, by about 12:20pm, I had my fill of my close-up views of the upper two drops of Tenaja Falls, and then I started to head back just as a pair of women just showed up.
When they asked me if how far I had gone down, I told them that I only made it to a ledge and then went no further (seeing that I didn't want to take unnecessary risks, especially since I have a family I'm responsible for now).
So with that, I headed back down the way I came, and aside from one couple that started to do this hike, I got back to the familiar trailhead by 12:55pm, where there were now 3 cars parked here.
After having a snack of a couple of tangerines and some seaweed with one organic Slim Jim-like snack, I started to leave just as another car had just pulled into the trailhead parking area.
I guess this spot wasn't as empty as I had initially thought for a Monday.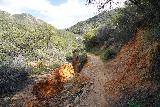 Anyways, I then went back up the Cleveland Forest Road, and then back to the Tenaja Road, before following the Clinton Keith Road back towards Lake Elsinore.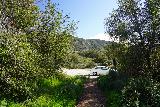 Along the way, I couldn't help but notice more pronounced orange hillsides as the poppy bloom was definitely happening, but the city seemed adamant about not letting people experience it.
Eventually, I got to the Central Ave off-ramp, but then there was already some degree of congestion here so I made a mental note to not come back this way to regain the I-15 on the way home.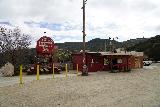 It took some time to get through all the way to the Ortega Highway, but eventually I got to the familiar climb leading up towards the Road House, where I made a brief stop at 2:05pm.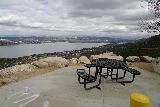 While I was there, I was checking out the orange hills in the distance though it was getting harder to see with the cloud-induced shadows that they had casted.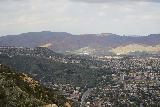 Then, I proceeded with the drive as I passed through El Cariso Village along the Ortega Highway, until I reached some road work that really backed up the highway.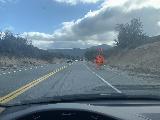 I believe I waited a pretty solid 10 minutes or so before we finally moved again, but I could see that we were basically going the wrong way on a single lane though the opposite lane looked like it was doing fine.
I also saw that there were a handful of cars parked right after the person blocking the traffic, and at first I wasn't sure if that was the Ortega Falls pullout.
But after the caravan of cars went further down before encountering another stoppage, I realized that I should just U-turn, and then go back up to that pullout.
So that I did (not sure if I was supposed to do this or not), and I eventually got back to the Ortega Falls pullout at 2:25pm.
From there, I then descended the familiar but eroding trails of use to the right, and then followed it towards the Ortega Falls like I remembered before.
However, it really looked like the tagging situation along the way had gotten worse since the last time I did this scramble, and that was too bad.
Ultimately by about 2:45pm or so, I arrived at the familiar Ortega Falls though I did spend some time chatting with someone here who was chilling out above the brink of the lower waterfall.
At first, I thought he was a local, but it turned out he was just visiting one of his daughters who lives in Murrieta.
We were talking about the tagging situation and how hard it would be to maintain or even enforce, and I guess we came to the conclusion that the authorities here don't really give an "f" or they just can't do anything about it.
Anyways, I ultimately got down to the base of the main drop of the waterfall, and I could now see for myself that the graffiti here was particularly bad (almost like a graffiti wall flanking the falls).
So I documented this experience (while sharing this place with a pair of Vietnamese women taking selfies), before I had my fill and then headed back up to the car.
I got up there at 3:20pm, where I then changed out of my boots and back into Chacos before starting to drive off after waiting for a long caravan of northbound vehicles.
Eventually, I got on the Ortega Highway, and then took Grand (instead of Central) all the way to one of the Poppy Trailheads before the freeway on-ramp, but that was clearly closed with loads of no parking signs everywhere throughout the drive and on-ramp.
So much for visiting the superbloom is there is one this year (not that I wanted to do something like that again).
And for the rest of the drive, it was actually surprisingly smooth going most of the way as I had feared rush hour traffic.
In fact, I ultimately got home by 4:35pm thinking that I had to pick up Tahia to do the Girl Scouts cookie selling obligation.
But when I got inside, it was quiet and both Tahia and Julie were trying to sleep off whatever bug they caught.
I, myself, was also starting to get a scratchy throat, and I was worried that I be going to work tomorrow under the weather (not good).
Nevertheless, I was glad that I did fit in my waterfalling excursions today to at least make something out of taking today off, but hopefully my body can fight off whatever I'm coming down with.
I certainly don't want to be taking another day off (this time a legitimate sick day) though I do have even more stuff to get through to get all caught up from today's happenings as well as yesterday's…
Visitor Comments:
Got something you'd like to share or say to keep the conversation going? Feel free to leave a comment below...
No users have replied to the content on this page