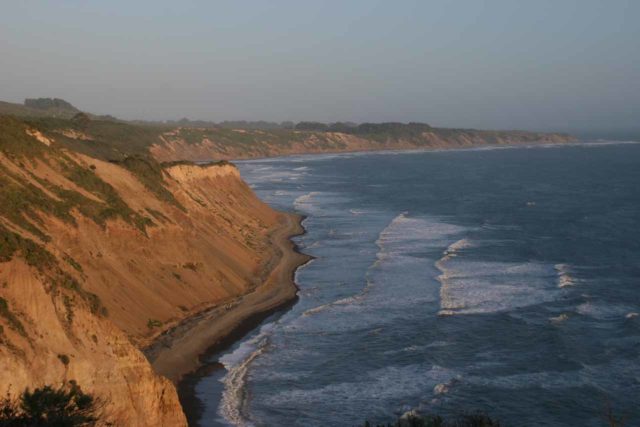 8-April 2010 to 10-April 2010:
…as we got into Big Basin Redwoods State Park, we noticed that the dark overhanging clouds had produced drizzle, and it eventually became rain! The weather forecast said the rain storm wasn't showing up until tomorrow. However, here we were about to park the car and go on a long hike under rainy conditions.
To make matters worse, I managed to forget to bring our rain ponchos. Being prepared was something I prided myself in, but I guess I must've removed the ponchos from the daypack and left them home during one of our local excursions…
Day 1: NO NUDITY THIS TIME
After working third shift, Julie picked me up from work at about 6:15am. From there, we embarked on the long drive up north to the Bay Area. I was just trying to get caught up on sleep.
This long weekend was going to involve some waterfalling in the Bay Area. It was a region that we haven't really explored much except for Alamere Falls, San Francisco, and Sausalito (and that was about 6 years ago!). Waterfalling up here was something we took for granted since we had friends and relatives up here and we thought we could do this any time. But given the realities of career, aging, and other external pressures, we figured with the weather looking to be pretty decent this weekend, we mind as well seize the moment and go for it.
It was about 8:30am when we reached Kettleman City. Our rental car was drinking gas, and it also had a small tank. These two things were a bad combo and we took this opportunity to make a gas stop. Unfortunately, we paid $3.41/gal, which belied the $3.21/gal stated on the sign until I realized the fine print mentioned that those were cash only rates. Why cash only rates? I don't recall seeing such a prevalence of misleading signs like this. In any case, it was a rip off, but in the grand scheme of things, 20 cents on a 10 gallon tank meant I lost out on $2 total. So in the big picture, it probably wasn't that big a deal.
In 'N Out Burger wasn't open until 10:30am so we didn't linger here for long.
As we continued heading north on the pretty boring but straight shot I-5, we noticed quite a few signs saying, "Congress Caused Dust Bowl." We speculated that this might have to do with water rights, which was something we paid attention to considering how unsustainably Californians have been using water thereby causing more environmentally detrimental actions like diversions and dams, and this doesn't even include the climate destabilization problem which conspires to reduce the amount of rainfall in the region.
I'm sure some of the local farmers here weren't happy about their water allocations, which were probably insufficient to keep their land totally cultivated. But then again, I wonder how much of the agriculture was sustainable to begin with and how much of it would be waste. It's funny how when you start caring about the environment and look at the problem holistically, these issues all of the sudden matter.
At 10:35am, we made it to Patterson. Here, the gas was a more reasonable $3.15/gal. But up in these parts, we were hoping to see an In 'N Out on the way to Stinson Beach, but didn't seem to have much luck with it. So both of us went starving.
It wasn't until 12:45pm did we finally arrive at Stinson Beach. The GPS
kind of misled us into taking some surface streets through a rather upscale town in Talampais before finally getting to Hwy 1. But once we were on Hwy 1, we were behind a long caravan of cars started by slow pokes who refused to use any of the pullouts. Thus, a pretty long drive felt even longer. At least the iTunes music kept our minds off the traffic.
So we checked into the Sandpiper Motel, dropped off our non-hiking stuff, and then stopped over at the Parkside Cafe's Snack Bar to finally try to satisfy our food craving. We ended up getting a Polish Hot Dog along with a Grilled Chicken Sandwich at this cash only place. It wasn't anything extraordinary, but at least we got some energy back into us.
At 1:50pm, we finally continued onwards to Point Reyes National Seashore, which was the home of Alamere Falls – the destination of today. We knew the hike was about 8.6 miles long so a long drive would be followed up by a long hike, and starting a hike this late in the afternoon meant that we couldn't tarry for too long or else risk hiking in the dark.
I was looking forward to photograph the falls under both better weather conditions as well as better lighting. The afternoon hike was a little risky, but the lure of a setting sun lighting up the ocean-facing waterfall was worth it as far as I was concerned.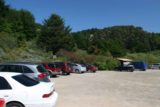 We hadn't been to this waterfall in over five years, which was under foggy conditions on that morning that we hiked. So right off the bat, I could see this experience was going to be different. I was just hoping that the fog or clouds that was supposed to be coming this afternoon stay away for our hike, and so far, that was the case.
Following the directions to the Palomarin Trailhead (per Ann Marie Brown
's directions) was pretty straightforward except the Olema-Bolinas Road was not signed (surprising after all these years). Good thing the GPS
gave us the heads up to make the turn around the Bolinas Lagoon.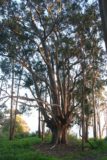 By 2:20pm, we made it to the trailhead. The last mile or so of Mesa Drive seemed a little more rough and potholed than I remembered it, but then again, not much seemed to be quite like I remembered it. It just goes to show you how memory can be deceptive and unreliable over long periods of time (and why photos and journals are important).
There were already numerous cars parked at this trailhead. We felt like we were late to the party as a couple of cars were taking off just as we arrived.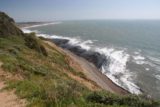 We laced up our boots, packed our gear, and started hiking under the afternoon sun and rather strong sea breeze. Some parts of the trail were a little muddy, but they were avoidable for the most part.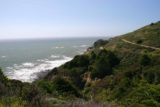 After going through a small grove of tall gum trees, the trail made a dramatic entrance into a sun-exposed open area as it started to overlook the Pacific Ocean. And considering how foggy it was the last time we were here, we realized that this was what we were missing all along!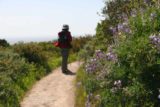 Adding to the scene were wildflowers blooming alongside the trail. So obviously I had a difficult time not stopping to take photos along the way, which conspired to slow us down. But the scene was simply too beautiful to ignore. However, the winds were headwinds for the most part, and they too conspired to slow us down.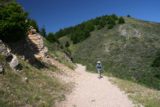 After the first mile or so of this wonderful stretch of coastal scenery, the trail veered inland and started climbing noticeably. The inland detour was enough to worry us a tad about whether we had missed a turn or not, but the well-developed trail along with the trail descriptions were enough to keep us moving forward confidently.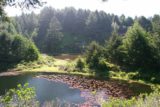 Finally, we started to pass by some lakes to our left. At first these "lakes" were more like ponds. One of them seemed to have a cluster of lilypads. But as we progressed further along, we could see a pretty large lake, which I suspected was Pelican Lake.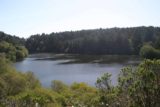 I recalled five years ago that this was where we encountered nude hikers on at least three occasions as we were hiking back to the car. But given the apparent popularity of this trail, perhaps the nudists found other places to express their freedom. Instead, we felt like we were one of the few non-backpackers on this trail as just about everyone else hiking in both directions seemed to have big backpacks.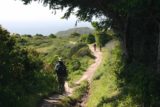 After passing the Pelican Lake, we did notice a pair of mountain bikers heading back the other way. I'm sure that would greatly shorten this hike, but I wondered where they'd park their bike since I never recalled any railings or places to park them by the Alamere Falls turnoff.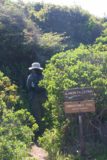 At around 4pm, we saw the familiar signed detour for Alamere Falls. The last 0.4 miles went through a narrow trail flanked by overgrown foliage some of which were poison oak. So Julie and I donned our jackets to try to limit skin exposure to the toxic oils of the plant. And given the persistent blustering ocean breeze, we didn't mind wearing the jackets to also shield ourselves from the wind chill.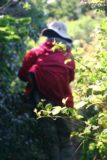 Eventually, we got through the overgrown trail section and then scrambled down a pretty worn gully leading to the front of the uppermost of the familiar Alamere Falls. And as expected, the lighting was good. Julie had some doubts about making the descent, but she ultimately made it and proceeded to take photos of these upper waterfalls as well as the brink of the main waterfall.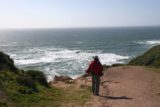 Then, we made the obligatory scramble down the fragile shale cliffs to get onto the beach so we could get the familiar frontal view of Alamere Falls.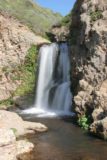 I guess we were oblivious to it last time, but these fragile cliffs could easily crumble to the touch as we were making the climb down. I could only imagine that over time, the path gets more and more worn, and thus the scramble would probably get more difficult. In any case, we were glad that this scramble to the beach was still doable right now.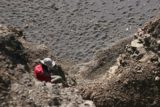 Once we were on the beach, we could see that the late afternoon sun had a warm glow, and it provided a very soft glow on the falls and the surrounding cliffs. As we got closer to its snaking stream as it cut through the hard, coarse sand towards the turbulent ocean, we could see a rainbow arcing across its lower right side.
We weren't alone at the falls as we had to share it with another couple who had already been here awhile. One was already equipped with a tripod, which was something I didn't bother bringing. We had a pair of hiking sticks instead (which in hindsight, we probably didn't need, but it did help propel us along when walking).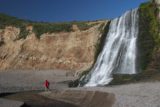 Both of us took off our boots and socks as we crossed the very cold creek to get to the other side of the falls. The coarse sand wasn't exactly soothing to the touch as our feet were pressing down on the sand. But the view on the other side was quite worth it.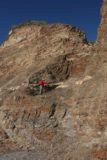 Eventually at around 5:30pm, it was getting late, and we finally started to pry ourselves away from the falls and head back to the trailhead. But that wasn't before we took well over 200 photos of the falls. Indeed, we weren't going to leave any memories behind!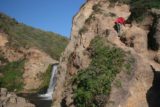 The hike back was long, but at least the sun casted longer shadows as it sunk lower on the horizon. That kept things rather cool as the vigorous sea breezes we encountered earlier in the afternoon seemed to have disappeared (which made the poison oak section a bit hot as we kept our jackets on to avoid skin exposure).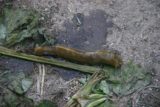 On the way back, we noticed a banana slug on the ground. At first, Julie thought it was green poo, but I had recalled from previous trip reports that banana slugs were abundant in the Big Basin Redwoods State Park so I suspect there might be some here too. And upon closer examination, we could see it was moving, and it had antennas on its head. Always a sure sign it's life.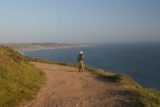 It seemed like hikes over 8 miles weren't too much of a big deal in the past. But when you start such a hike in the afternoon, for some reason, they seem longer. I guess it was the time pressure of trying to get off the trail before dark as well as the additional pressure of trying to have a decent dinner before the restaurants stop serving food.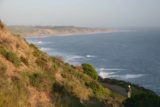 In any case, we ended up taking an alternate path that we saw earlier in the day. It was merely a short detour that hugged the crumbling cliffs a little more. And given the soft glow of the setting sun on the cliffs and beaches below, it was definitely soothing and definitely kept our minds momentarily preoccupied with the scenery instead of the long hike itself.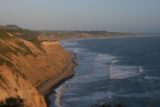 Nevertheless, Julie was getting some discomfort on her feet as she complained of blisters. This didn't bode well for the Berry Creek Falls hike planned for Saturday. But at least we were back at the car by 7:20pm.
Apparently, we accidentally interrupted a couple liplocking in their car just as we made the last turn to the car park. Oops, sorry. Just pretend we weren't here.
About 25 minutes later, we were back at Stinson Beach, where we dined at the Sand Dollar, which served much better-than-expected food. It was a timely dinner considering that we were starving, and it was a fitting way to end off a day that involved a long drive followed by a long hike. At least our appetites weren't ruined from any close encounters with full body nudity this time around 🙂
Day 2: THE C-SERIES
We awoke at 7:10am. We didn't particularly feel any sense of urgency today thinking we'd only needed a half-day this morning to see some of the waterfalls in Marin County before heading through San Francisco to San Jose. At least that was the plan.
But the more I looked at the trail descriptions for the hikes we were planning on doing today, the more I started to wonder whether it'd take the better part of the whole day. Something funny about the waterfalling on this day was that we were going to see three waterfalls all starting with the letter "C" (Cataract Falls, Carson Falls, and Cascade Falls) and all within the Fairfax-Bolinas Road not far from our base at Stinson Beach. This got me to call this trio of falls the "C-Series."
In any case, like I said earlier, we weren't in any hurry at the time so we took our time packing up, loading the car (in the cold of the morning), then going back to the Parkside Cafe for some breakfast.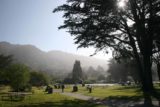 After the breakfast, at 9:35am we briefly walked over to the beach from which the town Stinson Beach was named. And upon feeling the sand and watching the waves pounding the sandy beach, we immediately recognized why they built a whole town behind this place.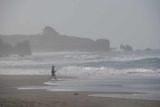 Sure the beach wasn't anything like the Maldives or some other tropical place where the sand is white. But at least it wasn't as coarse and rough as the beach in front of Alamere Falls in Point Reyes National Seashore.
Julie and I were content to check out the scene, take a few photos, and then head back to the car. Julie was quick to remind me that this was what a beach was supposed to be. After all, there were plenty of people picking up garbage this morning, and it was nothing like the beaches we witnessed in India. Of course there was no way we were going into the churning waters both because of its turbulence as well as its frigid temperatures. That said, there were a handful of people surfing, boogie boarding, and even one who tried to skimboard.
Speaking of the beach cleanup, Julie and I were talking about how progressive Stinson Beach seemed to be. In fact, this seemed true of Marin County in general after what we had seen so far this side of the Bay Area from large solar panel arrays on homes or fields to the windmills on the I-580 to the organic products offered at the local market (which was more like a liquor store), and even the fresh and relatively healthy dining experience we had last night.
Indeed, it seemed like the folks here were more open-minded to living with Nature, and it made us wonder whether this would be a place where we might want to live. Sure the cost of living up here would be much higher than what we're used to, but there seemed to be more like-minded people, and there'd probably be more opportunities up here to work in fields we are more passionate about.
All this got me wondering whether this might have to do with the environment here. After all, it's more moist and rainier up here than say down where we live. That allows cows to be grass fed since the grass would grow faster and stay green, locally grown organic produce could more easily be cultivated, and locals here seem to be more in touch with the environment. Contrast that with LA where it's drier, people seem to be less aware of the environment and their effects on it, and locally grown organic products aren't nearly as abundant.
I guess you are your environment, and perhaps it's no wonder why we sense more of a hippie vibe up here. This also got me thinking more about this polarization between liberals and conservatives. I'm sure both sides have their take on man's relationship to the environment, but we tend to lean towards the side that takes the attitude that we're supposed to live with Nature as opposed to the side that thinks Nature is there to be exploited by man. It's the difference between sharing with the offspring the fruits of conservation and respect versus lamenting with the offspring how things used to be.
By 9:50am, we left Stinson Beach and finally started our day of waterfalling.
Our GPS
told us that we were less than 12 miles from the first waterfall excursion of the day. So we headed north on Hwy 1 then turned right onto the Olema-Bolinas Road. From there, the narrow road steeply climbed up several switchbacks providing panoramas of the Bolinas Lagoon.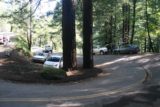 As we got towards the top of the climb, we were entering what seemed to be Mt Tamalpais State Park or something like that. There appeared to be a grove of coastal redwood trees up here.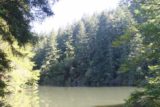 The road then descended towards Alpine Lake. By 10:20am, we joined about a half-dozen other cars (looked like there might be room for a dozen cars) right at a hairpin bend with some pullouts right next to a trailhead with some litter bins as well as some signs. This was the start of the Cataract Falls hike.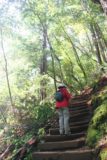 The hike initially skirted the southern shores of Lake Alpine, which looked very calm this time of day. But it wasn't long before we got beyond the extremes of the lake and the trail started climbing in earnest. And as the trail was climbing, it was always alongside cascades on Cataract Creek. Apparently, we just saw encounted the first of what appeared to be many of the Cataract Falls.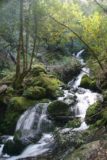 The trail continued climbing up a combination of switchbacks and rock stairs with a few fenced overlooks sprinkled here and there showing off other components of the long series of cascades. I was trying to keep count of how many were seen, but I only counted those I thought were significant enough to even bother.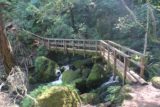 Thus, when we finally made it to the top waterfall (we knew this because some other hikers were kind enough to tell us it was the last one after asking), I ended up counting 6. But as we hiked back down, Julie was keeping a count of her own, and by the time we made it back to the bottom, she had counted 9 total!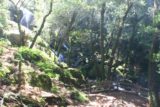 We probably ended up spending far more time than we anticipated on this roughly 3-mile or so trail. What took us so long was probably the fact that we were too busy taking photos of as many waterfalls as we could identify on Cataract Creek.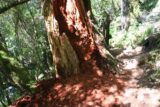 It wasn't until 1:05pm were we finally back at the car. Both Julie and I were encountering sore feet and legs. And that didn't bode well considering we still had a couple more waterfall excursions to go on this day.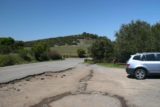 By 1:20pm, we continued heading east along the Fairfax-Bolinas Road, which went over the dam responsible for Lake Alpine, then climbed towards the apex of the road, which was right where there was a car park for Carson Falls. Well, it wasn't signposted for the falls from the car park, but our research and self-placed GPS waypoints indicated that we were at the right place.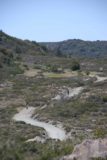 Julie didn't feel like doing a back-to-back hike as she was getting blisters again on her foot. So she handed me her camera to take movies with, and I ended up doing the hike solo.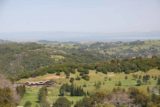 Unlike the first excursion, where it was mostly shaded, this hike started on Pine Mountain Road, which was a totally sun-exposed fire road. The hike went uphill for over the first mile, but I was constantly distracted with views out east towards the San Francisco Bay looking in the direction of the Oakland Bay Bridge that I think we had taken on the way here yesterday as well as Lake Alpine looking back behind me.
All along the walk, there were a handful of mountain bikers screaming along the fire road as well as other hikers sharing the trail with them.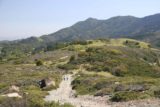 As I continued climbing towards the top of the road, I noticed some telephone lines, which my trip research indicated were landmarks worth following as they pretty much lead to the Carson Falls themselves.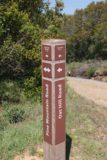 One of the hikers I encountered told me that there was a sign where Pine Mountain Road junctions with Oat Hill Road. In fact, she said it was all signed and easy to follow now, whereas it wasn't so signposted in the past. I guess that made my trip research from Ann Marie Brown
's book a little obsolete now since I didn't really have to follow telephone poles along narrow trails anymore.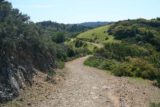 After getting to the Oat Hill junction, which was signposted just as the lady had told me, I had to descend that Oat Hill Road until I encountered another signpost. This one explicitly called out Carson Falls, and the trail that left Oat Hill Road at this point descended into a small grove of trees.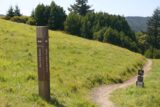 There was another closure sign nearby saying the old trail was hazardous (and it looked like this one followed those phone lines explicitly). So the trail I took ended up being the New Trail.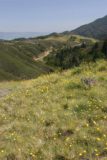 And as I was paying attention to the signs and the surroundings, I did notice some wildflowers nearby as I looked back towards the winding Fairfax-Bolinas Road we had just driven to get to the car park. Sometimes it's good to stop and take a look before continuing on to the destination.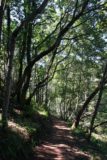 Within a few minutes, I found the uppermost tier of Carson Falls. There was already someone else taking photos here. It turned out that there were lots of larkspur flowers blooming in front of the falls. Behind me, I saw another trail closure sign, but I knew we were supposed to be able to see more of this waterfall. So I reckoned that the sign must've talked about the old trail.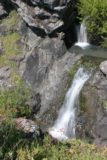 Signs nearby indicated that the trail closures we more motivated by protecting the endangered yellow-legged frog.
After getting my fill of the first falls, I descended down a few more switchbacks and rock steps until I got close to the 2nd main section of the falls.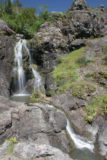 Further down the trail, there was an even better view of the falls. Unfortunately, it didn't quite have the nice and impressive flows I had seen in Ann Marie Brown's book. I guess if you wanted to see the falls in those conditions, you'd really have to time your trip for right after a storm. And this was something that wasn't easy to do for us considering we live over 6 hours away to the south.
Thinking that there were more cascades further downstream, I continued along the trail, which now descended rather steeply and seemed muddier in spots than before. But it was too bad the rapids and cascades weren't so photographable down here.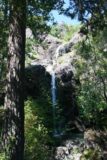 It turned out to be about a 20- to 30-minute waste of time. But at least I know now that the trail didn't lead to any more significant tiers of the falls.
It was already about 3pm when I took my last photos of the falls, and began the long arduous climb back up above the falls. But that wouldn't be the end of the uphill.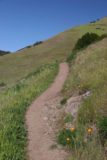 I still had to climb to the junction of Oat Hill Road with Pine Mountain Road. And that part of the hike was exposed to the draining heat of the sun.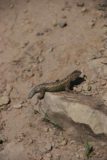 Seeing all the lizards around the falls as well as the trail, I guess it seemed fitting since I always associated these guys with dry environments, and the warm weather and unrelenting sun certainly reinforced that notion!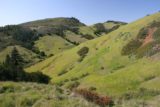 Once I reached the apex of Pine Mountain Road and the end of those telephone lines, then I could make the descent on the rocky and gullied up road back towards the car park. And with the softer afternoon light, I was savoring the sights, but at the same time I was still pressing forward so I don't concern Julie too much about not being back at the car park when I said I'd be there (around 3:20pm).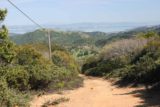 Eventually by 3:55pm, I was back at the car and the awaiting Julie.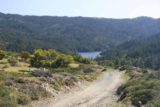 Our day still wasn't done yet as I still wanted to squeeze in a short excursion to Cascade Falls. So before embarking on that hike, we made a brief stop at the Good Earth store in the charming town of Fairfax. There, Julie picked up a tofu eggroll for a quick lunch.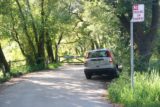 At 4:45pm, we finally made it to the Elliott Reserve, which was right at the end of the Cascade Drive nestled within a residential area. There wasn't much parking and signs clearly indicated you couldn't park on the pavement nor block any driveways. So we parked a short distance onto an area with a few pullouts sandwiched between homes.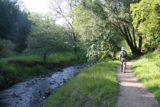 After our Hawaii experiences, walking through this residential area kind of reminded me of some of the residential areas we had to get through in order to visit a particular waterfall. Nonetheless, we were glad we were able to do this for free despite being part of the Elliott Nature Reserve.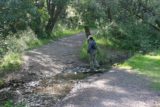 Julie felt well enough to join me on a visit to this waterfall. Unfortunately, she had forgotten to wear her hiking boots once we were already on the trail. So she hiked in shoes that were more appropriate for walking around in the city, and I sure hoped the falls was as easy as I was led to believe.
Well, the hike wasn't as flat nor as wide as I had hoped, but the net elevation gain didn't seem like much either. Still, we were a little weary from all the hiking we had already done today and Julie tip-toed across some trickier mud sections.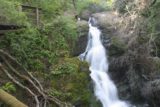 It wasn't long before we were finally face-to-face with the Cascade Falls. It wasn't all that big, but it was in a pretty serene setting and we made this falls our turnaround point. Yeah my research as well as field observations suggested there was a trail that climbed even higher than this waterfall we were looking at.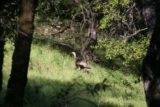 When we had our fill of the falls, it was time to head back. And as we got closer to the trailhead, suddenly a large bird came running across the trail and up the hillside. We never expected to see any wildlife on this trail, but it turned out that the big bird we saw was one of two wild turkeys. Apparently, this reserve is doing its job.
Eventually at 5:45pm, we got back to the car. And now we could finally call it a day for waterfalling the C-series and head to San Jose – within the hotbed of technology that is Silicon Valley. Even though we had to face rush hour traffic now, Julie and I did have cravings. But it was Julie's desire to have authentic Vietnamese food that won out.
The drive was pretty long, and this made me wonder how San Jose could be so far from San Francisco. This was almost like going from Claremont to Santa Monica back in the Southland timewise. In any case, it wasn't until 7:20pm that we finally arrived at the rather busy Vietnamese Restaurant. And eventually we left the place too sated with food as we probably got too eye hungry ordering food.
This place was also pretty expensive for a Vietnamese restaurant. But nonetheless, we were pretty happy with the food there. And the fact it was busy was testament to the quality of the food (or the word-of-mouth marketing).
Eventually, we arrived at the Moorpark Hotel where we'd stay for the next two nights. Apparently, there was some kind of party going on near the lobby. But Julie and I were only interested in getting settled, cleaned up, and finally sleeping for some rest.
For tomorrow was going to be the big hike of this trip in the Big Basin Redwoods State Park.
Day 3: DOING THE TWIST
The day began with us sleeping through our 6am alarm and getting up at around 7:15am. It wasn't until 8am when we left, but we thought we were a little behind schedule considering that we anticipated today to be the big full-day Berry Creek Falls, Silver Falls, Golden Cascade loop via the Skyline to the Sea and Sunset Trails.
Our pre-trip research said it was going to be a 13-mile trek with a combination of some up-and-down hiking. And it had been a while since Julie and I undertook something this long (I think our hikes in Patagonia, the Milford Track and Tongariro Crossing in New Zealand, or our Half Dome hike were what came to mind).
As we headed south out of San Jose and towards Saratoga, we picked up a couple of bagels from Noah's. That was gonna have to do to fuel us for today's hike. However, we did stock up on some fruits and almonds as well as lots of water.
The hour-long drive south on Big Basin Way was mostly uneventful. We had gotten an early enough start that I don't recall seeing any cars in front of us except for a couple who pulled over to let us pass while on the curvy highway.
However, as we got into Big Basin Redwoods State Park, we noticed that the dark overhanging clouds had produced drizzle, and it eventually became rain! The weather forecast said the rain storm wasn't showing up until tomorrow. However, here we were about to park the car and go on a long hike under rainy conditions.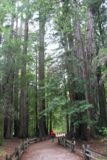 To make matters worse, I managed to forget to bring our rain ponchos. Being prepared was something I prided myself in, but I guess I must've removed the ponchos from the daypack and left them home during one of our local excursions on the weekend where we knew it wouldn't be raining. And I forgot to put them back in my daypack for this trip. So right off the bat, it didn't seem like we were in for a fun hike at all.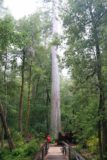 At 9:15am, we arrivved at the Big Basin Redwoods Park Headquarters. While there, the rain was way more than a drizzle. I ran over to the office where we paid for the $10 state park fee for our vehicle. Then, we wasted no time lacing up our hiking boots and getting started immediately on the trail.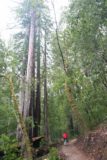 At the beginning of the hike, we were in a wide park-like area with a lot of trails crisscrossing each other. Interspersed in this large area were tall coastal redwoods. And even though the car park was open and subject to the rain, it seemed like the coastal redwoods sheltered most of the rain once we were within the forest canopy.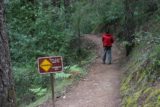 We followed the Skyline to the Sea Trail, which meandered amongst the towering coastal redwoods. It was like a scene out of Sequoia National Park, except these coastal redwoods weren't quite as fat as the giant sequoias further inland. However, they were very tall.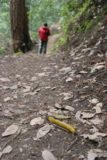 Contrasting the tall redwoods, we started to notice quite a few banana slugs on the ground. Unlike the one we spotted at the trail to Alamere Falls, we knew these green slimy creatures were a dime a dozen the moment we stopped taking photos of them or just stopped taking paying attention to them period.
The hike proceeded along pretty uneventfully except for a slight tweak to my left ankle that my trekking poles helped to absorb some of the weight (so I didn't totally roll my ankle). This occurred as we went downhill somewhere on the second mile.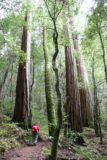 Even though it seemed like rain kept threatening or was falling, the forest canopy only let through a drop or two down at our level. The trail initially started climbing for nearly the first mile. But once we crossed some fire road, the trail descended in earnest (though the grade was hardly noticeable by us).
And the longer the hike went on, it seemed the threat of rain seemed to diminish a little more.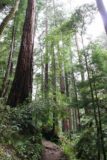 The trail gradually descended until it pretty much was near stream level just beyond the second alternate trail junction. There were a few fallen trees and muddy spots to get through or around, including one particularly tricky one just after the aforementioned trail junction. But all in all, it wasn't a particularly difficult hike. It was just long. But considering it was mostly downhill on the way in, we were cognizant of the fact that we'd be getting back all that elevation loss on the way back to the car park!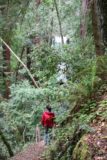 Eventually, the trail undulated a little before rounding a bend when at 11:30am, suddenly we could see the falls make its appearance with lots of foliage blocking at any good views of the falls from this vantage point. There was a bench here with a person sitting on it staring at the falls.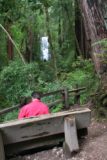 Julie and I immediately started taking photos and movies of the falls from this distant vantage point. It didn't take long before Julie pressed ahead, but by the time I was finished taking photos from here, I noticed there was a pretty large group of hikers behind me. The trip leader for that group asked if I could take a group photo for them, which I gladly obliged.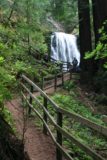 I could see there was a trail that looked to take you closer to the falls. And by 12pm, I approached the lookout platform that was right in front of Berry Creek Falls. Julie was waiting here for me, but we could see straight away that the platform was a bit crowded as two large hiking groups were sharing the area with us. One came from the Sierra Club while another we overheard was the San Jose Recreation Club or something like that. Both groups consisted of more elderly types, which proved that this trail may be long and pretty strenuous, but even older people can do this trail.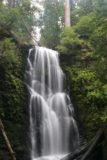 After I was done taking lots of photos using the railings as makeshift tripods, both Julie and I were snacking on an apple as well as a few almonds. Given that the hike was mostly under overcast and cool conditions, we weren't very thirsty so our Klean Kantene bottles remained pretty full (unlike yesterday where it was sunny, hot, and I nearly ran through both Klean Kantene bottles for much less hiking distance that today.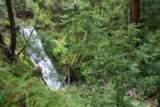 At 12:10pm, we continued. The trail continued climbing as it ultimately went above the falls affording obstructed views looking down at the tall falls and the lookout platform right in front of it.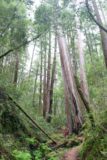 And after hiking for another half-hour or so, we finally arrived at the base of Silver Falls.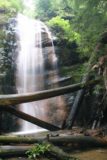 During the trail connecting both Berry Creek Falls and Silver Falls, there were a couple of moments where we felt droplets of rain again, but they didn't last long. And after crossing the stream to get a better vantage point of the falls, we joined a trio of young folks who were sitting on one of the fallen redwoods to check out the falls while snacking. We didn't notice any of the Berry Creek Falls groups we had run across earlier this morning up here.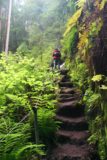 This falls looked like the underlying rock wall might have some interesting color under sunnier conditions. But as it was today, it was overcast so the colors weren't as pronounced, but we did have no problems taking long exposure photos.
After having our fill of the falls, we continued on the trail which ascended alongside the upper reaches of this falls. The girls in that young trio noticed what they thought was a mouse near the stream as they too were taking off. But they later realized that it was a mole or something like that.
Towards the top of the slippery rocky climb, we could see that under heavier flow, the falls could conceivably flow right on top of the rocky and exposed path we had to take to ascend to go beyond this falls. We were glad that we didn't have to deal with that ordeal, but at least both of the falls we had seen so far had pretty nice flow.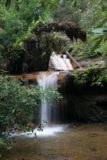 Almost immediately after getting to the top of Silver Falls, we could see some attractive small cascade right in front of us. It was small, but looking through the foliage above it, we could see there was more to this waterfall than meets the eye. Could this be the Golden Cascade?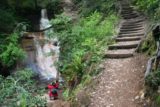 As we continued a little further along the trail, we saw a pretty sloping and tall cascade before us. We took what photos we could of this spot, but we could still see further up above this falls, there was still more of the cascade higher up!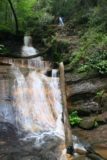 Ultimately at 1:30pm, we made it to the uppermost of these cascades where there were already about a half-dozen people here already enjoying the falls. Julie and I took more photos of this spot, which we suspected was the actual Golden Cascade itself. There even seemed to be a little travertine overhang on one of the lower tiers adding to the attractiveness of this falls.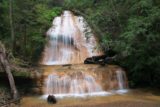 By the time we decided to head back down the way we came to the car park, there were even more people chilling out in front of the falls. The trail kept climbing up more switchbacks beyond the Golden Cascade, but Julie and I didn't feel like doing the whole loop going back on the Sunset Trail. We were merely interested in just doing the shortest trail possible as both our legs were sore from all the miles we had been logging this weekend.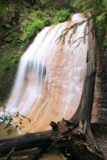 After getting down the tricky part near the top of Silver Falls, we hastily walked back towards Berry Creek Falls. Unfortunately in our haste, I managed to roll my right ankle this time and even collapse onto my knees. The twist was a little more severe than the first, but after a little pain, the ankle seemed to have loosened up as we continued walking and I felt fine.
When we went past the Berry Creek Falls platform, there were only three people there now. Julie commented that there's always someone on the platform at any given time.
Beyond the falls' more distant overlook, it was time to make the ascent and undulations to at least get back to the alternate trail junction again. We had passed by a couple of large groups of backpackers en route before getting back to that junction at around 2:40pm.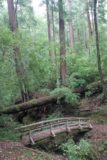 This time, I suggested that we take the alternate trail because it was quieter (albeit a bit darker since we were deeper within the forest canopy). Clearly this little section of track hadn't seen nearly as much usage as the main trail, but I still thought it was nice and serene here. It really could be a pretty nice spot to just stop and listen to the gurgling creek beneath the swaying redwoods whose leaves were rustling in the breeze.
We saw a sign deep within this trail that said something to the effect of "Partington Red Fern Grove." I wondered how many people have noticed this sign?
Julie was getting angry at me for suggesting this route because she thought it was a longer detour.
By the time we rejoined the main trail, we had to hike through one of the groups of backpackers we had passed along the way. She used that as further ammo to tell me that my detour was an unnecessary one.
The trail continued climbing its way back towards its junction with some fire road. I knew that the trail would be mostly downhill back to the Park Headquarters at that point. So that was the goal in our minds.
Once we had gotten past that fire road, we had less than a mile of downhill hiking to return to our car. But during this descent, I must've gotten sloppy with my concentration because I turned my ankle yet again. This time it was my left one again, and this time it was even more painful than the second time.
In fact, my left foot was in pain depending on how I planted it as we descended despite the hiking sticks to try to distribute some of the weight. I hadn't had this bad of an ankle roll since my basketball playing days. But at least I was still able to put some weight on that foot so we could continue hiking. However, I knew it was probably going to swell up when we were done hiking.
By about 4:05pm, we were finally back at the busy car park. We saw a sign that indicated at Berry Creek Falls was merely 3.9 miles from near a restroom building amongst the tall redwoods. It made us wonder whether this trail really was 11 miles or 13 miles as we had read in the literature.
Sure the trail was long and we easily spent more than 6 hours (more like 7 though we did spend lots of time taking photos and taking rests), but was it really more like 7.8 miles round trip? It certainly seemed longer than that, but as my college roommate once said with half annoyance and indifference, "DETAILS!"
While we were back at the car park, I had entertained the notion of visiting Sempervirens Falls, which was nearby. But once I saw that it was 3.6 miles round trip, I knew we couldn't squeeze it in both due to time constraints as well as the fact that we were exhausted from our long day of hiking. I think for this entire trip, we probably logged close to 28 miles on foot!
It was definitely one of our most active weekends we've had in a long time.
During the hour-long drive or so back to town, Julie started to feel nauseous. Eventually, she pulled out one of the plastic bags we had used for garbage and threw up in it. Since we hadn't eaten anything except nuts and fruits, I was a bit puzzled as to why Julie all of the sudden had gotten sick. But once she threw up, she said she felt better.
By 5:25pm, we were back in San Jose. We stopped by the Mitsuwa next to our motel where we finally got to satisfy our cravings for Japanese food (considering we hadn't had a decent meal all day long). And by 6:30pm, we were back at our motel to call it a day.
Tomorrow's forecast called for some rain so I was looking forward to an early departure so we can be back home around lunch time. We'll see how things shake out, but as far as the waterfalling is concerned, we're done for the weekend…
Visitor Comments:
Got something you'd like to share or say to keep the conversation going? Feel free to leave a comment below...
No users have replied to the content on this page