Day 9 (August 4, 2017 – Spokane, Washington): "Border Patrol"
It was about 4:30am when my alarm went off. There was even a wake-up call from the hotel receptionist a few minutes later. But after getting dressed, I went back to bed to try to get caught up with sleep. In the mean time, Julie managed to get up and start the process of wrapping up getting packed at 4:45am.
It wouldn't be until about 5:10am when Julie woke me up. But since we didn't bring that much up to the room (most of the rest of the stuff was left in the car), we were able to get downstairs right around the time we expected to pick up our car (where we requested to have the car ready by 5:30am).
By 5:45am, we headed out. The drive out to the Schwartz Bay ferry terminal was pretty uneventful. Eventually at 6:15am, we made it to the Schwartz Bay terminal where there were quite a few cars already parked here waiting to embark the ferry back to Tsawwassen.
I wasn't sure if I had been double charged or something but I recalled the lady at the Tsawwassen Terminal said that I owed $230 or something like that. Now, I was told that I owed $97. I guess I'll have to look at the statements when the trip would be over to see what's going on.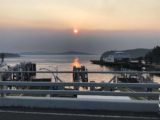 By 6:50am, we were finally allowed to drive onto the ferry. While we were waiting to get onto the ferry, we managed to see a red globe sun rising up against the smoke from the BC fires that were turning out to be quite the event that was having the most adverse impact on our trip so far. I guess you can't plan for these things since it started to become an issue the day we were driving up to Whistler on Tuesday (some 3 days ago).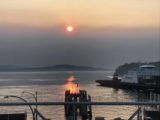 After we parked the car, we would head upstairs to deck 5 where we promptly grabbed a table and Julie went to wait in line to pick up some hot breakfast. It was quite the wait as the brekkie didn't come until 7:30am. Still, we managed to fill ourselves while leaving some fruits unconsumed. I was worried that we wouldn't be able bring the fruits across the border, but Julie seemed unconcerned about that.
Once brekkie was done, we went upstairs to deck 6 to do some last minute stuff at the workstation area, but we would only have about 15 minutes up there before the announcement came to return to our vehicles at around 8:15am.
At 8:30am, we were back in the car and a few minutes later, the ferry docked and we were eventually let out of the ferry. So far so good as we were making pretty good time to make it back across the US border, which I knew would be the next source of delay that would be out of our control.
By 9am, we would arrive at the long queue for the US border which seemed to be a lot more crowded than when we were headed north into Canada. The queue was frustratingly slow as we weren't even moving for the first 15 minutes or so. Then, it seemed like we once again picked a line that wasn't moving compared to other lines. I must have some really bad luck with these things.
It wouldn't be until around 9:35am when we finally got to the customs person, but when she asked what was in our cooler, we revealed that we had eggs, some bread, some kefir, as well as a bag of fruits. Well, it was the fruits that got the customs person to write up a slip and had us go to the secondary inspection area.
At this point, I was fuming that Julie didn't respect the likelihood that we'd have our fruits discarded, which was wasted money. And now we had to waste even more unforeseen time going through this next process. I was now very worried that we wouldn't get to Spokane until very late, as a result, especially since Julie wanted to make some stops in the greater Seattle area for lunch as well as a pharmacy run.
Indeed, the return to the US part of this trip was already not going as planned, and this incident was totally self-inflicted…
When we rolled up to a parking spot, we weren't sure what to do next. I asked one of the female patrol officers what we were supposed to do, and she said we were supposed to take the slip inside the building for further processing. I thought to myself, great, even more delays to wait for our turn. Who knows how long the queues are in there!
So as we were trying to get Tahia out of the car, both Julie and I were busy trying to eat the big bag of cherries that we had bought in Victoria a few days ago. It was getting to the point where I couldn't eat any more cherries as we still had at least a half-bag full of them, when suddenly the lady patrol officer went to us and asked what we were doing as we were taking too long.
When she saw that we were eating the cherries, she got pissed and commanded us to leave the cherries alone and get away from the car and get to the building immediately. We complied, and I kept thinking to myself what a waste of time and money this whole thing was, and I was even more mad at Julie for continuing to buy food and not finishing what we bought while we were in Victoria. Even worse, she refused to eat the cherries while we were on the ferry back to Vancouver while she bought more food from the cantina in there!
Well, eventually we got to some agriculture line that was very short compared to a much longer queue that people were waiting in. I wasn't sure if we were in the right place or not, but eventually a customs agent talked to us. He was actually pretty friendly when disclosing to us the reasons why some fruits were not allowed into the states (to protect the agriculture in the US), and it was especially the case with citrus fruits and cherries.
He then asked us some questions about what fruits he could expect to find in the car. After telling him what we had, he took our car key and proceeded to do his inspection without us. We looked through the entranceway as we saw he and some other guy were looking at our rental car. And when we saw he took a couple of fruit bags out, I knew the cherries and some other fruits were about to be discarded. That broke my heart, but by now, I had accepted that we had wasted money on those things.
By 10am, we were finally given a slip to give to the exit agent, and we were finally on our way again. I was in no mood to talk to Julie at this point, but she kept reminding me that we had to make a CVS stop somewhere in Lynwood, WA, even though I wasn't acknowledging her as I wanted no part to do with her negligence that was now impacting us in adverse ways that I knew would occur in the form of traffic (now that I turned my attention away from the wasted money).
Eventually, it wouldn't be until 11:45am when we showed up to a Target/CVS in Lynwood that she claimed was the only one in the area. I couldn't believe there wasn't such a place in Issaquah or some other place where there was less likely to be traffic. But after making that obligatory stop, we sure enough started to hit some bad traffic the moment we started driving south on the I-405 towards the I-90.
The traffic was pretty bad along this stretch that I contemplated doing the express lanes since time was money. But there didn't seem to be a convenient way to pay for it other than by mail within a week, but we'd still be on our trip so it wouldn't be easy to mail in the fare whilst we were in say Yellowstone.
So we swallowed the pill so to speak and continued to endure the traffic until we'd eventually head east on the I-90 and back to Issaquah where I knew that we'd be back in Linda's neighborhood. We contemplated whether to let her know that we could have lunch together, but we also know that it would be an event and we would be even more delayed on our way to Spokane so we nixed that idea.
At 12:45am, we finally made it to Issaquah's main shopping area where there was an REI as well as a Chipotle. It was pretty hot and smoky down here as it was in the low 90s but the air quality was already pretty bad. I at least managed to pick up some bear spray with a $20 discount card which helped to alleviate the $50 sticker price of the cannister, which was really an insurance policy in case I do have a bear encounter on any of the long hikes I would have in grizzly country.
Of course the big concern was now whether the smoke from the BC fires might impact my ability to do these hikes due to the bad air quality. It would all pretty much depend on the direction of the wind.
After having our lunch at Chipotle, we were finally back in the car at 1:15pm. We then headed east on the I-90 to get out of the greater Seattle area but not before we faced another delay where the two left lanes were closed due to some re-surfacing or something.
Traffic would remain pretty heavy on our way further east on the I-90 as we approached Snoqualmie Pass, but we'd eventually be moving fairly freely as we continued towards Eastern Washington. However, it was during this drive that I really started to become concerned about the smoke situation as it was very thick the further east we went.
In fact, I was looking forward to going to making a stop at Dry Falls near Coulee City to see perhaps the most interesting dry waterfall, but with such thick smoke, there'd be no way we could make the detour to go there. So instead, we headed straight for Spokane hoping that the smoke situation might improve the further east we went.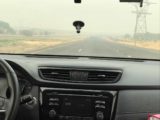 The drive was eerie and reminiscent of my time spent with Mom going through heavy smoke east of the Lake Isabella wildfires. The smoke was so thick that it was like driving through a fog of smoke. Now I was really concerned about our ability to tour Glacier National Park and Yellowstone under these conditions.
It wouldn't be until about 5:25pm when we finally made it into downtown Spokane where there were signs pointing the way to the Riverfront Park and Spokane Falls Views. But when we struggled through more heavy traffic due to road construction, and then to the park itself, which was heavily fenced off with lots of construction going on, I started to fear a similar situation like with the Willamette Falls where it was a disappointing experience.
Not sure where to park the car, we ended up going into a parking structure at the Riverfront Square shopping mall, where the rates were $1.25 per half hour. We all weren't looking forward to spending too much time outdoors under such thick smoke like today, but we at least had to document the Spokane Falls.
Well, after getting out of the mall and walking across the street in the direction of the Spokane River, we went down into Huntington Park where there was overlook showing what appeared to be park of Spokane Falls underneat a road bridge as well as some diversion waterfall beneath some building as well.
There was a bit of hydroelectric infrastructure here, but at least we were able to get close and experience the falls unlike the Willamette Falls situation. So it was nice that at least in Spokane, they let this falls be accessible, except for one of the overlooks that appeared to be shown in the signs.
We continued walking down towards the park area where we were able to walk alongside and document what appeared to be the man-modified Lower Spokane Falls. This was a bit more scenic as we could see the twisting waterfall cascading beneath both a dam spillway as well as another tall road bridge opposite the drop of the river.
There were also some Native American signs and statue-like artwork as there seemed to be a bit of a heavy Native American influence in the place names as well as the heritage of their presence here (and I'm sure subsequent injustices in terms of developing the area at their expense).
Once we had our fill of the Lower Spokane Falls, we then had to walk back up the hill towards Monroe Street, Julie and Tahia went back into the mall to get away from the bad air. Meanwhile, I headed towards Post Street to get a better look at what appeared to be more waterfalls further upstream from the Huntington Park area.
Once at the Post Street Bridge, I went into a gazeebo where I could see that the Upper Spokane Falls was very wide and consisted of a pair of wide drops each with footbridges over them. I was able to capture the whole thing with the slight wide angle aspect of my zoom lens though it made the falls look short when zoomed out that much.
I then walked onto the Post Street Bridge for more open views of the Upper Spokane Falls as well as checking out the red globe sun once again trying to pierce its way through the thick smoke-filled sky. This part of downtown Spokane had a bit of an industrial feel to it, but it also felt quiet as only a handful of people were doing their strolls around the Spokane River.
When I had my fill of the Upper Spokane Falls, I was finally able to start heading back towards the mall. In so doing, I saw that there were blue signs beneath parking meters saying not to feed the meter as parking was free for two hours! Damn, we should have parked outside on the street instead of the in the mall, where we were getting charged $1.25 for every 30 minutes!
I'd eventually rejoin Julie and Tahia who were shopping for a shirt that they found. Perhaps that might alleviate some of the parking costs, I thought, but it turned out that the validation was only good for $1 off. So in the end, we paid $2.75 for parking within in the structure as well as another $17 for Tahia's shirt. So in the end, it was a $20 visit to check out the Spokane Falls.
At 6:35pm, we were finally back in the car, where we then made a grocery run at this place called the Huckleberry Natural Market, which was up the hill from downtown Spokane. We got there 10 minutes later, then proceeded to replenish on some fruits now that we were without them after they were discarded back at the US-Canada border.
At 7:15pm, we were done with the grocery run. We wanted to have a quick dinner at the bistro in this market, but they didn't have any grilled veggies so we had to pass on that. They also ran out of their roasted chicken. So we had to eat out.
At 7:20pm, we managed to find street marking as Julie was hoping we'd eat at this health food joint nearby the Riverfront Park. But when we learned that they only had patio dining unless we were willing to wait until 8:30pm to get seated indoors, we changed plans and went back in the mall where there was another sit-down place to chill for a bit before driving to our accommodation in Spokane Valley.
It turned out that the mall joint we ate at had fairly clean food that was pretty good. We had light sockeye salmon, Julie had some steak gluten free, and Tahia's kid's meal of roasted chicken was also good. All of our meals were accompanied with asparagus and corn. The dessert was a bit of an indulgence though as Julie got some gluten-free chocolate cake while I had some pizookie-like dessert of chocolate chip cookie covered with whipped cream and ice cream.
By 9pm, we were back in the car as we made our way out to Spokane Valley. I had contemplated checking out Spokane Falls being floodlit, but from driving over the bridge on Monroe Street, it didn't seem like it had any of the attractive colorful lights we saw on the signs here. Besides, we didn't want to prolong our time as we really had to get to our accommodation to call it a night as it was getting late.
It wouldn't be until about 9:15am that we finally made it to the Residence Inn Spokane Valley, but we'd learn ten minutes later that this accommodation had been overbooked so we were booked for a La Quinta further up the road. I guess it would suck that we wouldn't be having a full-sized fridge and kitchen, but at the same time, they said something to the effect that this stay was on them (so we got a free night out of this?).
Since we were here only for the night, it wasn't a big deal to us to have to relocate. And so eventually at 9:30pm, we checked into the La Quinta, got some free chocolate chip cookies (already adding to our sugar overload from the dessert at dinner), and then finally settled in the room at 9:50pm.
Tahia and Julie spent some time in the swimming pool, which was surprisingly still open here. I guess Tahia needed to have this time to finally do something she wanted to do for once on this trip. But that all meant that we were going to sleep late. It wouldn't be until well after 11pm that both Julie and Tahia slept, but it wouldn't be until about 1pm when I was finally in bed myself.
With such delays and late endings to the day, I knew that tomorrow might be even more impacted since we had another long drive just to get to Glacier National Park. Who knows what the smoke-filled skies would decide to do to adversely impact our trip in addition to our self-imposed delays.
Definitely lots of uncertainty on this trip going forward as we concluded the Cascades part of this trip and headed inland for the next part concerning the Rocky Mountains…