Day 2 (July 28, 2017 – Issaquah, Washington): "Compounding Complications"
It was about 4:30am when I awoke. I was trying to get started with the packing in the hopes of getting out of Redding by 6am, which was the plan. That way, we could use the early start to arrive at cousin Linda's place near Seattle (where we were staying the weekend) at a reasonable hour so we could have dinner together perhaps or hang out a bit. That said, if things went to plan, it wouldn't be until about 7pm that we'd make it over there.
Well, it turned out that Julie wouldn't be getting up until after 5am and Tahia wasn't anywhere close to getting up at that time either, especially as she was now under the weather. Further complicating my desires to get out of Redding on time was that today was the last day to book international air via Qantas at a sale price (of around $1000 per person) for a November trip that would allow us to celebrate our wedding anniversary as well as Julie's birthday.
Even though we were in the midst of a 3.5-week road trip, this follow-up 3.5-week trip to Southeastern Australia was an attempt to right the wrongs of having gone there 11 years ago at the height of a multi-year drought. It would be a trip without Tahia since she had public school that we couldn't take her out of for this long, but it would also be Julie's first trip internationally in almost two years given her gut condition.
Unfortunately, the Qantas online booking system was apparently down when we made this attempt at around 6:10am, and it wouldn't be until 7:30am when we were finally done having the included breakfast (which wasn't as good as the Residence Inn) and were finally in a position to leave. This was about 90 minutes later than planned, and I was sure that this would have consequences further down the road.
It was already starting to get hot in Redding as it was about 80F at this time though the forecast called for around 105F highs. Good thing we were headed to cooler temps as we were continuing to head all the way north to the Seattle area.
The drive north through the Shasta Lake area and then up to the Mt Shasta area was pretty uneventful. Tahia was digging the views of Mt Shasta as we were making our way up this curvy stretch of the I-5. However, both Julie and Tahia needed to make a potty break so we stopped over at Mt Shasta City (which wasn't really a city at all) that prompted Julie to say that it was a cute little town.
That kind of broke the initial momentum that we had, but when Nature calls, you answer.
The drive then persisted for the next 5 hours or so. We were making pretty good progress though a pet peeve of mine was that there were plenty of people not heeding the road rules of keeping right except to pass as they'd consistently clog the left lane. I had wondered whether this was a California thing, but apparently up in Oregon, this was also the case as well.
It wasn't until around 9:30am when we had passed the Medford area. At this point, I had now driven from LA further north than I had ever gone (as I had driven up to Medford for Crater Lake and Diamond Lake last year with my parents last Summer). And so far with the momentum, I had hopes that perhaps we were making up good time.
That said, we had to make a lunch stop somewhere near the Eugene area. We at first thought about going to some organic or whole food court somewhere west of the I-5, but we nixed that idea for Chipotle in Springfield, which was closer to the I-5. We'd eventually get there at 12:25pm.
The lunch pretty much went without a hitch. By about 1:05pm, we were back out the door and back on the road continuing north along the I-5. According to the GPS
, we would eventually make it to Willamette Falls by about 2:30pm given the momentum.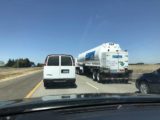 But just as I was starting to have a good feeling about getting to cousin Linda's at a reasonable hour, we started to hit bad traffic (at 1:40pm) somewhere near Albany, which wasn't too far north from Eugene. In fact, the traffic was so bad that it started to become standstill traffic! The standstill traffic didn't start moving until 2pm.
Fifteen minutes later, we hit more heavy traffic. At that point, as we were struggling our way north on the I-5 with still a long ways to go, we finally took a detour as Julie whipped out her iPhone
to see where the traffic congestion areas were. That detour took us east and then north before rejoining the I-5 somewhere north of the town of Albany.
At least that probably bought us a few minutes as the I-5 was moving once again though it was still heavy traffic. This was totally not expected though perhaps I was a bit naive to think that Friday rush hour couldn't affect parts of Oregon that we wouldn't have thought about going into this trip.
The traffic was touch and go for the next hour as it was once again pretty intense as we approached Salem. Around that area, we then got off the I-5 and took a detour to the I-205 east where there was more heavy traffic as we were trying to get to Oregon City to visit the Willamette Falls.
Somewhere during the traffic jam, Julie managed to use the iPhone
to book plane tickets for that Qantas flight on sale to Melbourne before it would expire. That happened at around 3:45pm. About ten minutes later, we then noticed where Willamette Falls was as we were right across the river from where most of its face was facing us, but there were power stations and lots of forbidding infrastructure to prevent us from having a good view of it in peace.
It wouldn't be until about 3:55pm when we navigated through the traffic to get to a gas station right on a street corner. Julie and Tahia badly needed another restroom break there, and so I topped off gas and asked the attendant where was the best way to see Willamette Falls.
She said that there were pullouts just up the road where we can then walk to try to get better views. And once we were done with our business here at 4pm, we then promptly parked the car near some parking meters five minutes later. Finally, we could get out of the car for once and salvage at least one waterfalling experience before continuing the drive up to Seattle.
But as we were walking along the sidewalk between the 99E traffic to our left and the tall fences flanking the Willamette River to our right, we were disappointed to see that there wasn't a clean view of the falls, which was still pretty distant. And there was also a sign saying that some renovation work was going on to restore this area just as the West Linn Mill operation had shut down. But in its current state, the falls was still off limits.
I'm sure once the work would be complete that this would give new life to the otherwise run down area that we were experiencing right now (yet another example of how messed up an area could be if you don't let the waterfall be itself and try to "control it"), and so we decided that after getting our fill of this area, we should backtrack and walk up the bridge to at least get a cleaner (albeit even more distant) look at Willamette Falls.
Once we did that amongst the heavy traffic just a couple of feet or so from the sidewalk while walking the bridge, we then looked at the falls while also checking out some people paddle boarding as well s boating the river in the vicinity of the falls. It looked like fun, but we were also wondering where the public access was since fences and locked gates were all that we saw when we were closer to the river.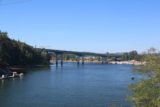 It didn't take long when we had our fill of this somewhat unimpressive waterfalling detour and we were back at the car at 4:30pm. We still had another 3 hours or so of driving up to Seattle but given all the heavy traffic we had been facing to get up here, I knew there'd be even more Friday rush hour traffic trying to pass through the Portland area.
Indeed, the traffic was frustratingly slow though it at least wasn't as bad as it was down at Albany (which must've been an accident or something but we were never sure exactly what was the incident that made it so bad). Things didn't start improving until we crossed the Columbia River, left Oregon, and entered Washington State.
And even though the movement was at least more improved than before, it was still high volume traffic and cruise control was never really re-established until we made a rest stop at 5:50pm in some county where an electronic marquee mentioned that the B-52s were performing there!
Indeed, the band was kind of the soundtrack to this trip (and a couple of prior road trips) as Tahia was really getting into them, and we were still buzzing from their Summer of Love concert stop in Costa Mesa, which we had attended.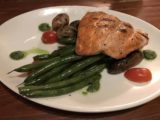 Anyways, the drive continued onwards as we pressed north towards Seattle. We saw Mt St Helens along the way (albeit in a passing manner) and then we finally started seeing a carpool lane that we took advantage of. Eventually by 8:10pm, we mercifully stopped at the Trader Joe's in Issaquah, where Julie cleaned them out on broccoli chips, which was one of the few dry snacks that she could have without messing up her gut. It was also good for Tahia since she was now really fighting the sniffles and cough.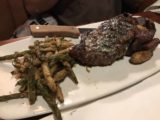 After that grocery run, we then had dinner at the Wildfin of Issaquah which was in the same plaza. We pretty much had salmon and a disappointing ribeye (should've gotten the trout in hindsight), and it wouldn't be until 9:50pm when we finally arrived at Linda's place.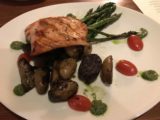 We wound up spending the next couple of hours chatting away while Tahia was busy playing with Aiden and Chloe (their kids). It wouldn't be until well after midnight when we finally slept. But at least in all the talking about gut issues and stuff, I learned that Sunday would be the day to do stuff in downtown Seattle. So that meant that for my solo morning hiking, it'd be best for me to do Wallace Falls tomorrow morning and do Twin Falls (the much shorter excursion) on Sunday morning.
And so that was the plan as I really looked forward to spending more time hiking than driving for a change…