Day 5 (July 31, 2017 – Vancouver, British Columbia, Canada): "Too Much To Fit In"
It was 5am when we awoke, but now that we had to leave for Vancouver, we knew that we all had to get up early so we could do more in Vancouver itself. Since we only had two nights there with the second day being a Whistler day, today would figure to be the only opportunity we'd have to experience the city itself. I had a sinking feeling that it might not have been enough time to really experience the city as we probably should have spent a third night here if the time and budget allowed. Of course, it almost never happens that way in reality…
Anyways, Julie and I were busy trying to get our belongings together without waking up the hosts of our stay here, which saved us from having to spend perhaps over $200 a night on accommodation in Seattle on the weekend in Summer. Now the flip side of saving money was that we probably wound up accomplishing less than we would normally be able to do on our Seattle touring day, but that was the price paid for hanging out with relatives with two kids let alone having different ideas on pace and activities.
Still, Tahia had a great time hanging out with their kids while Julie did a lot of catching up with Linda and her Mom while also commiserating with Chris about gut health issues. So in the end, it really wasn't that big a deal regarding how much we could pack into an itinerary and execute for our Seattle leg of the trip, especially considering that we had done most of what was on Julie's target list some 11 years ago, which included the Space Needle which we didn't do on this trip.
Eventually at 6:55am, we had loaded up the car and even managed to get Tahia up and into the car without too much disturbance. The trick with that was that Linda's Mom convinced Chloe (who also happened to be awake while we were packing up and getting ready to go) to wake Tahia up. She managed to listen to her while my attempts at waking her up were futile.
Nonetheless, we bid a fond farewell and proceeded to head north out of Seattle through some of the moderately heavy rush hour as we passed through more suburban areas like Bellevue and Kirkland and beyond along the 405 due north instead of going all the way west to the I-5 then heading north. We'd eventually join up with the I-5 somewhere not too far from Everett.
Once we left the greater Seattle area as well as Everett, driving north on the I-5 at this time of the morning was relatively smooth. In fact, we'd eventually make it all the way to Bellingham and Whatcom Falls by 8:50am where we made a brief stop to check out the calm and serene settings that the city park was located in. In fact, if we came here without any concept of the local geography, we wouldn't have known that this was a city park given how green it was here.
The stone bridge providing a frontal view of the falls was just a few paces from the parking lot. And while Tahia was busy getting caught up on sleep, Julie and I took turns to visit the falls. It looked like the falls had seen higher flows that what we had seen on this day, but it was still tranquil and calming nonetheless.
At 9:35am, we left and continued our drive up to Vancouver. I was a little nervous about the border crossing delays, and by the time we'd get there at 10:05am, I was correct in that there was a bit of a queue to get across the border. In fact, there were 3 out of 6 lines open with an additional Nexus line on the far right though I wasn't sure what was meant by "Nexus". Regardless, we didn't apply.
It turned out that of the three lines we picked, we happened to pick one of the slowest ones as the border agent probably took more time than the other two. So we eventually got through at 10:25am though we probably could have saved five minutes or so being in the lane next to us on the left. I definitely wasn't looking forward to the border crossing to get back into the US come Friday morning…
We'd eventually make our way up the highway towards Vancouver, but then we got to a point where we had to leave the freeway and drive a bunch of local streets to get all the way to the Holiday Inn. It turned out that we would have to navigate through a lot of traffic lights and traffic before finally parking at the Holiday Inn Public Parking lot at 11:25am.
But we learned that we were too early to check in so we had to do some baggage drop of our most valuable things while leaving the rest of the stuff in the car hoping that the rental wouldn't be broken into while we were out.
So it wouldn't be until 12:05pm when we finally got going to walk about the Vancouver area. I was looking forward to not needing to drive on this beautiful day. And the first order of business was Julie's desire to checkout Granville Island. So we took one of the Aquabus taxis after walking to Stamps Landing. And we'd eventually get to the island at around 12:30pm.
This spot had a strange feel to it as it was a bunch of restaurants and shops pretty much underneath some road bridge. But there were definitely lots of people here enjoying a picnic lunch or something. Since both Tahia and Julie were hungry, we looked for a place to eat, but after seeing the prices at the Sandbar Restaurant and not really seeing what Julie wanted at Edible Canada, we eventually decided to just grab something from the indoor public market.
Speaking of the public market, it was an experience in itself as there were numerous food stalls as well as produce and arts and crafts as well. After picking up some rotisserie chicken from L'Epicurie, we then had to compete for one of the hard-to-snag tables that had shade. At first, we were going to risk a sun burn and just eat at one of the benches, but Julie managed to stand near one family that was about to leave and we managed to snag that one right away after being turned away at least a half-dozen times or so.
It wasn't exactly stress-free lunching, but once we got the seat, we then soaked in the ambience while chowing down on the nice hormone-free and antibiotic-free rotisserie chicken as well as some grilled veggies.
When we were done eating, we then went back into the public market where we tried out and bought some raw pickles as well as some big yet dark cherries local to British Columbia. Then, we went to this stall called Bon Macarons, and we ended up going crazy spending nearly $50 worth of macarons. The real nice one that we kept buying over and over again were these white truffle-flavored macarons.
That was definitely something that Julie was willing to cheat for (hoping it wouldn't completely reset her healing process) while both Tahia and I were also throwing our diet to hell in having these very good macarons. We also tried chocolate explosion, pure vanilla, jasmine, bacon, and nutella macarons.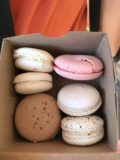 By 2:35pm, we were just about done touring the Granville Market and took the Aquabus taxi back to Stamps Landing where we then walked back to the Holiday Inn. We managed to get back there at around 3:25pm, but it turned out that our room still wasn't ready. So it resulted in a bit of wasted time as we then decided to continue touring Vancouver with what limited daylight we had left.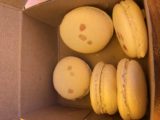 We wound up deciding to go to Stanley Park, but that meant that we had to walk to the nearest Sky Train station and then catch one of the Hop On Hop Off buses that would pass right through Stanley Park seeing that it would take too long for us to go it alone.
When we got to the Sky Train, we caused a line as we were figuring out which tap card to get. It turned out that we ripped ourselves off by spending $10 on a day pass for one of them while adding value on a different tap card. It was a waste because each direction's fare was around $2.20 or so. So $10 alone on one tap card could have covered it for us. Pretty lame.
Anyways, we'd eventually make it from the Broadway-City Hall stop all the way to the Waterfront stop. Then, we walked a couple of blocks north towards the Canada Centre area where we caught one of the Hop On Hop Off buses though it came at a steep price of $47 per adult. At least they let Tahia ride for free, but $94 for bus service that would end in a little over an hour seemed a bit pricey to me, and it made me wonder if I should have driven to Stanley Park myself instead seeing that there were some parking at each of the main stops along the way.
Well, after deciding not to stop for the Rose Garden Pavilion, we'd eventually get off at the Aquarium stop at 4:45pm, where we then did a short Sea Wall walk towards the Totem Poles while enjoying the nice skyline views back towards downtown Vancouver. We managed to snack on some of the raw pickles that we bought as well as some of those cherries as well.
Then, we finally saw the famous totem poles at Stanley Park, where we managed to spend some more time getting an upclose look at these haunting artifacts from the First Nations people of Canada, especially from the Haida tribe, which were local to these parts of British Columbia, Canada.
Once we had our fill of the Totem Poles, we then hopped back on the HOHO bus at around 5:45pm, which was one of the last buses back to downtown Vancouver. So we opted not to make any more stops and just let the HOHO bus narration give us the overview of the key spots around the city.
It was actually quite the informative tour, especially on a beautiful day like today, and I came to the realization during this ride that perhaps we should have spent a third night here just so we'd have at least one full day to check out the city sights. Definitely a half-day of city touring made it where there was too much to fit in.
Indeed, the big takeaway from our tour was that we should definitely check out the Chiantown and the Sun Yatzen Garden as well as the beaches of the west side of Stanley Park and even the Science Centre that Tahia would definitely love. That'll have to be for next time though…
Eventually at 7:15pm, we got off at the last stop at Gas Town, which was where we went looking for a place to eat for dinner. After having no success finding this place called Judas Goat, we'd eventually figure out that it was gone and replaced by this place called Gringo.
Anyways at 7:35pm, we'd ultimately settle in on this place called Six Acres, which was right behind the Gassy Jack statue of which this little neighborhood of Gas Town was named after. It was basically a pub with some fair gourmet foods, but Julie had to supplement her dinner with cherries as most of what we tried to order here wasn't as clean as she would have liked given her gut condition.
By 8:35pm, we were done eating at Six Acres, and then we decided to slowly walk towards the Canada Centre once again while soaking in the twilight ambience along the way. We'd eventually check out an intriguing steam clock that was surrounded by people trying to get their "I was here" shot.
At first, I thought there wasn't anything that special about this clock until I realized that there was steam billowing out from the top of the mechanical-looking apparatus. There was also a partial view of the Vancouver Lookout Building from here with some building in front of it.
But just as we were about to leave the clock at around 8:30pm, the clock started to chime in flute-sounding steam tones. That kind of got the people standing around here to clap their hands in appreciation once the steam tune chime was done.
Anyways, we then continued to the Canada Centre, which itself was also pretty happening as the twilight scene exhibited city lights, high rises, and views towards the silhouette of mountains towering over coastal suburbs of Vancouver across the channel.
We were definitely seizing the moment as Tahia was posing for Julie at the "Canada 150" sign while also taking some more shots of the immediate area including some earth globe inside a glass building that was closed.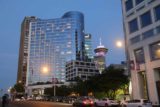 By 9:35pm, we finally had our fill for this packed day and returned to the Waterfront Station to catch a Sky Train back to the Broadway-City Hall area. At first, we almost caught the wrong line that was headed to Stadium but had track maintenance issues. But some friendly lady overheard where we were going and told us that we were supposed to go to the Canada Line, which was at a different platform.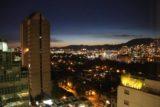 Good thing she told us that as we managed to catch the correct train some 10 minutes later. And with that, we finally got off the correct station at Broadway, then we walked the last two blocks to the Holiday Inn, where we'd finally get to check into our room at 10:05pm at last…
And so ended this day though we'd still have another action packed day of waterfalling tomorrow. Hopefully, we might have some leftover time to tour the city in the evening after doing our waterfalling since we really felt like we didn't do Vancouver justice on this day…