Day 6 (August 1, 2017 – Vancouver, British Columbia, Canada): "Smokescreens"
It was about 4:30am when I awoke. I managed to make use of this time getting freshened up and caught up on writing this trip journal when Julie finally woke up at about 6am. The plan for today was to get a 7am start to tour the Sea to Sky Highway up to Whistler so we could be back in time to do some last-minute touring of Vancouver that we didn't get around to yesterday.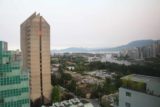 But it wouldn't be until 8am when we would finally be in the car. That said, our paid breakfast (included in our room rate) was actually pretty good as it contained the standard buffet breakfast except there was also pork shumai (a dim sum dish) as one of the employees here was Chinese. In fact, she was really nice and sweet to Tahia as we engaged in a little Mandarin dialog as she was very smitten by Tahia.
This brekkie wouldn't be included for tomorrow morning since it would be on points, but that was fine by us since we would need all the time we could get from waking up early and catching the ferry ride to Victoria on Vancouver Island.
Once we finally were out of the Holiday Inn, we promptly drove north on the Sea to Sky Highway as we passed through the busy suburbs of North Vancouver before making it onto the more mountainous road. But even for a mountain road, it was going at a pretty high rate as we were pretty much consistently in the 80km/h to 100km/h range though it was very easy to get up to 120km/h at times. There were also plenty of passing lanes along this stretch, which made it for a less stressful drive than what we were more used to on the mountain roads back at home from people not using pullouts.
Eventually, we'd make it up to the Brandywine Falls car park at 9:30am. There were already some cars here this early in the morning, and it made me wonder if Shannon Falls (which we'd be doing later) would be harder to find parking.
Nonetheless, the first time we noticed when we got out of the car was that it smelled like smoke. In fact, when I looked up at the sky, there was no blue skies as the air was filled with smoke. The last time we experienced this kind of air quality was when we were touring China or India where the thick smoky haze was more of the norm rather than the exception.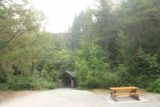 We wondered what was the difference between yesterday and today since yesterday was such clear blue skies. But today, it was all hazy, and it made me wonder if the wind happened to be blowing from a different direction or if there was a new fire that sprouted up.
The thought did cross my mind whether the fire was close to our area or not. But given that things seemed to be more like business as usual, I had assumed that whatever caused the smoke was hundreds of miles away from us. Nonetheless, being amidst smoke and haze in a thick forest was definitely not an assuring thought.
Since Tahia was napping and trying to get caught up on sleep, I started the hike solo. It was actually not much of a hike as it was a mere 300m or so from the car park to the first (and closest) overlook for the Brandywine Falls.
As I walked the trail, I had crossed a bridge then followed the trail alongside a stream sandwiched between volcanic rocks and the stream. The trail then crossed a railroad before getting to that overlook peering right at the plunging waterfall with a nearby alcove where some basalt cliff probably flaked off at some point.
When I had my fill of the lookout, I then continued walking another 150m along the trail passing by a more distant look at the Brandywine Falls before arriving at the Canyon View. At the Canyon View lookout, there was a view of some valley towards what appeared to be a manmade lake. However, it was so smoky that the adjacent mountains could hardly be seen through the haze.
It was a shame since this could have been a pretty scenic lookout. So I didn't linger here for too long as I got my shots and read the signs before returning back in the direction of the main lookout. And by the time I had gotten there, I saw Julie and Tahia had made it.
As I rejoined them, we took a few more minutes taking more photos and videos while also taking some people shots. But we couldn't linger here as long as we would have liked given the bad air quality, which also made the sun's light provide a bit of an orangish tint to the cliffs.
By about 10:30am, we were back at the car. Next up, we continued driving towards Alexander Falls, which I had planned on visiting after having lunch at Whistler. But since we were doing pretty well on time despite our late start, we mind as well check out that other waterfall since I had done my research and knew that it would be a quick stop considering it was pretty much roadside.
By 10:40am, we had arrived at the Alexander Falls Recreational Site, which was off one of the side roads leading to an Olympic Ski Area or something like that. We didn't have to go all the way that far, but if not for my pre-trip GPS waypoint, we could have easily missed out on this road as there was no signage from the Sea to Sky Highway indicating anything about Alexander Falls.
It wasn't until we got about 9km along this detour that we finally saw the small signed turnoff for the falls. The short spur road was unpaved, but it lead to a large clearing where there were a couple of other cars there. We then proceeded to get out of the car and walk right to the lookout where we could see a semi-distant view of the Alexander Falls itself.
It was actually quite an impressive waterfall that was on par with what we had just seen at Brandywine Falls. The signage here said that it was 43m tall, and I certainly could believe that estimate after seeing this multi-tiered cascade. Given low little fanfare this falls appeared to get during my pre-trip research, I had low expectations for it. But I must say that I was pleasantly surprised.
We could have also picnicked here as there were a few fairly sturdy picnic tables. But given the thick smoke in the air, it wasn't a good idea to prolong our exposure to the bad air quality.
After taking a few minutes to take people shots as well as documenting our experience, we then returned to the car at 10:55am. Next, we drove all the way to Whistler Village and parked the car there at 11:20am. Again, the Whistler area looked scenic but the haze ensured that the surrounding mountains was hard to see.
As we meandered about the village looking for the visitor center and then a lunch spot, we settled on this place called Mongolie. The thought of putting your own ingredients onto the wok was intriguing to Julie so she could control what was going into her food for her restricted diet.
They charged by the pound, but even though there was a 20% discount (making it like $16 per pound), I still wound up spending over $70 for this meal. I guess I had underestimated how much I had gotten, and I wound up eating up my nearly 2 pounds of food.
Next, we meandered about a walkway leading to a playground, some markets, and some Olympic sign. This village seemed to be pretty functional for a former Olympic venue, especially when you hear about how infrastructure for such games in Brazil, China, and Greece were pretty much cost albatrosses as they were unused and had cost taxpayers loads of money that they may never pay back.
Finally at 1:25pm, we were back at the car. Totally full on Cow's Ice Cream (where I had picked the wrong shop as the one we went to buy didn't have cookies n' cream flavor but the other one did), we then started to head back on the Sea to Sky Highway towards Vancouver again.
Along the way, we made a stop at the Shannon Falls Provincial Park, where parking nearest to the trailhead was hard to find. But Julie had a sharp eye and we managed to snag a spot at 2:30pm. I guess if we were unsuccessful finding such a convenient parking spot, we also could have parked across the Hwy 99 near the Kawahne Campground.
The short walk to the Shannon Falls itself was pretty once we got past the picnic area and big restroom facility. It was pretty good infrastructure for a place that didn't cost us anything to visit.
The walk was slightly uphill and mostly paved, but right from the get go, we could already see the impressively call cascade of Shannon Falls, which was said to be 335m. It was hard to see its entirety from down here like this, especially with all the thick foliage around us. I'm sure it would have been one of those waterfalls best seen from either a taller hillside across the valley or from the air.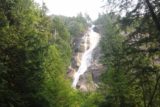 There were also places where the stream was accessible so we knew that after experiencing the falls, Tahia could play in the stream a little bit on the way back.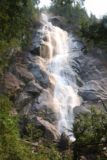 Once we got to the main lookout, we could see Shannon Falls making its dramatic tumble between some openings in the trees. It looked like the lowermost cascades and tiers were not visible due to the foliage. So we took some time to get our people shots while also trying to document this experience. And even though the skies were still smoky and hazy, we could still see the falls fine.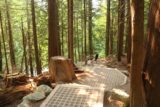 When Julie and Tahia had their fill of the falls, then headed back down towards the stream where Tahia could feel the water. Meanwhile, I went up a steep forested path just to see where it went. After a few minutes of picking up a sweat, the trail ended at another lookout with a slightly more angled view of the Shannon Falls.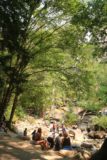 From up here, I could see that a few folks actually scrambled their way up closer to the base of the main cascade of the Shannon Falls. So they provided me with a subject indicating the sense of scale of the falls.
By about 3:30pm, we had returned to the car. I think given the visual impact and experience, this falls seemed worthy of a 3.5 or 4.
Next, we continued our drive back into downtown Vancouver. We thought we were making pretty good time as we were near the city limits of North Vancouver just before 4pm, but then we hit some pretty mean traffic on the way to the Lion's Gate Bridge at the north end of Stanley Park. And before we knew it, it wouldn't be until about 4:35pm when we finally got to Prospect Point just to take a photo of what Stanley Park was like on its north end.
But given that the views were obstructed so only part of the bridge could be seen and that the smoke still obscured the otherwise lovely mountains backing North Vancouver, there really wasn't much to keep us here longer at Prospect Point. So at 4:55pm, we were back in the car and took some time to adjust Tahia's car seat as she shoulder strap was now on the highest level.
I guess any more growth on her part would mean we'd finally have to switch to a booster seat instead of her five-point harness, which had been keeping her safe since she was around 3 years old.
We then continued driving along the west coast of Stanley Park past the Third and Second Beaches before following the GPS
right to this spot that Julie wanted to eat at called the Caveman Cafe. Instead of driving back to the Holiday Inn and taking the mass transit to get there, we just drove straight over to the Caveman Cafe where we eventually found underground parking that had two free hours at 5:30pm.
It turned out that the Caveman Cafe was near the gate for Chinatown on Pender Street. It was a pretty rough area as there were graffiti and lots of homeless people around. I guess there was a reason why the receptionist marked on our map to not go too far east of the downtown area.
The Caveman Cafe was an informal dining spot as part of the International Shopping Center or something like that. It was a humble cafe that specialized in paleo foods, which was perfect for Julie. We wound up getting a paleo-style pizza as well as a veggie-infused gluten free pizza, and it was enough to fill us up for dinner without breaking the bank.
When we were done eating, we then walked around looking for the Sun Yatzen Garden, but by the time we got there, the place had just closed. So we then did a quick walk back towards the Chinatown gate while trying to not to mind the homeless people and shizophrenics that were passing by as we were taking pictures.
By 7:15pm, we were back at the car, where we then made the final bit of driving to the Holiday Inn. By the time we got there at 7:30pm and back to our room 15 minutes later, we were finally able to call it a day. During our time spent winding down and fighting the urge to nap, we took the time to wrap up the packing of what was left in preparation for our early start tomorrow.
At 8:30pm, we saw a very impressive sunset where the smoke made the sun look like a big red globe. It was too bad that there was a tall building in our line of sight. Otherwise, this would have been quite the regal sunset shot. So we had to improve by zooming in on the coastal harbor buildings and tankers sitting seemingly beneath the red globe sun.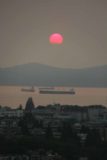 Once that was done, we'd spent the remaining couple of hours that we were awake to clean up and finally go to bed. This was probably the first time all trip long that I was able to get at least six hours sleep or so as we had slept at around 10:30am with a 4:30am wake-up. I'm sure I could also try to catch some Zzs on the ferry since it was a 90-minute boat ride.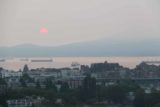 There was still some uncertainty regarding what we'll be doing at Vancouver Island, especially since I wanted to see Della Falls, but that would involve a long 3- to 4-hour drive (each way) to Port Alberni or Tofino. Plus, it would require at least two paying customers, and it wasn't cheap ($250 per person on a sea plane or $450 per person on a helicopter). And on top of all that, there was smoke from the bushfires in BC that would impact visibility.
So we'll just play it by ear and see what happens tomorrow…