Day 8 (August 3, 2017 – Victoria, British Columbia, Canada): "Getting The Full Flavor"
It was 5am when I awoke. I managed to succumb to the inertia of not wanting to get up for the previous alarms since 4:30am. I guess that's what happens when you go to bed at about midnight, especially considering the long day of touring yesterday.
I managed to spend the better part of 90 minutes having a kefir and fruit breakfast while also getting some a posteriori blogging done. So I managed to get downstairs at 6:30am but I had to wait another 10 minutes for the valet to arrive. I guess I know now that if we want to retrieve the car, I'd have to call in advance. Good to know, especially since tomorrow we have to catch the 7am ferry back to Vancouver.
At 6:40am, I got back the car and then started driving out in pretty light traffic as I was leaving Victoria for the Hwy 1. Going in the other direction, it looked like there were lots of cars caught in sluggish traffic but that appeared to be mostly due to the traffic lights as there were once again no freeways here.
When I got towards the Goldstream vicinity, I wasn't sure exactly where I was supposed to make a left turn to get to the campsites. So I wound up overshooting the traffic light and then overshooting the picnic area and visitor center parking from yesterday. There was a dicey left turn out of that parking lot but given how fast people were going and how much traffic there was in both directions, I chose to just get up to the U-turn 5km further to the north.
Then, I managed to squeeze in an opening on the southbound traffic on the Hwy 1 at the U-turn not long after a cop was positioned at the start of orange cones with a radar gun trying to catch motorists speeding through the 60km/h zone in what would typically be 90km/h.
Eventually, I made it back to the traffic light, where I then proceeded to follow the signs for the Goldstream Campground. I eventually got there, where the park headquarters kiosk was still not open, and I noted from the map sign nearby that the trailhead for Goldstream Falls (which I was targeting this morning after seeing this at a map sign for the trailhead at the Goldstream Niagara Falls) was at the end of the campground.
As I slowly drove by what appeared to be a pretty extensive campground, I eventually made it to a pit toilet and some trash bins flanking what looked like an unsigned trailhead for the Goldstream Falls itself. There didn't appear to be any day use parking (at least not officially) in the immediate area; only campsites. However, I
managed to squeeze in to a spot near a tree that might have had pullout room for 2 or 3 cars.
I parked the car at 7:20am and quickly put on my hiking boots (just in case) before going on the short trail. Armed with GPS
and camera, I eventually got to a series of steps leading down to the audible Goldstream Falls. After another couple of minutes, I managed to get down to the bottom where I saw the slanted cascade dropping into what looked like an inviting swimming hole.
There were even some sand toys (though no beach) left around the plunge pool as apparently some kids were playing here that were also using the campgrounds.
I took some time trying to compose all sorts of photos of the falls trying to leave no stone unturned in terms of all the different ways to document the falls. However, I managed to forget after the fact that I had an iPhone
in my possession but didn't bother to document with it.
There was a trail runner that managed to join me as I was about to leave the falls. He was the first person that I saw on the trail. And all he was doing was using the clear stream to cool off his head before he ran back up the steps.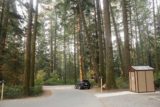 I did the same as I went up the steps and back to the parked car at 7:55am. As I followed the traffic back to Victoria, I eventually got back to the Best Western Carlton Plaza Hotel at 8:25am, where the curbside parking was so limited that there was only a lone tight space to leave the car with the valet.
Good thing there was a backup camera on the rental car so I was able to use it to my advantage to use all the space available to me to inch forwards and backwards until I was back against the curb and out of traffic.
Once I was upstairs, I was just in time for breakfast as Julie was just about done preparing it. Good timing!
It took some time to finish the brekkie and get ready so I used some of the idle time to wash fruits, wash the dishes, and plan for a day of walking to and touring Parliament House then Fisherman's Wharf before returning to the accommodation to get the rental car so we could drive to Sandcut Beach, and then have dinner and call it a day.
It was a far cry from using this day to do the long 3- to 4-hour drive in each direction from Victoria to Port Alberni or Tofino to catch a seaplane flight or helicopter flight, respectively, to catch a glimpse of Della Falls.
Anyways, it wasn't until about 10am when we finally left the apartment-like room and resumed our plans for the day…
The first order of business of the day was to walk all the way to the Parliament Building since we weren't able to go inside yesterday afternoon. The morning was pleasant as there were long shadows from tall buildings and trees helping to keep us cool. When we got back to Victoria Harbor, we noticed that the lighting was pretty nice for most of the buildings including the Parliament House.
Before starting our self tour of the Parliament Building, we had to go through airport-like security, which took some time. During the wait, I somehow tweaked my left shoulder blade, which made my neck a bit stiff whenever I turned to my left. It made the wait a bit more excruciating, but I tried to use some of the building columns to self massage the sore spot.
Once we were beyond the conveyor belts and metal detectors, we promptly walked about the rotunda, the legislative assembly, and some room with some stained-glass windows where we saw some very progressive portraits showing women in the legislature in high positions. Some of them were even First Nations women.
There was a young well-dressed lady in a white gown and a crown walking around having random conversations with guests. Tahia noticed her and we encouraged her to strike up a conversation. But she was shy. When the well-dressed lady (who we knew was supposed to be a young Queen Victoria) acknowledged Tahia, they got into a pleasantly awkward conversation (mostly due to Tahia's shyness).
Queen Victoria asked her the usual questions like her name (which Victoria struggled with because I doubted that she had heard the name Tahia before), her age, and where she was from. When Tahia was asked to guess Victoria's name and age, Tahia had trouble answering confidently due to her shyness. It must be the gown that made her somewhat star struck the way she was shy to Elsa and Anna when we went to Disneyland and California Adventure one day.
It didn't take long before we were pretty much done with our internal tour of the Parliament House. When we walked out of the building, the sun through the lingering smoke from the BC fires was a little more intense making it more humid, but the lighting was still pretty nice as we looked out over the lawn of the Parliament House and proceeded to walk towards the Fisherman's Wharf.
Instead of walking the surface streets to get all the way to the Fisherman's Wharf, we walked the David Foster Walkway which was closer to the water and it turned out to be much cooler and quite the pleasant walk, despite it being a bit longer than the more straightforward surface street route.
Along the way at 11:20am, a bunch of people had spotted an otter swimming in the water within view of the Fisherman's Wharf and floating homes. We had our moment taking pictures of it while watching it eat fish pretty loudly.
Eventually by 11:45am, we were seated at a shaded picnic table on the Fisherman's Wharf itself and eating a seafood lunch from this place called the Fish Store. There was a nice ambience to the Fisherman's Wharf given the colorful homes and shops all floating on the dock, which kind of reminded us of something we might have seen in Scandinavian Europe.
Our lunch consisted of a fish taco of sockeye salmon, another fish taco of BC halibut, smoked salmon and smoked tuna salad, and a grilled sockeye salmon salad. The food was pretty fresh, and it reminded Julie and I that this was the last day we were going to enjoy fresh northwest seafood before we'd be heading inland tomorrow, where such foods would be practically non-existent and probably less clean from a gut health perspective.
When we were done eating at 12:25pm and Julie and Tahia were done waiting in line to use the restrooms, we then spent some time walking some of the aisles flanked by attractive colorful floating homes. While most of the homes have signage asking to respect privacy, it seemed awfully naive to think that no one would be peering inside given how close the public was allowed to these floating vessels.
Another thought that crossed my mind was that if I was ever given the opportunity to live in one of these things (probably not in my lifetime), I would probably get seasick.
Anyways, when we were done touring a couple of the attractive aisles at the Fisherman's Wharf at 12:50pm, we managed to catch one of the water taxis back across to the Inner Harbour, hwich was pretty much right in front of the Empress Hotel. That saved us quite a bit of walking back in the height of the heat of the day.
By 1:15pm, we were having a toilet break at the Empress Hotel before we finally made it back to our room at the Best Western Carlton Plaza at 1:55pm. But that wasn't before we managed to get some cookies and cream gelato at some chocolatier as well as more tasty macarons from Bon Macaron in Victoria (couldn't get enough of those white truffle macarons).
It wouldn't be until about 2:15pm when we retrieved our car from the BW valet and then we proceeded to drive to Sandcut Beach. Either I had read GoogleMaps wrong or GM itself was inaccurate, but I had expected that the drive would take about 30+ minutes in each direction. I didn't expect that it would take nearly 90 minutes each way!
So given that we had 6pm dinner reservations, that kind of torpedoed any hopes of us doing any last-minute grocery shopping at Whole Foods or a last macarons run before they closed at 6pm.
The drive out to Sooke and then beyond French Beach and Point No Point to the humble car park at Sandcut Beach was pretty much always behind some slower moving car. There were very limited passing lanes or opportunities to pass.
But eventually at 3:30pm, we would arrive at Sandcut Beach trailhead, where the main lot was already full and we had to park along the road not too far from the actual trailhead. We then proceeded to pack some snacks and water and then walked down the forested trail before getting down to Sandcut Beach. All the downhill walking meant that going back up would be a bit of a hot and sweaty affair.
Whilst at Sandcut Beach, we saw that it was a broad and quiet beach full of pebbles and stones. It didn't get sandy until we were right on the water. The waves were actually calmer than I thought, but that was when I realized that we were still facing the Strait of Juan de Fuca so it was kind of analogous to our experiences at the English Channel when we were touring places like Etretat and Mont-Saint-Michel in France or the St Michael's Mount in Cornwall, England as well as the Jurassic Coast in England.
While Julie and Tahia were left to their own devices playing or relaxing at the beach, I walked to my left and continued perhaps another 200m or so before I finally saw the waterfalls on Sandcut Creek. They were small waterfalls, but they were attractive. The stream of Sandcut Creek actually disappeared into the pebbles before re-emerging in the Strait of Juan de Fuca.
I also noticed that there was some house upstream above the short 10-15ft falls. It looked private so there wouldn't be any tourist infrastrucure for visiting.
There was even a rope swing near the easternmost of the two side-by-side drops that were still remaining. I've seen photos showing at least three side-by-side drops so clearly I happened to be here under mid-Summer flow. But I wasn't complaining as being at a waterfall by a major body of water was already special in and of itself.
After having my fill of the falls at around 4:30pm (regretting that I didn't bring my iPhone
for this), I then quickly walked back to rejoin Julie and Tahia. While Tahia was busy trying to stack rocks, I was snacking on cheries and one of the macarons.
Meanwhile, we were basking in the red globe sun (didn't seem as hazy as yesterday) and observing that there were some rock cairns shaped like the inukshuk symbol that the First Peoples used to symbolize fruitful adventures and safe journeys.
By about 4:40pm, we then walked up the path to get up to the car. We'd eventually get back to the car at 4:50pm, where as expected, we were hot and sweaty. Anyways, the GPS
predicted that we'd be back at our accommodation at 6:10pm, which was later than our 6pm reservation. So we tried to make haste to at least not be too late for our dinner reservation.
We'd ultimately make it back to the accommodation at 5:55pm, where we dropped the car back to the valet, went upstairs to get changed, and then walk to the Bard and Banker, which was where our dinner venue was. We'd ultimately make it there by 6:15pm and were seated no problem.
Our dinner consisted of rotisserie chicken, sockeye salmon, and some chicken soup for Tahia as she was still having a runny nose from her cold. The ambience in side the Bard and Banker was quite nice as it used to be a bank and was full of atmospheric old school lighting and stairs with balconies.
We topped off our dinner with a sticky toffee pudding, which we suspected had to be available given the English (actually Scottish) roots of this restaurant. Our dinner ended at 7:50pm, which allowed us to slowly meader our way back to the BW while soaking in the last of the Victorian ambience along Government Street.
This included a stroll down Bastion Square while checking out some talented jazz musicians busking on opposite corners of an intersection both attracting a crowd and really making for that party atmosphere that tourists love.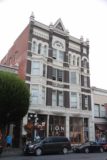 We also checked out the waterfront by Bastion Square one last time. While there, we watched the red globe sunset (at least the sun sinking behind some buildings bordering the Outer Harbor) before walking back to our accommodation. We made it there at 8:40pm, where we then got cleaned up and started to pack for an early departure for the ferry back to Tsawwassen tomorrow.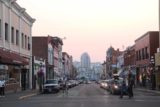 And so ended our time touring Victoria, where we really felt like we had experienced this place about as much as possible. It was a far cry from the rushed cruise ship visit, and like we knew all along, you really can't say you've experienced places properly unless you self tour at your own leisure and your own pace with your own itineraries.
I guess the only things really left to do on Vancouver Island would be to visit Mystic Beach and especially Della Falls. Perhaps that might occur on a different trip where there's less haze and smoke from forest fires and more flexibility from spending more time in Vancouver, where Della Falls could be a day trip from there involving ferries and seaplane or helicopter rides. For sure it would be an expensive affair just for seeing that waterfall, but it just wasn't meant to be on this visit…