15-September 2010 to 23-September 2010:
This trip had last-minute written all over it. The air wasn't booked until Sunday (3 days ago), some of the accommodations weren't booked until yesterday, and the car hire wasn't booked until yesterday as well.
Complicating matters even more were our worries about the weather as it looked like the Canadian Rockies would see its first significant snowfall this weekend. We weren't sure if this was normal, but I was starting to doubt the guidebooks saying that September was one of the best times to come to the Canadian Rockies…
Day 1: RESETTING EXPECTATIONS
The day began with a 4am wake-up so we could get to LAX in time for our 7:25am flight while leaving time to clear customs, go through security, shuttle to the airport, etc.
This trip had last-minute written all over it. The air wasn't booked until Sunday (3 days ago), some of the accommodations weren't booked until yesterday, and the car hire wasn't booked until yesterday as well. The problem was that we wanted one last trip before Julie enters her third trimester, where that would put an end to our world travels and waterfalling hikes for a while. Plus, there was no way we could've done this trip earlier in the month given how crazy things were at work.
Complicating matters even more were our worries about the weather as it looked like the Canadian Rockies would see its first significant snowfall this weekend. We weren't sure if this was normal, but I was starting to doubt the guidebooks saying that September was one of the best times to come to the Canadian Rockies.
We eventually made it to the gate at 6:25am, but that wasn't before noticing some guy checking in a pair of big rifles. That was something you don't see every day.
By 12:10pm, we made it to the Budget Rent-a-car at the Calgary Airport. We ended up with this car that was full of dents from hail stones. The Budget guy working here said they were from a massive hail storm in July. We hoped that wasn't going to be an omen for what was to come with the forecasted bad weather.
Once we got out of the airport, our momentum was quickly stopped by Calgary traffic (which was surprising considering the Trans-Canada Highway 1 was such a main thoroughfare that we wouldn't have thought it would be a struggle with suburban Calgary traffic.
Anyways, our grocery run at a Safeway here went from 12:45pm to 1:25pm.
It wasn't until 2:40pm that we finally made it to the Douglas Fir Lodge. But that wasn't before paying above CAD$136 for the week that we were visiting (it was recommended that we get the annual pass). We weren't sure if we'd be coming back anytime soon, but we mind as well make our money work for us while we were here.
We were both a bit unpleasantly surprised that they charged on a per person per day basis and the price I believe was at least $10 Canadian Dollars per person per day had we done it a la carte. Ouch!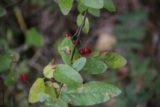 Anyways, we were apparently too early for check-in to our accommodation when we arrived in Banfff so we decided to head straight towards Sundance Canyon. The hope was to see a waterfall as well as some grizzly bears munching on berries. Julie wasn't too keen on the idea of seeing bears, however.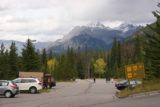 At 3pm, we were at the Cave and Basin car park, which seemed quite desserted. I guess it had the look and feel of a place that was in the off season. Meanwhile, we could see there were some towering mountains with interesting shapes and snow topping them all around us above the trees. However, the clouds looked threatening, and based on the forecast, we were hoping that Mother Nature would have mercy on us.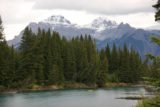 The Sundance Canyon walk was mostly paved, but after walking maybe a little over 1km, one of Julie's legs were bothering her, and I suspected the pregnancy wasn't allowing her to continue walking. So she talked me out of continuing towards the canyon itself (which was said to be 3.2km round trip) and we headed back to the car.
Next up was Bow Falls, which would be the first waterfall of the trip.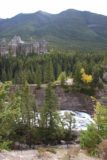 So by 4:10pm, we were back at the car and proceeded to look for Bow Falls. However, after a little bit of struggle finding a decent view of the falls, we realized that we were on the wrong side of the river. Apparently, the Bow Falls and Hoodoos trail was deceptively named since we saw a large parking lot across the river down below that probably wasn't accessible from the side of the river that we were on. In fact, the Tunnel Mountain Road wouldn't have taken us there. Instead, we had to drive back over the bridge then further south to that car park that we saw across the river.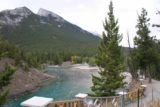 By 4:35pm, we finally made it to the Bow Falls car park. There were signs pointing the way here so clearly this was one we shouldn't have had much difficulty finding.
And as expected, we saw the sloping Bow Falls, which somehow would remind me of Gibbon Falls. But what was striking about this viewing area was the scenery downstream.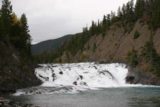 We could only imagine what the scenery would be like under better weather. And to add insult to injury, it was probably about 20 minutes after Julie retired to the car as I continued photographing the scene, did it start to rain in earnest. Little did we know that it would persist for at least the rest of tonight (and even tomorrow).
There was even some fancy hotel nearby where I'd imagine the main draw would be the views of the mountains since the building was perched above the trees and other buildings of the area.
We were joined by a couple of bus loads of Chinese tourists (Julie suspected they were from Hong Kong after recognizing the Cantonese dialect) as well as other tourists not affiliated with the tour buses. Even though it did get a tad busy with the tour buses, it was nowhere near what I would imaine had we been here during peak season in the Summer.
By 5:25pm, I rejoined Julie who was waiting in the car. At that point, we returned to the Douglas Fir Resort where we finally checked into our spacious condo-like room. The only problem was that there was no running water since repairs were being made, but we were assured they'd come back online before the end of today.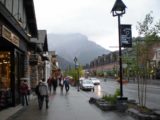 Once we got settled, we returned to the Banff town where it was somewhat busy with pedestrians. The receptionist at our resort had recommended a couple of places where locals like to eat. And we ended up eating at some local pub called the Elk and Oarsman where they were offering up Elk Wednesday. Basically their elk dishes were on sale (at least 33% off) and we stuffed ourselves silly with Elk Nachos, Elk Burger, and Elk Steak.
By around 8pm, we finally left the Elk and Oarsman pub fully stuffed and brought back some leftovers in a box.
As we left the pub, both of Julie's legs were bothering her to the point that she had trouble walking. And this didn't bode well for the remainder of our trip since neither of us felt comfortable with me going solo on some of these excusrion in grizzly country. In any case, Julie's health as well as that of the unborn child were also foremost on our minds.
And so ended a rather long day where both Julie and I were still struggling to stay awake. Well, at least the water was running though it was rather lukewarm on this cold night.
Day 2: WATERFALLING OUT THE BAD WEATHER
Even though I had my alarm set at 6am, it wasn't until 7am when I awoke. It was still quite dark outside so it wasn't easy to get up and out of bed. But rain or shine, we knew we had a pretty busy day ahead of us so we had to make the most of our time here. And that wasn't about to happen until we got out of the lodge and out into the great outdoors.
After a quick breakfast and some spontaneous HGTV, we finally got our act together and left the lodge at 9am. It was a bit of a late start than I would've liked, but I guess the rain (which we knew was coming from the forecast) had already taken hold and kind of made it difficult to get moving and into the elements.
The drive was mostly rainy and slow. There were lots of road construction going on for large stretches (I recalled one was 17km long) where the speed was limited to 50km/h (30km/h in some spots) or 70km/h. There were also pockets of pretty hard rain, and this wasn't encouraging in terms of the sightseeing we were after today. For sure we could forget about seeing the famous lakes of Banff on this day, so we're all about waterfalling instead.
When we continued west along Hwy 1 past the turnoff for the Icefields Parkway, we started to notice that the weather seemed to have let up momentarily as we were descending near the West Louise area. Despite the heavy cloud cover, we could tell that some of the scenery seemed dramatic with vertical walls rising high up into the clouds.
As we headed further west, there was even some sun that started to peek though the clouds.
Eventually, the GPS
had us turning left onto Beaverfoot Road well west of the turnoffs for Emerald Lake and Takakkaw Falls near Field. There was lots of road construction here and eventually ended up onto an unsealed road with lots of potholes filled with rainwater.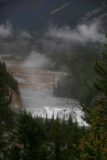 It wasn't until 10:45am that we ended up seeing a very distant view of Wapta Falls, which was the destination of our first excursion of the day. However, this place seemed very remote, and something seemed a bit off. We expected a more popular and busier hike than what we were seeing.
Eventually, we figured out that we probably missed the correct turnoff, and this was confirmed when Julie showed me a map from one of the free publications we picked up at the Calgary Airport. It was yet another instance where we couldn't trust the GPS
, but also reminded us that sometimes we ought to read the literature first before trusting the GPS
.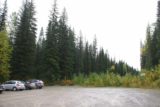 After the fruitless detour was over, we were back on Hwy 1 heading east. Eventually, we saw a signpost for Wapta Falls on our right. Yet there was no indication of this sign if we were heading west (which was probably why I missed it in the first place).
In any case, we took the 2km unsealed road to its end where there was a fairly busy car park with at least a half-dozen cars already parked.
It was about 11:15am when we started hiking. The weather seemed to be holding up and there was even more hints of the sun trying to peek through the break in the clouds.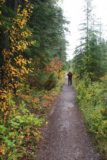 The trail was mostly flat as it was flanked by pretty red and golden leaves on the low-lying trees. Some parts of the track were muddy, but it wasn't anything particularly tricky or difficult.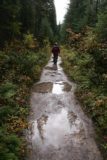 I was more concerned about Julie's legs acting up like they did yesterday. For this time, if it acted up, Julie would have a difficult time walking back to the car. Plus, this hike was 2.4km each way apparently, which was much longer and less developed than the Sundance Canyon walk we tried yesterday.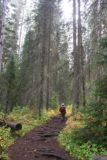 The mostly flat hike eventually started to descend steeply near a fenced off area. That led to an overlook where we looked down over the top of the falls. It was at this point that Julie wasn't going to descend any further given her condition.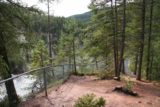 So she gave me her camera and I quickly made my way further down when I reached a fork. There was a less developed trail to the left while the wider trail continued straight ahead.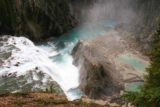 I ended up taking the left trail, which descended quite steeply (though it did have steps along the way) in what seemed to be a sanctioned trail. I kind of wondered if this was going to eventually close given its exposure to dropoffs and exposed roots, but it didn't take long before I ended up at a louder and closer view of Wapta Falls.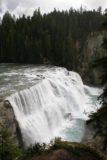 This time, it was a more profile view of the falls and it was much better than the first one above.
Again, the sun was starting to come out for a brief moment as it vacillated between hiding behind clouds and peeking through some of the breaks. At least it kind of gave us some hope that maybe the weather was going to improve.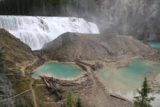 I then continued down along the narrow trail which ultimately made it to the bottom where I saw a handful of other people taking photos on the opposite end of the little valley.
It was a bit misty down here, but there was a hill directly opposite the falls that kind of blocked most of the wafting mist.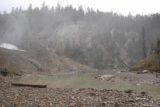 First, I walked along the left side of the valley bottom towards an opening in the hill where I could see lots of mist wafting through it. I couldn't take decent photos from there, but I did use Julie's camera to take a movie while getting wet.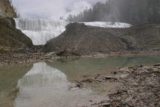 After retreating back down to the bottom, I then walked across the valley where the people down here already were still lingering. Then, I walked up another trail towards a less mistier part of the hill where I got whatever partial shots of the falls that I could get.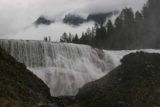 Again, given the width of the falls and the mistiness, it wasn't easy to photograph. But that didn't detract from how impressed I was with the falls. I was certainly glad to have taken the trouble to get all the way here.
There were still a handful of more people coming down here as well, but they came from further down the valley. I guess that was where that more established trail would've ended up. But instead of going that way, I ascended up the steep path that I came down from.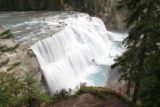 It didn't take long before I was back at the 2nd overlook, which turned out to be my favorite one of the lot.
And a few minutes after that, I rejoined Julie at that first overlook.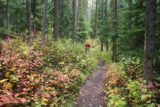 So we went up to the flat part of the hike and made a beeline for the car park. By 1:05pm, we were back at the car park. However, whatever improved weather we enjoyed on this hike seemed to be short-lived. For the clouds that were hovering above us now seemed to be darker and more threatening.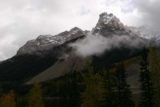 That kind of changed our plans a bit so we were now headed to Takakkaw Falls and decided to forsake Hamilton Falls and Emerald Lake. But first and foremost on our minds were now whether we'd be able to enjoy the falls given the deteriorating weather.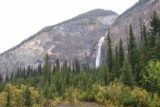 The falls looked very impressive from the road, and we couldn't wait to get right on the walk to get closer to it. We eventually made it to the car park for Takakkaw Falls at 1:55pm. Unfortunately, it started raining when we got to the car park, and there seemed to be no sign of the weather letting up.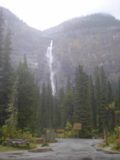 Armed with rain gear (though I wish we had put on our waterproof pants), we proceeded to walk closer to the falls in the rain. The weather made it difficult to even take trail photos let alone the waterfall itself.
Early in the walk, there was a relief map of the Yoho Valley. We could see there were other waterfalls further up the valley, but there was no way we were going to do that hike to see them.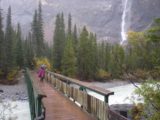 Just before we crossed the bridge over the river cutting through Yoho Valley, we ambled up to an overlook of Takakkaw Falls. The view from here would be magnificent, but the mistiness of the heavy rain didn't do us any favors in terms of photographing the scene.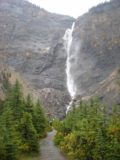 When we had our fill of this spot, we then crossed the bridge and continued along the paved walkway towards the base of the falls.
I'm sure under more benign weather, we might be able to appreciate the grandeur of this 254m waterfall. All the photos I had seen in the literature didn't seem to do this waterfall any justice. It always appeared smaller than it really was in real life. But in our haste to keep our electronics from getting damaged from the heavy rain, I guess we were stuck with the similar predicament of taking photos that wouldn't communicate the grandeur of the scene.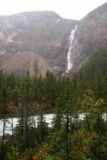 Despite our best efforts to capture the falls, the rain wasn't cooperating as I was constantly battling waterspots on the camera lens. The rain wasn't letting up, and eventually the frustration of being unable to capture the beauty of the place got the better of us as we started to head back to the car park.
By 3:10pm, we made it back to the car and wasted no time driving back out of the Yoho Valley. On our way out, we made a brief stop to take a photo of some cascade across the valley of Takakkaw Falls (from inside the car due to the pouring rain).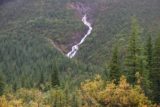 During the drive out, I wondered if all the delays we suffered on the way here from the late start to the day as well as the missed turn caused us to miss the benign weather at Takakkaw Falls by another hour. Oh well, woulda-coulda-shoulda. Can't cry over spilled milk now.
At 3:55pm, we drove through the rain to the Louise township. There, we went to a bakery where we had some meat pies (something we hadn't had since our trip to New Zealand as well as some other meat pastries. That seemed to have fueled us up somewhat, but now the question was whether we'd be able to squeeze in an excursion to Johnston Canyon to salvage the day before dark.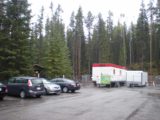 By 4:35pm, we left Louise and headed right to Johnston Canyon. I knew we had until around 7:30pm or so before sundown. But the weather certainly still didn't do us any favors.
At 5:05pm, we made it to the signposted car park for Johnston Canyon. To our surprise, the car park was still quite busy at this hour despite the bad weather. Clearly there must've been something to this excursion for this many people to tough it out under the conditions.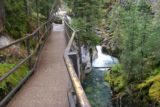 So Julie and I once again donned our rain gear (and waterproof pants this time), and wasted no time getting onto the paved walkway. A sign at the start indicated that it was 0.5 miles to the Lower Waterfall and 1.5 miles to the Upper Waterfall. I presumed those were one-way distances so it would take at least 2 hours to see both waterfalls, I reckoned. I was sure Julie wasn't going to join me beyond the Lower Waterfall, but I was doubting whether I would do the Upper Waterfall as well.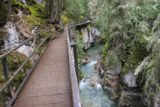 Yet the funny thing was that as we walked further on the paved walkway, we noticed that the rain didn't seem to affect the area as much as it did on our Takakkaw Falls excursion. It might've been because there were overhangs and trees to shelter us somewhat from the rain.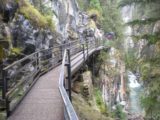 Still, the walk itself was quite scenic, and I could see why this was considered a good bad weather hike.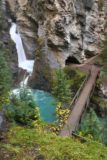 After about 30 minutes, we arrived at the Lower Waterfall, where there was a bridge that ran right before the falls. There was even a tunnel on the other side of the bridge that took us right to a sheltered cove with a direct view of the Lower Waterfall.
It wasn't the most photogenic spot to take this photo, but at least it did shelter us from the rain.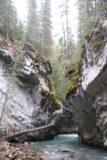 On our way out, we conversed with a guy who took our photo in front of the falls. It turned out that he was from LA. We suspected because he was wearing a UCLA jacket. So I guess we weren't the only Angelinos suffering through the lousy weather in the Canadian Rockies.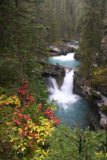 At this point, Julie headed back to the car park after giving me her camera.
Then, I quickly made my way uphill towards the Upper Waterfall upon learning that it was still another 20-30 minutes further. It was still barely 6pm so I was confident that I could complete the excursion before darkness fell.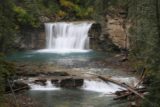 By about 6:25pm, I made it up to a fork where there were stairs continuing further up on the left and a path sloping down on the right. I took the right path where I saw a colorful wall directly opposite the catwalk. But also at the very end of the catwalk, I could see the Upper Waterfall. I guess that was my cue that I should turn back and rejoin Julie.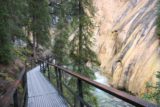 I was joined by another couple who also made it up here despite how late in the day it was.
As I was heading back, I didn't bother seeing what else was higher up the trail (from that path I ditched in favor of the algae wall and frontal view of the Upper Waterfall).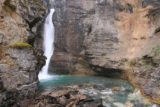 Eventually at around 7pm, I saw that map sign that now meant something more to me than when we first started this walk. And as a result, I saw that the path I didn't take would've taken me to the top of the Upper Waterfall where there was another overlook. Oh well.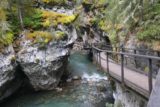 Five minutes later, I was back at the now-empty car park with Julie looking back at me with a relieved look. I guess I couldn't have come back at a better time as Julie said she started to worry.
Anyways, rain-drenched gear was hanging on the back seat and defrost was on full blast. It was getting cold, but now we could finally start heading back to Banff.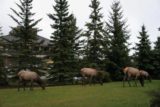 By 7:50pm, we were finally back in Banff with the rain still falling. Just as we were entering town, we noticed a small harem of elk grazing on some lawns in town. I guess given the rather foul weather of today, this was probably the silver lining as foul weather typically means fewer people which usually means more wildlife sightings.
For dinner, we ended up eating at this overpriced place called the Mountain Bison Cafe. In hindsight, we should've eaten downstairs for the pizza, because upstairs, the food was double the price as yesterday's meal but for half the food and nowhere near the quality the price demanded.
By 9:15pm, we were finally back at the lodge. Now we could dry off our soaked gear, take yet another lukewarm shower (well, it was lukewarm for Julie but I did mine real late at night when it stayed hot), and recover from this day.
We weren't sure what tomorrow would bring, but we sure hoped it wouldn't be as trying as today. It almost had the feel of our first Columbia River Gorge trip all over again…
Day 3: DOUBLE TAKES
Despite me waking up at 6am and Julie waking up an hour later, it wasn't until about 8:20am when we left the accommodation. The skies were still overcast, but at least it wasn't raining. It was, however, quite cold as evidenced by the ice on the car's roof and hood.
The now-familiar drive north on the Hwy 1 went pretty uneventfully. We eventually just spontaneously decided to make a stop over at Lake Louise not knowing if the weather would hold up (and this wasn't saying much as it was more of a testament to how crummy the weather was yesterday). We had to at least see this lake as well as Moraine Lake while we were here, and why not do it now?
Anyways, we arrived at the already busy car park at 9:15am. After a few paces on a pretty muddy path (we realized later that we parked on the spillover parking space as opposed to the lower car park closer to the Fairmont Hotel), we were right on the icy lakeshore walkway.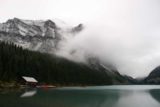 Under the current conditions, it seemed like just an ordinary run-of-the-mill lake. The low-lying clouds and the dense cold air didn't help matters regarding our viewing experience, but at least we could say we were here. Of course we took what photos we could, but it wasn't anything eye-popping as far as we were concerned.
I did overhear a tour guide mention that she hoped the clouds would lift later in the day. She then showed her group a picture of Lake Louise on a clear day, and there was supposed to be some glacier in the rear of the lake that obviously wasn't visible this morning.
So after spending about 45 minutes here while consuming a couple of hot chocolates to ward off the frigidly cold morning, we got back to the car at 10am and then proceeded to drive towards Moraine Lake knowing that we weren't expecting much in the way of nice views.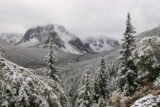 The drive to Moraine Lake resembled a Winter wonderland. But what made this really seem out of place was that technically we were still in Summer! Autumn was a couple of days away, but something just seemed off about the weather we were seeing, and I wondered if this was Climate Change in action.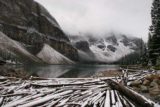 At 10:20am, we were at the still-busy car park where we quickly got out of the car and then walked to the shores of the lake where there were lots of logs washed ashore on the lake with snow all over them. Not surprisingly, the mountains overlooking the otherwise serene lake were not visible thanks to the low clouds shrouding them.
On the way back to the car, we did notice some people atop some hill. I took a mental note to go up there if the weather would ever improve at this spot. We'll see whether it happens or not given our foul luck with the weather so far.
At 10:30am, we left Moraine Lake and then proceeded to drive to Emerald Lake, which we missed yesterday thanks to the foul weather. The drive once again meandered through the same construction zones as yesterday (seemed to be a common theme on this trip in addition to the clouds) so progress was slow. But at least we anticipated only going to see the Emerald Lake and any other incidental attractions we missed the first time around.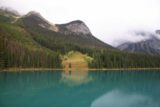 So at 11:25am, we finally made it to the Emerald Lake. The weather down here seemed to be clearing up though clouds still dominated the landscape concealing most of the mountains surrounding the area (each with a fresh new layer of snow).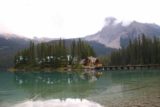 So Julie and I took some time to check out the lake from the bridge as well as from a viewpoint not far on its western shores.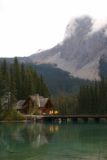 However, Julie managed to step into a pothole on the road leading to the bridge and twisted her ankle. At least she was able to put weight on it, but being a former basketball player, I know how painful ankle sprains can be. It was loose enough that she was still able to walk though she did use me as a crutch so her tender ankle didn't bear the her full body weight.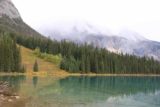 Despite this mishap, Emerald Lake was probably the best lake of the lot that we had seen so far. But that wasn't saying much considering how cloudy Lake Louise and Moraine Lake were. It was almost considered the best by default.
After having our fill seeing this lake, Julie retreated to the car, but I saw from a map sign here that Hamilton Falls wasn't much further away. So I decided to make a run for the waterfall so Julie wouldn't have to wait long.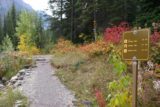 A sign near the trailhead next to the car park said it was 0.7km to the falls. They didn't tell me that it was pretty much all uphill though. At least it wasn't terribly steep. And after maybe about 15 minutes or so, I made it to the base of the waterfall but not after a little bit of scrambling to earn a view of the falls. I was encouraged by a couple who were on their way back down when they gave me the heads up about the need to scramble for a better look.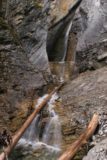 It turned out that this waterfall wasn't flowing too well. It was also twisting and mostly concealed as it cut through a narrow gorge against the vertical cliff face. I guess this would've been a pretty decent waterfall under better flow (which I'd imagine would've occurred in the early Summer), but I didn't know the deal was with the man-made wall right at the base of the falls.
So with haste, I took what photos and movies that I could of this falls before making a quick descent back down to the car park. It turned out that I caught up with the couple that I saw near the falls.
When we conversed a little more, I learned that they were from Calgary. They didn't think the falls was that worth it, but I took the high road and told them it was good exercise.
With a little further conversation, I also learned from this couple that the weather we saw yesterday and the day before was more like what they would normally experience in November. They said September would normally be the best time of year to come to the Canadian Rockies, but apparently this year was a whole different animal.
They even said that their Summer was practically non-existent as it rained consistently throughout the normally benign season. That would corroborate the hail damage on our car that the Budget guy said happened in July of this year.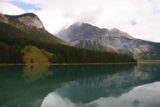 Anyways, when I noticed that the clouds did kind of let up on the far end of the lake, I went back to the shores to take a few more photos before rejoining Julie in the car at 12:40pm.
Ten minutes later, we made a quick stop over at the Natural Bridge. This place looked like it could be considered a waterfall as there was one that disappeared into a hidden gorge with its outflow going under a natural bridge and rejoining the Kicking Horse River.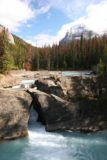 At the same time that we noticed this attraction, we also saw some of the mountains in the background start to reveal themselves as the clouds mostly lifted. I think the one behind the Natural Bridge that we saw was Mt Stephen, but I wasn't totally sure. When the sun came out, we even started to see some color in the river itself!
At 1pm, we were back in the car and we were about to make a beeline for Peyto Lake, but then Julie decided that maybe since we were down here at Yoho National Park, we ought to give Takakkaw Falls another shot since the weather had improved dramatically since yesterday let alone this morning.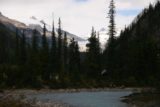 So back we went up the Yoho Valley Road, went up the switchbacks that tested the turn radius of our rental car, and returned to the now seemingly busier car park for Takakkaw Falls at around 1:25pm. On the way to the car park, we saw what appeared to be the Yoho Glacier way in the distance to the north.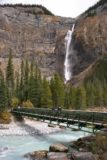 As we got out of the car, we relished the fact that this time, we didn't need to get out our rain gear.
Next, we hastily walked (to the best of our ability given Julie's bum ankle) to the familiar overlook of Takakkaw Falls before crossing over the bridge to get on the path leading the base of the falls. And not surprisingly, we were able to take photos of the falls in peace and even set up a few tripod couple shots.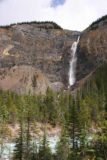 It seemed like the pockets of blue sky and the hints of sunlight brought out some of the colors in the trees from amber red to bright golden yellow and orange.
So back we were taking more of the familiar photos of the falls that we took yesterday, but now there were even more people at the base of the falls serving as photographic subjects. There was even one crazy dude in an orange shirt who climbed partway up a wall adjacent to the falls.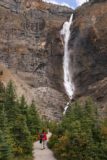 Eventually we returned to the car at 2pm. Now, it was getting late in the afternoon (at least it felt that way), and we definitely had to act quickly in order to get to Peyto Lake under the improving weather.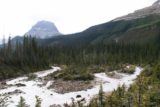 The drive went uneventfully for the next hour as we eventually made it to the car park for Peyto Lake and Bow Summit at 3:05pm. There was still some snow hanging from the trees surrounding the quite busy public car park, but the sun was out, and we had glimpsed many snow-covered peaks and lakes en route. So we were pretty confident that we ought to see this lake with its surrounding landscape in good photographic shape.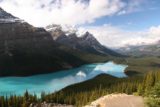 Well, we had to walk up a paved path for 700m, and that made Julie struggle a bit thanks to her bum ankle as well as the fear of her exerting herself too much that it might hurt the baby.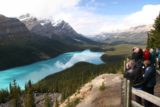 Eventually, we made it up to the wooden overlook, which was quite crowded. But as we glimpsed the lake between the gaps amongst the people, we could tell right away that this lake was every bit as advertised. It was just that our only complaint was that waves of tour bus patrons would take the short walk from a different car park reserved only for handicapped people and tour buses. The rest of us had to earn our view.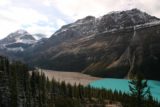 We probably spent at least a half-hour to an hour waiting for people to stop hijacking particular spots on the lookout platform while trying to take in the scene that unfolded before us. Sure the lake itself didn't exhibit the blue-green color we saw on numerous posters (including one of Peyto Lake that we had bought a long time ago), but it did show some reflections.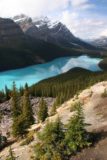 We even noticed a glacier way off to the left that appeared to be sourcing this lake.
The bottom line was that we had finally saw a lake that appeared almost as advertised, and it was about time!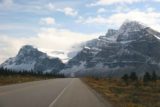 At 3:55pm, we were back at the car. For once, we were satisfied tourists when it came to the lakes that we went out of our way to leave the sunny and warm weather of Los Angeles to brave the frigid, almost Winter-like Autumn weather of the Canadian Rockies.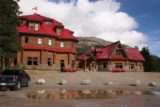 I began to wonder if this was a momentum changer for the remainder of the afternoon. We were already starting to hold out hope that a double-take of Lake Louise and Moraine Lake were in the works.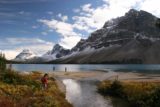 At 4:05pm, we made it to the Num Ti Jah Lodge. Here, we saw the scenic Bow Lake backed by attractive snow-covered peaks. And unlike the Peyto Lake experience, this place was much quieter and serene. Even though the goal here was to get distant views of the Bow Glacier Falls, we both thought that Bow Lake and surrounding mountains as well as the hint of the Bow Glacier against the sun were the real stars of this show.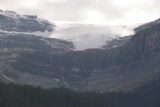 Besides, the Bow Glacier Falls wasn't flowing terribly well thanks to the cold weather and the late snowmelt season.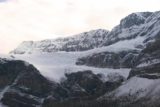 By 4:25pm, we returned to the car. Now it was time to head back in the direction of Banff. But along the way, we made stops at the Crowfoot Glacier, which was once a three-armed glacier essentially reminding someone of a crow's foot. But these days, the glacier had retreated so much that we hardly saw any of the crow's toes nor was the glacier itself all that impressive in its current state.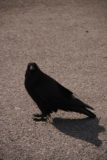 At least there was a giant black crow at the car park here posing for photographs. I guess it was appropriate for this location.
Once we left this glacier viewpoint, we decided to return to Lake Louise and Moraine Lake to build upon the momentum of the Peyto Lake experience. Who knows if we'd ever be able to see those other lakes in a photographable state. We just had to try to see what was in store for the double-take on those two lakes.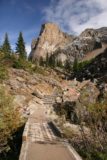 At 5:10pm, we returned to Moraine Lake. Once again, the car park was pretty busy, but as Julie went right for the lakeshore, I headed right up to the familiar overlook atop a rocky hill looking down at the lake. Once I made it up there, I was blown away at the incredible panorama that lay before me.
Now this was the Moraine Lake that was advertised!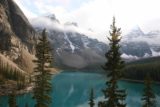 Indeed, depending on how intense the afternoon sun was, the lake provided hints of the glacially deep green-blue color while the clouds that once shrouded the peaks overlooking the lake were thinning out.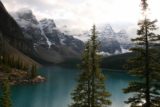 If not for the afternoon sun getting right in the line of sight, I could've spent until sundown to continue snapping photos while Julie was back at the car park. It was too bad that Julie couldn't join me on the 0.3km walk to the top thanks to the inclines that would've been hell on her ankles as well as for the baby.
Eventually at 5:40pm, I returned to the car. I guess there was only so many photos I could take of the lake, but at least now I considered the moment was seized. We both couldn't wait to see what Lake Louise had in store now.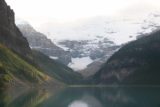 By 6pm, we were back at the familiar Lake Louise. This time, we smartened up and parked closer service road, which acted as a short walk right down to the lakeshore.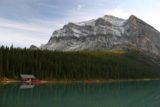 Sure enough when we arrived at the shore of the lake, we could see the clouds were mostly gone and we could see the glacier that the tour guide was talking about earlier this morning sitting in back of the very reflective lake. Meanwhile, the sun was descending behind one of the peaks on the right side while kayakers or canoers were gently paddling about the calm lake while serving as photo subjects juxtaposed against the grandeur of the lake scene before us.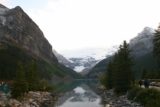 By 6:30pm, we were back at the car. Once again, we were pretty happy with our experience though we wished that the weather would've let up earlier in the day when the morning sun would've been perfect for taking photographs here.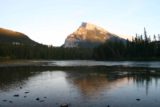 At 7:15pm, we were back at Banff Town. With the fading light of the day, we could see the mountains started to glow orange and red as the wavelengths of light grew longer as the sun set deeper behind the Canadian Rockies skyline above town.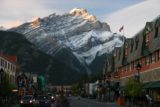 As soon as we found parking in town, I quickly got my camera out and took more photos of the town (in good weather this time).
After a fairly reasonably priced dinner at the Rose and Crown Pub, we then did some quick grocery shopping before returning to our parked car. And by 9:05pm, we were finally back at our accommodation to call it a day.
But oh boy, what a day it was!
Day 4: PRIORITIES
It was 6:30am when we awoke. The weather forecast had indicated that today was going to be a good day. So after the forecasts were teeter tottering about the weather on this very day (between sunny and snowing), we were anxious to see whether it was going to be true that today we would finally have a day that was mostly sunny.
At around 8am, we loaded up the car in the frigid morning (once against frost was on the hood and windshield), returned the key to the reception to check out, and we were on our way out.
The drive north was mostly uneventful. We had left the clearing morning at Banff town and headed north into thickening fog. It was gorgeous seeing the morning light against east-facing mountains with some patches of clouds stubbornly clinging to the snow-covered peaks of the surrounding area.
Once again there were the usual construction areas that seemed to cover up most of the drive from Banff to the turnoff near Lake Louise. A short distance north of Lake Louise, we somehow managed to miss the turnoff for Hwy 93 (Icefields Parkway) since they apparently changed the route within the construction zone from what we remembered yesterday.
Not interested in driving for several kilometers to a suitable place to make a U-turn, we made an illegal one. Fortunately, the traffic was light this morning and we made it without incident.
The drive north was definitely cloudier and darker than it was yesterday afternoon. There was even some light drizzle.
I began to wonder if the forecast was wrong once again giving us false hope that today was finally going to be the day that we would have mostly sunny skies. Now the hope was that the clouds above us were from fog and not from storm clouds.
Ultimately, our fears were unfounded as we approached the familiar Peyto Lake turnoff just as the fog was starting to clear. We were curious to see how Peyto Lake would look in the morning, and we had hoped that the fog wouldn't obscure the mind blowing views we had here yesterday.
With Julie's twisted ankle, we decided to go right up to where only the tour buses were supposed to go. There was no way Julie was going to walk on that ankle for 700m uphill in the frigid frosty air (like we did yesterday afternoon).
So by 9:30am, we had parked the car and quickly made our way to the overlook just as a tour bus was about to pull into the car park in which we were previously the only ones there.
Sure enough, the overlook was uncrowded, but the morning shadows around the overlook platform were a bit long. Nonetheless, we got to take more photos of Peyto Lake before the tour bus crowd inundated the area. And ten minutes later, we were back on the Icefields Parkway.
As we drove north on Hwy 93, the fog pretty much was behind us and the beautiful vistas of snowy mountains surrounded us.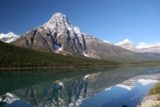 So this was the scenery that we were supposed to have seen these last few days. It was nice to see that for once the pretty shapely peaks dominated the skylines rather than the dreary clouds obscuring them.
We even made one random stop at the Waterfowl Lakes where one of the lakes we saw was calm enough to provide a near perfect reflection of some striking peak backing the lake.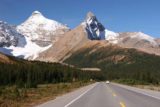 As the drive continued on, we started to encroach on some pre-loaded waypoints that I had researched and put into our GPS
. Those waypoints were mostly for waterfalls we expected to see on this route including the Weeping Wall, Sideways Falls, Tangle Falls, and Bridal Veil Falls.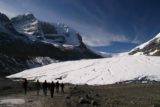 But given the nice weather we were having, I made the decision to skip those waterfalls and defer them to the return leg of the trip when we'd be driving from Jasper back to Banff in a couple of days. With the weather behaving the way it had been, we weren't taking any chances wasting time on things that were acceptable to sightsee in bad weather. The priority was lakes and vistas first, waterfalls (without backdrops or vistas) second.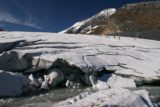 So we continued on Hwy 93 until we eventually made it to the Athabasca Glacier. Here, we turned into a car park area where I served as Julie's crutch as we gingerly made our way up the rocky hill to get right up to the Athabasca Glacier.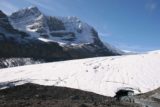 Unlike some of the other glaciers we had gotten up close and personal with (e.g. Fox and Franz Josef Glaciers in New Zealand, Briksdalsbreen in Norway, and Perito Moreno in Argentina among others), this one seemed a bit flatter and more sloped.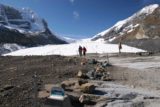 It was also seemingly one of the most threatened glaciers we had seen as apparently this glacier didn't appear to have a whole lot more of its ice to retreat back to before it would be completely gone. It wouldn't surprise me if it would be gone in this decade, which was kind of sad.
Further corroborating the accelerating nature of its retreat were signs indicating where the glacier was at various years. The position of the sign from 2000 and 1992 indicated dramatically how much the ice had retreated in just the last 20 years. There was even a sign near the main highway indicating that the year 1890.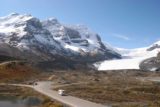 People can deny Global Warming all they want, but being here in person really provided perspective on how much the glacier receded in recent years versus the retreat from the latter quarter of the 19th century (right when the Industrial Revolution was in full swing).
Anyways, this was an easy glacier to access. We even saw quite a few people walk onto the glacier unguided and without gear. I even took a photo for one guy and his kid who told me that he remembered when he was a kid that the glacier was still where there was now a roped barricade quite a distance away from the terminus.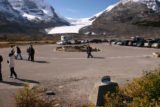 After getting our fill of the glacier in the good weather, we got back to the car at 11:40am and then went across the road to the Glacier View Hotel complex. There, we used the facilities while Julie picked up a salmon sandwich. We also had a few more views of the glacier as well as noticing a sign indicating 1844, which was where the glacier was at that year (where now there's a car park and the hotel complex).
At 12pm, we left the busy Glacier View Hotel and continued on our way north along the Icefields Parkway.
Still keen to take advantage of the good weather, we made stops at only the waterfalls that provided panoramic backdrops. Fortunately for us, these particular waterfalls were very easy to spot as they were well signposted and very well-established.
The first one we stopped for was the Sunwapta Falls. This one looked like it disappeared into a narrow gorge right beneath a bridge crossing over this deep gap. But more impressively, there was a nice shapely mountain as well as some trees upstream of the falls serving as the nice backdrop for photographs. The stream even looked like it had segmented before rejoining at the top of the falls.
We spent some time trying to capture this waterfall from the various positions the official walk afforded us. There were also lots of people here, which made some of the viewing areas a bit crowded.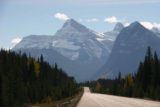 We were back in the car at 12:55pm, where we wasted no time continuing to go further north along Hwy 93. From looking at our rear-view mirror, we could see that the drive would've been much more scenic heading south under this weather as the dramatic peaks rose sharply above the Hwy 93.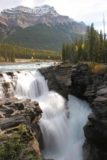 At 1:15pm, we made it to the Athabasca Falls car park shortly after getting onto a turnoff for Hwy 93A. This particular waterfall had an even larger car park where we could see some lovely peaks in the background towering over the golden trees in the foreground surrounding the asphalt.
We took our time experiencing all the various lookout points for Athabasca Falls that we could find. And what made this waterfall particularly attractive was the gorgeous snow-covered triangular mountain serving as the backdrop.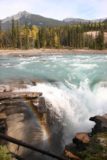 When we got to the other side of the waterfall, we even saw a rainbow in the mist of one of the waterfall's segments before meeting at the base within a small gorge.
The gorge actually got deeper as the water went further downstream, and we got a glimpse of this Lower Canyon from one of the bridges above it as part of the official walk. But since we still had to see Lake Maligne and Pyramid Lake today to take advantage of the good weather (not leaving to chance the incoming bad weather forecasted tomorrow), we didn't explore that Lower Canyon.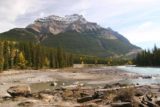 So by 1:55pm, we were back at the car. And from that point, we continued north on Hwy 93 and made a beeline for Pyramid Lake. I wanted to see this lake after seeing some decent shots on Flickr and from reading a TripAdvisor review saying that lake was as good as Lake Maligne without going through the trouble of actually being there.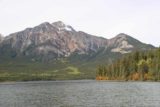 In any case, we made it there at 2:30pm, but Julie and I were underwhelmed especially when compared to seeing Peyto Lake, Lake Louise, and Moraine Lake. For this one, the waters weren't colorful and they were rippling. The docked boats in the foreground also didn't make this lake appear so appearing either.
So we didn't linger here for long and it turned out to be a rather fruitless detour as far as we were concerned.
And since we couldn't check in our stuff until 4pm (seemed like in Canada, 4pm check-in was standard), we were determined to get to Lake Maligne, which was the main attraction of the Jasper area.
But by 2:50am, we had hit a traffic jam that was apparently attributable to road construction. Yet unlike other delays from construction, this one backed up for several kilometers. It was only through the kindness of someone also headed east on the main highway that we were able to even make a left turn onto it to join the jam.
Eventually, we made it to Maligne Lake Road where we turned right and left the mess behind. There were even queues for people heading west as well as back to the main road from Maligne Lake Road.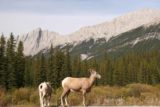 When I noticed a sign that said the last boat was at 4pm, I realized that we had better make some haste if we were to catch that last boat to Spirit Island on Lake Maligne. There were lots of slow pokes hoping to catch a roadside glimpse of some wildlife, and we did manage to see some mountain goats by the road as well as an antlered elk. But there were no grizzly bears or bighorn sheep that would've made us stop to take photographs.
So we had to pass quite a few RVs and cars that refused to pull over for those like us not operating on their clock.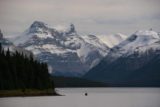 But eventually by 3:35pm, we were at the car park for Lake Maligne, and we quickly made it to the ticket booth where we bought our passes for that last boat ride. Unfortunately, it was a steep $55 Canadian Dollars per adult. We certainly hoped this would be worth it.
Even though the day had been sunny for most of the day, we could tell change was in the air as some darker clouds started showing up. Gone were the deep blue skies contrasting the snow-covered mountains around Lake Maligne and we had to settle for those peaks against grey skies. But, hey, at least the clouds weren't covering them up!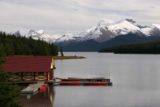 By 4pm, we were finally on the boat, and we gently cruised our way towards a boat dock near Spirit Island, which wasn't even an island (more like a peninsula).
Regardless, we could see that the picture postcard views were from this area at the very end of Lake Maligne. For it was here that the water was calm enough to take those views. And it was also quite clear that the only way to get that view was by the boat ride.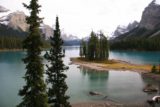 After we docked, we only had 10 minutes to experience the overlook and lakeshore views. It felt a bit rushed and it was a little crowded at the limited space for photo taking. We did see one person who was already in the area from a previous boat ride here, and he lingered for our boat to ride back to civilization. That was probably the smartest thing to do so he had the viewpoint all to himself. But since we were on the last boat, we didn't have the luxury of pulling that off.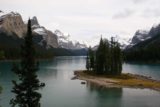 When we returned to the boat, we were going to sit quietly and contemplate the day before we were participated in some demographic survey conducted by the tour guide MC. The couple behind us overheard that we were from LA, and from that point on, we engaged in a conversation with them about sustainable living.
It was the last thing we expected from a couple hailing from Texas, but it appeared that these folks were on holiday traveling with other people who were part of their community trying to teach others and uphold a way of life that was sustainable. And in their words, it meant they grass-fed their own livestock, grew things on their own without chemicals, and even did their own composting.
It was quite educational listening to them talk about their skills as well as some of the other stuff they were into regarding wood working and bonding with the community through their sustainable way of life. It gave Julie and I some ideas on some things we'd like to get into when we get home, especially composting.
Anyways, at 5:40pm, we were back at the car. And as we drove back towards Jasper, we were hoping to spot some grizzly bears from the road or bighorn sheep. But it turned out that things were quiet on the wildlife front, and by 6:25pm, we finally made it to the B&B near the outskirts of Jasper town.
We could see in the distance even more dark clouds. And even the TV indicated that the forecast for the next two days won't look very good weatherwise. It was certainly a good thing that we seized the moment with the weather when we did, and we were glad we prioritized our sightseeing to defer the waterfalls (which could be done in bad weather) for a couple of days later.
In any case, we had to say that this was probably one of the better sightseeing days of this trip in addition to yesterday afternoon.
Day 5: THE FAB FOUR
At 6:15am, I awoke to my alarm and darkness. While Julie was still asleep, I managed to get my belongings packed and ready to load into the car. And as I fumbled my way around through the darkness, I finally got outside with my luggage only to discover that it had already started raining this morning. So I knew we were going to be in for a wet day.
But that was OK because we intended to go waterfalling as we were going to make the long drive out to the Wells Gray Provincial Park deep in eastern British Columbia.
Eventually, Julie awoke at around 6:45am, and we finally checked out of the B&B (except there was no breakfast here) at 8:05am.
Since we narrowly missed going grocery shopping last night after dinner, we waited until the grocery store called Robinson's was open at 8am. In any case, we weren't exactly rushing to get out despite the long day of driving and waterfalling ahead of us given the rainy weather ahead of us.
At 8:25am, we were finally leaving Jasper. And as we drove west along Hwy 16, we were crossing from Alberta into British Columbia, but unlike our crossing at Yoho National Park, this time there was a sign reminding us to turn our clocks back by one hour (meaning they were on the same time zone as Los Angeles). However, since our trip was dominated by Mountain Time, we weren't going to adjust our clocks.
As we continued to drive west on Hwy 16, we passed by several lakes. The most notable of these lakes was Moose Lake. But it wasn't notable because of the scenery (that was all but obscured by the low clouds and heavy rain). Instead, it was notable because we saw an interesting waterfall spilling into it from the opposite side. We didn't stop for it since we had higher priorities, but we made it a point come back and stop for this waterfall on the way back to Jasper tomorrow.
Going further west, we also saw signs for Overlander Falls as well as Rearguard Falls. Both of these had half-hour walks so we also deferred these unexpected waterfalls for the return trip to Jasper. These were roughly about an hour west of Jasper.
The long drive went pretty uneventfully as it was pretty much consistently rained throughout the drive. The whole time Julie and I were envisioning how soggy the waterfalling experience would be once we got to Wells Gray Provincial Park.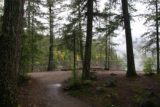 Some time around 10:30am, we were at the town of Clearwater, where we filled up on gas as well as relieved ourselves on a much-needed restroom break. It seemed like the rain had let up once we got to town, and perhaps our waterfalling experience might not be as soggy as we had anticipated.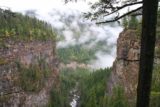 Eventually at 10:55am (11:55am Alberta Time), we arrived at the well-signed car park for Spahats Falls. This was the first of three waterfalls that we planned on seeing. We expected this to be a pretty quick stop (at least that was what I had planned for), but Julie and I were surprised to see there was a tour bus parked here.
We had thought this was one of the more obscure waterfalls on this trip, but the fact that a tour bus would stop here meant that perhaps this waterfall was more significant that I had originally thought.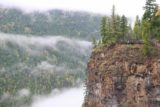 After a short five-minute walk, we were right up against some fenced overlooks providing views down into a very deep and vertical gorge. There were lots of clouds in the background hovering low against the pine trees covering that hillside beyond the mouth of the gorge. It all made the scene here kind of mysterious.
From the initial vantage point, we could see that we were near the top of the waterfall. However, there was an overlook that we saw in the distance that I was sure was where we would best see the falls.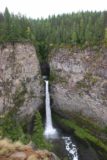 So we continued walking along the fenced walkway in a sort of long half-moon until we got to the wooden platform. As we walked towards the platform, we could start to see Spahats Falls plunging deep below in the gorge. Apparently, there was a hanging gorge from which the falls made its dramatic appearance, and that gorge was quite deep.
Once we got to the wooden platform, we joined a handful of other people to take photos directly of the falls. And we did this for a few minutes until some of the fog started to come in from the mouth of the gorge and obscure some of the views across the gap to the falls.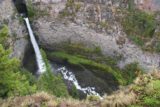 I guess that was our cue to leave even though once we got back closer to the top of the falls, the fog had already cleared again.
By 11:35am, we were back at the car. The car park seemed emptier as the tour bus had already left. Apparently those folks were already on the way out when we arrived. However, another tour bus showed up and off-loaded their big tour group. I guess we left just in the nick of time, then.
A few minutes drive further north, we saw a signpost for the Moul Falls Trail. However, the car park was empty and a sign indicated that the walk was 2.9km away (I believe that meant 5.8km round trip). So we deferred doing this one and decided to head straight for Helmcken Falls, which was said to be the signature waterfall of the Wells Gray Provincial Park.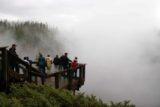 Eventually at 12pm, we made it to the Hemlcken Falls car park. It had started raining again, but once we got to the overlook, the rain stopped. However, there was nothing to see along the cliff and at the overlook itself as fog completely obscured the views.
The fog was quite stubborn about leaving. We saw other tour groups show up only to be unpleasantly surprised by the cloudy mess before them. So we decided to get back to the car and go back to Dawson Falls, which was an unplanned waterfall we didn't expect to see. Good thing that sign caught our eye. Otherwise, we wouldn't have known about this waterfall altogether.
At 12:20pm, we started the drive out and ten minutes later, we were at the car park for Dawson Falls. It looked like a tour bus was about to leave just as we arrived. So certainly this waterfall must also not be a slouch either.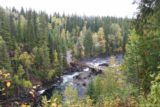 At first, I thought the waterfall by a bridge looking down the gorge was the Dawson Falls. And if that was the case, this would've been a big disappointment.
But the muddy trail kept going on so perhaps that first one I saw was a false alarm. Actually, the more I thought about it, the more I realized that the bridge down there was the one we had crossed to get to Helmcken Falls. I believe that waterfall was called Mus' Bowl.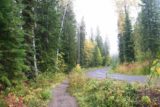 Anyways, the trail ended up being a little longer than I anticipated. In fact, it went back towards the road (making me think we went the wrong way) before a reassuring sign with an arrow indicated the trail resumed by leaving the Clearwater Valley Road.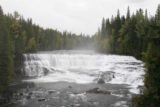 And within another 5 minutes or so, we were at a fenced overlook of what turned out to be a wide and impressive Dawson Falls. When Julie saw it, she was quite pleased with it since she loved the wide river types.
Meanwhile, after I had my fill of taking photos from this spot, I continued along the trail until a steep scrambling path caught my eye. It turned out to be a rather slippery and muddy path that very easily could've ended up bad if I wasn't wearing hiking boots. But it didn't take long before I was at the bottom and was able to scramble almost right at the base of the wide Dawson Falls.
There were a couple of other ladies who joined me on the slippery descent down. Julie understandably stayed behind.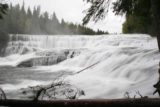 Anyways, the view from here was difficult to capture in one photograph without a wide angle, but it was certainly nice from here. I could definitely get a better sense of the volume and power of this waterfall from here. Unfortunately, Julie still had her camera so I couldn't take any movies from this spot.
Eventually after having my fill of this spot, I followed the ladies back up the steep and muddy descent to where Julie was waiting at the junction. And from there, we returned to the familiar overlook where we took a few more photos before returning back to the car.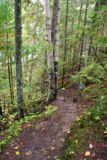 At 1:10pm, we were back at the car park.
After mulling over whether to do the Moul Falls hike or return to Helmcken Falls in the hopes that our viewing fortunates had improved, I eventually decided on going back to Helmcken Falls since the thought of driving back and forth for 30km at a time wasn't that appealing.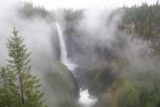 Anyways, Julie was pessimistic about seeing the falls on this go around, and so she opted to wait in the car. Meanwhile, I walked back towards the main overlook area and did see the annoying fog conspiring to hide the falls. However, at least the fog was thinning out for the most part and I was able to take the sought after photos.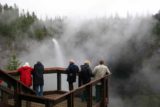 Sure the fog didn't do me any favors, but at least I could finally document and say that I've seen the Helmcken Falls.
I guess Julie must've suspected that things had improved because she eventually joined me at the overlook. And so we took whatever people shots that we could while also waiting out the fog some more to see if I could take some time to better compose the photograph once the coast was clear.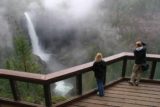 In any case, I stuck around and took many photos with the fog since the fog remained stubborn. But at least the falls was also visible so I couldn't be too disappointed with the result.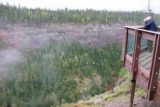 However, once it started raining hard, I took that as a cue to return to the car (Julie had beaten me there by several minutes at this point), and see if we could check into the Moul Creek B&B where we were staying for the night.
When we arrived at the Moul Creek B&B at 2:20pm, it was pouring rain. So we waited in the car hoping the rain would subside. Meanwhile, the innkeepers noticed our car. One of them actually walked to us as she was sheltering herself with an umbrella.
Once we explained to her that we were staying for the night under Julie's reservation, she encouraged us to wait out the squall before we could get our belongings. So that we did.
Eventually, the rain did subside somewhat and we were introduced (her name was Marion and her husband was Michael). The appeared to be of German descent.
The room that Marion showed us was very spacious and smelled of wood. It appeared that this lodge was new. When Julie asked how long ago it was built, Marion said it was since July! I don't think we had ever stayed in an accommodation that new before.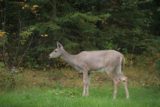 Eventually after getting settled, we were back in the car at 2:50pm. But not before checking out a deer on the property eating some foliage that apparently Michael helped to put there. Even though the deer seemed to be on edge a little bit, it also appeared to feel comfortable on the property (if that makes any sense) since it wasn't in any hurry to leave.
Anyways, we were at the trailhead for Moul Falls at 2:55pm. This time, there were three other cars here so that made Julie feel a lot better about doing such a long hike in bear country. Well, at least there weren't grizzly bears in these parts.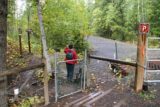 So the hike started off on a pretty wide path, which appeared to look like it could double as a road.
I was worried about the condition of Julie's ankle for this hike, but it appeared to have loosened up since yesterday's swelling and she seemed to manage the hike so far.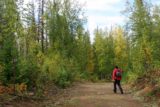 The hike was gently downhill for most of this wide stretch that appeared to be a road in its former life, but after about 30 minutes or so, we reached a signposted turnoff indicating that it was another 15 minutes more to Moul Falls. And from this point forward, it was on a narrow footpath as opposed to a road.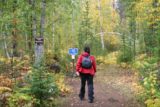 Well, it turned out that the footpath was steeper than the road, but it was still manageable. However, we worried about gaining back this elevation on the way back to the car park.
It seemed like the weather really started to improve as the sun was consistently showing itself through large gaps in the dark clouds. And that brought out the gold in the foliage flanking the trail.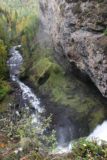 Eventually, we reached a fenced overlook at the top of the falls. Julie and I saw another couple down at the bottom from this vantage point. But she hesitated to go down given her pregnancy and the bum ankle.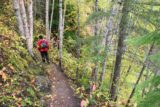 But when I pointed out the stairs to get to the bottom, she decided to follow me down.
Just as we were about to get to the narrow part, we saw that couple make it back to the top. They seemed to have enjoyed the experience as their smiles had shown us. So we couldn't wait to have our turn.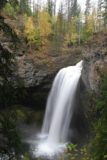 After a few more minutes of carefully navigating through some narrow exposed sections before getting to the wooden stairs, we ultimately got to the handful of overlooks on the way down, and then onto the bottom.
When the sun came out, we noticed a faint rainbow off to the right side of the falls. However, a hideous sign positioned right by the rainbow made our photos less than ideal.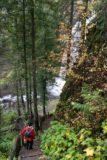 Plus, I was looking around the place for a path to go behind the waterfall since I had heard that it was possible. But in all honesty, I couldn't quite figure out how to get through some of the real wet and sloping sections on the way to the large alcove in back of the falls. Perhaps it would've been possible in lower flow, but definitely not now.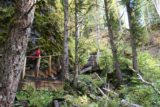 Eventually, Julie and I had our fill of the falls and we slowly made our way back up the trail and eventually to the car park. And by 5:30pm, we were back where another couple was chilling out (they didn't do the hike I don't think).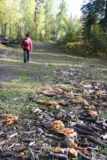 In any case, Julie and I experienced something that was missing from our trip so far while sightseeing. And that was peace and quiet! It dawned on me that this trail lacked the tour bus crowd (which we were surprised to see here anyways). Plus, there was no chance we'd have peace and quiet in Banff, Jasper, and Yoho since they seemed to be a bit more commercialized. So it was for that reason that I think we really savored this experience.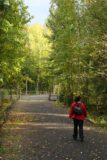 But now that the excursion was over, it was time to enjoy our accommodation and call it a day. We were also looking forward to a home-cooked meal, which we purchased while booking the accommodation (since there was nothing else out here). Boy were we hungry, and we couldn't wait to see what was on offer.
By 5:35pm, we were back at the B&B where we chilled for the next 90 minutes before dinner.
Day 6: UNPLANNED WATERFALLS
We had spent a very cozy evening in our spacious and newly built room at the Moul Creek B&B. I almost felt like I didn't want to wake up so soon, but we had a breakfast appointment at 8am so our 7am wake-up was necessary.
When we were done packing our stuff and I loaded some of the easy-to-pack stuff in the car, it was already raining outside. But this was something we expected given the forecast that Sunday and Monday were when we were supposed to be receiving the brunt of a pretty powerful Pacific Storm combined with the Arctic air.
Anyways, we had a very pleasant home-cooked breakfast. Once again, it was something that Julie and I savored. But adding to the fun was the conversation we were having with Corey, who was a fellow guest in the only other room next door.
She was regaling us with her stories about her road trip through both Canada and the US as she was towards the tail end of her 6-month trip. That would be something Julie and I would be thrilled about doing, but given the little one that we were expecting, I think those plans would have to be put on hold. Well, at least we'd have something to look forward to when it comes to seeing the rest of our own country as well as our neighbor to the north.
So we took our time eating and conversing while Marion was graciously preparing the hot part of the breakfast while ensuring we were taken care of. I guess this experience further reinforced Julie's notion that this place was a 5 in her book since it had the charm, the comfort, the friendliness, and the food. And we were paying easily 33% of what we would've been paying in Banff or Jasper.
Anyways, it wasn't until about 9:25am when we finally took off for the return journey back to Jasper. It was raining pretty hard at that point, but we didn't mind very much since we didn't expect to be doing much in the way of hiking in the soggy weather except to try to check out those waterfalls we deferred on the way to Clearwater yesterday.
So the drive was pretty uneventful except for a pretty lengthy 10-minute delay at around 10:30am (seemed like the road construction everywhere was the theme of this trip) as well as some pockets of the road where we had a mix of both rain and snow. Fortunately for us, the snow didn't stick.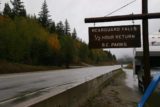 It wasn't until about 12:10pm when we finally arrived at the well-signed car park for Rearguard Falls. Even though it was still raining considerably by the time we arrived, it seemed like once we donned our rain ponchos and waterproof pants, the rain pretty much stopped or became a sprinkle.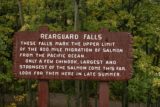 The sign indicated it was a 1/2-hour return walk, and we were pretty much on time in that regard. The walk descended fairly gently down a well-established path eventually leading to a steel overlook platform right across from the wide river waterfall.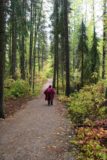 A sign at the car park said the Chinook Salmon species were the only ones strong enough to make it up to these falls on the Fraser River from the Pacific Ocean, and that we might be able to see them in late Summer. But on this late Summer day, we couldn't spot them.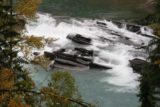 Another thing that caught me as strange was that there were separate walking paths around the overlook platform area that were signposted for rafting trips. I wondered if the paths were for portaging or if they actually do run the Rearguard Falls.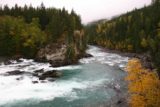 Anyways, we were back at the car at 12:45pm and continue heading east on Hwy 16.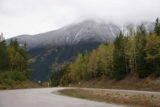 About ten minutes later, we were at the well-signed car park for Overlander Falls. The sign at this car park said it was 3/4-hour return walk. But I wasn't sure if that was being overly pessimistic.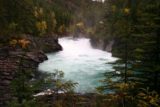 In any case, we descended this path towards the viewing area of the wide river-type waterfall that ejected into a chute-like manner (still on the Fraser River). We took what photos we could of this waterfall (playing with different compositions and the fall colors), but we were also struck by the downstream scenery, which was backed by a towering snow-covered mountain that was also mostly obscured by low clouds.
The rain remained at bay by the time we were back at the car park at 1:35pm.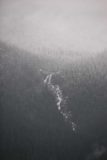 Next, we drove further east on Hwy 16 through mostly benign weather. It seemed like the worst of the storm was over, and this made driving a lot easier.
About 1:55pm, Julie and I stopped at along the shoulder off Hwy 16. We did this immediately after noticing a sign pointing across Moose Lake for "Thunder Falls" and pulling a U-turn to find a suitable spot to take a roadside picture.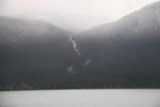 The falls still looked well defined, but with all the snow crusting above it, I'm sure it could easily be confused with a long streak of snow or ice. In any case, this was really a cascade and kind of reminiscent of the many waterfalls that we could've taken for granted like we did in Norway.
After we had our fill photographing Thunder Falls, we finally made it back to Jasper by 3:35pm. At that point, we checked into a different B&B where we got settled in and tried to take it easy for the rest of the day.
I did think about squeezing in a Maligne Canyon excursion today, but perhaps the long drive and frigid temperatures (we could still see snow quite low in the surrounding mountains here) kind of made us reconsider and defer it to the next day. But that would mean that we'd have a very busy day tomorrow…
Day 7: SEPTEMBER SNOW
We awoke at 6:30am as it was still dark. But by now, it had been customary for us to awake at this time, and further adding to the sense of urgency of the day was that we had a lot of waterfalls to visit today that we had deferred up until now to take advantage of good weather when we had the chance a couple of days ago.
So by 8:15am, we left our B&B and drive straight to Maligne Canyon. We could see straight away that it was still overcast, but the clouds were high enough to reveal new layers of snow on the surrounding mountains. This was proof of the rain and snow that came with the latest storm on Sunday and Monday.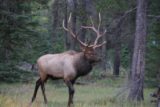 Just as we were about to leave Jasper town, we saw an antlered elk (or is it caribou?) grazing in a park area. That grabbed our attention and we took a few photos while trying to stay on the down low so as to not aggravate it (especially since I believe it was getting close to rutting season).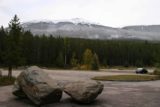 At 8:35am, we were the first to arrive at the car park for Maligne Canyon. And right away, we did a short walk that encompassed the uppermost part of the gorge. The canyon itself was very deep and was quite dramatic, which was most apparent when we crossed over a bridge.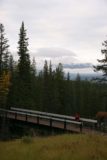 On the second bridge that we crossed, we looked down at what was said to be the tallest waterfall in Maligne Canyon. That was a very impressively tall waterfall even though we were still looking down at it.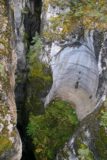 Just as we were checking out this waterfall, we were inundated by a pair of Asian tour groups (the first one Chinese and the second one Japanese). So much for the peaceful experience of being the first here.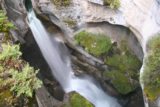 Anyways, after walking by a few more rapids and smaller waterfalls further upstream, we were back at the car park at 9am. I'm sure we could've visited the lower bridges and other parts of the gorge, but we had a very busy day of waterfalling so we couldn't linger any longer after having fulfilled the very reason why we were here in the first place (i.e. that big waterfall in the canyon).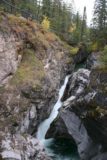 So now it was time to drive out of the general Jasper area. Fortunately, we weren't delayed too long on the road construction.
Eventually, we arrived at the Sunwapta Falls car park at 9:55am. There was snow all over the trees flanking the Icefields Parkway, which was indicative of the snowfall from the last two days. I guess we were fortunate to have gone to Clearwater and back over the last two days thereby avoiding the brunt of the snow storm. And now, we were able to continue driving the Hwy 93 without chains.
Anyways, Julie stayed in the car as I was determined to see the Lower Sunwapta Waterfalls which we completely overlooked on the first go.
At first, I went back to the bridge (which was now icy) with the view of the main waterfall. I thought the trail to the lower falls continued along this trail, but as soon as I realized that the trail went away from the river, I turned back and went higher up onto the fenced overlook with a view of the bridge, gorge, and the falls.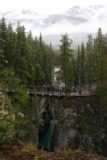 The trail then continued inland from the fenced overlook for another 2km. The walk meandered on a soft and damp dirt trail beneath pine trees draped and dripping with snow. Since I was alone the trail, I was worried about possibly running into a grizzly bear so I was trying to sing to myself as I quickly made my way down the trail.
Eventually, I reached a fenced overlook as the river made more noise. Ultimately, I was right up against the fence where I could look right into one of the lower waterfalls. As I proceeded further down the hill, I saw two more waterfalls further downstream.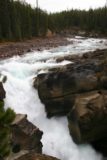 At this point, I was kicking myself for not taking Julie's camera with me so I couldn't take movies of these waterfalls. So I did my best to try to capture the waterfalls with my still photos, but I knew that there was only so much that I could communicate without the help of the other medium.
When I had my fill of this falls, I went back up the 2km to the car park. I saw a couple more couples on the way down so I guess that was reassuring to me that I wouldn't run into a grizzly accidentally. One guy even asked me if the walk was worth it, which I confirmed was definitely worth it.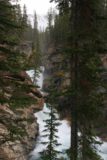 By 10:55am, I was back at the car. Now, it was time to continue the waterfalling hunt.
As we drove south on the Icefields Parkway, we tried to find Stanley Falls, which was on our map, but we couldn't find it during our drive. Perhaps further complicating the issue was that the cliffs surrounding the road were covered in snow so the falls would either blend right in or they were locked as ice.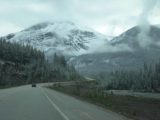 In any case, the drive south was quite scenic as the clouds appeared to be lifting even more revealing snowy peaks and a landscape that made us question our sanity since we were driving along the Icefields Parkway in September, but it looked a lot more like November or later.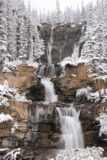 So we eventually gave up on Stanley Falls, but as we climbed up towards the Columbia Icefields section, we pulled over at a large pullout with a view of Tangle Falls. There was a roadside sign saying "Tangle Creek" here, and we were one of two cars that were here to enjoy the waterfall.
However, it didn't take long before the lemmings effect was in full effect as parked cars begot more parked cars and even a pair of tour buses. Before we knew it, this pullout was littered with people snapping photos of the falls.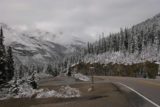 Julie and I got our fill of the falls as people were coming and going during our efforts.
By 11:45am, we were back in the car and continued our waterfalling.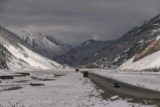 Five minutes later, we were at the Columbia Icefield area which was definitely a Winter Wonderland. There was a large pullout here where we pulled over to try to soak in the scenery, but little did we realize that we were real close to the Athabasca Glacier.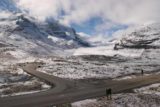 By 12pm, we were back at the familiar Glacier View Inn with its view of the Athabasca Glacier. But man, what a difference from our previous visit here just 72 hours earlier. For now, the area surrounding the glacier was dusted in a pretty thick layer of snow. There was even ice on the stairs leading up to the inn from the general car park.
After having a salmon sandwich and sharing an unhealthy instant noodle, we were back in the car at 12:30pm to resume the waterfalling day under mostly cloudy skies.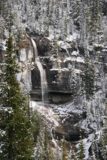 Ten minutes later, we made it into the very large car park area for Bridal Veil Falls. Actually, that waterfall wasn't all that impressive as far as Julie and I were concerned. Instead, we were looking to see if we could get a look of Panther Falls, which also shared this car park.
However, it wasn't like it was well signposted or anything, and the snow kind of concealed a good chunk of what would otherwise be an obvious trail to get a closer look.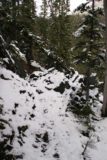 We saw a guy who had just finished checking out the falls and advised us to follow the footprints that he and his partner left behind. He also warned us to be careful as the overlooks were very exposed to cliffs where the footing might be covered in snow or ice (hence be very slippery).
Anyways, Julie was quite worried about me going on this excursion, but I knew that as long as I followed the footpaths, I should be OK. After getting some unsatisfactory views of the falls from the top, I took that guy's advice and descended down the trail while following those footprints where there was snow.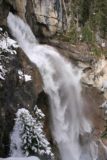 Eventually, once I got by a turn at a narrow cliff-exposed path, I made it to a little cove behind the impressively tall Panther Falls. There was no way I could photograph the entire thing even with the benefit of the slight wide angle capability on my lens. So I did what I could to try to communicate the verticality of the falls and the precipitous nature of the terrain here.
I also brought along Julie's camera so I didn't hesitate to take movies of the falls to communicate things that I couldn't do with my still photos.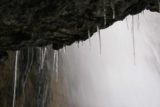 Another thing that caught my attention was the presence of icicles hanging from the roof of the alcove behind the falls.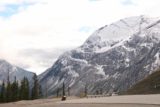 Of course as I was here alone trying to enjoy this scenic yet precarious spot, I couldn't help but wonder whether a bear would use this area as a den. After all, there would be no need to dig up anything as I'm sure the bear would be sheltered from the elements here. Perhaps the only drawback might be mist here and there from Panther Falls.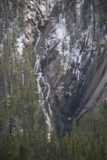 Anyways, once I had my fill of the falls, I quickly made my way back to the car park to rejoin Julie waiting in the car. I got back there at 1:40pm. And now we could continue our waterfalling day.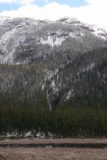 At 1:45pm, we pulled over at a large pullout with a distant view of what I saw in the literature was referred to as "Sideways Falls" or "Big Bend Falls." A telephoto lens was definitely required since the falls was rather far away. But at the same time, this waterfall was quite tall and definitely stood out despite the white snow flanking the falls as it tumbled down the vertical cliffs.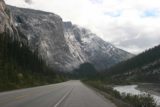 At around 2pm, I took photos of the Weeping Wall, which at the moment only consisted of a 2 or 3 thin strands. I could imagine only during heavy rain in the Summer or during warm days when the snow would melt that we'd be seeing more strands.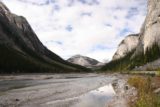 At 2:20pm, we were done with photographing the Weeping Wall and some neighboring tall but thin cascade a short distance to the south. So at that point, we spent the next 90 minutes or so driving further south without stopping for a waterfall.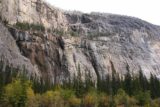 During the drive, we savored the pretty snow-covered mountain views rising above on the road ahead. However, the clouds looked like they got darker the further south we went. Clearly, it was sunnier towards the Jasper side as opposed to the Lake Louise side or Banff.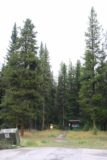 Anyways, we still had one last waterfall left to do before we could call it a day. And that was Silverton Falls. We actually missed it on the way to Johnston Canyon on the 2nd day of our trip to the Canadian Rockies.
However, we wouldn't be denied this time around since we knew its trailhead was by Rock Bound Lake (after some post mortem research).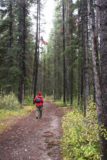 Eventually at 4pm we arrived at the car park for Rock Bound Lake where there was two other cars here. We started the hike under overcast skies and saw a couple just about to get back to the car park as we headed in.
The guy of that couple told us that the falls were quite beautiful. He did warn us about negotiating fallen trees in the last quarter-mile. However, I was also concerned about getting onto the wrong trail since it appeared there were lots of trails leading away from the falls.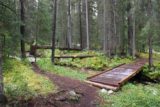 Anyways, we tried to follow some of the advice given in the literature where we were told to follow the creek before veering left at a footbridge (i.e. not crossing it). At first, we saw a pair of "2" signs, but we weren't sure what they were for.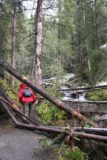 Eventually, we reached a fork where the trail continued along the creek towards the end or we could've gone up a switchback. But once we got to the falls, we could see that we could only see the short bottom-most waterfall. The upper tiers that we knew were there couldn't be seen from this vantage point.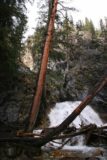 So we headed back the way we came and then went up the switchback that we had skipped earlier. And after a few more minutes, we finally made it to the end where we could look directly at the upper two tiers of the falls.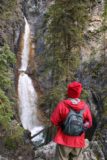 It was a thin but pretty waterfall, but this observation also made us wonder whether that couple we saw at the car park actually did see the waterfall. On top of that, another couple that we caught up to visited the base of the lowermost waterfall. But neither Julie nor I saw them when we were returning to the car.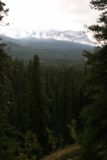 That led us to believe that the other couples managed to miss main part of Silverton Falls.
Anyways, on the way back, Julie and I took a more established trail. Somehow we missed the path we took in, but we were glad we took this more established trail.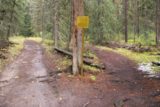 It turned out that this signposted junction was where we should've hung a right to get closer to the falls in the first place. We must've gotten sidetracked from reading too much into the literature as I worried too much about making a left at a bridge when in fact we never even needed to see that bridge! No wonder why this trail seemed so dodgy.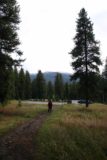 Once we had our fill of Silverton Falls, we proceeded to drive straight south towards Banff Town. We eventually got there at 5:35pm.
The first thing we noticed was that there was a noticeable amount of snow flanking the town roads. That made us wonder whether this town suffered through some full-on snow storms.
I was glad that we happened to miss this round of inclement weather. Call us lucky or proactive, but I was particularly happy about changing our itinerary to better reflect the realities of the situation at hand.
Had we been stubborn and did Glacier National Park (in Montana) first and then Banff later, then this could've resulted in us getting stuck in the Winter Weather. But since we were around the Clearwater area on Sunday and Monday when it was raining hard (and snowing in the higher elevations), we managed to miss the brunt of the storm.
All indications were that our last minute cancellations and changes in response to the weather really helped out our experience on this trip. Because that very well could've been us struggling to even drive to our accommodation at Douglas Fir Resort which was up a hill on Tunnel Mountain Road. For the receptionist told us that people couldn't make it up the hill without the proper tires (or without chains) under the snowy conditions yesterday.
At 5:45pm, we checked into our accommodation at Douglar Fir Resort. Unfortunately, we couldn't have our large condo that we grew accustomed to on the first three nights of our trip. But the cheaper rooms were still quite roomy and comfortable.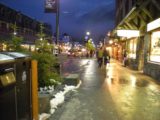 And so we got settled, and had ourselves one last fancy dining experience at the Maple Leaf when we went back into town.
We were back at our accommodation at 8:30pm where we finally called it a day. Tomorrow, we were heading out of the general Banff/Jasper area for the Waterton Lakes/Glacier National Park area to wrap up the last four days and three nights of our trip.
Day 8: RUSTIC
We slept in and finally awoke at 7:30am. The weather forecast indicated that today was supposed to be a clear and sunny day. But what the forecast didn't tell us was at what time of the day we could expect such weather. When we looked out the window of our accommodation, we could see that the low lying fog were giving way to snowy mountains above. So that gave us hope that perhaps we should seize the moment and make one last go at Lake Louise and Moraine Lake before we head south to Waterton Park near the US-Canada border.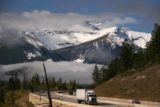 So at 9:20am, we left the Douglas Fir Resort and eventually arrived at the Lake Louise Village at 10:15am. But our attempt at catching the lakes for a third take failed as the morning fog was stubborn. We couldn't wait long enough for the fog to lift (if it'd lift at all) when we knew there was still a 5.5-hour drive ahead of us.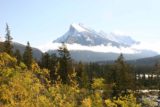 Anyways, we ended up having beef pot pie and a couple of pastries with meat in them before we admitted defeat and headed out at 10:45am. So that was pretty much our Banff-Yoho-Jasper-Clearwater experience. It ended rather in an anticlimax, but now we were on to the next leg of our trip for the last three days in the Waterton-Glacier area.
However, before we left the Banff area, we did make one last stop at a popular pullout spot with a nice view of Mt Rundle. Julie and I were regretting that we didn't take the time to stop at this spot for a pair of afternoons when the water was reflecting and Mt Rundle was getting soft sunset light as well as alpenglow.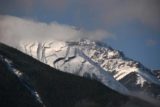 Meanwhile, the brightness of the reflecting snow against the daylight belied an avalanche danger, which we noticed on one of the nearby mountains that seemed to have cracks all over its snow layers.
We followed our GPS
going south on the Route 40 passing through Kananaskis Provincial Park. The road was flanked almost the entire way by picturesque snowy mountains. We took some road shots on the way, but we were hoping to spend a little time here (perhaps on a short day hike) to get a more intimate flavor of what this part of the Canadian Rockies was about.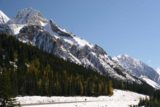 One place in particular I was hoping to see was Elpoca Falls, which I noticed on my Mapsource
software and transferred over to our GPS
. Unfortunately, when we got to its turnoff at 12:30pm, we were met with a closure gate and thus we had to pass on this.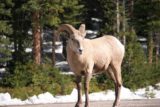 Well, at least there was one spot where we saw a pair of mountain goats grazing on the pavement (or licking the salt on it ir something) before a busload of young folks were throwing snowballs at them. I guess the immaturity alert was our cue to continue our drive.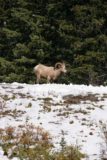 So the drive continued for the next few hours as we ended up not taking the route 541 (because it was unsealed) and instead extended the drive a little so we could take the Hwy 22 south on the prairie but always within visual eye-contact of the Canadian Rockies out west.
I did notice some signs for Livingstone Falls and Castle Falls, but I guess we just didn't feel like taking long detours for these waterfalls not knowing whether they'd be worth the trouble or not.
Eventually by 3:55pm, we arrived at the Bear Mountain Motel in Waterton Park. On the way into the village, we were pleasantly surprised at the calm reflective ponds fronting tall triangular snow-capped peaks surrounding this tiny little town.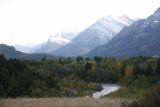 It contrasted mightily with the more heavily commercialized Banff, but this place seemed to have a more laid back personality on its own. However, we were spoiled by our rather luxurious and convenient accommodations, and this motel brought us back to reality on what basic accommodations are like. I guess that's what happens when you try to save money.
In any case, after we got settled, we drove out to Blackiston Falls (after I had noticed it on our Topo map hanging above the bed in our room). It was only 1km each way and we figured we mind as well check it out instead of trying to force in the longer Lower Bertha Falls hike before dark. Plus, with the grizzlies out scavenging for berries, we thought perhaps fitting in this excursion tomorrow morning before continuing across the border into Glacier National Park would be the way to go.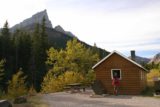 So we took the road to Red Rock Canyon and about 20 minutes later, we arrived at the car park for Blackiston Falls. The weather-worn road was full of potholes, but it wasn't like any of them (except maybe one or two) were large enough to cause a flat.
Once Julie and I got our gear, we quickly got onto the hike. I was intrigued by how the snowy and shapely mountains surrounded the area and always seemed to get our attention so long as there were views on the hike.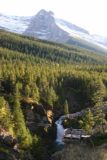 Around half-way towards the falls, we saw a lone guy heading out. After saying hi to him, we asked him how the falls were. He eventually said the waterfall was nice, but someone alerted him to fresh scratch marks on a tree (indicating a grizzly nearby).
That freaked out Julie though the guy tried to allay her fears by telling us to make noise and do lots of talking while on the trail. I was secretly hoping to see one as long as it was minding its own business and not surprised by us.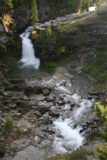 After we saw a few more people on the trail, Julie's bear fears were alleviated somewhat.
Before we knew it, we were right at the overlooks of the Blackiston Falls. And even though the waterfall wasn't particularly tall (maybe 20ft or so), it was the surrounding mountains that made this waterfall an interesting photographic subject. It was too bad it was getting late in the afternoon, which created some shadows as well as sun flare as we were looking somewhat against the sun.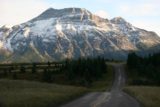 Nonetheless, the falls was nice and it was yet another unplanned waterfall that pleasantly surprised us.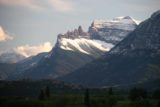 We left just as another family plus another pair of hikers showed up. We even passed another foursome on the way out. So I guess this was a pretty popular hike after all and that we probably wouldn't have had a bear encounter anyways since I'm sure they know about our presence long before we become aware of them.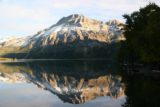 At 6:05pm, we got back to the car. From that point, we headed back into town though we did make a brief stop at a car park when we saw Waterton Lake still being reflective near the closed-for-the-season Prince of Whales Hotel.
In any case, immediately afterwards, we made a beeline for Cameron Falls determined to visit it before we called it a night.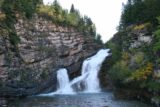 Eventually by 6:50pm, we found Cameron Falls Drive, which ended at a car park where we could see the falls from a footbridge. It was literally a waterfall within town and for that reason, it was real easy to see. The only bad thing was that it was quite windy and chilly here, plus the mist from the falls blowing in our direction didn't help matters either.
In any case, we were back in the car by 7:05pm. There was a trail that went up above the falls, but I didn't end up doing it given it was getting late in the day. Besides, we were both hungry, and we couldn't wait to have a dinner before finally calling an end to this day.
Day 9: ANIMAL TRACKS
The day began with a 6:30am wake-up. The forecast indicated that today was supposed to be a clear day. And when we I glanced out the window, it certainly seemed like it was going to be that way. But when Julie checked an hour later, she noticed that it was also very windy. I guess there went the reflections in the lakes shots we were hoping to get on the way out of town.
It wasn't until about 8:45am when we checked out of the room. The winds persisted and the wind chill factor was definitely chilling us to the bone on this morning even though the car indicated that it was 7C (far warmer than the 0C we were getting in both Jasper and Banff).
Julie and I briefly checked wireless internet by the lobby of the Bear Mountain Motel. It turned out that the internet wasn't working on their own wireless, but there was a different one that was working. So that allowed us to do some last minute email checking as well as checking out the forecast for Glacier National Park, where we were headed later today.
The forecast indicated it would be partly cloudy over there, and it certainly seemed that way here in Waterton as well. It was only when we looked east did we see clear skies.
Anyways, I took this opportunity to pick up a cannister of bear spray since I was worried about some of the hikes we intended to do here and in Glacier National Park. Unfortunately, the outfitter next door to our motel ran out of bear bells so I went ahead and paid some CAD$42 for the bear spray. I hoped we wouldn't have to use it, but then again, I don't think we could bring this onto the plane ride home with us either.
I guess the CAD$42 really bought us that piece of mind in a worst case situation, if anything.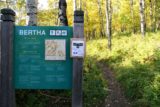 After we picked up some morning hummus bagels in town, we then drove towards the car park for the Lower Bertha trailhead, which was just a short distance south of Cameron Falls. We noticed that there was a whole bunch of deer resting and grazing on the grass in a schoolyard as these deer seemed to be right at home in Waterton. A publication here indicated that the deer was a manmade artifact because they figured out the town provided them protection from grizzly bears and wolves (as the predators were less inclined to come into town).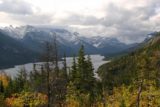 By 9:20am, we started hiking. It was still windy as we got onto the trail, and we were a bit concerned that the wind might make it hard for a bear to hear us coming on the trail.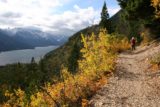 The 2.6km (each-way) trail ascended gently while almost always providing views of Waterton Lake and the mountains backing it. The clouds looked like they were stuck amongst some of the peaks towards the end of the lake, but there were some thinner layers of clouds that did manage to make it past and block out the sun from time to time.
Looking down at the lake, we could see the waters were definitely choppy with whitecaps.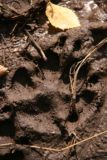 For almost the entire hike, Julie and I kept paying attention to a combination of animal tracks as well as bootprints on the somewhat muddy trail. We seemed to have noticed quite a few hoof prints as well as some paw prints from what seemed to be big cats (maybe a cougar or something). Every time we thought we saw a grizzly bear's paw print, it made Julie that much more fearful.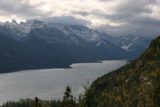 Along the way up, we did see one other guy who was on his way back down. That person hiked solo so obviously he didn't seem to terribly concerned about the presence of grizzly bears looking for berries to munch on.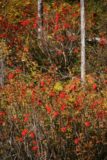 Speaking of berries, we did notice some large patches of them, which made us even more cognizant of the fact that it would only be a matter of time before a grizzly found the berry bonanza we saw so it could fatten up for hibernation.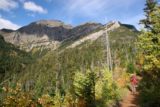 Eventually, we arrived at a footbridge with a sideways view of Lower Bertha Falls. This was pretty much the end of the line for us as we didn't feel like going past the bridge and up lots of switchbacks to see the Upper Bertha Falls. Plus, we still had to get to Glacier National Park later in the day.
So before we took off, I did get a better view of the falls by scrambling up a path where it looked like many others have done before. However, it was still a steep and slippery scramble especially where it was exposed rock.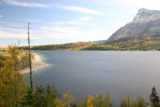 On the hike back, it seemed shorter because we were mostly going downhill. We noticed at least 4 or 5 parties coming up the other way so that kind of reassured us that a grizzly bear encounter would be low given the amount of human traffic.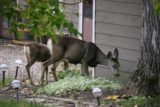 By 11:20am, we were back in the car. We then made one last restroom break before picking up a meatball sub at the Subway in town (which by the way was CAD$11 for a footlong; so much for the $5 footlong that was being pitched at home).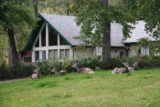 On the way out, we saw a bunch of deer chilling on in someone's frontyard. There were even a pair of other deer that seemed to be munching on someone's plants.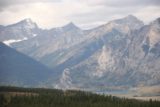 By 11:45am, we were finally leaving Waterton and bound for the last leg of our trip, which was to Glacier National Park…
Visitor Comments:
Got something you'd like to share or say to keep the conversation going? Feel free to leave a comment below...
No users have replied to the content on this page