Day 9: ANIMAL TRACKS
The day began with a 6:30am wake-up. The forecast indicated that today was supposed to be a clear day. And when we I glanced out the window, it certainly seemed like it was going to be that way. But when Julie checked an hour later, she noticed that it was also very windy. I guess there went the reflections in the lakes shots we were hoping to get on the way out of town.
It wasn't until about 8:45am when we checked out of the room. The winds persisted and the wind chill factor was definitely chilling us to the bone on this morning even though the car indicated that it was 7C (far warmer than the 0C we were getting in both Jasper and Banff).
Julie and I briefly checked wireless internet by the lobby of the Bear Mountain Motel. It turned out that the internet wasn't working on their own wireless, but there was a different one that was working. So that allowed us to do some last minute email checking as well as checking out the forecast for Glacier National Park, where we were headed later today.
The forecast indicated it would be partly cloudy over there, and it certainly seemed that way here in Waterton as well. It was only when we looked east did we see clear skies.
Anyways, I took this opportunity to pick up a cannister of bear spray since I was worried about some of the hikes we intended to do here and in Glacier National Park. Unfortunately, the outfitter next door to our motel ran out of bear bells so I went ahead and paid some CAD$42 for the bear spray. I hoped we wouldn't have to use it, but then again, I don't think we could bring this onto the plane ride home with us either.
I guess the CAD$42 really bought us that piece of mind in a worst case situation, if anything.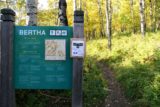 After we picked up some morning hummus bagels in town, we then drove towards the car park for the Lower Bertha trailhead, which was just a short distance south of Cameron Falls. We noticed that there was a whole bunch of deer resting and grazing on the grass in a schoolyard as these deer seemed to be right at home in Waterton. A publication here indicated that the deer was a manmade artifact because they figured out the town provided them protection from grizzly bears and wolves (as the predators were less inclined to come into town).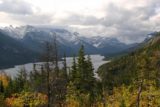 By 9:20am, we started hiking. It was still windy as we got onto the trail, and we were a bit concerned that the wind might make it hard for a bear to hear us coming on the trail.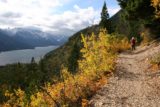 The 2.6km (each-way) trail ascended gently while almost always providing views of Waterton Lake and the mountains backing it. The clouds looked like they were stuck amongst some of the peaks towards the end of the lake, but there were some thinner layers of clouds that did manage to make it past and block out the sun from time to time.
Looking down at the lake, we could see the waters were definitely choppy with whitecaps.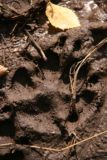 For almost the entire hike, Julie and I kept paying attention to a combination of animal tracks as well as bootprints on the somewhat muddy trail. We seemed to have noticed quite a few hoof prints as well as some paw prints from what seemed to be big cats (maybe a cougar or something). Every time we thought we saw a grizzly bear's paw print, it made Julie that much more fearful.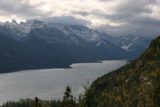 Along the way up, we did see one other guy who was on his way back down. That person hiked solo so obviously he didn't seem to terribly concerned about the presence of grizzly bears looking for berries to munch on.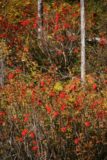 Speaking of berries, we did notice some large patches of them, which made us even more cognizant of the fact that it would only be a matter of time before a grizzly found the berry bonanza we saw so it could fatten up for hibernation.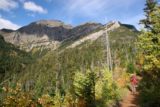 Eventually, we arrived at a footbridge with a sideways view of Lower Bertha Falls. This was pretty much the end of the line for us as we didn't feel like going past the bridge and up lots of switchbacks to see the Upper Bertha Falls. Plus, we still had to get to Glacier National Park later in the day.
So before we took off, I did get a better view of the falls by scrambling up a path where it looked like many others have done before. However, it was still a steep and slippery scramble especially where it was exposed rock.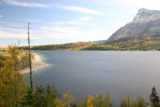 On the hike back, it seemed shorter because we were mostly going downhill. We noticed at least 4 or 5 parties coming up the other way so that kind of reassured us that a grizzly bear encounter would be low given the amount of human traffic.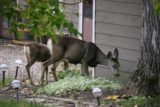 By 11:20am, we were back in the car. We then made one last restroom break before picking up a meatball sub at the Subway in town (which by the way was CAD$11 for a footlong; so much for the $5 footlong that was being pitched at home).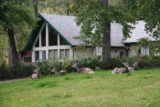 On the way out, we saw a bunch of deer chilling on in someone's frontyard. There were even a pair of other deer that seemed to be munching on someone's plants.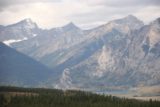 By 11:45am, we were finally leaving Waterton and bound for the last leg of our trip, which was to Glacier National Park…