Day 1: RESETTING EXPECTATIONS
The day began with a 4am wake-up so we could get to LAX in time for our 7:25am flight while leaving time to clear customs, go through security, shuttle to the airport, etc.
This trip had last-minute written all over it. The air wasn't booked until Sunday (3 days ago), some of the accommodations weren't booked until yesterday, and the car hire wasn't booked until yesterday as well. The problem was that we wanted one last trip before Julie enters her third trimester, where that would put an end to our world travels and waterfalling hikes for a while. Plus, there was no way we could've done this trip earlier in the month given how crazy things were at work.
Complicating matters even more were our worries about the weather as it looked like the Canadian Rockies would see its first significant snowfall this weekend. We weren't sure if this was normal, but I was starting to doubt the guidebooks saying that September was one of the best times to come to the Canadian Rockies.
We eventually made it to the gate at 6:25am, but that wasn't before noticing some guy checking in a pair of big rifles. That was something you don't see every day.
By 12:10pm, we made it to the Budget Rent-a-car at the Calgary Airport. We ended up with this car that was full of dents from hail stones. The Budget guy working here said they were from a massive hail storm in July. We hoped that wasn't going to be an omen for what was to come with the forecasted bad weather.
Once we got out of the airport, our momentum was quickly stopped by Calgary traffic (which was surprising considering the Trans-Canada Highway 1 was such a main thoroughfare that we wouldn't have thought it would be a struggle with suburban Calgary traffic.
Anyways, our grocery run at a Safeway here went from 12:45pm to 1:25pm.
It wasn't until 2:40pm that we finally made it to the Douglas Fir Lodge. But that wasn't before paying above CAD$136 for the week that we were visiting (it was recommended that we get the annual pass). We weren't sure if we'd be coming back anytime soon, but we mind as well make our money work for us while we were here.
We were both a bit unpleasantly surprised that they charged on a per person per day basis and the price I believe was at least $10 Canadian Dollars per person per day had we done it a la carte. Ouch!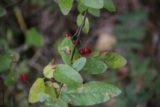 Anyways, we were apparently too early for check-in to our accommodation when we arrived in Banfff so we decided to head straight towards Sundance Canyon. The hope was to see a waterfall as well as some grizzly bears munching on berries. Julie wasn't too keen on the idea of seeing bears, however.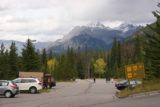 At 3pm, we were at the Cave and Basin car park, which seemed quite desserted. I guess it had the look and feel of a place that was in the off season. Meanwhile, we could see there were some towering mountains with interesting shapes and snow topping them all around us above the trees. However, the clouds looked threatening, and based on the forecast, we were hoping that Mother Nature would have mercy on us.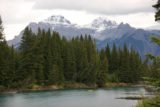 The Sundance Canyon walk was mostly paved, but after walking maybe a little over 1km, one of Julie's legs were bothering her, and I suspected the pregnancy wasn't allowing her to continue walking. So she talked me out of continuing towards the canyon itself (which was said to be 3.2km round trip) and we headed back to the car.
Next up was Bow Falls, which would be the first waterfall of the trip.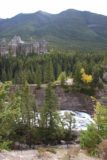 So by 4:10pm, we were back at the car and proceeded to look for Bow Falls. However, after a little bit of struggle finding a decent view of the falls, we realized that we were on the wrong side of the river. Apparently, the Bow Falls and Hoodoos trail was deceptively named since we saw a large parking lot across the river down below that probably wasn't accessible from the side of the river that we were on. In fact, the Tunnel Mountain Road wouldn't have taken us there. Instead, we had to drive back over the bridge then further south to that car park that we saw across the river.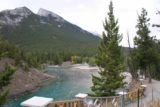 By 4:35pm, we finally made it to the Bow Falls car park. There were signs pointing the way here so clearly this was one we shouldn't have had much difficulty finding.
And as expected, we saw the sloping Bow Falls, which somehow would remind me of Gibbon Falls. But what was striking about this viewing area was the scenery downstream.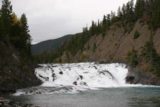 We could only imagine what the scenery would be like under better weather. And to add insult to injury, it was probably about 20 minutes after Julie retired to the car as I continued photographing the scene, did it start to rain in earnest. Little did we know that it would persist for at least the rest of tonight (and even tomorrow).
There was even some fancy hotel nearby where I'd imagine the main draw would be the views of the mountains since the building was perched above the trees and other buildings of the area.
We were joined by a couple of bus loads of Chinese tourists (Julie suspected they were from Hong Kong after recognizing the Cantonese dialect) as well as other tourists not affiliated with the tour buses. Even though it did get a tad busy with the tour buses, it was nowhere near what I would imaine had we been here during peak season in the Summer.
By 5:25pm, I rejoined Julie who was waiting in the car. At that point, we returned to the Douglas Fir Resort where we finally checked into our spacious condo-like room. The only problem was that there was no running water since repairs were being made, but we were assured they'd come back online before the end of today.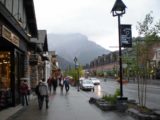 Once we got settled, we returned to the Banff town where it was somewhat busy with pedestrians. The receptionist at our resort had recommended a couple of places where locals like to eat. And we ended up eating at some local pub called the Elk and Oarsman where they were offering up Elk Wednesday. Basically their elk dishes were on sale (at least 33% off) and we stuffed ourselves silly with Elk Nachos, Elk Burger, and Elk Steak.
By around 8pm, we finally left the Elk and Oarsman pub fully stuffed and brought back some leftovers in a box.
As we left the pub, both of Julie's legs were bothering her to the point that she had trouble walking. And this didn't bode well for the remainder of our trip since neither of us felt comfortable with me going solo on some of these excusrion in grizzly country. In any case, Julie's health as well as that of the unborn child were also foremost on our minds.
And so ended a rather long day where both Julie and I were still struggling to stay awake. Well, at least the water was running though it was rather lukewarm on this cold night.