Day 2: WATERFALLING OUT THE BAD WEATHER
Even though I had my alarm set at 6am, it wasn't until 7am when I awoke. It was still quite dark outside so it wasn't easy to get up and out of bed. But rain or shine, we knew we had a pretty busy day ahead of us so we had to make the most of our time here. And that wasn't about to happen until we got out of the lodge and out into the great outdoors.
After a quick breakfast and some spontaneous HGTV, we finally got our act together and left the lodge at 9am. It was a bit of a late start than I would've liked, but I guess the rain (which we knew was coming from the forecast) had already taken hold and kind of made it difficult to get moving and into the elements.
The drive was mostly rainy and slow. There were lots of road construction going on for large stretches (I recalled one was 17km long) where the speed was limited to 50km/h (30km/h in some spots) or 70km/h. There were also pockets of pretty hard rain, and this wasn't encouraging in terms of the sightseeing we were after today. For sure we could forget about seeing the famous lakes of Banff on this day, so we're all about waterfalling instead.
When we continued west along Hwy 1 past the turnoff for the Icefields Parkway, we started to notice that the weather seemed to have let up momentarily as we were descending near the West Louise area. Despite the heavy cloud cover, we could tell that some of the scenery seemed dramatic with vertical walls rising high up into the clouds.
As we headed further west, there was even some sun that started to peek though the clouds.
Eventually, the GPS
had us turning left onto Beaverfoot Road well west of the turnoffs for Emerald Lake and Takakkaw Falls near Field. There was lots of road construction here and eventually ended up onto an unsealed road with lots of potholes filled with rainwater.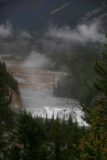 It wasn't until 10:45am that we ended up seeing a very distant view of Wapta Falls, which was the destination of our first excursion of the day. However, this place seemed very remote, and something seemed a bit off. We expected a more popular and busier hike than what we were seeing.
Eventually, we figured out that we probably missed the correct turnoff, and this was confirmed when Julie showed me a map from one of the free publications we picked up at the Calgary Airport. It was yet another instance where we couldn't trust the GPS
, but also reminded us that sometimes we ought to read the literature first before trusting the GPS
.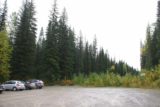 After the fruitless detour was over, we were back on Hwy 1 heading east. Eventually, we saw a signpost for Wapta Falls on our right. Yet there was no indication of this sign if we were heading west (which was probably why I missed it in the first place).
In any case, we took the 2km unsealed road to its end where there was a fairly busy car park with at least a half-dozen cars already parked.
It was about 11:15am when we started hiking. The weather seemed to be holding up and there was even more hints of the sun trying to peek through the break in the clouds.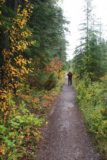 The trail was mostly flat as it was flanked by pretty red and golden leaves on the low-lying trees. Some parts of the track were muddy, but it wasn't anything particularly tricky or difficult.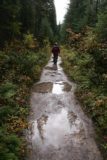 I was more concerned about Julie's legs acting up like they did yesterday. For this time, if it acted up, Julie would have a difficult time walking back to the car. Plus, this hike was 2.4km each way apparently, which was much longer and less developed than the Sundance Canyon walk we tried yesterday.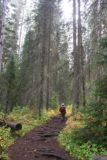 The mostly flat hike eventually started to descend steeply near a fenced off area. That led to an overlook where we looked down over the top of the falls. It was at this point that Julie wasn't going to descend any further given her condition.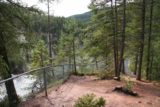 So she gave me her camera and I quickly made my way further down when I reached a fork. There was a less developed trail to the left while the wider trail continued straight ahead.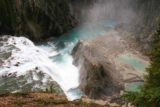 I ended up taking the left trail, which descended quite steeply (though it did have steps along the way) in what seemed to be a sanctioned trail. I kind of wondered if this was going to eventually close given its exposure to dropoffs and exposed roots, but it didn't take long before I ended up at a louder and closer view of Wapta Falls.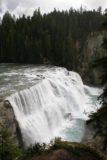 This time, it was a more profile view of the falls and it was much better than the first one above.
Again, the sun was starting to come out for a brief moment as it vacillated between hiding behind clouds and peeking through some of the breaks. At least it kind of gave us some hope that maybe the weather was going to improve.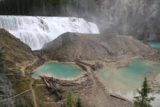 I then continued down along the narrow trail which ultimately made it to the bottom where I saw a handful of other people taking photos on the opposite end of the little valley.
It was a bit misty down here, but there was a hill directly opposite the falls that kind of blocked most of the wafting mist.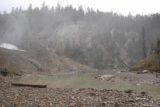 First, I walked along the left side of the valley bottom towards an opening in the hill where I could see lots of mist wafting through it. I couldn't take decent photos from there, but I did use Julie's camera to take a movie while getting wet.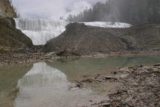 After retreating back down to the bottom, I then walked across the valley where the people down here already were still lingering. Then, I walked up another trail towards a less mistier part of the hill where I got whatever partial shots of the falls that I could get.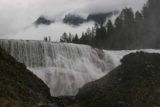 Again, given the width of the falls and the mistiness, it wasn't easy to photograph. But that didn't detract from how impressed I was with the falls. I was certainly glad to have taken the trouble to get all the way here.
There were still a handful of more people coming down here as well, but they came from further down the valley. I guess that was where that more established trail would've ended up. But instead of going that way, I ascended up the steep path that I came down from.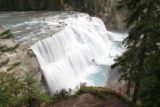 It didn't take long before I was back at the 2nd overlook, which turned out to be my favorite one of the lot.
And a few minutes after that, I rejoined Julie at that first overlook.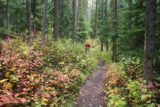 So we went up to the flat part of the hike and made a beeline for the car park. By 1:05pm, we were back at the car park. However, whatever improved weather we enjoyed on this hike seemed to be short-lived. For the clouds that were hovering above us now seemed to be darker and more threatening.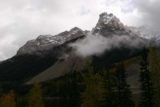 That kind of changed our plans a bit so we were now headed to Takakkaw Falls and decided to forsake Hamilton Falls and Emerald Lake. But first and foremost on our minds were now whether we'd be able to enjoy the falls given the deteriorating weather.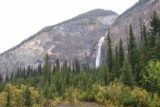 The falls looked very impressive from the road, and we couldn't wait to get right on the walk to get closer to it. We eventually made it to the car park for Takakkaw Falls at 1:55pm. Unfortunately, it started raining when we got to the car park, and there seemed to be no sign of the weather letting up.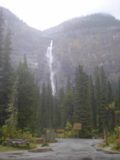 Armed with rain gear (though I wish we had put on our waterproof pants), we proceeded to walk closer to the falls in the rain. The weather made it difficult to even take trail photos let alone the waterfall itself.
Early in the walk, there was a relief map of the Yoho Valley. We could see there were other waterfalls further up the valley, but there was no way we were going to do that hike to see them.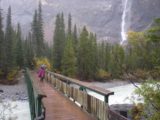 Just before we crossed the bridge over the river cutting through Yoho Valley, we ambled up to an overlook of Takakkaw Falls. The view from here would be magnificent, but the mistiness of the heavy rain didn't do us any favors in terms of photographing the scene.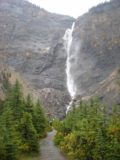 When we had our fill of this spot, we then crossed the bridge and continued along the paved walkway towards the base of the falls.
I'm sure under more benign weather, we might be able to appreciate the grandeur of this 254m waterfall. All the photos I had seen in the literature didn't seem to do this waterfall any justice. It always appeared smaller than it really was in real life. But in our haste to keep our electronics from getting damaged from the heavy rain, I guess we were stuck with the similar predicament of taking photos that wouldn't communicate the grandeur of the scene.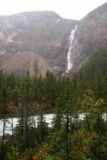 Despite our best efforts to capture the falls, the rain wasn't cooperating as I was constantly battling waterspots on the camera lens. The rain wasn't letting up, and eventually the frustration of being unable to capture the beauty of the place got the better of us as we started to head back to the car park.
By 3:10pm, we made it back to the car and wasted no time driving back out of the Yoho Valley. On our way out, we made a brief stop to take a photo of some cascade across the valley of Takakkaw Falls (from inside the car due to the pouring rain).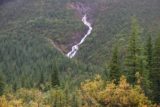 During the drive out, I wondered if all the delays we suffered on the way here from the late start to the day as well as the missed turn caused us to miss the benign weather at Takakkaw Falls by another hour. Oh well, woulda-coulda-shoulda. Can't cry over spilled milk now.
At 3:55pm, we drove through the rain to the Louise township. There, we went to a bakery where we had some meat pies (something we hadn't had since our trip to New Zealand as well as some other meat pastries. That seemed to have fueled us up somewhat, but now the question was whether we'd be able to squeeze in an excursion to Johnston Canyon to salvage the day before dark.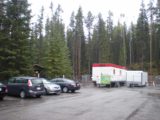 By 4:35pm, we left Louise and headed right to Johnston Canyon. I knew we had until around 7:30pm or so before sundown. But the weather certainly still didn't do us any favors.
At 5:05pm, we made it to the signposted car park for Johnston Canyon. To our surprise, the car park was still quite busy at this hour despite the bad weather. Clearly there must've been something to this excursion for this many people to tough it out under the conditions.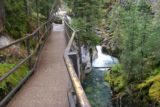 So Julie and I once again donned our rain gear (and waterproof pants this time), and wasted no time getting onto the paved walkway. A sign at the start indicated that it was 0.5 miles to the Lower Waterfall and 1.5 miles to the Upper Waterfall. I presumed those were one-way distances so it would take at least 2 hours to see both waterfalls, I reckoned. I was sure Julie wasn't going to join me beyond the Lower Waterfall, but I was doubting whether I would do the Upper Waterfall as well.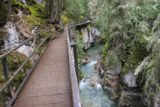 Yet the funny thing was that as we walked further on the paved walkway, we noticed that the rain didn't seem to affect the area as much as it did on our Takakkaw Falls excursion. It might've been because there were overhangs and trees to shelter us somewhat from the rain.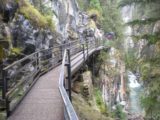 Still, the walk itself was quite scenic, and I could see why this was considered a good bad weather hike.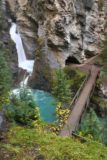 After about 30 minutes, we arrived at the Lower Waterfall, where there was a bridge that ran right before the falls. There was even a tunnel on the other side of the bridge that took us right to a sheltered cove with a direct view of the Lower Waterfall.
It wasn't the most photogenic spot to take this photo, but at least it did shelter us from the rain.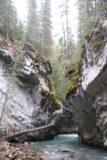 On our way out, we conversed with a guy who took our photo in front of the falls. It turned out that he was from LA. We suspected because he was wearing a UCLA jacket. So I guess we weren't the only Angelinos suffering through the lousy weather in the Canadian Rockies.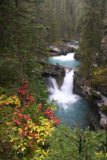 At this point, Julie headed back to the car park after giving me her camera.
Then, I quickly made my way uphill towards the Upper Waterfall upon learning that it was still another 20-30 minutes further. It was still barely 6pm so I was confident that I could complete the excursion before darkness fell.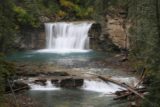 By about 6:25pm, I made it up to a fork where there were stairs continuing further up on the left and a path sloping down on the right. I took the right path where I saw a colorful wall directly opposite the catwalk. But also at the very end of the catwalk, I could see the Upper Waterfall. I guess that was my cue that I should turn back and rejoin Julie.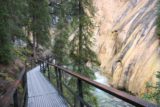 I was joined by another couple who also made it up here despite how late in the day it was.
As I was heading back, I didn't bother seeing what else was higher up the trail (from that path I ditched in favor of the algae wall and frontal view of the Upper Waterfall).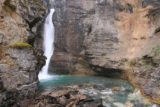 Eventually at around 7pm, I saw that map sign that now meant something more to me than when we first started this walk. And as a result, I saw that the path I didn't take would've taken me to the top of the Upper Waterfall where there was another overlook. Oh well.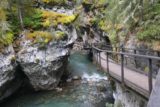 Five minutes later, I was back at the now-empty car park with Julie looking back at me with a relieved look. I guess I couldn't have come back at a better time as Julie said she started to worry.
Anyways, rain-drenched gear was hanging on the back seat and defrost was on full blast. It was getting cold, but now we could finally start heading back to Banff.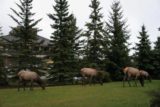 By 7:50pm, we were finally back in Banff with the rain still falling. Just as we were entering town, we noticed a small harem of elk grazing on some lawns in town. I guess given the rather foul weather of today, this was probably the silver lining as foul weather typically means fewer people which usually means more wildlife sightings.
For dinner, we ended up eating at this overpriced place called the Mountain Bison Cafe. In hindsight, we should've eaten downstairs for the pizza, because upstairs, the food was double the price as yesterday's meal but for half the food and nowhere near the quality the price demanded.
By 9:15pm, we were finally back at the lodge. Now we could dry off our soaked gear, take yet another lukewarm shower (well, it was lukewarm for Julie but I did mine real late at night when it stayed hot), and recover from this day.
We weren't sure what tomorrow would bring, but we sure hoped it wouldn't be as trying as today. It almost had the feel of our first Columbia River Gorge trip all over again…