Day 4: PRIORITIES
It was 6:30am when we awoke. The weather forecast had indicated that today was going to be a good day. So after the forecasts were teeter tottering about the weather on this very day (between sunny and snowing), we were anxious to see whether it was going to be true that today we would finally have a day that was mostly sunny.
At around 8am, we loaded up the car in the frigid morning (once against frost was on the hood and windshield), returned the key to the reception to check out, and we were on our way out.
The drive north was mostly uneventful. We had left the clearing morning at Banff town and headed north into thickening fog. It was gorgeous seeing the morning light against east-facing mountains with some patches of clouds stubbornly clinging to the snow-covered peaks of the surrounding area.
Once again there were the usual construction areas that seemed to cover up most of the drive from Banff to the turnoff near Lake Louise. A short distance north of Lake Louise, we somehow managed to miss the turnoff for Hwy 93 (Icefields Parkway) since they apparently changed the route within the construction zone from what we remembered yesterday.
Not interested in driving for several kilometers to a suitable place to make a U-turn, we made an illegal one. Fortunately, the traffic was light this morning and we made it without incident.
The drive north was definitely cloudier and darker than it was yesterday afternoon. There was even some light drizzle.
I began to wonder if the forecast was wrong once again giving us false hope that today was finally going to be the day that we would have mostly sunny skies. Now the hope was that the clouds above us were from fog and not from storm clouds.
Ultimately, our fears were unfounded as we approached the familiar Peyto Lake turnoff just as the fog was starting to clear. We were curious to see how Peyto Lake would look in the morning, and we had hoped that the fog wouldn't obscure the mind blowing views we had here yesterday.
With Julie's twisted ankle, we decided to go right up to where only the tour buses were supposed to go. There was no way Julie was going to walk on that ankle for 700m uphill in the frigid frosty air (like we did yesterday afternoon).
So by 9:30am, we had parked the car and quickly made our way to the overlook just as a tour bus was about to pull into the car park in which we were previously the only ones there.
Sure enough, the overlook was uncrowded, but the morning shadows around the overlook platform were a bit long. Nonetheless, we got to take more photos of Peyto Lake before the tour bus crowd inundated the area. And ten minutes later, we were back on the Icefields Parkway.
As we drove north on Hwy 93, the fog pretty much was behind us and the beautiful vistas of snowy mountains surrounded us.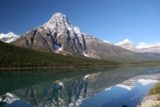 So this was the scenery that we were supposed to have seen these last few days. It was nice to see that for once the pretty shapely peaks dominated the skylines rather than the dreary clouds obscuring them.
We even made one random stop at the Waterfowl Lakes where one of the lakes we saw was calm enough to provide a near perfect reflection of some striking peak backing the lake.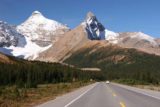 As the drive continued on, we started to encroach on some pre-loaded waypoints that I had researched and put into our GPS
. Those waypoints were mostly for waterfalls we expected to see on this route including the Weeping Wall, Sideways Falls, Tangle Falls, and Bridal Veil Falls.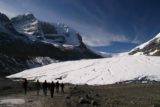 But given the nice weather we were having, I made the decision to skip those waterfalls and defer them to the return leg of the trip when we'd be driving from Jasper back to Banff in a couple of days. With the weather behaving the way it had been, we weren't taking any chances wasting time on things that were acceptable to sightsee in bad weather. The priority was lakes and vistas first, waterfalls (without backdrops or vistas) second.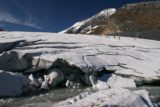 So we continued on Hwy 93 until we eventually made it to the Athabasca Glacier. Here, we turned into a car park area where I served as Julie's crutch as we gingerly made our way up the rocky hill to get right up to the Athabasca Glacier.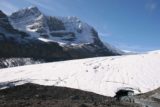 Unlike some of the other glaciers we had gotten up close and personal with (e.g. Fox and Franz Josef Glaciers in New Zealand, Briksdalsbreen in Norway, and Perito Moreno in Argentina among others), this one seemed a bit flatter and more sloped.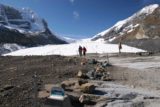 It was also seemingly one of the most threatened glaciers we had seen as apparently this glacier didn't appear to have a whole lot more of its ice to retreat back to before it would be completely gone. It wouldn't surprise me if it would be gone in this decade, which was kind of sad.
Further corroborating the accelerating nature of its retreat were signs indicating where the glacier was at various years. The position of the sign from 2000 and 1992 indicated dramatically how much the ice had retreated in just the last 20 years. There was even a sign near the main highway indicating that the year 1890.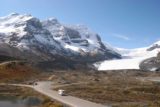 People can deny Global Warming all they want, but being here in person really provided perspective on how much the glacier receded in recent years versus the retreat from the latter quarter of the 19th century (right when the Industrial Revolution was in full swing).
Anyways, this was an easy glacier to access. We even saw quite a few people walk onto the glacier unguided and without gear. I even took a photo for one guy and his kid who told me that he remembered when he was a kid that the glacier was still where there was now a roped barricade quite a distance away from the terminus.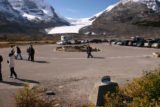 After getting our fill of the glacier in the good weather, we got back to the car at 11:40am and then went across the road to the Glacier View Hotel complex. There, we used the facilities while Julie picked up a salmon sandwich. We also had a few more views of the glacier as well as noticing a sign indicating 1844, which was where the glacier was at that year (where now there's a car park and the hotel complex).
At 12pm, we left the busy Glacier View Hotel and continued on our way north along the Icefields Parkway.
Still keen to take advantage of the good weather, we made stops at only the waterfalls that provided panoramic backdrops. Fortunately for us, these particular waterfalls were very easy to spot as they were well signposted and very well-established.
The first one we stopped for was the Sunwapta Falls. This one looked like it disappeared into a narrow gorge right beneath a bridge crossing over this deep gap. But more impressively, there was a nice shapely mountain as well as some trees upstream of the falls serving as the nice backdrop for photographs. The stream even looked like it had segmented before rejoining at the top of the falls.
We spent some time trying to capture this waterfall from the various positions the official walk afforded us. There were also lots of people here, which made some of the viewing areas a bit crowded.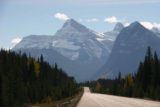 We were back in the car at 12:55pm, where we wasted no time continuing to go further north along Hwy 93. From looking at our rear-view mirror, we could see that the drive would've been much more scenic heading south under this weather as the dramatic peaks rose sharply above the Hwy 93.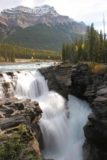 At 1:15pm, we made it to the Athabasca Falls car park shortly after getting onto a turnoff for Hwy 93A. This particular waterfall had an even larger car park where we could see some lovely peaks in the background towering over the golden trees in the foreground surrounding the asphalt.
We took our time experiencing all the various lookout points for Athabasca Falls that we could find. And what made this waterfall particularly attractive was the gorgeous snow-covered triangular mountain serving as the backdrop.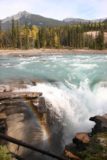 When we got to the other side of the waterfall, we even saw a rainbow in the mist of one of the waterfall's segments before meeting at the base within a small gorge.
The gorge actually got deeper as the water went further downstream, and we got a glimpse of this Lower Canyon from one of the bridges above it as part of the official walk. But since we still had to see Lake Maligne and Pyramid Lake today to take advantage of the good weather (not leaving to chance the incoming bad weather forecasted tomorrow), we didn't explore that Lower Canyon.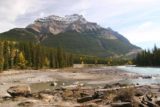 So by 1:55pm, we were back at the car. And from that point, we continued north on Hwy 93 and made a beeline for Pyramid Lake. I wanted to see this lake after seeing some decent shots on Flickr and from reading a TripAdvisor review saying that lake was as good as Lake Maligne without going through the trouble of actually being there.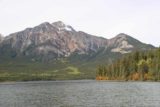 In any case, we made it there at 2:30pm, but Julie and I were underwhelmed especially when compared to seeing Peyto Lake, Lake Louise, and Moraine Lake. For this one, the waters weren't colorful and they were rippling. The docked boats in the foreground also didn't make this lake appear so appearing either.
So we didn't linger here for long and it turned out to be a rather fruitless detour as far as we were concerned.
And since we couldn't check in our stuff until 4pm (seemed like in Canada, 4pm check-in was standard), we were determined to get to Lake Maligne, which was the main attraction of the Jasper area.
But by 2:50am, we had hit a traffic jam that was apparently attributable to road construction. Yet unlike other delays from construction, this one backed up for several kilometers. It was only through the kindness of someone also headed east on the main highway that we were able to even make a left turn onto it to join the jam.
Eventually, we made it to Maligne Lake Road where we turned right and left the mess behind. There were even queues for people heading west as well as back to the main road from Maligne Lake Road.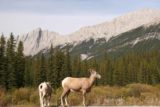 When I noticed a sign that said the last boat was at 4pm, I realized that we had better make some haste if we were to catch that last boat to Spirit Island on Lake Maligne. There were lots of slow pokes hoping to catch a roadside glimpse of some wildlife, and we did manage to see some mountain goats by the road as well as an antlered elk. But there were no grizzly bears or bighorn sheep that would've made us stop to take photographs.
So we had to pass quite a few RVs and cars that refused to pull over for those like us not operating on their clock.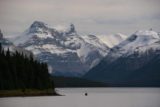 But eventually by 3:35pm, we were at the car park for Lake Maligne, and we quickly made it to the ticket booth where we bought our passes for that last boat ride. Unfortunately, it was a steep $55 Canadian Dollars per adult. We certainly hoped this would be worth it.
Even though the day had been sunny for most of the day, we could tell change was in the air as some darker clouds started showing up. Gone were the deep blue skies contrasting the snow-covered mountains around Lake Maligne and we had to settle for those peaks against grey skies. But, hey, at least the clouds weren't covering them up!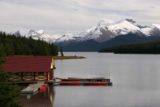 By 4pm, we were finally on the boat, and we gently cruised our way towards a boat dock near Spirit Island, which wasn't even an island (more like a peninsula).
Regardless, we could see that the picture postcard views were from this area at the very end of Lake Maligne. For it was here that the water was calm enough to take those views. And it was also quite clear that the only way to get that view was by the boat ride.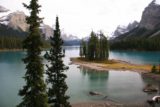 After we docked, we only had 10 minutes to experience the overlook and lakeshore views. It felt a bit rushed and it was a little crowded at the limited space for photo taking. We did see one person who was already in the area from a previous boat ride here, and he lingered for our boat to ride back to civilization. That was probably the smartest thing to do so he had the viewpoint all to himself. But since we were on the last boat, we didn't have the luxury of pulling that off.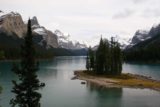 When we returned to the boat, we were going to sit quietly and contemplate the day before we were participated in some demographic survey conducted by the tour guide MC. The couple behind us overheard that we were from LA, and from that point on, we engaged in a conversation with them about sustainable living.
It was the last thing we expected from a couple hailing from Texas, but it appeared that these folks were on holiday traveling with other people who were part of their community trying to teach others and uphold a way of life that was sustainable. And in their words, it meant they grass-fed their own livestock, grew things on their own without chemicals, and even did their own composting.
It was quite educational listening to them talk about their skills as well as some of the other stuff they were into regarding wood working and bonding with the community through their sustainable way of life. It gave Julie and I some ideas on some things we'd like to get into when we get home, especially composting.
Anyways, at 5:40pm, we were back at the car. And as we drove back towards Jasper, we were hoping to spot some grizzly bears from the road or bighorn sheep. But it turned out that things were quiet on the wildlife front, and by 6:25pm, we finally made it to the B&B near the outskirts of Jasper town.
We could see in the distance even more dark clouds. And even the TV indicated that the forecast for the next two days won't look very good weatherwise. It was certainly a good thing that we seized the moment with the weather when we did, and we were glad we prioritized our sightseeing to defer the waterfalls (which could be done in bad weather) for a couple of days later.
In any case, we had to say that this was probably one of the better sightseeing days of this trip in addition to yesterday afternoon.
Visitor Comments:
No users have replied to the content on this page