Day 5: THE FAB FOUR
At 6:15am, I awoke to my alarm and darkness. While Julie was still asleep, I managed to get my belongings packed and ready to load into the car. And as I fumbled my way around through the darkness, I finally got outside with my luggage only to discover that it had already started raining this morning. So I knew we were going to be in for a wet day.
But that was OK because we intended to go waterfalling as we were going to make the long drive out to the Wells Gray Provincial Park deep in eastern British Columbia.
Eventually, Julie awoke at around 6:45am, and we finally checked out of the B&B (except there was no breakfast here) at 8:05am.
Since we narrowly missed going grocery shopping last night after dinner, we waited until the grocery store called Robinson's was open at 8am. In any case, we weren't exactly rushing to get out despite the long day of driving and waterfalling ahead of us given the rainy weather ahead of us.
At 8:25am, we were finally leaving Jasper. And as we drove west along Hwy 16, we were crossing from Alberta into British Columbia, but unlike our crossing at Yoho National Park, this time there was a sign reminding us to turn our clocks back by one hour (meaning they were on the same time zone as Los Angeles). However, since our trip was dominated by Mountain Time, we weren't going to adjust our clocks.
As we continued to drive west on Hwy 16, we passed by several lakes. The most notable of these lakes was Moose Lake. But it wasn't notable because of the scenery (that was all but obscured by the low clouds and heavy rain). Instead, it was notable because we saw an interesting waterfall spilling into it from the opposite side. We didn't stop for it since we had higher priorities, but we made it a point come back and stop for this waterfall on the way back to Jasper tomorrow.
Going further west, we also saw signs for Overlander Falls as well as Rearguard Falls. Both of these had half-hour walks so we also deferred these unexpected waterfalls for the return trip to Jasper. These were roughly about an hour west of Jasper.
The long drive went pretty uneventfully as it was pretty much consistently rained throughout the drive. The whole time Julie and I were envisioning how soggy the waterfalling experience would be once we got to Wells Gray Provincial Park.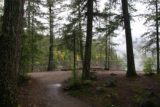 Some time around 10:30am, we were at the town of Clearwater, where we filled up on gas as well as relieved ourselves on a much-needed restroom break. It seemed like the rain had let up once we got to town, and perhaps our waterfalling experience might not be as soggy as we had anticipated.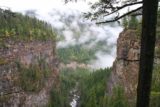 Eventually at 10:55am (11:55am Alberta Time), we arrived at the well-signed car park for Spahats Falls. This was the first of three waterfalls that we planned on seeing. We expected this to be a pretty quick stop (at least that was what I had planned for), but Julie and I were surprised to see there was a tour bus parked here.
We had thought this was one of the more obscure waterfalls on this trip, but the fact that a tour bus would stop here meant that perhaps this waterfall was more significant that I had originally thought.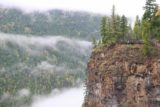 After a short five-minute walk, we were right up against some fenced overlooks providing views down into a very deep and vertical gorge. There were lots of clouds in the background hovering low against the pine trees covering that hillside beyond the mouth of the gorge. It all made the scene here kind of mysterious.
From the initial vantage point, we could see that we were near the top of the waterfall. However, there was an overlook that we saw in the distance that I was sure was where we would best see the falls.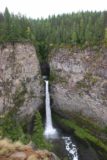 So we continued walking along the fenced walkway in a sort of long half-moon until we got to the wooden platform. As we walked towards the platform, we could start to see Spahats Falls plunging deep below in the gorge. Apparently, there was a hanging gorge from which the falls made its dramatic appearance, and that gorge was quite deep.
Once we got to the wooden platform, we joined a handful of other people to take photos directly of the falls. And we did this for a few minutes until some of the fog started to come in from the mouth of the gorge and obscure some of the views across the gap to the falls.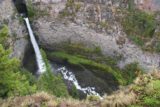 I guess that was our cue to leave even though once we got back closer to the top of the falls, the fog had already cleared again.
By 11:35am, we were back at the car. The car park seemed emptier as the tour bus had already left. Apparently those folks were already on the way out when we arrived. However, another tour bus showed up and off-loaded their big tour group. I guess we left just in the nick of time, then.
A few minutes drive further north, we saw a signpost for the Moul Falls Trail. However, the car park was empty and a sign indicated that the walk was 2.9km away (I believe that meant 5.8km round trip). So we deferred doing this one and decided to head straight for Helmcken Falls, which was said to be the signature waterfall of the Wells Gray Provincial Park.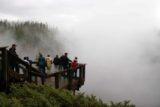 Eventually at 12pm, we made it to the Hemlcken Falls car park. It had started raining again, but once we got to the overlook, the rain stopped. However, there was nothing to see along the cliff and at the overlook itself as fog completely obscured the views.
The fog was quite stubborn about leaving. We saw other tour groups show up only to be unpleasantly surprised by the cloudy mess before them. So we decided to get back to the car and go back to Dawson Falls, which was an unplanned waterfall we didn't expect to see. Good thing that sign caught our eye. Otherwise, we wouldn't have known about this waterfall altogether.
At 12:20pm, we started the drive out and ten minutes later, we were at the car park for Dawson Falls. It looked like a tour bus was about to leave just as we arrived. So certainly this waterfall must also not be a slouch either.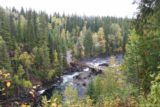 At first, I thought the waterfall by a bridge looking down the gorge was the Dawson Falls. And if that was the case, this would've been a big disappointment.
But the muddy trail kept going on so perhaps that first one I saw was a false alarm. Actually, the more I thought about it, the more I realized that the bridge down there was the one we had crossed to get to Helmcken Falls. I believe that waterfall was called Mus' Bowl.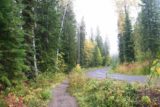 Anyways, the trail ended up being a little longer than I anticipated. In fact, it went back towards the road (making me think we went the wrong way) before a reassuring sign with an arrow indicated the trail resumed by leaving the Clearwater Valley Road.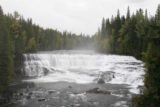 And within another 5 minutes or so, we were at a fenced overlook of what turned out to be a wide and impressive Dawson Falls. When Julie saw it, she was quite pleased with it since she loved the wide river types.
Meanwhile, after I had my fill of taking photos from this spot, I continued along the trail until a steep scrambling path caught my eye. It turned out to be a rather slippery and muddy path that very easily could've ended up bad if I wasn't wearing hiking boots. But it didn't take long before I was at the bottom and was able to scramble almost right at the base of the wide Dawson Falls.
There were a couple of other ladies who joined me on the slippery descent down. Julie understandably stayed behind.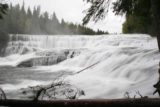 Anyways, the view from here was difficult to capture in one photograph without a wide angle, but it was certainly nice from here. I could definitely get a better sense of the volume and power of this waterfall from here. Unfortunately, Julie still had her camera so I couldn't take any movies from this spot.
Eventually after having my fill of this spot, I followed the ladies back up the steep and muddy descent to where Julie was waiting at the junction. And from there, we returned to the familiar overlook where we took a few more photos before returning back to the car.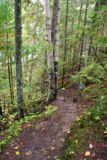 At 1:10pm, we were back at the car park.
After mulling over whether to do the Moul Falls hike or return to Helmcken Falls in the hopes that our viewing fortunates had improved, I eventually decided on going back to Helmcken Falls since the thought of driving back and forth for 30km at a time wasn't that appealing.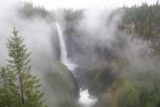 Anyways, Julie was pessimistic about seeing the falls on this go around, and so she opted to wait in the car. Meanwhile, I walked back towards the main overlook area and did see the annoying fog conspiring to hide the falls. However, at least the fog was thinning out for the most part and I was able to take the sought after photos.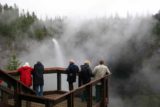 Sure the fog didn't do me any favors, but at least I could finally document and say that I've seen the Helmcken Falls.
I guess Julie must've suspected that things had improved because she eventually joined me at the overlook. And so we took whatever people shots that we could while also waiting out the fog some more to see if I could take some time to better compose the photograph once the coast was clear.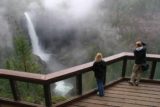 In any case, I stuck around and took many photos with the fog since the fog remained stubborn. But at least the falls was also visible so I couldn't be too disappointed with the result.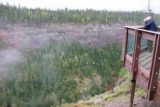 However, once it started raining hard, I took that as a cue to return to the car (Julie had beaten me there by several minutes at this point), and see if we could check into the Moul Creek B&B where we were staying for the night.
When we arrived at the Moul Creek B&B at 2:20pm, it was pouring rain. So we waited in the car hoping the rain would subside. Meanwhile, the innkeepers noticed our car. One of them actually walked to us as she was sheltering herself with an umbrella.
Once we explained to her that we were staying for the night under Julie's reservation, she encouraged us to wait out the squall before we could get our belongings. So that we did.
Eventually, the rain did subside somewhat and we were introduced (her name was Marion and her husband was Michael). The appeared to be of German descent.
The room that Marion showed us was very spacious and smelled of wood. It appeared that this lodge was new. When Julie asked how long ago it was built, Marion said it was since July! I don't think we had ever stayed in an accommodation that new before.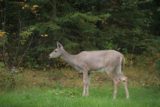 Eventually after getting settled, we were back in the car at 2:50pm. But not before checking out a deer on the property eating some foliage that apparently Michael helped to put there. Even though the deer seemed to be on edge a little bit, it also appeared to feel comfortable on the property (if that makes any sense) since it wasn't in any hurry to leave.
Anyways, we were at the trailhead for Moul Falls at 2:55pm. This time, there were three other cars here so that made Julie feel a lot better about doing such a long hike in bear country. Well, at least there weren't grizzly bears in these parts.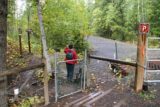 So the hike started off on a pretty wide path, which appeared to look like it could double as a road.
I was worried about the condition of Julie's ankle for this hike, but it appeared to have loosened up since yesterday's swelling and she seemed to manage the hike so far.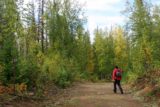 The hike was gently downhill for most of this wide stretch that appeared to be a road in its former life, but after about 30 minutes or so, we reached a signposted turnoff indicating that it was another 15 minutes more to Moul Falls. And from this point forward, it was on a narrow footpath as opposed to a road.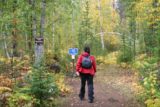 Well, it turned out that the footpath was steeper than the road, but it was still manageable. However, we worried about gaining back this elevation on the way back to the car park.
It seemed like the weather really started to improve as the sun was consistently showing itself through large gaps in the dark clouds. And that brought out the gold in the foliage flanking the trail.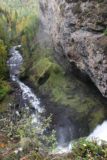 Eventually, we reached a fenced overlook at the top of the falls. Julie and I saw another couple down at the bottom from this vantage point. But she hesitated to go down given her pregnancy and the bum ankle.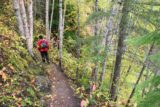 But when I pointed out the stairs to get to the bottom, she decided to follow me down.
Just as we were about to get to the narrow part, we saw that couple make it back to the top. They seemed to have enjoyed the experience as their smiles had shown us. So we couldn't wait to have our turn.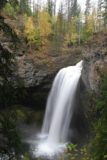 After a few more minutes of carefully navigating through some narrow exposed sections before getting to the wooden stairs, we ultimately got to the handful of overlooks on the way down, and then onto the bottom.
When the sun came out, we noticed a faint rainbow off to the right side of the falls. However, a hideous sign positioned right by the rainbow made our photos less than ideal.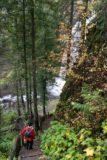 Plus, I was looking around the place for a path to go behind the waterfall since I had heard that it was possible. But in all honesty, I couldn't quite figure out how to get through some of the real wet and sloping sections on the way to the large alcove in back of the falls. Perhaps it would've been possible in lower flow, but definitely not now.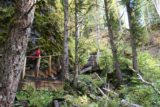 Eventually, Julie and I had our fill of the falls and we slowly made our way back up the trail and eventually to the car park. And by 5:30pm, we were back where another couple was chilling out (they didn't do the hike I don't think).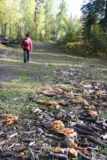 In any case, Julie and I experienced something that was missing from our trip so far while sightseeing. And that was peace and quiet! It dawned on me that this trail lacked the tour bus crowd (which we were surprised to see here anyways). Plus, there was no chance we'd have peace and quiet in Banff, Jasper, and Yoho since they seemed to be a bit more commercialized. So it was for that reason that I think we really savored this experience.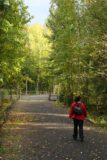 But now that the excursion was over, it was time to enjoy our accommodation and call it a day. We were also looking forward to a home-cooked meal, which we purchased while booking the accommodation (since there was nothing else out here). Boy were we hungry, and we couldn't wait to see what was on offer.
By 5:35pm, we were back at the B&B where we chilled for the next 90 minutes before dinner.
Visitor Comments:
No users have replied to the content on this page