Day 6: UNPLANNED WATERFALLS
We had spent a very cozy evening in our spacious and newly built room at the Moul Creek B&B. I almost felt like I didn't want to wake up so soon, but we had a breakfast appointment at 8am so our 7am wake-up was necessary.
When we were done packing our stuff and I loaded some of the easy-to-pack stuff in the car, it was already raining outside. But this was something we expected given the forecast that Sunday and Monday were when we were supposed to be receiving the brunt of a pretty powerful Pacific Storm combined with the Arctic air.
Anyways, we had a very pleasant home-cooked breakfast. Once again, it was something that Julie and I savored. But adding to the fun was the conversation we were having with Corey, who was a fellow guest in the only other room next door.
She was regaling us with her stories about her road trip through both Canada and the US as she was towards the tail end of her 6-month trip. That would be something Julie and I would be thrilled about doing, but given the little one that we were expecting, I think those plans would have to be put on hold. Well, at least we'd have something to look forward to when it comes to seeing the rest of our own country as well as our neighbor to the north.
So we took our time eating and conversing while Marion was graciously preparing the hot part of the breakfast while ensuring we were taken care of. I guess this experience further reinforced Julie's notion that this place was a 5 in her book since it had the charm, the comfort, the friendliness, and the food. And we were paying easily 33% of what we would've been paying in Banff or Jasper.
Anyways, it wasn't until about 9:25am when we finally took off for the return journey back to Jasper. It was raining pretty hard at that point, but we didn't mind very much since we didn't expect to be doing much in the way of hiking in the soggy weather except to try to check out those waterfalls we deferred on the way to Clearwater yesterday.
So the drive was pretty uneventful except for a pretty lengthy 10-minute delay at around 10:30am (seemed like the road construction everywhere was the theme of this trip) as well as some pockets of the road where we had a mix of both rain and snow. Fortunately for us, the snow didn't stick.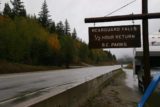 It wasn't until about 12:10pm when we finally arrived at the well-signed car park for Rearguard Falls. Even though it was still raining considerably by the time we arrived, it seemed like once we donned our rain ponchos and waterproof pants, the rain pretty much stopped or became a sprinkle.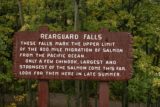 The sign indicated it was a 1/2-hour return walk, and we were pretty much on time in that regard. The walk descended fairly gently down a well-established path eventually leading to a steel overlook platform right across from the wide river waterfall.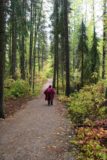 A sign at the car park said the Chinook Salmon species were the only ones strong enough to make it up to these falls on the Fraser River from the Pacific Ocean, and that we might be able to see them in late Summer. But on this late Summer day, we couldn't spot them.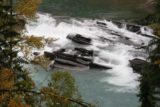 Another thing that caught me as strange was that there were separate walking paths around the overlook platform area that were signposted for rafting trips. I wondered if the paths were for portaging or if they actually do run the Rearguard Falls.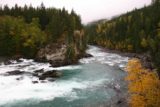 Anyways, we were back at the car at 12:45pm and continue heading east on Hwy 16.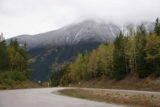 About ten minutes later, we were at the well-signed car park for Overlander Falls. The sign at this car park said it was 3/4-hour return walk. But I wasn't sure if that was being overly pessimistic.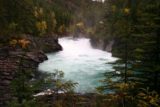 In any case, we descended this path towards the viewing area of the wide river-type waterfall that ejected into a chute-like manner (still on the Fraser River). We took what photos we could of this waterfall (playing with different compositions and the fall colors), but we were also struck by the downstream scenery, which was backed by a towering snow-covered mountain that was also mostly obscured by low clouds.
The rain remained at bay by the time we were back at the car park at 1:35pm.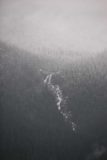 Next, we drove further east on Hwy 16 through mostly benign weather. It seemed like the worst of the storm was over, and this made driving a lot easier.
About 1:55pm, Julie and I stopped at along the shoulder off Hwy 16. We did this immediately after noticing a sign pointing across Moose Lake for "Thunder Falls" and pulling a U-turn to find a suitable spot to take a roadside picture.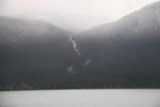 The falls still looked well defined, but with all the snow crusting above it, I'm sure it could easily be confused with a long streak of snow or ice. In any case, this was really a cascade and kind of reminiscent of the many waterfalls that we could've taken for granted like we did in Norway.
After we had our fill photographing Thunder Falls, we finally made it back to Jasper by 3:35pm. At that point, we checked into a different B&B where we got settled in and tried to take it easy for the rest of the day.
I did think about squeezing in a Maligne Canyon excursion today, but perhaps the long drive and frigid temperatures (we could still see snow quite low in the surrounding mountains here) kind of made us reconsider and defer it to the next day. But that would mean that we'd have a very busy day tomorrow…
Visitor Comments:
No users have replied to the content on this page