Day 7: SEPTEMBER SNOW
We awoke at 6:30am as it was still dark. But by now, it had been customary for us to awake at this time, and further adding to the sense of urgency of the day was that we had a lot of waterfalls to visit today that we had deferred up until now to take advantage of good weather when we had the chance a couple of days ago.
So by 8:15am, we left our B&B and drive straight to Maligne Canyon. We could see straight away that it was still overcast, but the clouds were high enough to reveal new layers of snow on the surrounding mountains. This was proof of the rain and snow that came with the latest storm on Sunday and Monday.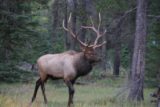 Just as we were about to leave Jasper town, we saw an antlered elk (or is it caribou?) grazing in a park area. That grabbed our attention and we took a few photos while trying to stay on the down low so as to not aggravate it (especially since I believe it was getting close to rutting season).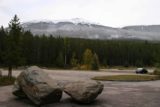 At 8:35am, we were the first to arrive at the car park for Maligne Canyon. And right away, we did a short walk that encompassed the uppermost part of the gorge. The canyon itself was very deep and was quite dramatic, which was most apparent when we crossed over a bridge.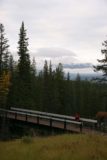 On the second bridge that we crossed, we looked down at what was said to be the tallest waterfall in Maligne Canyon. That was a very impressively tall waterfall even though we were still looking down at it.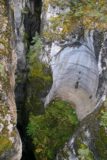 Just as we were checking out this waterfall, we were inundated by a pair of Asian tour groups (the first one Chinese and the second one Japanese). So much for the peaceful experience of being the first here.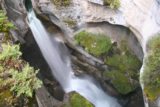 Anyways, after walking by a few more rapids and smaller waterfalls further upstream, we were back at the car park at 9am. I'm sure we could've visited the lower bridges and other parts of the gorge, but we had a very busy day of waterfalling so we couldn't linger any longer after having fulfilled the very reason why we were here in the first place (i.e. that big waterfall in the canyon).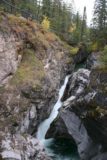 So now it was time to drive out of the general Jasper area. Fortunately, we weren't delayed too long on the road construction.
Eventually, we arrived at the Sunwapta Falls car park at 9:55am. There was snow all over the trees flanking the Icefields Parkway, which was indicative of the snowfall from the last two days. I guess we were fortunate to have gone to Clearwater and back over the last two days thereby avoiding the brunt of the snow storm. And now, we were able to continue driving the Hwy 93 without chains.
Anyways, Julie stayed in the car as I was determined to see the Lower Sunwapta Waterfalls which we completely overlooked on the first go.
At first, I went back to the bridge (which was now icy) with the view of the main waterfall. I thought the trail to the lower falls continued along this trail, but as soon as I realized that the trail went away from the river, I turned back and went higher up onto the fenced overlook with a view of the bridge, gorge, and the falls.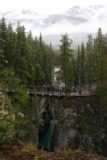 The trail then continued inland from the fenced overlook for another 2km. The walk meandered on a soft and damp dirt trail beneath pine trees draped and dripping with snow. Since I was alone the trail, I was worried about possibly running into a grizzly bear so I was trying to sing to myself as I quickly made my way down the trail.
Eventually, I reached a fenced overlook as the river made more noise. Ultimately, I was right up against the fence where I could look right into one of the lower waterfalls. As I proceeded further down the hill, I saw two more waterfalls further downstream.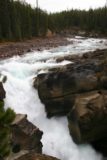 At this point, I was kicking myself for not taking Julie's camera with me so I couldn't take movies of these waterfalls. So I did my best to try to capture the waterfalls with my still photos, but I knew that there was only so much that I could communicate without the help of the other medium.
When I had my fill of this falls, I went back up the 2km to the car park. I saw a couple more couples on the way down so I guess that was reassuring to me that I wouldn't run into a grizzly accidentally. One guy even asked me if the walk was worth it, which I confirmed was definitely worth it.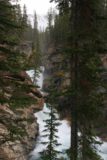 By 10:55am, I was back at the car. Now, it was time to continue the waterfalling hunt.
As we drove south on the Icefields Parkway, we tried to find Stanley Falls, which was on our map, but we couldn't find it during our drive. Perhaps further complicating the issue was that the cliffs surrounding the road were covered in snow so the falls would either blend right in or they were locked as ice.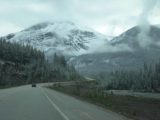 In any case, the drive south was quite scenic as the clouds appeared to be lifting even more revealing snowy peaks and a landscape that made us question our sanity since we were driving along the Icefields Parkway in September, but it looked a lot more like November or later.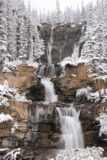 So we eventually gave up on Stanley Falls, but as we climbed up towards the Columbia Icefields section, we pulled over at a large pullout with a view of Tangle Falls. There was a roadside sign saying "Tangle Creek" here, and we were one of two cars that were here to enjoy the waterfall.
However, it didn't take long before the lemmings effect was in full effect as parked cars begot more parked cars and even a pair of tour buses. Before we knew it, this pullout was littered with people snapping photos of the falls.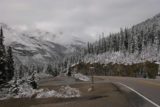 Julie and I got our fill of the falls as people were coming and going during our efforts.
By 11:45am, we were back in the car and continued our waterfalling.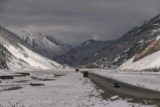 Five minutes later, we were at the Columbia Icefield area which was definitely a Winter Wonderland. There was a large pullout here where we pulled over to try to soak in the scenery, but little did we realize that we were real close to the Athabasca Glacier.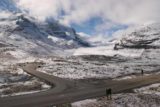 By 12pm, we were back at the familiar Glacier View Inn with its view of the Athabasca Glacier. But man, what a difference from our previous visit here just 72 hours earlier. For now, the area surrounding the glacier was dusted in a pretty thick layer of snow. There was even ice on the stairs leading up to the inn from the general car park.
After having a salmon sandwich and sharing an unhealthy instant noodle, we were back in the car at 12:30pm to resume the waterfalling day under mostly cloudy skies.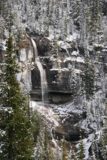 Ten minutes later, we made it into the very large car park area for Bridal Veil Falls. Actually, that waterfall wasn't all that impressive as far as Julie and I were concerned. Instead, we were looking to see if we could get a look of Panther Falls, which also shared this car park.
However, it wasn't like it was well signposted or anything, and the snow kind of concealed a good chunk of what would otherwise be an obvious trail to get a closer look.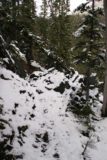 We saw a guy who had just finished checking out the falls and advised us to follow the footprints that he and his partner left behind. He also warned us to be careful as the overlooks were very exposed to cliffs where the footing might be covered in snow or ice (hence be very slippery).
Anyways, Julie was quite worried about me going on this excursion, but I knew that as long as I followed the footpaths, I should be OK. After getting some unsatisfactory views of the falls from the top, I took that guy's advice and descended down the trail while following those footprints where there was snow.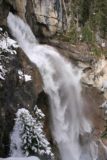 Eventually, once I got by a turn at a narrow cliff-exposed path, I made it to a little cove behind the impressively tall Panther Falls. There was no way I could photograph the entire thing even with the benefit of the slight wide angle capability on my lens. So I did what I could to try to communicate the verticality of the falls and the precipitous nature of the terrain here.
I also brought along Julie's camera so I didn't hesitate to take movies of the falls to communicate things that I couldn't do with my still photos.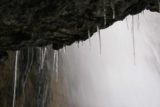 Another thing that caught my attention was the presence of icicles hanging from the roof of the alcove behind the falls.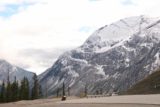 Of course as I was here alone trying to enjoy this scenic yet precarious spot, I couldn't help but wonder whether a bear would use this area as a den. After all, there would be no need to dig up anything as I'm sure the bear would be sheltered from the elements here. Perhaps the only drawback might be mist here and there from Panther Falls.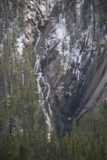 Anyways, once I had my fill of the falls, I quickly made my way back to the car park to rejoin Julie waiting in the car. I got back there at 1:40pm. And now we could continue our waterfalling day.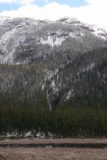 At 1:45pm, we pulled over at a large pullout with a distant view of what I saw in the literature was referred to as "Sideways Falls" or "Big Bend Falls." A telephoto lens was definitely required since the falls was rather far away. But at the same time, this waterfall was quite tall and definitely stood out despite the white snow flanking the falls as it tumbled down the vertical cliffs.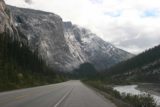 At around 2pm, I took photos of the Weeping Wall, which at the moment only consisted of a 2 or 3 thin strands. I could imagine only during heavy rain in the Summer or during warm days when the snow would melt that we'd be seeing more strands.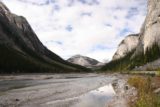 At 2:20pm, we were done with photographing the Weeping Wall and some neighboring tall but thin cascade a short distance to the south. So at that point, we spent the next 90 minutes or so driving further south without stopping for a waterfall.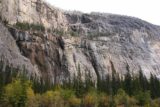 During the drive, we savored the pretty snow-covered mountain views rising above on the road ahead. However, the clouds looked like they got darker the further south we went. Clearly, it was sunnier towards the Jasper side as opposed to the Lake Louise side or Banff.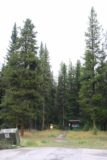 Anyways, we still had one last waterfall left to do before we could call it a day. And that was Silverton Falls. We actually missed it on the way to Johnston Canyon on the 2nd day of our trip to the Canadian Rockies.
However, we wouldn't be denied this time around since we knew its trailhead was by Rock Bound Lake (after some post mortem research).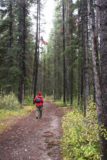 Eventually at 4pm we arrived at the car park for Rock Bound Lake where there was two other cars here. We started the hike under overcast skies and saw a couple just about to get back to the car park as we headed in.
The guy of that couple told us that the falls were quite beautiful. He did warn us about negotiating fallen trees in the last quarter-mile. However, I was also concerned about getting onto the wrong trail since it appeared there were lots of trails leading away from the falls.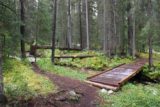 Anyways, we tried to follow some of the advice given in the literature where we were told to follow the creek before veering left at a footbridge (i.e. not crossing it). At first, we saw a pair of "2" signs, but we weren't sure what they were for.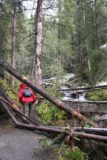 Eventually, we reached a fork where the trail continued along the creek towards the end or we could've gone up a switchback. But once we got to the falls, we could see that we could only see the short bottom-most waterfall. The upper tiers that we knew were there couldn't be seen from this vantage point.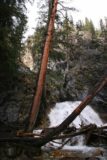 So we headed back the way we came and then went up the switchback that we had skipped earlier. And after a few more minutes, we finally made it to the end where we could look directly at the upper two tiers of the falls.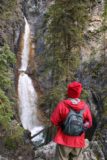 It was a thin but pretty waterfall, but this observation also made us wonder whether that couple we saw at the car park actually did see the waterfall. On top of that, another couple that we caught up to visited the base of the lowermost waterfall. But neither Julie nor I saw them when we were returning to the car.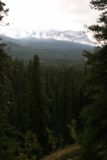 That led us to believe that the other couples managed to miss main part of Silverton Falls.
Anyways, on the way back, Julie and I took a more established trail. Somehow we missed the path we took in, but we were glad we took this more established trail.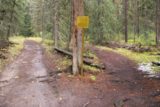 It turned out that this signposted junction was where we should've hung a right to get closer to the falls in the first place. We must've gotten sidetracked from reading too much into the literature as I worried too much about making a left at a bridge when in fact we never even needed to see that bridge! No wonder why this trail seemed so dodgy.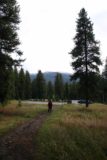 Once we had our fill of Silverton Falls, we proceeded to drive straight south towards Banff Town. We eventually got there at 5:35pm.
The first thing we noticed was that there was a noticeable amount of snow flanking the town roads. That made us wonder whether this town suffered through some full-on snow storms.
I was glad that we happened to miss this round of inclement weather. Call us lucky or proactive, but I was particularly happy about changing our itinerary to better reflect the realities of the situation at hand.
Had we been stubborn and did Glacier National Park (in Montana) first and then Banff later, then this could've resulted in us getting stuck in the Winter Weather. But since we were around the Clearwater area on Sunday and Monday when it was raining hard (and snowing in the higher elevations), we managed to miss the brunt of the storm.
All indications were that our last minute cancellations and changes in response to the weather really helped out our experience on this trip. Because that very well could've been us struggling to even drive to our accommodation at Douglas Fir Resort which was up a hill on Tunnel Mountain Road. For the receptionist told us that people couldn't make it up the hill without the proper tires (or without chains) under the snowy conditions yesterday.
At 5:45pm, we checked into our accommodation at Douglar Fir Resort. Unfortunately, we couldn't have our large condo that we grew accustomed to on the first three nights of our trip. But the cheaper rooms were still quite roomy and comfortable.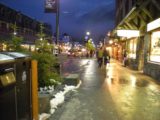 And so we got settled, and had ourselves one last fancy dining experience at the Maple Leaf when we went back into town.
We were back at our accommodation at 8:30pm where we finally called it a day. Tomorrow, we were heading out of the general Banff/Jasper area for the Waterton Lakes/Glacier National Park area to wrap up the last four days and three nights of our trip.