Day 8: RUSTIC
We slept in and finally awoke at 7:30am. The weather forecast indicated that today was supposed to be a clear and sunny day. But what the forecast didn't tell us was at what time of the day we could expect such weather. When we looked out the window of our accommodation, we could see that the low lying fog were giving way to snowy mountains above. So that gave us hope that perhaps we should seize the moment and make one last go at Lake Louise and Moraine Lake before we head south to Waterton Park near the US-Canada border.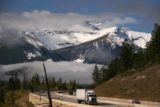 So at 9:20am, we left the Douglas Fir Resort and eventually arrived at the Lake Louise Village at 10:15am. But our attempt at catching the lakes for a third take failed as the morning fog was stubborn. We couldn't wait long enough for the fog to lift (if it'd lift at all) when we knew there was still a 5.5-hour drive ahead of us.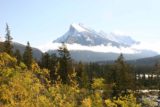 Anyways, we ended up having beef pot pie and a couple of pastries with meat in them before we admitted defeat and headed out at 10:45am. So that was pretty much our Banff-Yoho-Jasper-Clearwater experience. It ended rather in an anticlimax, but now we were on to the next leg of our trip for the last three days in the Waterton-Glacier area.
However, before we left the Banff area, we did make one last stop at a popular pullout spot with a nice view of Mt Rundle. Julie and I were regretting that we didn't take the time to stop at this spot for a pair of afternoons when the water was reflecting and Mt Rundle was getting soft sunset light as well as alpenglow.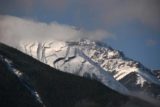 Meanwhile, the brightness of the reflecting snow against the daylight belied an avalanche danger, which we noticed on one of the nearby mountains that seemed to have cracks all over its snow layers.
We followed our GPS
going south on the Route 40 passing through Kananaskis Provincial Park. The road was flanked almost the entire way by picturesque snowy mountains. We took some road shots on the way, but we were hoping to spend a little time here (perhaps on a short day hike) to get a more intimate flavor of what this part of the Canadian Rockies was about.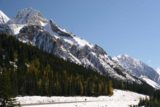 One place in particular I was hoping to see was Elpoca Falls, which I noticed on my Mapsource
software and transferred over to our GPS
. Unfortunately, when we got to its turnoff at 12:30pm, we were met with a closure gate and thus we had to pass on this.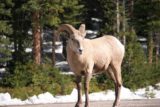 Well, at least there was one spot where we saw a pair of mountain goats grazing on the pavement (or licking the salt on it ir something) before a busload of young folks were throwing snowballs at them. I guess the immaturity alert was our cue to continue our drive.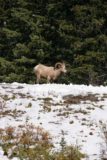 So the drive continued for the next few hours as we ended up not taking the route 541 (because it was unsealed) and instead extended the drive a little so we could take the Hwy 22 south on the prairie but always within visual eye-contact of the Canadian Rockies out west.
I did notice some signs for Livingstone Falls and Castle Falls, but I guess we just didn't feel like taking long detours for these waterfalls not knowing whether they'd be worth the trouble or not.
Eventually by 3:55pm, we arrived at the Bear Mountain Motel in Waterton Park. On the way into the village, we were pleasantly surprised at the calm reflective ponds fronting tall triangular snow-capped peaks surrounding this tiny little town.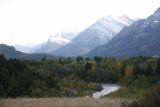 It contrasted mightily with the more heavily commercialized Banff, but this place seemed to have a more laid back personality on its own. However, we were spoiled by our rather luxurious and convenient accommodations, and this motel brought us back to reality on what basic accommodations are like. I guess that's what happens when you try to save money.
In any case, after we got settled, we drove out to Blackiston Falls (after I had noticed it on our Topo map hanging above the bed in our room). It was only 1km each way and we figured we mind as well check it out instead of trying to force in the longer Lower Bertha Falls hike before dark. Plus, with the grizzlies out scavenging for berries, we thought perhaps fitting in this excursion tomorrow morning before continuing across the border into Glacier National Park would be the way to go.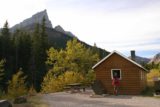 So we took the road to Red Rock Canyon and about 20 minutes later, we arrived at the car park for Blackiston Falls. The weather-worn road was full of potholes, but it wasn't like any of them (except maybe one or two) were large enough to cause a flat.
Once Julie and I got our gear, we quickly got onto the hike. I was intrigued by how the snowy and shapely mountains surrounded the area and always seemed to get our attention so long as there were views on the hike.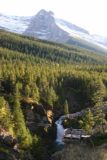 Around half-way towards the falls, we saw a lone guy heading out. After saying hi to him, we asked him how the falls were. He eventually said the waterfall was nice, but someone alerted him to fresh scratch marks on a tree (indicating a grizzly nearby).
That freaked out Julie though the guy tried to allay her fears by telling us to make noise and do lots of talking while on the trail. I was secretly hoping to see one as long as it was minding its own business and not surprised by us.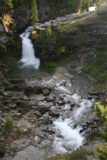 After we saw a few more people on the trail, Julie's bear fears were alleviated somewhat.
Before we knew it, we were right at the overlooks of the Blackiston Falls. And even though the waterfall wasn't particularly tall (maybe 20ft or so), it was the surrounding mountains that made this waterfall an interesting photographic subject. It was too bad it was getting late in the afternoon, which created some shadows as well as sun flare as we were looking somewhat against the sun.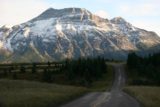 Nonetheless, the falls was nice and it was yet another unplanned waterfall that pleasantly surprised us.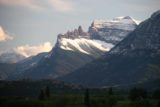 We left just as another family plus another pair of hikers showed up. We even passed another foursome on the way out. So I guess this was a pretty popular hike after all and that we probably wouldn't have had a bear encounter anyways since I'm sure they know about our presence long before we become aware of them.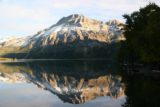 At 6:05pm, we got back to the car. From that point, we headed back into town though we did make a brief stop at a car park when we saw Waterton Lake still being reflective near the closed-for-the-season Prince of Whales Hotel.
In any case, immediately afterwards, we made a beeline for Cameron Falls determined to visit it before we called it a night.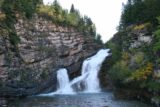 Eventually by 6:50pm, we found Cameron Falls Drive, which ended at a car park where we could see the falls from a footbridge. It was literally a waterfall within town and for that reason, it was real easy to see. The only bad thing was that it was quite windy and chilly here, plus the mist from the falls blowing in our direction didn't help matters either.
In any case, we were back in the car by 7:05pm. There was a trail that went up above the falls, but I didn't end up doing it given it was getting late in the day. Besides, we were both hungry, and we couldn't wait to have a dinner before finally calling an end to this day.