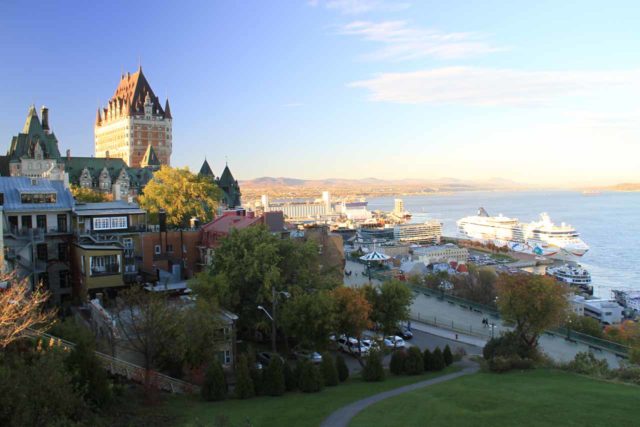 4-October 2013 to 10-October 2013:
After walking through the rain to the Auberge from the car park on the quai, I was finally in our room at 3:55pm. It turned out that our room was big and charming, and it was easily the best accommodation we had stayed at so far.
I was really glad that we changed up our itinerary such that we added a night in Montreal as part of our Plan B to improvise cutting out Acadia National Park thanks to the government shutdown. Actually, it was becoming more and more apparent that the government shutdown might have been a blessing in disguise because I'd hate to think that we would only leave ourselves a rainy afternoon in Montreal before checking out and leaving for Ottawa tomorrow (after potentially going out of our way to Bar Harbor)…
Day 10: RETURN TO EUROPEAN CHARM
It was 1:55pm when we left the US-Canada border station on the Hwy 201 though on the Canada side, it became Route 173. Immediately, I had to change the settings on the GPS to metrics mode so things like the speed indicator wouldn't falsely make me think that I was going too slow when in fact it would cause me to speed.
Julie was itching for me to make a stop somewhere so we could at least have a takeaway lunch, and we finally decided on stopping at a Subway in the town of St Georges at 2:15pm.
There was still quite a ways to go in terms of getting to the heart of Quebec City, and after having spent over 5 hours on the road, the whole family was so ready to get there and walk a bit.
Apparently our GPS map was a bit outdated for Canada because it wasn't until we were at Saint-Joseph-de-Beauce were we directed to finally leave the surface streets in favor of the autoroute 73. However, we probably could've done it all the way back at St Georges as I had recalled seeing signs for the autoroute 73 even back then. That probably costed us a good half-hour given all the traffic lights, plus traffic, plus road construction.
Given how late it was becoming in the afternoon, I decided to skip Chutes d'Amagh (which was on the itinerary for today) and punt it to a later day on this trip. I figured that it was more important to at least see Old Quebec when the weather was still agreeable. Who knows if the weather would suddenly turn tomorrow such that the visiting experience would be impacted?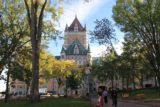 Eventually at 4:10pm, we would enter the heart of Old Quebec and find the Auberge du Tresor, which was right by the Chateau de Frontenac, which was the castle in the heart of Old Quebec. Right off the bat, we could see that our accommodation was centrally located, and we could also see that this place had that familiar European charm that was like we were back in Europe again.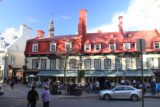 The first ten days of this trip was spent being charmed by the colonialism of New England, but here we could see that the charm factor blew away any of the American counterparts by many times.
We couldn't wait to finish checking into the hotel and then find parking. And when Julie did the check-in and was given instructions on how to find the parking, we had to navigate through some of the maze of one-way streets (just like in Europe) until we found the rather tucked away hidden car park, where we promptly parked the car at 4:30pm.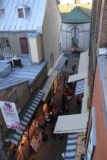 Then, we had to carry Tahia in the carrier while hauling up our luggage walking a couple of city blocks within the Old City until we got to the Auberge. Then, we had to lift up our luggage up a couple flights of stairs since there was no lift.
So mercifully, we finally made it to our room at 4:50pm.
When I was done unpacking my stuff and setting up Tahia's tent, I couldn't help but notice that there was some kind of balcony or walkway just outside our room. It didn't look like it was supposed to be accessed by guests, but the window opened as if it was a door.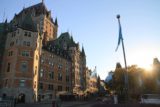 The first thing on my mind was how disastrous it would be if Tahia figured out how to open the door without us noticing. Right off the bat, I could see this walk was very dangerous for little toddlers, but at the same time, I was curious to see where this walk led up to. But after a few minutes of climbing up to the roof, I saw that there wasn't really a view (unlike other rooftops I had been to). So I figured this was nothing more than a utility walkway for workers (or for thieves, who knows?).
Anyways, with daylight fading fast, we quickly got settled, and then we headed back out into town at 5:15pm.
The first thing we did was to walk towards the wooden promenade sandwiched between the Chateau de Frontenac and the views of the wide St Lawrence River. With the long shadows, the photos didn't do justice to the beautiful views that were before us.
We spent a good deal of time walking with Tahia trying to soak in the scenery and the atmosphere of this spot. We even walked further up some steps and a hill for a few more panoramic views of this part of Old Quebec perched above the surrounding remainder of the city.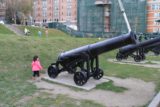 As we were headed back down to the Governor's Walk, Tahia noticed some cannons that she thought she could ride. We indulged her for a bit in the hopes that we might get some priceless photo ops. Yet it was getting late in the day and all of us were looking for a place to eat for dinner.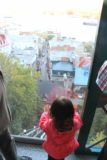 Then, we walked towards an operating funiculaire, which costed us $5 USD ($4.5 CAD) in cash. Tahia was digging the views from the funicular through the window as the car was moving. A French-Canadian lady thought our little girl was like a cat in that she was saying "Wow!" a lot, and it reminded her of the "meow" sound.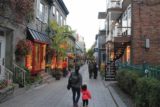 Once we left the funicular, we found ourselves in another charming little walking street. Since Julie was very hungry, we went straight to Le Lapin Saute for dinner instead of spending the rest of the twilight hours checking out the scenic district of Old Quebec.
We'd end up having an interesting meal that served up a variety of ways rabbit and duck could be prepared, including foie gras, smoked, confit, stuffed, and others.
Since we were seated outdoors, we were starting to feel a little bit of the cold air, which was noticeably colder than anything we experienced while in New England. I suspected it had more to do with the incoming cold front that was about to make its way here, but whatever the case, I managed to get bit by some mosquitoes, which was surprising considering how cold it was getting.
When we had our fill eating, we then walked around some more doing some explorations under the night where we noticed there were a lot more to see and do within this district than the two streets we initially thought was all to this area.
Indeed, it further reinforced the notion that this place was probably as close to Europe as one could imagine in North America. I was now worried about how we were going to mix waterfalling while touring this most charming of places all within a limited amount of time even though this was only night 1 of 3 here.
Eventually, we'd go up the Escalier de Frontenac (Frontenac Stairs), which Tahia managed to do on her own; an impressive feat considering it winded just about everyone else. I guess this was indicative of the amount of energy that was pent up in our little daughter.
By 8:15pm, we finally returned to the Auberge du Tresor to call it a day and look forward to what tomorrow would bring…
Day 11: MONETIZING WATERFALLS
We awoke at 6:45am. There was no ventilation in the room last night so it was kind of stuffy and thus we were able to wake up as the desire to sleep in wasn't that strong.
Today was the first time since Cape Cod (back on September 27) that we were able to wake up to a morning where we didn't have to pack up and leave. The vagabonding was supposed to momentarily stop when we were in North Conway, but the Saco River Motor Lodge experience took that away, and then we were supposed to have two nights at Bar Harbor after that, but the government shutdown (hence closing down Acadia National Park – the very reason for us to be driving out that far) forced our hand as well.
So it was nice to not have to be on the go for a change.
Anyways, we felt like we had a very light itinerary today of the Canyon Sainte-Anne as well as the Chute de Montmorency as well as a possible squeeze in of the Chutes de la Chaudiere as well as a possible extended walking tour of the charming parts of Quebec City that we didn't get to do last night.
We didn't anticipate the waterfalling visits would take very long.
So we took our time getting ready, and it wasn't until about 8:45am that we finally got to the garage and started driving off. It was pretty cold this morning, and it was also a bit overcast so we were wondering if that predicted storm would finally start to hit later on today or tomorrow.
The drive out east on the Route 440 was basically a two-lane (in each direction) surface street with traffic lights, but with the speed limit at 90km/h or 100km/h. So it was pretty smooth driving.
As we were leaving Quebec City to go further east along the north side of the St Lawrence River, we saw from the highway the Chute de Montmorency, which we expected to see later on today right after Canyon Sainte-Anne, which was where we were going first.
Given the high rate of traffic, we weren't going to stop anywhere on this highway to shoot the falls, but that whetted Julie's anticipation of the falls as she exclaimed that it was the first 4 waterfall of this trip (i.e. the first truly impressive waterfall that easily dwarfed any of the New England waterfalls that we had seen up to this point on this trip).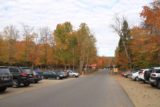 It wasn't until about 9:45am when we arrived at the car park for Canyon Sainte-Anne. Making a left turn into the easy-to-skip-by entrance was a little chaotic as people were zooming along on the highway, and it was like we had to make a left on what would otherwise be a fast lane to pass slow motorists on the right lane.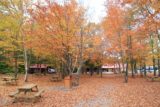 I think one motorcyclist beeped at us as we were waiting to safely make a left. I wasn't sure how else we were supposed to get in there so we were puzzled at the road rage. But in any case, we made it to the well-signed car park and complex where the Autumn colors at the picnic area were in full effect.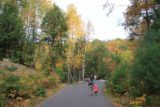 There were still high clouds muting the bright sun on this morning, but it looked like the clouds were thinning (which was contrary to the weather predictions that we were expecting to come true).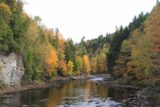 After paying the admission fee of $12 per person (Tahia was free), we immediately were on a wide paved walkway flanked by Autumn foliage as well as some animal statues that caught Tahia's eye. She immediately ran to the nearest statues that caught her attention starting with a moose, then some kind of bird, then some foxes or some kind of coyote or something.
We spent some time trying to take photos of her trying to ride some of these statues as just standing next to them.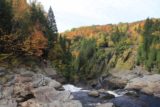 Then, the paved road curved downhill towards a junction right before a long and wide suspension bridge (wide enough to allow those go-karts to drive through) that was above the Chute Sainte-Anne, which was not visible at this point. Upstream from the bridge was the river feeding the Chute Sainte-Anne, which was flanked by gorgeous Autumn colors; some of which were reflected in the calm parts of the river.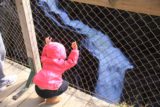 After crossing the suspension bridge, the path then became a wide gravel path. Tahia realized that the rocks on the gravel could be picked up and dropped through the fences in much the same way she loved to pick up and drop leaves through the fences. The problem with the rocks was that there were people down below who partook in adventure activities like rope walking, rock climbing, ziplining, etc.
So we had to put a stop to that.
In any case, the first overlook was of some narrow section of the deep canyon below us. There really wasn't much to see at this spot other than appreciate the deepness of the canyon as well as the scenery further downstream.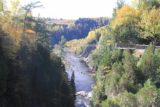 The next overlook was what allowed us to get a frontal look at most of Chute Sainte-Anne. It was at this time when the sun started to come out and make the depths of Canyon Sainte-Anne shadowy (and therefore difficult on photographs).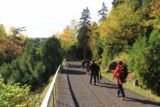 This was one of those times where I had hoped that the sun would stay hidden behind the clouds, but it seemed like the sun was out for good at this point.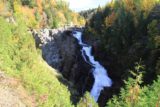 Beyond this overlook, there were a few more further along the gravel path leading to other frontal views of Chute Sainte-Anne though from differing angles. Each view had its own appeal so we took our time at each one of these to ensure that we thoroughly got the most of our visit on this side of the walk.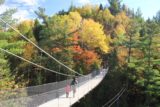 Next, we passed by a large group of zipliners and then went onto a much narrower suspension bridge that was very bouncy as each step from anyone on the bridge could be felt.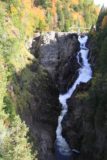 Of course, that made photographing without blurriness a bit tricky, but we thoroughly enjoyed perhaps the most direct and unobstructed view of Chute Sainte-Anne on one side as well as a very direct view of the calmer waters flanked by tall cliffs (and looking against the sun) on the other side.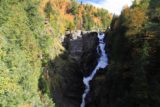 Tahia seemed pretty oblivious to the drop offs and the bounciness of the suspension bridge. The whole time we let her do her own walking with some handholding on the stairs or anywhere we felt there was the threat of her doing something she might not come back from.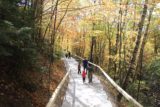 Once we were on the other side of the bridge, we then walked further downhill as we'd eventually encounter a series of some 180+ steps.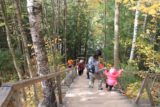 It took Tahia some time to get to the bottom of these steps, but once we did, we found that there was a thin cascade spilling right next to the bottommost suspension bridge. There were also adventurers walking along the cliffs with the aid of wire ropes to help them with balance.
Other than the novelty of being at the lowest point in the canyon while visiting this complex, there really wasn't much to see down here.
So just as soon as we made it down the steps, we now had to climb them. And once again, Tahia had the energy and the strength (with a little aid from Mommy) to make it up the steps. Tahia exclaimed, "I did it! I did it!" once the climb of this section was over.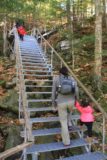 Next, we went into the shadowy section of the canyon as we were making the final ascents past a couple of overlooks that were about as close to the Chute Sainte-Anne as we were going to get.
Since it was getting late in the morning, each of these overlooks were busy with people so we didn't linger for too long.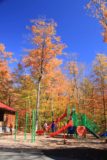 Finally, as we made it back to the entrance area and complex, we let Tahia play on the playground that was here. Clearly, Canyon Sainte-Anne was a kid-friendly place though some of the apparati that Tahia wanted to play (e.g. the monkey bars, the rock wall, etc.) were still too dicey for a 2-year-old.
While Tahia was playing, we got acquainted with some Chinese families who initiated conversations with us mostly about how we made it here. There seemed to be many Chinese visitors or residents it seemed in Canada, and whenever some of them would strike up conversations with us, they seemed to always revolve around the path taken to get from China to North America.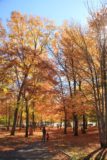 In one instance while Julie was chasing Tahia on the big slide and jungle gym, she bumped her head chasing Tahia due to one of the overhead bars at the top of some stairs. Clearly, this apparatus wasn't meant for adults. But it seemed like Julie hit her head pretty hard, and I wondered if she might have gotten a concussion from it as she felt a bit lightheaded and her head was throbbing for the rest of the afternoon.
At 11:55am, we were finally back in the car. It was a little later than I would've liked because we still had to visit Chute Montmorency, but we also wanted to do a little more grocery shopping as well as visit the Basilica de Sainte-Anne-de-Beaupre, where the twin steepled church somehow reminded us of some of the churches we swore we might have seen in Paris (Notre Dame, perhaps?).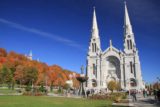 We made it to an IGA in the town of Beaupre at 12:05pm, where we spent a rather inordinate amount of time getting a takeaway lunch while also buying some fruits as well as some water.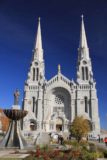 By 12:40pm, we finally were back in the car, and we could see that the basilica was within sight from the supermarket, so five minutes later, we followed the parking signs to go into an area where we had to pay $4 USD to park (which also included some kind of museum pass though we really had no interest in doing it).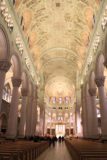 As we were walking the grounds of the Sanctuary of Sainte-Anne of Beaupre, it appeared that we might have been able to visit and photograph the grand basilica without even having to pay for the parking as it appeared there was some street parking and alternate access.
Oh well, we at least made the most of our visit by taking pretty photos of the basilica while also trying to mix in the Autumn colors as well as the juxtaposition of the bridge building against the rich blue skies.
We also paid a visit to the grand interior of the basilica, and we swore that it was almost like deja vu again as this church totally reminded us of the grand European churches we had encountered in our travels to Europe.
At 1:15pm, we were back in the car, and now it was finally time to head to the Chute Montmorency. In hindsight, we should've fed Tahia her lunch picnicking at the basilica grounds because Tahia got sleepy and fell asleep during the drive west to the next waterfall. So she wouldn't get her full lunch, and it was likely that her nap routine would be broken up based on the next attraction we were about to visit.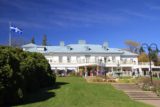 At 1:50pm, after a brief detour (since the nearest exit to the lower car park for Chute Montmorency was closed), we finally made it to the car park for Parc de Chute Montmorency near the Manoire de Montmorency (basically a manor or grand house). We also had to fork over $11 USD to park on the premises.
As we headed towards the overlooks, we saw right away that there was a cable car that went both down as well as back up to where we were at.
However, we had a plan to walk the entire walk downhill in a clockwise manner until we'd reach the lower parking area where the cable car could bring us back up and save us the exertion of climbing all the way back up to where we parked the car.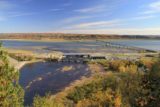 Since Tahia was napping, we knew that she wouldn't be happy when she'd be woken up by us. So we brought the child carrier hoping that perhaps she might get some sleep in the carrier before she'd wake up on her own later and be in a better mood.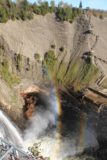 Unfortunately, that plan might have backfired as she had already started to fuss the moment she was awake. But there was no way we'd leave her in the car by herself as we still had to tour this attraction. And given how late it was getting in the day, there was probably no way that we could use the rest of this day to tour Quebec City either!
Anyways, after checking out the view from besides the cable car, we walked up some steps then headed onto a boardwalk that swung around the manor and headed towards a suspension bridge that went above the Chute Montmorency.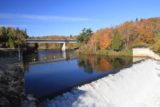 Along the way, there were lookout points that let us look down towards the Ile d'Orleans, which turned out to be an island on the St Lawrence River though we wouldn't have known that unless we looked at a map.
We also went down some steps towards a lookout where we could get a pretty upclose profile view of the Chute Montmorency as well. And as expected, it was fairly busy and crowded at this viewpoint. And adding to the hectic feel, Tahia was complaining inconsolably.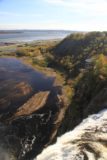 Then, we went on the suspension bridge, which was actually wide enough to let people pass each other as there were numerous people on there. Julie and I took some time checking out the man-modified portion of Chute Montmorency (kind of a small slanted dam wall with water flowing over its 46m or 150ft width) before looking down the other side of the bridge right down at the impressive Chute Montmorency where some of the mist was wafting back up towards us well over 84m (275 feet) below.
Once again, Tahia was crying and urging me to catch up with Mommy while I was busy trying to savor the moment of being at this scenic vantage point.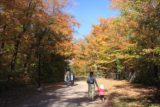 So I did my business quickly, then continued towards the end of the bridge where there were some bathrooms that Julie had to use (and the pause made Tahia fuss even more).
On the other side of the bridge, the walkway became more of the conventional wide gravel pathway flanked by beautiful trees with Autumn color, which seemed to be the norm by now. The colors were accentuated by the waning afternoon sun and clear skies.
There was a path that seemed to go down and then hug the cliffs towards a part of the falls that looked like it would be very close to it in profile, but that path had a locked gate and was closed. I swore there were people down there when I looked at the falls from the other side, but alas, perhaps some people hopped the fence and went there or something.
At this point, we let Tahia off the child carrier and walk on her own. She was in the mindset to not let me carrier her and stick with Julie. So Julie patiently held her hand and let her walk with her for as long as she wouldn't want to be in the child carrier (which turned out to be the rest of this walk).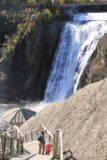 The path eventually swung around and headed in a downstream direction over some bridge over a smaller side ravine before flanking a wide rolling grassy area that looked like it would've been a pretty nice spot for a picnic. There were also nice broad views from there looking downhill towards the St Lawrence River's eastern end.
Eventually, the path flanking the downhill grass gave way towards the next interesting phase of the walk, which was a long flight of wooden steps going downhill on an exposed hill. Something looked unnatural about this barren hill, and I wondered if historically it had been the site of a quarry or something, because it contrasted mightily with the rest of scenery here.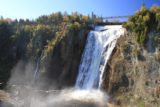 Anyways, the long steps had a few lookout points starting at the very top, then having a couple more "rest" points on the way down. Each one of these vistas offered a slightly lower and angled perspective of the now-partially-shadowed Chute Montmorency.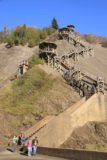 We tried to take advantage of each of these vistas before continuing down knowing that it we weren't going to go back up.
Once we made it to the bottom, we were at a wide concerete platform with some mini wall partitions (I wasn't sure what those were for). It was a bit misty down here though strangely some parts got heavy mist with other parts were bone dry.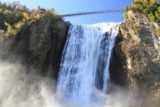 We took what photos that we could from the base of Montmorency Falls, and since we took the trouble of bringing the tripod on this hike, we mind as well use it and try to make a family photo.
Unfortunately, Tahia wasn't being very cooperative (she was pouting and not in the mood to say cheese), and so we didn't linger here much longer.
Then, we walked along the concrete path that flanked the eastern side of this side river downstream of the falls back towards what appeared to be a picnic and playground area. Perhaps that little spot might be what the doctor ordered for Tahia as she wasted no time dragging Julie to the set that was there.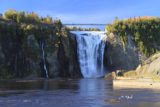 Meanwhile, I spent some more time trying to take frontal photos of Montmorency Falls from the footbridge paralleling railroad tracks and the highway as it crossed over the river responsible for the falls.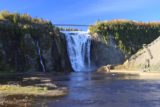 The frontal views from here were a bit distant compared to all the other vantage points to this point, but they were more direct as the concrete walkway was less in the way. However, the late afternoon sun definitely casted longer shadows at this point that pretty much shadowed all of the falls and just a sliver of the Autumn colors were left to their brilliance at the top of the falls on the east side.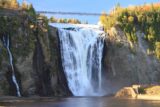 Adding to the challenging lighting conditions were that the exposed quarried cliff was bright the whole time and tricking the camera into thinking that the scene was brighter than it really was.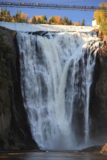 Eventually, Tahia and Julie caught up to me as I was taking my time (though I also wasn't sure if that was the end of the walk as the Bridal Veil Falls further along didn't look like it had an obvious walking path to get there other than following either the road or railroad tracks). So we took some more time to try to take a family photo from the long bridge with the falls behind us, but once again Tahia was pouting even though she was just finished with her play session at the playground.
When we went inside the facility for the lower end of the cable car, we bought the tickets to go back up ($8.95 CAD per adult), and that was when I asked the info person about whether there was a way to walk to the Bridal Veil Falls.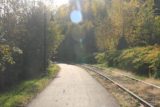 It turned out that there was, and all I had to do was to either walk along the railroad tracks or follow a road leaving the car park (as I had suspected).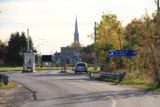 So Julie was watching Tahia in the facility while I quickly made my way towards the extra falls.
The walk didn't at all seem obvious as there wasn't any signs for it. The path along the railroad tracks eventually rejoined the road leading to the car park from its lower entrance. And that was when I realized that maybe this falls was more for people driving to see it.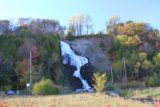 But whatever the case, I was able to see one of the two segments of Bridal Veil Falls, which cascaded its way down towards the railroad tracks and then flow beneath it as well as the road towards the St Lawrence River.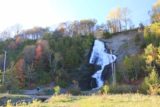 There were power lines and fences in the way so I crossed the railroad tracks and got right up to its base.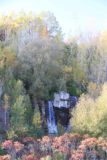 When I had my fill of this falls, which was completely in shadow at this time of day, I went looking for the other segment, but it appeared that the further west I went, the more I just went into civilization and there was no other falls there in sight.
But when I walked back towards the visitor center area and cable car, that was when I noticed there was the other segment that looked significantly smaller and thinner (and more hidden) than the signposted Bridal Veil Falls that I had just seen. It almost made me wonder if it was the other tier that was stated on the map.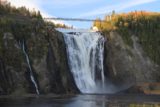 Whatever the case, I was headed back to Julie and Tahia, and there would be no further exploring on this day. It was getting quite late as the shadows were getting longer and whatever touring we had aspirations for on this day was pretty much nixed as we would run out of daylight.
Finally, we rode the cable car, which offered us more views of Chute Montmorency that wasn't available in any other way (though photographing it wasn't easy given the glare on the windows of the cable car). Thus, we completed the loop and could truly say that we fully experienced Chute Montmorency to the max!
At 5pm, we were back in the car, and about 30 minutes later, we were finally back at the car park near our hotel in Old Quebec. On the way back there, we followed part of Rue St Jean, and we could see that it was quite a happening street (even outside the city walls), and so we were determined to perhaps tour this road at night and perhaps eat at a place on that road as well.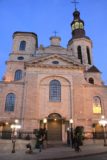 At 5:50pm, we were back in our room. Julie spent some time looking up Yelp for a place to eat here, and she decided on this place called Le Billig. LP even talked about it. And so that was the plan.
We didn't go back down into town until almost 6:30pm or so. It was rather late, and I knew that no matter where we walked to, we'd have to wait in line to eat. The hope was that it wouldn't be ridiculously long that we'd have to have a very late dinner.
So we walked down towards rue St Jean and followed this charming narrow road downhill and towards the city gates. Julie eventually realized that Le Billig was quite a walk from the Old City Walls into the surrounding area, and that it would be a problem given how late it was getting and how far Tahia would have to walk.
So we ended up settling on this crepe place within the city walls, but it had a line. We were probably third in line, and it was probably about a 30-minute wait.
No matter, Julie was determined to have Breton crepe, and that meant we were waiting here.
Eventually after being seated, we had what would end up being pretty substandard crepe. There were no galettes, and the choices weren't that great anyways. That pretty much nixed whatever sweet tooth we had and shunned the dessert crepe from here.
Oh well, maybe we could do the walking tour of Quebec and eat at Le Billig tomorrow…
At 8:45pm, we were finally back in the room. After 9pm, I had to go back to the garage to get some more diapers for Tahia. And that was when I realized that our plan of parking on the top floor wasn't good because the credit card swipe for the upper door wasn't working. Julie also noticed earlier the Hotel de Ville parking that we were originally supposed to do for $2 cheaper a night.
I actually swallowed the extra cost of changing car parks, but when I realized that this car park required stairs and we had to walk around the Hotel de Ville (which was under construction around much of its perimeter) anyways, I made the decision that perhaps tomorrow we'd be better off parking where we had been parking all along but at the lower level.
And so ended this eventful day. Tomorrow, we'd have a pretty tight schedule as we punted all the waterfalls we were supposed to see these last two days (Chute d'Armagh and Chute de la Chaudiere) onto today, which was supposed to be an all-day touring day of Quebec City. So we had two full days in Quebec, but we never really got a chance to really see this city. I guess that's what happens when time was not managed well (too much idling, shopping, spontaneous stops, etc.).
So we'll see what happens tomorrow. Hopefully the weather would hold up…
Day 12: SACRIFICING A WATERFALL FOR THE OLD CITY
It was 6:30am when we awoke to the alarm. We knew that we needed an early start in order to visit both Chute d'Armagh and Chutes de la Chaudiere while trying to see the Old City of Quebec during the daylight hours. And given the pace at which we were waterfalling on this trip, I had a feeling that this might be a bit too ambitious.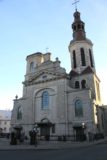 Once again, it took a bit of time to get ready so it wasn't until about 7:50am when we finally got into the car. It was chilly in the morning, but it was surprisingly sunny. I thought today was supposed to be mostly cloudy.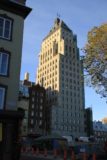 Anyways, as we drove out of the car park, we went back down to the rue St-Jean where Julie could get her fix of croissants at the boulangerie Paillard. This place definitely took its time as I had to keep Tahia company while she was already getting bored waiting for Julie to come back with the brekkie.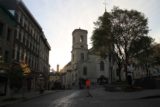 Eventually a little after 8am, we headed out in search of the autoroute. The GPS kept insisting on me taking the ferry across the St Lawrence River, but it wasn't until some 30 minutes later did we finally figure out that I should've routed to the Chutes de la Chaudiere first before going to the Chute de l'Armagh.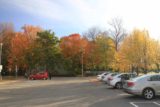 And as it was well past 8:30am when we finally got onto the autoroute after driving a very long stretch of surface streets and traffic lights, I decided that we should visit the Chutes de la Chaudiere first. And then make a decision on whether we should visit Chute de l'Armagh or just sacrifice it so we could spend the rest of the day touring the very city we were supposed to see (and the very reason why I chose to spend an extra third night here).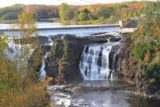 So we arrived at the car park for the Chutes de la Chaudiere, which was well signposted as we were heading south on the autoroute 73 across both the St Lawrence River as well as the Chaudiere River.
At 8:40am, we arrived at the car park, which already had a handful of cars.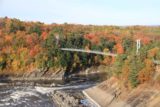 And as we looked towards a partial view of the falls from the first viewpoint, I could clearly see that the falls would be seen against the morning sun (only partially muted by the high clouds rolling in). Not only that, but from looking at the map here, there would have to be some walking to do in order to really experience this waterfall so for sure that would take more time than a typical roadside attraction.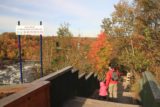 In hindsight, I really wished we could've squeezed in a visit to this waterfall after Chute Montmorency yesterday afternoon, and then devote this morning only for Chute d'Armagh. But I guess that's why hindsight was always 20/20. It was always easy to second guess how things played out.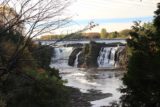 At least the bright side was that this waterfall was free. The bad thing was we could clearly see evidence of man-modifications above the falls (namely some kind of barrage [i.e. dam] holding up the Chaudiere River) as well as the presence of power lines everywhere that kind of took away from what otherwise would've been a very majestic and powerfully wide waterfall.
Right off the bat, Julie and I thought of this falls in the same way we thought of Shoshone Falls in Idaho. There was so much potential there, but it was kind of ruined by all this infrastructure. Nonetheless, the falls were impressive and we made sure to experience as much of this as we could despite the poor lighting conditions (afternoons were definitely better, it seemed) as well as all the modifications around it.
We let Tahia walk around without having to carry her in the child carrier. We figured to make this a similar experience to how we experienced the Canyon Sainte-Anne. Hopefully, we wouldn't be too tired to the point that we'd have to carry her by our arms.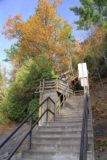 After going through the first partial views of the falls as we descended steps, we then found a series of steps leading down to the river bed. We could see that we'd be able to get more ground-level views of the Chutes de la Chaudiere, but the sun was already too high on the horizon so we would have some pretty dark photos with some bright washed out spots in the same photo.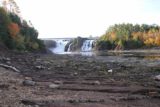 Eventually, Julie and Tahia followed me down the steps onto the rough surface of the riverbed, but we had to keep a very close eye on Tahia because the surface had simply too many potholes and mini-dropoffs that could easily induce "owies" on her.
So we didn't linger down here for too long.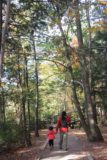 Then, we went back up the stairs (trying not to get in the way of a guy who was doing stairs here for exercise) and continued along the wooded path towards the suspension bridge (or the "passerelle" according to the signs here).
As we got onto the bouncy bridge, we could see more of the segments of the falls (probably at least three of them that were somewhat easily visible from here) as well as a view of the autoroute and bridges looking further downstream against some Autumn colors.
Once we were on the other side of the bridge, we followed a walking path that flanked a mini-gorge that was the outflow of some hydroelectric facility. It looked like the outflow of the dam would come through this gorge.
As we followed this path towards the hydro facility, then quickly continued onto the wooded path as it rounded a little peninsula where the hydro outflow and the main part of the river converged, then we briefly walked back down to the riverbed to experience the ground-level view of the falls from the opposite side of the river.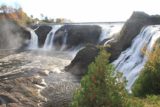 Again, with the sun against us, the photos were terrible. And once again, we had to watch out for Tahia on the rough surface. We also had to be cognizant of the poison ivy that was growing low on the sides of the paved part of the trail.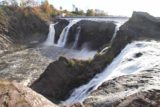 As we werent higher on the established path on this side of the river, we got to some vistas that provided perhaps the best views of the falls that we were able to get to this point. That was because we were able to see all four tiers in a satisfying curved horseshoe shape. So that alone made the walk to this side worth it.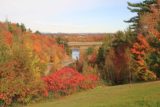 It was a good thing because we came to realize that the trail wouldn't loop back to the other side. Clearly the barrage was impassable by foot. So that meant we'd essentially have to walk back the way we came back over the passarelle and then back to the car park (and not the other car park on this side of the river).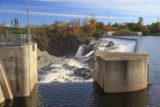 Tahia was getting tired so we had to start carrying her as we descended the steps to get down to the passarelle. And by 10:30am, we made it back to the car park where we noticed that the car park was suddenly quite full. It must be a very popular trail.
As a matter of fact, we encountered numerous families on this trail so it wasn't so unusual that we let Tahia walk with us as other Quebecois families were doing the same thing.
Anyways, we were pretty much done with waterfalling on this day as it was now time to spend the remainder of the day touring Quebec City. Chute d'Armagh was pretty much sacrificed, which was a shame because that was also a pretty waterfall according to the research.
So we drove back to the familiar car park and got there by 11am as we drove on chemin Sainte-Foy and rue St-Jean so we could scope out where we needed to go.
It turned out that the happening part of rue St-Jean was just past where chemin Sainte-Foy became rue St-Jean. And it wasn't much further east of that point when we saw Julie's coveted crepe place called Le Billig.
After last night's disappointing crepe, she was really looking forward to making amends by having crepe at this place, and it could very well be that we'd come here for lunch.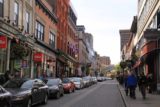 About 20 minutes later, we were back in the room. Then at 11:35am, we finally headed back down into town after Julie did some more yelping with the Wi-Fi connection from the room.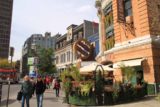 So we brought the baby carrier thinking that Tahia might be a little tired, especially knowing that we were intending to tour the city during Tahia's typical after lunch siesta. So perhaps she might be able to sleep in the carrier even though she would be upright.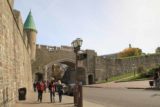 We walked down towards rue St-Jean and then followed it outside the Old City walls. As we were waiting for the Honore Mercier Road's light to turn green for the pietons, we noticed there had to have been at least 4 or 5 fire trucks and a paramedic going past us and turning onto rue St-Jean going into town. We weren't sure why, but whatever it was, it must've been a big deal to have that many service vehicles going in the same direction.
Eventually at 12:10pm, we entered Le Billig. At first, we had to sit at the bar, but then a table opened up and they put us over there for a little more comfortable seating.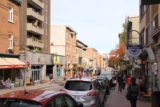 It took us another 15 minutes before we could finally place our order, because everyone in the restaurant were busy. The cook was non-stop motion as she was preparing one crepe and then the next. Meanwhile, the pair of ladies doing the waiting and hosting duties were also frantically moving back and forth placing tables, seating guests, taking orders, and asking how each customer was doing.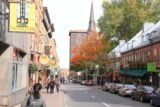 But in the end, the slow service was worth it as we enjoyed a duck confit crepe called Le Bearn as well as some kind of scallop with scallions crepe. Actually the crepes were in those dark buckwheat galettes just like we remembered them when we had Normandie/Breton crepes in France. Even the dessert crepe of chocolate fudge with chantilly creme and an extra pair of vanilla ice cream scoops really hit the spot.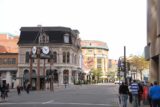 Tahia enjoyed her crepes (at least she fussed less about eating them) and of course she never hesitated (even helped herself) on the dessert crepe.
After the lunch ended at 1:25pm, we headed towards the fortifications (i.e. city walls) where we scaled the steps and walked along the walls. Sure it was not as dramatic nor as long as walking the city walls of Dubrovnik in Croatia, but it did lead us towards the edge of the Battlefields Park while passing by what appeared to be the Parliament House.
There seemed to be some kind of protest going on in front of the Parliament House so we kept our distance. From trying to decipher the angrily spoken French, it appeared that the motive was an anti-war demonstration, perhaps related to Syria.
Anyways, with Tahia on my back and wide awake, we generally walked uphill along this route until we were at the perimeter of the Citadel. From the outside, there seemed to be nothing interesting about the citadel, and we really didn't feel like walking inside the main entrance.
When we got out to the view of the St Lawrence River overlooks, we then promptly went onto the familiar wooden Governor's Promenade.
As the weather continued to deteriorate into increased cloudiness and uncomfortable cold wind chills, we followed along the boardwalk which turned out to be nothing all that special other than more wide and flat views across the river.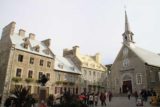 We finally got to the end of the walk where we saw that it ended up at the familiar wide boardwalk with the view of the Frontenac Castle, which we saw on the first evening we showed up to Old Quebec.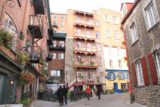 Ultimately, we walked over to the Escalier Frontenac where we descended the steps then entered into the lower Old City of Quebec. And eventually, we followed the signs and arrived at 3pm at the Place Royal, which turned out to be the familiar square that we saw on the first night after dinner. At least now we knew what the Place Royal referred to.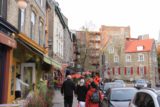 At this point, we let Tahia out of the child carrier so my feet, thighs, and hips felt some relief from not having to carry the extra 30 pounds anymore. And from that point, we walked around the lower old town looking for a dinner spot, which Julie had eyed the Le Cochon Dinque.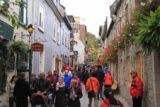 We eventually got there at around 3:30pm, which was too early for dinner. So we put in a dinner reservation.
And then, we returned to our room at 3:50pm. Julie decided to lounge around in the room for the next 90 minutes or so. I knew that based on this decision, there was no way we'd be doing any more sightseeing, including touring the inside of the Chateau Frontenac. Not only that, but we probably were done taking any more sightseeing photos of the chateau in context from the lower old town like we had seen in the post cards.
I hope we wouldn't regret this decision.
Anyways, at 5:05pm, we headed back into town headed for dinner. At this point, the clouds overhead got darker and the winds were definitely blowing and making things pretty cold. Even with my light jacket that usually makes me sweat in them, the wind chill was biting through that as well.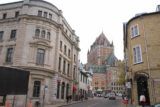 The dinner of maple syrup smoked ribs, bouillabaise, and some duck confit salad with some kind of cured charcuterie-style slices of duck were pretty good. But to be honest, it wasn't extraordinary.
Tahia was also fussing because she missed out on all her naps today. So she wasn't very hungry and she was very tired. Julie had to let Tahia sit on her while trying to eat and feed her simultaneously. And so the dinner was not a relaxing affair.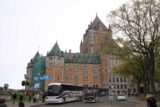 We had no room for dessert so we couldn't try their maple sugar pie, and when we left the restaurant, it was almost dark and it was also starting to rain. So that pretty much killed off any aspirations of doing any more touring for the rest of the day.
At 6:50pm, we were back in the room. Thus ended this eventful day as we had the rest of the evening to unwind, pull stuff from the car (in the rain), and plot out how we were going to check out and get the car loaded up if it would rain heavily tomorrow morning when we leave for Montreal.
I guess we were due for some bad weather as we had been pretty fortunate on this first half of the trip through New England and then the first three days of Quebec. Hopefully, this change in the weather wouldn't last too long…
Day 13: BLESSING IN DISGUISE
It was 5:30am when we awoke as we knew we had to get packed and ready to go, which would require a little more time than usual.
It wasn't until about 7am when we finally brought our stuff down the stairs to the front door of the Auberge du Tresor in Old Quebec. The plan was to leave everything downstairs, and then I'd walk to the car on my own, then drive to the drop-off and loading zone to load up the car before heading out of town.
So by 7:10am, I was in the car, paid the $18 for the maximum daily fare parking, went to the loading zone to collect the rest of the family and our belongings, and then proceeded to drive down to the rue St-Jean where Julie was going to order some breakfast from the Cafe-boulangerie Paillard. Tahia actually recognized what we were doing just as we got onto the one-way rue St-Jean, and she said "Mommy getting croissants". What a smart little girl!
The morning started to get quite busy as the workweek was starting. Traffic was already building up, and the rain from last night seemed to have subsided for the moment.
It took us a bit of time to get onto the Autoroute 40 going west as the GPS had us go on a bunch of surface streets with traffic lights. Most of the intersections didn't have dedicated left turn lanes so the left lane tended to be blocked while the right lane tended to be reserved for taxis and buses.
Once we made it out of the grips of the urban jungle, it was pretty smooth sailing on the Autoroute 40 heading west. Aside from a brief stop to fill up on gas at $1.30 4/10 per liter, we ultimately passed through the town of Louiseville before taking one of the rural roads to the Parc des Chutes de Sainte-Ursule.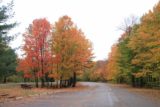 The way there was pretty well-signposted from the main throughfare in Louiseville, and we got there at 10:05am.
The skies above were somewhat dark gray and menacing, but we took the chance at not bringing our rain gear thinking that we wouldn't be spending that much time here.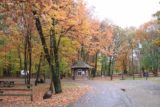 Well, after going into the information center, then paying the $7.25 CAD per adult fare (which was pretty steep for a waterfall that not many people have heard of), and then I was told by the nice lady working the desk in French that the visit should take about 90 minutes.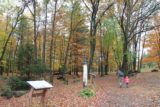 As we left through the info center, we then passed through a wide picnic and play area. Tahia didn't notice the slides and we weren't about to tell her about it until after we did our touring (time permitting).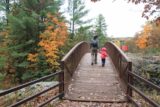 At first, we went over a footbridge crossing the river responsible for the Sainte-Ursule Falls (Maskinongé River). Looking upstream from the bridge, we could see that there was a profile view of a small cascade backed by a bridge that turned out to be for a railroad.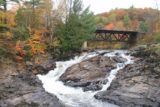 Looking in the other direction, we could see that the cascade continued further downstream as the river dropped out of sight below our vantage point.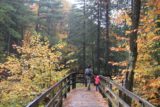 We continued across the bridge to see the first pair of lookouts providing a somewhat angled view of the falls. The wooden paths were slippery wet from last night's rain. So we had to make sure that Tahia and ourselves were careful in our steps so as to not take a nasty fall.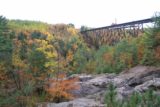 Meanwhile, I noticed from the French signs here that there was an old riverbed adjacent to part of the walk that we were on, except there was hardly any water in it. It turned out that somehow the watercourse naturally took a different path (down the Chutes de Sainte-Ursule) thereby leaving the old path dry. However, I could see that in years past, when the river went over this route, the bare rock dropoffs looking further downstream attested to what was probably an impressive sight.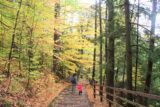 After having our fill of the lookouts from this side of the river (which only yielded partial views of parts of the cascading waterfall), we then re-crossed the bridge and continued downhill on a path following the opposite side of the river.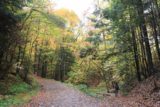 Again, the initial viewpoints were only partial and weren't impressive. Even as we descended down to the bottom of the stairs in one long stretch, there was only a profile view of part of the cascade that couldn't be totally captured in one frame of a camera without super wide angle.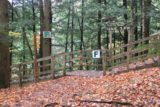 But as we continued on the now leafy dirt trail surrounded by Autumn colors, we then got to an intersection in the middle of some stairs. We took the path on the right to ascend the stairs as the signs indicated that there was a view up there of the waterfall. It was the very vista that the lady at the visitor center told me about in French.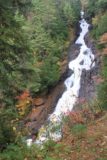 After Tahia and Julie made their way up there, we took turns taking photos and movies to document the experience. One of us had to keep an eye on Tahia to ensure she wouldn't try to climb the barricades. It was a long way down from the bluff we were standing on.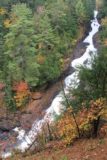 In any case, we were able to see the entire view of most of the waterfall's tiers. It was indeed the best vista, and perhaps the 671m length it took to get here was all that was necessary. There really was no need to see more of the park if the waterfall was the only reason to come here.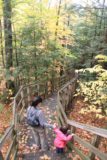 So Julie and Tahia went back down the stairs after having our fill of this place, and then headed back up to the slides and jungle gym by the entrance to the park. I'm sure Tahia would have a blast sliding down those slides.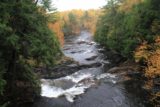 Meanwhile, I continued down the steps to go further downstream. There was a dilapidated lookout of a wide lower tier of the waterfall, but aside from that, there were no more significant tiers of the Chutes de Sainte-Ursule.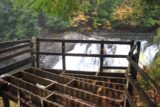 I went as far as the bend in the river at the very bottom of the descent where there was at least one picnic table plus a few more interpretive signs talking about how this forest tended to be humid. Perhaps that might explain why I was sweating so much and feeling hot despite the weather making this somewhat cold.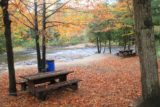 At 11:30am, I caught up with Julie and Tahia at the entrance area. And as the lady predicted, our visit pretty much was 90 minutes.
We promptly left the car park and returned to the nearby village of Louiseville where we stopped at Tim Horton's at 11:55am for some paninis as our takeaway lunch.
Then, five minutes later, we were back on the road where we'd eventually rejoin the Autoroute 40 due west towards Montreal.
Next up on the agenda was the Chutes Dorwin in the town of Rawdon, Quebec, Canada. The drive was pretty uneventful except the GPS had us take a direct route (in terms of shortest distances), which meant we took some surface streets through rural roads passing through the town of Sainte-Melanie before arriving at the town of Rawdon.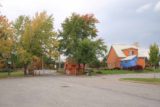 At 1pm, we arrived at the car park for the Chutes Dorwin. It appeared that we were supposed to pay for admission, but the office was closed and there was no one manning the entrance kiosk. Yet the gate was still open and the car park was mostly empty except for a handful of cars.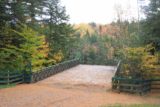 Since Tahia was napping at this point, Julie stayed in the car with her. So I visited the waterfall solo, and it turned out that Chutes Dorwin was pretty easy to visit as the first overlook was less than five minutes from the car park.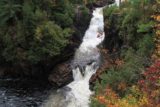 This vantage point was looking directly down at the front of the two-tiered modest falls, and it appeared that the sun was conspiring to break through the clouds so that tended to wash out or darken out my photographs. It wasn't the pleasant colors and even lighting I would've gotten if the skies were blanketed with a consist layer of clouds.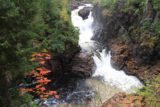 Then, I went down some steps towards a lower lookout. This time, the view of Chutes Dorwin was direct and attractive.
Continuing further downstream on the main trail, there was a pair of developed lookouts next to each other revealing some minor cascades and just the rushing wide river.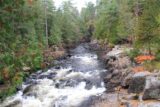 I didn't bother exploring more of the park from here, and so I went back up the steps (and working up a sweat) before returning to the car park at 1:40pm where Tahia was still sleeping while Julie was still reading her Kindle.
When I told Julie about how easy it was to visit this falls, I stayed behind to watch Tahia while Julie went on her own with her iPhone ready. And she would return ten minutes later, attesting to how easy it was to visit this waterfall.
Next, we followed the Autoroute 25 doing south towards Montreal. The drive was mostly uneventful, except as we got closer to the metropolis, the weather deteriorated rapidly and started to pour rain.
This coincided with some confusing signage that had me continue onto a toll bridge that seemed to go away from where we needed to go. Meanwhile, the GPS had me stay on the 440 towards Laval.
Anyways, had I known better, I probably should've entered our hotel address into the Hertz Magellan Unit and insist on taking the route that maximized usage of freeways.
Instead, we were stuck in traffic and a lot of traffic lights as well as some road construction as we followed the route 125 then 720 to get into the Old Port of Montreal. This probably costed us at least 30 minutes more than if we had taken all autoroutes and minimized the amount of surface street driving.
Well, I guess time wasn't of the essence anyways due to the heavy rain. When we finally found the Auberge de la Place Royal, there was temporary 15-minute parking right in front of the hotel. So Julie quickly ran to the room, entered the code, and checked in which asking the receptionist where we should park the car.
Next, I got out the rain gear and took the heavy rain as I was lugging our stuff from the car to the Auberge in a few trips back and forth.
Then, I sheltered Tahia and Julie with an umbrella as they made the last crossing of the rain into the hotel. Then, I was left to my own devices to find the Quai King Edward, which was where I was told to park. And that I did.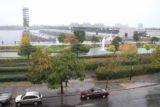 After walking through the rain to the Auberge from the car park on the quai, I was finally in our room at 3:55pm. It turned out that our room was big and charming, and it was easily the best accommodation we had stayed at so far.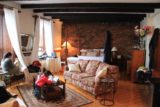 I was really glad that we changed up our itinerary such that we added a night in Montreal as part of our Plan B to improvise cutting out Acadia National Park thanks to the government shutdown. Actually, it was more and more becoming apparent that the government shutdown might have been a blessing in disguise because I'd hate to think that we would only leave ourselves a rainy afternoon in Montreal before checking out and leaving for Ottawa tomorrow (after potentially going out of our way to Bar Harbor).
Instead, we still had all day tomorrow to enjoy Montreal before heading to Ottawa (where we would only have an afternoon and an evening before checking out).
Funny how things work out sometimes…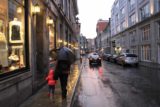 So we chilled out in the room until 6pm when we headed back into town looking for a place to eat. It had been raining nonstop all afternoon, and it was still raining when we left the room. We had donned our waterproof pants along with a pair of umbrellas borrowed from the lobby. Tahia was the only one with cotton clothes (i.e. her jeans).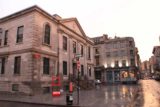 We decided on walking along rue St-Paul in Old Montreal, which was a cobblestoned street flanked by buildings that looked like a mix of old and new.
As we were headed west on this street, we chanced upon some old-looking building with a little bit of space before it. We weren't sure what it was as we didn't have a map with us nor did we have a clue about our orientation in the city.
However, there was a bold and bright full arcing rainbow above that building. So I took some time to take photographs of the lovely refraction phenomenon, and I even tried to go past the building it was arcing over hoping to see and somehow capture the full arc in the open.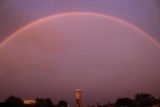 Unfortunately, it was way too broad and high up to capture the whole arc in one frame. In fact, there really wasn't an interesting subject with it so I'm sure none of the photos were that great other than the impressive rainbow being displayed.
After walking as far as this place called Barroco (a Spanish tapas place), Julie realized that this place was a bit too high end (a white table-clothed place) and not suitable for Tahia (or not suitable to those not wishing to be bothered by Tahia).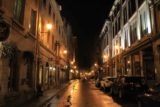 So we ended up going to some Polish restaurant on the same street, and the place actually surprised us with how decent it was. Sure it seemed to have a heavy influence from Bavaria with the polish sausage and some other interesting dishes like a dumpling with meat and cheese stuffings as well as some other kind of meat mini-crepe as well as a stew.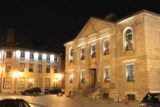 We left the restaurant pretty satisfied and not too stuffed, and we then spent the remainder of the evening walking to the Basilica de Notre Dame, which was an impressively tall building with blue lighting overlooking an attractive square with a fountain and statue in the middle of it as well as some purple-lit Wall Street-looking building on the opposite side of the square.
Tahia was having fun playing with Julie while I was busy snapping photos and trying to hold still as much as I could without a tripod and while fighting the biting chilling winds that followed after the passing storm that dominated much of this afternoon.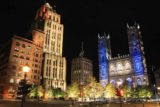 There were about a dozen or so other people enjoying this square as well while I saw at least two people with tripods taking lower-noise photos of the fountain and basilica.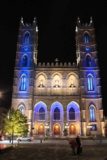 So at least we wouldn't have to worry about doing this tomorrow. That would at least buy us the ability to sleep in a bit for a change tomorrow morning.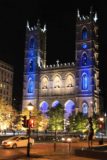 With the night sky looking like it was clearing up, that would bode well for us to spend the entire day touring Montreal. Again, it wouldn't have been possible if not for the government shutdown forcing us to execute on plan B on the fly where we stayed in Portland Maine (instead of Bar Harbor for two nights), moved our 3-night block of Quebec City up by a day, and added an extra night (2 total) to our Montreal block.
We finally returned to our charming accommodation at 8:45am. And now we could finally call it a day on our first of two nights in Montreal.
After all the early wake-ups and long drives for most of this trip, I was really looking forward to tomorrow as a more laid change-of-pace kind of day. However, Julie was also looking forward to it as a waterfall-free day.
Day 14: JE ME SOUVIENS
It was 7:15am when we first awoke. Actually, Julie was awake well before I was. And when I first got up, it appeared that I had just missed the most dramatic part of the sunrise. It was still pretty nonetheless.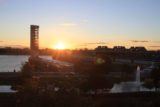 At 8:15am, we were ready to go out on the town. It was a chilly but clear morning with biting cold winds making me feel a little uncomfortable in short sleeves. But I figured while I was carrying Tahia throughout the city on my back, I would be warmed up just on the exercise.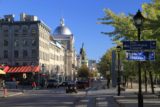 Our initial route that we took headed towards the Quai Horloge, which was the clock tower on the furthest cape. We probably went as far as the park fronting the clock tower, which was way out on a jutting out part of the quai, so we got rather distant photos of it. However, when we looked back towards the city, it seemed like the morning light was perfectly positioned to showcase the skyline of Montreal while fronted by beautiful Autumn foliage.
We probably headed back towards Old Montreal (or Ville Marie), by 8:45am, and we got into the real part of Old Montreal at around 9am.
The town was rather dead in the Morning as hardly any brekkie place was open around this area. So we were pretty much relegated to taking photos of the old school buildings around rue Jacques Cartier. And as we were touring this area, we realized that this truly was the Old Montreal we were looking for last night.
After we had found a brekkie place for some croissants (it was next to the visitor center on the upper side of rue Jacques Cartier), we then wandered a bit until the Visitor Center was finally open at 10am.
That was when we finally got our useful city map that showed everything in one shot and in context. It wasn't useful for us to be seeing maps of each district all separate from each other without that sense of context that had been missing up to this point.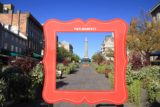 So when we finally got our questions answered by the helpful guy at the visitor center, we took his advice and took the Metro towards the Mont Royal stop; arriving there at 10:40am. From there, we walked towards Mont Royal when we found the Bus Line 11 pulling up to a stop that we happened to be next to.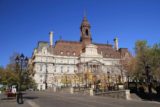 It was a good thing that we bought the Metro day pass because our bus ride was included in the fare. So we hopped on, and took the ride up Mont Royal towards a stop right across the street from a cemetery.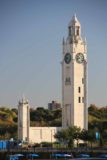 It was also a good thing we took the bus up the hill because it seemed like quite an ascent.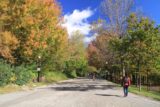 Once we disembarked from the bus, we followed the signs towards the Chalet du Mont Royal, eventually arriving there at 11:10am. At the side of the chalet facing the city, there was a wide semi-circular terrace with a grand view of the main downtown area of Montreal as well as the St Lawrence River.
What was interesting about the visit up here (besides the view) was that the name of the city Montreal came from Mont Royal, which Jacques Cartier named as he was credited with being the first non-Native American "discoverer" of Canada and Montreal.
When we had our fill of the wide open overlook, we then went back inside the chalet, which had a very grand and long main ballroom. There was a piano there where Tahia was having fun pounding on the keys and making noise.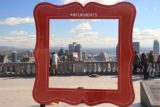 And when we left the chalet du Mt Royal, we then headed down a path that involved dirt inclines and steps. Eventually, we'd make it down to the bottom of the hill by Peel Street somewhere near the McGill University with several buildings dedicated to particular aspects of the school.
We ended up taking the metro towards a connection at rue Berri, then we went from the green line to the orange line where we exited at the Place a'Armes.
By this time, Tahia was totally out. Actually, she had been out since we were about finished with the descent down Mt Royal.
We were now entering Chinatown, and as we were walking up the street up towards a dumpling house that Julie had read good things about, we noticed there was a charming street in Chinatown. This caught our eye because of all the Chinatowns we had been to over the years, this might have been the first time it was actually a charming spot instead of something run down as they would normally be.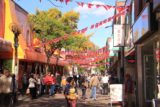 It was about 1pm when we were seated. Tahia at first was fussy (as expected) when she woke up, but all it took was one of those cat mini-statues with the arm waving back and forth. That seemed to have entertained Tahia and put her in a better mood.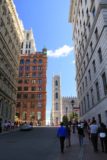 It turned out that our dumpling meal was surprisingly delicious. Well, at least the steamed dumplings of pork with mushroom and shrimp was delicious. The potstickers weren't good.
The place didn't take American credit cards so we had to pay in cash and get back Canadian currency as change.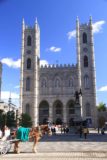 Then, as we left the place (Tahia was no longer on my back at this point as we let her walk around on her own), we walked through the charming part of Chinatown.
Aside from the cigarette smoke, it was a pretty fun place to walk through and we even helped ourselves to a pair of mini egg tarts.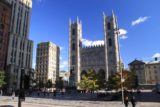 Next, we walked past the Palais des Congres (which wasn't anything special), and headed back towards the familiar Basilica de Notre Dame de Montreal. Now that it was broad daylight, the place was mostly in shadow but it was still quite a nice place to take photos.
However, since we were there at 2:25pm, we paid the $5 per adult to go inside where we caught a 2:30pm tour.
Once we were inside the cathedral, we were quite amazed at its grandeur which was different from the other cathedrals we had been to in that there were lots of blue lighting.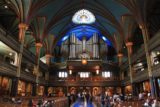 The guide explained why they were blue (it wasn't the color of the sky; and I forgot exactly what it was) as well as other little tid bits about the cathedral itself, which turned out to be made of mostly wood but later reinforced with steel beams and concrete since the wooden structure itself wouldn't have lasted very long given how it would react to the elements (expand, contract, mold, etc.).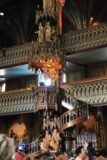 There were other little tid bits like the stain glass windows flanking the interior that were depicting scenes of the history of Montreal (instead of another rendition of a biblical story), and we were also getting an explanation behind why there altar itself had its windows blocked (because it was facing east and into the rising morning sun).
Tahia was getting restless and making noise during the tour (not surprisingly) so Julie decided to leave the tour early and take Tahia back to the room, which was less than a couple of minutes walk away from here.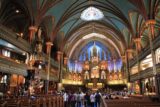 Meanwhile, I stayed behind where we were then shown the back chapel (which we wouldn't even have bothered to look) where there was an impressive brighter chapel with a bronze altar. Apparently, it was supposed to mean something to the effect of the tree of life.
When it came time to ask final questions for the guide, I asked about why every Quebecois license plate had the phrase "Je me souviens" (which I suspected meant "I remember") on it.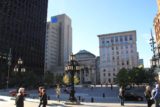 She explained that it came from a poem about Canada's ties with England, and apparently what was being remembered was the strong ties with the crown. Actually, the more I thought about it, the more how I could see that it would fly right in the face of the separatist movements that I had read that many Quebecois people felt passionate about as well as the whole Independence notion that had taken place in America.
Anyways, it was 3:10pm when I returned to our nice and spacious room at the Auberge du Tresor. When I came back, Tahia was napping (kind of) while Julie and I spent the time just unwinding for the day and trying to prepare ourselves mentally and physically for the early dinner and then the lit up gardens, which we were anticipating and hoping to see at twilight (it was simply too rainy last night to try that out yesterday).
We headed back downstairs for dinner a little after 5pm and we ended up eating at some French restaurant at a street corner near our accommodation. This place specialized in country food, and we were eyeing it last night but we feared that it was too crowded at the time. This time, we got there at 5:15pm and we were hoping to get out of here during the twilight hours so we could check out the lit up botanical gardens under the best lighting conditions.
Well, at first we were concerned that they couldn't take credit card and we didn't have much cash on us (knowing that dinners tended to cost upwards of $60 USD or more). So I had to go up to our room to fetch more cash from my wallet.
In any case, we were looking for a quick meal, but it turned out to be a two-hour affair. I guess dinners here were never quick unless we went takeout or something. But for something involving service, we can't get in and out like we were used to back at home.
The food was OK. Probably the best thing we had was the profiterole dessert, which Tahia insisted on having as soon as she saw the ice cream and chocolate fudge on it.
So it wasn't until 7pm when we finally left the restaurant and walked towards the Place d'Armes metro stop. It wasn't too bad of a walk as we passed right by the Notre Dame basilica, and then walked another block towards the Holiday Inn Select with the pair of pagodas on its roof.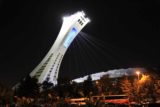 Then, we got onto the train (we were on the orange line) headed towards the connection with the green line at the Berri stop. Then, we took the green line for 6 stops towards the PIE IX stop. And from there, we were at first a little disoriented about which direction we were supposed to walk, but it turned out that the bus driver at one of the bus stops pointed us the way to walk.
And after a block of uphill walking within sight of the leaning tower of the Olympic Stadium, we were at the entrance to the botanical garden at about 7:50pm. That pretty much left us a little over an hour to check this place out before they'd close the doors at 9pm.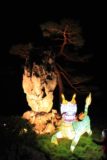 The admission price was about $30 CAD, which was pretty painful. Julie and I expected this place to be kind of a gimmicky and kitschy contrived attraction, which made us feel like the admission might be a rip off, but the point of this excursion was to get Tahia into the display and to see if the TripAdvisor reviews (which spoke highly of this place) was justified.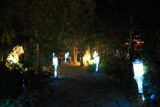 We knew going into this attraction that the Mosaiculture was done. Apparently, we missed it by a week.
So after paying the admission, taking a terribly needed bathroom break, and letting Tahia briefly play in the Halloween section where there were plenty of activities that the kids would enjoy, we then walked towards the Chinese Garden.
The place started off humbly enough with a bunch of little statues made of those paper lanterns lighting up the path and giving Tahia something to get excited about. Then, we entered into some pagoda entrance with walls, and after going through there, we started to see a few more displays that were lit up in all sorts of different bluish light (creating that moody ambience).
However, when we then turned towards a more official entrance archway and then rounded a corner, we were awestruck by the sight that was before us…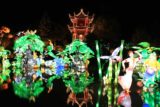 There was a mosaic of more lit up lanterns surrounding a large pond. There were lantern statues in the pond, around the pond, and the many pagodas were also lit up by the perimeter. It was a sight truly to behold, and it was at that moment that Julie and I went from skeptics into feeling much better about paying the price of admission to come here.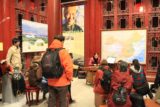 So we took our time basking in the grandeur of the scene while also paying more attention to what the displays were trying to tell us. And apparently, each display focused on a particular region of China thereby showcasing the diversity that one could experience in the massive country.
Many of the displays we were able to identify with as we had personally seen some of what was being communicated firsthand during our 2009 visit to China. So our time here meant a little more to us than just the light display.
There was even a fake waterfall in this garden as well, which got Tahia to say, "Pubu!"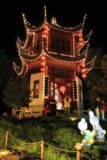 After having our fill of the Chinese Garden, it was very close to closing time, but we followed the "Sortie" signs, which ultimately led us towards the Japanese Garden. But as we got into that area, we saw that it lacked the grandeur and drama of the Chinese Garden.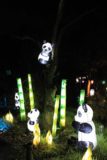 Actually, it was pretty much some plants and trees being lit up, and perhaps the most interesting part of this area was the paper gallery where there were some crazy things that were made strictly out of paper, including a wedding dress!
As we were leaving the botanical altogether, we saw that there were the hedges that were creatively cut as part of the Mosaiculture event that we had missed by a week. Unfortunately, none of them were lit up so taking photos of them in the dark was not feasible (especially without a tripod).
And when we returned to the entrance, Tahia was bummed that she couldn't get to ride on slides anymore since the playground area was no longer lit up.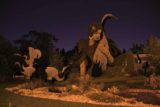 So by 9:25pm, we were back at the PIE IX metro stop. I knew it probably wouldn't be until 10pm when we'd finally return to the room. And sure enough, we returned to our charming and spacious room at the Auberge du Tresor at 9:55pm.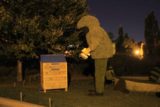 It had been quite another event-filled day, and there would be no rest for the weary despite our late sleep time because we'd have to drive out to Ottawa tomorrow for our lone night there. There was one waterfall en route, plus two more within the city. We'll see if we'll be able to do the waterfalling we need to do while still feeling the essence of what Ottawa had to offer…
Another busy day coming indeed…
Day 15: STALE WATERFALLS
It was 5:30am when we awoke. It was still dark outside though there was noise coming in through the open windows resulting from a very long train that had been passing by for over ten minutes and counting! I sure hoped that we wouldn't be caught waiting for a train like this as we would be trying to drive out of the King Edward Wharf where the car had been parked for the last day-and-a-half.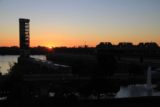 Sunrise happened at around 7am, and we managed to catch it this time while Julie was getting ready and packing up her stuff. Tahia had already been aroused and woken up by this time.
It wasn't until about 7:25am when I was finally was able to walk over to the wharf and get into the parked car. The train had been long gone by then.
I had left our heavy luggages unattended at the bottom floor of the auberge expecting that Julie and Tahia would catch up and meet me at front of the hotel where I'd pull up to meet them.
Once we were loaded up and ready to go, we were leaving the Old Districts of Montreal for the autoroute. Unlike in Quebec City, it was fairly straightforward at least getting to the autoroute. However, as we were trying to flee Canada's second largest city, we started to hit traffic.
It seemed kind of strange that we'd be stuck in fairly gnarly traffic while we were trying to leave town instead of heading into town (i.e. where most of the the flow of traffic should be going). But whatever the case, we sluggishly made our way to the AUT-40 east instead of the AUT-40 west where a sign said in French that the westbound lanes were congested. The GPS had us go east despite the westbound route seemingly being the shorter one (go figure).
Probably after a slow 30 minutes or so, we were able to go from the 40 to the 15 where the sign was correct in saying "circulation fluide".
From seeing how large the traffic was going the other way as we were headed northwest out of the city on the Autoroute 15, we were quite surprised to see traffic still persisting until we were almost at the suburb of Sainte-Theresa.
Anyways, when we got off one of the exits at Ste-Theresa, we made a quickie breakfast run to go at Tim Horton's at 8:20am, and then we made another stop at IGA (in the same parking lot) for a replenishing of fruits and water. Hopefully, this run would last us for the last week of this trip.
After about 8:55am, we were done with those errands including one last stop at a gas stop to fill up the car (at probably the cheapest rate in Canada that we had seen so far at $1.28 4/10 CAD per liter), and we were off.
Eventually, we followed the AUT-15 north and then followed along the AUT-50 due west. The GPS didn't recognize that the AUT-50 freeway continued all the way west so I ended up making good time against the predicted GPS time (which expected we'd be taking the Route 148) by the time we got off the AUT-50 near the town of Plaisance.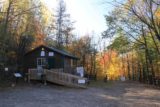 From there, we saw that there was a sign for Chutes de Plaisance at the turnoff for Rang Malo, and then we followed this rural road for 2km or so until we got to an obvious and well-signed unpaved car park for the Chutes de Plaisance at 10am.
It looked like there was an entrance kiosk, but no one was there to man it. So I guess our visit would be free.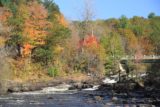 Since Tahia was well into her nap, Julie decided to stay with Tahia in the car. Thus, I'd be solo-ing this hike.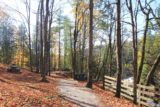 Well, it turned out that the "hike" was really more of a stroll on a wide unpaved road before there were spur paths that paralleled the road but provided access to a series of picnic tables sandwiched between the road and some fences erected to keep people from falling into the river.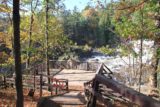 It was barely a few minutes before I already found myself near the top of what appeared to be a series of cascading and thundering waterfalls.
A few more paces further downhill, I found myself on a large lookout platform with a view of what appeared to be the two largest tiers of the Chutes de Plaisance backed by Fall colors.
There were at least two or three more tiers and segments of the waterfall (I noticed at least one lower one to the left and on a flanking waterfall on the right). There was absolutely no way this could be capture in one shot even with a wide angle lens.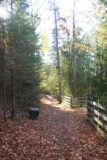 Indeed, this was one of those places where the pictures couldn't do it justice, and you just had to experience it instead of just taking photos or looking at pictures.
The falls was thundering loudly and I could just sense the turbulence and power that gave rise to the raucuous.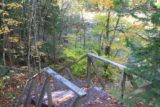 Beyond this main overlook, I then continued further down along the fence where I then found some stairs leading all the way down to the base of the last gushing tier of the Chutes de Plaisance.
While at the rocky riverbed, I scrambled over to where I saw numerous cute little rock cairns stacked up and shaped like little stick figures.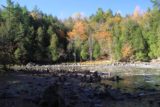 Even though the water down here was accessible, the river was flowing fast. I recalled a sign earlier on saying the park was not responsible for any accidents, and I'd imagine most of the accidents would probably happen around here.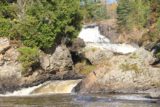 Anyways, the view of the falls from down here was mostly partial and not very good. So I didn't linger here too long.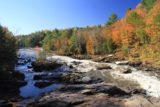 At 10:40am, I was back at the car after briefly checking out the uppermost cascade beneath the road bridge by the car park.
And with that, we headed out and were bound for Ottawa.
The drive further west on the AUT-50 was uneventful, and we'd eventually enter into Ottawa on a gorgeous late morning.
As we were driving through what appeared to be a pretty happening downtown district, we then found our hotel (the Capital Hill Hotel & Suites) on Albert Street at 11:25am. Fortunately, they let us check in early, so Julie returned to the car to watch it as I took our luggages as well as the room key, and got our stuff into our room, which turned out to be quite spacious and very Holiday Inn like.
At 11:40am, we headed out in search of the Prince of Wales Falls (also known as the Hog's Back). It turned out that this place was some 8km or so south of the downtown area where we were staying. We had taken a bunch of rural streets to get here (I think Colonel By Road or something like that), which was flanked by what looked like a nice bike and running path alongside the Rideau Canal in a park-like setting. It seemed like a nice little place for some exercise if you happened to live here or work here.
Anyways, it didn't look like this place was that well served by public transport (no metro; just buses), so it was a good thing we were able to drive out that way in our rental car as the traffic seemed to be pretty straightforward.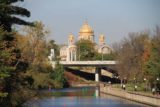 After a quick pick-up of Subway on the go, we finally made it to the Hog's Back Park at 12:10pm. But for some reason, I had thought that we were in the wrong car park (i.e. we should've gone west instead of east) because it looked like the direct view of the falls (visible from the road we were on) was on the other side of the bridge.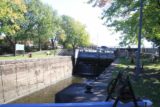 So we got back in the car and made our way across the road towards a much smaller and more humbler picnic area and car park. This time, we were by the Rideau Canal lock, but it didn't appear that there was direct access to a view of the Prince of Wales Falls.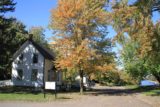 Now since it was now 12:15pm at this point, we just decided to have our takeaway lunch picnic though Julie was on the lookout for any black squrrels (or any squirrel for that matter) try to come by and pilfer our lunch. We also kept a keen eye out on Tahia since this side didn't have much fencing to keep her from falling into the lock if she happened to go that far.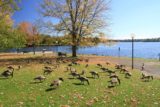 It was about 1pm when we had our fill of the picnic while also briefly checking out this lock-side scene.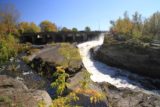 At 1:05pm, we were back on the other side again (i.e. the side we should've stayed at in the first place). And from there, all of us got out of the car and quickly walked over to the established overloks of the snaking Prince of Wales Falls (which was a name I stuck with based on what an author of the Ontario Waterfalls book said despite there not being signage explicitly saying this).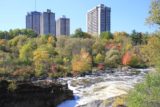 From the immediate side of the overview nearest the large car park, we were able to get some profile views of the waterfalls while the sun was shining from behind me. It looked like there was some vestiges of concrete in the river itself, and it made me wonder whether this falls was even legitimate to begin with. But the more I thought about why they had a lock in parallel with this, the more I realized that perhaps the falls was there originally and the lock was the engineering solution for boats to around it.
Julie stayed with Tahia as she was busy picking up twigs instead of leaves. I guess she had found a new preoccupation now.
The thing with these waterfalls was that it was simply too difficult to try to capture the whole scene in one shot. So I took movies instead, hoping that at least one or more of these would help people be a bit more energized for the day while. We still had quite a bit of things to see and do so I had to sit tight and make sure I wasn't going to leave while filling the shopping car.
When I crossed over the bridge to get to an island opposite the initial views I was able to see a more direct view of most of the cascades comprising the Prince of Wales Falls. There was even a bold rainbow that came about in the early afternoon clear skies as I was generally looking downhill over the falls beneath the bridge crossing over the river.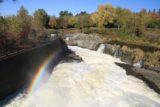 I was a bit cautious when I was on the island because there was one pocket of the walkway that was getting mist from the spray of the powerful falls. As I proceeded through the misty section, I tried to turn away from the mist itself knowing that the water smelled and it was a little green (a given with urban waterfalls I guess). I just didn't want any pollution and dangerous microbes finding a way into my orifices and get me sick.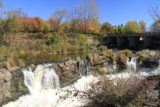 So at 1:30pm we finally had our fill of Prince of Wales Falls and returned to the car.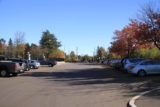 About 20 minutes later at 1:50pm, we found a parking lot near the Rideau Falls, which looked like it had a park-like setting as well though there were also some official-looking buildings in there as well. The car park we were in seemed like it was probably mostly for employees working a barrage (dam) from the east side, but there were other signage saying something to the effect of "dignitaries". Hmm, I wondered what else went on over here.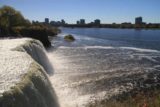 Given that the only parking spot we could find this side of the busy Rideau St was an authorized vehicle spot, Julie and Tahia stayed in the car while I quickly made my photo run to see Rideau Falls. And like the Prince of Wales Falls, Rideau Falls also had a history of man-modification.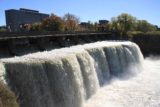 I started by walking a short ways over to the east dam where there was a little shelter with an angled profile (and slightly misty) view of the wide Rideau Falls (or at least one half of it). Once again, I was cognizant of the pollution in the water and the mist getting into an orifice.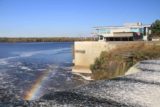 Then, I crossed over the barrage and continued onto what seemed like a park area. There was an overlook looking downstream at the Fall colors and some islands in the Ottawa River while also looking back in the other direction at the east side of Rideau Falls (and with the afternoon sunlight instead of against it).
Next, I continued walking in a westerly direction as I then crossed onto another bridge above what was now the western dam. Here was the other half of the segmented Rideau Falls. And from this side, I was able to see a rainbow in the mist as I looked downstream from it.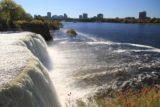 After having my fill of this side of the man-made falls, I checked out some of the monuments in this park which seemed to be dedicated to people who lost their lives in war and in humanitarian aid. I was also contemplating what the authors of the Ontario Waterfalls book saying how this falls was "stale", which I'd agree with him given how it seemed like this waterfall was more like a dam release than a real flowing waterfall in natural settings.
At 2:10pm, I was back at the car, and eventually at 2:35pm, we were back in our room to briefly unwind for a bit. We spent this time getting unpacked and doing some TripAdvisor action to see what there was to see and do in the main part of Ottawa.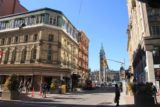 After deciding to check out Parliament Hill and the Byward Market as well as the Notre Dame Cathedral, we headed out at around 3:40pm. The lady at the reception helped us with a new and better contextual map as well as quick instructions on how to get to the places we had targeted (must be a common question she gets from visitors).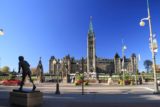 It wasn't until about 4pm that we finally made it to Parliament Hill, which was a large plaza flanked on both sides by some fancy looking churches (the one on the left was closed) that were really other wings of some government activities. We fancied what going to work in this environment would be like.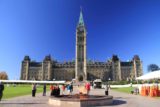 In front of the Parliament Building walkway, there was also a fountain with fire on it. However, from being able to identify the unmistakable smell of natural gas (methane), it was obvious to me that the fountain wasn't flowing of water but of natural gas instead (psyche!). That would explain the paradox of a flame burning on top of what we at first thought was water.
The sun was pretty intense on this afternoon so all the photos looking west were pretty much against the sun and washed out. Maybe I was taking a risk by not slapping on sunscreen during this late afternoon visit. However, looking east, it was nice to see these fancy buildings contrasting the deep blue skies behind them.
After getting our fill of the Parliament House and the Fairmont (which looked like another fancy castle, except this one looked a lot more modern than the one we saw in Quebec City), we then continued walking towards the Notre Dame Cathedral, which was right across from the Museum of Fine Arts.
The cathedral was shining brightly because both its steeples seemed to have a silver coating on it. Thus, it created some pretty tricky lighting conditions for photography. However, aside from the fancy spider statue with long legs by the Museum of Fine Arts and the facade and interior of the cathedral itself, there really wasn't much else worth photographing in our eyes.
So we left the Notre Dame at around 4:45pm, and then we headed right into the Byward Market. And basically most of the time spent here was pretty much window shopping and eating food. The market itself in general somehow reminded Julie and I of Pike's Place in Seattle, but this seemed to be quite an extensive series of city blocks of markets that ranged from fresh fruits to gastro pubs and cafes to fashions, and even some home decor stuff. Talk about a centralized one-stop place to shop!
Apparently there was some history involved here too because this also happened to be the place where commerce took place during the establishment of Ottawa over 200 years ago or so.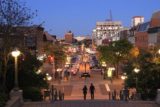 Given its size, there was no way we'd explore all of this place so we only focused on what we thought were the most happening parts based on how much foot traffic we were seeing from block to block.
After walking a handful of blocks, we finally decided on eating at The Grand Pizzeria and Bar, having arrived at 5:20pm.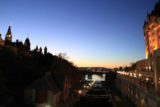 It turned out to be pretty humble authentic Italian food, and with classic spaghetti and meatballs as well as the pretty decent Napolitano-style pizza, the food pretty much hit the spot.
Julie even got some kind of apple cider, and this place served us a glass of that pretty nice-tasting cider.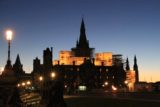 I could also see how people watching in this area could be a sensible activity (though we were seated indoors due to the lack of shade on their outdoor seating as the shady part was not available).
All in all, the restaurant bill turned out to be about the same as the other dinners we had been paying for up to this point (typically upwards of $60 USD), but of all the places we had eaten at in Quebec so far, we had to say this comfort food at this place was probably the best dinner we had on this portion (i.e. the Quebecois part) of the trip so far. I guess it just goes to show you that sometimes the simplest things were best.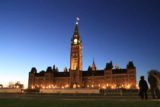 When we left the dinner at 6:30pm, we headed back towards this cupcake place still within the Byward Market. And it turned out to be one of the best-tasting cupcakes we could recall (even better than Sprinkles). Still for the pair of cupcakes we had together, it costed over $7 CAD. Ouch!
After indulging in our sweet tooths, we then returned towards the Parliament House. By this time, the sun had already set, but there was still enough daylight to have that twilight dark blue sky effect.
Finally at 7:20pm, we were back in the room. Unfortunately, I had discovered that my case containing a memory card had fallen out of my camera bag, so that kind of put a little bit of a downer on an otherwise satisfying day. I guess I should've seen it coming because there had to have been at least 3 or 4 times in the past where things had fallen out of the zippered flap because I had forgotten to zip it up somehow (but I was lucky to have caught things fallen out at the moment). But not this time!
At least I had no pictures in there. However, that just meant that I'd have no backups again. Given that those items had been used for at least a few years, I guess it wasn't like I threw money away (though it certainly felt like I did). But whatever the case, I couldn't worry about that now. There was nothing I could do about it.
And so ended this day, which was our last day involving Quebec. Technically, Ottawa was on the Ontario Province side of the border. Tomorrow, we'd be crossing back over the border into upstate New York in the Adirondacks. I figured it would be a lot of driving so the spacious room we were at here in Ottawa was going to be short-lived as we'd have another early morning wake up and packing.
Thus, we would begin the final segment (or week) of our New England/Canada trip…
Visitor Comments:
Got something you'd like to share or say to keep the conversation going? Feel free to leave a comment below...
No users have replied to the content on this page