Day 10: RETURN TO EUROPEAN CHARM
It was 1:55pm when we left the US-Canada border station on the Hwy 201 though on the Canada side, it became Route 173. Immediately, I had to change the settings on the GPS to metrics mode so things like the speed indicator wouldn't falsely make me think that I was going too slow when in fact it would cause me to speed.
Julie was itching for me to make a stop somewhere so we could at least have a takeaway lunch, and we finally decided on stopping at a Subway in the town of St Georges at 2:15pm.
There was still quite a ways to go in terms of getting to the heart of Quebec City, and after having spent over 5 hours on the road, the whole family was so ready to get there and walk a bit.
Apparently our GPS map was a bit outdated for Canada because it wasn't until we were at Saint-Joseph-de-Beauce were we directed to finally leave the surface streets in favor of the autoroute 73. However, we probably could've done it all the way back at St Georges as I had recalled seeing signs for the autoroute 73 even back then. That probably costed us a good half-hour given all the traffic lights, plus traffic, plus road construction.
Given how late it was becoming in the afternoon, I decided to skip Chutes d'Amagh (which was on the itinerary for today) and punt it to a later day on this trip. I figured that it was more important to at least see Old Quebec when the weather was still agreeable. Who knows if the weather would suddenly turn tomorrow such that the visiting experience would be impacted?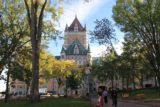 Eventually at 4:10pm, we would enter the heart of Old Quebec and find the Auberge du Tresor, which was right by the Chateau de Frontenac, which was the castle in the heart of Old Quebec. Right off the bat, we could see that our accommodation was centrally located, and we could also see that this place had that familiar European charm that was like we were back in Europe again.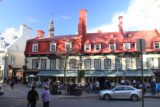 The first ten days of this trip was spent being charmed by the colonialism of New England, but here we could see that the charm factor blew away any of the American counterparts by many times.
We couldn't wait to finish checking into the hotel and then find parking. And when Julie did the check-in and was given instructions on how to find the parking, we had to navigate through some of the maze of one-way streets (just like in Europe) until we found the rather tucked away hidden car park, where we promptly parked the car at 4:30pm.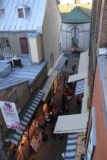 Then, we had to carry Tahia in the carrier while hauling up our luggage walking a couple of city blocks within the Old City until we got to the Auberge. Then, we had to lift up our luggage up a couple flights of stairs since there was no lift.
So mercifully, we finally made it to our room at 4:50pm.
When I was done unpacking my stuff and setting up Tahia's tent, I couldn't help but notice that there was some kind of balcony or walkway just outside our room. It didn't look like it was supposed to be accessed by guests, but the window opened as if it was a door.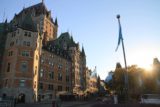 The first thing on my mind was how disastrous it would be if Tahia figured out how to open the door without us noticing. Right off the bat, I could see this walk was very dangerous for little toddlers, but at the same time, I was curious to see where this walk led up to. But after a few minutes of climbing up to the roof, I saw that there wasn't really a view (unlike other rooftops I had been to). So I figured this was nothing more than a utility walkway for workers (or for thieves, who knows?).
Anyways, with daylight fading fast, we quickly got settled, and then we headed back out into town at 5:15pm.
The first thing we did was to walk towards the wooden promenade sandwiched between the Chateau de Frontenac and the views of the wide St Lawrence River. With the long shadows, the photos didn't do justice to the beautiful views that were before us.
We spent a good deal of time walking with Tahia trying to soak in the scenery and the atmosphere of this spot. We even walked further up some steps and a hill for a few more panoramic views of this part of Old Quebec perched above the surrounding remainder of the city.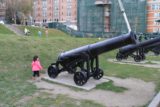 As we were headed back down to the Governor's Walk, Tahia noticed some cannons that she thought she could ride. We indulged her for a bit in the hopes that we might get some priceless photo ops. Yet it was getting late in the day and all of us were looking for a place to eat for dinner.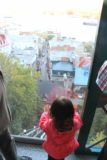 Then, we walked towards an operating funiculaire, which costed us $5 USD ($4.5 CAD) in cash. Tahia was digging the views from the funicular through the window as the car was moving. A French-Canadian lady thought our little girl was like a cat in that she was saying "Wow!" a lot, and it reminded her of the "meow" sound.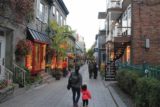 Once we left the funicular, we found ourselves in another charming little walking street. Since Julie was very hungry, we went straight to Le Lapin Saute for dinner instead of spending the rest of the twilight hours checking out the scenic district of Old Quebec.
We'd end up having an interesting meal that served up a variety of ways rabbit and duck could be prepared, including foie gras, smoked, confit, stuffed, and others.
Since we were seated outdoors, we were starting to feel a little bit of the cold air, which was noticeably colder than anything we experienced while in New England. I suspected it had more to do with the incoming cold front that was about to make its way here, but whatever the case, I managed to get bit by some mosquitoes, which was surprising considering how cold it was getting.
When we had our fill eating, we then walked around some more doing some explorations under the night where we noticed there were a lot more to see and do within this district than the two streets we initially thought was all to this area.
Indeed, it further reinforced the notion that this place was probably as close to Europe as one could imagine in North America. I was now worried about how we were going to mix waterfalling while touring this most charming of places all within a limited amount of time even though this was only night 1 of 3 here.
Eventually, we'd go up the Escalier de Frontenac (Frontenac Stairs), which Tahia managed to do on her own; an impressive feat considering it winded just about everyone else. I guess this was indicative of the amount of energy that was pent up in our little daughter.
By 8:15pm, we finally returned to the Auberge du Tresor to call it a day and look forward to what tomorrow would bring…
Visitor Comments:
Got something you'd like to share or say to keep the conversation going? Feel free to leave a comment below...
No users have replied to the content on this page