Day 11: MONETIZING WATERFALLS
We awoke at 6:45am. There was no ventilation in the room last night so it was kind of stuffy and thus we were able to wake up as the desire to sleep in wasn't that strong.
Today was the first time since Cape Cod (back on September 27) that we were able to wake up to a morning where we didn't have to pack up and leave. The vagabonding was supposed to momentarily stop when we were in North Conway, but the Saco River Motor Lodge experience took that away, and then we were supposed to have two nights at Bar Harbor after that, but the government shutdown (hence closing down Acadia National Park – the very reason for us to be driving out that far) forced our hand as well.
So it was nice to not have to be on the go for a change.
Anyways, we felt like we had a very light itinerary today of the Canyon Sainte-Anne as well as the Chute de Montmorency as well as a possible squeeze in of the Chutes de la Chaudiere as well as a possible extended walking tour of the charming parts of Quebec City that we didn't get to do last night.
We didn't anticipate the waterfalling visits would take very long.
So we took our time getting ready, and it wasn't until about 8:45am that we finally got to the garage and started driving off. It was pretty cold this morning, and it was also a bit overcast so we were wondering if that predicted storm would finally start to hit later on today or tomorrow.
The drive out east on the Route 440 was basically a two-lane (in each direction) surface street with traffic lights, but with the speed limit at 90km/h or 100km/h. So it was pretty smooth driving.
As we were leaving Quebec City to go further east along the north side of the St Lawrence River, we saw from the highway the Chute de Montmorency, which we expected to see later on today right after Canyon Sainte-Anne, which was where we were going first.
Given the high rate of traffic, we weren't going to stop anywhere on this highway to shoot the falls, but that whetted Julie's anticipation of the falls as she exclaimed that it was the first 4 waterfall of this trip (i.e. the first truly impressive waterfall that easily dwarfed any of the New England waterfalls that we had seen up to this point on this trip).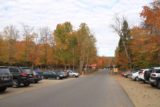 It wasn't until about 9:45am when we arrived at the car park for Canyon Sainte-Anne. Making a left turn into the easy-to-skip-by entrance was a little chaotic as people were zooming along on the highway, and it was like we had to make a left on what would otherwise be a fast lane to pass slow motorists on the right lane.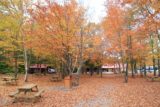 I think one motorcyclist beeped at us as we were waiting to safely make a left. I wasn't sure how else we were supposed to get in there so we were puzzled at the road rage. But in any case, we made it to the well-signed car park and complex where the Autumn colors at the picnic area were in full effect.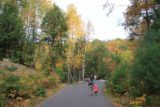 There were still high clouds muting the bright sun on this morning, but it looked like the clouds were thinning (which was contrary to the weather predictions that we were expecting to come true).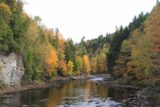 After paying the admission fee of $12 per person (Tahia was free), we immediately were on a wide paved walkway flanked by Autumn foliage as well as some animal statues that caught Tahia's eye. She immediately ran to the nearest statues that caught her attention starting with a moose, then some kind of bird, then some foxes or some kind of coyote or something.
We spent some time trying to take photos of her trying to ride some of these statues as just standing next to them.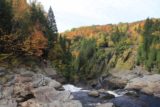 Then, the paved road curved downhill towards a junction right before a long and wide suspension bridge (wide enough to allow those go-karts to drive through) that was above the Chute Sainte-Anne, which was not visible at this point. Upstream from the bridge was the river feeding the Chute Sainte-Anne, which was flanked by gorgeous Autumn colors; some of which were reflected in the calm parts of the river.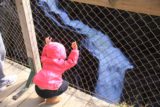 After crossing the suspension bridge, the path then became a wide gravel path. Tahia realized that the rocks on the gravel could be picked up and dropped through the fences in much the same way she loved to pick up and drop leaves through the fences. The problem with the rocks was that there were people down below who partook in adventure activities like rope walking, rock climbing, ziplining, etc.
So we had to put a stop to that.
In any case, the first overlook was of some narrow section of the deep canyon below us. There really wasn't much to see at this spot other than appreciate the deepness of the canyon as well as the scenery further downstream.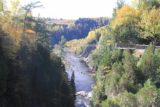 The next overlook was what allowed us to get a frontal look at most of Chute Sainte-Anne. It was at this time when the sun started to come out and make the depths of Canyon Sainte-Anne shadowy (and therefore difficult on photographs).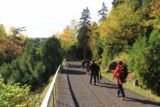 This was one of those times where I had hoped that the sun would stay hidden behind the clouds, but it seemed like the sun was out for good at this point.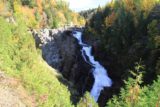 Beyond this overlook, there were a few more further along the gravel path leading to other frontal views of Chute Sainte-Anne though from differing angles. Each view had its own appeal so we took our time at each one of these to ensure that we thoroughly got the most of our visit on this side of the walk.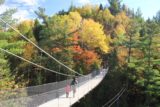 Next, we passed by a large group of zipliners and then went onto a much narrower suspension bridge that was very bouncy as each step from anyone on the bridge could be felt.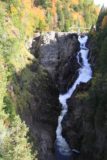 Of course, that made photographing without blurriness a bit tricky, but we thoroughly enjoyed perhaps the most direct and unobstructed view of Chute Sainte-Anne on one side as well as a very direct view of the calmer waters flanked by tall cliffs (and looking against the sun) on the other side.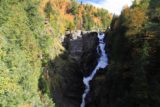 Tahia seemed pretty oblivious to the drop offs and the bounciness of the suspension bridge. The whole time we let her do her own walking with some handholding on the stairs or anywhere we felt there was the threat of her doing something she might not come back from.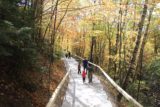 Once we were on the other side of the bridge, we then walked further downhill as we'd eventually encounter a series of some 180+ steps.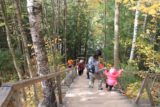 It took Tahia some time to get to the bottom of these steps, but once we did, we found that there was a thin cascade spilling right next to the bottommost suspension bridge. There were also adventurers walking along the cliffs with the aid of wire ropes to help them with balance.
Other than the novelty of being at the lowest point in the canyon while visiting this complex, there really wasn't much to see down here.
So just as soon as we made it down the steps, we now had to climb them. And once again, Tahia had the energy and the strength (with a little aid from Mommy) to make it up the steps. Tahia exclaimed, "I did it! I did it!" once the climb of this section was over.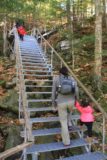 Next, we went into the shadowy section of the canyon as we were making the final ascents past a couple of overlooks that were about as close to the Chute Sainte-Anne as we were going to get.
Since it was getting late in the morning, each of these overlooks were busy with people so we didn't linger for too long.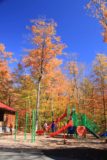 Finally, as we made it back to the entrance area and complex, we let Tahia play on the playground that was here. Clearly, Canyon Sainte-Anne was a kid-friendly place though some of the apparati that Tahia wanted to play (e.g. the monkey bars, the rock wall, etc.) were still too dicey for a 2-year-old.
While Tahia was playing, we got acquainted with some Chinese families who initiated conversations with us mostly about how we made it here. There seemed to be many Chinese visitors or residents it seemed in Canada, and whenever some of them would strike up conversations with us, they seemed to always revolve around the path taken to get from China to North America.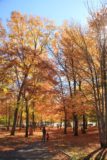 In one instance while Julie was chasing Tahia on the big slide and jungle gym, she bumped her head chasing Tahia due to one of the overhead bars at the top of some stairs. Clearly, this apparatus wasn't meant for adults. But it seemed like Julie hit her head pretty hard, and I wondered if she might have gotten a concussion from it as she felt a bit lightheaded and her head was throbbing for the rest of the afternoon.
At 11:55am, we were finally back in the car. It was a little later than I would've liked because we still had to visit Chute Montmorency, but we also wanted to do a little more grocery shopping as well as visit the Basilica de Sainte-Anne-de-Beaupre, where the twin steepled church somehow reminded us of some of the churches we swore we might have seen in Paris (Notre Dame, perhaps?).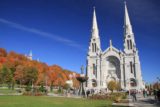 We made it to an IGA in the town of Beaupre at 12:05pm, where we spent a rather inordinate amount of time getting a takeaway lunch while also buying some fruits as well as some water.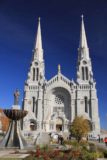 By 12:40pm, we finally were back in the car, and we could see that the basilica was within sight from the supermarket, so five minutes later, we followed the parking signs to go into an area where we had to pay $4 USD to park (which also included some kind of museum pass though we really had no interest in doing it).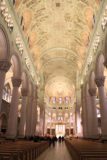 As we were walking the grounds of the Sanctuary of Sainte-Anne of Beaupre, it appeared that we might have been able to visit and photograph the grand basilica without even having to pay for the parking as it appeared there was some street parking and alternate access.
Oh well, we at least made the most of our visit by taking pretty photos of the basilica while also trying to mix in the Autumn colors as well as the juxtaposition of the bridge building against the rich blue skies.
We also paid a visit to the grand interior of the basilica, and we swore that it was almost like deja vu again as this church totally reminded us of the grand European churches we had encountered in our travels to Europe.
At 1:15pm, we were back in the car, and now it was finally time to head to the Chute Montmorency. In hindsight, we should've fed Tahia her lunch picnicking at the basilica grounds because Tahia got sleepy and fell asleep during the drive west to the next waterfall. So she wouldn't get her full lunch, and it was likely that her nap routine would be broken up based on the next attraction we were about to visit.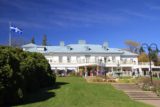 At 1:50pm, after a brief detour (since the nearest exit to the lower car park for Chute Montmorency was closed), we finally made it to the car park for Parc de Chute Montmorency near the Manoire de Montmorency (basically a manor or grand house). We also had to fork over $11 USD to park on the premises.
As we headed towards the overlooks, we saw right away that there was a cable car that went both down as well as back up to where we were at.
However, we had a plan to walk the entire walk downhill in a clockwise manner until we'd reach the lower parking area where the cable car could bring us back up and save us the exertion of climbing all the way back up to where we parked the car.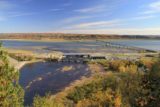 Since Tahia was napping, we knew that she wouldn't be happy when she'd be woken up by us. So we brought the child carrier hoping that perhaps she might get some sleep in the carrier before she'd wake up on her own later and be in a better mood.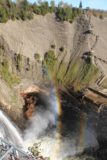 Unfortunately, that plan might have backfired as she had already started to fuss the moment she was awake. But there was no way we'd leave her in the car by herself as we still had to tour this attraction. And given how late it was getting in the day, there was probably no way that we could use the rest of this day to tour Quebec City either!
Anyways, after checking out the view from besides the cable car, we walked up some steps then headed onto a boardwalk that swung around the manor and headed towards a suspension bridge that went above the Chute Montmorency.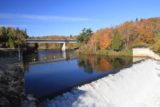 Along the way, there were lookout points that let us look down towards the Ile d'Orleans, which turned out to be an island on the St Lawrence River though we wouldn't have known that unless we looked at a map.
We also went down some steps towards a lookout where we could get a pretty upclose profile view of the Chute Montmorency as well. And as expected, it was fairly busy and crowded at this viewpoint. And adding to the hectic feel, Tahia was complaining inconsolably.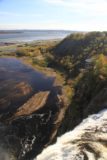 Then, we went on the suspension bridge, which was actually wide enough to let people pass each other as there were numerous people on there. Julie and I took some time checking out the man-modified portion of Chute Montmorency (kind of a small slanted dam wall with water flowing over its 46m or 150ft width) before looking down the other side of the bridge right down at the impressive Chute Montmorency where some of the mist was wafting back up towards us well over 84m (275 feet) below.
Once again, Tahia was crying and urging me to catch up with Mommy while I was busy trying to savor the moment of being at this scenic vantage point.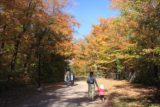 So I did my business quickly, then continued towards the end of the bridge where there were some bathrooms that Julie had to use (and the pause made Tahia fuss even more).
On the other side of the bridge, the walkway became more of the conventional wide gravel pathway flanked by beautiful trees with Autumn color, which seemed to be the norm by now. The colors were accentuated by the waning afternoon sun and clear skies.
There was a path that seemed to go down and then hug the cliffs towards a part of the falls that looked like it would be very close to it in profile, but that path had a locked gate and was closed. I swore there were people down there when I looked at the falls from the other side, but alas, perhaps some people hopped the fence and went there or something.
At this point, we let Tahia off the child carrier and walk on her own. She was in the mindset to not let me carrier her and stick with Julie. So Julie patiently held her hand and let her walk with her for as long as she wouldn't want to be in the child carrier (which turned out to be the rest of this walk).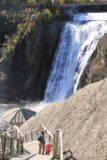 The path eventually swung around and headed in a downstream direction over some bridge over a smaller side ravine before flanking a wide rolling grassy area that looked like it would've been a pretty nice spot for a picnic. There were also nice broad views from there looking downhill towards the St Lawrence River's eastern end.
Eventually, the path flanking the downhill grass gave way towards the next interesting phase of the walk, which was a long flight of wooden steps going downhill on an exposed hill. Something looked unnatural about this barren hill, and I wondered if historically it had been the site of a quarry or something, because it contrasted mightily with the rest of scenery here.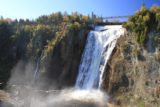 Anyways, the long steps had a few lookout points starting at the very top, then having a couple more "rest" points on the way down. Each one of these vistas offered a slightly lower and angled perspective of the now-partially-shadowed Chute Montmorency.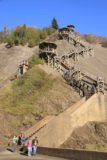 We tried to take advantage of each of these vistas before continuing down knowing that it we weren't going to go back up.
Once we made it to the bottom, we were at a wide concerete platform with some mini wall partitions (I wasn't sure what those were for). It was a bit misty down here though strangely some parts got heavy mist with other parts were bone dry.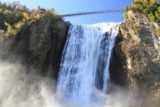 We took what photos that we could from the base of Montmorency Falls, and since we took the trouble of bringing the tripod on this hike, we mind as well use it and try to make a family photo.
Unfortunately, Tahia wasn't being very cooperative (she was pouting and not in the mood to say cheese), and so we didn't linger here much longer.
Then, we walked along the concrete path that flanked the eastern side of this side river downstream of the falls back towards what appeared to be a picnic and playground area. Perhaps that little spot might be what the doctor ordered for Tahia as she wasted no time dragging Julie to the set that was there.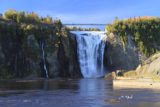 Meanwhile, I spent some more time trying to take frontal photos of Montmorency Falls from the footbridge paralleling railroad tracks and the highway as it crossed over the river responsible for the falls.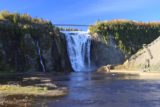 The frontal views from here were a bit distant compared to all the other vantage points to this point, but they were more direct as the concrete walkway was less in the way. However, the late afternoon sun definitely casted longer shadows at this point that pretty much shadowed all of the falls and just a sliver of the Autumn colors were left to their brilliance at the top of the falls on the east side.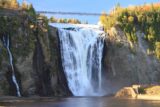 Adding to the challenging lighting conditions were that the exposed quarried cliff was bright the whole time and tricking the camera into thinking that the scene was brighter than it really was.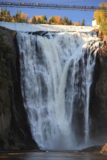 Eventually, Tahia and Julie caught up to me as I was taking my time (though I also wasn't sure if that was the end of the walk as the Bridal Veil Falls further along didn't look like it had an obvious walking path to get there other than following either the road or railroad tracks). So we took some more time to try to take a family photo from the long bridge with the falls behind us, but once again Tahia was pouting even though she was just finished with her play session at the playground.
When we went inside the facility for the lower end of the cable car, we bought the tickets to go back up ($8.95 CAD per adult), and that was when I asked the info person about whether there was a way to walk to the Bridal Veil Falls.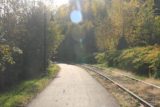 It turned out that there was, and all I had to do was to either walk along the railroad tracks or follow a road leaving the car park (as I had suspected).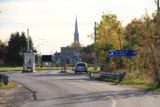 So Julie was watching Tahia in the facility while I quickly made my way towards the extra falls.
The walk didn't at all seem obvious as there wasn't any signs for it. The path along the railroad tracks eventually rejoined the road leading to the car park from its lower entrance. And that was when I realized that maybe this falls was more for people driving to see it.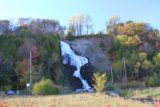 But whatever the case, I was able to see one of the two segments of Bridal Veil Falls, which cascaded its way down towards the railroad tracks and then flow beneath it as well as the road towards the St Lawrence River.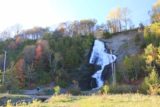 There were power lines and fences in the way so I crossed the railroad tracks and got right up to its base.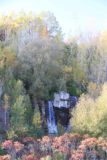 When I had my fill of this falls, which was completely in shadow at this time of day, I went looking for the other segment, but it appeared that the further west I went, the more I just went into civilization and there was no other falls there in sight.
But when I walked back towards the visitor center area and cable car, that was when I noticed there was the other segment that looked significantly smaller and thinner (and more hidden) than the signposted Bridal Veil Falls that I had just seen. It almost made me wonder if it was the other tier that was stated on the map.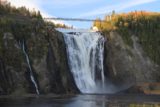 Whatever the case, I was headed back to Julie and Tahia, and there would be no further exploring on this day. It was getting quite late as the shadows were getting longer and whatever touring we had aspirations for on this day was pretty much nixed as we would run out of daylight.
Finally, we rode the cable car, which offered us more views of Chute Montmorency that wasn't available in any other way (though photographing it wasn't easy given the glare on the windows of the cable car). Thus, we completed the loop and could truly say that we fully experienced Chute Montmorency to the max!
At 5pm, we were back in the car, and about 30 minutes later, we were finally back at the car park near our hotel in Old Quebec. On the way back there, we followed part of Rue St Jean, and we could see that it was quite a happening street (even outside the city walls), and so we were determined to perhaps tour this road at night and perhaps eat at a place on that road as well.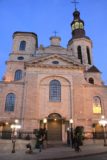 At 5:50pm, we were back in our room. Julie spent some time looking up Yelp for a place to eat here, and she decided on this place called Le Billig. LP even talked about it. And so that was the plan.
We didn't go back down into town until almost 6:30pm or so. It was rather late, and I knew that no matter where we walked to, we'd have to wait in line to eat. The hope was that it wouldn't be ridiculously long that we'd have to have a very late dinner.
So we walked down towards rue St Jean and followed this charming narrow road downhill and towards the city gates. Julie eventually realized that Le Billig was quite a walk from the Old City Walls into the surrounding area, and that it would be a problem given how late it was getting and how far Tahia would have to walk.
So we ended up settling on this crepe place within the city walls, but it had a line. We were probably third in line, and it was probably about a 30-minute wait.
No matter, Julie was determined to have Breton crepe, and that meant we were waiting here.
Eventually after being seated, we had what would end up being pretty substandard crepe. There were no galettes, and the choices weren't that great anyways. That pretty much nixed whatever sweet tooth we had and shunned the dessert crepe from here.
Oh well, maybe we could do the walking tour of Quebec and eat at Le Billig tomorrow…
At 8:45pm, we were finally back in the room. After 9pm, I had to go back to the garage to get some more diapers for Tahia. And that was when I realized that our plan of parking on the top floor wasn't good because the credit card swipe for the upper door wasn't working. Julie also noticed earlier the Hotel de Ville parking that we were originally supposed to do for $2 cheaper a night.
I actually swallowed the extra cost of changing car parks, but when I realized that this car park required stairs and we had to walk around the Hotel de Ville (which was under construction around much of its perimeter) anyways, I made the decision that perhaps tomorrow we'd be better off parking where we had been parking all along but at the lower level.
And so ended this eventful day. Tomorrow, we'd have a pretty tight schedule as we punted all the waterfalls we were supposed to see these last two days (Chute d'Armagh and Chute de la Chaudiere) onto today, which was supposed to be an all-day touring day of Quebec City. So we had two full days in Quebec, but we never really got a chance to really see this city. I guess that's what happens when time was not managed well (too much idling, shopping, spontaneous stops, etc.).
So we'll see what happens tomorrow. Hopefully the weather would hold up…
Visitor Comments:
Got something you'd like to share or say to keep the conversation going? Feel free to leave a comment below...
No users have replied to the content on this page