Day 13: BLESSING IN DISGUISE
It was 5:30am when we awoke as we knew we had to get packed and ready to go, which would require a little more time than usual.
It wasn't until about 7am when we finally brought our stuff down the stairs to the front door of the Auberge du Tresor in Old Quebec. The plan was to leave everything downstairs, and then I'd walk to the car on my own, then drive to the drop-off and loading zone to load up the car before heading out of town.
So by 7:10am, I was in the car, paid the $18 for the maximum daily fare parking, went to the loading zone to collect the rest of the family and our belongings, and then proceeded to drive down to the rue St-Jean where Julie was going to order some breakfast from the Cafe-boulangerie Paillard. Tahia actually recognized what we were doing just as we got onto the one-way rue St-Jean, and she said "Mommy getting croissants". What a smart little girl!
The morning started to get quite busy as the workweek was starting. Traffic was already building up, and the rain from last night seemed to have subsided for the moment.
It took us a bit of time to get onto the Autoroute 40 going west as the GPS had us go on a bunch of surface streets with traffic lights. Most of the intersections didn't have dedicated left turn lanes so the left lane tended to be blocked while the right lane tended to be reserved for taxis and buses.
Once we made it out of the grips of the urban jungle, it was pretty smooth sailing on the Autoroute 40 heading west. Aside from a brief stop to fill up on gas at $1.30 4/10 per liter, we ultimately passed through the town of Louiseville before taking one of the rural roads to the Parc des Chutes de Sainte-Ursule.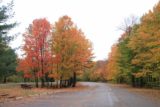 The way there was pretty well-signposted from the main throughfare in Louiseville, and we got there at 10:05am.
The skies above were somewhat dark gray and menacing, but we took the chance at not bringing our rain gear thinking that we wouldn't be spending that much time here.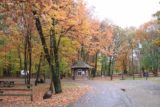 Well, after going into the information center, then paying the $7.25 CAD per adult fare (which was pretty steep for a waterfall that not many people have heard of), and then I was told by the nice lady working the desk in French that the visit should take about 90 minutes.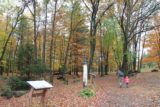 As we left through the info center, we then passed through a wide picnic and play area. Tahia didn't notice the slides and we weren't about to tell her about it until after we did our touring (time permitting).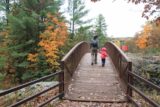 At first, we went over a footbridge crossing the river responsible for the Sainte-Ursule Falls (Maskinongé River). Looking upstream from the bridge, we could see that there was a profile view of a small cascade backed by a bridge that turned out to be for a railroad.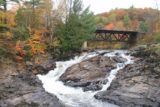 Looking in the other direction, we could see that the cascade continued further downstream as the river dropped out of sight below our vantage point.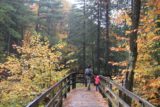 We continued across the bridge to see the first pair of lookouts providing a somewhat angled view of the falls. The wooden paths were slippery wet from last night's rain. So we had to make sure that Tahia and ourselves were careful in our steps so as to not take a nasty fall.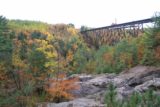 Meanwhile, I noticed from the French signs here that there was an old riverbed adjacent to part of the walk that we were on, except there was hardly any water in it. It turned out that somehow the watercourse naturally took a different path (down the Chutes de Sainte-Ursule) thereby leaving the old path dry. However, I could see that in years past, when the river went over this route, the bare rock dropoffs looking further downstream attested to what was probably an impressive sight.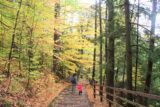 After having our fill of the lookouts from this side of the river (which only yielded partial views of parts of the cascading waterfall), we then re-crossed the bridge and continued downhill on a path following the opposite side of the river.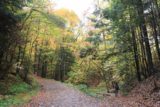 Again, the initial viewpoints were only partial and weren't impressive. Even as we descended down to the bottom of the stairs in one long stretch, there was only a profile view of part of the cascade that couldn't be totally captured in one frame of a camera without super wide angle.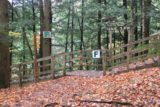 But as we continued on the now leafy dirt trail surrounded by Autumn colors, we then got to an intersection in the middle of some stairs. We took the path on the right to ascend the stairs as the signs indicated that there was a view up there of the waterfall. It was the very vista that the lady at the visitor center told me about in French.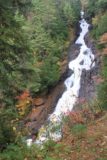 After Tahia and Julie made their way up there, we took turns taking photos and movies to document the experience. One of us had to keep an eye on Tahia to ensure she wouldn't try to climb the barricades. It was a long way down from the bluff we were standing on.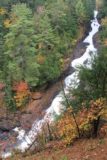 In any case, we were able to see the entire view of most of the waterfall's tiers. It was indeed the best vista, and perhaps the 671m length it took to get here was all that was necessary. There really was no need to see more of the park if the waterfall was the only reason to come here.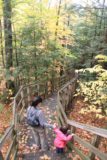 So Julie and Tahia went back down the stairs after having our fill of this place, and then headed back up to the slides and jungle gym by the entrance to the park. I'm sure Tahia would have a blast sliding down those slides.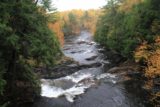 Meanwhile, I continued down the steps to go further downstream. There was a dilapidated lookout of a wide lower tier of the waterfall, but aside from that, there were no more significant tiers of the Chutes de Sainte-Ursule.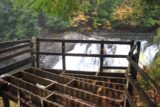 I went as far as the bend in the river at the very bottom of the descent where there was at least one picnic table plus a few more interpretive signs talking about how this forest tended to be humid. Perhaps that might explain why I was sweating so much and feeling hot despite the weather making this somewhat cold.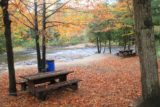 At 11:30am, I caught up with Julie and Tahia at the entrance area. And as the lady predicted, our visit pretty much was 90 minutes.
We promptly left the car park and returned to the nearby village of Louiseville where we stopped at Tim Horton's at 11:55am for some paninis as our takeaway lunch.
Then, five minutes later, we were back on the road where we'd eventually rejoin the Autoroute 40 due west towards Montreal.
Next up on the agenda was the Chutes Dorwin in the town of Rawdon, Quebec, Canada. The drive was pretty uneventful except the GPS had us take a direct route (in terms of shortest distances), which meant we took some surface streets through rural roads passing through the town of Sainte-Melanie before arriving at the town of Rawdon.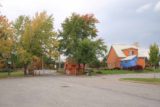 At 1pm, we arrived at the car park for the Chutes Dorwin. It appeared that we were supposed to pay for admission, but the office was closed and there was no one manning the entrance kiosk. Yet the gate was still open and the car park was mostly empty except for a handful of cars.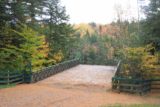 Since Tahia was napping at this point, Julie stayed in the car with her. So I visited the waterfall solo, and it turned out that Chutes Dorwin was pretty easy to visit as the first overlook was less than five minutes from the car park.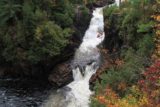 This vantage point was looking directly down at the front of the two-tiered modest falls, and it appeared that the sun was conspiring to break through the clouds so that tended to wash out or darken out my photographs. It wasn't the pleasant colors and even lighting I would've gotten if the skies were blanketed with a consist layer of clouds.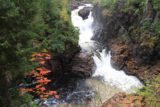 Then, I went down some steps towards a lower lookout. This time, the view of Chutes Dorwin was direct and attractive.
Continuing further downstream on the main trail, there was a pair of developed lookouts next to each other revealing some minor cascades and just the rushing wide river.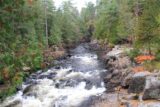 I didn't bother exploring more of the park from here, and so I went back up the steps (and working up a sweat) before returning to the car park at 1:40pm where Tahia was still sleeping while Julie was still reading her Kindle.
When I told Julie about how easy it was to visit this falls, I stayed behind to watch Tahia while Julie went on her own with her iPhone ready. And she would return ten minutes later, attesting to how easy it was to visit this waterfall.
Next, we followed the Autoroute 25 doing south towards Montreal. The drive was mostly uneventful, except as we got closer to the metropolis, the weather deteriorated rapidly and started to pour rain.
This coincided with some confusing signage that had me continue onto a toll bridge that seemed to go away from where we needed to go. Meanwhile, the GPS had me stay on the 440 towards Laval.
Anyways, had I known better, I probably should've entered our hotel address into the Hertz Magellan Unit and insist on taking the route that maximized usage of freeways.
Instead, we were stuck in traffic and a lot of traffic lights as well as some road construction as we followed the route 125 then 720 to get into the Old Port of Montreal. This probably costed us at least 30 minutes more than if we had taken all autoroutes and minimized the amount of surface street driving.
Well, I guess time wasn't of the essence anyways due to the heavy rain. When we finally found the Auberge de la Place Royal, there was temporary 15-minute parking right in front of the hotel. So Julie quickly ran to the room, entered the code, and checked in which asking the receptionist where we should park the car.
Next, I got out the rain gear and took the heavy rain as I was lugging our stuff from the car to the Auberge in a few trips back and forth.
Then, I sheltered Tahia and Julie with an umbrella as they made the last crossing of the rain into the hotel. Then, I was left to my own devices to find the Quai King Edward, which was where I was told to park. And that I did.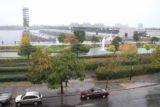 After walking through the rain to the Auberge from the car park on the quai, I was finally in our room at 3:55pm. It turned out that our room was big and charming, and it was easily the best accommodation we had stayed at so far.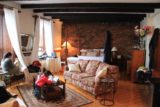 I was really glad that we changed up our itinerary such that we added a night in Montreal as part of our Plan B to improvise cutting out Acadia National Park thanks to the government shutdown. Actually, it was more and more becoming apparent that the government shutdown might have been a blessing in disguise because I'd hate to think that we would only leave ourselves a rainy afternoon in Montreal before checking out and leaving for Ottawa tomorrow (after potentially going out of our way to Bar Harbor).
Instead, we still had all day tomorrow to enjoy Montreal before heading to Ottawa (where we would only have an afternoon and an evening before checking out).
Funny how things work out sometimes…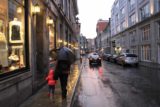 So we chilled out in the room until 6pm when we headed back into town looking for a place to eat. It had been raining nonstop all afternoon, and it was still raining when we left the room. We had donned our waterproof pants along with a pair of umbrellas borrowed from the lobby. Tahia was the only one with cotton clothes (i.e. her jeans).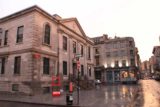 We decided on walking along rue St-Paul in Old Montreal, which was a cobblestoned street flanked by buildings that looked like a mix of old and new.
As we were headed west on this street, we chanced upon some old-looking building with a little bit of space before it. We weren't sure what it was as we didn't have a map with us nor did we have a clue about our orientation in the city.
However, there was a bold and bright full arcing rainbow above that building. So I took some time to take photographs of the lovely refraction phenomenon, and I even tried to go past the building it was arcing over hoping to see and somehow capture the full arc in the open.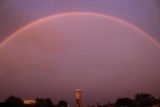 Unfortunately, it was way too broad and high up to capture the whole arc in one frame. In fact, there really wasn't an interesting subject with it so I'm sure none of the photos were that great other than the impressive rainbow being displayed.
After walking as far as this place called Barroco (a Spanish tapas place), Julie realized that this place was a bit too high end (a white table-clothed place) and not suitable for Tahia (or not suitable to those not wishing to be bothered by Tahia).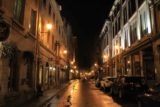 So we ended up going to some Polish restaurant on the same street, and the place actually surprised us with how decent it was. Sure it seemed to have a heavy influence from Bavaria with the polish sausage and some other interesting dishes like a dumpling with meat and cheese stuffings as well as some other kind of meat mini-crepe as well as a stew.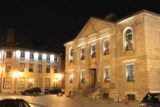 We left the restaurant pretty satisfied and not too stuffed, and we then spent the remainder of the evening walking to the Basilica de Notre Dame, which was an impressively tall building with blue lighting overlooking an attractive square with a fountain and statue in the middle of it as well as some purple-lit Wall Street-looking building on the opposite side of the square.
Tahia was having fun playing with Julie while I was busy snapping photos and trying to hold still as much as I could without a tripod and while fighting the biting chilling winds that followed after the passing storm that dominated much of this afternoon.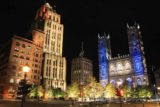 There were about a dozen or so other people enjoying this square as well while I saw at least two people with tripods taking lower-noise photos of the fountain and basilica.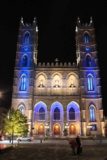 So at least we wouldn't have to worry about doing this tomorrow. That would at least buy us the ability to sleep in a bit for a change tomorrow morning.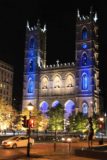 With the night sky looking like it was clearing up, that would bode well for us to spend the entire day touring Montreal. Again, it wouldn't have been possible if not for the government shutdown forcing us to execute on plan B on the fly where we stayed in Portland Maine (instead of Bar Harbor for two nights), moved our 3-night block of Quebec City up by a day, and added an extra night (2 total) to our Montreal block.
We finally returned to our charming accommodation at 8:45am. And now we could finally call it a day on our first of two nights in Montreal.
After all the early wake-ups and long drives for most of this trip, I was really looking forward to tomorrow as a more laid change-of-pace kind of day. However, Julie was also looking forward to it as a waterfall-free day.
Visitor Comments:
Got something you'd like to share or say to keep the conversation going? Feel free to leave a comment below...
No users have replied to the content on this page