Day 14: JE ME SOUVIENS
It was 7:15am when we first awoke. Actually, Julie was awake well before I was. And when I first got up, it appeared that I had just missed the most dramatic part of the sunrise. It was still pretty nonetheless.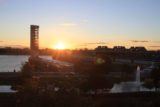 At 8:15am, we were ready to go out on the town. It was a chilly but clear morning with biting cold winds making me feel a little uncomfortable in short sleeves. But I figured while I was carrying Tahia throughout the city on my back, I would be warmed up just on the exercise.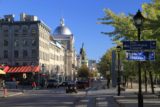 Our initial route that we took headed towards the Quai Horloge, which was the clock tower on the furthest cape. We probably went as far as the park fronting the clock tower, which was way out on a jutting out part of the quai, so we got rather distant photos of it. However, when we looked back towards the city, it seemed like the morning light was perfectly positioned to showcase the skyline of Montreal while fronted by beautiful Autumn foliage.
We probably headed back towards Old Montreal (or Ville Marie), by 8:45am, and we got into the real part of Old Montreal at around 9am.
The town was rather dead in the Morning as hardly any brekkie place was open around this area. So we were pretty much relegated to taking photos of the old school buildings around rue Jacques Cartier. And as we were touring this area, we realized that this truly was the Old Montreal we were looking for last night.
After we had found a brekkie place for some croissants (it was next to the visitor center on the upper side of rue Jacques Cartier), we then wandered a bit until the Visitor Center was finally open at 10am.
That was when we finally got our useful city map that showed everything in one shot and in context. It wasn't useful for us to be seeing maps of each district all separate from each other without that sense of context that had been missing up to this point.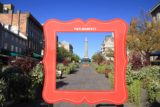 So when we finally got our questions answered by the helpful guy at the visitor center, we took his advice and took the Metro towards the Mont Royal stop; arriving there at 10:40am. From there, we walked towards Mont Royal when we found the Bus Line 11 pulling up to a stop that we happened to be next to.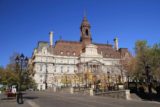 It was a good thing that we bought the Metro day pass because our bus ride was included in the fare. So we hopped on, and took the ride up Mont Royal towards a stop right across the street from a cemetery.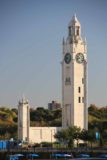 It was also a good thing we took the bus up the hill because it seemed like quite an ascent.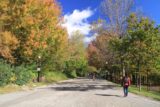 Once we disembarked from the bus, we followed the signs towards the Chalet du Mont Royal, eventually arriving there at 11:10am. At the side of the chalet facing the city, there was a wide semi-circular terrace with a grand view of the main downtown area of Montreal as well as the St Lawrence River.
What was interesting about the visit up here (besides the view) was that the name of the city Montreal came from Mont Royal, which Jacques Cartier named as he was credited with being the first non-Native American "discoverer" of Canada and Montreal.
When we had our fill of the wide open overlook, we then went back inside the chalet, which had a very grand and long main ballroom. There was a piano there where Tahia was having fun pounding on the keys and making noise.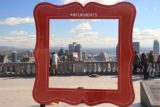 And when we left the chalet du Mt Royal, we then headed down a path that involved dirt inclines and steps. Eventually, we'd make it down to the bottom of the hill by Peel Street somewhere near the McGill University with several buildings dedicated to particular aspects of the school.
We ended up taking the metro towards a connection at rue Berri, then we went from the green line to the orange line where we exited at the Place a'Armes.
By this time, Tahia was totally out. Actually, she had been out since we were about finished with the descent down Mt Royal.
We were now entering Chinatown, and as we were walking up the street up towards a dumpling house that Julie had read good things about, we noticed there was a charming street in Chinatown. This caught our eye because of all the Chinatowns we had been to over the years, this might have been the first time it was actually a charming spot instead of something run down as they would normally be.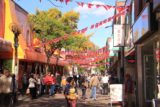 It was about 1pm when we were seated. Tahia at first was fussy (as expected) when she woke up, but all it took was one of those cat mini-statues with the arm waving back and forth. That seemed to have entertained Tahia and put her in a better mood.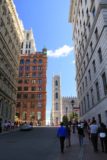 It turned out that our dumpling meal was surprisingly delicious. Well, at least the steamed dumplings of pork with mushroom and shrimp was delicious. The potstickers weren't good.
The place didn't take American credit cards so we had to pay in cash and get back Canadian currency as change.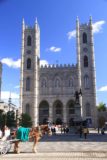 Then, as we left the place (Tahia was no longer on my back at this point as we let her walk around on her own), we walked through the charming part of Chinatown.
Aside from the cigarette smoke, it was a pretty fun place to walk through and we even helped ourselves to a pair of mini egg tarts.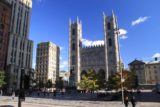 Next, we walked past the Palais des Congres (which wasn't anything special), and headed back towards the familiar Basilica de Notre Dame de Montreal. Now that it was broad daylight, the place was mostly in shadow but it was still quite a nice place to take photos.
However, since we were there at 2:25pm, we paid the $5 per adult to go inside where we caught a 2:30pm tour.
Once we were inside the cathedral, we were quite amazed at its grandeur which was different from the other cathedrals we had been to in that there were lots of blue lighting.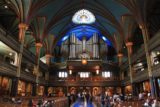 The guide explained why they were blue (it wasn't the color of the sky; and I forgot exactly what it was) as well as other little tid bits about the cathedral itself, which turned out to be made of mostly wood but later reinforced with steel beams and concrete since the wooden structure itself wouldn't have lasted very long given how it would react to the elements (expand, contract, mold, etc.).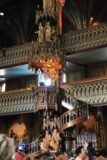 There were other little tid bits like the stain glass windows flanking the interior that were depicting scenes of the history of Montreal (instead of another rendition of a biblical story), and we were also getting an explanation behind why there altar itself had its windows blocked (because it was facing east and into the rising morning sun).
Tahia was getting restless and making noise during the tour (not surprisingly) so Julie decided to leave the tour early and take Tahia back to the room, which was less than a couple of minutes walk away from here.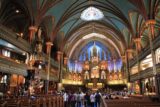 Meanwhile, I stayed behind where we were then shown the back chapel (which we wouldn't even have bothered to look) where there was an impressive brighter chapel with a bronze altar. Apparently, it was supposed to mean something to the effect of the tree of life.
When it came time to ask final questions for the guide, I asked about why every Quebecois license plate had the phrase "Je me souviens" (which I suspected meant "I remember") on it.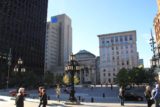 She explained that it came from a poem about Canada's ties with England, and apparently what was being remembered was the strong ties with the crown. Actually, the more I thought about it, the more how I could see that it would fly right in the face of the separatist movements that I had read that many Quebecois people felt passionate about as well as the whole Independence notion that had taken place in America.
Anyways, it was 3:10pm when I returned to our nice and spacious room at the Auberge du Tresor. When I came back, Tahia was napping (kind of) while Julie and I spent the time just unwinding for the day and trying to prepare ourselves mentally and physically for the early dinner and then the lit up gardens, which we were anticipating and hoping to see at twilight (it was simply too rainy last night to try that out yesterday).
We headed back downstairs for dinner a little after 5pm and we ended up eating at some French restaurant at a street corner near our accommodation. This place specialized in country food, and we were eyeing it last night but we feared that it was too crowded at the time. This time, we got there at 5:15pm and we were hoping to get out of here during the twilight hours so we could check out the lit up botanical gardens under the best lighting conditions.
Well, at first we were concerned that they couldn't take credit card and we didn't have much cash on us (knowing that dinners tended to cost upwards of $60 USD or more). So I had to go up to our room to fetch more cash from my wallet.
In any case, we were looking for a quick meal, but it turned out to be a two-hour affair. I guess dinners here were never quick unless we went takeout or something. But for something involving service, we can't get in and out like we were used to back at home.
The food was OK. Probably the best thing we had was the profiterole dessert, which Tahia insisted on having as soon as she saw the ice cream and chocolate fudge on it.
So it wasn't until 7pm when we finally left the restaurant and walked towards the Place d'Armes metro stop. It wasn't too bad of a walk as we passed right by the Notre Dame basilica, and then walked another block towards the Holiday Inn Select with the pair of pagodas on its roof.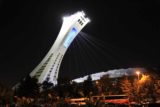 Then, we got onto the train (we were on the orange line) headed towards the connection with the green line at the Berri stop. Then, we took the green line for 6 stops towards the PIE IX stop. And from there, we were at first a little disoriented about which direction we were supposed to walk, but it turned out that the bus driver at one of the bus stops pointed us the way to walk.
And after a block of uphill walking within sight of the leaning tower of the Olympic Stadium, we were at the entrance to the botanical garden at about 7:50pm. That pretty much left us a little over an hour to check this place out before they'd close the doors at 9pm.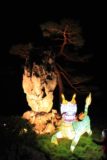 The admission price was about $30 CAD, which was pretty painful. Julie and I expected this place to be kind of a gimmicky and kitschy contrived attraction, which made us feel like the admission might be a rip off, but the point of this excursion was to get Tahia into the display and to see if the TripAdvisor reviews (which spoke highly of this place) was justified.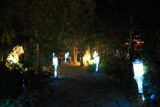 We knew going into this attraction that the Mosaiculture was done. Apparently, we missed it by a week.
So after paying the admission, taking a terribly needed bathroom break, and letting Tahia briefly play in the Halloween section where there were plenty of activities that the kids would enjoy, we then walked towards the Chinese Garden.
The place started off humbly enough with a bunch of little statues made of those paper lanterns lighting up the path and giving Tahia something to get excited about. Then, we entered into some pagoda entrance with walls, and after going through there, we started to see a few more displays that were lit up in all sorts of different bluish light (creating that moody ambience).
However, when we then turned towards a more official entrance archway and then rounded a corner, we were awestruck by the sight that was before us…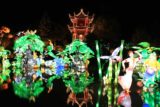 There was a mosaic of more lit up lanterns surrounding a large pond. There were lantern statues in the pond, around the pond, and the many pagodas were also lit up by the perimeter. It was a sight truly to behold, and it was at that moment that Julie and I went from skeptics into feeling much better about paying the price of admission to come here.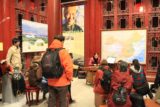 So we took our time basking in the grandeur of the scene while also paying more attention to what the displays were trying to tell us. And apparently, each display focused on a particular region of China thereby showcasing the diversity that one could experience in the massive country.
Many of the displays we were able to identify with as we had personally seen some of what was being communicated firsthand during our 2009 visit to China. So our time here meant a little more to us than just the light display.
There was even a fake waterfall in this garden as well, which got Tahia to say, "Pubu!"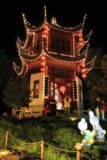 After having our fill of the Chinese Garden, it was very close to closing time, but we followed the "Sortie" signs, which ultimately led us towards the Japanese Garden. But as we got into that area, we saw that it lacked the grandeur and drama of the Chinese Garden.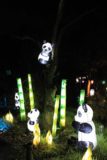 Actually, it was pretty much some plants and trees being lit up, and perhaps the most interesting part of this area was the paper gallery where there were some crazy things that were made strictly out of paper, including a wedding dress!
As we were leaving the botanical altogether, we saw that there were the hedges that were creatively cut as part of the Mosaiculture event that we had missed by a week. Unfortunately, none of them were lit up so taking photos of them in the dark was not feasible (especially without a tripod).
And when we returned to the entrance, Tahia was bummed that she couldn't get to ride on slides anymore since the playground area was no longer lit up.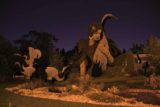 So by 9:25pm, we were back at the PIE IX metro stop. I knew it probably wouldn't be until 10pm when we'd finally return to the room. And sure enough, we returned to our charming and spacious room at the Auberge du Tresor at 9:55pm.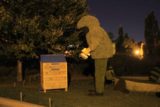 It had been quite another event-filled day, and there would be no rest for the weary despite our late sleep time because we'd have to drive out to Ottawa tomorrow for our lone night there. There was one waterfall en route, plus two more within the city. We'll see if we'll be able to do the waterfalling we need to do while still feeling the essence of what Ottawa had to offer…
Another busy day coming indeed…
Visitor Comments:
Got something you'd like to share or say to keep the conversation going? Feel free to leave a comment below...
No users have replied to the content on this page