Day 15: STALE WATERFALLS
It was 5:30am when we awoke. It was still dark outside though there was noise coming in through the open windows resulting from a very long train that had been passing by for over ten minutes and counting! I sure hoped that we wouldn't be caught waiting for a train like this as we would be trying to drive out of the King Edward Wharf where the car had been parked for the last day-and-a-half.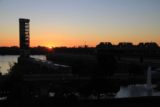 Sunrise happened at around 7am, and we managed to catch it this time while Julie was getting ready and packing up her stuff. Tahia had already been aroused and woken up by this time.
It wasn't until about 7:25am when I was finally was able to walk over to the wharf and get into the parked car. The train had been long gone by then.
I had left our heavy luggages unattended at the bottom floor of the auberge expecting that Julie and Tahia would catch up and meet me at front of the hotel where I'd pull up to meet them.
Once we were loaded up and ready to go, we were leaving the Old Districts of Montreal for the autoroute. Unlike in Quebec City, it was fairly straightforward at least getting to the autoroute. However, as we were trying to flee Canada's second largest city, we started to hit traffic.
It seemed kind of strange that we'd be stuck in fairly gnarly traffic while we were trying to leave town instead of heading into town (i.e. where most of the the flow of traffic should be going). But whatever the case, we sluggishly made our way to the AUT-40 east instead of the AUT-40 west where a sign said in French that the westbound lanes were congested. The GPS had us go east despite the westbound route seemingly being the shorter one (go figure).
Probably after a slow 30 minutes or so, we were able to go from the 40 to the 15 where the sign was correct in saying "circulation fluide".
From seeing how large the traffic was going the other way as we were headed northwest out of the city on the Autoroute 15, we were quite surprised to see traffic still persisting until we were almost at the suburb of Sainte-Theresa.
Anyways, when we got off one of the exits at Ste-Theresa, we made a quickie breakfast run to go at Tim Horton's at 8:20am, and then we made another stop at IGA (in the same parking lot) for a replenishing of fruits and water. Hopefully, this run would last us for the last week of this trip.
After about 8:55am, we were done with those errands including one last stop at a gas stop to fill up the car (at probably the cheapest rate in Canada that we had seen so far at $1.28 4/10 CAD per liter), and we were off.
Eventually, we followed the AUT-15 north and then followed along the AUT-50 due west. The GPS didn't recognize that the AUT-50 freeway continued all the way west so I ended up making good time against the predicted GPS time (which expected we'd be taking the Route 148) by the time we got off the AUT-50 near the town of Plaisance.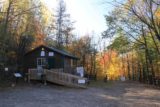 From there, we saw that there was a sign for Chutes de Plaisance at the turnoff for Rang Malo, and then we followed this rural road for 2km or so until we got to an obvious and well-signed unpaved car park for the Chutes de Plaisance at 10am.
It looked like there was an entrance kiosk, but no one was there to man it. So I guess our visit would be free.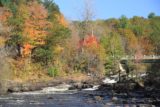 Since Tahia was well into her nap, Julie decided to stay with Tahia in the car. Thus, I'd be solo-ing this hike.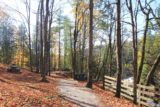 Well, it turned out that the "hike" was really more of a stroll on a wide unpaved road before there were spur paths that paralleled the road but provided access to a series of picnic tables sandwiched between the road and some fences erected to keep people from falling into the river.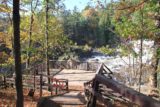 It was barely a few minutes before I already found myself near the top of what appeared to be a series of cascading and thundering waterfalls.
A few more paces further downhill, I found myself on a large lookout platform with a view of what appeared to be the two largest tiers of the Chutes de Plaisance backed by Fall colors.
There were at least two or three more tiers and segments of the waterfall (I noticed at least one lower one to the left and on a flanking waterfall on the right). There was absolutely no way this could be capture in one shot even with a wide angle lens.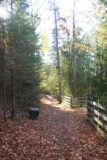 Indeed, this was one of those places where the pictures couldn't do it justice, and you just had to experience it instead of just taking photos or looking at pictures.
The falls was thundering loudly and I could just sense the turbulence and power that gave rise to the raucuous.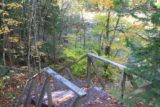 Beyond this main overlook, I then continued further down along the fence where I then found some stairs leading all the way down to the base of the last gushing tier of the Chutes de Plaisance.
While at the rocky riverbed, I scrambled over to where I saw numerous cute little rock cairns stacked up and shaped like little stick figures.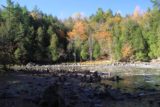 Even though the water down here was accessible, the river was flowing fast. I recalled a sign earlier on saying the park was not responsible for any accidents, and I'd imagine most of the accidents would probably happen around here.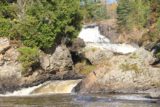 Anyways, the view of the falls from down here was mostly partial and not very good. So I didn't linger here too long.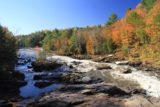 At 10:40am, I was back at the car after briefly checking out the uppermost cascade beneath the road bridge by the car park.
And with that, we headed out and were bound for Ottawa.
The drive further west on the AUT-50 was uneventful, and we'd eventually enter into Ottawa on a gorgeous late morning.
As we were driving through what appeared to be a pretty happening downtown district, we then found our hotel (the Capital Hill Hotel & Suites) on Albert Street at 11:25am. Fortunately, they let us check in early, so Julie returned to the car to watch it as I took our luggages as well as the room key, and got our stuff into our room, which turned out to be quite spacious and very Holiday Inn like.
At 11:40am, we headed out in search of the Prince of Wales Falls (also known as the Hog's Back). It turned out that this place was some 8km or so south of the downtown area where we were staying. We had taken a bunch of rural streets to get here (I think Colonel By Road or something like that), which was flanked by what looked like a nice bike and running path alongside the Rideau Canal in a park-like setting. It seemed like a nice little place for some exercise if you happened to live here or work here.
Anyways, it didn't look like this place was that well served by public transport (no metro; just buses), so it was a good thing we were able to drive out that way in our rental car as the traffic seemed to be pretty straightforward.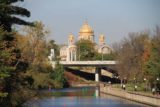 After a quick pick-up of Subway on the go, we finally made it to the Hog's Back Park at 12:10pm. But for some reason, I had thought that we were in the wrong car park (i.e. we should've gone west instead of east) because it looked like the direct view of the falls (visible from the road we were on) was on the other side of the bridge.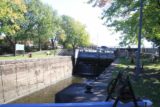 So we got back in the car and made our way across the road towards a much smaller and more humbler picnic area and car park. This time, we were by the Rideau Canal lock, but it didn't appear that there was direct access to a view of the Prince of Wales Falls.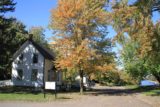 Now since it was now 12:15pm at this point, we just decided to have our takeaway lunch picnic though Julie was on the lookout for any black squrrels (or any squirrel for that matter) try to come by and pilfer our lunch. We also kept a keen eye out on Tahia since this side didn't have much fencing to keep her from falling into the lock if she happened to go that far.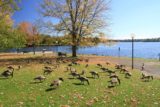 It was about 1pm when we had our fill of the picnic while also briefly checking out this lock-side scene.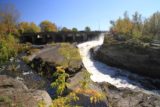 At 1:05pm, we were back on the other side again (i.e. the side we should've stayed at in the first place). And from there, all of us got out of the car and quickly walked over to the established overloks of the snaking Prince of Wales Falls (which was a name I stuck with based on what an author of the Ontario Waterfalls book said despite there not being signage explicitly saying this).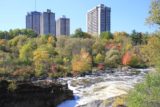 From the immediate side of the overview nearest the large car park, we were able to get some profile views of the waterfalls while the sun was shining from behind me. It looked like there was some vestiges of concrete in the river itself, and it made me wonder whether this falls was even legitimate to begin with. But the more I thought about why they had a lock in parallel with this, the more I realized that perhaps the falls was there originally and the lock was the engineering solution for boats to around it.
Julie stayed with Tahia as she was busy picking up twigs instead of leaves. I guess she had found a new preoccupation now.
The thing with these waterfalls was that it was simply too difficult to try to capture the whole scene in one shot. So I took movies instead, hoping that at least one or more of these would help people be a bit more energized for the day while. We still had quite a bit of things to see and do so I had to sit tight and make sure I wasn't going to leave while filling the shopping car.
When I crossed over the bridge to get to an island opposite the initial views I was able to see a more direct view of most of the cascades comprising the Prince of Wales Falls. There was even a bold rainbow that came about in the early afternoon clear skies as I was generally looking downhill over the falls beneath the bridge crossing over the river.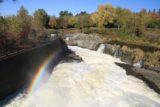 I was a bit cautious when I was on the island because there was one pocket of the walkway that was getting mist from the spray of the powerful falls. As I proceeded through the misty section, I tried to turn away from the mist itself knowing that the water smelled and it was a little green (a given with urban waterfalls I guess). I just didn't want any pollution and dangerous microbes finding a way into my orifices and get me sick.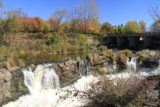 So at 1:30pm we finally had our fill of Prince of Wales Falls and returned to the car.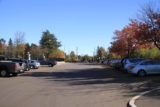 About 20 minutes later at 1:50pm, we found a parking lot near the Rideau Falls, which looked like it had a park-like setting as well though there were also some official-looking buildings in there as well. The car park we were in seemed like it was probably mostly for employees working a barrage (dam) from the east side, but there were other signage saying something to the effect of "dignitaries". Hmm, I wondered what else went on over here.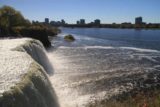 Given that the only parking spot we could find this side of the busy Rideau St was an authorized vehicle spot, Julie and Tahia stayed in the car while I quickly made my photo run to see Rideau Falls. And like the Prince of Wales Falls, Rideau Falls also had a history of man-modification.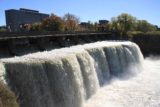 I started by walking a short ways over to the east dam where there was a little shelter with an angled profile (and slightly misty) view of the wide Rideau Falls (or at least one half of it). Once again, I was cognizant of the pollution in the water and the mist getting into an orifice.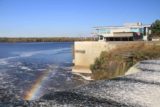 Then, I crossed over the barrage and continued onto what seemed like a park area. There was an overlook looking downstream at the Fall colors and some islands in the Ottawa River while also looking back in the other direction at the east side of Rideau Falls (and with the afternoon sunlight instead of against it).
Next, I continued walking in a westerly direction as I then crossed onto another bridge above what was now the western dam. Here was the other half of the segmented Rideau Falls. And from this side, I was able to see a rainbow in the mist as I looked downstream from it.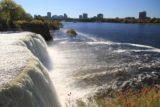 After having my fill of this side of the man-made falls, I checked out some of the monuments in this park which seemed to be dedicated to people who lost their lives in war and in humanitarian aid. I was also contemplating what the authors of the Ontario Waterfalls book saying how this falls was "stale", which I'd agree with him given how it seemed like this waterfall was more like a dam release than a real flowing waterfall in natural settings.
At 2:10pm, I was back at the car, and eventually at 2:35pm, we were back in our room to briefly unwind for a bit. We spent this time getting unpacked and doing some TripAdvisor action to see what there was to see and do in the main part of Ottawa.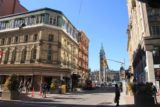 After deciding to check out Parliament Hill and the Byward Market as well as the Notre Dame Cathedral, we headed out at around 3:40pm. The lady at the reception helped us with a new and better contextual map as well as quick instructions on how to get to the places we had targeted (must be a common question she gets from visitors).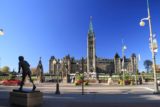 It wasn't until about 4pm that we finally made it to Parliament Hill, which was a large plaza flanked on both sides by some fancy looking churches (the one on the left was closed) that were really other wings of some government activities. We fancied what going to work in this environment would be like.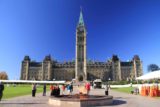 In front of the Parliament Building walkway, there was also a fountain with fire on it. However, from being able to identify the unmistakable smell of natural gas (methane), it was obvious to me that the fountain wasn't flowing of water but of natural gas instead (psyche!). That would explain the paradox of a flame burning on top of what we at first thought was water.
The sun was pretty intense on this afternoon so all the photos looking west were pretty much against the sun and washed out. Maybe I was taking a risk by not slapping on sunscreen during this late afternoon visit. However, looking east, it was nice to see these fancy buildings contrasting the deep blue skies behind them.
After getting our fill of the Parliament House and the Fairmont (which looked like another fancy castle, except this one looked a lot more modern than the one we saw in Quebec City), we then continued walking towards the Notre Dame Cathedral, which was right across from the Museum of Fine Arts.
The cathedral was shining brightly because both its steeples seemed to have a silver coating on it. Thus, it created some pretty tricky lighting conditions for photography. However, aside from the fancy spider statue with long legs by the Museum of Fine Arts and the facade and interior of the cathedral itself, there really wasn't much else worth photographing in our eyes.
So we left the Notre Dame at around 4:45pm, and then we headed right into the Byward Market. And basically most of the time spent here was pretty much window shopping and eating food. The market itself in general somehow reminded Julie and I of Pike's Place in Seattle, but this seemed to be quite an extensive series of city blocks of markets that ranged from fresh fruits to gastro pubs and cafes to fashions, and even some home decor stuff. Talk about a centralized one-stop place to shop!
Apparently there was some history involved here too because this also happened to be the place where commerce took place during the establishment of Ottawa over 200 years ago or so.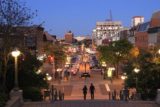 Given its size, there was no way we'd explore all of this place so we only focused on what we thought were the most happening parts based on how much foot traffic we were seeing from block to block.
After walking a handful of blocks, we finally decided on eating at The Grand Pizzeria and Bar, having arrived at 5:20pm.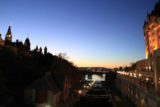 It turned out to be pretty humble authentic Italian food, and with classic spaghetti and meatballs as well as the pretty decent Napolitano-style pizza, the food pretty much hit the spot.
Julie even got some kind of apple cider, and this place served us a glass of that pretty nice-tasting cider.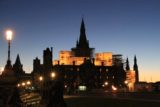 I could also see how people watching in this area could be a sensible activity (though we were seated indoors due to the lack of shade on their outdoor seating as the shady part was not available).
All in all, the restaurant bill turned out to be about the same as the other dinners we had been paying for up to this point (typically upwards of $60 USD), but of all the places we had eaten at in Quebec so far, we had to say this comfort food at this place was probably the best dinner we had on this portion (i.e. the Quebecois part) of the trip so far. I guess it just goes to show you that sometimes the simplest things were best.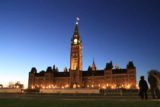 When we left the dinner at 6:30pm, we headed back towards this cupcake place still within the Byward Market. And it turned out to be one of the best-tasting cupcakes we could recall (even better than Sprinkles). Still for the pair of cupcakes we had together, it costed over $7 CAD. Ouch!
After indulging in our sweet tooths, we then returned towards the Parliament House. By this time, the sun had already set, but there was still enough daylight to have that twilight dark blue sky effect.
Finally at 7:20pm, we were back in the room. Unfortunately, I had discovered that my case containing a memory card had fallen out of my camera bag, so that kind of put a little bit of a downer on an otherwise satisfying day. I guess I should've seen it coming because there had to have been at least 3 or 4 times in the past where things had fallen out of the zippered flap because I had forgotten to zip it up somehow (but I was lucky to have caught things fallen out at the moment). But not this time!
At least I had no pictures in there. However, that just meant that I'd have no backups again. Given that those items had been used for at least a few years, I guess it wasn't like I threw money away (though it certainly felt like I did). But whatever the case, I couldn't worry about that now. There was nothing I could do about it.
And so ended this day, which was our last day involving Quebec. Technically, Ottawa was on the Ontario Province side of the border. Tomorrow, we'd be crossing back over the border into upstate New York in the Adirondacks. I figured it would be a lot of driving so the spacious room we were at here in Ottawa was going to be short-lived as we'd have another early morning wake up and packing.
Thus, we would begin the final segment (or week) of our New England/Canada trip…
Visitor Comments:
Got something you'd like to share or say to keep the conversation going? Feel free to leave a comment below...
No users have replied to the content on this page