Day 17: WHERE VEGAS MEETS A MEGA-WATERFALL
When it was our turn to pull up into the border crossing station, the border officer asked the familiar questions about where we lived, what I did for a living, and what we were doing in Canada.
When I relayed to the officer our intentions of staying in Niagara Falls for a night, then Hamilton for a night, and finally Toronto for 2 nights, he gave me this quizzical look and said, "Hamilton? What are you guys doing in Hamilton?"
"We're waterfall chasers, and we heard that it's the City of Waterfalls," I told him.
"Did you know it's known as the Steel City?" he said.
"I had read about that," I replied.
And with that, he gave us back our passports and told us, "Welcome."
The familiar drive along River Road was exciting because it was Tahia's first time here. Julie was stoked about witnessing the raw power of Niagara Falls. Plus, the mist rising at the Horseshoe Falls really seemed to rise really high up in the sky and create clouds of its own.
Somehow, there seemed to be a bit more water than what we recalled back in June 2007.
Eventually, we arrived at and parked inside the Fallsview Casino at 1:25pm. I recalled we stayed here before, and I also recalled that we exploited a loophole that allowed us to park for free (instead of $10) just by getting one of the Player Advantage Club (PAC) cards.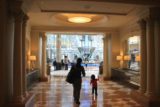 The lobby had a fancy-looking fountain with some kind of futuristic-looking contraption and color in it that somehow reminded me of a scene out of Tomb Raider. But whatever the case, Tahia was drawn to the fountain, and we had to make sure that she didn't touch the water nor try to somehow ingest the dirty water by drinking it or by touching it then sucking on her thumb.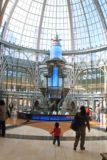 We were a little early to check into our room with a view of Horseshoe Falls so we grabbed a bite downstairs at one of the overpriced "mall"-like eateries in the Food Court.
By the time we were done with the short lunch, we were able to get into our room at 2:45pm.
Like last time, the view of the falls was spectacular. There was even a rainbow arcing across the American Falls from where we were looking out the window.
However, Tahia didn't seem to be all that impressed with the falls. Instead, she was focused more on the "igloo" down below or in search of statues (as she seemed to have this love-hate relationship with them throughout this trip).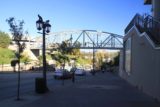 It wasn't until about 3:30pm when we were finally starting to go downstairs to tour the falls.
With the afternoon light now taking over, the falls were getting the benefit of the somewhat soft glow of the sun instead of the harsh midday sheen we had seen earlier on the way in.
So as we walked Tahia down the Fallsview Road and then along the very busy walkway paralleling River Rd, we stopped to take the familiar photographs as well as attempts at some family portraits made possible because we took the trouble to lug the tripod down with us.
We'd go through this drill until we got right up to the brink of the Horseshoe Falls. But it was way too crowded to even entertain the notion of a family photo here via tripod so we just documented our experience and then headed back to the car park inside the Fallsview Casino (though I did make an attempt to play a game or two so it would register on the Player Advantage Club card to try to "earn" "free" parking.
Well, it turned out that I didn't play enough to "earn" it and I was told that there was no specific dollar amount to get to that status. In fact, she said it would typically take around $10-$20 or so, and I didn't feel like gambling more than the $5 CAD we had already wasted on their one-armed bandits.
So we just swallowed the $10 fee to get out of the car park in search of Julie's crepe place, which was located somewhere on Queen Street, which was apparently not walking distance from where we were at. It was around 5:30pm or so when we drove off.
As we were driving in search of Julie's crepe place for dinner, I was talking with Julie about how this experience reminded me of Las Vegas.
Actually, it was more like what happens when you mix Las Vegas with a mega waterfall. You get the Canadian side of Niagara Falls!
Indeed, it was certainly no Nature experience even though the spectacle was natural but definitely messed with by man. Last time we were here, I thought it was like an amusement park because of all the excursions we had done like Maid of the Mist, Cave of the Winds, Journey Behind the Falls, etc.
I guess we were glad we only spent the one night this time as it seemed like everything forced me to bleed money.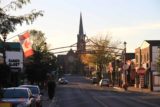 At a little before 6pm, we had finally found Queen St. It turned out to be in the historic Downtown Queen St District. It looked like a pretty charming little place, but it was also rather devoid of activity as it was clear that hardly any tourists would go this far from the action.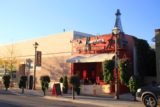 But we figured we'd at least get much better food than the overpriced crap around the falls itself.
The place was called the Paris Crepe Cafe, and the meal consisted of a duck confit, a delicious marguerite galette, escargot bourgignon, and some dessert crepes (Tutti Frutti and a custom nutella with chantilly and vanilla ice cream crepe).
We left the place pretty satisfied, and we returned to our room by 8pm. We were able to catch the falls from our room being floodlit by night though the colors didn't seem to be interesting. But later in the night (somewhere around 9pm or 10pm), we heard some booming sounds outside, and it turned out that there was a fireworks show over the falls.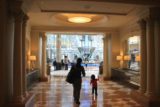 We weren't sure what the occasion was (we'd eventually figure out after the trip that it was for the Canadian Thanksgiving holiday), but in hindsight, I should've overcome my fatigue and try to take long exposure photos with the fireworks. Oh well.
And so ended this day. Tomorrow, we were headed to Hamilton to see if that place would live up to its self-proclaimed slogan of the Waterfall Capital of the World. I guess we'll soon find out after we allow ourselves to sleep in a little bit to at least enjoy this spacious hotel room just a bit more…