Day 18: ONE PERSON'S PAIN, ANOTHER PERSON'S GAIN
It was 7:25am when I awoke. Both Julie and Tahia had already been up. I guess all those nights of 5 or 6 hours or less were finally catching up with me.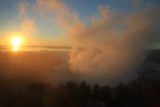 By this time, there was a glow in the room coming from the rising sun. I bet I could've caught another sunrise from this posh hotel room, but I probably missed the sunrise by 15 minutes or so.
It took us some time to get ready, and it wasn't until about 8:50am when we finally left the Fallsview Casino Parking Lot. This time, I had to pay the ripoff rate of $15! So given all the expenditures intended for parking at this Niagara Falls accommodation, it turned out that we paid a total of $30 give or take (depending on exchange rates), especially with the wasted $5 CAD on gambling that was intended to enable the free parking (not).
So we took a combination of local highways and surface streets per GPS until we reached the Morningstar Mill at 9:25am. At first, the GPS had us keep going, but it turned out that the small car park for the mill was the place to be.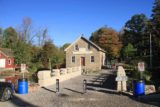 There were already a lot of cars here and we took probably one of two formal spots. I'm sure other people wishing to park here would have to make room parallel parking.
The lighting against the historical mills flanking the creek were ideal for this cool crisp morning. However, the day was heating up as we could feel the sun starting to beat down on us where the dewy air wasn't in shadow.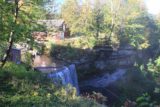 Just a few paces from the mill, there was a pretty unsatisfactory view of DeCew Falls where we could barely see the top of it while the rest of it was blocked.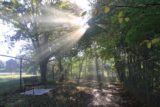 I knew that people have managed to get to the bottom to get better views of the falls, but when we walked the Laura Secord Trail, we then saw where there was a very steep, slippery, and overall dicey descent to access the bottom of the gorge.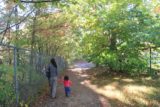 After surveying the descent, I decided to try my luck at tentatively going down to see if the way forward looked worse than it really was.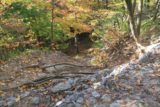 But already, I was feeling a bit uneasy when I saw wet rocks and muddy spots on the descent. A slip and fall here could potentially be fatal. Even with the ropes tied to trees here, it looked pretty dicey and the butterflies in my stomach were prevalent as I was making my way down to a narrow bench marking in my mind (though I could be wrong about this) the half-way point of this sketchy descent.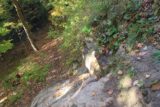 There was another pair of ropes to assist with the final bit of the descent to the bottom of the gorge, but this looked even dicier than the descent I just took to get to this point.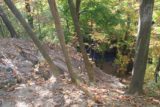 With my fast breathing due to the real sense of danger here, I thought of Julie and Tahia up on the trail looking at me struggle. I realized that some things just weren't worth the risk of death (and leaving Tahia fatherless) so I resisted the urge to push forward and just went back up.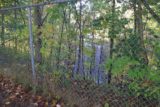 Even the scramble back up wasn't easy as it was wrought with slippery rocks and mud. I had to make sure that each place I planted my foot, there was enough of a support on a rock at the proper angles so would have the confidence to put my weight on it without slipping. And after a few more minutes of concentrating, sweating, and getting dirty, I was finally back on the trail to rejoin Julie and Tahia.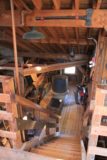 So we went back to the Morningstar Mill where a couple of buildings had open doors that appeared to welcome visitors to check out the history and contraptions here. Inside one of the buildings, there were some partial views of DeCew Falls through the glare of a window, but at least it was not as life threatening.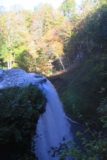 There were even old photos showing nice photographs of DeCew Falls, but clearly with the fences erected and all the overgrowth surrounding the rim of the gorge, there was no way those views would be possible on our visit.
There also appeared to be a picnic area across the gorge, but after I tried walking along the road to see if there was a way in, it turned out that there wasn't.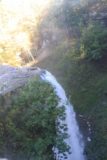 All in all, it was a rather disappointing visit. The photos seen in the literature involved a lot of risk, and so they were misleading. I hate it when that happens!
So by 10am, we were all back at the car. And just as we were about to leave, we could clearly see that there were many more people here (some on what appeared to be tours) while others actually had tripod and camera in hand, and I wondered if they were going to try to find a way into the gorge (especially when one group involved a father and kid son).
As we drove off, we headed towards Balls Falls. And as we were getting closer to where the GPS said we were supposed to be, we noticed numerous (and helpful) Balls Falls Festival signs. At first we took advantage of those signs to help us navigate to where we were supposed to be, but as we got real close, it was clear that the most direct path to the car park for the waterfall was reserved for handicapped or authorized vehicles.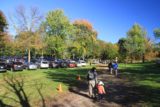 We were diverted towards a grassy area where many cars were to park. When I asked a staffer whether we had to go into the Balls Falls Festival to visit the waterfall, he said that this was the one time out of the year where Balls Falls was not free, and we'd have to pay for it. In any case, we were there at 10:40am.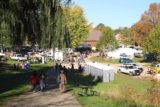 The admission price was $6 per adult so our visit to the falls would be $12 total. Tahia was free.
And the first thing we noticed as we paid the admission and got our hands stamped was that we were walking into an old fashioned country fair. Indeed, we could see the plethora of tents (of people selling food, wares, having performances, etc.), lots of exhibits from barns to old machinery, and even live music.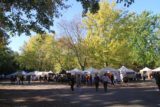 It was a very festive atmosphere (as it was supposed to be), and it was pretty much like the Renaissance Fair or the Orange County Fair (something that we'd be more familiar with) except this revolved around a legitimate natural attraction instead of being set in a parking lot or out in the middle of nowhere.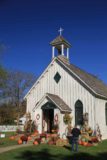 In fact, I thought I saw some signage saying the proceeds from this fair would go towards some kind of Niagara Peninsula Conservation Authority effort. I guess that was a pretty creative way to raise revenue to keep places like this preserved and available to the public.
One confusing thing about having this big festival was that it masked an otherwise easily accessible conservation area and park (or at least that was how the literature painted the picture in my head). Thus, what would've been straightforward parking and walking paths to the view of the falls all of the sudden became a bit of a maze to walk through a plethora of stalls and side streets to find the falls.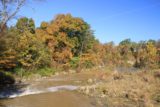 After asking someone at the info tent where the falls was (she said there were two of them, but pointed us in the correct direction once we showed her a picture of one of the brochures already in her tent), we headed towards the bridge crossing over creek responsible for Balls Falls.
We eventually crossed over that bridge then went onto the Bruce Trail with its white hashes. But I started to get a little confused when this trail didn't seem to yield the views we were after and that it seemed to lead away from the waterfall itself. Were we missing something?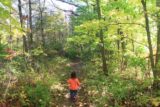 Did we have to go to the bottom for a better view of this waterfall?
Something didn't seem right as it seemed like we were the only ones hunting for this waterfall. Out of all the people visiting the Balls Falls Fair, surely there must be quite a few people checking out this waterfall, right?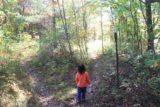 Anyways, when it became apparent that the trail to get to the bottom of the gorge was quite overgrown (with lots of poison ivy exposure), I told Julie to bring Tahia back up and wait for me somewhere near the bridge where I could find her. I was going to continue following this trail to see where it led to and whether it would improve the view of Balls Falls.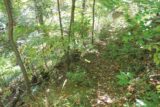 It turned out that a trail of use fronted by pairs of white hashes led me to a very overgrown and hard-to-see path where I doubted whether I could continue as there were a couple of signs saying to stay back from the steep escarpment.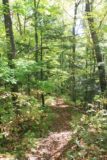 And when I continued back on the main part of the Bruce Trail, it was clear that this wouldn't lead me to a better view of Balls Falls. But when I was heading back and ready to declare defeat, I noticed there was a somewhat obvious unmarked path that I managed to follow towards the bottom of the gorge near the creek.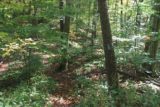 It was encouraging that there were some blue blazes this time on the descent, but once I was down at the bottom, it wasn't obvious where I should go next. And as I surveyed the terrain, it was clear that I had to somehow scramble my way upstream, but the path was practically overgrown and invisible. Yet now that I took the trouble to get down here, I mind as well try to figure out a way to get to the base view of Balls Falls.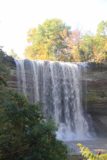 It was a bit of a struggle, and I kept thinking to myself that there was no way this was the way to do the falls. The literature never made it sound like it was difficult. Yet here I was brushing through lots of foliage (some of which I was sure was poison ivy), and I ultimately got a partial view of the base of the falls.
After some more searching to improve the viewing, I gave up as the trail just kept going through thick foliage, molded logs, and hidden moss-covered rocks concealing gaps that might be treacherous dropoffs underneath.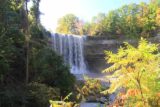 So I was just content to document the falls from my somewhat OK view from the base, but I kept thinking to myself that this much trouble for this view of the falls totally was not worth it. Plus, it took longer than expected to get here so Julie and Tahia must be bored waiting for me up there.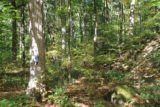 As I was scrambling back towards the tree trunks with blue blazes, I got confused as to where I was supposed to regain the trail and ascend back up to the top of the escarpment. The one tree I did find near the creek that had a blue blaze on it didn't seem to have a follow up one within sight.
So I scrambled around hoping I might stumble into the correct trail, but after what seemed like an eternity of ascending then descending then ascending then descending without finding the right trail, I was getting worried that I was lost and that I might have to do some daring scrambling on this steep terrain to find my way back to the Bruce Trail.
Fortunately, reason won out enough for me to go back down to the bottom but scramble sideways (instead of up), and I eventually picked up on the trail that I had taken down in the first place. Probably 40 minutes or more had passed since I last left Julie and Tahia behind. But now I knew that I would at least get back to the Balls Falls Fair where the rest of the action was taking place on this day.
When I was back up at the top, I saw a couple of parking attendants and they told me that the folks I was looking for went behind them and towards the inflatable play things there. That was when I found Julie reading her Kindle while letting Tahia play alone in one of the inflatable things.
Julie was telling me how Tahia was quite the fearless daredevil as she quickly went up and down some large inflatable slides twice in a row. As I looked at the size of the drop of these slides, I wondered how someone not even three years old could do that.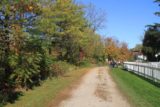 It took us some time to try to convince Tahia that it was time to go. But she was just having way too much fun inside on of those caged bouncy inflatable play things where no adult was inside. It was just Tahia and one other kid with a staff person at the small entrance. I wasn't sure adults could even fit in there, which was why no one else but those two kids were inside.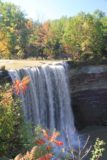 Tahia was very upset when she finally left the contraption.
Anyways, now that we were finally reunited, we headed towards the real lookout for Balls Falls, which actually turned out to be less than a couple minutes walk on the opposite side of the creek that we were at in the first place!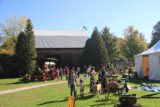 Sure enough, there were dozens of people crowding the stone wall keeping us back from the dropoff. But the view from here (although somewhat awkward and partially overgrown) was definitely as good if not better than the struggle I went through to even get a view of the falls from the bottom.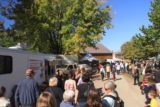 It was one of those things where if we had found this lookout first, I would've never tried the scramble to the base, and it would've saved us at least one hour or more. However, the flip side to my pain was that Tahia got to spend time playing on slides. So certainly she gained from my pain.
We'd have a lunch from one of the trucks where we ordered a pulled port slider as well as a pulled pork poutine (though they might've gotten our order wrong as our poutine was nothing more than gravy and cheese without any pulled pork).
It wasn't much food, but it probably would hold us over until dinner time.
At 12:55pm, we were back at the car. Given how much time we spent here unexpectedly, I decided against finding Upper Balls Falls. Again, since the fair concealed what was where under normal circumstances, I completely forgot that we could've walked through the other side of the fair to get there in some 20 minutes or so. But now that we were back at the car, we weren't going to bother.
Once again, the GPS had us go in directions that weren't possible given the road closures. We ultimately followed a path that took us right back into traffic and the entrance of the Balls Falls Festival again, but we then went forward onto another highway, but that highwa passed through yet another festival in some town. And so there was even more traffic there.
After what seemed like forever, we ultimately made it to the QEW (I think it means Queens Expressway), which was ultimately some kind of freeway that connected Toronto with Niagara Falls.
We'd eventually get off at one of the exits in the suburbs of Hamilton, and we then followed a one-way street through several traffic lights until we eventually arrived at the Staybridge Inn in downtown Hamilton at 1:55pm.
Our impressions of driving through the city was that it seemed kind of run down in most of the places we walked through. It definitely lacked the charm we saw in Quebec's cities. And I could see what the border patrol guard meant when he cynically told me Hamilton was known as the City of Steel.
We saw plenty of liquor stores at street corners (typically a sign of a rundown area), graffiti, and overall just a much grungier feel than the other Canadian cities we've visited on this trip.
Perhaps I was starting to be glad that Julie had mistakenly booked us for two nights in Toronto instead of three nights in Hamilton as originally planned. Sure it wasn't strategic logistically, but at least we had read good things about Toronto and we'd at least have a shot at experiencing that city before heading back to New York.
After getting settled in our room (Julie swore that the receptionist reminded her of Claire Danes) at 2:10pm, it wasn't until about 2:35pm when we finally headed back out to at least visit one or two waterfalls in the Hamilton area. After all, if Hamilton billed itself as the City of Waterfalls, surely we'd have to see for ourselves.
And with rain being predicted tomorrow, for sure we had to get in as much as we could this afternoon.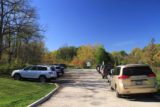 First up was Albion Falls. The GPS had us go on a bunch of surface streets. So even though it was less than 10km from where we were staying in downtown Hamilton to the falls, it still wasn't until 2:55pm when we finally arrived at what we thought was the correct car park for Albion Falls.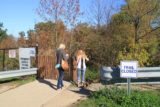 When we got out of the car, we had to cross Mountain Brow Blvd (though our book said something about Mud Street) from its junction with Arbour Rd. There was a lot of fast moving traffic on this curvaceous road with potentially blind turns so we had to be patient before we could cross the road.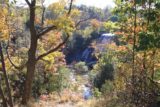 And once we finally made it across, we saw that there were trail closure signs and barricades immediately before us. I knew this was a bummer because it must've been the path leading to the base of Albion Falls. Yet even with this closure (which apparently started in August 2013; again, just our luck), we saw numerous people ignore the barricades and continue.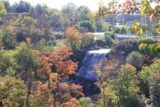 I took a mental note to join them after Julie, Tahia, and I followed the official trail some 220 yards to towards another car park for Albion Falls. However, there was a wedding party taking wedding photos here so we didn't want to get in their way.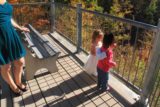 We eventually got to a pair of overlooks with a very substandard view of the falls through breaks in the foliage and somewhat against the sun. The falls were distant and in shadow, and it definitely left us wanting more.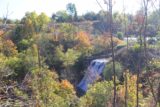 When we had our fill of these views (and Tahia was done interacting with someone her size who was part of the wedding party), Julie and Tahia headed back to the car while I'd go get better views of Albion Falls.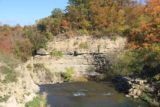 The first thing I noticed when I returned to the closure area was that new trails were blazed that circumvented the barricade and stairs. So right off the bat, I could see that the closure didn't have its intended effect. Moreover, there were easily dozens if not tens of dozens of people at the bottom. Certainly this trail wasn't that bad, was it?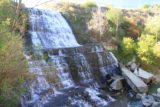 So I went down and I could see the terrain was somewhat steep and slippery (muddy), but it was in no way as difficult as the Balls Falls base scramble that I did earlier in the day.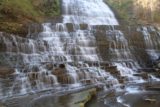 Eventually, I got to the base and joined the dozens of other people that were already down here. There were many others armed with tripods so I knew we were all in the right place to take photographs as the falls was now completely in shadow though the very top was still getting the last of the afternoon sun.
As I was soaking in the atmosphere of this place on this busy Saturday, I could see that other people scrambled to seemingly crazy spots higher up on the waterfall. I overheard someone talking about whether the trail closure might have had something to do with injuries and/or fatalities here.
I probably spent another 45 minutes or so just trying to use the tripod that I brought to take long exposure photos of this very textured waterfall that just seemed very pleasing to the camera.
When I had my fill of Albion Falls from its base, I then returned to the top where I next followed the Bruce Trail towards a spur that led to a top down view of Albion Falls and road bridge from the opposite side of the gorge.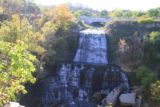 I got a few more shots of the falls from this unusual (and probably more sanctioned than the closed off path to the base) access, and then I returned to Julie and Tahia at 4:10pm.
With still enough daylight left to do one more waterfall, we targeted Devil's Punchbowl Falls. So we followed the GPS towards the pre-trip waypoint of this waterfall, and eventually arrived there at 4:35pm.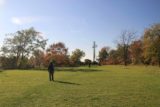 This one also had a well-established car park with some self-help pay kiosk as people were supposed to pay for parking here.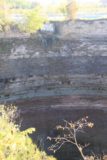 I started off by getting out of the car while Julie and Tahia were getting ready. And it didn't take long before I quickly saw and realized that Devil's Punchbowl Falls wasn't flowing very well (at least not well enough to see it in photographs clearly).
However, there was a viewing area that looked out over Hamilton and Lake Ontario. And from seeing the smoke stacks in the distance and a lot of industrial buildings within the city itself, that really gave me a greater appreciation for why the former moniker of the City of Steel was applied to the city of Hamilton.
We were aware that tourism officials were busy trying to re-brand Hamilton as the City of Waterfalls, but so far only Albion Falls was worth the trouble, and it involved going past a trail closure to get the satisfactory experience. The rest were pretty ho-hum and involved a lot of wild goose chases to improve views.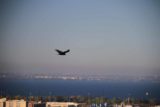 After all of us had our fill of the overlook (since the falls really wasn't much to linger about) at 5:05pm, we returned to the Staybridge in Hamilton downtown at 5:45pm. And so there'd be no more waterfalling on this day knowing that we'd probably have to do some more waterfalling in Hamilton tomorrow under rainy weather before driving to Toronto to check in over there.
At 6:50pm, we walked from our room into town and checked out Hess Village under the recommendation of the receptionist. However, after strolling through there, we were surprised to see that just about all of the joints in this little square were dead, even for a Saturday night like today!
So we ultimately walked over to an Indian Buffet place just a few minutes walk from the Staybridge and stuffed ourselves silly will all sorts of curried meats, butter chicken, veggie curries, etc.
It was simple, pretty tasty, and it didn't cost us an arm-and-a-leg unlike other dinners we'd been having on this trip.
We were back in the room before 8pm, and we called it a day as we had the remaining hours of this day left to unwind and perhaps sleep in a little bit tomorrow knowing that we might not have to hunt as many waterfalls tomorrow as anticipated going into this trip…