Day 19: THE RECURRING THEME OF HAMILTON WATERFALLS
It was 8am when I awoke. Julie and Tahia had gotten up well before I did. Actually, it was Tahia who recognized the 7am alarm from my watch when she said, "That's an alarm!"
I guess all those consecutive nights of 5 or 6 hours of sleep or less continued to take their toll on me so the extra hour of sleep for me from the planned wake-up was certainly welcome. I figured we were light on activities today anyways when I recognized that we weren't going to hunt down all of Hamilton's main waterfalls given what we saw yesterday.
So after getting packed and taking a couple of trips to the garage downstairs to load up the car, we then had a nice breakfast that included some waffle maker, which made Julie happy. That along with bagels, eggs, bacon, fruits, and some pastries made this probably one of the better included breakfasts on this trip in a while.
So it wasn't until 10am when we were finally leaving the Staybridge in downtown Hamilton. And we were leaving to some heavily overcast skies while the skies were on-and-off rain.
First up on our agenda today was to visit Felker's Falls, which in hindsight, we probably should've visited yesterday given its proximity to Devil's Punchbowl Falls as well as Albion Falls. But in any case, this time we took the Lincoln Alexander Highway east and then got off at the familiar Mud Street.
We then turned left on Paramount Drive which entered some suburban neighborhood where there were some local corner shops as well as a school. We took this street towards Acland Street which then led us to a neighborhood park in suburbia.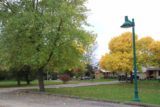 It was easy enough to find even though there were no Felker's Falls signs until we got to the car park itself at 10:20am. Yet it was an instance where the GPS routing was on once we made it to Mud Street.
The rain had let up when we arrived at the car park so we went ahead and just started walking without bringing waterproof gear.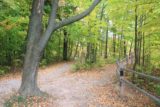 At first, we thought the views of the falls were straight ahead from the car park. However, when we managed to see the falls from there, the views were mostly overgrown and blocked so there were only pieces of the falls we could see. They were terrible for photographs.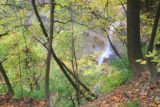 However, I did notice some opening on the opposite side of the gorge, and I figured that there must be a way there, especially since I had seen plenty of photos from the literature showing the falls from that side of the gorge.
I figured it was yet another example of how the safer and more benign views of the falls ended up being subpar while the best views were either closed, dangerous, or not all that obvious (especially from the lack of signage). Thus, the temptation was great to look for a better view.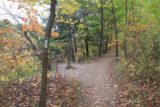 So we continued walking on a paved path which generally parallel the creek responsible for Felker's Falls. Then, the paved path stopped being paved as we crossed over a bridge going above the creek we had been walking besides.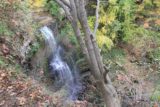 Then, we kept left at each of the other intersections we saw immediately after the bridge, and we then followed white blazes (part of the Bruce Trail) where we'd eventually get to the sought after overlook.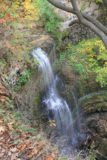 Unfortunately, there were no guardrails at this vantage point so we made sure to keep a tight grip on Tahia so she wouldn't get anywhere near the dropoffs along the trail. In the mean time, we tried to take advantage of the much improved vantage point though the light flow of the falls compelled us to take long exposure photos even though we didn't carry a tripod on this walk.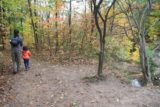 Once we had our fill of this falls, we walked back towards the car and got there at 11:05am. It was a fairly short and straightforward visit. And the weather still cooperated as we knew that the forecast called for rain all day long today.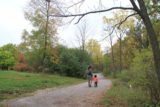 Next, we drove towards Webster's Falls. We went back on the Lincoln Alexander Highway, then took another freeway due north before getting off the freeway to get onto the Hwy 6, and then onto the Hwy 5.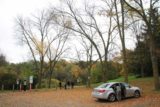 From there, we followed the GPS, which put us on some local streets when we saw a sign for Tew's Falls and its car park. There were a pair of ladies waiting at a kiosk ready to collect the parking fee of $10 per vehicle per day.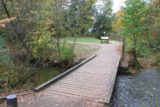 So we paid the money (which was also good for the Webster's Falls car park), then parked in the adjacent lot at 11:40am. We figured that since Tew's Falls was already here, we mind as well visit this waterfall before continuing on to Webster's Falls.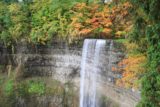 It turned out that the walk to the vantage point for Tew's Falls was very straightforward. From the car park, we followed a well-established path towards a junction before a footbridge. That junction involved a trail that came from the Webster's Falls connecting trail, but we knew there was a separate car park for that waterfall so there was no need for us to walk this connecting trail.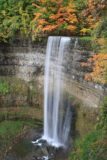 Once we crossed the footbridge, there was another junction. This time the fork going left went towards Dundas Peak, which we weren't going to do given the subpar weather. And just a few more paces of walking straight ahead, we were on a lookout platform with a direct view of Tew's Falls.
This was one of the few instances in Hamilton where we were able to get a satisfactory viewing experience with the falls from the official and relatively safe paths instead of risking life and limb on an alternate view.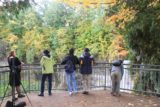 This tall plunging waterfall was also accompanied by some gorgeous Fall colors near the falls' top. And so we took a few family shots while also trying to take long exposure photos of the falls.
We lingered here for quite some time until a larger Chinese group came up. That was our cue to leave. And so we headed back to the car and got there at 12:05pm.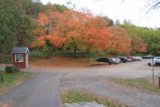 Five minutes later, we had followed the Harvest Road to Short Road, which then curved to become Fallsview Road. It was on this road that we found the kiosk and large car park for Webster's Falls.
After showing our already-paid-for pass, we then proceeded to park the car and immediately head towards the nearest views of Webster's Falls, which we could already hear as soon as we had left the car.
As we walked the wide and well-established paved path, which followed some fences and was also flanked by a wide lawn area, we saw the Webster's Falls from the Dobson-McKee Lookout.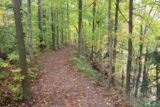 The view from this spot was pretty nice, but it still left a bit to be desired. I would have given it a 4 or at least a 3.5, but this view was missing something so I'd probably give it a 3.
However, as we proceeded further along the paved path beyond the Dobson-McKee Lookout, we saw that all blue-blazed paths descending closer into the gorge or at least providing a better viewpoint were closed. In one instance, the fence blocked off the unprotected direct viewpoint of the falls, but we couldn't get this view ourselves thanks to the closure infrastructure.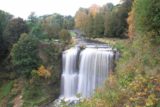 As we were about to head towards the bridge spanning the creek, there was a Hamilton cop who walked by us and continued walking into the bush area near where the blue blazes and trail blockades were noticed. He seemed to look into the gorge to see if anyone rebelled against the trail closures. So I took these acts and observations to mean that at least one place in Hamilton actually enforced the trail closures (unlike the Albion Falls).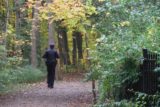 Good thing I didn't persist on rebelling at this place.
Anyways, we lingered a little while longer at the Dobson-McKee Lookout, but it was around this time that Tahia was running on the concrete path and fell forward and cut up her lip as well as bumped her forehead. I heard the thud and I knew it was a pretty bad fall, but I guess Tahia had to learn one way or another regarding her not running and being more careful.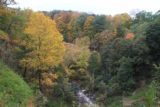 Next, we walked in the other direction and crossed over a stone bridge over the top of Webster's Falls. We could see from the bridge that further upstream were some lawns and picnic tables. Meanwhile on the other side of the bridge, there was another viewing area of a partial view of the brink of Webster's Falls.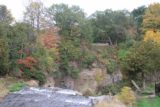 There was some fences blocking off access to the so-called Stairway Trail, which apparently would've led us down to the base of the gorge for a different look at Webster's Falls. But this trail was also closed.
Indeed, it just reinforced the theme of Hamilton's Waterfalls of subpar experiences due to closures or dangerous risks. So all those photos seen in the literature to lure us (or other would be visitors) to the so-called Waterfall Capital of the World were really misleading.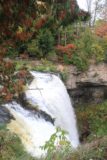 It kind of left a very unsatisfying taste in our mouths as we had our fill of what we were able to do at this place and headed back to the car.
I guess I could understand what the authorities here were trying to accomplish by slowing down the rate of erosion from visitation. However, there didn't seem to be the infrastructure to improve the visitation experience that other more established places that charged admission fees have had. So that was also kind of a bummer and gave us the feeling of being shortchanged.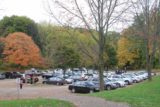 I had high hopes of seeing Webster's Falls and wondering if it was like another Huangguoshu Waterfall, but the one in China was still way better than this one, and the subpar visitation experience further made it less than even some of the other waterfalls we had seen on this trip. Even the Tew's Falls experience was probably better than the Webster's Falls experience.
At 1pm, we were back at the car park. A Hamilton cop was driving in his squad car, and when he was trying to entertain Tahia with the siren lights, apparently Tahia was only paying attention to the cop and not so much the lights. Oh well, the cop tried.
It started to sprinkle when we got into the car, but as we drove back towards the intersection of the Hwy 5 and 6 where there was a Target, the rain was starting to come down harder. We made a stop at the Target at 1:20pm so Julie could pick up some stuff. And while she was doing that, I was seeing if there was another waterfall I could squeeze in before heading over to Toronto.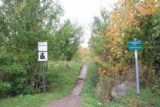 And as Julie finally got back to the car some 30 minutes later, I decided to make a short run to the nearby Borer's Falls. By 2:10pm, we were at the Rock Chapel car park, and when I got out of the car, it was raining.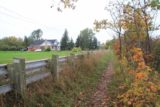 However, as I was about to start the hike solo with rain poncho on, the rain let up and I really didn't need it anymore though I was still wearing it as I was on the Escarpment Trail.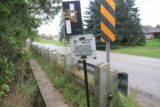 The trail followed the Rock Chapel Road except in a couple of spots where the trail was on the road itself to get around road bridges or other spots where it was unsafe to continue parallel to the road (due to the proximity of the dropoffs).
The Escarpment Trail was narrow and a bit muddy thanks to the rain. I was in Chacos with socks off so I didn't mind my feet getting a little dirty, but I did have to be a little cautious with the footing due to the slippery mud.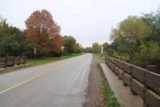 Eventually after the second road coincident section, the Escarpment Trail turned towards an opening flanking high shrubs and just a few paces further, I was at an established overlook with a nice view of Borer's Falls.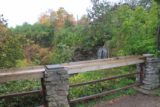 The viewing experience for this falls was similar to Tew's Falls and they were quite similar in shape. However, Borer's Falls was a bit shorter and lighter flowing plus it had a bit more overgrowth whereas the Tew's Falls view was quite wide open.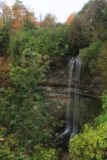 I did my best to take long exposure photos of Borer's Falls thanks to its relatively light flow (probably revived by the rains of today) without a tripod. And then I headed back to Julie and Tahia who were waiting in the car (actually Tahia was napping).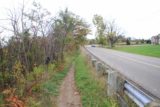 And by 2:40pm, I was back at the car.
We made one last stop at a Wal-mart (almost across the Hwy 5 from Target) so we could pick up some groceries (perhaps our final run of this trip), and then we drove on the QEW towards Toronto.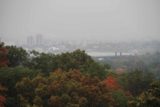 The 45-minute drive was fairly fluid so sluggish in spots due to the heavy rains and the volume of traffic. Actually, the QEW going in the other direction was even more congested, and it made me wonder if two days from now, we should get as early a start as possible to minimize our exposure to delays from such traffic.
Speaking of delays, we also learned that much of the subway system downtown would be closed while we were there. That was a real bummer. Plus, we finally figured out from watching Canadian TV that this weekend happened to be their Thanksgiving weekend so Monday (tomorrow) would also be a holiday. We wondered if that might cause a lot of closures for tomorrow.
Nonetheless, it was about 4:10pm when we finally arrived at the Intercontinental Hotel in downtown Toronto. It was raining quite hard at the time.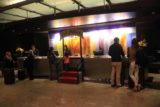 We found the parking structure beneath the hotel, and saw that we would have to pay some $27 for the day/evening parking max. After finding a spot in the mostly empty car park, we then lugged the luggage through the Convention Center and down into the entrance and lobby for the Intercontinental Hotel.
Julie managed to get us upgraded due to the Ambassador membership bought last December for the Tahiti trip, and we got into our room at 4:45pm, which looked right at the famous CN Tower.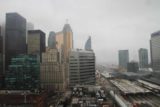 For the rest of the evening, we got settled, just vegged for a bit while watching more Canadian TV, and made one dinner run at 7pm by walking quite a ways to a dumpling house in Chinatown (probably 20-30 minutes walk from downtown Toronto to Chinatown).
The night time walking made Julie uneasy, but we persevered and had the relatively cheap dinner (if you could call a $36 cash dinner cheap).
Julie then hailed a cab where we paid the $10 fare + tip back to the Intercontinental. And we were back in the room by 8:50pm. The top of the CN Tower was still covered in low clouds, but as it got past 10pm, it appeared the clouds were lifting and we could finally see its top from our room.
Hopefully the weather would let up for tomorrow where we expected to spend the better part of the day touring the best of Toronto (at least the best of what we could do that was still open; the St Lawrence Market was not), and that included going up the CN Tower as well as catching a ferry to an island on Lake Ontario with a view of the Toronto skyline.
Fingers crossed…